Hello Alcatraz fans,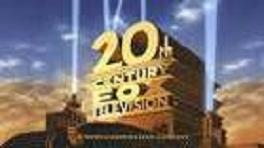 We are back for another episode of Alcatraz (this is just the fourth one), and that question in killing me already, "where have you been for the past 59 years?" WE DO NOT KNOW!
Well, I could not be more than intrigued about that. The episode started with beautiful opening shot of the famous Golden Gate Bridge with San Francisco in the background. The sequence was brand new clearly filmed specifically for the series.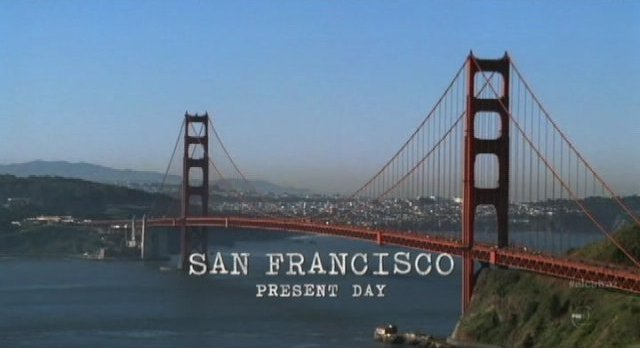 Before continuing, we include the "Guy Hastings"promotional trailer for the next exciting episode of Alcatraz courtesy of FOX Broadcasting for your enjoyment.
Cal Sweeney:
We segue to a man in a bank making out with a bank platform officer? Cal Sweeney was going to rob the bank; it was pretty obvious, was it not? Bank managers everywhere should all be aware of when somebody "unknown" shows a sudden love interest, or any kind of interest for that matter.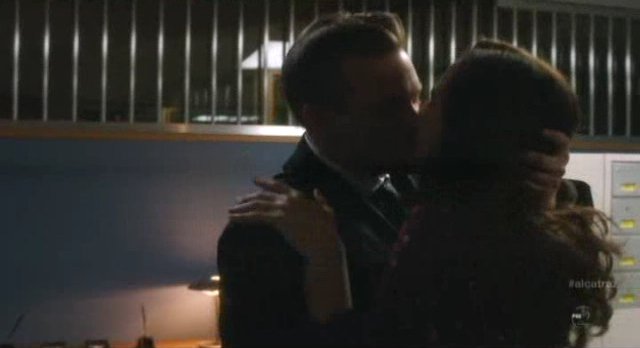 Such indicates there must be something wrong. At least it seems that on television, there will always be something wrong! The bank officer quickly finds out when she is knocked out my Call Sweeney as he loots the safety deposit boxes looking for something.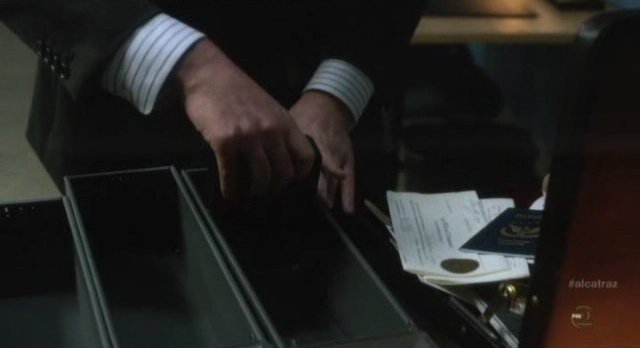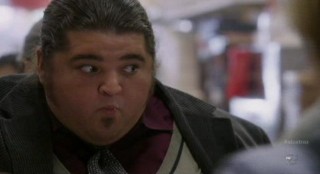 Doctor Diego Soto (Jorge Garcia) soon found out exactly who had robbed the bank. Our newest villain was none other than Cal Sweeney (Eric Johnson) that was, Doc, a walking Encyclopedia about Alcatraz, knew that Cal used to rob the banks without hurting anybody, well, this time he did kill somebody, the victim got him by surprise, said Doc Soto.
Here is his back-story, he used to rob safety boxes, he would not hurt a fly if everything went smooth, After all it was only destruction of property, nothing which would get the FBI involved. SO CLEVER, I agree with you, Rebecc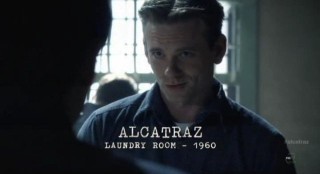 a Madsen! Sara Jones is doing a wonderful portrayal as Rebecca!
We received our first view of Cal in the Alcatraz laundry room where we learned that there was some sort of contraband smuggling going on.. Cal gave all possible hints and tips to his inmate friend Harlan (Steve Grayhm) how to do the job while smuggling.
it was so stupid, I mean, we could not really tell what was going to happen, but telling all those things certainly made him vulnerable, in fact that was the beginning of Harlan's plan to con Cal. in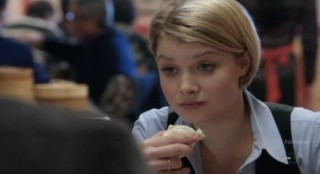 this episode, almost everybody gets conned. I loved it about this episode.
My next thought is what a poor silly woman who was Cal's girlfriend Amanda, portrayed by Anna Galvin (Mr. Young, Stargate SG-1, Stargate Atlantis, Eureka, and Stargate Universe), huh? Amanda was Irresponsible too! Who on earth would take a boyfriend to make out at work? For God's sake, she works in a bank!
I could not have loved this part more, and I almost felt sorry for her, if she was not so silly. "You know, when you look at someone else's…" No, honey, I seriously do not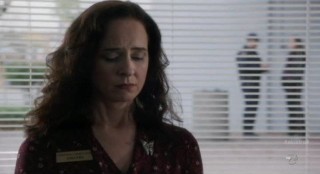 know, I thought. When Rebecca confirmed that Cal had conned Amanda, I could not avoid laughing. It was a great scene played by Anna Gavin, though.
We then see Cal visiting a Mr. Bailey (Greg Webb) to inform that the content of his deposit boxes had been stolen, under the name of Peter Carr (Eric Johnson) really got me thinking what the heck was going on and what that guy was up for. The moment he pierced William's hand on the table, I wonder why haven't I seen Eric's other roles, he is really a great actor.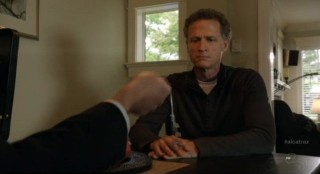 When Cal started asking too many questions, that sounded really awkward to Mr. Bailey. Bailey became suspicious that the last ones were obviously not "very important information" for his insurance forms right?
At this point we witnessed a great line when Cal said: "I DON'T". Cal needed to know for himself. However I asked myself why was this part of the story so important to him? Jesus almighty!? He pierced Mr. Bailey's hand on the table at that point.
Only at episode four, Alcatraz is in its beginning, so we canno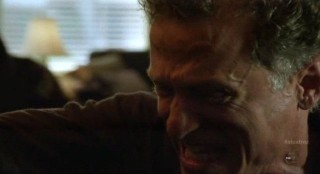 t learn much about what the series is going to ultimately become. However guys and gals, with the episodes we have seen, I could not take my eyes off the television! 
During watching on DVR, I as forced to take some pauses to breathe and think a bit.about why Cal killed Mr. Bailey. Obviously Cal got all he needed there, and the question was still burning, what is this guy up to? I bet the one word you've thought of at this point was "AGAIN", Am I right? Well, there he goes, Cal Sweeney to con another silly lonely woman.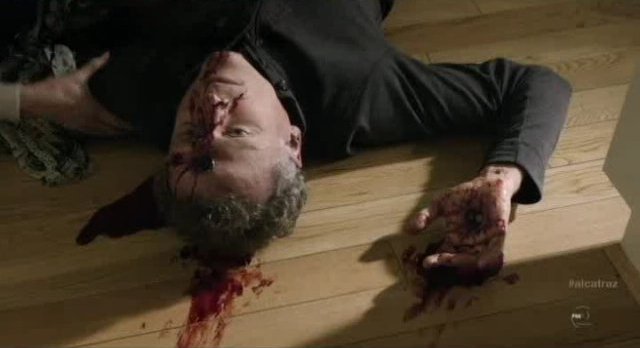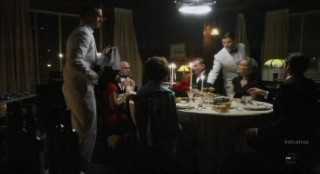 Meanwhile, we learned that Cal's plan. He was doing just fine meeting and talking to Elijah Bailey Tiller (Jason Butler Harner), altogether with Harlan during his surprise birthday party, under the Edwin James' (Jonny Coyne) words that it should be a party Tiller would never forget!
I certainly hope he would never do, while Vivaldi's music was playing, to my delight. I've loved how everything we have seen from the 60's has been carefully prepared, the objects in the table, the clothing and music too.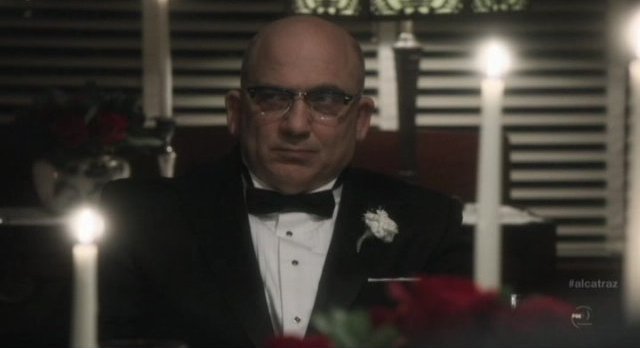 We were subsequently presented once again to Dr. Lucille Sengupta (Parminder Nagra),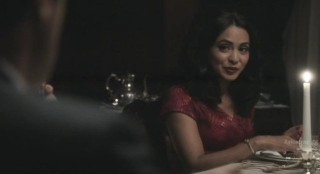 or should I say Lucy Banerjee (her new identity in modern times during) Warden James party? Something is really wrong here, we all know her as Lucy, the gorgeous lab technician in 2012, but then in the 60's, we saw the same woman, same appearance,
I cannot theorize about anything right now. I do not even know from where should I start. I think I would like to start thinking about how is it possible that somebody can be so gorgeous like that, in the 60's and also in 2012. Obviously transported through time, because Lucy has not aged a day, we are left to wonder about what is the difference between her, the criminals and how she escaped to work with Emerson Hauser (Sam Neill) in 2012?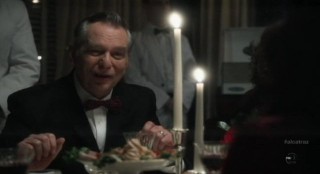 In a very interesting talking during dinner, she expressed her beliefs that she can fix the criminals by making magic in their heads, she believed that solving the traumatic memories problems, she would have only smoothing memories in their minds, which would solve their behavior problems, I loved when a young Dr. Beauregard (Leon Rippy) mentioned it "sounded like magic", like when fire was invented!
I was here, watching the episode and thinking about how Cal was smart and clever. However when I saw that he bought flowers at the same sho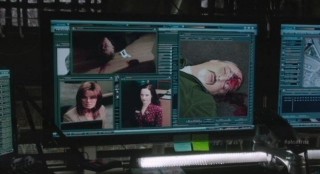 p to con those ladies, I was kind of glad he was not that perfect criminal, Kicking some ass Rebecca found out the flowers were exactly the same! With this in mind she was one step closer to Cal "dumb" Sweeney discovering his next target. Finally she was getting to the enigma of Cal Sweeney!
We have finally gotten some action, after all this kitty kitty things. I was actually pleased that Cal has gone desperate with all trouble he was facing as Rebecca and Diego soon find out. At least someone was able at least to trigger the alarm to warn the police about the robbery. We could not agree more with Rebecca Madsen, "We have got a big problem".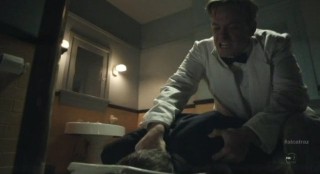 The moment I got REALLY satisfied, was when Sweeney could talk in private to E. B. and after an impossible agreement, he learned that Tiller did not have the box, which drove him so crazy; he flushed Tiller's head, again, to my full happiness! What a delightful scene that was, I just wished the toilet was really dirty!
Later Emerson Hauser told Rebecca Madsen that she would have to "break Sweeney out of the bank", I got it. This was due to the San Francisco police not being involved. Since they were missing since the 1960's, what really amazed me was how Rebecca Madsen told Cal Sweeney what she was there for. The expression in her face, and the situation itself, amazing.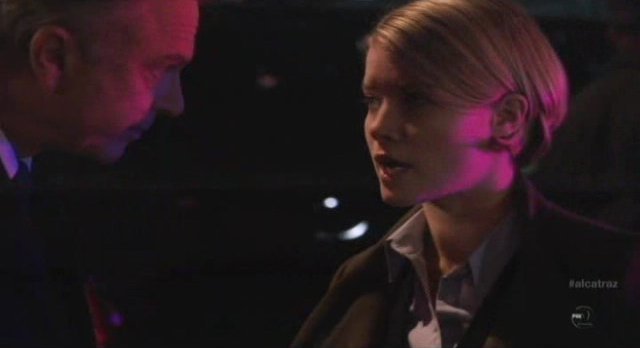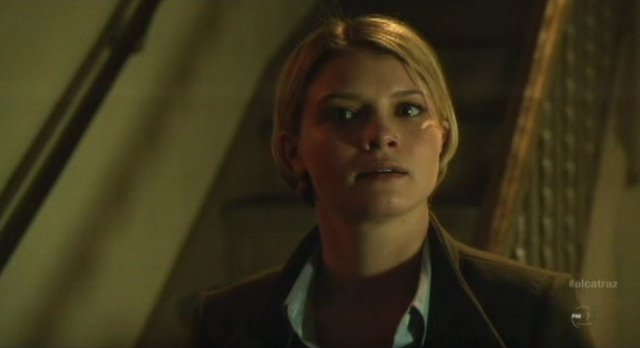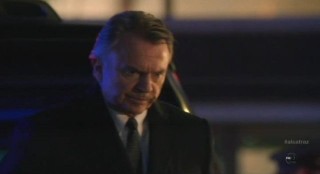 A memorable line I enjoyed was delivered by the Emerson Hauser character; "Who gave you a license?" How could we not like Sam Neill's character?
While escaping with from the crime scene in Diego Soto's cool car (a copy of the Black Mustang from the movie "Bullitt"), their conversation was really cool.
Sam Neill is such a great actor, doing a great job with Jorge Garcia! Meanwhile, we discover that Rebecca Madsen is in trouble after helping Cal escape becoming a hostage. In my opinion this was a very good story arc plot twist!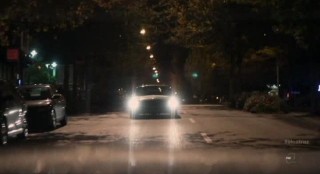 Next we come to Cal Sweeney's obsession. A little black box. The problem about the box is that Cal is so desperate for it, as seen in a flash back to the 1960's. We learned that had Cal's "box" been taken by his dear friend, Harlan who had conned him.
Was that not a wonderful scene also? Cal Sweeney was conned, but then he destroyed the box angrily. I would swear to god Cal wanted revenge for being conned by Harlan, now that his friend would have 30 days to run the smuggling "business" without him!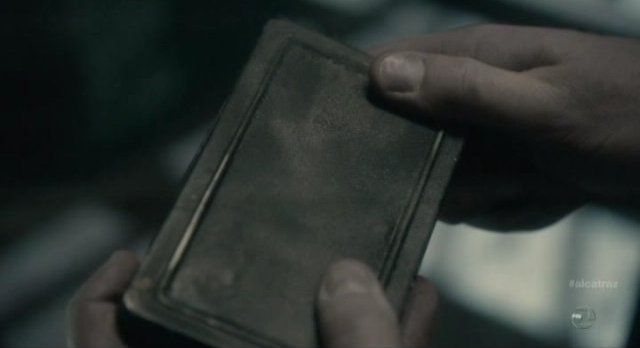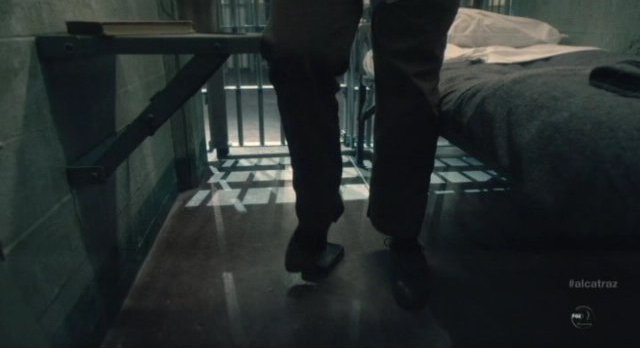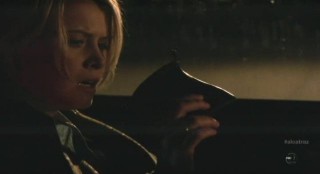 As to my thoughts about Rebecca Madsen. What a great, smart, intelligent and sweet character! She did exactly what I expected her to do; she drove fast, hit another car, thereby taking Cal down by knocking him out and handcuffing him to the steering wheel! Hallelujah,
I would like to say in closing that while talking to Soto, Rebecca showed him what Cal had robbed from the bank. It turns out that it was a very similar key to that one Jack Sylvane (Jeffrey Pierce) robbed in the Alcatraz pilot episode.
I do not know what to think about that at that point. It was really hard to think of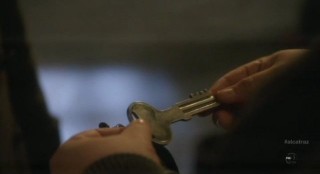 some use to such a key. We know it can open or close something, or turn something up and off.
Answers to those questions are coming as we observed in the last sequence when the two keys were analyzed, Unfortunately we still do not have all the answers, however we thankfully learned some information about them, they ran a really cool computer scan to analyze both the keys to find out they are Amalgamate, trace colloidal, silver content, and are cold forged.
We also learned that the the "biting codes" (lock tumbler latches) are unique to both keys and the shafts were laser-cut. The interesting fact is that there was no such things as lasers when the prison was opened or in production at the time it was closed in 1963, or were there?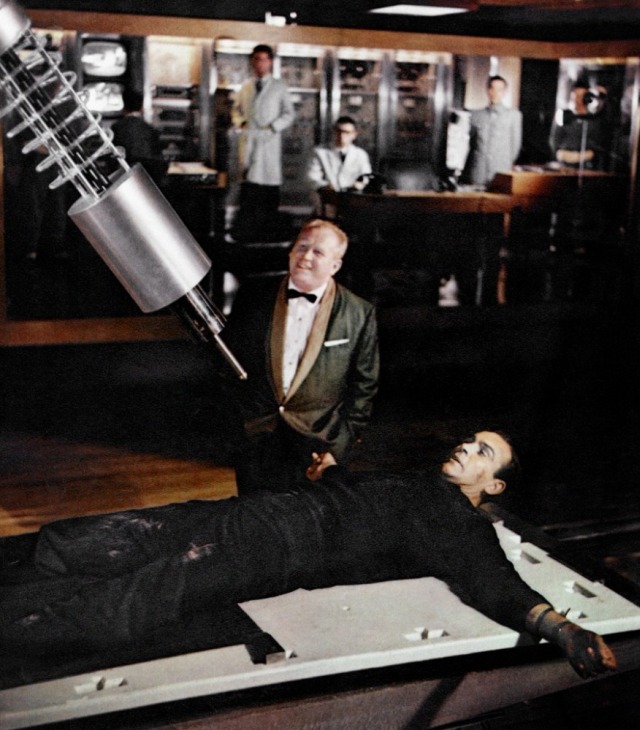 However, James Bond fans may recall that in the classic 1964 movie "Goldfinger" by MGM Studios (illustrated above and now available on Blu-Ray). The villain in the movie, one Auric Goldfinger did have an industrial laser he used to accurately cut metal slabs including gold. However the precision laser cuts as evidenced in the keys were a technology not yet perfected in 1963, or were such techniques available to the masterminds of the Alcatraz enigma?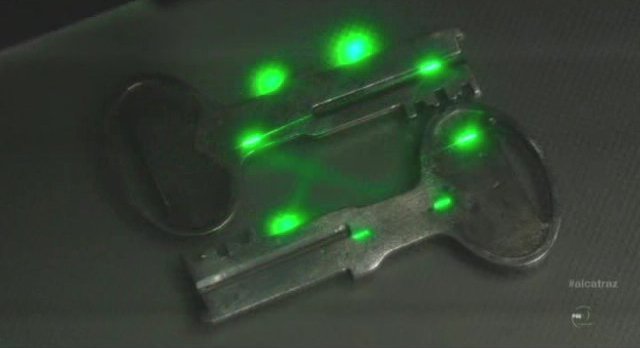 Lastly, we did get to see Warden James opening a weird door with those keys in the room that was later in 2012 to become the room filled with file boxes (no doubt covering the door in modern times… for now). We now know those keys opens something mysterious in the prison. An odd light and vaporemanated from the room, something like a Stargate wormhole, but my gosh, with one question answered, another one is presented.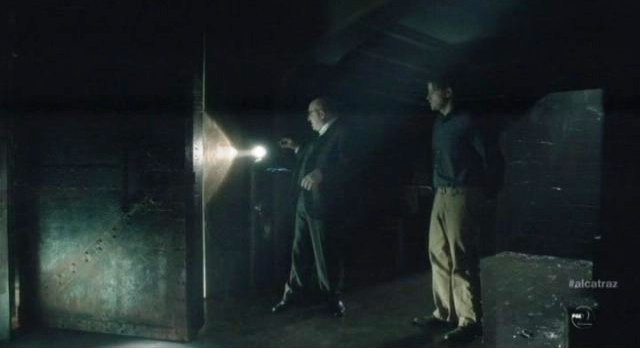 A wise, good looking guy once said "Every answer you get just leads you to more questions." And that is it, is it not? We are certain to find out what is inside that room, who is there, what happens inside. Perhaps in the series season one finale, we will learn what brought them all to us in a very distant future of 2012!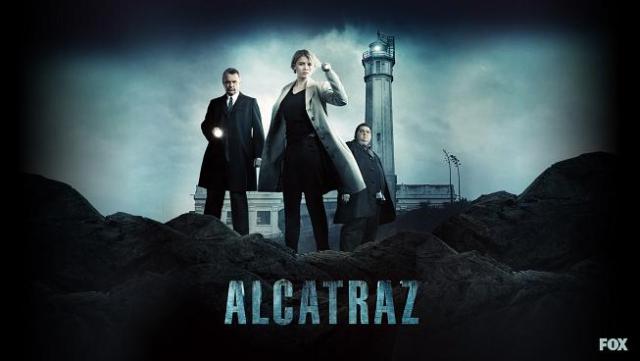 I hope you enjoyed my review and thank you for reading. Also my thanks to Kenn for staging the images and videos who has included the entire "Cal Sweeney" episode below for your enjoyment courtesy of FOX Broadcasting via Hulu.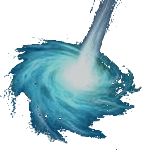 As always, we appreciate you visiting the WormholeRiders News Agency!
Feel free to share this article by clicking the social media icons below. You can visit the WHR on Facebook or me on Twitter by clicking the text links or images avatars here. In any event, the Wormhole Riders will look forward to Seeing You on The Other Side on Twitter to tweet about The Vampire Diaries!
Thanks for reading!