Welcome back Body of Proof Fans,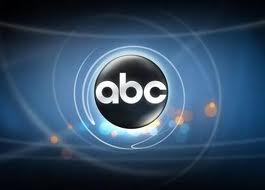 As evidenced by my frantic tweeting during this episode, I loved the interpersonal drama of our latest Body of Proof episode, "Love Bites".
We begin when a drowning man grasps at straws- or more literally, a victim in the river.
When Megan (Dana Delany) gets the call, she is sitting in Lacey's (Mary Mouser) now-empty room contemplating colors. Joan (Joanna Cassidy) attempts to be helpful by offering to introduce her to her interior designer (not decorator). The moment sets up up a mother daughter tension we will observe later.
Before continuing my review, we include a video special courtesy of ABC "The Bodies of Body of Proof". Enjoy!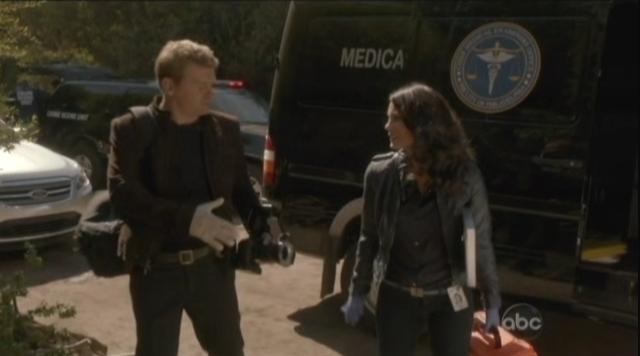 Love Bites:
On the scene, we meet Dani (Nathalie Kelley), the new driver. The victim has been in the Schuylkill (pronounced school-kill) for at least two days and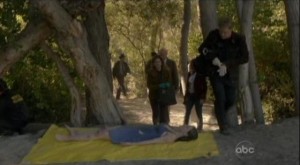 is wearing expensive lingerie (I cannot tell how Megan figures these things out.)
Due to the crime, Todd (Jeffrey Nordling) has to drop Kate (Jeri Ryan) off at work. He is pushing for more time with her since "they're not moving to California". I did a double take at this since last episode it was undecided and this seems an abrupt way to properly announce it. Regardless, Kate says they will talk about it later.
The victim is ID'd as Amy Green, a pharmaceutical rep. Meanwhile, Ethan (Geoffrey Arend) cannot find any blood in the woman's body. Ethan and Dani converse about the vampiric possibilites, but Curtis (Windell Middlebrooks) cuts them off with, "What is this, a Twilight convention?" Burn. Diatoms are found in her bone marrow, meaning she drowned- but they are from the Gulf of Maine.
Bud (John Carroll Lynch) and Sam (Sonja Sohn) meet Amy's roommates, Molly and Beth. Amy was dating someone, but they don't know who. Back at the lab, the team have concluded that Amy didn't drown- she ate oysters, and the diatoms got into her system via her stomach ulcers. (Message: stress is bad.)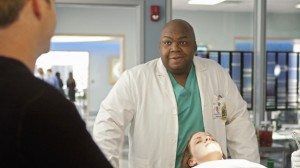 Sam, Bud, and Peter (Nicholas Bishop) check out restauranteur Chris, who recognizes "Sweetness", and sells fresh oysters courtesy of his TSA buddy. Said TSA buddy, the proverbial guy named Sue, gets to Bud, worried about baby names. And, Sam discovered footage of Amy with her assistant Beth at the airport, after she said they were together.

Megan shows Lacey the room covered in paint samples, "since you're going to be spending more time here", with an enthusiasm Lacey does not match. Bud and Sam interview a madeover Beth, who gives them info about cardiologist Dr. Cryer- a competitive account. Megan and Kate search for reasons for petechiael hemorrhages- seizing on drugs.
Arriving at Dr. Cryer's office, the investigative team intercepts Molly. Dr. Cryer confides that Amy's boyfriend hooked her up with oysters. Back to Chris, who insists they broke up a month ago. An excellent interlude when Megan's phone goes off about Lacey- "Lacey, is that a family name?" "No, it just came to me the first time I held her. She was soft and delicate." "What would have happened if she'd been crabby and whiny?" "I would've called her Bud!"
Ethan tries to interrupt Megan that she is walking into a Joan-sized trap. She has called in Kate as well- disapproving of everyone making decisions for a humiliated Lacey. "Thanks a lot, Grandma!"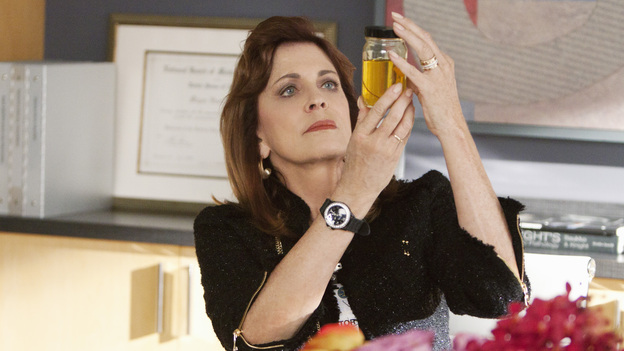 After extrication from the situation, Ethan reveals arsenic tainted paper under Amy's nails- often used to preserve wallpaper in old houses. We go to a house along the river, which has nail marks on the walls, bleach, and when sprayed with Luminol, a body's worth of blood. An agonizing death.
Chris has an alibi. Dr. Cryer, however, reserved that house for a private party. He asserts that he was having a fling with Amy, and left to call his wife. When he came back, she was dead, he panicked and disposed of the body and evidence. Bud arrests him, not for "being a horrible person" but for tampering with evidence and removal of a body.
Quid pro quo, Megan bursts in on Joan in her judge's chambers for canceling the interior designer. Megan says Joan controlled her; Joan replies she should learn from it; Megan says that Lacey will never feel about her, the way Megan feels about Joan. Harsh.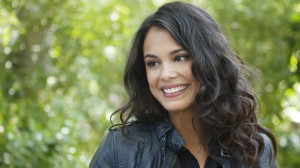 The anticoagulants currently on sale in the US couldn't have caused Amy to bleed out. Ever helpful, Dani suggests Ebola. Suggesting an experimental drug tested overseas, Peter puts on a spectacular Australian accent to get information.
In a personal favorite twist, Todd asks Kate why she's been avoiding him. She says, "you are my colleague's ex husband. Megan is trying to forge a relationship with Lacey. I keep ending up in the middle…..I'm sorry, it's over." BOOM! (Obviously I was not a fan of this relationship.)
Megan and co. confront Molly for information about the new anticoagulant. She is marginally helpful. Calling her out, "I thought you were her friend. Or were you lying about that, too?" She responds by coming to the ME's office and giving Megan the drug info. It doesn't match.
Dr. David Cryer (still in a suit) portrayed by Christopher Cousins (Ambassador Faxon in Stargate SG-1) is brought in to give information- what position was Amy in? How long did she take to die, alone and in pain? Megan finds two puncture wounds on Amy's arm. From- FANGS.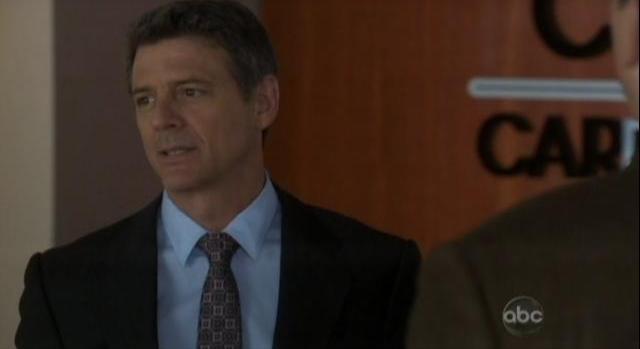 No, not Twilight. An African snake called a gaboon viper. Return to the house, with Ethan and Curtis in high waters accompanied by an animal control expert. He plays music, explaining vipers are attracted to vibrations, and warns them not to provoke it.
Caught, Megan observes an "odd rough patch" on the skin, which happens to snakeskin shoes from saltwater. In fact, it's a unique algae from Chris's oysters. It was "supposed to be a joke" he says. She couldn't slum it with him. He took the snakes from the TSA, thinking the younger snakes wouldn't hurt anyone. In fact the opposite was true.
In another favorite part of mine, Kate apologizes for being selfish and not thinking through dating Todd. Amy's mother comes to get her child, realizing that she couldn't hold on to her, she had to let her go- teaching this lesson again to Megan.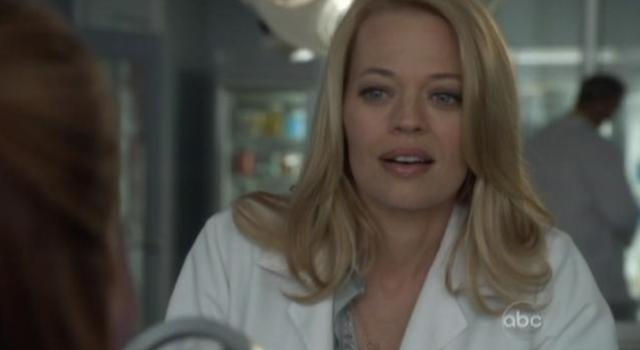 Bud promises his pregnant wife watermelon, and Sam gifts him a baby name book, with a section on opera singers. And, Megan apologizes for making decisions for Lacey. Lacey's room is now hers to decide how to decorate, and dream, and live.
I love these writers- the impeccable detail to Megan's sense of fashion, the relationships between Megan and Lacey, and Megan and Kate. Beautiful episode.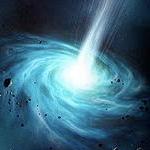 Thank you for reading and visiting WormholeRiders News Agency.
Please feel free to leave a comment here or if you prefer, click the social media icons below to share this news article.
Or as many of our readers and visitors often do, visit WHR on Twitter, WHR on Facebook or visit me on Twitter by clicking the text links or image avatars in this news story. I and the WHR team look forward to  Seeing You on The Other Side"!
-Nettie