Welcome back Eureka fans!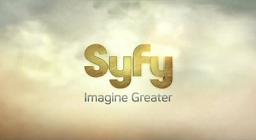 It has been a long hiatus and I have been anxious to see what has happened to our heroes after the fourth season cliffhanger last year. We are pleased to see Eureka return earlier that anticipated to begin it's fifth season on Syfy and the SPACE Channel.
We certainly have no doubt that series the creators like Jaime Paglia and his fine Eureka team will bring us outstanding entertainment in the final thirteen episodes. We only wish this were not the last season.
Before continuing my review of LOST, courtesy of Syfy, we include the extended promotional trailer for the next episode, "The Real Thing" airing this Monday April 23, 2012 on Syfy in the United States and on the SPACE Channel in Canada.
LOST:
Season five begins with Allison Blake (Salli Richardson-Whitfield) frantically attempting to wake up the Astreus command crew. Unfortunately, they have only three minutes before they will crash into what they believe to be Titan. After a very rough landing, Fargo (Neil Grayston) makes his appearance in the cockpit, stretching and yawning from his long nap.
Of course,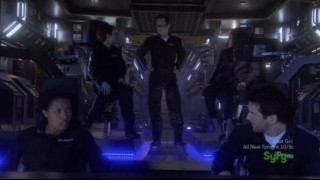 Fargo has the first great line, "Are we there yet?"  Although Allison woke him up with the rest of the command crew, Fargo saw no reason to panic and literally rolled over to go back to sleep.
He obviously has incredible belief in his team. Well, since it is Allison Blake, Zane Donovan (Niall Matter), Holly Marten (Felicia Day) and Grace Monroe (Tembi Locke), who would not feel safe?
Naturally, throughout their three minute ordeal, everyone takes turns being startled to see that Allison is with them. Once the ship has landed safely, Allison explains how she was trapped inside the Astreus when it took off from Eureka. It looks as if she is on board for the duration.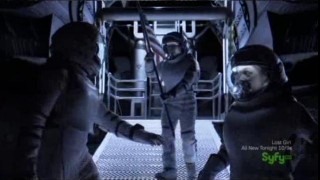 That duration is short lived. In order to determine where they are, Zane and Grace exit the ship, with Fargo dashing down the ramp between them so that he can be first on Titan. Holding the American flag proudly, his moment of infamy is quickly overshadowed by what appear to be alien ships approaching, followed by police cruisers.
Fargo, afraid of whatever is approaching, dashes back inside. It turns out it is Deputy Andy (Kavan Smith), and they are not on Titan after all.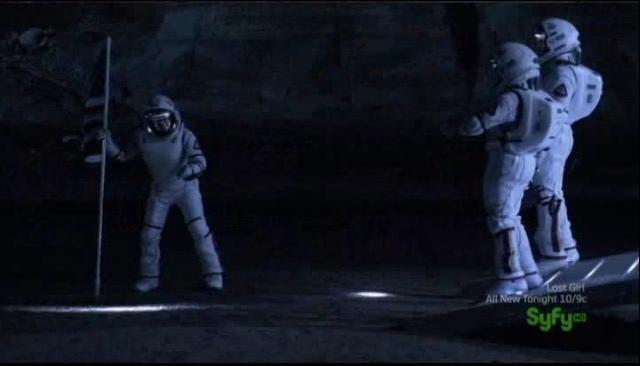 Back at Global Dynamics, everyone is in isolation waiting for answers. Lucky for Allison, Sheriff Jack Carter (Colin Ferguson) has arrived to explain things. They have been gone for four years and two months and there have been a few changes. Both Jack and Henry (Joe Morton) spent over a year looking for Allison and the others, but eventually had to give up when the Department of Defense insisted that they move on. Jack explains that Henry has not been the same since, setting the stage for later on in the episode where we might question Henry's sanity.
As for Allison's kids, Kevin (Trevor Jackson) is in college and baby Jenna is now about five years old. Grace discovers that Henry no longer has clearance at Global Dynamics and Deputy Andy, from this point forward known as Evil Andy, is head of security. Jo Lupo (Erica Cerra) arrives to visit Zane. It seems that, initially, nothing has changed for the two of them.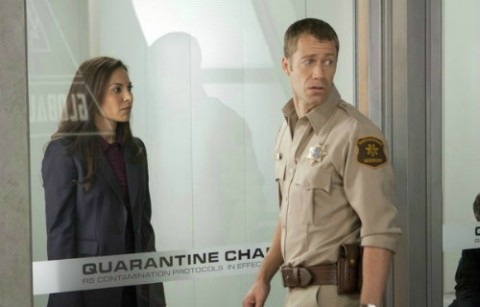 Holly and Fargo are caught up on the changes to Global Dynamics by Evil Andy who informs them that S.A.R.A.H, Jack's old house computer is now running everything. Fargo is less than pleased. Not only is his old office devoid of furniture, but he has lost his coveted position. As S.A.R.A.H blithely comments, "It's a brave new world". Evil Andy is thrilled.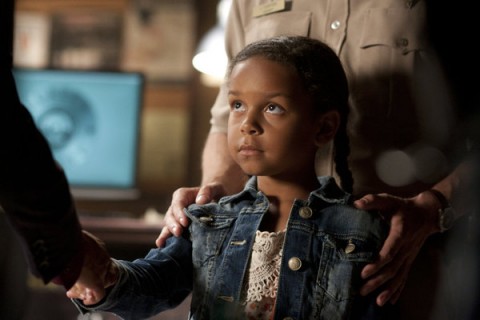 Later, Allison gets to become reacquainted with her daughter, but the reunion is not quite what Allison expected. Jenna does not know her. Their first contact in four years is definitely strained. Meanwhile, Grace meets Henry at his garage. He is delighted to see her, but apprehensive that "They are listening". He shows Grace a hidden hatch that leads to a room under the garage. Is there something in Eureka to worry about, or does Henry have a screw loose?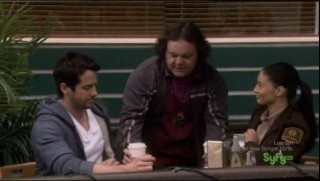 Zane and Jo are being served coffee by Vincent (Chris Gauthier) at Cafe Diem. As Jo is explaining how some things have changed in Eureka, it becomes obvious that their conversation is not private. They have an audience of flying robots, henceforth known as Martha Drones. When Jo attempts to stand up to them, things escalate.
Carter and Allison overhear the exchange. Carter dashes out just in time to see Zane get zapped by the Marthas. While Zane is escorted to the infirmary, Evil Andy does his Dr. Jeckyl-Mr. Hyde impression. He is nice on the surface, but regularly lets slip a subtle threat, "I see no need to press charges… for now".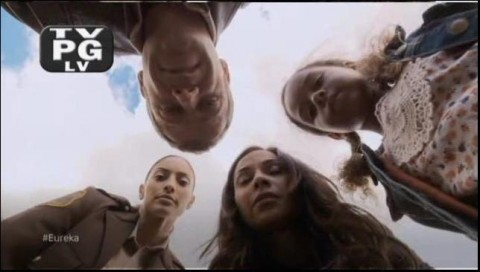 Fargo and Holly get escorted to their new work stations by a copy of Evil Andy. Apparently, there are dozens of him all over Eureka. Fargo discovers yet another let down to his day. Dr. Isaak Parrish (Wil Wheaton) is now in charge. But, oddly, he is being nice.
"Things aren't what they seem", adds Henry as he speaks to Grace. They are still in the hiding place that Henry has created. Henry is convinced that Senator Wen and the Andys made an example of him so they could take over. He appeals to Grace to help him fix what has gone wrong.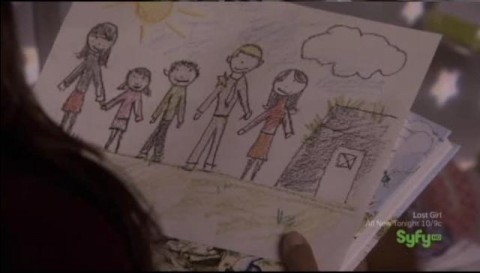 At Carter's house, Allison and Jenna have some more time together. She reads the child a bedtime story – Alice in Wonderland; definitely a good choice for this episode. Jenna offers Allison a drawing she has made of her family, Allison does not seem to catch its significance at first.
While she is with Jenna, Jo arrives. Carter asks Jo if she has "told him"? We want to know, "told him what"? We find out quickly when they kiss passionately. Moreover, Allison chooses that moment to come down the stairs. When she looks at Jenna's picture again, everything makes sense. Allison is crushed.
Zane has problems of his own. His trip to the infirmary has led him into a situation where it appears that he is about to get his mind altered. Zane, of course, is not fond of this idea and takes a momentary distraction to the neural engineer (Paula Lindberg) to slip away.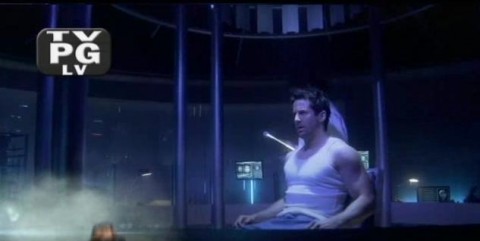 Allison and Carter discuss their current situation. Her heart must be breaking as she finds out that Carter is in love with Jo. Their discussion is cut short as Evil Andy invites himself into Carter's house. He is looking for Zane. Evil Andy explains that Zane is having trouble transitioning, "We don't want any more incidents," he states with a serious face.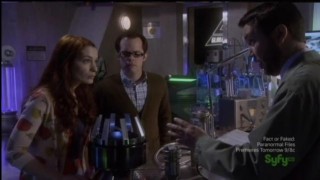 In GD labs, Parrish happily shows off the reason he is in charge of the Unconventional Weapons Lab. His invention, the anger suppression system that caused so much trouble in season four has been upgraded and turned into Parrish's A.S.S, or Adrenaline Suppression System, that turns aggression into submission.
As Parrish states, "People just do what they are told." As Parrish and Holly head off in another direction, Zane catches Fargo's attention. He is certain that there are odd things happening at GD, so he is leaving. He invites Fargo to come with him. Fargo, concerned about Holly, is not ready to leave just yet.
While Zane attempts his escape through the main lobby of GD, three Evil Andys catch up with him. He is not free for long. The lead Evil Andy escorts Zane to an elevator where Jo is waiting to taser him. Andy is rendered unconscious, or inactive, or whatever happens to a robot when it stops working.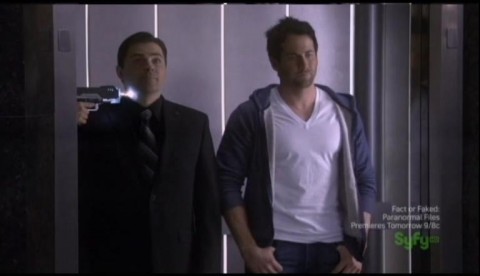 Back at Henry's garage, Carter and Allison discuss their situation with Henry and Grace. They agree that most of the town has been altered to be agreeable to whatever Evil Andy and S.A.R.A.H desire. There is a knock on Henry's garage door. Of course, it is evil Andy. This time, he is polite and does not invite himself inside. Luckily for everyone Evil Andy remains outside.
This gives Grace and Henry time to climb back up to the main part of the garage where they can open the door and let Evil Andy inside.  Since Evil Andy always seems to be bad news, why people keep talking to him instead of avoiding him is beyond me. Again, Evil Andy is still looking for Zane Donovan.  
And, of course, Evil Andy offers the subtle threat, "I'm sure it must be great to have the crew back. So, I am sure you would no't do anything to jeopardize their safe transition back, now would you." Henry states that, of course he would not. Evil Andy seems satisfied and tells them, "Have a special day." Just as everyone begins to feel safe again, Evil Andy orders the six legged robot waiting outside, to, "Take them."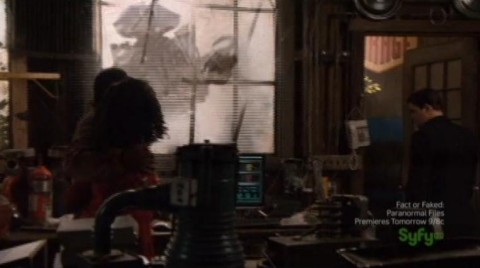 The destruction caused by the robot breaking through the glass window and taking Henry and Grace has also trapped Carter and Allison underground. Fortunately, Zane and Jo come by and are able to rescue them. Jo cannot contain her relief that Carter is okay.
As soon as he and Allison are back above ground, Jo caresses Jack's face, pretty much letting Zane know that things have really changed. The look on Zane's face is truly sad.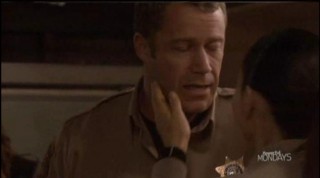 Enter Fargo and Holly. Fargos surprised question, "What the frak happened?"
It seems that BattleStar Galactica reference is making the rounds. Zane's response to the question, "Carter stole my girlfriend." Carter reminds them they have bigger issues.
They have to stop the Andy's from brain wiping Henry and Grace. Fargo and Holly realize, and share with the group that the Andy's are using Isaak's ASS. Joking aside, Fargo comes up with a plan. Yes, I said, Fargo comes up with a plan.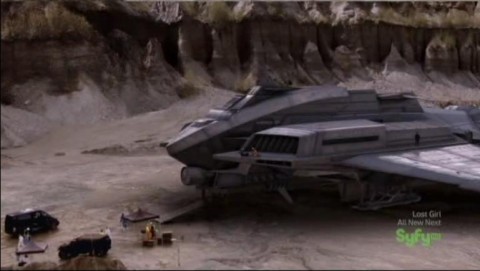 Jo and Zane sneak aboard the Astreus where they have words about the way that Zane found out about Jo and Carter's relationship. Meanwhile, Fargo and Holly are breaking into a back entrance to S.A.R.A.H's mainframe to take down the firewall. Holly's best remark, "Let's do this backdoor." Again, the look on Fargo's face is priceless.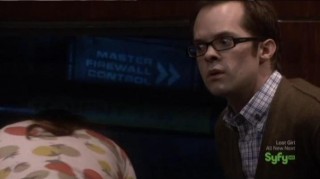 Allison and Carter are doing the best that they can to keep Evil Andy busy so he and his minions do not catch on to what the others are doing. They arrive in the lab where Grace and Henry have been placed to receive their brain wipe. Carter attempts to reason with Evil Andy.
We learn that they are both in agreement. Andy does not want to hurt anyone. What is different is they each have their own definition of 'hurt'.  Evil Andy just wants everyone to be safe. Free will and aggressive behaviour, to Andy does not insure safety.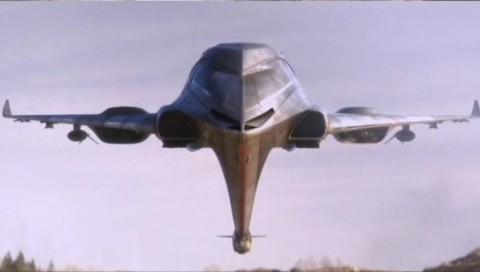 Jo watches while Zane works.  They get a visitor, a very large version of one of the Marthas; a flying robot. Rather than be a target, Zane separates the cockpit capsule and flies away from the enemy aircraft.
Meanwhile, one of the Evil Andy's has caught up with Fargo and Holly. As Fargo continues to remove computer components to take down the fire wall, Holly fights off Evil Andy by kicking at him with her feet.  Just as it appears that Grace and Henry are about to be brain wiped, Zane and Jo are about to be shot down and Holly is about to be stopped, Fargo manages to bring down the fire wall. All the rest of the dominoes fall into place and they are able to shut down all the robots.
Of course, Jack Carter's Jeep gets blown up along the way, again to the delight of the viewing audience!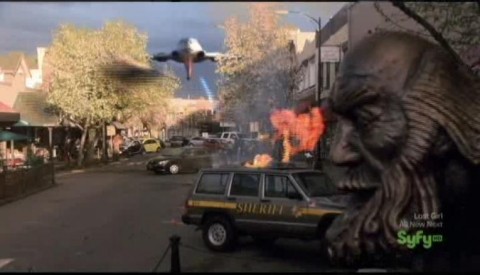 Once back in power, Fargo reinstates the Astreus crew back to their previous posts. Even Parrish, the thorn in Fargo's side will get his old job back once they have completed their 'neural recalibration'. Although both Fargo and Holly like Parrish the way he is, we know that they will ensure he gets back to his old miserable self.
As the episode ends, Zane seems reluctantly willing to move on now that Jo is with Carter. Allison is having more trouble. After she discusses their lost relationship with Carter, and he steps away to begin preparing the evening meal, tears begin forming in her eyes.
At this moment, there is a surprise. There is a very familiar voice over, Beverly Barlow (Debrah Farentino) is back. She has everyone strapped to beds as they live their lives inside their minds, believing that everything they imagine is real.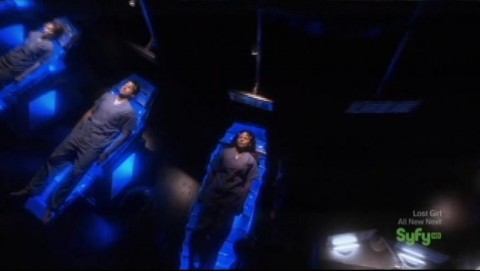 For those viewers who have been around a while, this was a little like the Dallas episode where Bobby Ewing dreamed an entire season. Although it seems like a cool way to keep the audience guessing, l think it is a bit too convenient a way to change things up instead of looking for a logical solution to a story line.
I realize that the last season has been written and completed, but I hope that the producers and writers have not become lazy with their writing. Otherwise, the story had some really good one liners and the acting was crisp and clever. Kudos to Colin Ferguson and Neil Grayston for playing their roles so straight up as comedic centers to the series.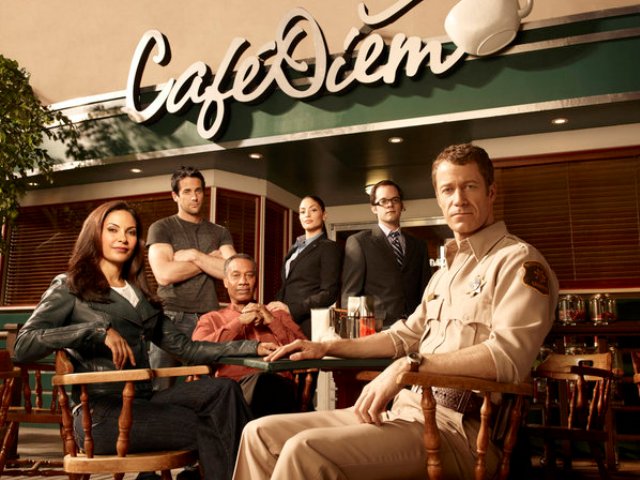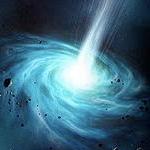 Thanks to Kenn for assisting with the video embed for this post. And thanks to you for stopping by WormholeRiders News Agency
Please feel free to leave a comment here, click an icon below to share this interview or you can visit and follow me on Twitter by clicking on my avatar to the right.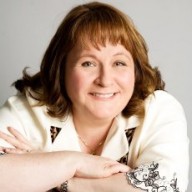 Regards.
ArcticGoddess1 (Patricia)