Welcome back, fans of Eureka!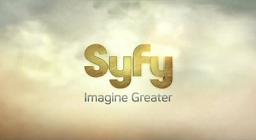 Before starting my review and analysis of "The Real Thing", an epic episode, below please find the promotional trailer for the next great Eureka episode "Force Quit" courtesy of Syfy!
MAJOR SPOILERS AHEAD
The Real Thing:
Well, for those of you who have read my reviews, you know I often like to open with a witty statement, (well, witty to me, let a girl dream, hmm?). But given the content of this week's episode of Syfy's Eureka, I find wit escaping me and disbelief clouding my mind.
It has been a hard reintroduction to this show we all know and love, especially as it hurtles headlong into its final season, and the hits just keep on coming. Last week, we faced the possibility of entering into a whole new alternate reality when we had just gotten used to the one of the season before – and yet even as we were pulled back from the brink of that, we were forced to say goodbye to a character that – well I think anyway – has become as well-loved as one of the series regulars. I speak, of course, of the quirky, lovable, brilliant girlfriend of one Douglas Fargo, (Neil Grayston): Holly Marten, (Felicia Day).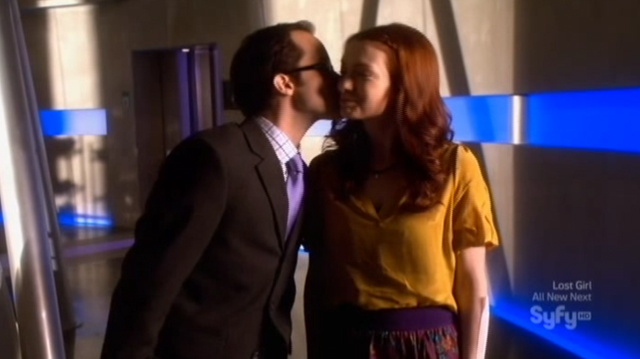 Let us take a look at the events leading up to this sad moment.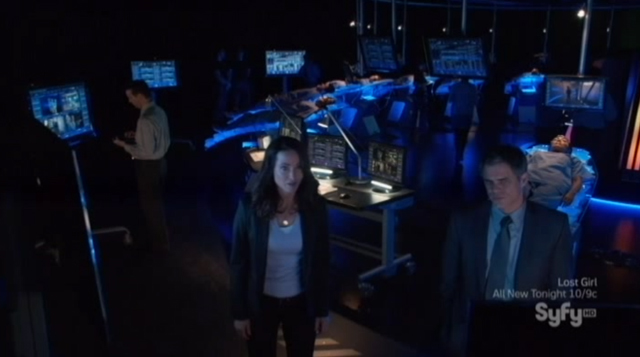 Look who is back, ladies and gentlemen – Beverly Barlow (Debrah Farentino)! Full of pride, she eagerly debriefs a group of what looks like U.S. Government officials on the status of the Astraeus and her crew – namely the scientific discoveries they have made in the past month since becoming wired into their 'artificial world', (which I am sure made many of us breathe a sigh of relief).
Barlow does her best to reassure the government that this idea is 'foolproof', but the audience knows better. The smartest people in the world are wired into that thing – sooner or later, someone is going to clue in.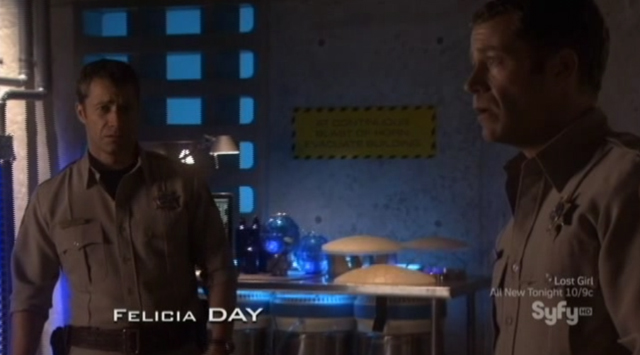 We jump back now to the season four closer, watching as the frantic Jack Carter, (Colin Ferguson), slams a tube into the coolant pipes feeding the Astraeus' reactor, trying to save Alison Blake, (Salli Richardson-Whitfield) from liquidation from liftoff.
As he succeeds in breaking the pipes the world freezes, and we see Jack Carter again watching the whole thing. It has been a month, and he is still obsessively trying to figure out what happened. An equally troubled Henry Deacon, (Joe Morton), enters, giving the troubling comment that there is no trace of sabotage or of a way to find the ship.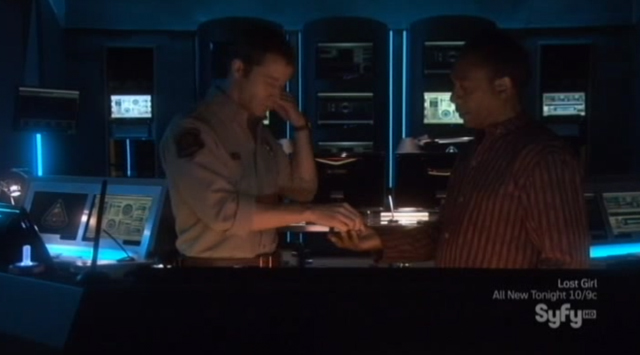 Throughout the series, both Henry and Jack have shown themselves to be two halves of the same coin, both equally reckless and single-minded in their pursuit of achieving any goal and overcoming any obstacle they come up against. The two of them together are virtually unstoppable. Now, with their significant others not just at risk, but potentially dead, they will not stop for anything. As men living in Eureka, they just cannot catch a break.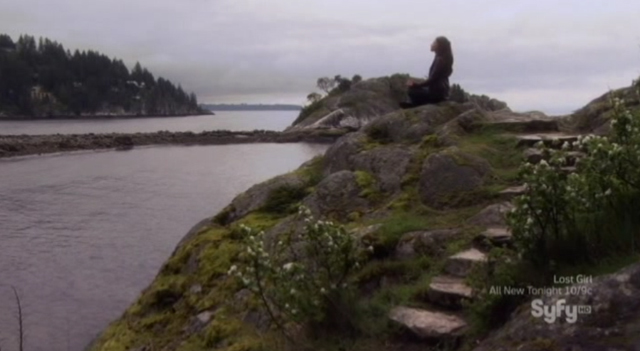 Josefina 'Jo' Lupo, (Erica Cerra) is in prime meditation country, on a truly gorgeous hillside overlooking a lake. She is in the 'om' position, but clearly not 'omming', as she repeatedly asks the Universe to send her a sign. She has every bit of good intentions, following her old romance Taggart, (Matt Frewer), but it is clear that her naturally fiery spirit is getting in the way of Nirvana. Her car getting towed pretty much breaks the spell, and with a sarcastic: "Thanks, Universe," Jo returns to reality.
Jo has gone through amazing changes throughout the series, and while she has kept her natural tendencies to shoot first and ask questions later, she has come to care, love, and even experience heartbreak, (not that she was not able to but in the first episode, it was clear she was meant to be tough). In some ways, she reminds me of Rodney McKay, (David Hewlett), from Stargate Atlantis. It is remarkable what love and loyalty can do to a person – no matter how diamond hard you present yourself to be on the outside.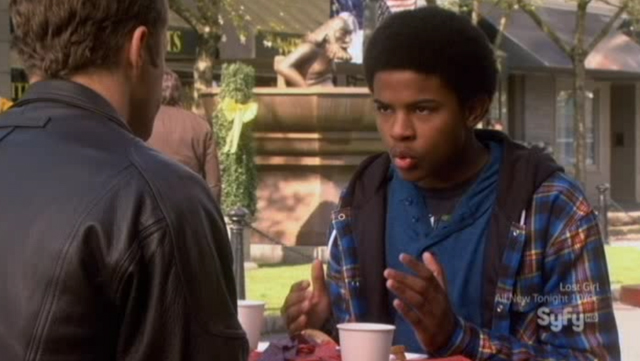 Back in Eureka, Kevin Blake, (Trevor Jackson), no less willing to give up on the Astraeus than Jack, is nibbling on the best comfort food on the planet – grilled cheese with fontina and aged Gouda, (who is going to give that a try now? My hand is up!), and working on a strangelet detector.
The whole world figuratively comes to halt, however, as Deputy Andy, (Kavan Smith), approaches, and announces the search for the Astraeus to be called off. Kevin storms off – and it is pretty obvious he is not even close to accepting this as the truth.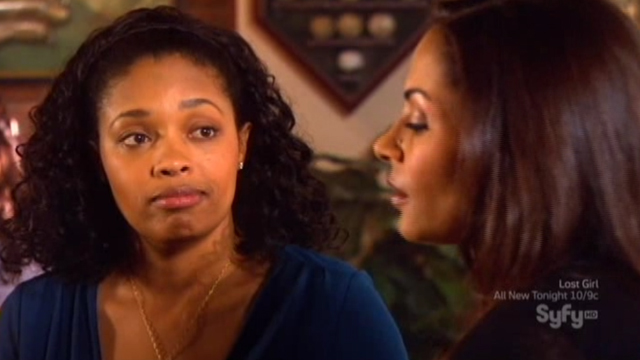 'Construct' is the word of the day as we reenter into the virtual world where Alison is playing Jenna at Uno. Clues abound as Grace Munroe, (Tembi Locke), moves in to call Alison out to the Astraeus to review a batch of biological experiments.
Alison comments on being thrown from one assignment to another, and when asked if any of this feels real, she says 'no'. While it can be easily assumed that these are simply the words of an exhausted and emotionally distraught woman, they set the stage for later revelations. The tension grows as Alison watches Vincent, (Christopher Gauthier), walk straight through a counter – but the best is yet to come.
Senator Wen, (Ming-Na), is doing her best to console and get everyone to return to work in the 'real world'. Carter is determined to not let that happen, but she ultimately overrules him, saying: "It's time to turn your focus back to this world," which really can be interpreted as a heavily ironic self-comment both in and out of the show. Reluctantly trying to obey, Carter discovers Kevin has stolen several pieces of equipment from around Eureka, and is trying to complete his "strangelet" detector. Carter orders him to shut it off, and leaves.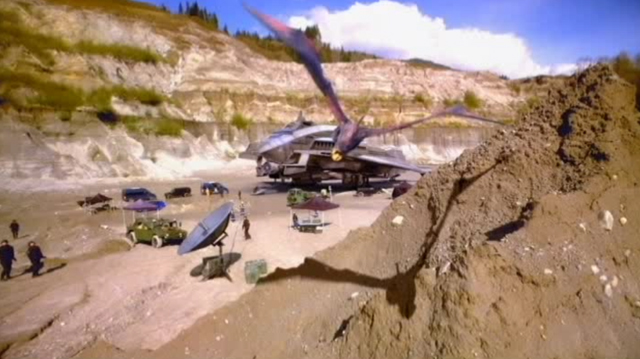 On the Astraeus construct, Alison and Jo are chatting about, of all things, dragons. The conversation turns awkward as Jo comments about Jenna loving dragons, and despite her apologies it is clear that the air between these two women is not going to get any better anytime soon. A sudden roar splits the air, and as they watch a strange creature explodes out of the room.
They flee the ship, joining the work crew and one Douglas Fargo outside. As they turn around, a creature with a long neck, claws, and wings comes soaring out of the Astraeus. There is no question: It is a dragon. Outside, Beverly is admittedly flipping out. She is annoyed by the addition of Alison Blake, (a twenty-first mind in a creation built for twenty), and adds that the crew is already suspicious. She is desperate to get rid of the dragon believably.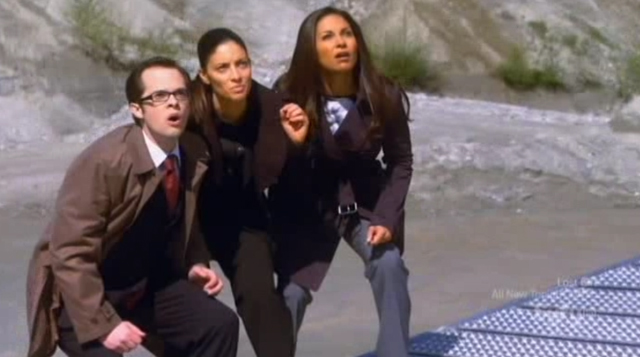 Holly Marten does not believe Fargo's claims about the dragon, no matter how much he emphasizes it. "Dragons are mythical!" she exclaims, to which Fargo announces: "Mythical is just another word for 'not yet discovered'!" (one of my favorite lines of the series so far and something I think is very true).
Holly tries to laugh it off as chemical exposure, describing a hilarious hallucination that leaves everyone smirking at her as she struts off. While Carter starts to explain how they are going to kill the dragon, Fargo speaks up desperately, trying to save this 'mythical' creature by capturing it in a super-symmetrical particle net. The ruse of Beverly Barlow and her team is revealed as, within the construct, everyone goes to work creating this formerly theoretical idea. The plans are stolen right out of their heads, and work in the 'real world' commences.
Jo's walkabout has taken her back to her own home, now owned by a woman who is quite grouchy at her presence. The grouchiness is increased when the woman hands Jo a stack of messages all from Carter, who has been trying to contact her and bring her back to Eureka. Griping about how "you don't bring a cell phone on a walkabout", Jo presumably heads for Eureka.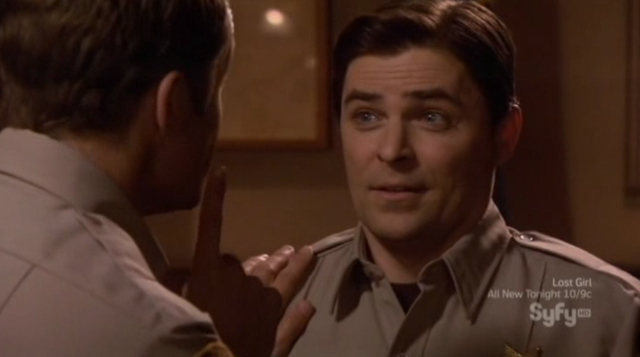 Still in the real world, Carter goes to speak to Henry, who is wildly excited about Kevin's strangelet detector. Apparently, it is not such a bad idea, and with the realization that the Astraeus can be tracked, Carter and Henry employ Kevin to continue working. Following a hilarious exchange, (seriously, one of the funniest of the episode and definitely the season so far), Carter convinces Deputy Andy to help him locate and "borrow" the final part to find the people of the Astraeus.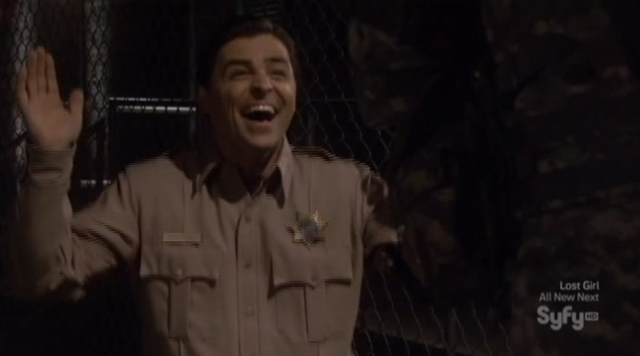 Andy is another character who has shown some pretty amazing growth during his tenure on Eureka. While first coming across as a permanently cheerful (to the point of creepy) A.I., Andy's reception of an emotional program from S.A.R.A.H. opened him up to the world of development.
In the end of season four, his slow breakdown on Titan was truly painful to watch as he went through an emotional range that was not so much evident on his face, but in his voice. He continues to grow through this episode and while he is likely no Data, (Brent Spiner), in becoming human, he is a powerful blend of humanity and A.I. Credit, kudos, props, and cheers to Kavan Smith for handling this character the way he has.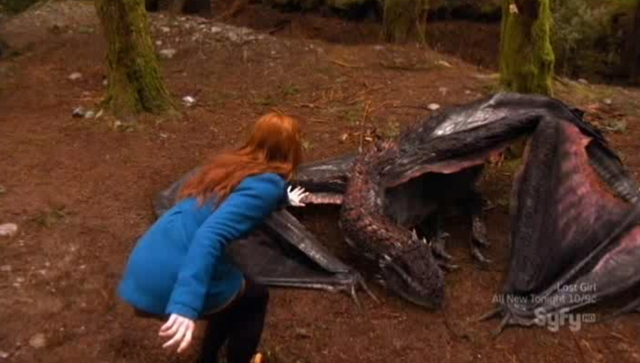 In the woods outside Eureka, Fargo, Carter, Alison, and Holly track down the dragon. Holly is forced to admit it is real as it swipes her arm, cutting her. Fargo's net is a success, but only Holly and Alison see the dragon for what it is – a flickering computer program – only at the time they do not make the connection. Carter attempts to explain it off as 'cryptic colorization' or the fact that both women were on the Astraeus. Alison is not convinced and is in fact more skeptical, wondering how Carter is so intelligent. She speaks to Grace, who also reveals that Henry is acting strange.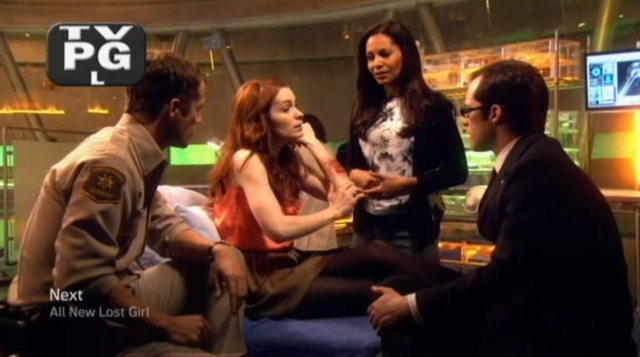 In the real world, Carter and Andy are infiltrating the compound in which the last piece of equipment for the strangelet detector is being kept. Andy is supercharged with excitement, blissfully unaware or ignoring the danger. A quick exchanges puts Carter in the building with Andy guarding the door, and as Carter suffers the various electrical shocks leaping around the building, Andy faces problems of his own as he is approached by two MPs demanding to know what he's doing there.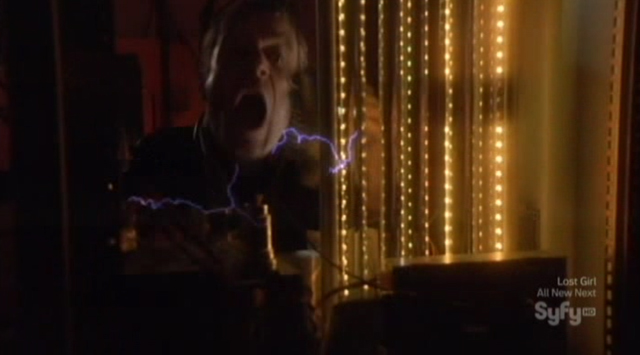 Unable to lie, Andy tells the straight truth, which at first looks like it is going to go bad for them – until the men laugh, believing Andy to be lying.
They are not out of the woods yet. As Andy self-reflects on how he nearly bushed the mission, Senator Wen ambushes the two and locks them up.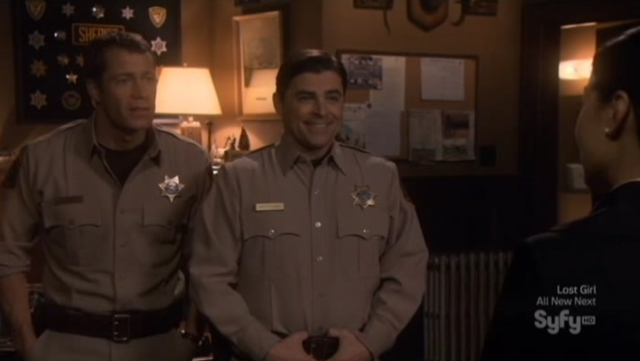 Rescue materializes in the form of Jo, and everyone heads to the work site where the strangelet detector is complete.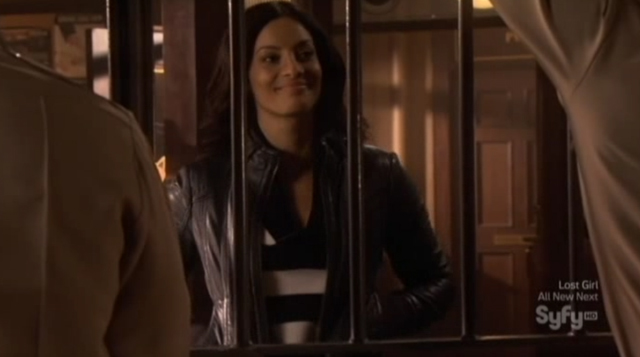 Activation reveals nothing as they search the sky, and it seems like all is truly lost – until Carter suddenly gets the idea to look DOWN.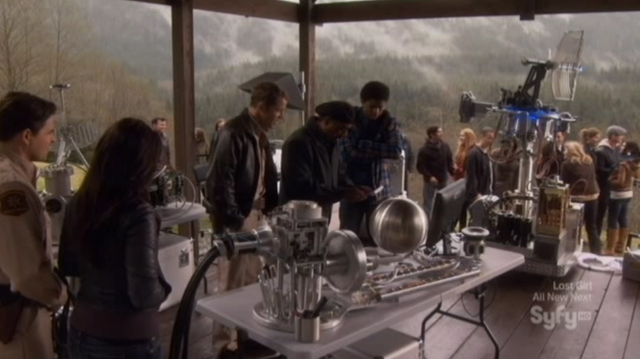 The ship is found. The crew is not. The blue-lit lair we have been watching for the whole episode is empty, snow scratching across the TVs, and the beds unoccupied.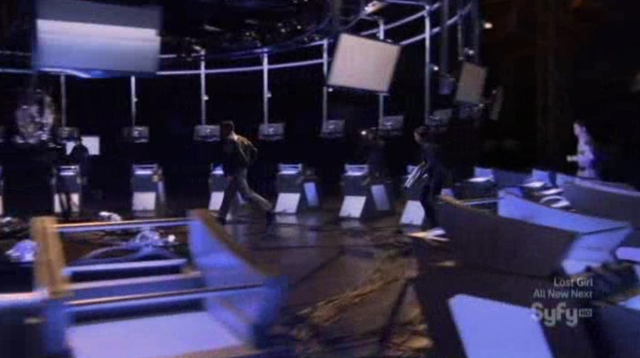 Disheartened, Carter muses about where they could be – and makes the final connection.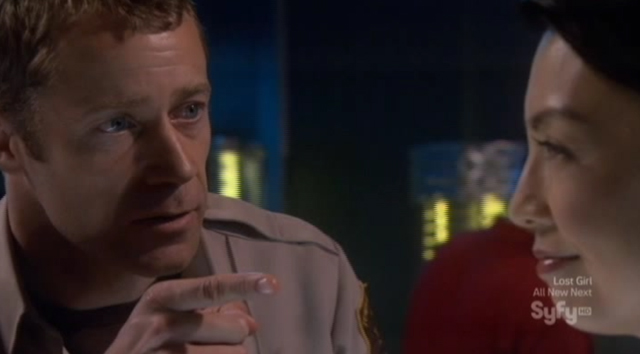 As the episode draws to a close, other connections are being made – and severed. Holly Marten watches in surprise as her wound fades, then reappears on her arm. As Carter approaches her, Holly's brilliant mind frantically theorizes what is happening, and she lands on the exact right answer. As we, the audience, hold our breath while she blurts out the whole ruse, Carter simply says that he wishes she hadn't said that, and touches her head.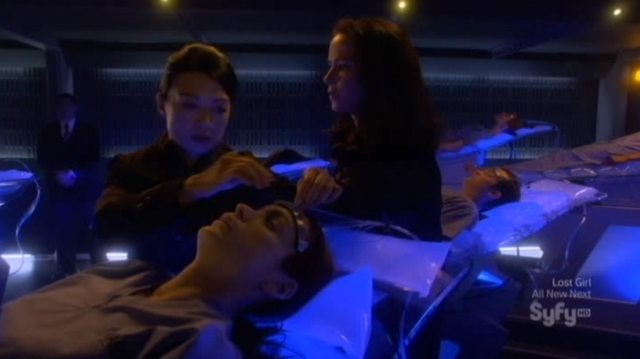 In the real world, Senator Wen is disconnecting Holly from the machine. Beverly tries to stop her, fearful of the loss of one of Eureka's minds, but Wen in unstoppable. Within moments, Holly is fully disconnected.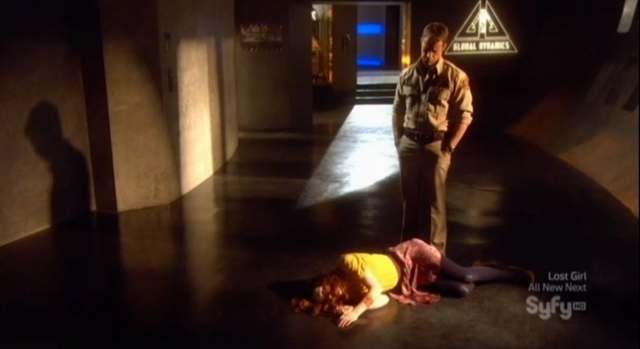 Let the screaming begin. If karma be real, Douglas Fargo should be GOD at the end of Eureka. The adorable little nerd has gone from being almost a series joke to a solid and dependable, loyal and (dare I say?) responsible man. Full of impulsive quirks, to be sure, but nonetheless trustworthy. But man, has he had to work for it, and if he has truly lost the beautiful Holly, the effect it will have on his character will be fascinating and heartbreaking to see.
To Felicia Day: You have been a joy on Eureka. If this truly was Holly's last living episode, thank you for bringing her to life. If it is not, please do not keep us in suspense for too long. Regardless, it has been a pleasure!
Next week: Fargo's Revenge?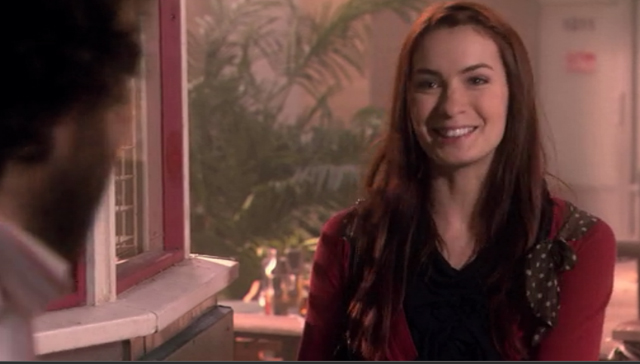 Thank you for visiting WormholeRiders News Agency
Please feel free to leave a comment here or if you prefer, click the social media icons below to share this news article. Or as many of our readers and visitors often do, visit WHR on Twitter, WHR on Facebook or visit me on Twitter by clicking the text links or images avatars in this news story.
I and the WHR team look forward to and will be Seeing You on The Other Side"!
Thank you.
Regards,
Nayari09 (Pam)