Welcome back Falling Skies fans,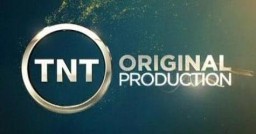 We are not kicking and screaming, yet!  It seems they do keep drawing us back, back to bear witness to the 2nd Mass and the Resistance. I for One Cannot… Not Watch! These people, the characters and the story have melted into my system like a fine Scotch Whiskey. So pour yourself a shot!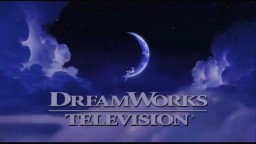 Pull up a stool friends, let me tell you a little story about when the aliens came! Know this: It is time we joined the Resistance on their journey! Oh and do not forget, we get to kill some Skitters too courtesy of the fine work by Dreamworks Studios!
Last week ended with the 'parasite' mind control, tracker thing that came out of Tom Mason's (Noah Wyle)  eye – actually transforming into a some sort of small dragonfly like, flying creature, boar a hole thru the glass container and escaped, and after crawling around on Lourdes (Seychelle Gabriel) for a minute, it took flight. 
My mind was screaming – What the What?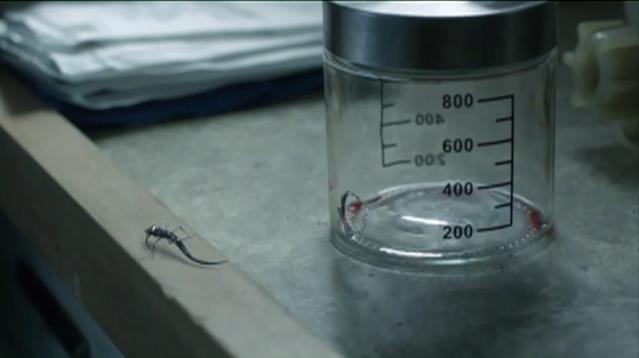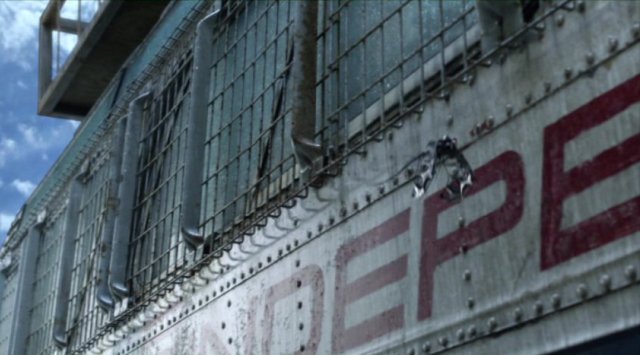 We observe on the outskirts of the cam, a Skitter. The flying alien "bug" went straight to it. The "bug" landed on its head and quickly crawled into its eye socket.  Okay.  Was that was a baby Skitter, is that where they live?  Oh my!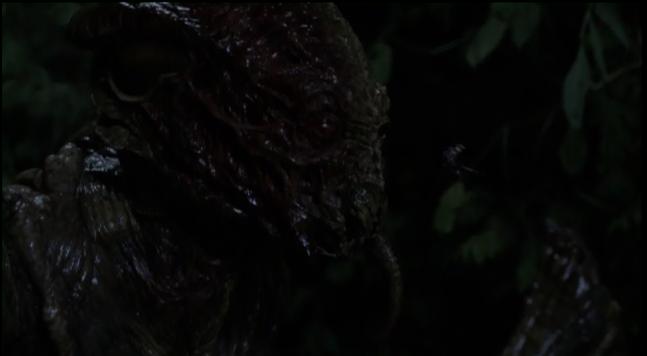 Compass:
This weeks episode opens with Ben Mason (Conner Jessup) and Jimmy Boland (Dylan Authors) in dire straights when confronted by some evil Skitters while on patrol.  They were checking out a downed "Beamer" when a Skitter rambled by. Jimmy took the shot and down it went.  As they went over to investigate, the Skitter that Jimmy shot jumped up! With one very smooth move of his knife, Ben took it down.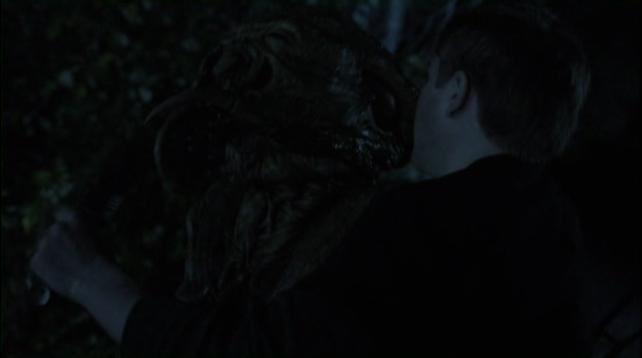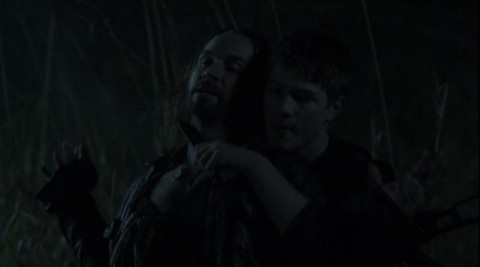 Segue to the Airport Resistance camp, John Pope (Colin Cunningham) has decided that Tom Mason is not to be trusted.  The Berserker's,  jump Tom, put a bag on his head and drag him to the outskirts of the camp. 
Pope says the alien stooge needs to be dealt with.  Tom is on his knees and Pope gives him a choice, leave the group or die. 
About that time, Ben shows up, grabs Pope and with Jimmy as backup, they squelch the uprising.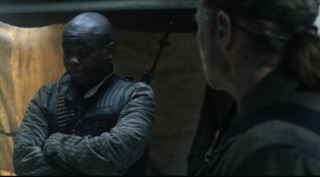 Back at camp, Anthony (Mpho Koaho) makes a good point; none of them really know what the aliens did to Tom. 
At this point Tom and Captain Dan Weaver (Will Patton) both feel the benefit of having extra hands with weapons out-weighs any risk.  Tom decides to join the Berserker's in order to keep a better eye on Pope, the Captain agrees, for now.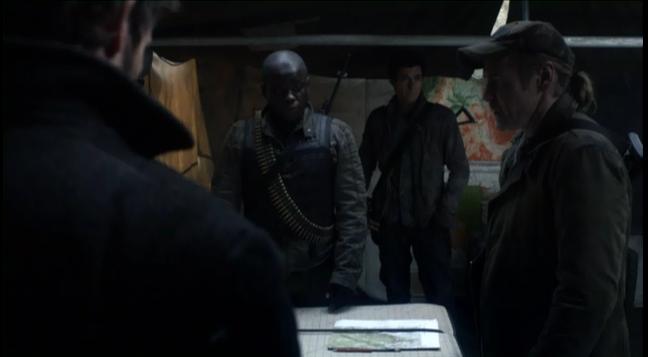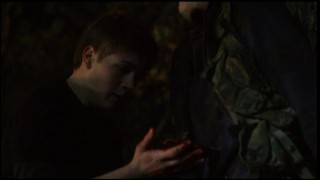 Ben and Jimmy are out on patrol again and run across three Skitters, they blow two to kingdom come, but the third one, the one with the dragonfly thing in its eye, is still standing. 
Ben makes a run at it, and it handily knocks Ben to the ground.  Jimmy takes a shot and attempts some hand to hand with it the Skitter hits Jimmy so hard he flies into a tree. 
Ben is on his feet, face to face with the thing when the rods in his back start glowing, this must be some sort of communication and Ben is frozen, and goes to his knees.  The Skitter skitters off, leaving Ben in a complete daze.  He then realizes that Jimmy is in trouble, he has been impaled by a branch of the tree and is bleeding, badly.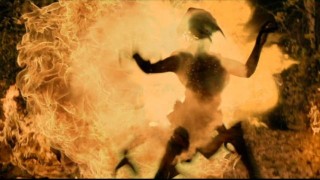 Ben then rushes to Jimmy, he did think to leave the limb in and got Jimmy to the 2nd Mass camp. It turns out when Ben and Jimmy have been patrolling, they have actually been hunting Skitters, this enrages the Captain as well as Tom. 
This could give away their position to any remaining Skitters in the area.  Ben does not seem to care; he wants all the Skitters dead, the only good Skitter is a dead Skitter as the Skitter BBQ attests too!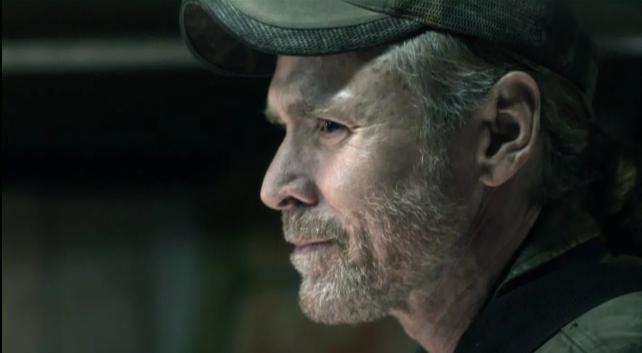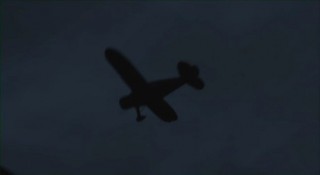 As Tom and Hal Mason (Drew Roy) are discussing Ben and his recent suspicious activities, suddenly a red propeller driven aircraft flies over the airport. All heads looked up as the plane lands with a new guest in camp. The person is named Ms. Avery Churchill (Camille Sullivan) .
Avery Churchill has arrived with news regarding the state of the Resistance in another part of the United States, Charleston South Carolina where another band of survivors has gathered to fight the alien invaders!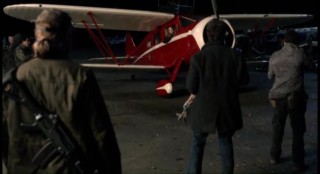 Avery quickly informs Captain Weaver she has been looking for them. She relates that Charleston is where it is happening. With a hardy group over 3000 strong, Avery informs Weaver that the 2nd Mass is needed there. Immediately. 
All of a sudden instead of the Catskills, the 2nd Mass might be heading to Charleston to join the fight.  Captain Weaver is hesitant to believe everything Ms. Churchill is telling them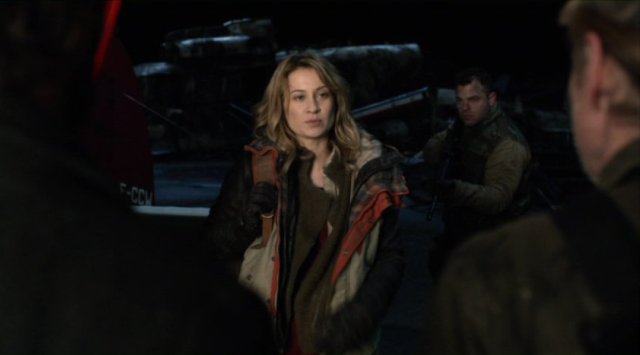 Avery describes they have hot water and electricity in Charleston. To Weaver and the others it all sounds too good to be true.  He is not convinced that Ms. Churchill is being completely honest with them and is still thinking about heading to the Catskills at this point.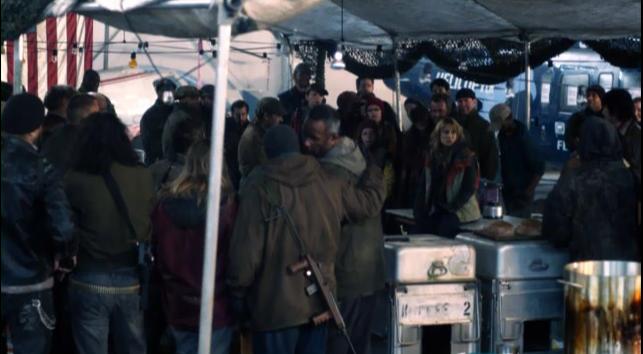 We move to the mobile hospital as Ben comes searching for Dr. Anne Glass (Moon Bloodgood). Jimmy (Dylan Authors) has stopped breathing.  Anne , Lourdes (Seychelle Gabriel), Ben and Tom all converge at Jimmy's bedside.  Anne and Lourdes are doing CPR to no avail.  This will be Jimmy's deathbed. Jimmy expires and is no longer with us!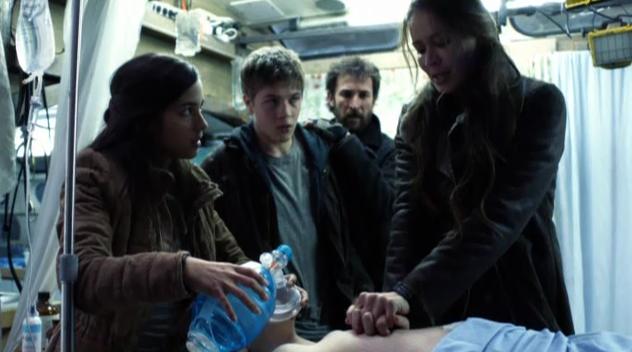 Ben cleaned Jimmy up and Captain Weaver dug the grave near the airport, at a playground.  Ben is searching the mobile medical bus. He is devastated by Jimmy's death, justifiably upset. To make matter worse he cannot seem to find jimmy's Compass, it has gone missing, stolen by someone. Can you guess who?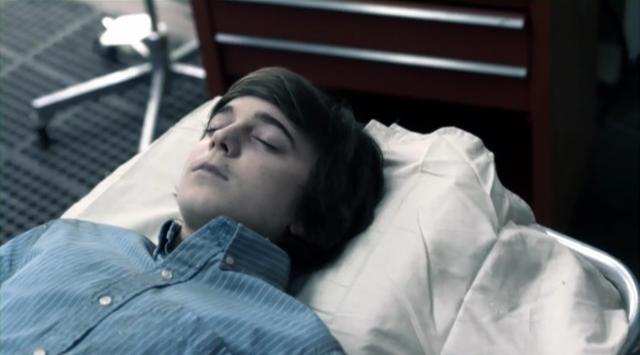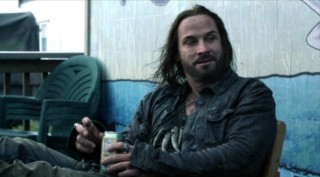 Tom walks up on Pope and the Berserker's, they are taking a beer break.  Tom lets them know that per the Captain's orders, everyone should be preparing to pull out after Jimmy's funeral. 
Pope gets in Tom's face, again, tells him that they are gonna pass on that.  That's when Tom sees Jimmy's Compass around Pope's neck.
Tom demands that Pope to return the compass. Bad boy Pope says Jimmy wont be needing it and that's when Tom punches him and its on! Tom does get the compass back. Yeah Tom won, hands down.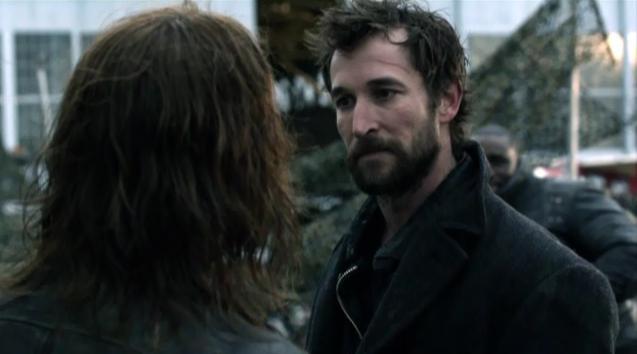 Pope is screaming like a mad man that it is not over as Tom Mason walks away after beating the dickens out of him witness by "Tector" (Ryan Robbins) and "Crazy Lee" (Luciana Carro). No doubt the animosity between the two has resurfaced!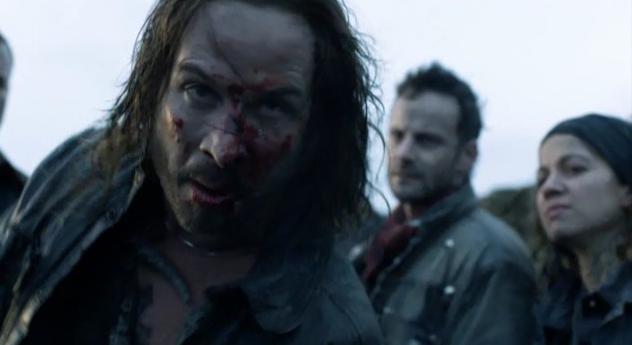 In a touching scene, Tom gives Jimmy's compass back to Ben. A tear came to my eyes as I realized that Jimmy would no longer be with us in the fight to stop the evil alien "Overlords" and their slavish minions, the Skitters!
Pope confronts Captain Weaver and does not get the response he wanted.  It is decided that Pope needs to go, on his own, leave the 2nd Mass.  He heads for the exit and the other Berserker's do not fall in line.  In the end, only Anthony agrees to go with him, tells him its because Pope saved his life – he owes him.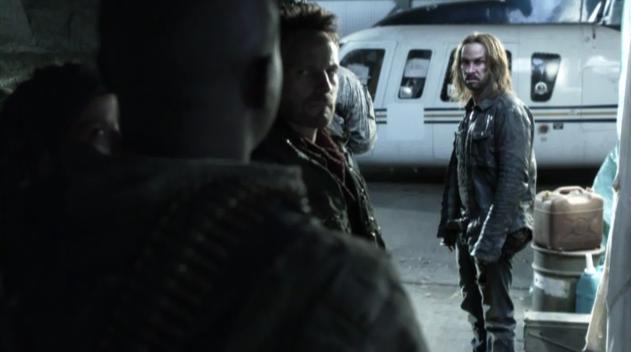 But as we overhear, Anthony (Mpho Koaho) is  reluctant to leave the team. He states he is going only so he can keep an eye on Pope and make sure he does not double back and attack the 2nd Mass from the rear when they depart. I hope we see more of Anthony in the future. But we must ask; what of John Pope?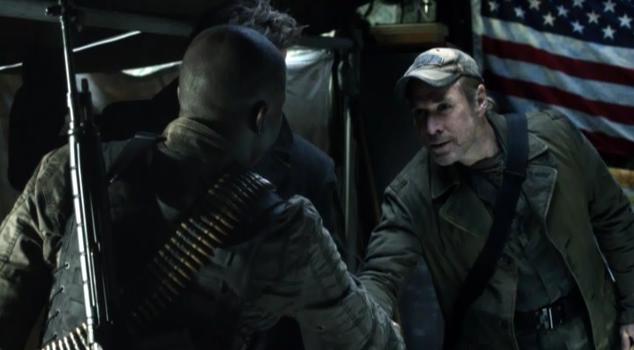 Hopefully we will see Anthony, and Pope again – whew. Tom is on the medical bus, Anne comes in – It happens quick – not much warning.  The first kiss – Yeah, we have been waiting on this.  It is just a kiss.  But here, in this place, this place of hopelessness and hopefulness – A kiss can be everything -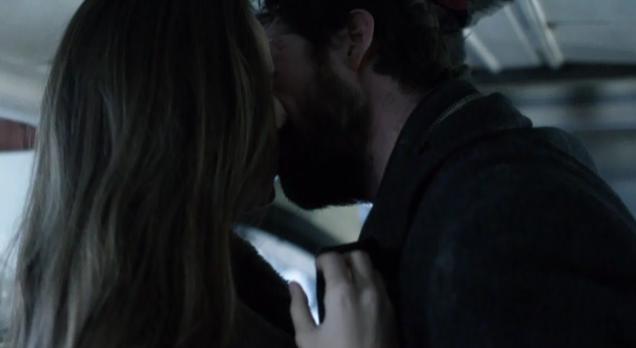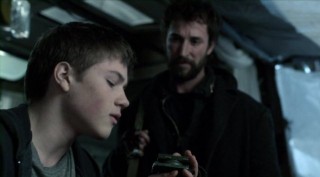 As "Compass" winds down, the final scenes open with an overhead view of Jimmy's funeral where all the remaining survivors have gathered.  Tom passes the Compass to Ben. 
Captain Weaver recalls Jimmy's legacy, how he went from a boy to a man, how he became a soldier overnight. 
Jimmy is measured by his bravery and the lives he helped save.  Jimmy died a hero  to us all! We will never forget Jimmy, he will always be remembered by this reviewer.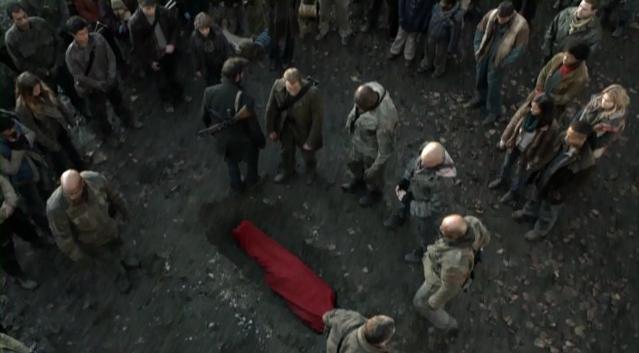 Captain Weaver stands over Jimmy's grave as Avery Churchill tips the wings of her red prop plane and flies away to her next destination.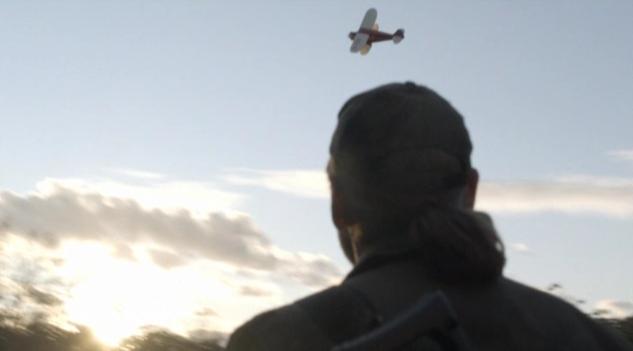 Ben walks up to join him, they are having one last visit with  Jimmy before the 2nd Mass begins their journey to Charleston.  Ben hands off the Compass to Captain Weaver.
He reflects that his father gave it to him when he became an Eagle Scout. He had given it to Jimmy, because Jimmy, although a good soldier had no sense of direction. A very poignant scene which made me smile, not at the loss of Jimmy, he will be dearly missed by us all, but for the great camera work.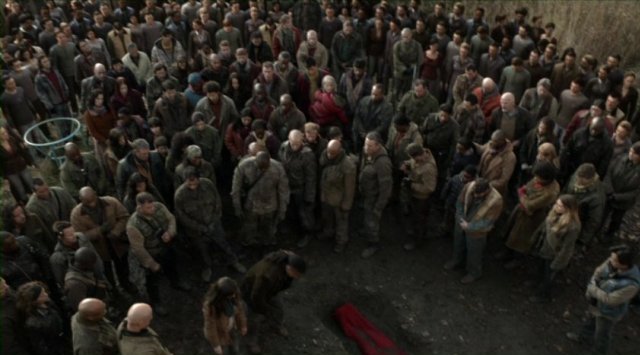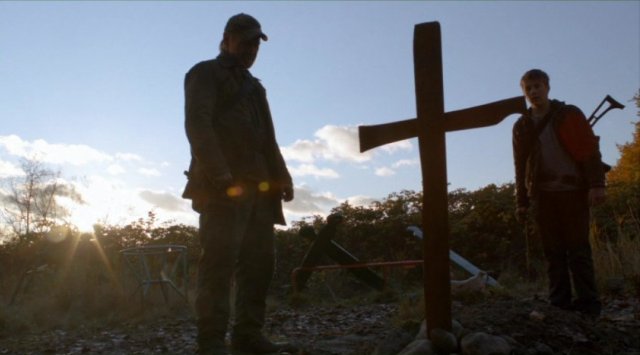 After the burial, we are pulling out for Charleston! When Captain Weaver took command the 2nd Mass consisted of 300 souls – now 176 remain.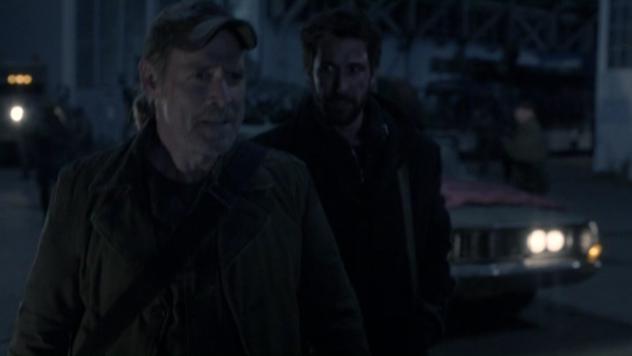 Charleston seems like a good place to get back in the fight.  And yes, a hot shower does sound good.They're getting ready to pull out – Ben's nowhere in sight, Hal heads out to find him.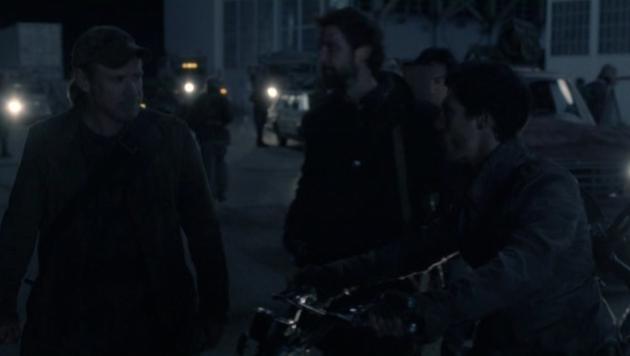 We find Ben kneeling at Jimmy's grave, when he stands up and turns around, Skitter in the face!  He falls to the ground and the Skitter does the communicating thing, making the rods in Ben's back glow. 
When this happens, Ben is obviously in a trance of some sort and paralyzed.  The Skitter hears a motorcycle coming and releases his hold on Ben's mind and skitters off.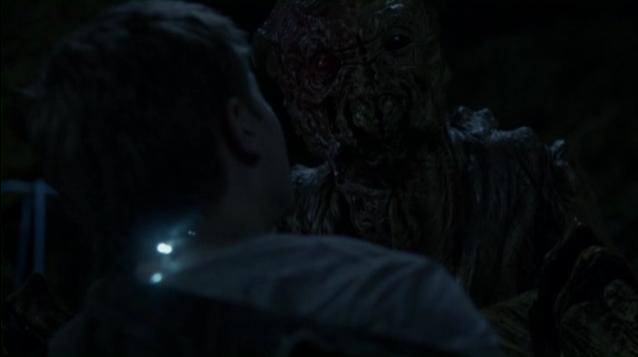 Hal pulls up on the motorcycle, asks Ben if he's okay, Ben says fine and they're off!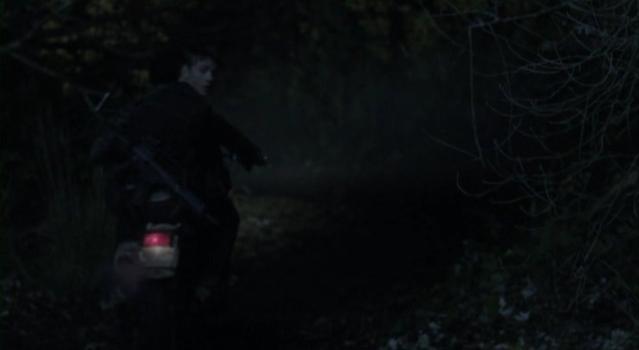 Ben does not say a word. Could there be another "bug", the alien dragonfly, mind control thing in Ben's eye? The Skitters know where Ben is, so what is going on with that? So many questions! However, let us all remember;  we only get the information that we need to know, as we need to know it!
Today We Fight! So, here we go, we will be joining the 2nd Mass on their long passage and journey to Charleston, South Carolina!
Pull up a stool, let me tell you a little story about when the aliens came!
I hope your enjoyed my review and analysis of this week's episode, "Compass". Tune in next week for the next great Falling Skies episode on TNT, "Young Bloods" and pre-review by our managing editor Kenn. This will be followed by detailed analysis another of our members of Team WHR.
Naturally, we do not publish or full reviews until the episode airs on the west coast as is our standard procedure to not spoil for those who have yet to witness the wonder of Falling Skies. In the meantime, be sure and keep your arms and legs inside the wormhole at all times!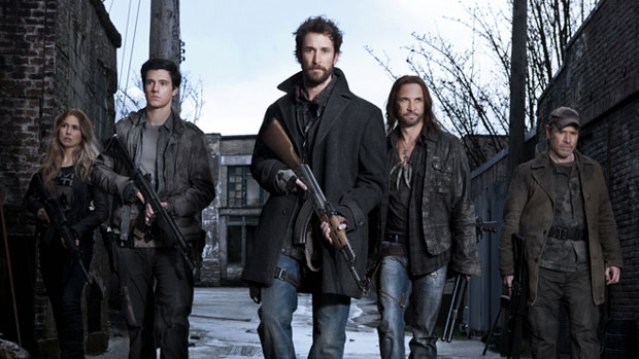 Thank you for visiting WormholeRiders News Agency
Please feel free to leave a comment here or if you prefer, click the social media icons below to share this news article. Or as many of our readers and visitors often do, visit WHR on Twitter, WHR on Facebook or visit and chat with me on Twitter by clicking the text links or images avatars in this news story.
I and Team WHR look forward to Seeing You on The Other Side"!
Thank you.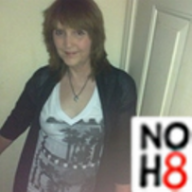 Regards,
HWilson2009 (Holly)