Welcome back Falling Skies fans!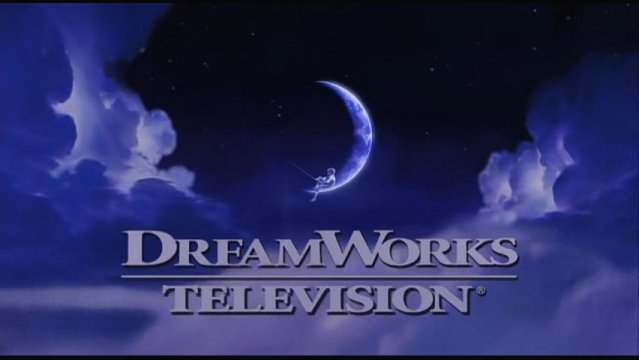 "One day he was there, the next, gone." Dr. Anne Glass (Moon Bloodgood) speaks regretfully as she speaks of Rick and all the people that have been lost from the 2nd Massachusetts, their little resistance army, holding out against the superior forces of the ruthless alien invasion.
WARNING: FULL REVIEW AHEAD (Spoilers):
Shall We Gather at the River:
We learn that Rick (Daniyah Ysrayl), the other young guy who had been taken by the "skitters", and harnessed, has disappeared. Dr. Glass speaks of her demons, her inability to remember the faces of the people she has treated. Tom Mason(Noah Wyle) has demons of a different kind. He is having nightmares about the aliens and is beginning to doubt his ability to be trustworthy.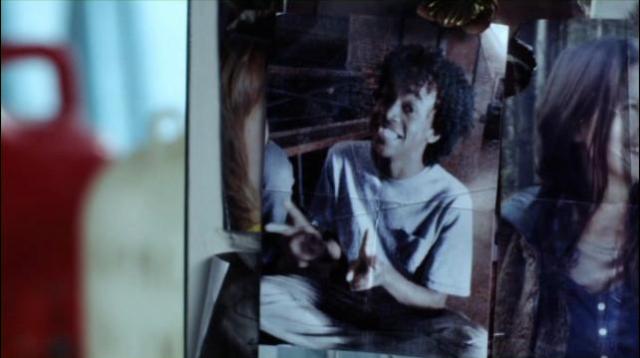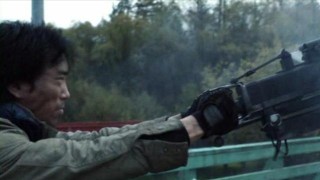 Meanwhile, Hall (Drew Roy) Ben (Connor Jessup), Margaret (Sarah Carter), Dai (Peter Shinkoda), Jamil (Brandon Jay McLaren) and Jimmy (Dylan Authors) are checking out one of the last surviving bridges to escape across so they do not get boxed in on the wrong side of the river.
As, Jamil, their engineer, confirms the bridge is sound, two alien ships approach. Dai manages to blast them to oblivion, but not before one takes out par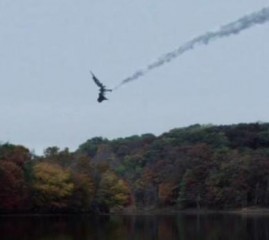 t of the bridge, leaving them with no avenue of escape as the skitters and "mechs" approach.
Back at the camp, Weaver (Will Patton) and Tom discuss their predicament. Tom is reticent about taking command as Weaver's Ex.O. He warns Weaver not to trust him.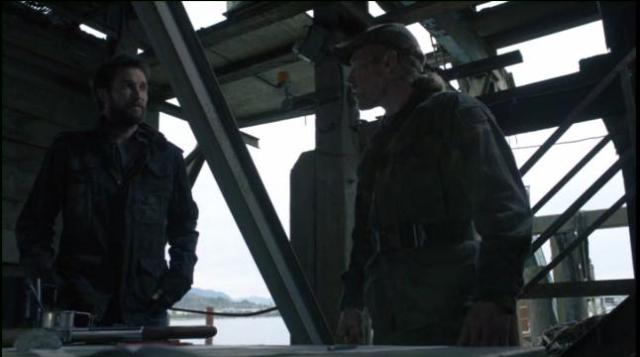 Poor Pope (Colin Cunningham) has an owie. He injured his hand with a wrench, but this is a subtle method by the writers to give his character a chance to find out from Lourdes (Seychelle Gabriel) what is up with Tom. Pope complains that when Tom returned he thought Tom would give them a history of alien interrogation techniques, but all they got was brooding silence. Anthony (Mpho Koaho) approaches. He has overheard Popes complaint.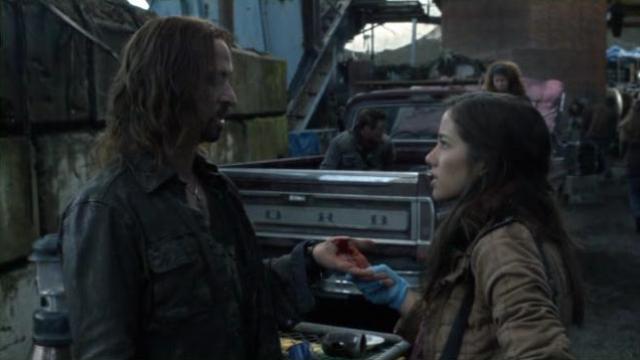 Hal's party at the river returns with the bad news. The bridge is no longer available to cross. The group make their way to the bridge. As they talk, we get a bit of back story. Anthony wonders why the aliens do not just drop another nuke on them and be done with it. Hal reasons that they are probably not worth it.
Then the term, Neutron bomb is mentioned. This is fairly significant. Current understanding of neutron bombs is that the fallout destroys living things while leaving the buildings intact; an explanation of how the aliens were able to kill so many people in a few days.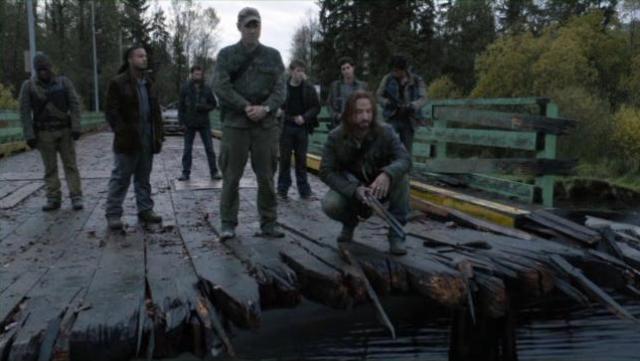 Jamil explains to Weaver that they do not need to rebuild the bridge. He can patch it up. That way, they can bring their trucks, food and ammunition with them, instead of leaving it behind with a boat crossing.
Once the plan is decided upon, Tom suggests that they need to check ahead to make sure they are not running into an ambush. Ben volunteers. He can apparently swim across the river faster than anyone can cross by boat. This surprises Tom. It looks like he has a lot to learn about his son. The parts left behind by the harness seem to be changing him in some unusual ways.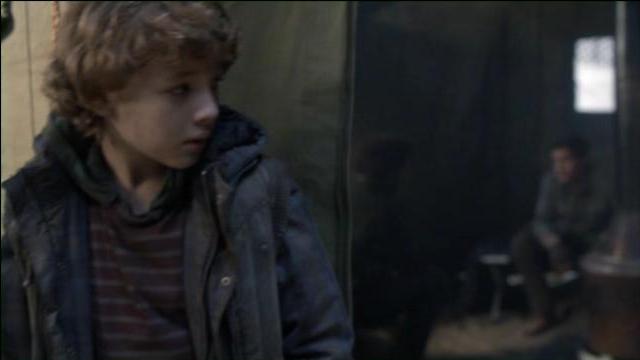 Later, Tom tells Hal how proud he is of him and Ben and Matt for stepping up while he was a prisoner of the aliens. But he also shares with Hal that he is not sure if he can be trusted. He wants Hal to keep an eye on him. As he continues to talk to Hal, Matt comes by the tent and overhears him. When things look like they can not get any worse, Toms eye begins to bleed. He collapses on the floor.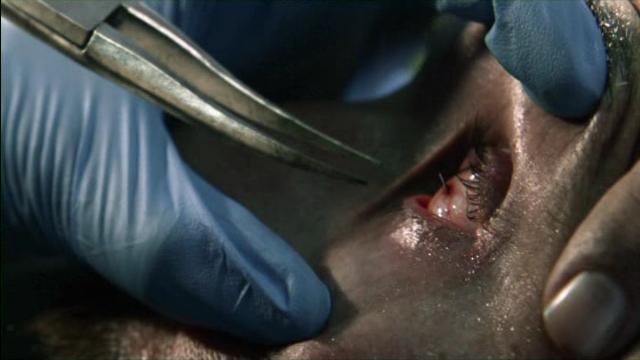 In the medical bus, Anne examines Tom. She discovers that he has what looks like a parasite in his eye. She manages to remove it and drop it into a glass jar. Tom recommends destroying it, and tying him up, "at least until we get across the river". Weaver agrees.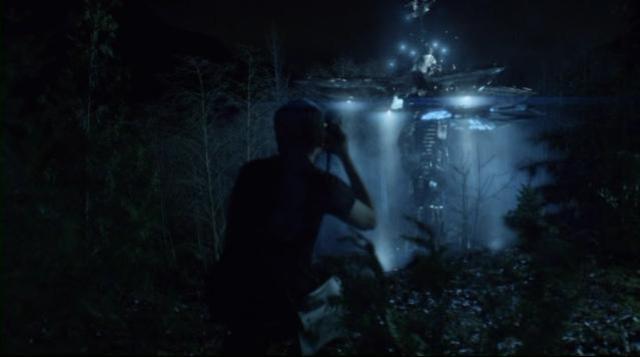 As his father is tied to a pole inside the med bus, Ben swims across the river. On the other side, he finds the wreckage of one of the alien ships that had fired on his friends at the bridge. A sudden high pitched noise is suddenly emitted from part of the wreckage. Ben reacts in pain, but quickly locates the noise. Ben takes a picture of what looks like some sort of creature. He takes a photo of it before kicking it to death. He really does hate the aliens.
The noise that is causing him pain draws Ben to some alien equipment that looks like an antenna array. Again, he takes photos and then hurries back to his friends.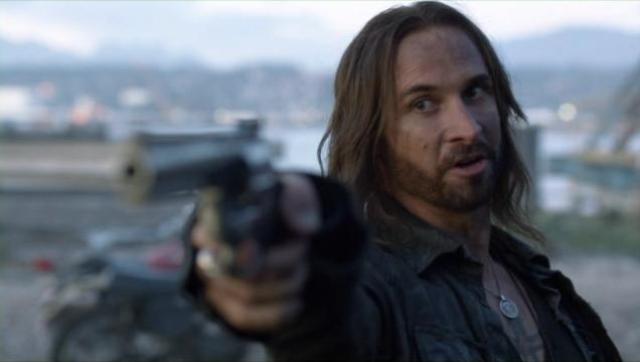 Pope is not a happy man. He approaches Hal and Weaver as they stand outside the med bus arguing that Tom is a liability and is not going with them across the river. He is so determined, that he draws his weapon on them. He thinks he has a fair chance with two against one, until Anthony shows up and tells him that it is actually, three against one.
Pope accepts defeat, telling Anthony that he is a disappointment. "I thought I was having a positive influence on you." Pope leaves after telling Weaver that sooner or later he'll have to deal with Tom. We know that this is not over.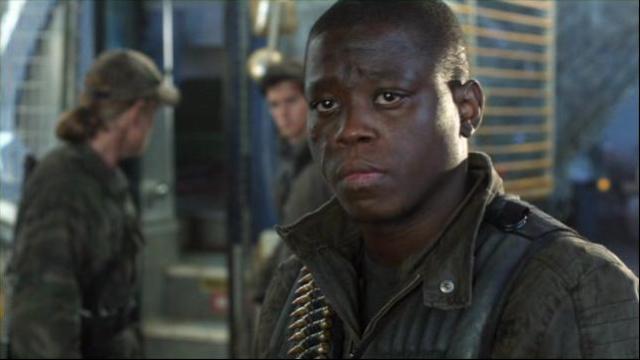 Later. Ben and Tom have a discussion. Ben explains how his hate is keeping the aliens from taking him over. Tom tells Ben that it's not hate that kept him going, but his love for his boys. Tom states, "if all you have left is hate, they (the aliens) have already changed you."
Weaver, Jamil, Hal and Ben discuss the photos he has taken. Jamil asks him if he saw any kind of radio, or if he heard anything. Ben lies and tells them that he did not.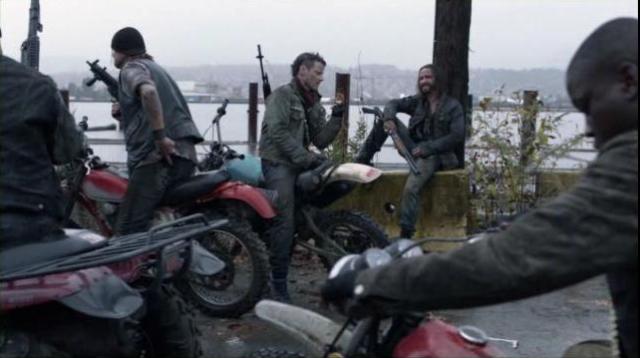 The plan is set, Anthony, Pope and the Berserkers (Popes gang) will stay behind and fight the Mechs while the rest escape across the bridge.
As they get ready to go we get a much better look at the new guy, Tector (Ryan Robbins) who apparently stinks. He tries to convince Pope that dirt and sweat makes him water proof. Pope tells him to have a bath after they get across the river, or he and the others will get him clean.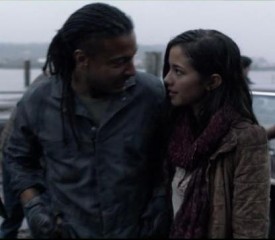 It also looks as if Lourdes and Jamil are getting friendly. As they part company, Lourdes steels a kiss.
Inside the bus the alien creature that was retrieved from Tom's eye escapes its glass prison and flies off and away from the bus.
Everyone is in position. Hal, Dai, Margaret and Ben have made their way to the alien array, and the 2nd Mass. Is making its way slowly across the now repaired and patched up bridge.  Inside the bus, Tom is concerned because Matt has not sai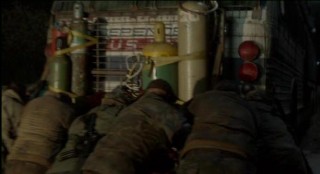 d a word since they began their trek to the river. He assures Matt that he is still his dad and will not let anything happen to him.
As they make their way across the bridge, the weight of the bus causes a wheel to punch through the repaired structure of the bridge, stranding it in the middle of the span. Of course, that is when the Mechs and skitters show up. Weaver orders everyone to abandon their vehicles and get across the bridge. They are going to blow it up.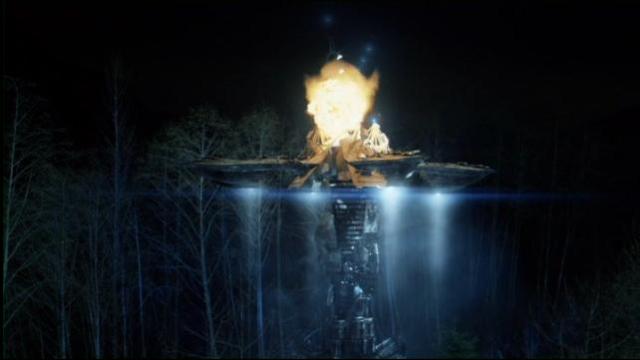 At the array, th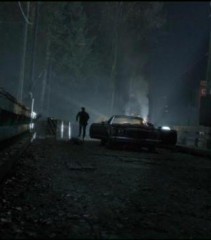 e sound of gun fire from the bridge draws the Mechs away. As Dai aims, he realizes he has to get closer, at the current range, the possibility of successfully destroying the array with the weapon he is using, he says, is less than 50%.
He moves closer, but to our perspective, he has only moved forward by about ten to twenty feet. To me, this small distance should not make much of a difference. But then, what do I know about weapons and distances.
Skitters and mechs appear to be just about everywhere. Tom convinces Matt to cut him loose from his tethered prison inside the bus. He tells Matt to get across the bridge as he grabs the automatic weapon mounted to the back of a vehicle and begins firing. Fortunately, Matt does not listen. He has found a weapon. As a skitter jumps Tom, Matt fires the weapon and destroys the skitter.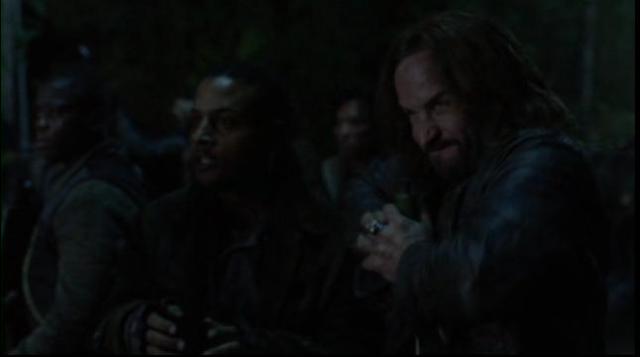 With the bus free and Tom running after it, more mechs and skitters arrive. Tom yells at them to blow the bridge, even though he is not safely across. Weaver, however, loyal to Tom, delays. But Pope decides to make the call on his own, grabs the triggering device and closes the connection. The bridge explodes. It looks as if Tom has disappeared in the explosion.
As Hal comforts Matt, Pope approaches and tries to make amends, "what your old man did back there on the bridge, I gotta admit, your dad had some pretty hard bark…" Hal spins around and punches Pope in the jaw.  Before it can go any further, Dai and Anthony rush in and pull the two apart.
Just then, Tom shows up. He had been in the river. Everyone is glad to see him. Weaver gruffly tells everyone to get rolling. They are headed for a location they have scouted; an abandoned airport. As they get moving, Lourdes discovers that the alien creature they removed from Tom has escaped.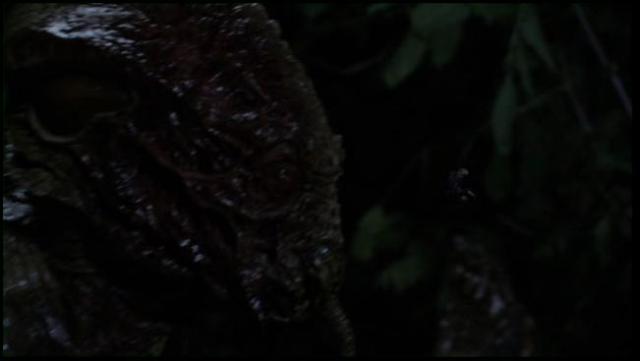 The skitter responsible for Toms torture on board the alien space craft watches them from the bushes and we find where the tiny alien has gone. It lands on the skitter and crawls inside it through its eye.
I love the tension building between Pope and just about everyone else. Pope is out for himself and it shows. It looks as if the Skitters, Mechs and aliens are not the only enemy the 2nd Mass. has to deal with. This was a great episode.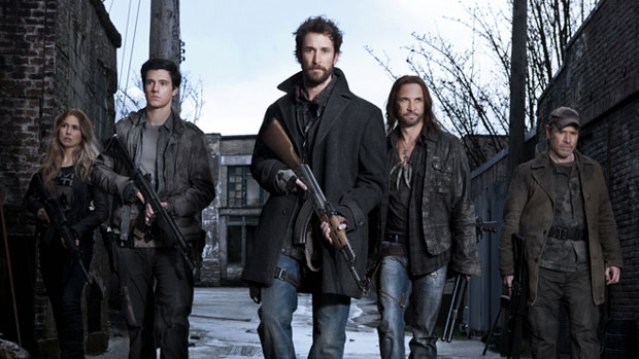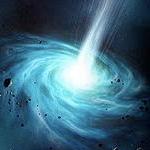 Thanks to Kenn for assisting with the audio video embeds for my Falling Skies review and analysis. And thanks to you for stopping by WormholeRiders News Agency!
Please feel free to leave a comment here, click an icon below to share this interview or you can visit and follow me on Twitter by clicking on my avatar to the right.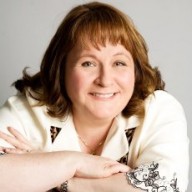 Regards.
ArcticGoddess1 (Patricia)