Welcome back Supernatural fans!

Season Seven, episode ten "Death's Door", airs Friday December 02, 2011 9pm ET. Per The CW, below is the episode synopsis.
"As Sam (Jared Padalecki) and Dean (Jensen Ackles) race the clock on a high-stakes mission, Bobby (Jim Beaver) seeks the help of an unlikely old friend to solve one of the most personal cases of his life.  Robert Singer directed the episode written by Sera Gamble."
Before continuing my review, we include the extended promotional trailer of "Death's Door" below for your enjoyment courtesy of the CW Network! Thanks CW for Supernatural season seven!
This week's episode begins in Wharton State Forest in the Pine Barrens of New Jersey, a site supposedly plagued by a mysterious and deadly beast called the Jersey Devil. This flying monstrosity was first sighted in the 18th century, and encounters are reported to this day.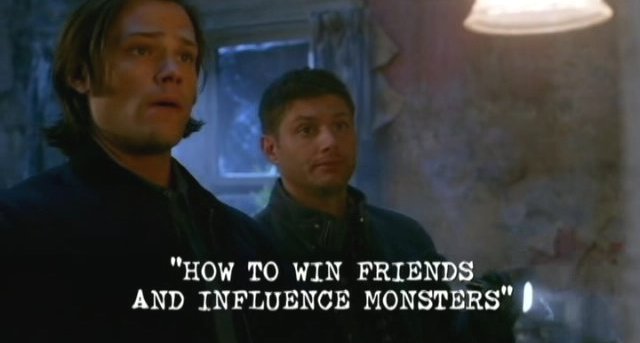 One would logically guess, then, that camping in the Pine Barrens might be considered an extreme sport. Unfortunately, no one explained that to the first two Victims of the Week. But I will say this for the doomed couple, the Rayburns : their idea of "camping" happens to coincide with my idea of "camping", i.e., bringing along a generator, a massive tent, lamps, a television set, and a full bed…although they are using sleeping bags on that full bed. Later on, we learn that such people are called "glampers", which I can only assume is a mash-up of "glamour" and "camper".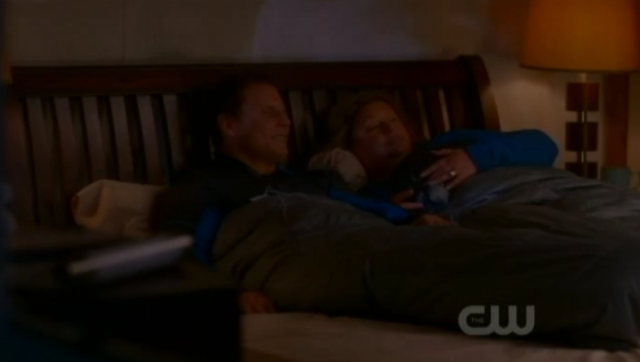 The husband drifts off serenely to the sounds of nature (which are being piped through his headphones rather than coming from actual nature), but wakes up hanging upside down, cocooned in his own sleeping bag. As he watches helplessly, something moves in the trees above him. Within a few seconds, pieces of bloody sleeping bad fluff, the man's iPod, and his ear buds are raining to the ground. I should mention that one of the earbuds is still attached to an ear.
Cut to our three brave hunters – Sam, Dean, and Bobby – squatting in an abandoned cabin in the Barrens. The Leviathans have been tracking them through their phony credit cards, so all three men are living off the grid…and not living very well, as Dean woefully reminds them : "Cold showers, cold Hot Pockets, cold everything…"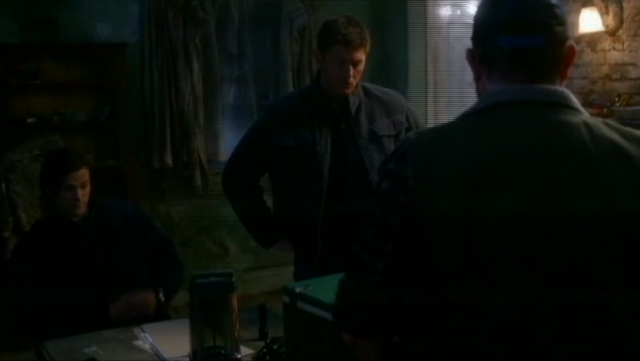 To accentuate his point, the jerry-rigged electricity goes out a few seconds later. Dean is weary…very weary, and Ackles masterfully conveys his character's battle fatigue in his continually heartbreaking performances every week.
Dean : "This is stupid. Y'know, our quality of life is crap. We've got Purgatory's Least Wanted everywhere, and we're on our third 'The World Is Screwed' issue in what, three years? And we steered the bus away from the cliff twice already?"
Sam : "Someone's gotta do it."
Dean : "What if the bus wants to go over the cliff?"
Sam : "You think the world wants to end?"
Dean : "I think that if we didn't take away its belt and all its pens each year, then yeah, the whole enchilada would've offed itself already."
Sam and Bobby ignore Dean's attitude and begin working on their case – a string of sightings of a humanoid monster that the locals are claiming is the infamous Jersey Devil. If it were merely sightings, there might not be a problem. However, there might fatalities involved.
One newspaper exclaims, "Camping High Season Harshed By Human Burrito", referring to the man in the first scene. Five other people are missing, and the forest service is blaming a "rogue bear". Dean comments that "…Bears don't usually string up their own piñata." Bobby almost looks forward to the idea of an old-fashioned wilderness hunt.
The next day, Sam and Dean (pretending to be FBI agents) meet Ranger Evans (Jason McKinnon) at the local Biggerson's Restaurant, which is celebrating the holiday season by offering the Turducken Slammer.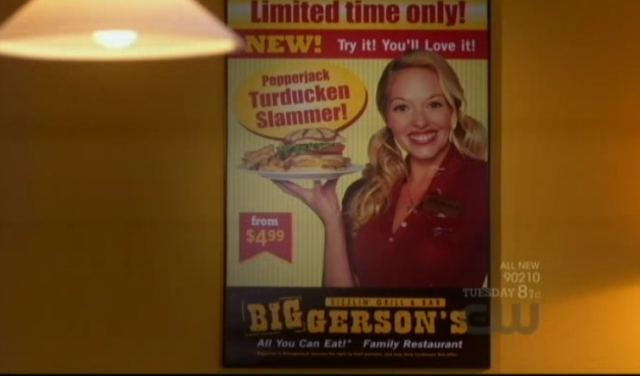 For the uninitiated, a turducken is "a dish consisting of a de-boned chicken stuffed into a de-boned duck, which itself is stuffed into a de-boned turkey." (Source : http://en.wikipedia.org/wiki/Turducken) The fictitious Biggerson's chain has put this unholy union of birds onto a sandwich, and it is selling quite well.
Ranger Evans insists that the brothers call him "Ranger Rick", which took me back to my childhood for a second. Ranger Rick appears to be stoned out of his gourd, giggling at the thought that anyone could think that the death of Mitchell Rayburn was caused by a bear.
Ranger Rick also states that he and Assistant Chief Ranger Phil have been finding animal body parts for weeks…and, come to think of it, he hasn't seen Ranger Phil for a couple of days. "I should probably report that," he says, absently.
Bobby arrives and reports that the bite marks on Mitchell's cadaver were too small to be a Leviathan; he still had part of his heart, which means no werewolves (and I still imagine that Sam, to this day, flinches a little bit every time he hears the word "werewolf"; see episode 2×17 – "Heart"); and their culprit most likely is not a Wendigo, since those "leave no scraps".
The three men decide to grab a bite, and ask server Brandon (a delightfully wicked Seth Rogerson) for a table. Brandon angrily replies, "Hey, uh, douche-wad – a hostess will seat you. Do I look like a freakin' hostess?"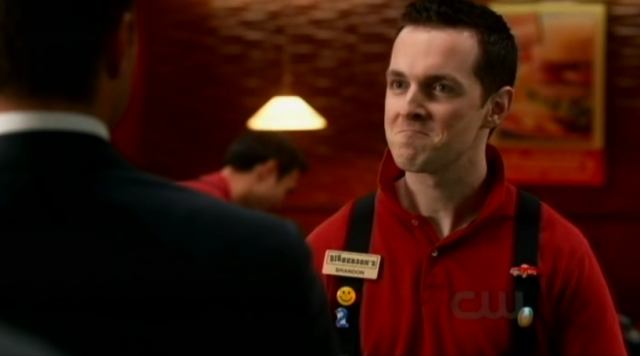 Dean, usually the Master of the Comeback, can only manage, "Do you wanna look like a hostess?"
As he serves their dishes, Brandon refers to Sam as Big Bird, calls Dean Ken Doll, and names Bobby Creepy Uncle. Clearly, he is not angling for a big tip. Dean bites into his Turducken Slammer; he is so enraptured that he declares it the "perfect storm of your top three edible birds".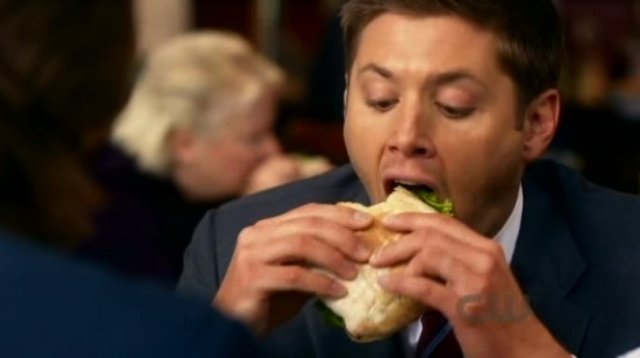 In the background, Brandon continues his bad attitude streak to his boss before throwing in the apron and quitting.
Sam, Dean, and Bobby head out into the mist-laden Pine Barrens in search of their monster. The boys reminisce about how their father used to drop them at Bobby's house when they were young, and Bobby tried to teach them about tracking and hunting…although they were always loath to shoot at deer. Dean balks at the thought of shooting Bambi. "You don't shoot Bambi, jackass," Bobby responds, "you shoot Bambi's mother."
The three men come across a body hanging from the trees and conclude that, most likely, they have located the missing Ranger Phil. They call in Ranger Rick, who seems completely unfazed about his co-worker's mangled corpse dangling in the foliage. As he calls in to report the body, something drags him into the bushes.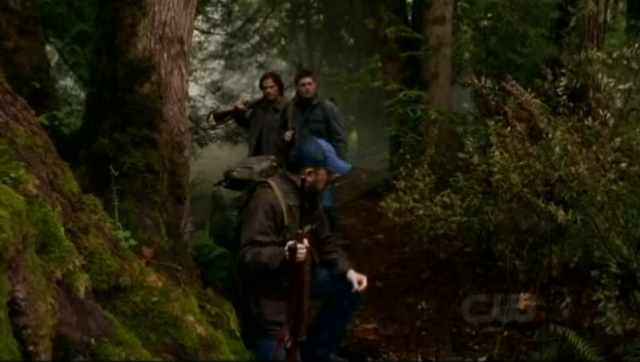 Bobby hears the creature devouring Ranger Rick in the branches above their heads; then, proving he just might be a Jedi in a trucker cap, Bobby closes his eyes, listens, and brings down the monster with a single shot.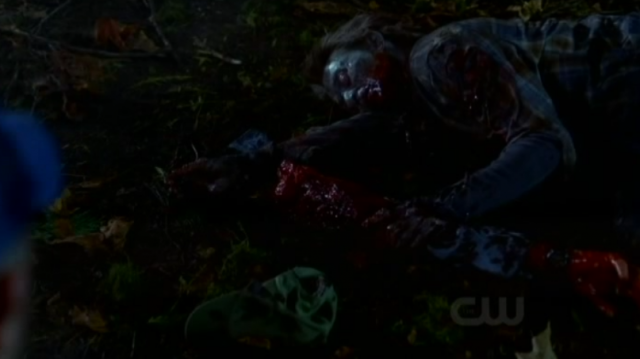 They take the monster back to their cabin, where it suddenly springs to life again; the three men put it down for good with a hailstorm of bullets. Dean reaches into the thing's pocket and grabs its slime-dripping wallet. "Oh, that's just gonna ruin the leather," he says, and receives a pair of odd looks.
The license they recover from the wallet identifies the man as a local named Gerald Browder – who is listed as weighing 235 pounds, a far cry from the stringy dead mutant before them. "Maybe it's a…a lap-band side effect," Dean giggles.
After Bobby discovers a gray-colored goo in the cadaver's wounds, he and Sam set about performing an autopsy. They find not only pieces of Ranger Rick, but pine cones, gum wrappers, and a cat head…all swimming in gray goo.

This felt like it might have been an homage to a scene in "Jaws", in which Roy Scheider's Chief Brody and Richard Dreyfuss' Matt Hooper covertly dissected a tiger shark and found all sorts of interesting things in its stomach. Given Ben Edlund's sly-humor script and Guy Bee's slick directing, I would find it easy to believe that they were paying tribute to one of the best creature features of all time.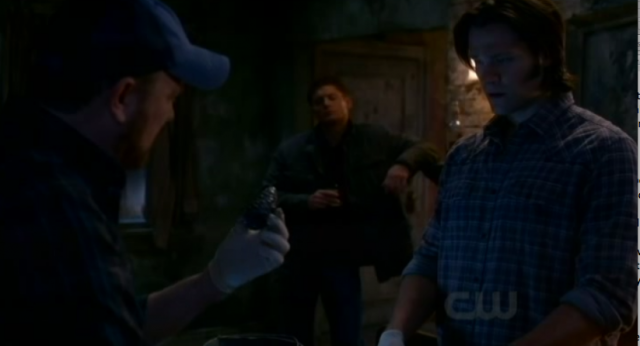 Then Bobby pulls out Gerald's adrenal gland – which should be tiny and orange, but is, instead, dark green and the size of a football. It explains why the creature is so fast and strong. Dean has been watching, nonplussed by the gore and smell, and states that he wants to get something to eat.
Back at Biggerson's, Dean begins to chow down on another Turducken Slammer. Bobby and Sam are discussing the case, but Dean incoherently states, "I'm not that worried about it… That's funny, right? I could give two shakes of a rat's ass. Is that right? Do rats shake their ass, or is it something else? Eh."
Sam and Bobby look around and notice that the Turducken Slammer seems to be the best seller at Biggerson's. They immediately confiscate Dean's sandwich and take it back to the cabin for a closer look.
Dean insists he feels fine. Ackles displays his pitch-perfect comedic acting chops here as he embraces the thoroughly stoned Dean. "[This is] the best I've felt in a couple months," he states. "Cas? Black goo? I don't even care anymore. And you know what's even better? I don't care that I don't care. I just want my damn Slammer back."
He changes his tune when the Slammer suddenly vomits gray goo. "I think you pissed off my sandwich," Dean whimpers.
Bobby and Sam stakeout the service entrance of Biggerson's while Dean slips into a "tryptophan coma" in the back. Sam confesses that Dean's behavior worries him. "…Ever since my head broke, and we lost Cas. I mean, you ever feel like he's going through the motions, but he's not the same Dean?" He wishes that Dean would stop worrying about him so much – Sam feels he has his Lucifer hallucinations in check, and that life could be worse.
Of course, this is the crux of Dean's character, and it was touched on at the end of last week's episode, when Sam told his older brother that he can take care of himself. He meant to lift a weight from Dean's shoulders. But almost all of Dean's identity is wrapped up in protecting his baby brother – when Dean looks at Sam, he still sees a six-month-old infant that he had to carry out of a burning house, not a six-foot-five grown man. Sam telling Dean to focus on his own life was as painful as stabbing him in the gut.
After a delivery truck drops off the latest batch of Turducken Slammers at Biggerson's, Bobby and Sam follow the truck back to a warehouse. Meanwhile, Brandon the waiter is up to no good, as he attacks a woman in a parking lot. However, an unseen force knocks him out and takes him away.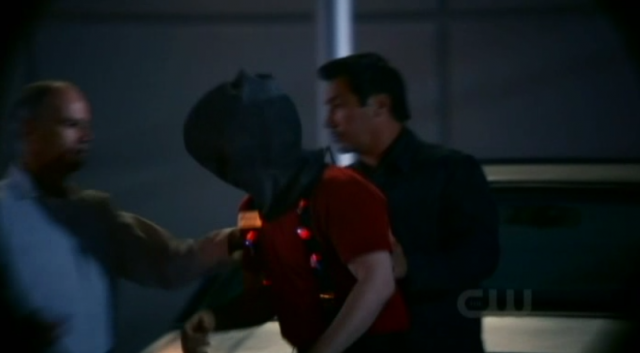 At the warehouse, Sam, Dean, and Bobby are horrified when Edgar the Leviathan (Benito Martinez) shows up. Lest we forget, this is the creature who, in episode 7×02, burned down Bobby's house, broke Dean's leg, and whacked Sam's head so hard he ended up having seizures. They witness Edgar hand a hooded Brandon off to a man in a lab coat.

Edgar and fellow Leviathan Dr. Gaines (Cameron Bancroft), who appears to be taking a break from cutting people open and eating their innards at Sioux Falls General Hospital, discuss the experiment with the Slammers. Dr. Gaines states that the formula that has been added to the sandwiches is almost 100% perfect – but that there have been some adverse reactions…namely, flesh-eating mutants like Gerald and Brandon.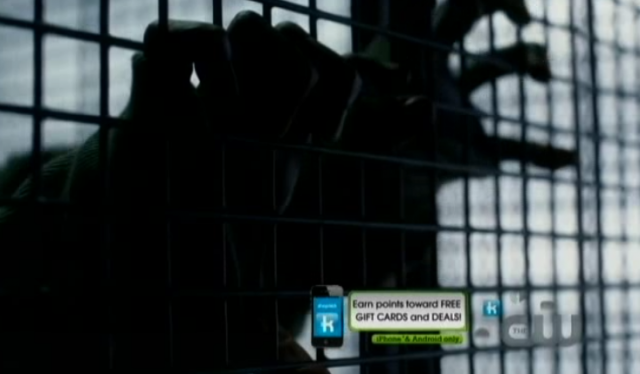 Edgar orders Dr. Gaines to burn the mutants because "Dick is coming." Dr. Gaines pales and obeys.
Sam, Dean, and Bobby have continued their stakeout. Bobby chastises Dean for his nihilistic attitude. "I've seen a lot of hunters live and die," Bobby cautions. "You're starting to sound like the dead ones, Dean."
Dean answers, "No, I'm talking the way a person talks when they've had it, when they can't figure out why they used to think all of this mattered."
Bobby tells him, in a speech heavy with foreshadowing, "…You're not a person… You tried to hang it up and be a person with Lisa and Ben. And now here you are with a mean old coot and a van full of guns. That ain't person behavior, son. You're a hunter, meaning you're whatever the job you're doing today… Now, you find your reasons to get back in the game. I don't care if it's love or spite or a ten-dollar bet. I've been to enough funerals. I mean it. You die before me, and I'll kill you."
Sam gets back in the van as they witness Dick Roman (played with deliciously evil bravura by James Patrick Stewart, who almost appears to be channeling Harry Groener's super-WASPy Mayor Wilcox from season three of Buffy the Vampire Slayer) arrive at the warehouse. Dick was last seen alienating and dismissing Crowley the demon (Mark A. Sheppard), Hell's current king.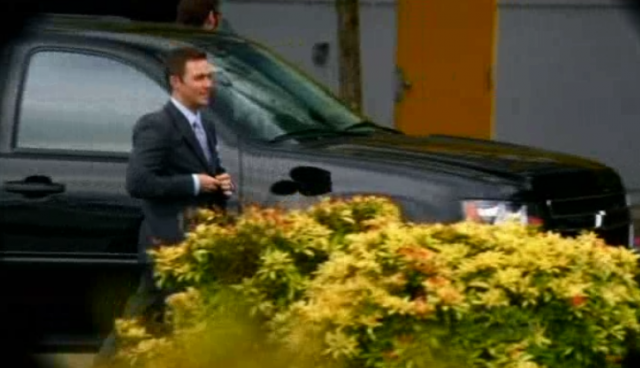 Bobby explains that Dick Roman is one of the most powerful men in the world – or, at least, he was, until a Leviathan got hold of his body. ("You remember when Crowley kept going on about hating Dick? I thought he was just being general," quips Dean, in one of the several guilty-pleasure low-brow puns that are thrown in once Dick enters the scene.) They realize that the Leviathans have more in mind than just generalized mayhem and cannibalism. Bobby grabs a piece of audio surveillance equipment and leaves to find a good listening point.
Inside the warehouse, Dr. Gaines shows Dick their lab rats: a family in front of a television set, chowing down on Turducken Slammers. Dr. Gaines' additive causes instant addiction, slows metabolism, and dampens emotions. If a cooked patty is left alone for more than hour, however, it reverts back to its grey goo state.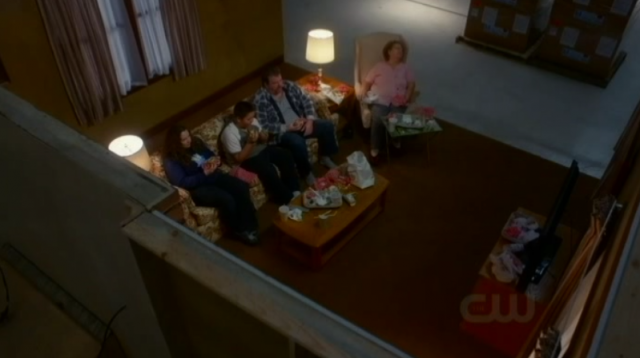 Dick asks Dr. Gaines to tell him about the failures, which the good doctor is loath to do, although he states that the failures have been "instructive". "No," Dick answers. "See, I asked for complacency. Not complacency and a 0.03% margin of hyperadrenalized cannibalism."
Dick and Edgar take Dr. Gaines up to a large office, which is in Bobby's line of sight (and hearing, with his equipment). Dick explains that the experiment is going to be shut down because Dr. Gaines broke the Golden Rule: "…There's no such thing as monsters." And to further make an example of Dr. Gaines' failure, he will be bibbed…which means that he is forced to eat himself.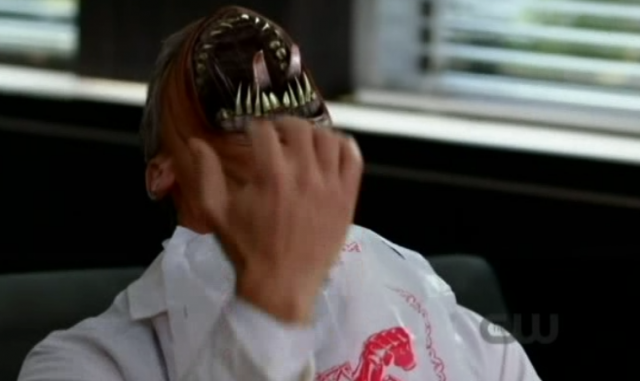 As Bobby is relaying information to Sam and Dean, someone sneaks up behind him and knocks him unconscious. The brothers rush to where Bobby had been hiding and find his broken equipment. For a moment, they have no ideas – until an industrial cleaning van shows up. Light bulbs practically go off over their heads; an industrial cleaning truck is sure to have borax, the only substance they know of that will harm a Leviathan.
Dick has Bobby in his office, and he taunts the older man a bit while showing off a beautiful pair of revolvers that he has just acquired from Sotheby's. At this moment, Sam and Dean charge through the front entrance in the main part of the warehouse, borax sprayers drawn, and start melting Leviathan faces.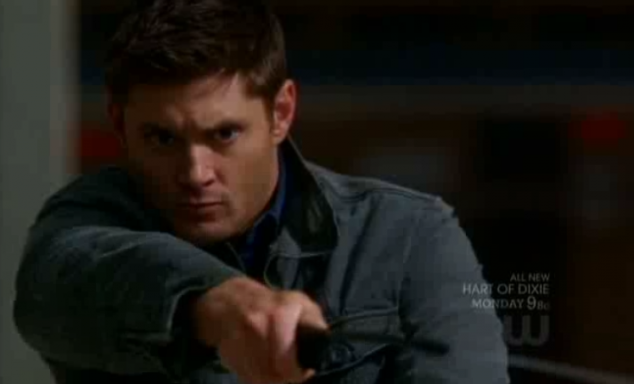 Upon hearing the commotion, Dick leaves Bobby in the office; the instant he finds himself alone, Bobby rushes to the desk and starts grabbing important files – and one of the guns. As he tries to flee, he runs into Dick's Leviathan assistant Susan (Olivia Cheng). Bobby loses the papers, but levels a shot into her forehead. A bullet in the brain is only enough to stun a Leviathan, though, and Bobby uses the opportunity to make tracks.
Sam and Dean are now being threatened by Dick, who almost has Sam cornered after he runs out of borax. Bobby enters and fires two shots into Dick's back, which distracts the monster long enough for Dean to empty his borax bucket onto Dick's face.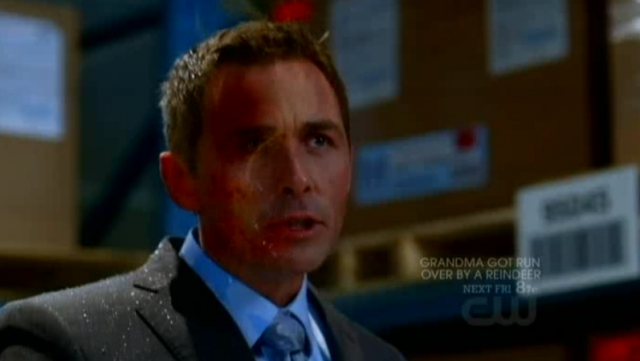 Sam and Dean are able to make it out of the warehouse and pull the van around; Bobby, however, finds his way blocked by a bodyguard. He grabs a nearby crowbar and slams the bodyguard across the face, then flees.
Bobby makes a desperate run for the van, then jumps into the back and slides the door shut as Dick exits the warehouse and squeezes off three rounds from his revolver. Sam and Dean breathe a sigh of relief at the narrow escape, and Sam tries to pass Bobby his hat, but there is no response. Sam has a sickening realization – the cap has a bullet hole in it.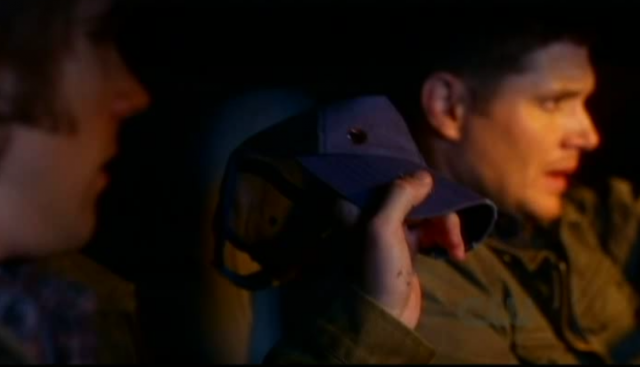 They start yelling Bobby's name…but there is only silence.
Oh, my. Is this last call for one of Supernatural's most beloved characters? In a season where nothing and nobody seems to be safe, the fandom's worry and anguish is palpable. I have even read a few tweets by die-hard viewers who have stated that if Bobby is killed, they would not be able to take the blow…and might stop watching for good. I (and millions of other fans) can only wait and hope that our favorite surly bearded hunter lives to fight another day.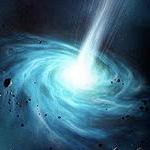 Many thanks to you for reading and you for visiting WormholeRiders News Agency to read about our continuing coverage of the great Supernatural series!
Please feel free to leave a comment here, click an icon below to share this review or you can visit and follow me on Twitter by clicking on my avatar to the right.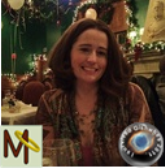 My warm regards,