"Hellatus" is over – and the "Supernatural" fans did rejoice.

Season Seven, Episode Twelve, "Time After Time After Time", airs Friday, January 13, 2012, 9pm ET. Per The CW, below is the episode synopsis and sneak peek.
"DEAN GETS STUCK IN THE '40S – Sam and Dean tangle with the God of Time (guest star Jason Dohring), who sends Dean back to 1944, where he is immediately arrested by none other than the one and only Eliot Ness (guest star Nicholas Lea). While trying to figure out how to retrieve his brother, Sam is surprised by the reappearance of an old friend. Phil Sgriccia directs the episode written by Robbie Thompson."
Hunter Lee Chambers (Ian Tracey, also seen on Syfy Channel's "Sanctuary") has been camped out at a truck stop in Dodge City, Kansas, for the last two evenings. He tells seemingly harmless waitress Marlene (Paula Lindberg) that he likes the "ambiance" – by which he seems to mean trampy truck stop vixen Sally (Meghan Ory, otherwise known as Little Red Riding Hood/Ruby from ABC's "Once Upon A Time").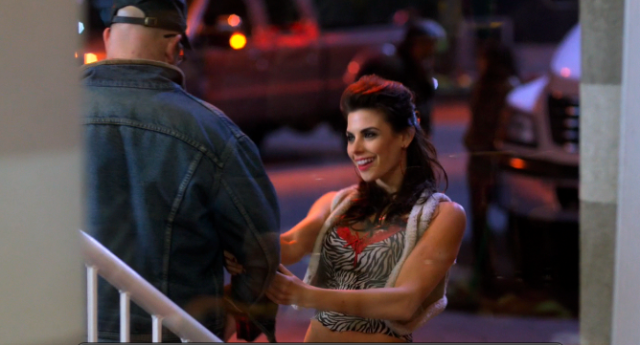 When Sally and her date for the next half-hour head off for a little alone time, Lee follows – only to lose them after a few seconds. Marlene appears, and Lee notices that his vision is starting to blur. She confesses that she dosed his coffee. "You do know we're venomous, right?" she taunts. Her pupils then go vertical, like snake eyes, and she sprouts fangs. Ladies and gentlemen, our Monster of the Week has arrived.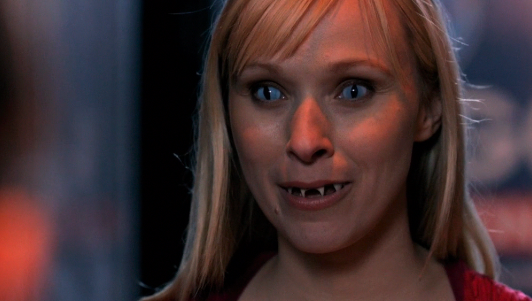 Lee attempts to fight her, but it proves fruitless. Marlene knocks him out cold, adding "That's for the crappy tip!" (This is yet another reason why I tend to tip well – just in case my waitress is an incognito snake-monster.)
Meanwhile, in a cabin in Whitefish, Montana, Sam (Jared Padelecki) and Dean (Jensen Ackles) Winchester are mourning the death of the irreplaceable Bobby Singer (Jim Beaver), who was shot in the head by Big Boss Leviathan Dick Roman (James Patrick Stewart) and ultimately perished at the end of the last episode. For the first week, all they can do is sit in silence, in too much pain to make even half-hearted attempts at conversation.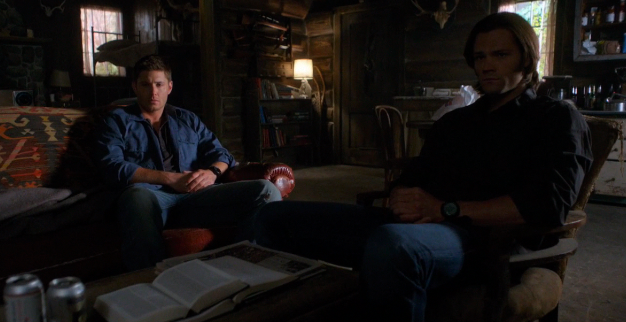 During the second week, Dean tries to make sense of the mysterious numbers that Bobby was able to scrawl on Sam's palm right before he died – 45489. (This almost feels like a "Lost" homage. We sci-fi nerds have needed an enigmatic numerical sequence to ponder since we learned the meaning of 4815162342.) Dean has been able to rule out zip codes, passwords, bank numbers, and other possibilities…and his frustration is starting to show.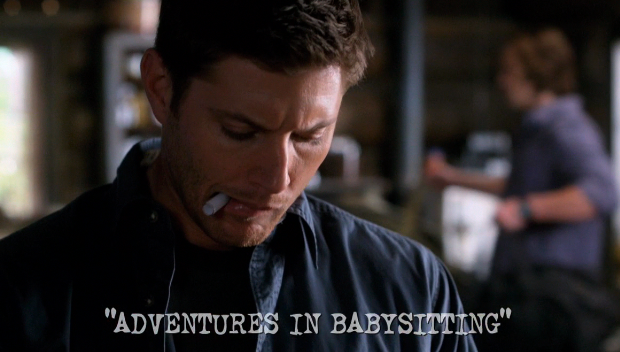 By week three, Dean has slipped into a state of steely-eyed obsessive vengeance. When Sam asks him if they ought to contact people that Bobby knew and inform them of his death, Dean dismisses the task outright. It appears that Dean may still be in the "denial" stage of his grieving process. If he makes those phone calls, then it becomes official : Bobby really is gone.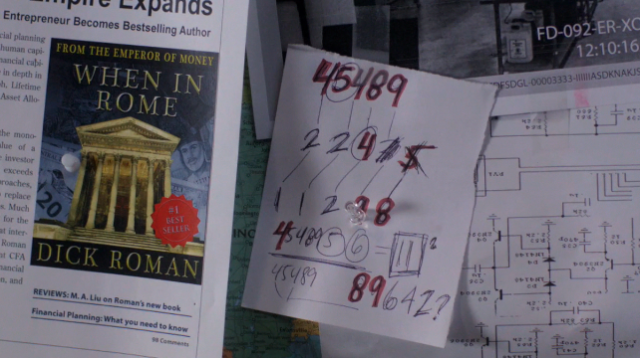 Instead, Dean frets over the weeks-long silence of Frank Devereaux (Kevin R. MacNally, best known as Mr. Gibbs, Captain Jack Sparrow's right-hand man in all four "Pirates of the Caribbean" films) regarding his research into Bobby's numbers. (Frank was introduced in episode 7×06, "Slash Fiction", in which the conspiracy-theory nut helped Sam and Dean go underground when their evil Leviathan clones went on a killing spree.)
Sam then receives a phone call on Bobby's cell. A girl's voice on the other end asks for Bobby, but she quickly hangs up when Sam informs her that Bobby is unavailable. Sam expresses concern – they have a caller ID number, so perhaps they should go see if the girl needs help. Dean is appalled. "Frank's been working on the numbers that Bobby spent his last breath on," he growls, "and you want to back-burner that?"
The two decide to split up (which almost never ends well); Sam will track down the girl while Dean finds Frank. This leads to the latest riddle in the "Supernatural" universe : the Mystery of the Disappearing Beer.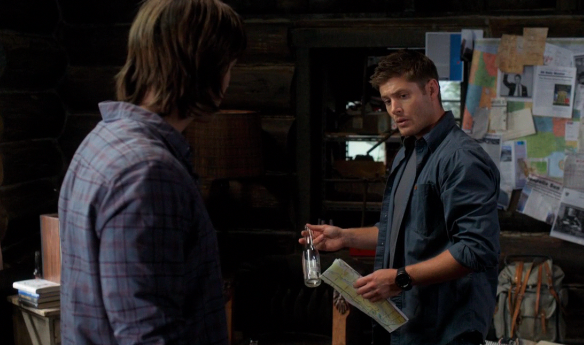 Dean picks up a full bottle, only to look down a minute or so later and find it empty…and it never left his hand. The most prevailing theory (among my Twitter followers, at any rate) is that Bobby's spirit is responsible, commenting on Dean's rather pronounced alcohol abuse since Castiel's death. Other suspects include Castiel himself, the late great Ellen Harvelle (who was mentioned as being concerned about Dean in "The Mentalists"), or next week's foe, Chronos, god of time.
Sam travels to Kansas, where he meets Lee's fourteen-year-old daughter Krissy (the lovely yet tough-as-nails Madison McLaughlin, who has already endeared herself to the "Supernatural" fandom as large for going above and beyond to help during the recent global scavenger hunt run by Misha Collins). Krissy seems to be unaware of her father's true profession and tells Sam that her usually reliable dad has gone five days without checking in.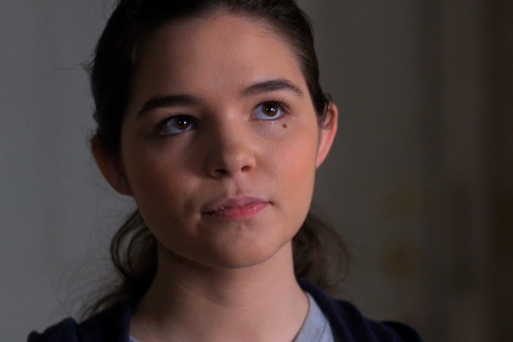 Sam quickly discovers Lee's secret research wall hidden in the closet. With Krissy's permission, he takes a picture of her father from the apartment and leaves her with a number to call in case he should fall off the radar as well.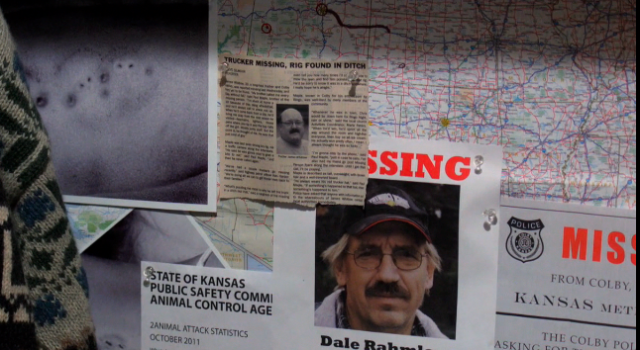 Dean arrives at Frank's house to discover that it has seemingly been abandoned, but he soon finds himself staring down the barrel of Frank's gun. Frank is doubtful that Dean is even human. "Oh, sure, you're not a Leviathan," Frank barks. "Dick Roman's not a Leviathan. Gwyneth Paltrow is not a Leviathan…"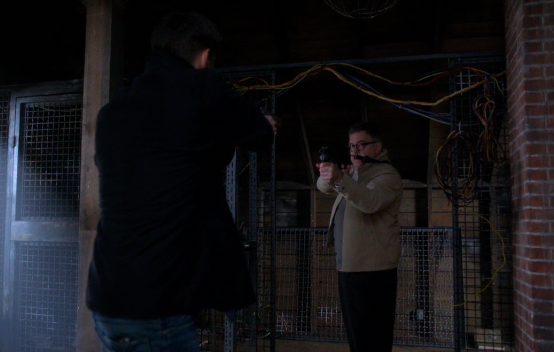 After they each prove that they are not inky-blooded Purgatory escapees, Frank takes Dean to his new digs – a motor home packed with equipment – and informs him that Dick Roman's people have been watching him ever since he started snooping around. Since the Leviathans are shape-shifters, they can be anyone. "Their tentacles are everywhere," Frank reports. "I'm looking at bankers, military high-ups…" And while Dean insists that he sent Bobby's number to Frank weeks ago, Frank believes it has only been a few days…yet another odd fourth-dimension hiccup that has left fans scratching their heads and speculating wildly.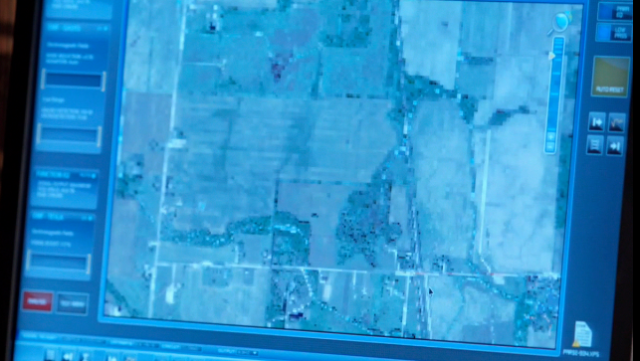 Frank has figured out that Bobby's five number sequence was incomplete – and by adding a sixth number (namely 3), he has been able to create coordinates that pinpoint a field in Wisconsin. (I should note that the number Bobby copied down in Dick Roman's office before he was shot was 454895. As to whether this is a continuity error or a deliberate plot device has yet to be determined.) Frank and Dean decide to scout out the sight and set up surveillance.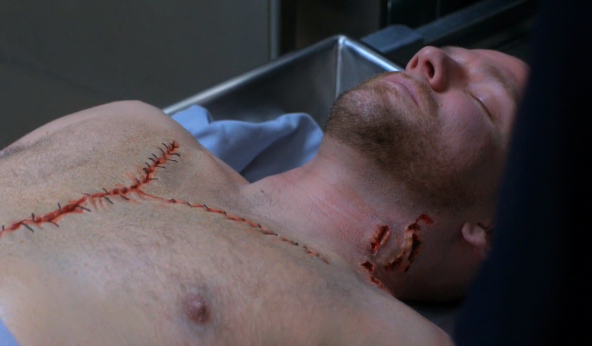 Meanwhile, Sam heads to the morgue to view the body of one of the victims. He learns that the cause of death was uncertain, but that five pints of blood were missing from the corpse – and that there were puncture wounds in the femoral and carotid arteries. The medical examiner sarcastically says the cause of death could be a vampire, and is a little miffed when his joke falls on deaf ears.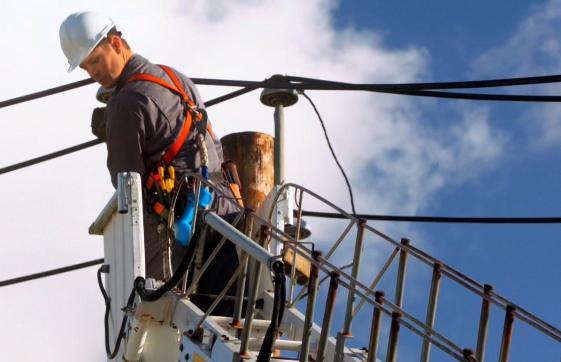 Dean and Frank travel to Wisconsin to set up surveillance equipment while disguised as telephone repairmen. Frank soon realizes that their mission is pointless, as the Leviathans have already wired the place up with cameras of their own. The answer : break into the bad guys' security feed.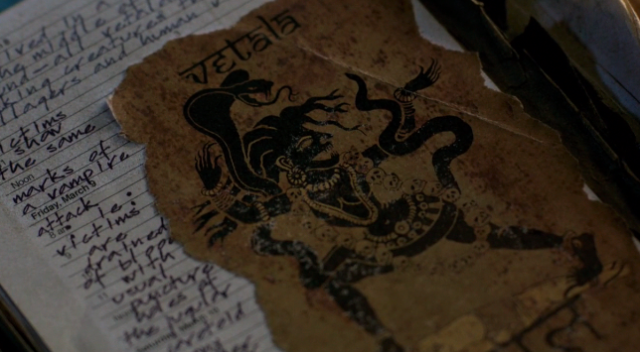 As soon as Frank is able to crack into the feed, Dean falls asleep sitting up. He misses a phone call from Sam, who has decided that he is not hunting a vampire, but rather a Vetala – a snake-like monster from Hindu myth that injects venom into its victims, then feeds slowly over a period of several days. John Winchester, Sam and Dean's father, hunted a single Vetala several years before, killing it with a silver knife to the heart. He described the creatures as "loner types".
Sam heads to the truck stop diner, where he shows Marlene his photo of Lee; she sends him out to talk to Sally. After a few moments of pretending to be the damsel in distress, Sally takes Sam down with Marlene's help. It seems that John was wrong about Vetalas : loner types they are not…they hunt in pairs. She chomps down on his throat, injecting venom into his system – and soon Sam is passed out on the concrete.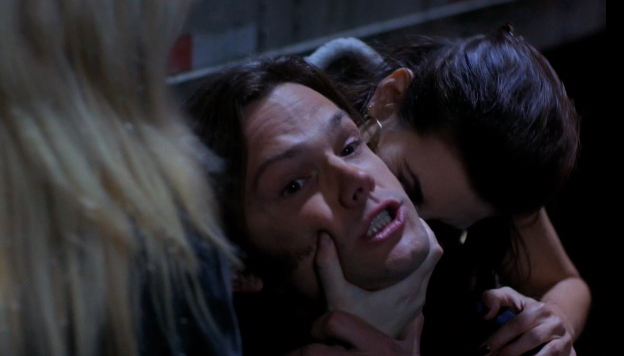 Back in Wisconsin, Dean sleeps for an improbable thirty-six hours solid, another time-related head-scratcher. Frank shows him footage of the field : a woman named Amanda Willer (who works for Dick Roman) showed up and began giving orders to a small team of surveyors. Roman is planning to build something here…most likely something nefarious.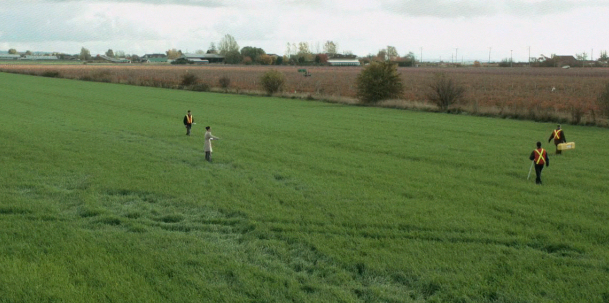 Dean and Frank argue – the older man urges patience, while Dean states, simply, "I want Dick Roman on a spit." But Frank points out that his dogged quest for vengeance is pointless if he runs himself completely ragged. He needs to find a somewhat-happy medium :
"No, cupcake. [You do] what I did when I was 26 and came home to find my wife and two kids gutted on the floor. Decide to be fine till the end of the week. Make yourself smile because you're alive and that's your job. Then do it again the next week…I call it being professional. Do it right, with a smile, or don't do it."
Dean listens to his voicemail and realizes that his brother might be in trouble. His worries are confirmed when Krissy calls and tells him Sam never checked in with her.
Sam awakens to find himself bound in the Vetalas' lair, his ears ringing from the venom in his system. Lee, Krissy's father, is tied up beside him; the Vetalas have fed on him three times…and he says that the fourth time is usually the killer.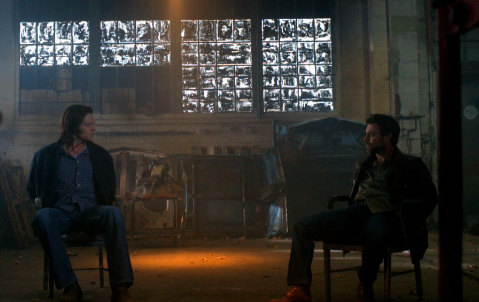 Dean rushes to Krissy's apartment, which is when the real magic of the episode begins : watching the dynamic between these two particular characters. Krissy is basically a fourteen-year-old, eye-of-the-tiger, female version of Dean, and McLaughlin and Jensen Ackles click onscreen almost immediately. When Dean realizes Krissy knows all about her father's true line of work – and that she has torn down, memorized, and then destroyed his research – he attempts to dominate her a into being a good little girl. She responds by pulling a gun on him.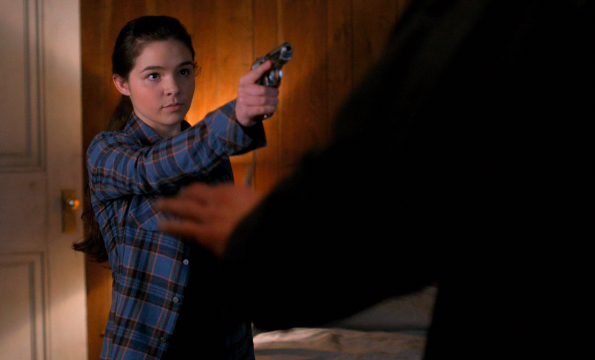 "My dad left," she tells him, trying to keep her emotions contained in an iron grip, "and he didn't come back. Sam left, and he didn't come back. I give you the info, you leave, you don't come back." Although Dean easily disarms her, he has no choice but to take her along.
While driving to the truck stop, Dean tells Krissy that Sam was unaware that Vetalas hunted in pairs because he was away at Stanford when Dean last hunted some. Krissy is shocked – hunters' kids can actually have a normal life? Head to college? Dean says anything is possible; maybe Krissy could become a "hunter/pediatrician".
In the Vetalas' lair, Sam nobly saves Lee's life by enraging Sally just as she is about to bite into his throat for the fourth (and most likely fatal) time. Sam taunts her by saying he hunted and carved up some of Sally's sisters; she responds by feeding on him quite violently before he passes out.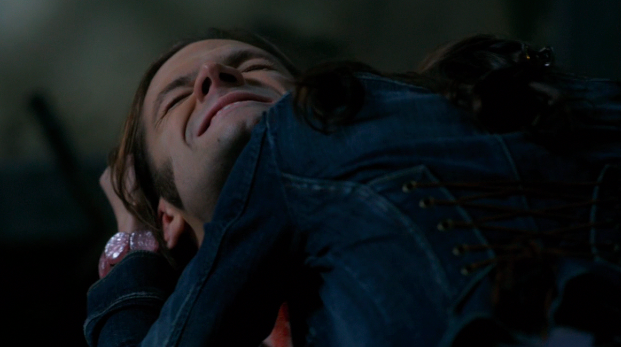 As they stakeout the truck stop, Dean grills Krissy about her past experience when it comes to hunting in the field. She insists that she helps her father all the time, although Dean is dubious. Krissy says that she has no fear, no nerves. "Oh, you think you're a good actress," Dean admonishes. "But you're not…I hate to break it to you, but it's all over your face. You're scared."
Dean and Krissy are suspicious when Marlene get into the cab of a truck and drive it away. They follow her to the Vetalas' lair, where Dean encourages Krissy to engage in a celebratory knuckle bump. "What century is this?" Krissy asks incredulously. "No one fist bumps anymore." When Dean insists, she calls him a dweeb before complying, at which point he cuffs her to the steering wheel.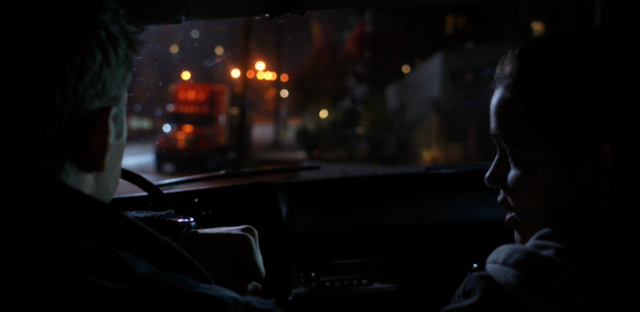 Krissy, of course, is enraged. She protests that she can do everything that Dean can do, and when he swears that he will get Lee and Sam back, she coldly (and heartbreakingly) declares, with a ferocity that matched Dean's own earlier in the episode.
"Please, they're probably already dead…It's been days. Probably just a pile of meat. I've seen it. People die, Dean. I watched my mom get torn to shreds. Let me go in there and kill them."
Dean refuses, relieving Krissy of her lock-picking gadget (which all good hunters carry) before sneaking into the lair. Dean knocks Sally down and is soon staring down Marlene. As he prepares to deliver the death blow, Krissy darts in, intent on saving her father. Sally trips her and gets her in a choke hold.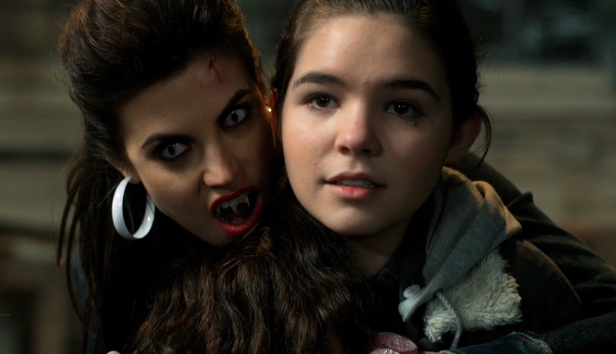 Dean releases Marlene as Krissy begins to whimper and cry – especially when Marlene sinks her fangs into Lee's neck. She pleads for Dean to help, but Sally retorts, "He can't help you. No one can." Krissy, cool as a truckload of cucumbers, whips a silver knife out of her sleeve, twists around, and stabs Sally. "I guess I'll have to help myself, then," she declares.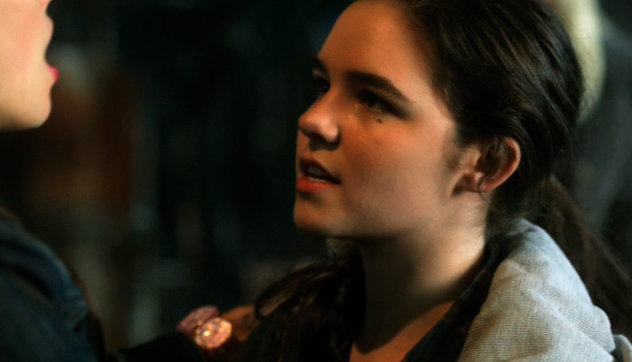 Sam (once released by Krissy) makes quick work of Marlene as she closes in on Dean. Krissy triumphantly asks Dean, "Bad actress, huh?"
"Yeah," he answers, "I take it all back."
Later, Dean and Sam visit Lee at the hospital. When Lee tries to thank them, Dean answers with sagacity :
"Don't thank us. Quit. Your daughter's fourteen years old. She's already a hunter with a kill under her belt. I'm not trying to be a dick, but what do you think that does to her life span? She could still be a regular kid."
Krissy and Dean have a sweet moment as he and Sam are leaving. He acknowledges her ingenuity (having figured out that she escaped the cuffs using a bobby pin); she admits that she might look forward to having a normal life, since it looks like her father is retiring from hunting in the field. "Maybe I'll go to Stanford like Sam," she says before offering her fist for a bump. "We're so lame," she adds when they knock knuckles.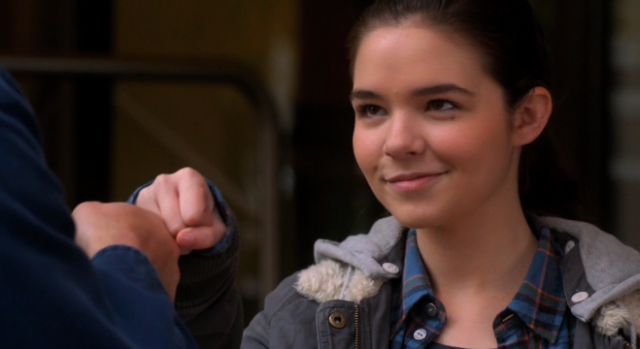 As they drive, Sam admits that no, he is not alright at the moment regarding Bobby's death, but he wants to get back to work. (This brings to mind the last line of the very first "Supernatural" episode, in which Sam murmurs, "We got work to do," after his girlfriend Jess was murdered by demons.) When Sam inquires after Dean's emotional state, Dean answers with a curt, "I'm fine," which is usually Winchester-speak for "I'm barely holding it together." He agrees with Sam, that they should just keep on the job and continue looking for a way to destroy Dick Roman.
Sam decides to sleep, and Dean attempts to follow Frank's advice – "…Smile because you're alive and it's your job…" The camera holds on Dean for about twenty seconds, during which he swings between endeavoring to force his mouth into a sad grin and almost breaking down entirely. This is yet another moment overflowing with emotion (and brilliantly acted by Ackles) that makes me shake my head and wonder why "Supernatural" is constantly ignored whenever award season rolls around.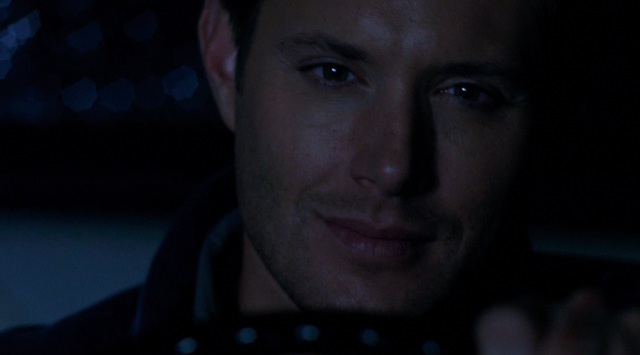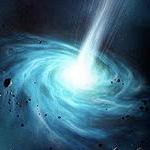 Many thanks to you for reading and you for visiting WormholeRiders News Agency to read about our continuing coverage of the great Supernatural series!
Please feel free to leave a comment here, click an icon below to share this review or you can visit and follow me on Twitter by clicking on my avatar to the right.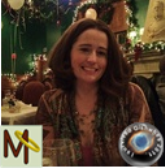 My warm regards,