Welcome back Terra Nova fans!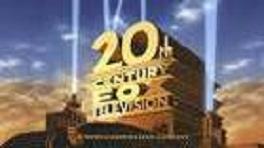 This weeks episode "Nightfall" was well worth the watch! Nightfall clearly showed the Shannon family having sibling differences. In several some romance scenes amongst the teens and a scary incident with a meteor crashing into Earth.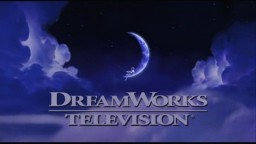 What a coincidence Terra Nova airing a meteor crashing into Earth the day before the real-life asteroid 2005 Yu55 came close to our dear Earth!How exciting!

Before starting my review of "Nightfall", we include the sneak peek of the next Terra Nova episode "Proof" courtesy of FOX Broadcasting airing Monday November 14, 2011 on your local FOX station in North America. Enjoy!

Nightfall:
Our episode starts off with the Shannon family getting ready for the day. Josh Shannon (Landon Liboiron) was having trouble finding his shoes. Maddy Shannon (Naomi Scott) tried to help him however with most families there are smart comments being made between siblings.
Jim Shannon (Jason O'Mara) had a surprise for Zoe Shannon (Alana Mansour) for the day and seemed really eager to get going. It was so good to see Terra Nova sticking to the basics when it comes to family. Jim kissed his wife, Elisabeth Shannon (Shelley Conn), and headed out the door with Zoe for their adventure. It was actually good to see his father side come out in this episode.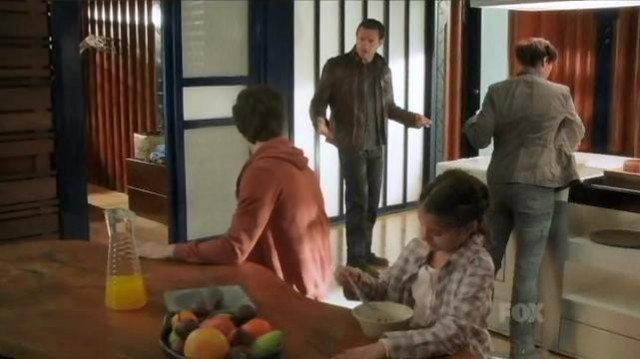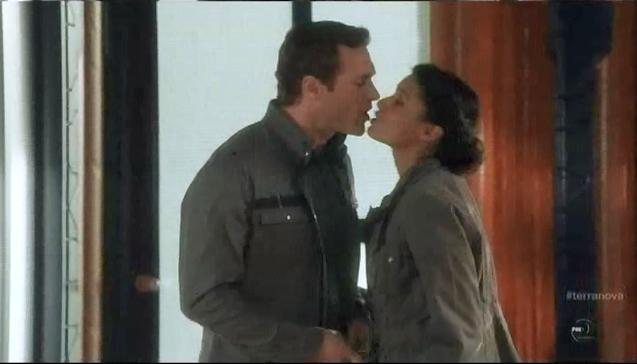 Maddy seemed eager for everyone to leave the house. Of course she did! Maddy had plans of sneaking out of the house with Mark Reynolds (Dean Geyer) for the day. Maddy used the excuse of having to do homework on a Saturday so her parents would think she was busy at home. I like this budding romance between Maddy and Mark. I hope we see more of it as the season progresses. Mark takes Maddy outside the gate to a meadow filled with lillies. It was a beautiful setting for young love.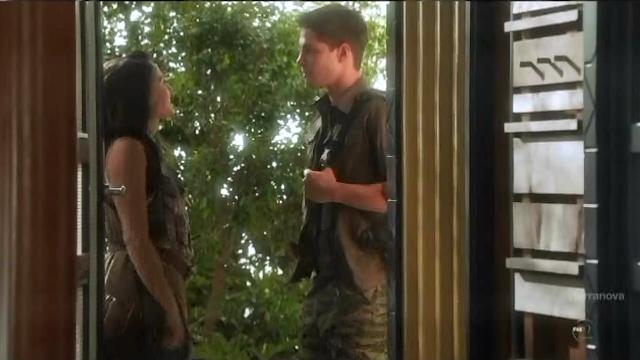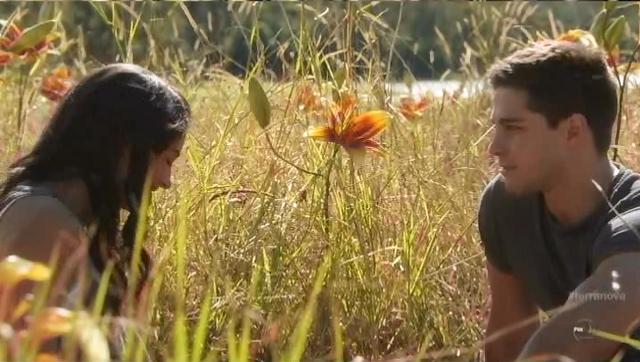 Meanwhile, Jim and Zoe go to the surprise that Jim had in store for his daughter. People around Terra Nova call it The Eye. Basically, it reminded me of the holadeck out of Star Trek. It is kind of like a virtual reality and you can go anywhere you want to go. Zoe chose to go to her birth place and see where she was born. Her eyes light up when her dad explains how she was born and how she was rocked to sleep at night. Of course when asked where she wanted to go to next, Zoe chose a roller coaster. Nothing like a little excitement for a young girl!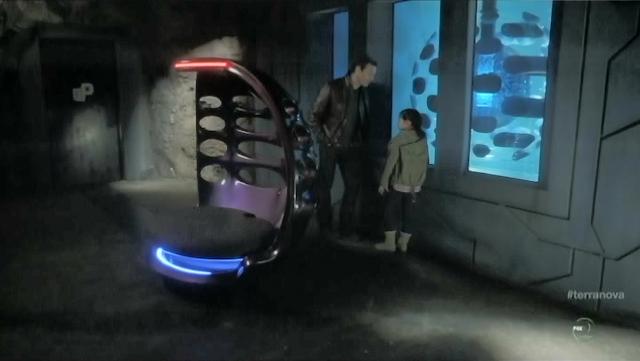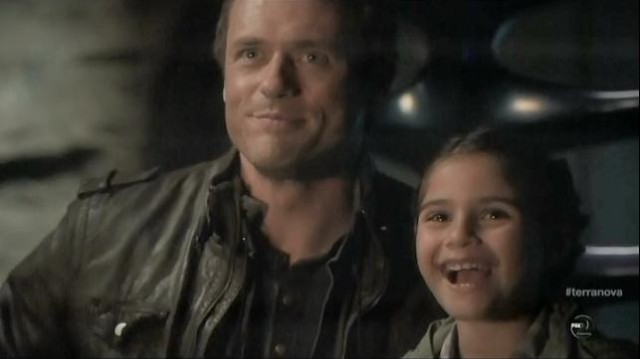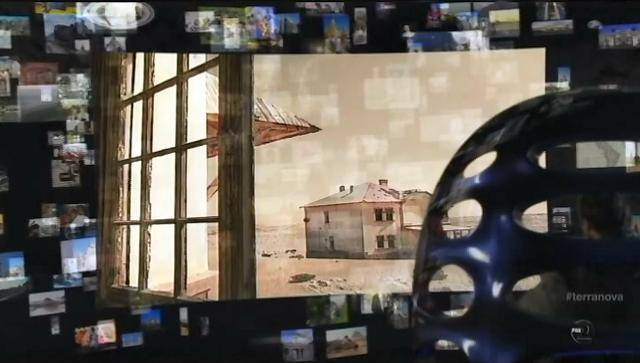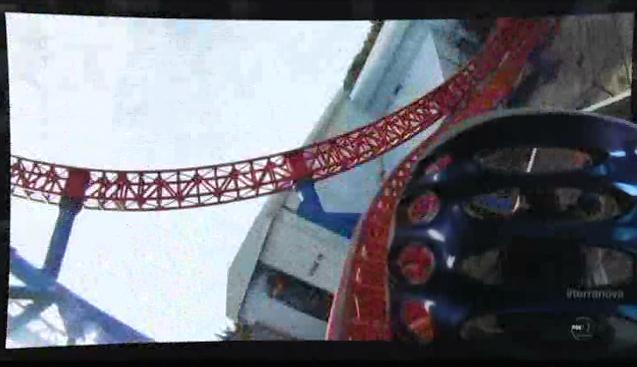 Josh runs into Skye (Allison Miller) and Hunter (Sam Parsonson) on the way to the clinic where Hunter seems to have drank some unfermented feroka root and it was not sitting well on his stomach. Josh made a few jokes about him still being hung over from the week before and heads to work. Skye gets Hunter to the clinic where Dr. Shannon does some diagnostic tests on him with advanced technology. Finding out that Hunter actually had a 35 foot parasite inside his abdomen. The thought of a 35 foot parasite inside someones stomach was enough to make me miss supper. Actually, Hunter did not take it so well either.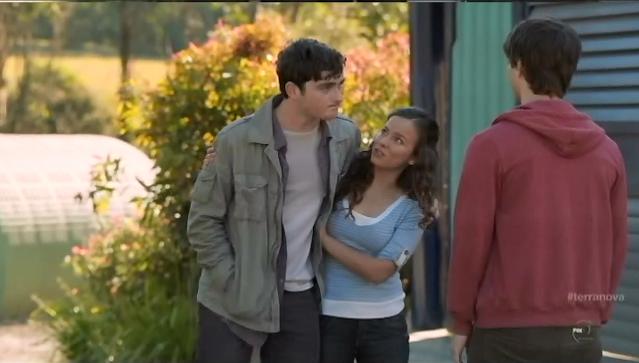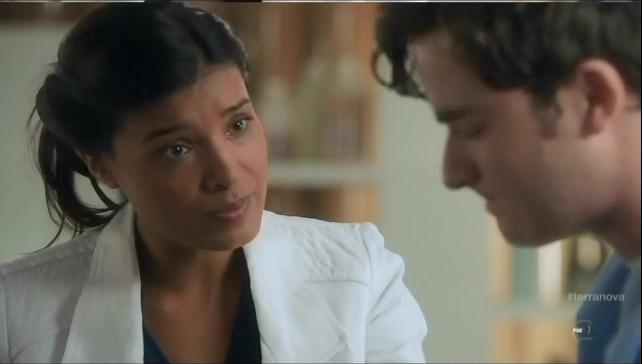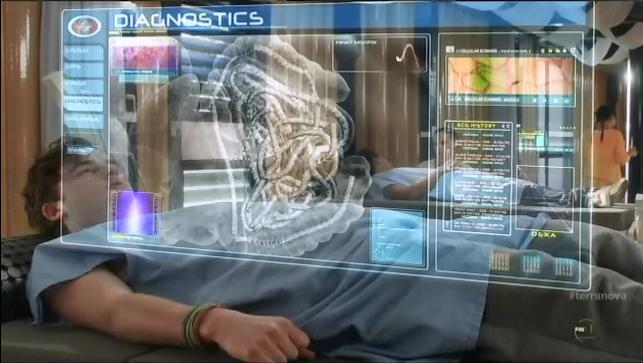 Commander Nathaniel Taylor (Stephen Lang) and Dr. Malcolm Wallace (Rod Hallett) continued to try and figure out exactly what the box that Mira (Christine Adams) was so desperate to get her hands on was all about. Malcolm told Taylor that it was reactive to DNA but whose DNA it was is yet to be told. Taylor suspected that Mira was the only one that could open the box. Taylor told Malcolm to lock the box away.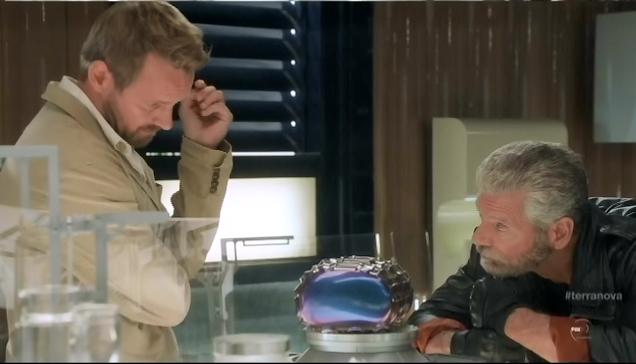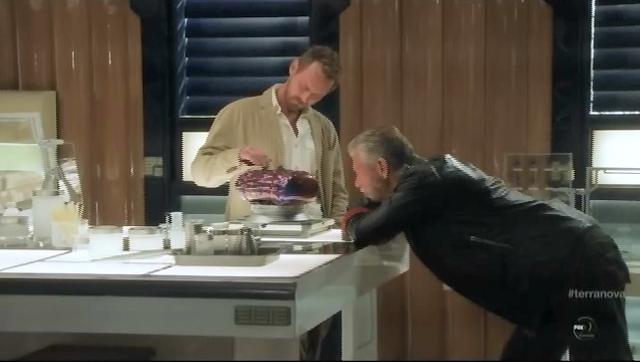 While sharing a picnic with Maddy, Mark decided to tell her a story of something that happened when he was a child. The chemistry between the two teens was there in this episode! Just as they were about to kiss Mark caught something out of the corner of his eye. Standing up, they realized it was a meteor coming in very fast.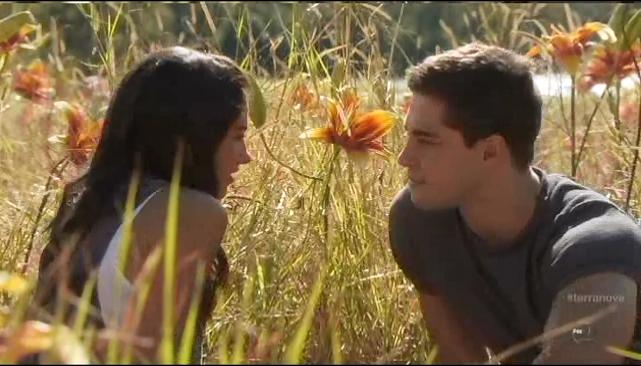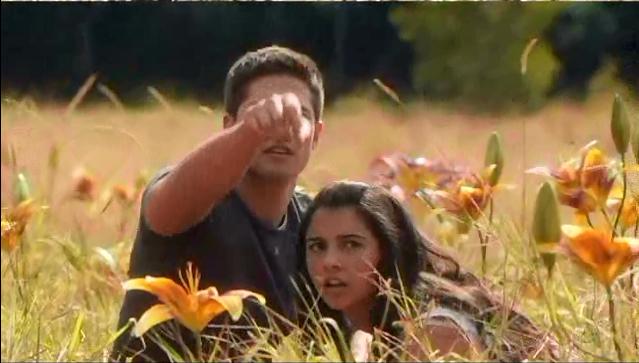 Everyone at Terra Nova noticed the meteor. Commander Taylor and Lt. Alicia Washington (Simone Kessell) stepped out onto the deck to see what all the noise was about and noticed the meteor as well. The meteor crashed into the earth and sent a sonic wave out that was headed right for Terra Nova. Commander Taylor yelled at everyone to get down and brace for impact. The special effects of the meteor crashing and the sonic wave was spectacular. Maddy and Mark went to the ground to avoid being hurt and the sonic wave ripped through Terra Nova.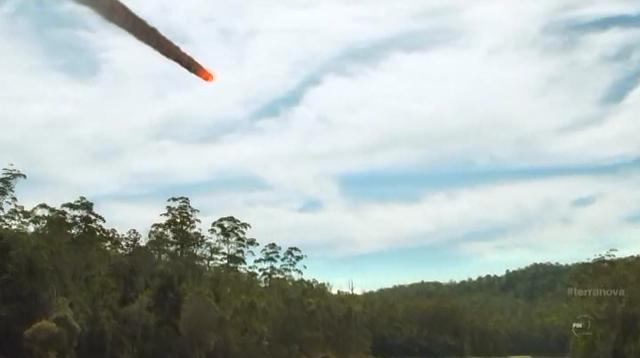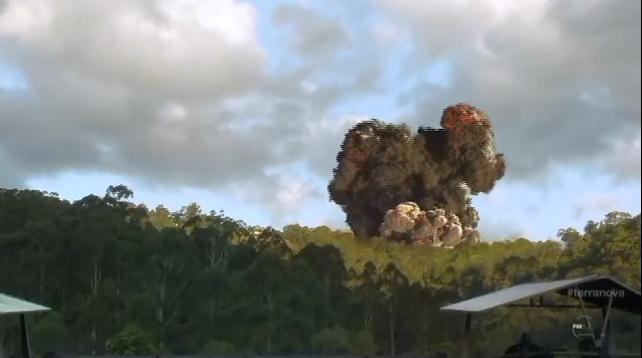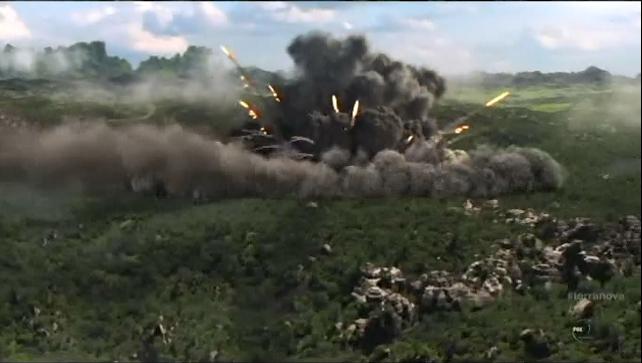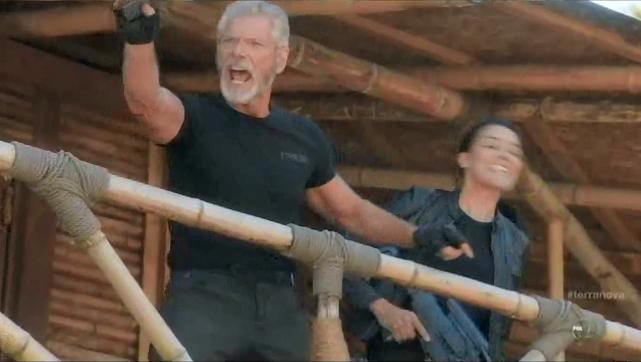 With the meteor crashing it caused an EMP, which is an electro magnetic pulse, to wipe out all electicity in Terra Nova. The clinic had no power to help their patients. Mark and Maddy had no radio signal or way back home. Jim and Zoe were stuck in The Eye and the gate surrounding the colony had no electricity to keep out the dinosaurs. Basically it rendered everyone vulnerable to attack.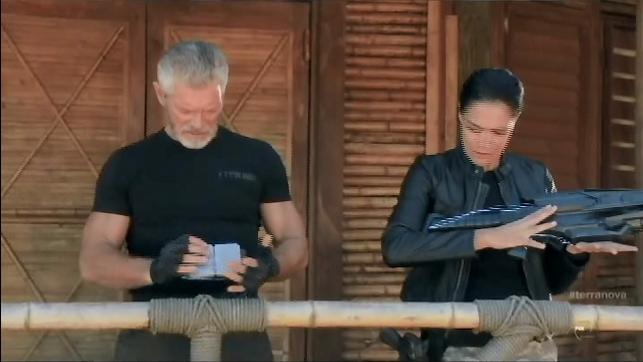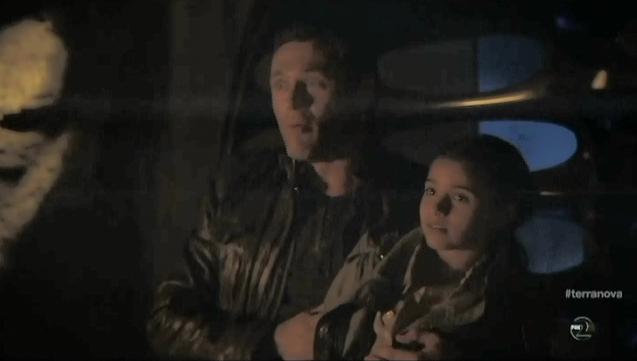 When Mark tried to radio in to Terra Nova and realized he had no communication and the vehicle would not start Maddy said it must have been an EMP from the meteor. Mark said what I was thinking. How could a teenager know what an EMP was? Evidently Maddy took Science very serious in school.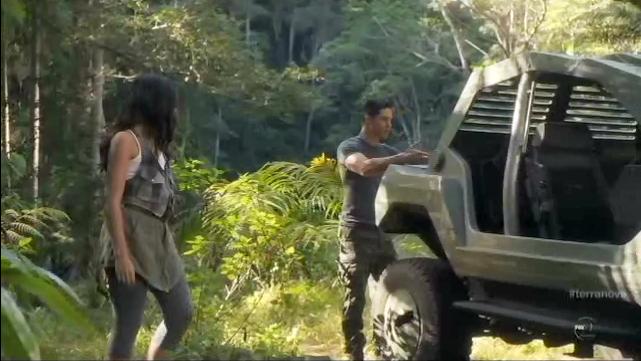 Commander Taylor called a meeting to discuss what happened and why there was no electricity. "Back to basics" he told everyone. Seems like not only did they travel back in time 85 million years they would have to live like that time period without all their high-tech gadgets. The one important thing Commander Taylor was worried about was the gate and how they were going to keep the dinosaurs out.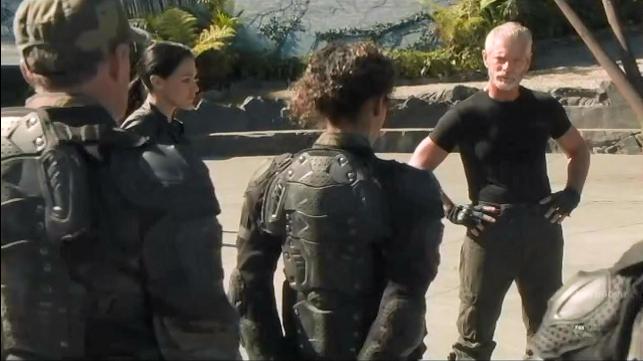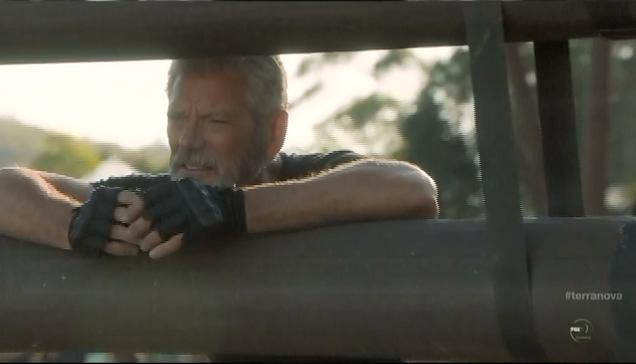 Jim and Zoe was stuck and he needed to find a way out because Zoe was getting scared. Also, he was worried about the rest of his family. Remembering there was a vent under The Eye, Jim talked Zoe into crawling into the vent and helped her with her fear of spiders with a song. Zoe reached the other side of the door and opened it freeing her dad. What a smart little girl!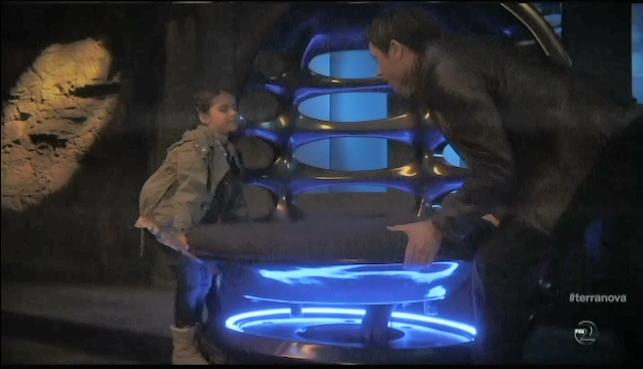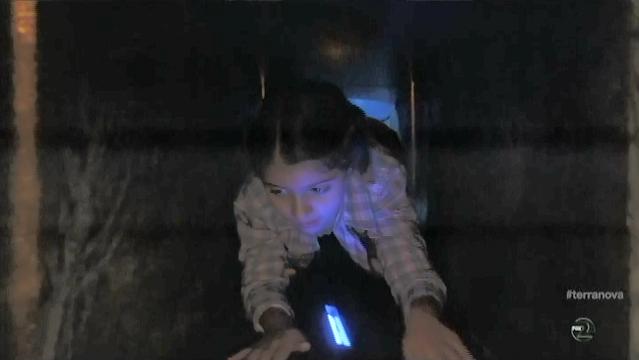 Commander Taylor and Lt. Washington go to Dr. Wallace for an answer on how to get the electricity back into Terra Nova. Dr. Wallace explained that they had a chip fabricator but the chip inside of it was destroyed. Lt. Washington informed Taylor that they both knew who had the resources to fix the chip inside but you could see that Taylor was not too thrilled of who that person was. Boylan (Damien Garvey) was their answer. Taylor clinched his jaw on the thought of having to ask Boylan for anything.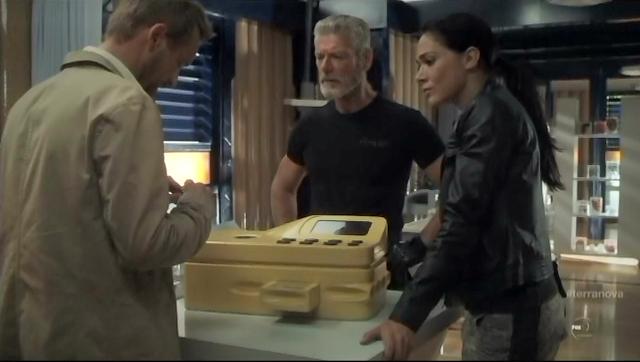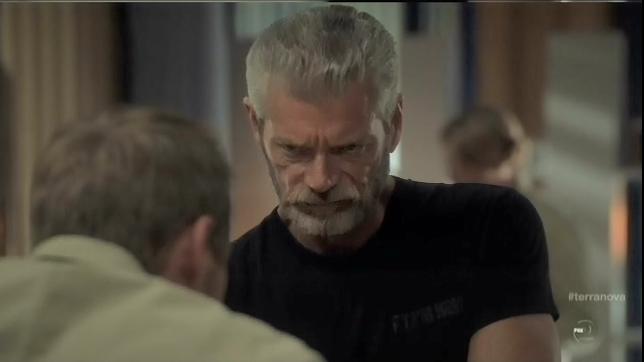 At the bar, Boylan held the chip in his hand and said "can I fix it?" "Sure" he replied. Boylan realized at that moment he could get whatever he needed out of Taylor because they really needed that chip fixed. Boylan had gone on and on about how much they needed him and what he had wanted for himself when Taylor strong armed him into saying he would fix it for nothing. Funny how that worked. Stephen Lang is so buff and bad ass in Terra Nova. Seeing him get physical is easy to watch.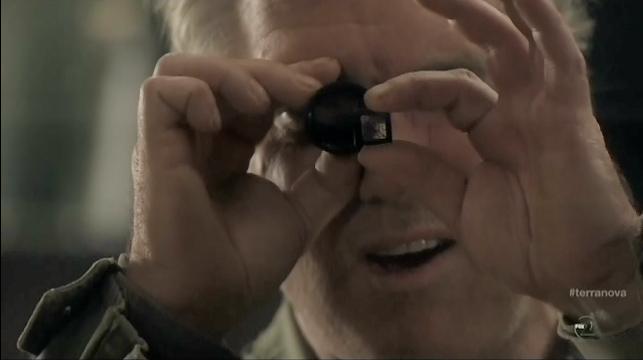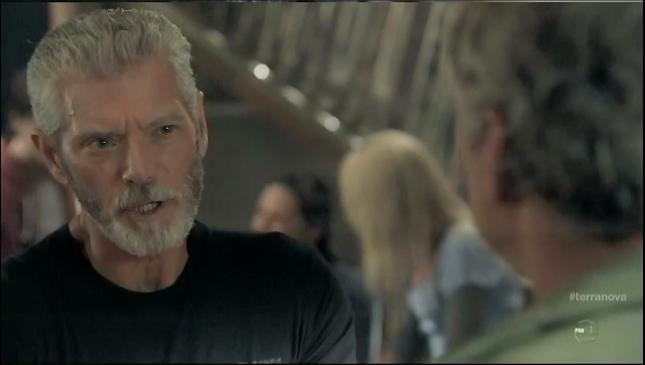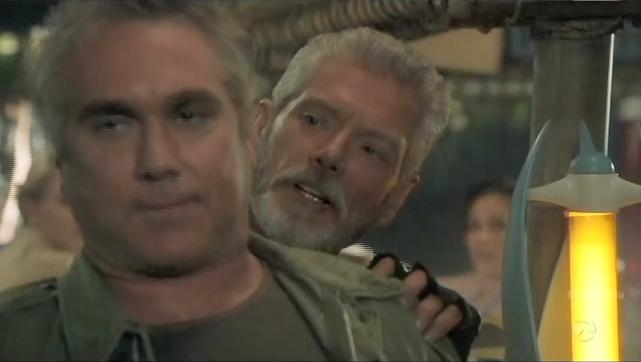 Dr. Shannon decided she had to go in the old fashion way to remove Hunters parasite. Hunter was scared but she assured him she would use a local anesthetic and he wouldn't feel anything. She made an incision and started wrapping the worm around a rod. The site was horrifying to watch. I cannot imagine being in Hunters place.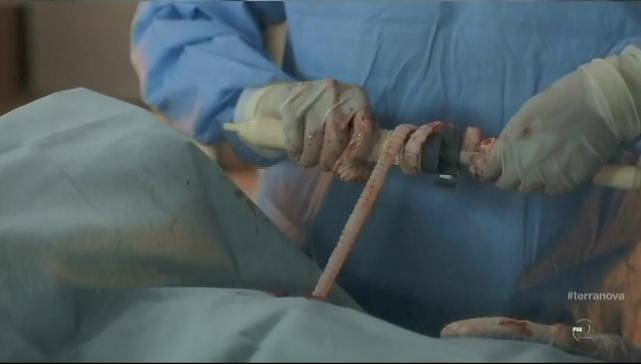 More trauma patients were brought in and Dr. Shannon turned the reigns over to Skye. I am not sure why they chose to go that route but they did. Were they that short on medical assistants? Either way, Skye took over the job reluctantly. Who could blame her? Dr. Shannon told her if she felt any resistance at all from the parasite to quit pulling on it. Hunter told Skye how he wished they were more than friends. Will there be a budding romance there? Will Skye chose Hunter or pursue Josh?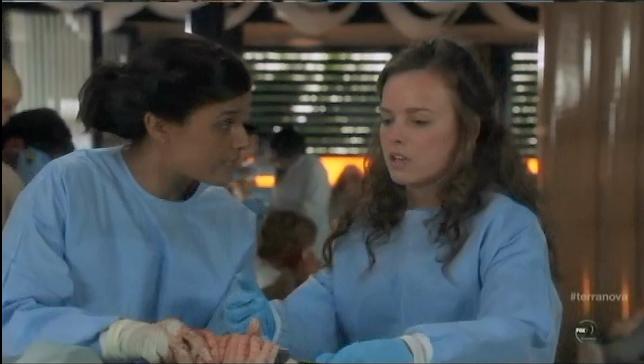 Mira and the Sixers discuss the fact that Terra Nova is without power and weapons. Mira decided to take the risk and go to Terra Nova. They informed Mira that Taylor would be ready for them and they would be out numbered so Mira came up with a better idea. Leading a very large dinosaur to Terra Nova with torches.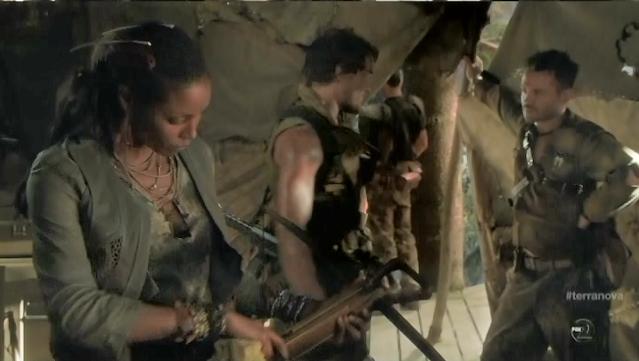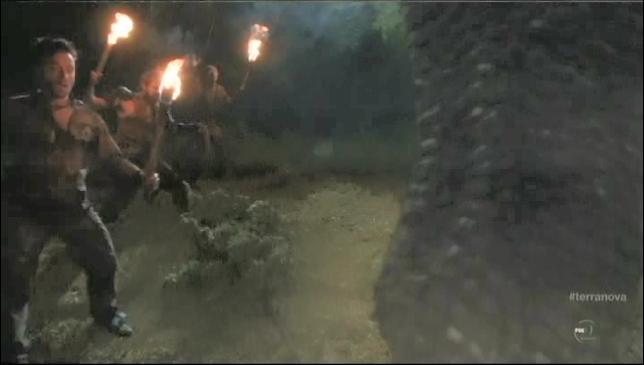 Realizing they would be stuck in the forest after dark Mark and Maddy become very worried. Mark stopped at a near by stream and found stink leaves. Mark asked Maddy if her outfit was new and after saying yes Mark threw mud from around the stink leaves on her. It must have smelled awful. Horrified at what was smeared all over her mark assured Maddy that it would keep the local wildlife away. Maddy gladly returned the favor by smearing it all over Mark.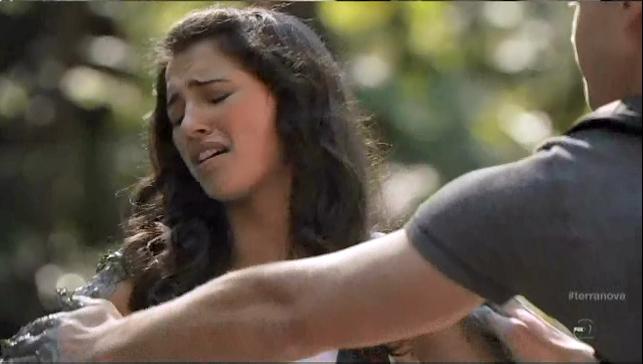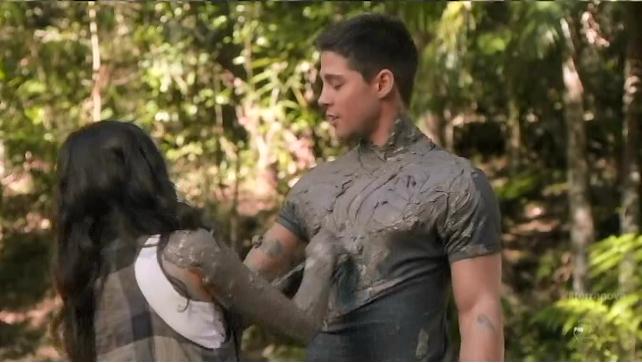 Maddy and Mark become frightened by the noises they heard and ran into the forest. Desperate to find a place to hide Mark told Maddy to climb a tree. Mark helped boost Maddy up the tree because she was having problems climbing it. He assured her he was not trying to be rude. Scared and sitting in the tree all night Mark and Maddy had bonding time. Well, bonding time when the dino's were not trying to eat them. Maddy received her first kiss. Young love is exciting. How old is Mark? He is a soldier so will dad feel that he is too old for Maddy? Maybe he will find out in the next few episodes what Maddy has been hiding from her dad.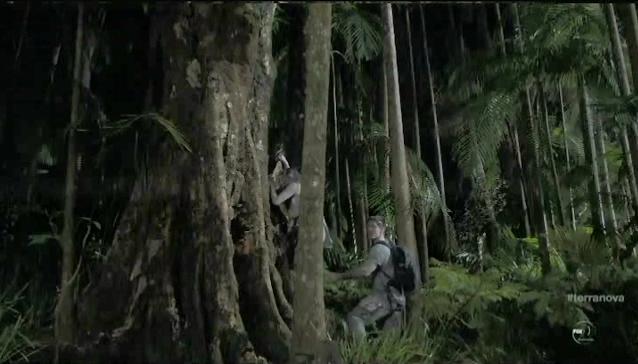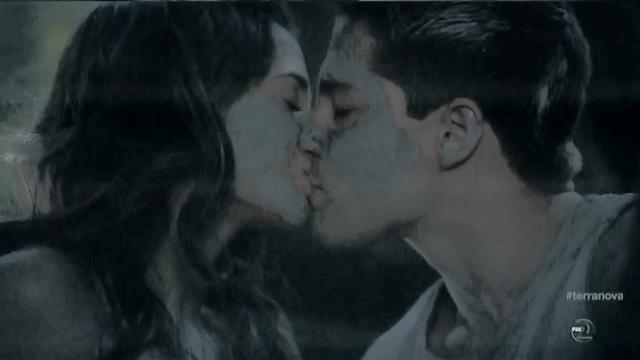 Taylor and Jim saw the large dinosaur headed for Terra Nova and armed themselves with crossbows that had torches. Aiming it over the gate they fired and kept the large dino at bay. Taylor noticed that the dinosaur had marks on its back where someone had been hurting it and realized that it was a diversion. He realized the Sixers were there to steal the box.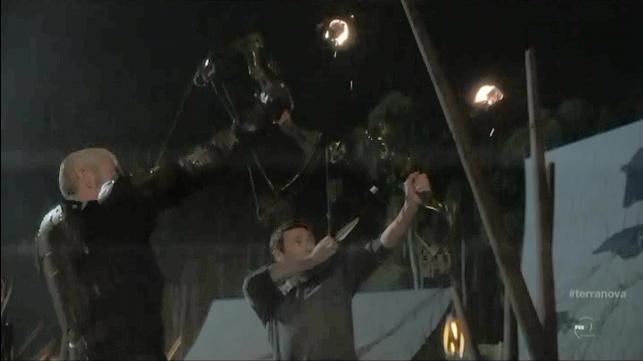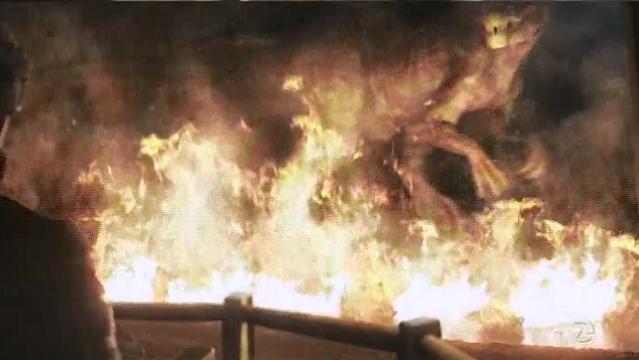 Commander Taylor and Shannon headed to the lab to stop the Sixers from taking the box but they were too late. They were already there with the box in hand. Trying to fight them off and keep the box from leaving Taylor ended up fighting with a very large guy and Shannon took off after the one that got away with the box.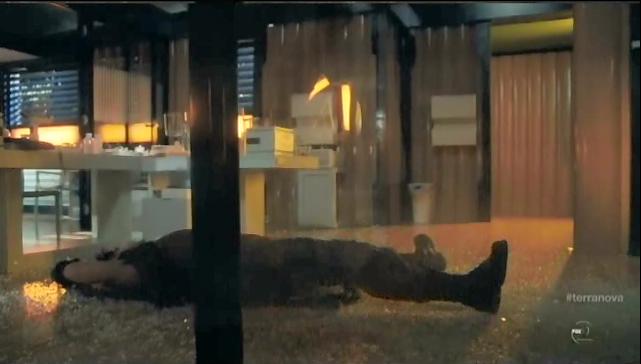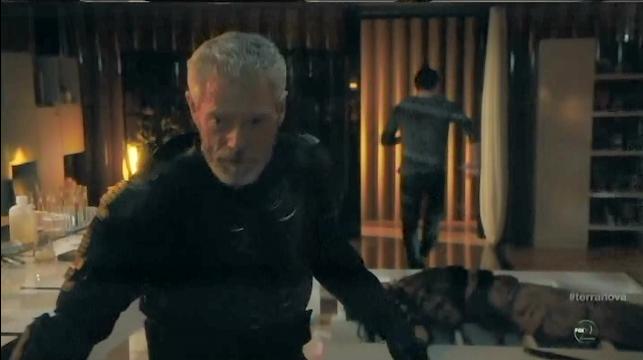 Boylan fixed the chip and handed it over to Josh to run back to the medical lab so it could be given to Dr. Shannon to get her power back. Boylan noticed Jim Shannon chasing a Sixer out of the colony and headed for the lab where Commander Taylor was fighting a very large Sixer. Boylan showed up with a gun pointed at the Sixer and let him know he could use it. However, the Sixer came after him anyway and Boylan had to shoot him. Commander Taylor said "I had him right where I wanted him."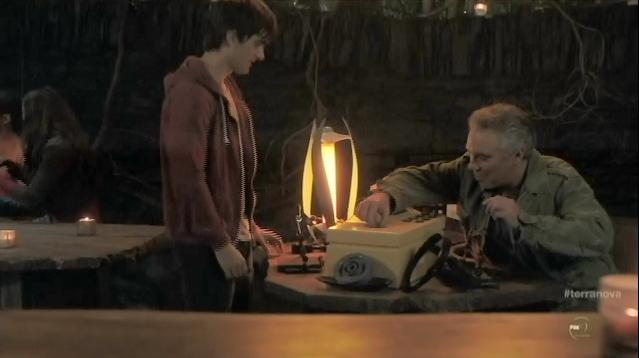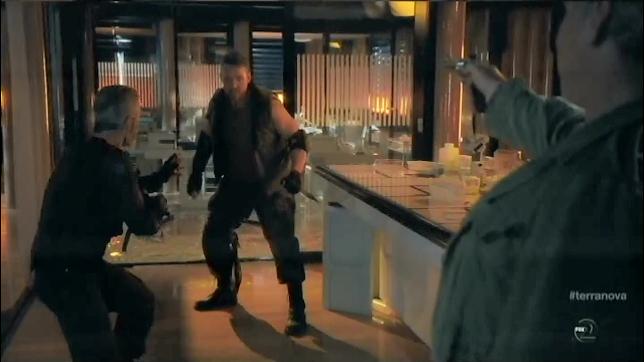 After Dr. Shannon received the chip from Josh she turned the bed back on and killed the parasite that was inside of Hunter. He was more than relieved to say the least.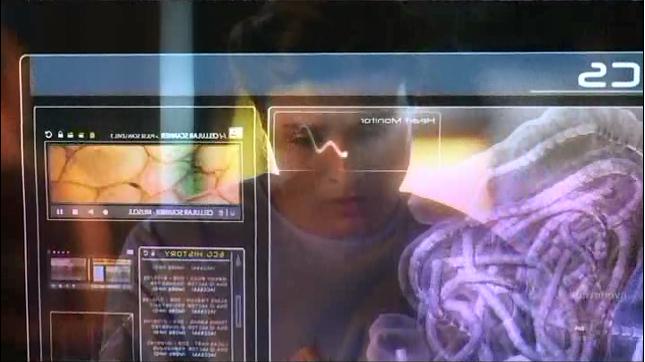 Taylor, Shannon and Dr. Wallace were in the lab looking over the damage done. Taylor told them that that was a surgical strike and Mira knew exactly where to look. Dr. Wallace said "you think someone in Terra Nova tipped her?" Commander Taylor said "I don't think, I know." Taylor informed Shannon that they had to hunt down the spy because that was unacceptable.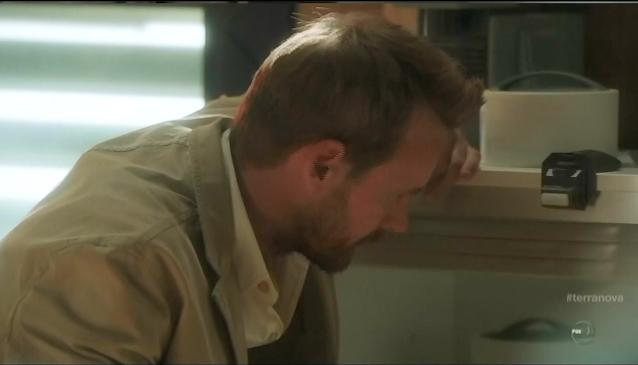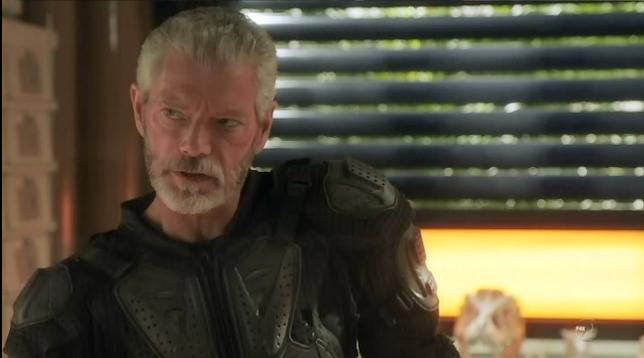 Daylight came and woke Mark and Maddy up who survived the night. Maddy realized that her dad was going to be looking for her so she thanked Mark for the perfect day and headed home. Elisabeth told Josh that they should invite Skye over for dinner one night. Josh said "ok" and then realized what his mother was up to. Of course Elisabeth acted as if she did not know what he was talking about. Jim came home and the power came back on. Just in time for coffee. Jim asked Zoe if she had seen that thing at the gate. Excited Zoe immediately started asking questions about it. Jim realized Maddy was not in the room and yelled her name. I was glad she made it home ok but she brought home with her the odor of the stink leaves.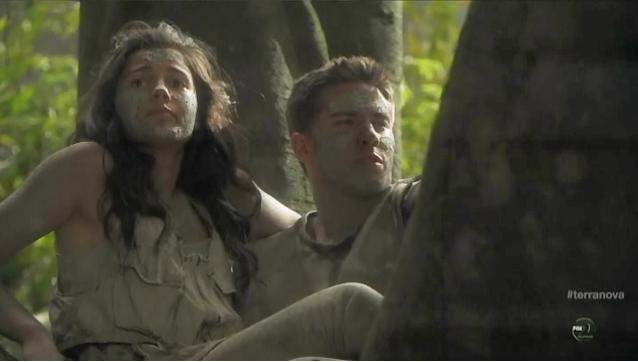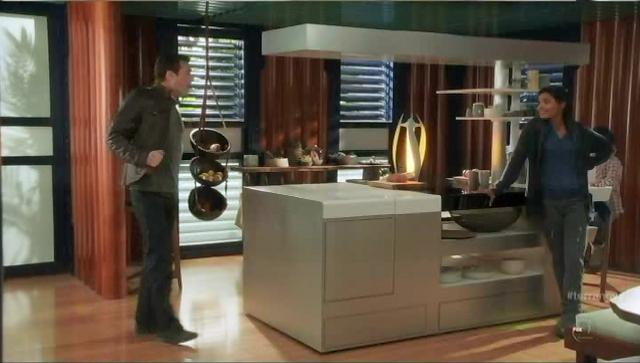 Mira waited in the forest for Lucas Taylor (Ashley Zuckerman) to show up for the box thinking that he was not gonna show. When he did he asked for the box and Mira said "you aren't even gonna say thank you?" Excusing himself by saying he had been out there for so long by himself that he had forgotten his manners and told Mira "Thank you for getting your act together and doing what you were sent here to do". Mira handed him the box and asked him what the box was for and he told her it was for his work. Taking the box he held it up and it turned on. Symbols and equations popped up and Mira had no idea what they meant. After he closed the box and started walking off Mira said "Lucas, be careful out there. Taylor knows you are getting close to an answer". Lucas replied "if he wants to stop me he is gonna have to kill me. Good old dad will have to chose between his own flesh and blood or his precious Terra Nova".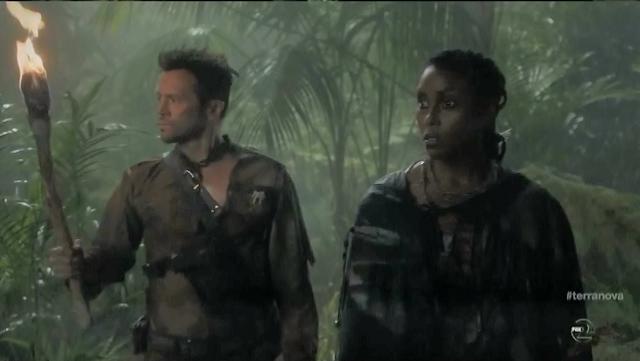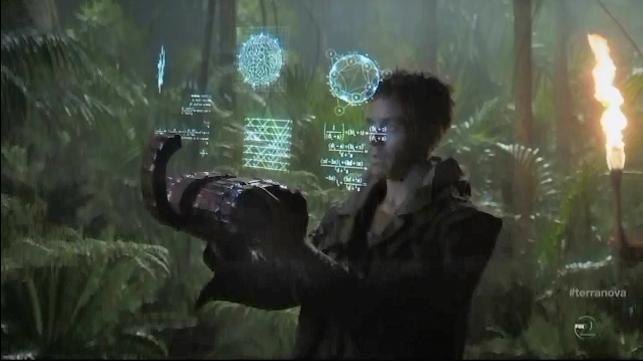 Leaving us with a cliffhanger and eager for next week to get here to find out why Lucas, who has been missing for a long time, is back and what he plans on doing with the box.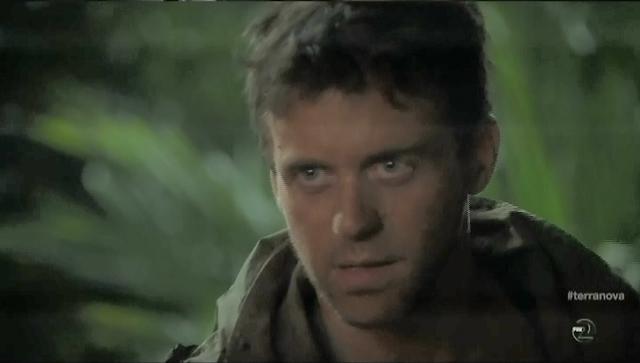 As always we appreciate your visiting our news sites at WormholeRiders News Agency. Thank you.
If you prefer, click the social media icons below to share this news article or as many of our readers and visitors often do, visit the WHR on Facebook or me on Twitter by clicking the text links or images avatars in this news story. In any event I will look forward to Seeing You on The Other Side" to tweet about The Vampire Diaries!
Thank you. xoxo
Dragonbayne (Angela)