Welcome back Terra Nova fans!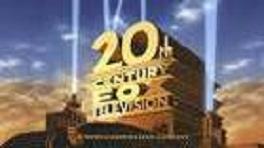 We are 85 million years in the past, and we still have kids running away from home!
Granted, on this week's Terra Nova, the kid in question is a nearly feral child who technically invented the Afro!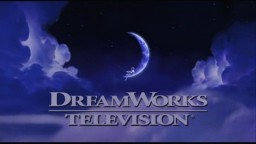 Even with that steely spine she still had the wits to make it through Earth's primeval jungle in a search for the Portal – and Gramma's quality cooking.  She just did not count on stumbling across Terra Nova's radar.  Or, perhaps she did – watch the episode to find out!
Before continuing my review, we include the sneak peek on the next episode "Bylaw" airing on FOX Broadcasting Monday October 31, 2011 in the United States and Canada. Enjoy!

MAJOR SPOILERS TO FOLLOW
The Runaway:
The episode starts off with the introduction of a figure in the woods, soon chased down by a closely-watching Lieutenant Alicia Washington, (Simone Kessell). The figure is a little girl named Lea Marcos, (Morgana Davies), and she is not happy about being caught. Once in the infirmary, she reiterates her dislike of capture by attempting an escape when someone gets too close to her with a needle, (and by 'reiterate' I mean "tears apart the infirmary"). Only the calming voice of Doctor Elisabeth Shannon, (Shelley Conn), gets her to calm down and come out of her hiding place.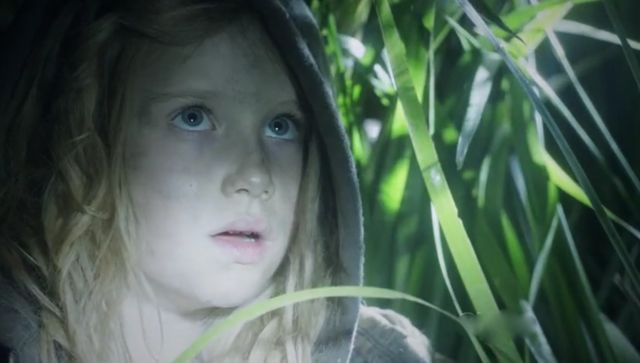 Once out, Lea confesses why she ran away – she misses Gramma's cooking and wants to go back through the Portal to get some real food. As she wolfs down a meal brought by Nathaniel Taylor, (Stephen Lang), Lea remarks that Taylor is "a bad man", which seems simplistic now but possibly may mean something heavily significant in future. Taylor replies to Lea that he knows her, which effectively freaks her out to the point she tries to leave. Jim Shannon, (Jason O'Mara), stops her and – though admittedly not with the best timing – tells her she can't go back through the Portal. Lea is sufficiently horrified.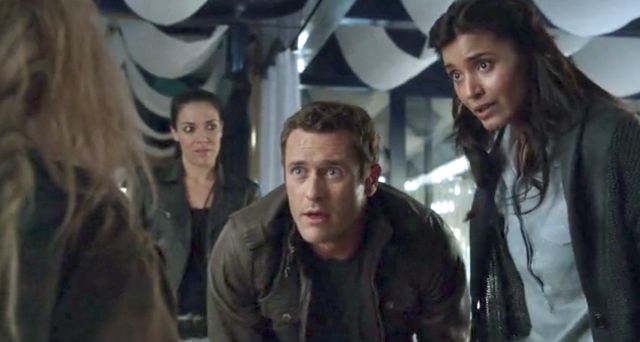 Elisabeth offers to have Lea stay with them until a more permanent location can be found for her. This decision is not supported by anyone except Taylor, who is eager to learn more about the Sixers. After an awkward set of introductions, the family goes about their business.
Meanwhile, while searching for Lea's pack in the jungle, Washington encounters Mira, (Christine Adams), who is less than pleased that Lea is in Terra Nova and not with her. With a sharp blow to the head, Mira takes Washington prisoner.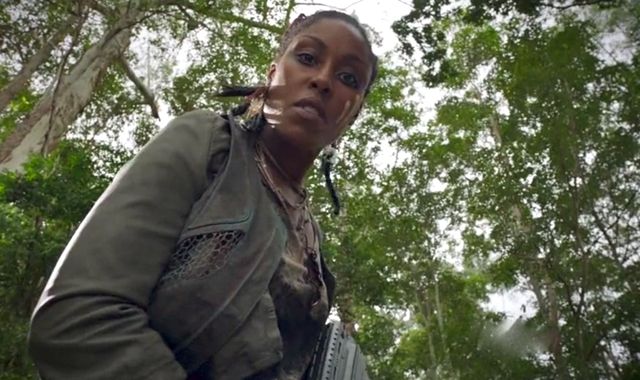 The next morning, Maddy Shannon, (Naomi Scott), starts her internship in the infirmary. Thirty seconds in, it is pretty clear this is not her thing as the sight of blood makes her sick. She does not have to deal with it for long, however, as the Sixers approach Terra Nova to demand for Lea's safe return. Through tight-lipped threats and cold calculations, Taylor and Mira stare each other down until Jim finally brings Lea out. In a show of strength, Lea clings to Jim and informs Mira she wants to stay. Mira coldly lets her.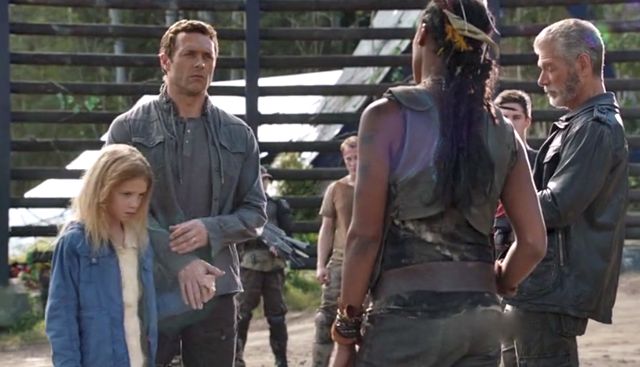 But the episode is only half over.
The twist strikes the next morning. Lea breaks into a house and steals a mysterious box before going on the run. She's captured before making it out of Terra Nova, and after a few moments of questioning reveals that she has no idea what the box is, only that Mira told her to steal it, or Mira would hurt her brother, Sam. Lea is very frightened about this, and pleads desperately for the people of Terra Nova to help her. However, she has used up her chances – no one believes her. Taylor orders Washington to take her to "Pod Zero", which we can assume is an isolation cell.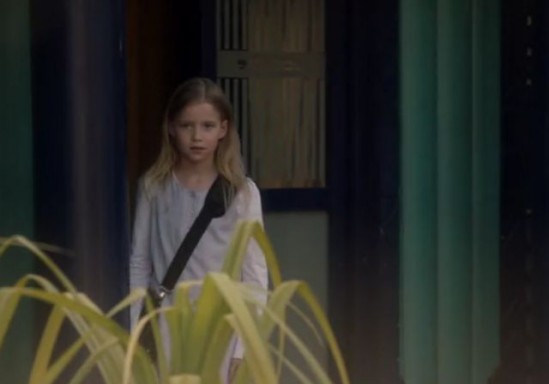 No one in the Shannon family is comfortable with Lea's absence. Jim thinks she may have been telling the truth. Elisabeth misses her. But the final straw comes when a note is discovered in Lea's handwriting. It reads simply: "I'm sorry. I had to. :'( " (Or, at least, the 85-million-BC version of a crying face).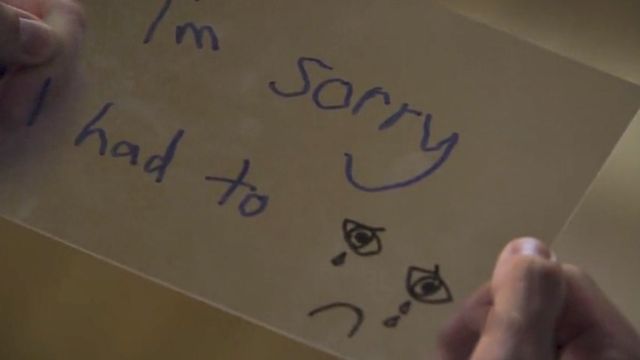 This is enough for Jim to finally go out on the hunt for Sam, even though on the home front the handsome Reynolds, (Dean Geyer), finally offers to begin official courtship with Maddy. Hmmm, a Dad's work is never finished. He may help one girl and come home to find another missing!
A few dinosaurs and one ill-placed trap later, Jim is facing down Mira.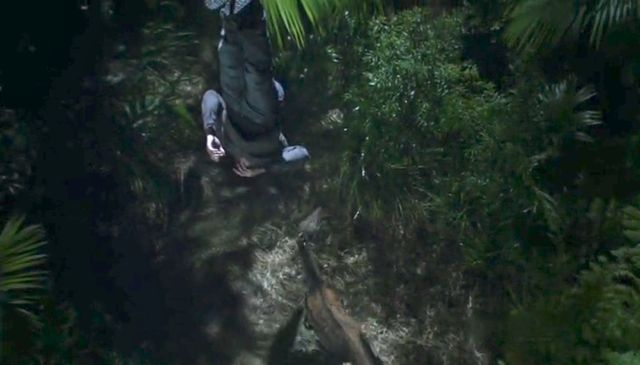 It turns out Lea was telling the truth – Mira does have her brother, though she insists she would never hurt him. Jim changes the subject, trying to question Mira about the spy she has planted in Terra Nova. Mira dodges the subject, and offers a warning: Nathaniel Taylor is dangerous and he will be taken down, no matter what the costs.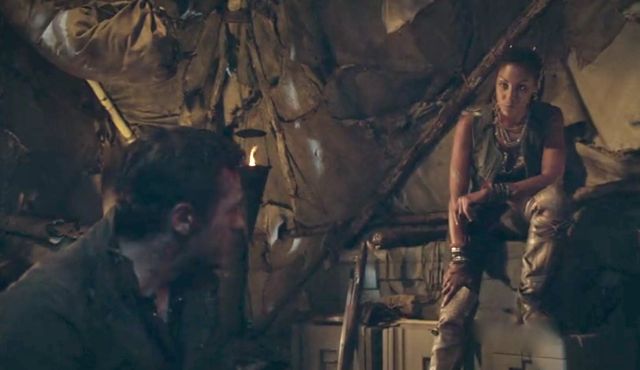 Jim does not believe her, but Mira gets him thinking with the simple question: "What is Terra Nova really about?" She also reveals that taking down Taylor will reunite her with her daughter – a meeting arranged by a mysterious "They". After doing this, she releases Jim with Sam. An overjoyed Lea greets her brother and is given a new family.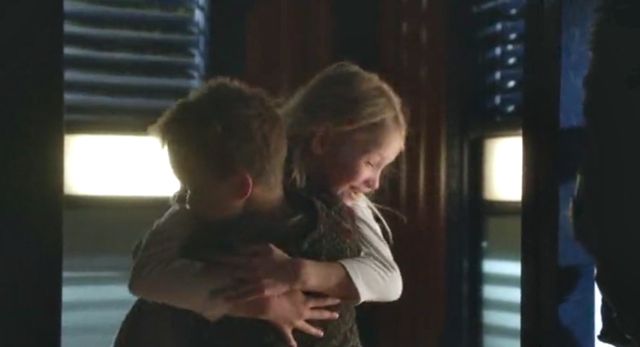 On a darker note, Jim comments that the Sixers may not be as dangerous as they think. He avoids the subject of Mira and his conversation when Taylor asks. Though he blows it off with a joke, it is clear that Mira's comments to him about Taylor have hit their mark.
The crowning glory in this week's episode is little Lea Marcos.  She is a tiny, brashly-spoken spitfire as wild as her hair and as strong as her kick.  If Terra Nova ever does a time jump I predict she will be an Amazonian woman leading the people of the time – unless of course she conforms to Taylor's uniform.  Lea has a wonderfully vicious look to her with a glare that comes right out of the screen at you – and yet thirty seconds later she is frantically pleading for assistance and hearts around her are melting.  (Who is this little child actress, she lit up the episode with her facial expressions!)?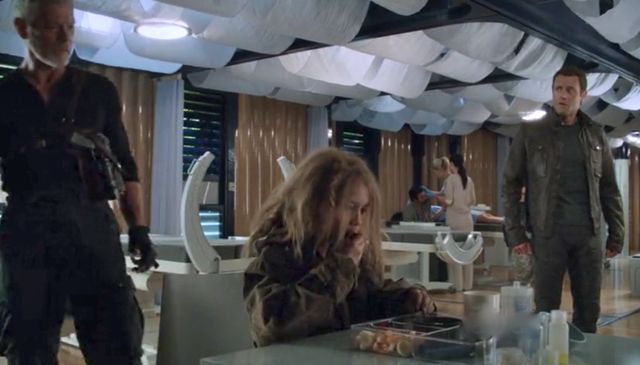 On the personality side, Lea shows some of the strongest depth we have seen in the series so far.  In a leap that might be considered impossible for a child of her age, she created a cover story and survived alone in the jungle of Earth surrounded by carnivores.  Even more, she did it all not because of the aforementioned good cookin', but rather to save her little brother, the only remaining family she has after losing both of her parents.  This is something a child her age should never have to go through, but go through it she did.  With some "motivation" by the enigmatic and villainous Mira, Lea ran into the Terra Nova camp and proved her mettle even with the not-so-hard-hearted Taylor.  She did it all with a smart mouth, a firm kick, and a strong desperation.  Which of course implies the question: How could Mira do such a thing to a little child?  Will Lea eventually attempt to revenge on Mira?  Or will it be happily ever after for her and her brother?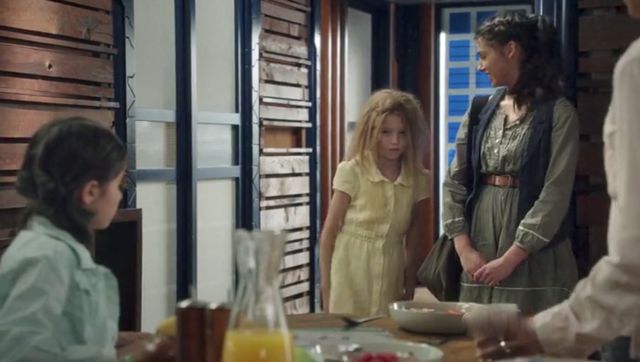 Still more developments continue this week on Maddy Shannon, (Naomi Scott), and even Nathaniel Taylor.  Last week we learned the name of Tayor's now-deceased wife, (Ayani), and that he even had children.  We also saw more examples of his extreme behavior as he tried to slit his throat once he realized he could not remember them.  This week, he shows a definite appreciation for and even respect for little Lea, including a softening of his features whenever he speaks to her.  This hardened Commander is not quite as icy as he would like to appear.  Despite using his military rank and knowledge to keep himself powerful, it is growing clearer by the episode that Taylor is a man just like any other.  (Theory time: Him and Alicia Washington,  Yay, nay, no way?).  We have discovered that Taylor has made some people back in 2149 very, very mad.  What did he do and why do they want him gone?  Of course we are not meant to find out.  Rather, a powerful question is put to us: What is Terra Nova really about?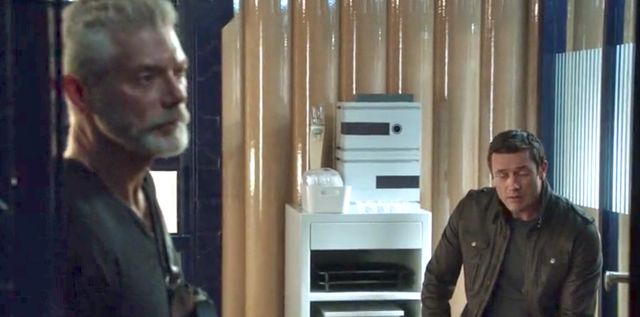 This is not the first time we have encountered this question, but it is mysterious enough that it bears repeating.  Ultimately, the question is also strikingly valid.  In 2149, the Earth is dying, and yet "they" have a full system in place for sending people back in time to re-colonize the planet.  The whole process is selective, even mechanical, and the limited time of pilgrimages and concept of sending messages to and from has made the entire idea very civilized as a whole.  At first, you might say props to whoever set it all up.  But if the Earth is overcrowded in the future, is it possible everyone will be sent back?  After all, Elisabeth was "recruited" while others are selected by 'lottery'.  This seems a bit of a double standard here… so why are people chosen,  how many will truly go back, and what is the overwhelming secret that the Sixers know about Terra Nova that is being so well-hidden from its inhabitants?
We learned just a little more about the mysterious Sixers in this episode – most notably that they live in the canopy which explains why Taylor has such a hard time tracking them.  Mira, as their leader, clearly has an agenda that she is not quick to fully reveal – but we get a general idea.  "They" want Taylor and in return, Mira gets to see Sienna, her little daughter.  Who is "They?"  Well that's again part of the big overall question.  What is Terra Nova really about?
This question will drive the rest of the season.
Now, of course, we move to the more fluffy subplots.  Gloom, doom, and conspiracy later, there is always the sweet little teenage love story to pour some sugar on to the home front.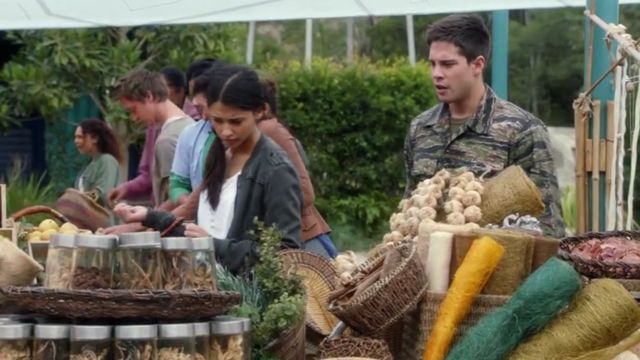 Maddy seems to be having a bit of a rough time fitting into life in Terra Nova – despite her general enthusiasm, she has been turning into a jitterbug around Reynolds, and he seems to be equally smitten with her.  However, his method of courtship has raised a few eyebrows – most notably hers!  Is Reynolds just strictly adhering to methods 'ordered' by Taylor, or is he really that chivalrous, (or old-fashioned)?  He makes a point of saying that Taylor has instructed him how to court someone, leaving us to wonder why on Earth is it Taylor's business, or is he just lying to cover up his own awkwardness?  One way or the other, Reynolds has definitely taken a stand for Maddy, but she seems strangely neutral about it now.
Terra Nova continues to ravel its mysteries for us in two weeks as we explore one of the (suspected many) "Bylaw"s of the colony!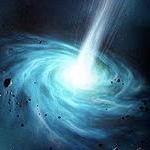 Thank you for visiting WormholeRiders News Agency Please feel free to leave a comment here or if you prefer, click the social media icons below to share this news article. Or as many of our readers and visitors often do, visit WHR on Twitter, WHR on Facebook or visit me on Twitter by clicking the text links or images avatars in this news story.
I and the WHR team look forward to and will be Seeing You on The Other Side"! Thank you.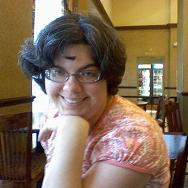 Regards, Nayari09 (Pam)