Hey, Twilight fans!
The final day of the Twilight Eclipse Convention started off with Booboo Stewart (Seth Clearwater) doing his solo Q&A session. As Booboo came on stage he had several of his t-shirts he was tossing to fans.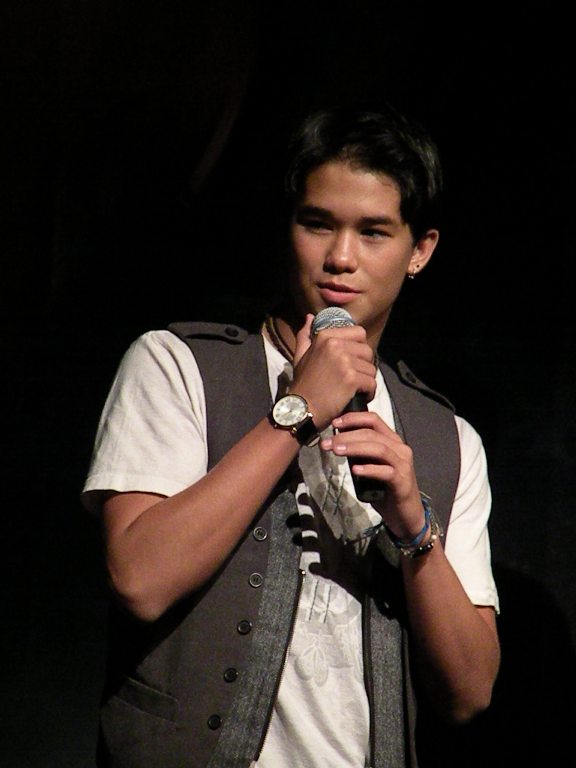 HOW DO YOU BALANCE ACTING AND SCHOOL?
Booboo: He is actually home schooled and is not doing the best in his school work right now.
WOULD YOU RATHER HAVE AN IMPORT OR MUSCLE CAR?
Booboo: '79 Pontiac Trans Am, muscle car 
DO YOU HAVE ANY HIDDEN TALENTS?     
Booboo: Yo-yo and told us he did this stunt the day before. He showed us his hand stand and did some sort of flip. The fans really enjoyed it and he made it look so easy.
WHAT IS YOUR FAVORITE SUBJECT IN SCHOOL?
Booboo: Definitely not math. Physical Education, but English or Literature were his choices.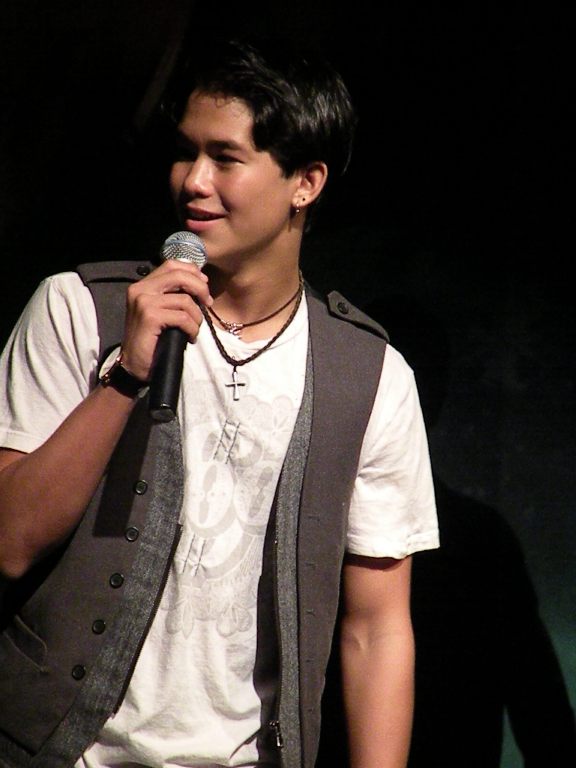 WHAT IS IT LIKE BEING PART OF AN ESTABLISHED FRANCHISE?  
Booboo: It's really cool. He gets to do these kinds of tours and meet with fans.
WHAT IS YOUR DREAM ROLE?
Booboo: To play Freddy Krueger.
HOW DID YOU GET INTO MUSIC?
Booboo: He walked into a skateboard shop and in the back room there was this guitar and he started playing it. He has been hooked on music since.
WHAT ANIMAL WOULD YOU LIKE TO SHAPESHIFT INTO?
Booboo: A monkey, no contest.
WHAT ARE THREE FAVORITE THINGS WE SHOULD KNOW ABOUT YOU?
Booboo: 1) Come and see him on the George Lopez Show on June 29. 2) He is signing autographs in the Vendors' Room.  3) Go to iTunes and check out his song, Rainy Day.
WHAT IS YOUR FAVORITE MEAL? WHAT IS YOUR LEAST FAVORITE?
Booboo: His favorite was breakfast. Loves hash browns, pancakes, eggs…. He started to laugh because now he was getting hungry thinking about all that food. His least favorite meal is lunch just because it is in the middle of the day.
WHAT DO YOU THINK SETH'S BEST CHARACTERISTICS ARE?
Booboo: He is down to earth, normal, and is friends with vampires.
DO YOU HAVE ANY UPCOMING PROJECTS?
Booboo: He was in an episode of CSI: Miami. He has three film projects completed: Smitty, Dark Games, and Logan. This week he is also working on his music video for his song, Rainy Day.
WHAT WOULD YOU DO ON A ROMANTIC DATE?
Booboo: Go to McDonald's and then go bowling. He got a good amount of laughs about going to McDonald's.
WHY ARE YOU SO OBSESSED WITH NIGHTMARE ON ELM STREET?
Booboo: He is a huge fan of Jackie Earle Haley of Human Target.
IS YOUR FAMILY INTO TWILIGHT?
Booboo: Yes, his sister and his mom. Mostly his mom and her friends are the bigger fans.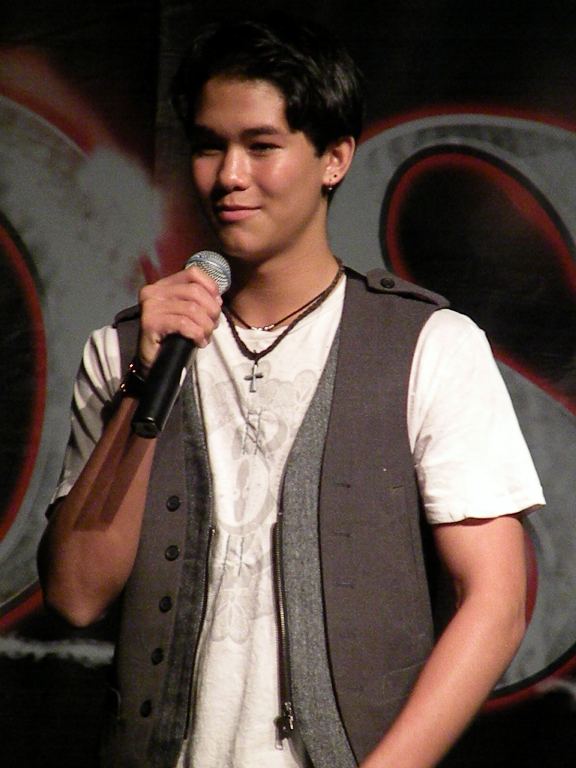 After Booboo was done with his panel it was time for photo ops and back to the Vendors' Room to sign autographs. Booboo was very approachable and took the time to speak with each fan that came to his table. He also enjoyed giving hugs. If you ever get to go to a Twilight Convention and Booboo is a guest definitely stop by his table, meet his family, and get to know this talented young man.
Soon after the break from Booboo's panel it was time for the popular Twilight Saga Yes/No trivia game. Again winners would receive $1750 in gift certificates, the right to be in the Sunday Night Vampire Court, a professional make-over, a special celebrity surprise and gift packages from Scene It?. Our roommate, Elizabeth, won one of three rounds and received a $250 gift certificate to use in the Vendors' Room. She was ecstatic and immediately headed over to see what to buy and take home.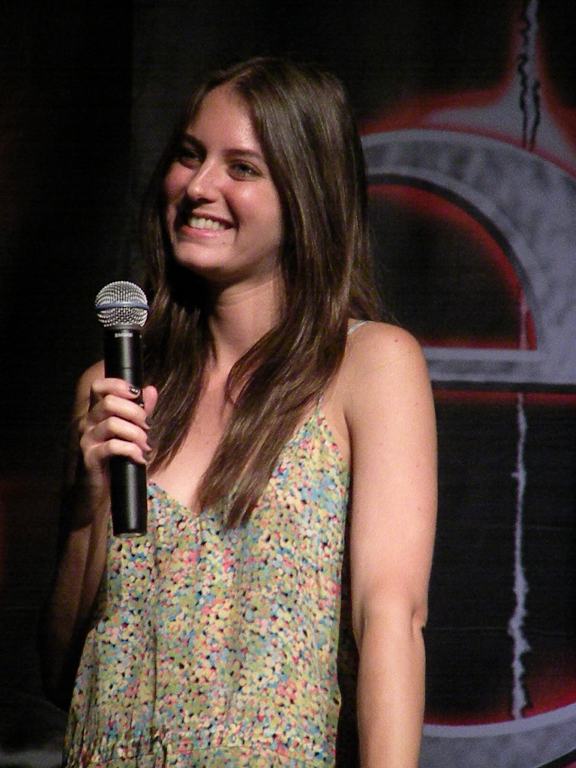 Soon after the Scene It trivia game Justine Wachsberger (Gianna) was introduced on stage for her Q&A. Justine talked about growing up in Paris and finally moving out to Los Angeles to pursue acting. She talked about how she filmed on set for about a week as Gianna. Her positive experiences from being part of the Twilight Saga are doing conventions and meeting fans. She also mentioned it has opened up doors for more auditions.
Unfortunately, offworldtravelr and I couldn't stay long enough to see Tyson Houseman's Q&A. We had a long drive back to San Francisco.
The final day at the Twilight Eclipse convention was more laid back. Many of the fans had spent their energy on yesterday's events and panels. Remember to check Creation Entertainment's website for more upcoming Twilight conventions near you.
Please feel free to share this article with your friends, co-workers and or family and leave your comments!
We look forward to you visiting our dedicated review and analysis web site here in the future!
Or as many of our readers and visitors often do, visit WHR on Twitter, or visit me on Twitter by clicking the text links or images avatars in this news story.
I and TeamWHR look forward to Seeing You on The Other Side!"
SciFiFanGirl616

***********************
And, courtesy of Kenn, check this out!
***********************While another amazing convention was brought to you by the great team of talented people over at Creation Entertainment, Summit Entertainment conducted a media blitz prior to the convention!During the media blitz by Summit Entertainment preview premiere of Twilight Eclipse, Steven Weintraub aka ColliderFrosty described this movie as the "Best of the 3" in the ongoing series. Collider recently did an outstanding service to the fan community with his wonderful interviews with the lead actors. We included the interviews with Kristen and Taylor Lautner in Convention Day 1 And Day 2 reports, and now Robert Pattinson.
Thank you Steven! Great job. Well done ColliderFrosty
Best Regards