Hello Days of Our Lives Fans,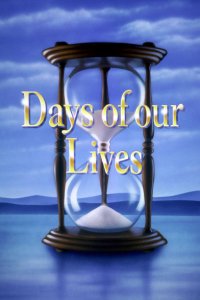 The case is really not so strange. In fact it is a turning of the tables from nearly 20 years ago when the evil character Vivian Alamain from Days of our Lives buried Carly Manning alive in one of her fantastic schemes.
With the 'shoe on the other foot', many fans of Days of Our Lives are delighted that Vivian Alamain, portrayed by accomplished actress Louise Sorel is trapped in a sarcophagus. Ms. Sorel has excelled as perhaps one of Salem's most evil characters in the series successful 45 year history. Her latest reward? A stint in her new 'home', her new 'life', a sarcophagus located in the mausoleum crypt at the Kiriakis Mansion. Despite the spartan surroundings, Vivian illustrates for us that there are really no exceptions in her behavior even as her evil reign of terror in Salem may be coming to an end!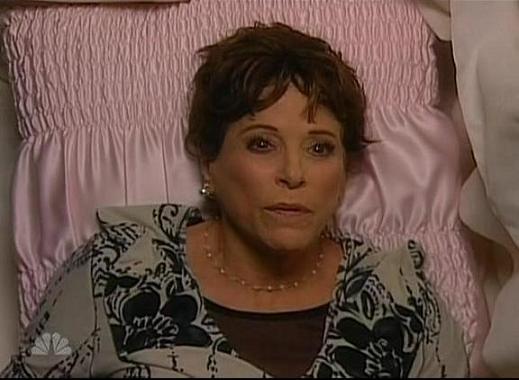 How did this latest sordid tale of retribution and revenge all get started? Well fans, (many to their glee I might add) can thank Brady Black (Eric Martsolf) ,  heir to the fortune of Greek Tycoon Victor Kiriakis (John Aniston) who on September 15, 2010 simply had enough of Vivian and her constant meddling and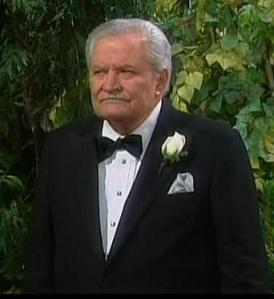 evil deeds. Brady is particularly upset when he learns that his mother Isabella Toscono's remains have been moved to less honorable environs, a pet sematary, by Vivian. The penalty?
After attacking Brady and nearly prevailing, Vivian loses a violent struggle. Brady then carries her back to the crypt room. All the while with Vivian screaming "what are you going to do with me!" Brady replies "Take a guess!" At that moment each fan let out a huge cheer that Vivian was about to get her just desserts!

The sequence actually started a few days earlier, but since that time we have observed this is one of the best renditions of the tables being turned on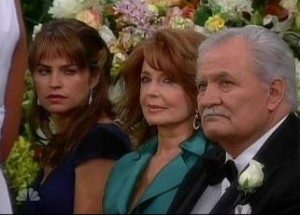 Vivian in many years! That's right, while this specific plot line has not been used before; there are similarities to the live burial of Carly Manning (Crystal Chappell) nearly 2 decades before.
However in the opinion of this reviewer, the writers achieved a nice polish in this iteration of a live burial, one we have not witnessed in a long time. The setting allowing the shine of the superb actress Louise Sorel to clearly show through with strong performances to support the punishment that Vivian Alamain so richly deserves!

What viewers should realize is that when an actor or actress cannot use body language and only has their facial expressions, it is then that we can truly see the talent of the artists come through. Louise Sorel has done an outstanding job of being trapped. Much to the sheer enjoyment of people who dislike the character Vivian, Louise has been a pleasure to be observed in a box!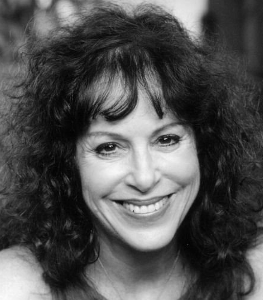 This is yet another testament to Ms. Sorel's gifted acting and is no small feat to pull off. Louise Sorel has single handedly made millions of Days of Our Lives fans despise her brilliant characterization of Vivian Alamain. During ValaBlack's recent coverage of Days Charity Events Boston, Ms. Sorel her self revealed that in her real life, people sometimes deliberately cross streets to avoid her. This factor alone is testimony to her supreme talent and to the joy of fans watching Vivian "get it" this time around!

During the many "series days" of her current sarcophagus entrapment (some 6 weeks in television real time), many of the past acts of Vivian's villainy have been reviewed in some detail during the story. Of great enjoyment to the fans is Vivian Alamain alternating between begging for mercy, that she has learned her lesson this time, and her typical , but likely to become true; threats of revenge when she is freed!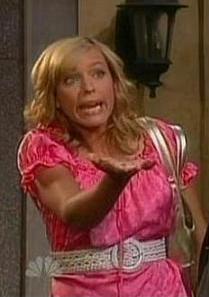 The day that the character Vivian Alamain becomes a good person is akin to the day that hell freezes over! Rest assured Days of Our Lives fans; Vivian will certainly escape if at all possible. Yeah right, seriously, and on both accounts! She will continue to freeze peoples hearts to stone and 'turn the tables' once more as she exacts her revenge on those who have imprisoned her. However, many hope she does not escape. The big question is will she? Either way,  Vivian Alamain is such a great character that fans either hate to love Viv, or love to hate her!
As we all know beyond any doubt, Vivian would say anything to anyone to get out and has done pretty much done precisely that to our day to day enjoyment. Vivian initially believed her ally, Gus (Kamall Shaikh), would free her. No dice. Gus has apparently left town after an encounter with much beloved character Maggie Horton whom has been portrayed by Suzanne Rogers since her 1973 debut.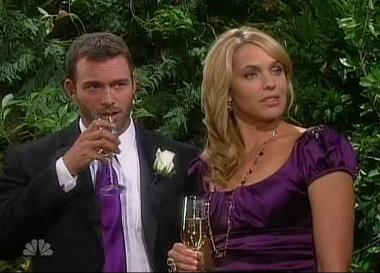 What has been most enjoyable is that as more and more people in Salem have become aware that Vivian was locked in the sarcophagus by Brady. the growing number of culprits are in agreement about what they are doing. Now part of the conspiracy are Nicole DiMera (Arianne Zucker) who is back in league with Brady Black (Eric Martsolf)  Even her former ally Gus tells Vivian what she was planning against Maggie Horton was wrong and she is getting what she deserves. Everyone who learns of this terrible Edgar Allan Poe tale of torture is in agreement; simply leave Vivian Alamain locked in the sarcophagus! This includes the master of the mansion, Victor Kiriakis, who finally and quite ably depicts the disdain he had developed for Vivian.
The veteran actor John Aniston is perfect for his role in tormenting Vivi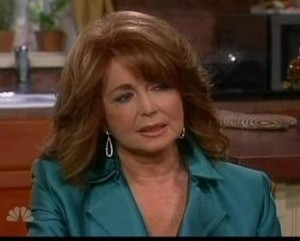 an as we have seen for many years! Perhaps best of all is that during the course of Vivian's 'absence', Victor Kiriakis has once again taken a hankering to Maggie Horton thanks to help from Nicole DiMera and much to the overwhelming approval of Days of Our Lives fans.
Of interest is that during my research on Louise Sorel's captivating performance during her 'first hand inspection of the sarcophagus' (replete with toxic materials inside), I came across some interesting Role Playing Games (RP or RPG). These faux Days characters can be found on Facebook and on Twitter where they realistically represent the the characters behavior during fun interaction about the series between, during and after the daily episodes. RP activities are nothing new, there are tens of thousands of role playing games on the Internet, but one in particular on twitter with a variant of the same people playing the characters on Facebook fascinated me for their gifted insight about Days of Our Lives.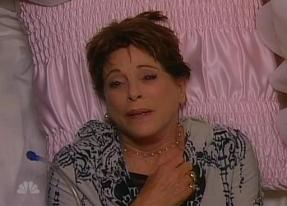 When I read back in their story lines I noticed that an imprisonment of Vivian had been discussed a couple of months earlier. Although slightly different in outline, nonetheless an imprisonment had occurred. I also noticed that other aspects of the series seemed to follow the RP story line such as the re-blossoming romance between Victor Kiriakis and Maggie Horton among several other ideas that appear in the real series.
While I cannot reveal the authors of these mini fan fiction works (they have requested anonymity), I asked a few about this similarity. Sure enough the people who are involved with the RP tweet or chat with the real actors of the series. Several perhaps rightly believe that the Days of Our Lives writers and or actors and actresses may upon occasion look at the RP for interesting topical ideas.
In fact when tracing the RP back story which extends several years into the past, I found several parallels that lead me to believe that Days of Our Lives RP fans, and critically the series writers and creators have a treasure trove of wonderful and virtually never ending plethora of plot twists to explore!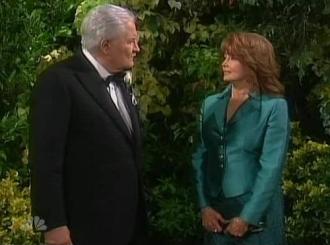 If you are interested in the Days RP I found on Twitter, listed below (alphabetically, not by level of activity) are the main character names I could find. These are gifted fan writers whom are quite often active in the game from hour to hour, day to day, week to week, and for month after month without apparent end!
@bellebradyblack, @ClaireBearBrady @ChloeLaneWesley, @EJDiMera, @henderson63, @ HopeInJail, @KateDiMera, @Kiriakis_Victor, @Maggie_Horton, @Max_Brady101,  @Melanie_Layton,  @Nathan_HortonMD, @NicoleWDiMera, @VivianAlamain,  @DanielJonas_MD, @ChadDiMera, @ShawnDBrady29, @SamanthaDiMera, @TitansBrady, and a favorite RP character (but no longer really in the series except in flashbacks), @SydDimera sometimes also makes an appearance in the RP.
I also found a s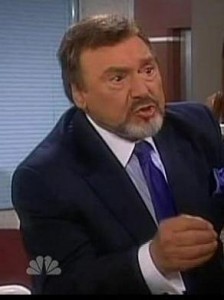 everal 'real' Twitter people who upon occasion join the Days of Our Lives RP fun:
@ValaBlack, @MeggieMagoo316, @ccourtneey, @Rahma2701.
Try as I might, I could night find a Twitter account for Louise Sorel. However, to the best of my knowledge all of the characters in the RP follow the main celebrities of Days of Our Lives that have known Twitter accounts. What was especially interesting is that the 'real life' celebrities often send funny, enjoyable and nice tweets to thei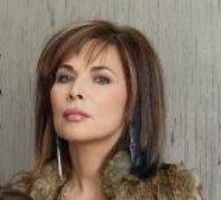 r RP fans for their efforts at surviving in Salem!
To conclude for now, there have been enough people in the crypt room doing lord knows what, anything can and likely will happen. And of course you know exactly what I mean when it comes to Nicole and Brady, its just like a picnic!
Lastly, now that Kate DiMera Roberts (currently portrayed by Lauren Koslow) has found out that Victor Kiriakis is aware, sparks in their rivalry are sure to fly when she tells Stefano DiMera (Joseph Mascolo) just what the heck is going on!
As we wait for the outcome of this situation, which is sure to be enjoyable, I am left wondering how in the world Vivian will escape her imprisonment in this particular instance. Will the entire town of Salem band together for Vivian Alamain's long dreamed of funeral? Could the series be writing Louise Sorel out of the series? I certainly hope not.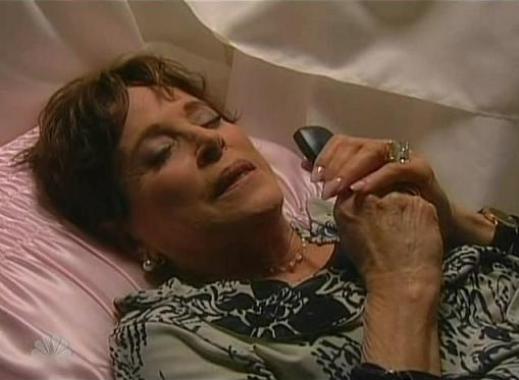 Speaking as an admirer of Days of Our Lives for 20 plus years, I for one am looking forward to Vivian escaping and exacting her revenge on all who have participated in her internment! And I'll just bet that many of you are too!
As the rate this story arc is developing, we hope to see you soon in the Kiriakis Mansion mausoleum crypt room along with rest of Salem for perhaps your last visit with Vivian Alamain! Thanks for stopping by and reading.
Best Regards,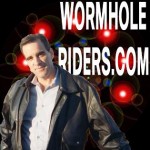 Kenn