It's Friday morning and I wake up to the sound of my dad calling me. I roll over, groaning, and look at the clock. It's only 3 A.M. I drag myself out of bed and climb up the stairs. It'll be worth it later, I tell myself. And I'm right.
Despite canceled flights and six-hour layovers, I finally managed to make my way from Calgary to St. Louis by Friday night. This weekend was going to be amazing – I could feel it. But then, Days of Our Lives events usually are.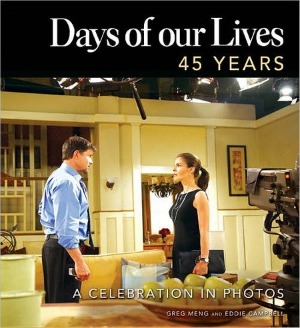 On Saturday March 5, 2011 and Sunday March 6, 2011, Days of Our Lives actors found their way to Chicago where they participated in a 45th Anniversary book signing of Days of Our Lives 45 Years: A Celebration in Photos which took place at the Chicago Flower and Garden Show.

Although we may have wanted to, Carrie and I could not make the Saturday book signing, since that was the day of Matthew's dance competition. He rocked it, by the way! Matthew was done all of his dances around 3 P.M. and off we went on our drive to Chicago!
Before we left, though, we decorated our car to represent Team Molly as we call ourselves. The back said "Team Molly (@mollydollyy)! Tweet if you see this car!" Matthew wrote "The Molly Mobile" on the right back window and on the left, Carrie added "Team Molly Chicago Bound!" and "Only cool people watch Days of Our Lives!" We snapped a picture and sent it to her on Twitter. Molly replied, saying she loved it, which put a smile on all of our faces. Off we went on our five hour drive!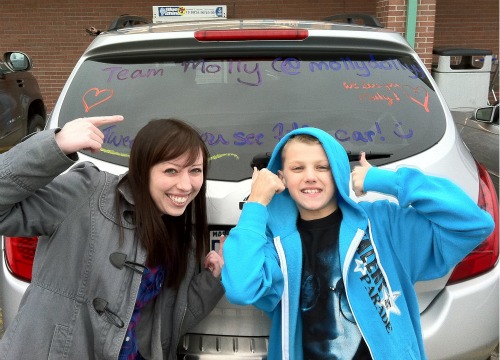 Constantly rambling about the most random of topics and singing along rather questionably when Billy Joel's We Didn't Start the Fire came on, our ride seemed a lot shorter, despite the vast nothingness which appeared on the side of the road. Despite a slight death fear as we slid on some ice, the ride was really fun! Stopping only once for gas, we found ourselves amidst the bright lights and tall buildings of Chicago after dark Saturday night.
We rode down the street, our windows rolled down, one of the many Glee songs we had blasting at full volume, and pulled into the hotel. We went out to eat at the famous Ed Debevic's where the staff is always rude. I don't think I stopped laughing the entire time we were there!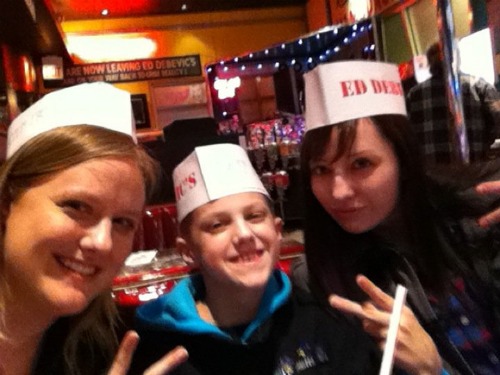 Sunday morning, Matthew, Carrie and I got up bright and early – so early that all of us were basically running on adrenaline alone. We got dressed and made up while watching the morning NBC news since we knew a few of the actors were supposed to appear. They were on so close to the end that we were afraid for awhile that we might not get there early enough, but thankfully we were mistaken.

One thing about these events is that there are always a lot of line-ups. At first, they may seem daunting, long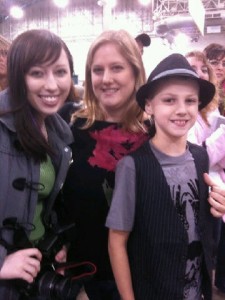 or boring, but after being to many, I have found that lines are really not so bad. You usually get to talk to other fans and the time passes so much faster than you think it will!
This line was actually one of the most social I have ever been in. Of course, Carrie and Matthew were with me to chat with, but right when we were entering, we met up with another fan, Tess, with whom we had tweeted with a bit.  She regaled us with tales of other book signings – including one where a CarBo fan had asked some of the actors to sign a bra she had bought in the same style as the character of Carly had worn during a love scene the previous year.
We were standing very close to the front of the line, but we managed to be recognized by some ladies who were beside us once the line looped around. It turned out we knew them from Twitter, as well, and one I had met at the Day of Days. The six of us chatted and took photos to tweet out while we waited. They were also coming around selling some of the books, so I picked up a copy of Deidre Hall's book, Kitchen Close-Up.
It is easy to tell when these events are going to start because when the actors walk in and you are at the front of the line, you can hear screaming and cheering for awhile before actually seeing the stars coming toward you. This gave us time to set up our cameras so we could take photos of the actors before the line started moving and people crowded our shots.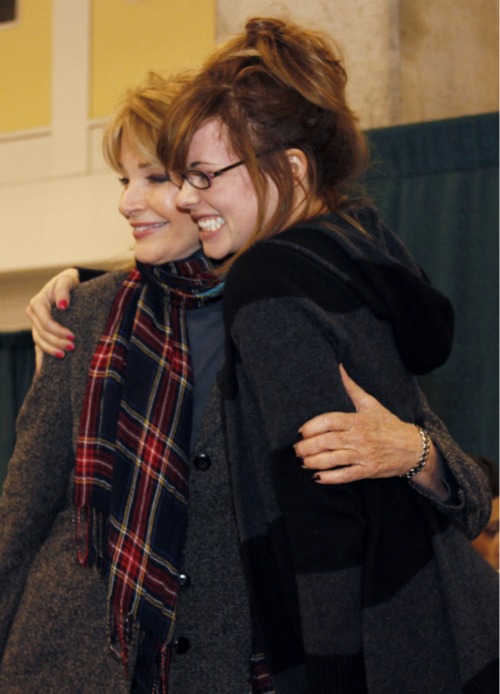 When I got closer to the front, I was able to stop and purchase a necklace from Kristian Alfonso's jewelry line, Hope Faith Miracles. I bought it especially for my mom, since she had been eying it for a long time and it would be the perfect opportunity to surprise her with it. The woman who sold it to me told me that Kristian would sign it for me if I asked her to, which I thought was great, since my mom is also a big fan of hers.
By this point, my arms were practically breaking from holding my camera, two books (one which was fairly large and heavy), a gift bag for Molly and the box which held the necklace, as well as trying to balance with my giant backpack, which was later going to serve as my carry-on for my flight home, which departed at seven that night. Funny enough, though, I barely noticed how much pain my arms were in once I got up there.
Peter Reckell was the first actor I got to see. Beside him was Kristian. They were pretty much a package deal so you were talking to both at one time. I said hello and exchanged pleasantries with both. I handed Kristian the box to sign and told her how much my mom had been wanting it. She asked if it was my mom's birthday and I shook my head. My mom's birthday is in December, so this was just because I knew how much she wanted it. She grinned and told me I'm a wonderful daughter and signed the box, as well as my book.
I also mentioned to Peter how much my mom and I love to rock out to his song When Two Chevys Collide which was released on the Days of Our Lives Love Songs album in 2004 all of the time. It manages to find its way on most CDs that I burn. It was so surreal meeting those two!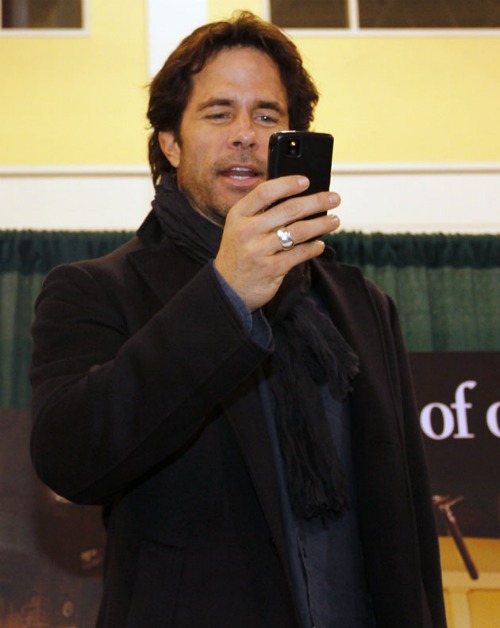 Beside them was Shawn Christian, whom I have met at previous events, including one in Calgary in 2008. He asked my name and I told him that my name is Stephanie but I also go by ValaBlack. He laughed and shook his head and said he remembered meeting me and that he's sorry he did not recognize me. We made a bit of small talk, too, but as I said, we were fairly rushed with such a big line behind us.

Beside Shawn was one of the authors of the Days of Our Lives 45 Years: A Celebration in Photos book, Greg Meng. I really only got a chance to say hello to him. The same happened with Sheri Anderson, author of a book about John Black and Marlena Evans called A Secret in Salem.
Next to her, however, was the actress my friends and I had come so far to see, Molly Burnett. She had just stood and run around the table to take photos with the people in front of us.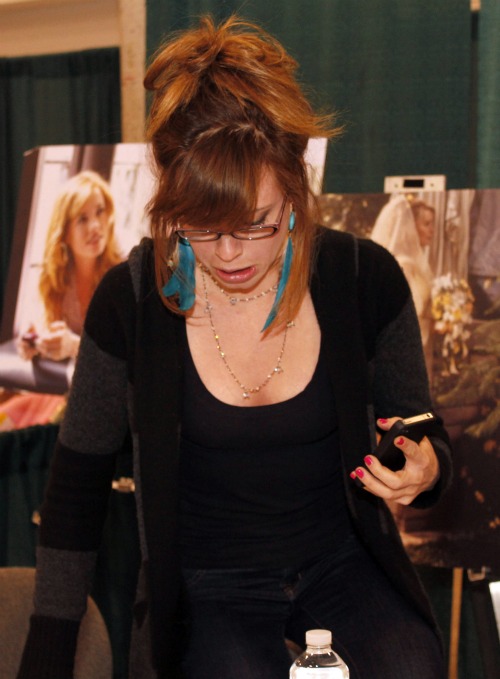 She saw me and grinned, putting her hand quickly on my arm and saying, "Hey cutie! How are you?" She also saw Matthew right after and called to him, "Hey handsome!" before taking the photos. Molly quickly hugged all three of us before returning back around the table, since she was getting in trouble for leaving her spot.
We all talked with her for a moment, and got a bit more time with her than the rest. Carrie handed her a gift bag of the chocolate-covered wine grapes she had bought for her, which reminded me of the heavy bag in my hand. I handed it to her as well. She asked how we all got there and I told her that I flew in and drove up with Carrie and Matthew. I said I was worried I would not make it because of flight delays. She replied that she was glad we all made it and was happy to see us. The cool part was, she really seemed to be genuine about that.
We asked Molly if she would be willing to take a few photos with us. At previous events, we had been cursed with camera failures of all sorts, from low batteries, to incorrect settings (which at the time I had no clue how to fix), so all of our pictures had turned out strange and discolored, for the most part.
Molly nodded and jumped back up without hesitation. One of the photographers snapped a couple of photos on her camera, then took mine to take a few. She handed it back after taking a few and said that she was not sure how well they had turned out. I shrugged it off.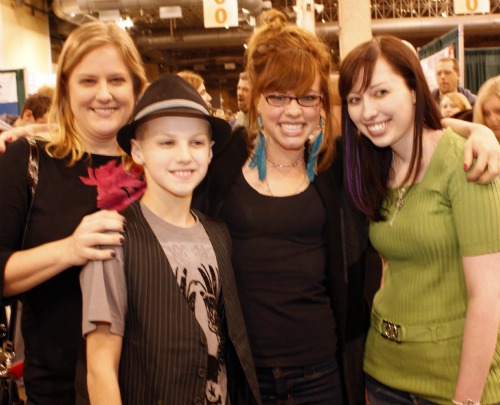 I moved down to talk to Deidre Hall. I gave her my copy of her book to sign as well as the photo book. She thanked me for buying it. I told her that when I was a kid, Marlena was the only character I ever recognized and how I always used to want to be like her. Since she was a psychiatrist on the show, I would go around diagnosing my friends and giving them awful advice. She laughed that she did that too quite often. I felt like a dork, but I am glad she found it funny!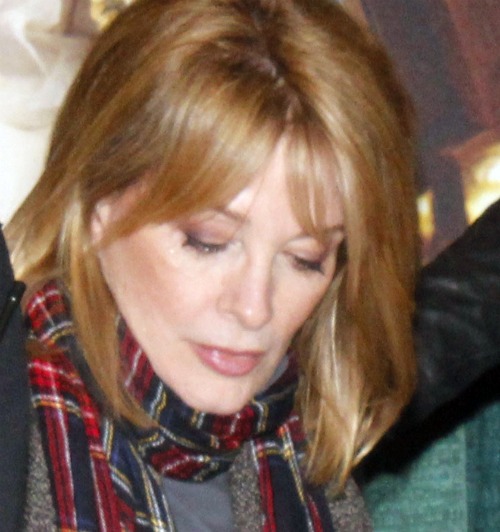 After this, I left the line and waited a few moments until Carrie and Matthew caught up with me. We gushed for a moment about the actors and how exciting it was to see Molly again. I pulled out my camera to look at the photos, but noticed they were painfully out of focus – at least, it was painful to me. I frowned and put away my camera, then headed to take a seat by the people we had made friends with while in line.
I sat down and sent a tweet out saying how great it was to see Molly, and even if our photos were out of focus, it was still well worth it.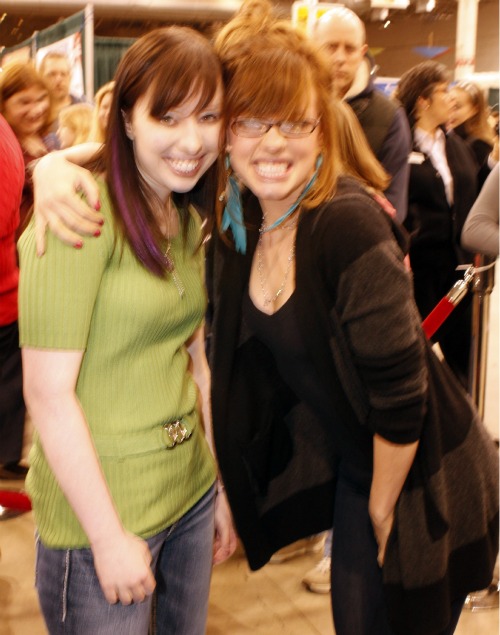 Lucky for us, the other women knew one of the coordinators of the event and complained to her that they had been rushed and were unable to get photos with anybody. She told them that she was sorry and immediately rushed them up to the front of the line to snap some photos with whomever they wanted. They told her the same had happened to us, and she knew us on Twitter as Team Molly so she told us she would take care of us if we waited.
Of course, we did just that. We waited, and we waited, and we waited. We were there for probably two hours just sitting at the table, but it was worth it. Molly had left on a short break and I guess somewhere along the way she checked her messages, because soon after she got back, she stood up and called out to us.
I have a penchant for missing her calling me, since I did exactly the same at an event in Boston. She was calling out my name and waving and I had no idea until one of my friends hit my shoulder and pointed at her. Come to think of it, I did it in L.A., too. Exactly the same thing happened this time. Lucky for me, one of my friends pointed it out to me.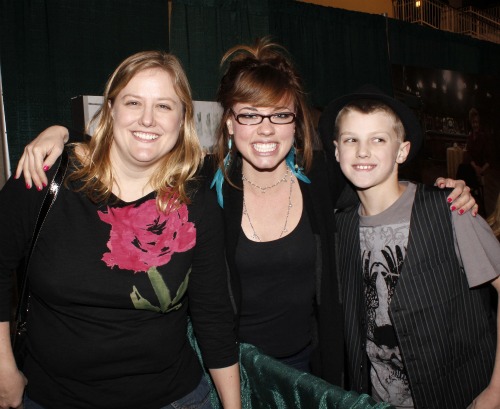 I grabbed Matthew and Carrie and we ran up to meet her. She apologized for our photos turning out badly and told us to snap some quickly because she was going to get in a lot of trouble for this. We thanked her and I snapped a photo of Carrie and Matthew with her, then handed off my camera to Carrie. Molly pulled me into another hug and Carrie took the picture. I have to say, that is probably going to be my favorite picture for quite awhile, if not forever.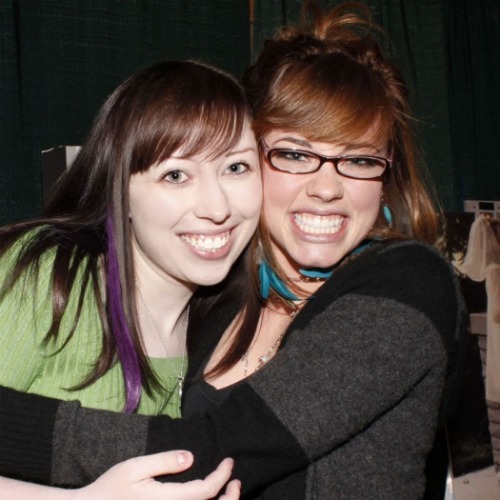 Honestly, the part that struck me about this was, how many actors would really do that for their fans? If they even did a meet-and-greet type of thing, how many would take the time and effort into making sure that their fans got the photo they wanted? Having been to events for other shows, I can say this is actually quite rare. I thought it was incredibly kind of her to do that for us.
Funny enough, only moments later, we were called over by the woman who had earlier told us to wait. She asked if we still wanted our photos taken and we said Molly had taken care of us. She asked if we wanted our photos with anyone else – which at that point we had abandoned the thought of doing – and of course we all grinned and said if it wasn't too much trouble for her, we would love to.
She let us into the line, even though technically, we discovered, she was not supposed to. We waited only a short time and managed to go through the entire line-up once more.
We got to chat a bit more with each actor, although, to be honest, that became somewhat of a blur in my head. I was simply amazed that anyone cared enough to let us do this. Not only do they understand how much it means to fans to have these pictures, but they actually care! Astonishing, at least to me.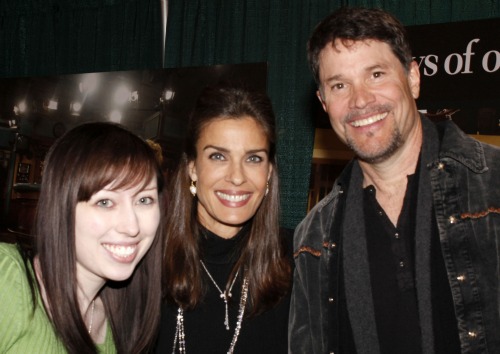 When we were waiting to talk to Shawn, he and Molly were posing for "father/daughter" photos, since he plays her dad on the show. It was a cute pose, so I positioned my camera to take a shot. I did not realize right away, but Molly had noticed and she and Shawn were actually looking directly into my camera. It was a great shot. Shawn grinned and asked if I would take another and send it to him, which of course I did.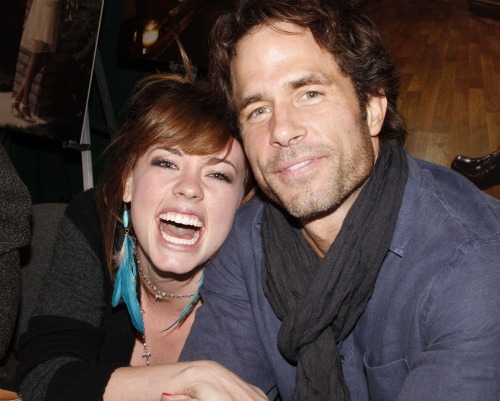 Molly turned to him and excitedly exclaimed, "These are my fans! My team!" He looked us over and said, "So you're Team Molly!?" We all nodded and mentioned that two of our other members, Sara and Meg, could not make it to the event. Molly introduced us by our real names and our Twitter names and said she would show him who we are on the plane later.
Shawn pointed out the colorful streak in my hair. She grinned that she knew it was there and she wanted one, too, but the producers would not let her get one.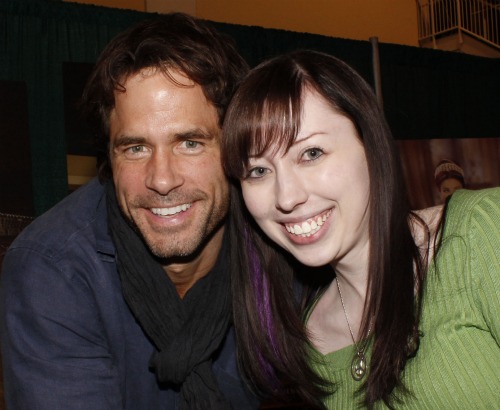 Matthew and I posed for photos with Shawn and talked a bit more with him and with Molly before it was our time to talk with Deidre again. She posed for photos with us as well, which was another surreal experience, since I watched her for so many years.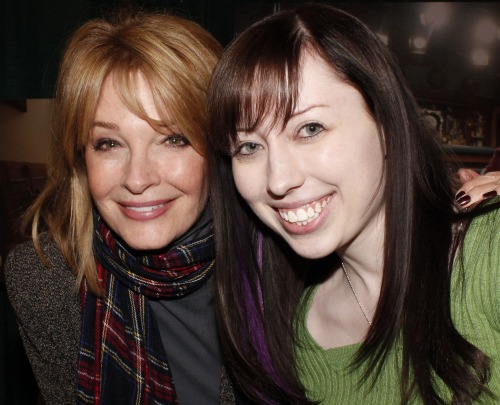 The event wrapped moments later and I headed out with Carrie and Matthew to shop for a few before my flight. You can bet that the very first thing I did after getting home was uploading all of my photos!
I have to say, this trip was definitely up there in the list of the best weekends of my life! Thanks so much to all the actors and authors who came out as well as all those who arranged the event! I cannot wait until June!
ValaBlack