Welcome back science fiction fans!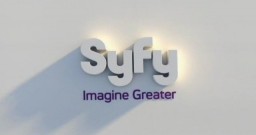 In a short 48 hours on February 11, 2012, a wonderful recently created film will grace our television screens with a fantastic new re-telling of an ancient tale: Mysterious Island produced by "K2 Pictures" from the ageless by Jules Verne novel.
Using a modern scientific theme featuring a wormhole in time, "Mysterious Island" becomes a delightful destination for viewers whisking contemporary citizens from the present back to earlier days in the United States during the Civil War era!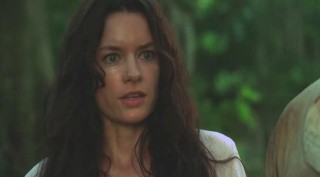 While we do realize some people seem to abhor re-makes of movies and television programs, this reviewer is not among that group in any way shape or form.
In fact I enjoy a re-imagining of dramatic works of literature that are artfully presented. In the new Mysterious Island, produced by George M. Kostuch of K2 Pictures in association with Leverage Entertainment, we will be treated to a wonderful movie of the week with exquisite acting and exciting cinematography shot on location in Louisiana.
This reviewers opinion is in large part having been a stage actor myself where masterpieces are re-created over and over again across decades, even centuries of time. This new interpretation of Mysterious Island is an outstanding work of art that will be broadcast in the United States on the Syfy channel.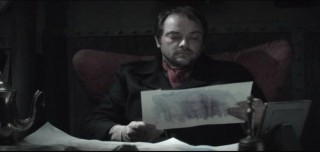 We first learned about this production during our exclusive 2011 interview with Gina Holden (pictured above left). Of interest we met fine "Mysterious Island" actor Mark Sheppard in an exclusive discussion during WonderCon 2011 in San Francisco about Doctor Who when the subject of projects he had been working on were briefly broached during our press room visit.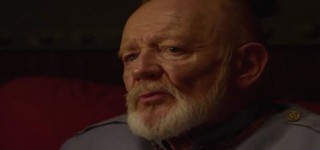 The new "Mysterious Island" features many great celebrities starring the gorgeous and talented Gina Holden [Saw 3-D: The Final Chapter, Alien vs. Predator Requiem, Sand Sharks, Harper's Island] as "Jules Fogg", the handsome and gifted Mark Sheppard [Doctor Who, Supernatural, Warehouse 13, Chuck, Battlestar Galactica) as "Young Captain Nemo", screen legend William Morgan Sheppard [Star Trek [The Next Generation, Voyager, Star Trek: The Undiscovered Country, Star Trek 2009], Gods and Generals] as "Captain Nemo", athletic and attractive new comer Susie Abromeit (Mothman, Battle Los Angeles ,As the World Turns) as "Abby Fogg", gifted heartthrob Lochlyn Munro (Dead Man on Campus,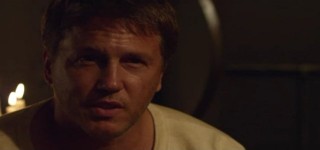 Xtinction: Predator X, White Chicks] as "Captain Cyrus Harding", and veteran actor Pruitt Taylor Vince [Drive Angry 3-D, Deadwood, The Mentalist, Constantine] as "Gideon Spillett".
Mysterious Island features a large accomplished ensemble cast of actors including J.D. Evermore, Edrick Browne, and Caleb Michaelson with supporting roles by Oren Hawxhurst, Tony Senzamici, Jacob Tolano, Lawrence Turner and Eric VanArsdale.
Mysterious Island in it's new cinematic adaptation of famed science fiction writer Jules Verne's 1874 novel "The Mysterious Island" was produced in 2010. Many including this reviewer read the original novel with glee and delight as part of our literary requirements in high school. The new production brings a persuasive coupling of modern science well blended with the story we all loved growing up!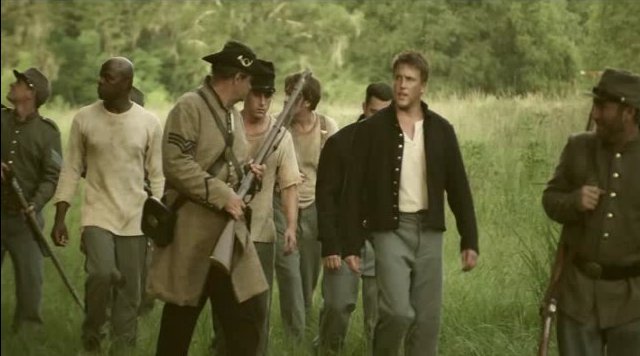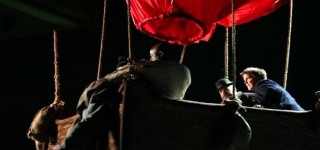 True to the original novel the new version of the "Mysterious Island" adventure begins during waning days of the American Civil War. We begin as in the 1874 book in Richmond, Virginia which has been laid waste by the United States Union Army.
A Confederate capital city, Richmond is wracked by death, disease, famine and lawlessness. One of the last strongholds of the confederacy, five northern prisoners of war plan a desperate escape from the the war torn environment by hijacking a hot air balloon.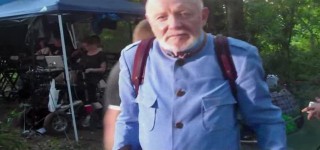 Subsequent to their harrowing escape, the five drift through the foggy night over the open ocean now a prisoner of the predominate air currents. The escapees crash land and ultimately find themselves marooned on a previously unknown desert island (featured in another Jules Verne novel, 20,000 Leagues Under The Sea) with Captain Nemo.
In the new adaptation of this timeless classic, the former prisoners of war discover they are anything but alone! They learn that Mysterious Island is a disaster zone itself strewn with wreckage. They soon observe that the island is home to other inhabitants seemingly themselves lost in in both time and space.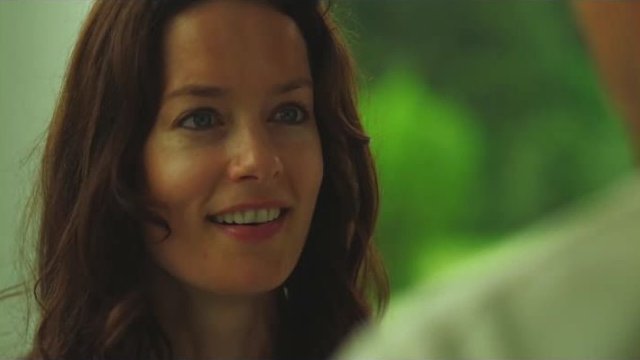 On Mysterious Island, we witness the other survivors who include daunted, yet decidedly lovely and beautiful Jules (Gina Holden) and Abby Fogg (Susie Abromeit). These two young ladies have somehow been transported from present reality after a flight over the enigmatic Bermuda Triangle. All the survivors are stranded and defend themselves confronting blood thirsty pirates, hideous monsters and creatures who have been perhaps created by the nefarious Captain Nemo!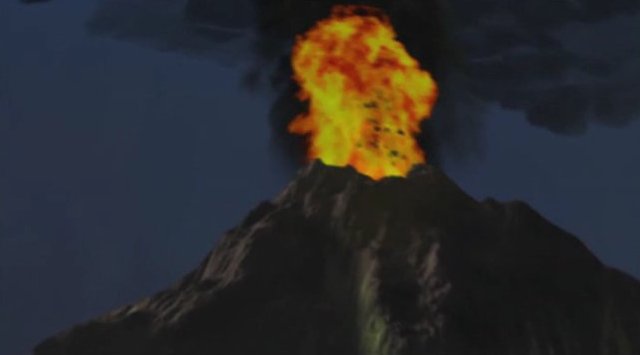 All the while, Mysterious Island sports an active volcano of doom threatening to turn them all into charcoal briquettes, human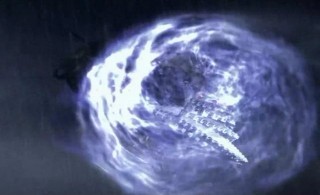 style!
As the islands inhabitants attempt to survive and escape Mysterious Island, they meet the greatest mystery of all, 20,000 Leagues Under The Sea's "Captain Nemo" himself, the creator of the one and only Nautilus submarine first witnessed on the screen (in color) in the 1954 epic Walt Disney film .
The visitors learn that Captain Nemo is a bit reluctant to help the interlopers escape, but realizes that in order to set things right with time and history, he must do so. This sets the stage for more exciting events including flashbacks to a younger Captain Nemo portrayed by Mark Sheppard. In addition to his flashback in time, Sheppard directed this wonderful new adaptation of the Jules Verne classic!
We include below newly available special visual makeup shots and promotional trailers courtesy of K2 Pictures, Leverage Entertainment, Syfy Movies and Syfy. Enjoy!
Extended Sneak Peek:
Balloon Sequence:
Updated Promo Trailer:
Cannes Film Festival Trailer:
Mysterious Island Behind the Scenes:
About Mysterious Island (press release):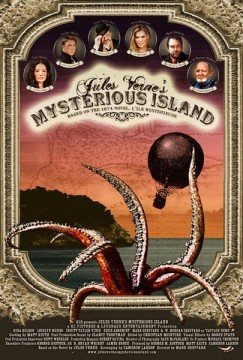 Mysterious Island was Filmed on location in Louisiana, K2 Pictures and Leverage Entertainment present a cinematic adaptation of Jules Verne's 1874 novel "The Mysterious Island", the story begins during the American Civil War, as famine and death ravage the city of Richmond, Virginia.
Five northern POWs make the decision to escape the war by hijacking a hot air balloon! Drifting through the night, they wake to find themselves marooned on a desert island, but they aren't alone… Littered with wreckage, the island is home to a cast of survivors who have been lost in space and time, including Jules and Abby Fogg, two young women from modern times who become stranded while flying over the Bermuda Triangle.
Faced with defending themselves against vicious pirates, terrifying creatures, and an active volcano that's ready to blow, they must find a way to survive and escape the island. Hope only comes when they encounter the island's oldest resident, Captain Nemo himself. With his help, they set to work crafting an escape… but will they make it in time before the island claims them forever?
About K2 Pictures: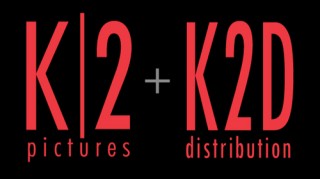 K2 Pictures + K2D is a Baton Rouge-based production and worldwide film sales company, focused on genre-based titles that are independently financed and produced within the state of Louisiana. George M. Kostuch, founder of K2 Pictures, has produced nearly twenty films since 2005. In addition to his on-set production experience, Kostuch consistently secures independent financing for projects, including an ongoing slate of SyFy Channel projects.
He also assists other productions with different levels of consulting and financing including tax credit financing and gap financing. With his intimate knowledge of the Louisiana Motion Picture Incentive Act, Kostuch has been part of countless film tax credit transactions and has served as a third party consultant on film tax credit-related matters.
Kostuch cut his teeth as a producer in Los Angeles by partnering with long-time friend, John Erick Dowdle, who directed Universal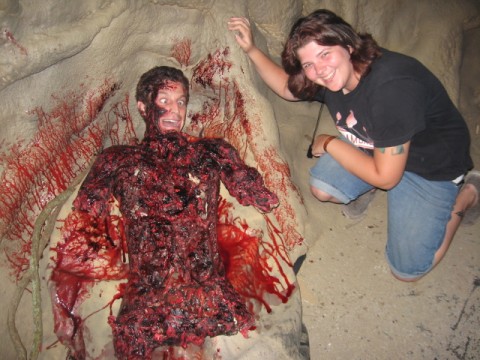 Pictures' Devil and Sony Screen Gem's Quarantine. Along with Dowdle's brother Drew, Kostuch and John Erick produced two career-changing projects; The Dry Spell, a comedy which went on to win a special Grand Jury Award at the Slamdance Film Festival in 2005 and The Poughkeepsie Tapes, which was acquired at The Tribeca Film Festival by MGM in 2007.
After completion of these two Brothers Dowdle / K2 Pictures collaborations, Kostuch saw worldwide opportunity in the science fiction genre market and made the leap by producing two projects back-to-back in late 2007. The two films, Mutants and Lockjaw: Rise of the Kulev Serpent, were both acquired by SyFy Channel for US television broadcast on the same day. Each project also saw brisk international sales in all major markets.
Kostuch then found the script for American Bully; an intense, racially-charged, indie thriller and could not pass up the chance to produce it. The critically-acclaimed fillm went on to win several awards including, The Golden Crescent Award for Best Overall Feature Film at the Charleston International Film Festival in 2009.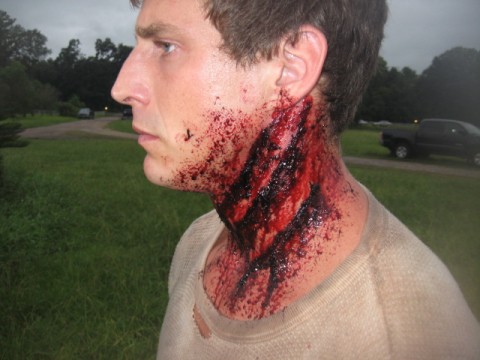 From there it was back to science fiction with Alligator X (aka. Xtinction: Predator X), a creature feature which was acquired worldwide by Mar Vista Entertainment and, to date, has cleared over $500,000 in worldwide sales. The film is currently available via Warner Brothers VOD in the US.
An adaptation of the Jules Verne classic novel, Mysterious Island, followed and is currently finishing post-production. Kostuch wrapped up 2010 with Paranormal Plantation, an eight-episode, historically-based television show which is also, currently in post-production. Paranormal Plantation is also being edited into a 90-minute, feature-length film version for distribution.
Finally, after years of watching international sales companies and distributors sell his films and consume the majority of the revenue, Kostuch founded K2 Distribution and Sales (K2D) in 2010.
Through K2D, Kostuch not only aquired the international sales rights back for Mutants and Lockjaw, he also became the exclusive worldwide sales agent for American Bully, Mysterious Island and Paranormal Plantation.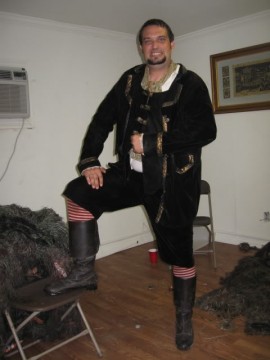 Kostuch launched K2D at the Marche Du Film in Cannes, France in May of 2011. In just a short time as sales rep for his own titles, Kostuch has closed on several territories for both American Bully and Mysterious Island, including acquisitions in the United Kingdom, Germany, Russia and several Asian territories to name a few.
K2 Pictures is currently prepping several genre projects including Edgar Allan Poe's Tell Tale Heart, Excalibur Chronicles: Legend of the Questing Beast, Edge of Sanity and Terror Games.
# # #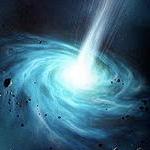 Thank you for reading and visiting WormholeRiders News Agency.
Please feel free to leave a comment here or if you prefer, click the social media icons below to share this news article.
Or as many of our readers and visitors often do, visit WHR on Twitter, or visit me on Twitter by clicking the text links or images avatars in this news story. I and the WHR team look forward to will Seeing You on The Other Side"!
Thank you.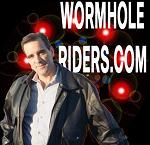 Best Regards,
Kenn