Hey Twilight Fans!
Check out the Day 1 and Day 2 (Part 1) reports, if you have not already seen them, of the Creation Entertainment Eclipse Convention held at the Hyatt Regency Century Plaza in Los Angeles by the FANTASTIC Team over at Creation Entertainment!  Saturday morning was a lot of fun with some great Q&A sessions with the fantastic cast of the Twilight films.  After a nice break for autographs with the stars and some lunch, we were back in the theatre for "Working in the Twilight Universe Part II" with Booboo Stewart (Seth Clearwater) and Tyson Houseman (Quil).  The Q&A started off right away, and both of these talented young actors seemed to listen carefully to each question and really make an effort to give a thoughtful answer.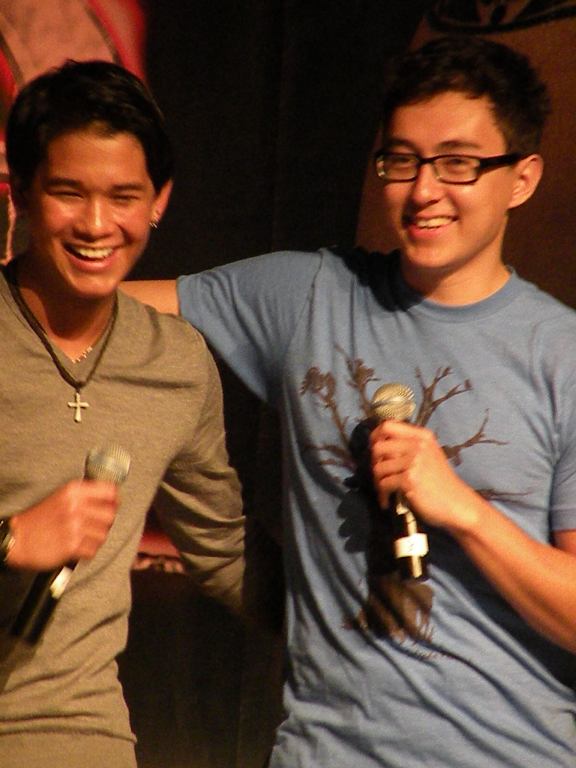 The first question from the audience asked what other actor they would like to work with.  Booboo would really like to work with Jackie Earle Haley because he is such a big fan—particularly his portrayal of Freddy Krueger in the 2010 version of A Nightmare on Elm Street.
Tyson first said he would like to work with Booboo Stewart, then added director Wes Anderson, Bill Murray, and Al Pacino.  Tyson appreciates experienced actors and would enjoy any opportunity to work with anyone that he could learn from.
The next question was for Booboo, and asked what he likes most about his character, Seth Clearwater.  Booboo really likes it that Seth is down to earth, he gets along with both sides (the werewolves and the vampires), and he has a vampire friend which Booboo thinks is pretty cool.
Both guys were asked if they had read the Twilight books before being cast in the movies.  Booboo had heard about the books and made a point to read them before casting.  Tyson actually found out about the auditions on Craigslist.  He said he did not expect to get the part so when he did, he was pretty surprised.  He called his mom at work to tell her the good news but she did not respond right away.  He said there was nothing but silence on the phone for several minutes, then she told him she would call him back.  That must have felt a little strange.  But when she called back, she was completely breathless from running around all over her office telling everyone.
The next question was about Jimmy Kimmel's spoof on the wolf pack.  Neither actor had seen it so they could not comment, but you can check it out right here!
Booboo's favorite thing about being an actor is making movies that people love to see.  He also really likes being able to act like someone else, like it is Halloween every day.  Tyson likes acting because it gives him the opportunity to do things he would probably never do in real life.  (Like turn into a wolf?  We think that is awesome too!)
Another question from the audience asked if they had ever been obsessed about something.  Tyson said he was obsessed with Booboo Stewart, but later got serious and talked about his love of music saying, "Music is everything in my life."  Wow.  Booboo was completely obsessed with Twilight while he was waiting to find out if he got the part.
Check out Tyson with some of his Pack in this pic from Eclipse!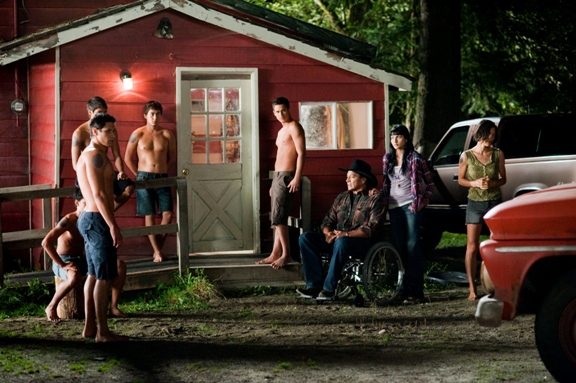 Since Tyson brought up the subject of music, Booboo was asked about whether his CD would be coming out soon.  And—good news—his single "Rainy Day" that he recorded with his sister, Fivel, is on iTunes right now!
So what would these talented, good-looking guys be doing if they weren't actors?  Tyson said he would be staring at pictures of Booboo.  But seriously, since he loves music so much he would probably try that, but said he has no actual musical ability and would probably fail.
Are they looking forward to Breaking Dawn (based on the fourth book in the Twilight saga)?  Of course!  And for those that had not yet heard, Breaking Dawn will be released as two movies since the book covers so much material that it would not be possible to include all of the important elements in just one film.
Both Tyson and Booboo shared their favorite moment from filming Eclipse, which happened on a stormy day on location.  It was very early in the morning when they arrived on set.  It was pouring rain but there was a group of fans standing by the side of the road hoping to catch a glimpse of the actors as they drove by.  After a grueling, 16-hour day of shooting,  the rain had not let up at all.  But as they were leaving, those same fans were still out there.  They had been standing outside in that terrible weather all day.   So the guys stopped and talked to them and took pictures with them.  They were really touched that those fans would brave terrible weather for long hours just for a chance of catching a glimpse of the actors that were privileged to be a part of the Twilight experience.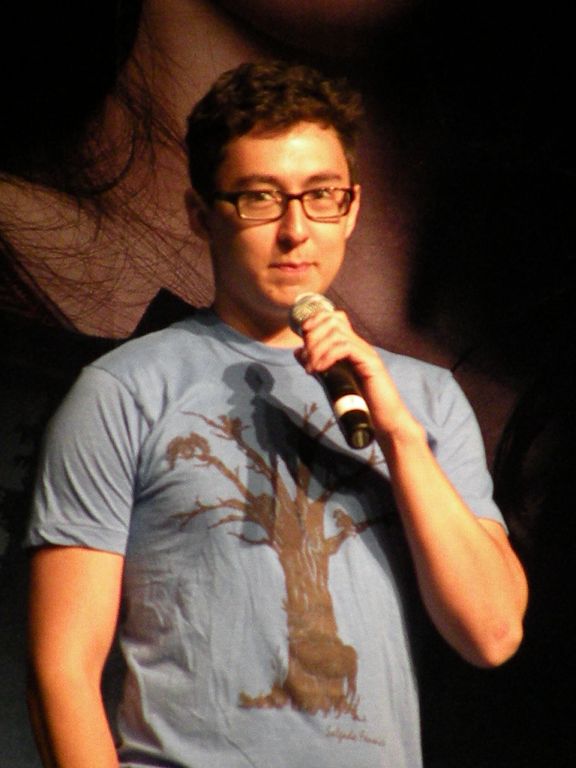 If your burning question is what these guys are looking for in a girl, then look no further.  Booboo likes a girl with a good smile and personality.  Tyson wants a girl that looks like Booboo!  But if you are passionate about something, he finds that really attractive.
There were numerous attempts to convince Tyson and Booboo to take their shirts off, or at least just lift them up to show their fantastic physiques, but sadly, all attempts were unsuccessful.  I am sure all the young ladies in the audience were disappointed.  Tyson did say that when he was in high school he only weighed about 110 pounds and was not athletic so he really worked hard to get in physical shape for his part.  Both guys said they work out about five days a week.
Lookin' good, guys! But wait–where is Booboo?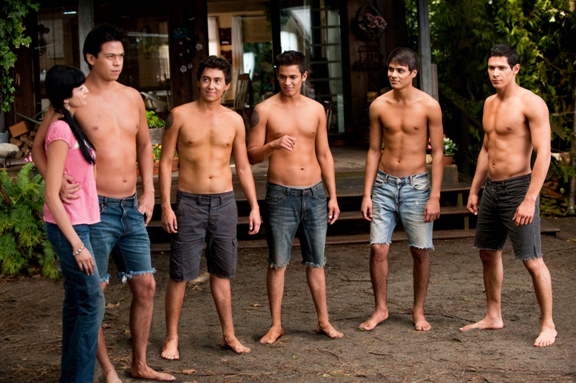 Time was up on our Q&A with Tyson and Booboo so we bid them a fond farewell and got set for the Wolf Pack Panel with Alex Meraz, Chaske Spencer and Julia Jones.  Hey! Tyson and Booboo are part of the Wolf Pack.  What's up with that?
At this point there was a little bit of a break for photo ops, a fansite panel, and a really entertaining look at "The Making of The Hillywood Parody Films."  If you have not seen The Hillywood Show parodies of Twilight and New Moon, well, what are you waiting for? They are hysterical!
Back in our seats, The Hillywood Show folks introduced the next guests, and I have to say they did a fantastic job with all of the introductions and hosting the Q&A sessions throughout the entire weekend.
WOLF PACK PANEL:

A big thank you to SciFiFanGirl616 for taking notes during this panel and putting it together to share with all of you!
The Wolf Pack panel included Chaske Spencer (Sam), Alex Meraz (Paul), and Julia Jones (Leah Clearwater). There was a nice round of applause when they came out. Chaske and Alex mentioned this was Julia's very first appearance at a convention. They wanted us to be nice to her or at least try.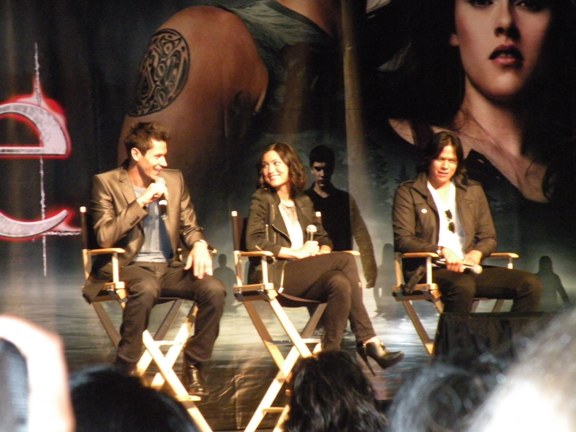 WHAT'S YOUR FAVORITE TWILIGHT BOOK?
Chaske: New Moon because it introduces the Wolf Pack.
Alex: Eclipse
Julia: New Moon and Eclipse
ARE THERE ANY EMBARRASSING STORIES ABOUT EACH OTHER?
Alex teases Chaske for liking Lady Gaga, but admits he does it because he enjoys her music too. Julia is a bit nervous being on stage thinking about any stories, but comes up with one about Alex. He came to her trailer asking for a specific hair product she did not have. But when Alex went to see Chaske he had it. Chaske defended himself by saying something about the need to look good.
CHASKE QUESTION: ARE YOU ANYTHING LIKE YOUR CHARACTER?
Chaske does not really answer the question. He ended up mentioning how he gained a family through the cast.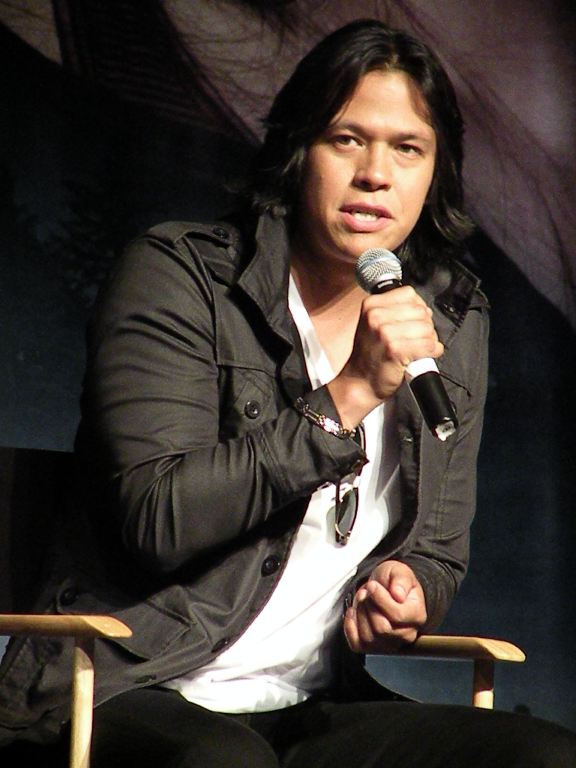 HOW DID YOU LAND YOUR ROLES?
Chaske started off by saying how all three auditioned for different roles than the ones they were cast in. He also mentioned that the only other person he knew from the cast in the beginning was Gil Birmingham because he had worked with him before. He and Gil had known each other for years. Alex said he did not know anything about Paul until he read the book and the script. Like Alex, Chaske did not know anything about Sam until he read the book. Julia mentioned that once she was cast in the movie she was not allowed to tell her family and friends for a month. Both Chaske and Alex had to do the same for a month as well.
Alex talked about his funny border patrol story. When it was time to film in Vancouver the border patrol guy apparently knew he was there to shoot New Moon. He also knew who Alex's character was. The guy even said something like 'Paul is angry' as he checked Alex's papers. Alex said he just agreed with the guy. Alex joked that on the outside he looked calm and collected, but inside he was going nuts over the fact he met Alex who was going to play Paul.
QUESTION FOR JULIA: WHAT IS IT LIKE BEING AMONG THE FEW NATIVE AMERICANS IN THIS MEDIA?
She felt proud. She even received compliments from another Native American actor she has always admired, but did not name the person. She said that that meant a lot to her.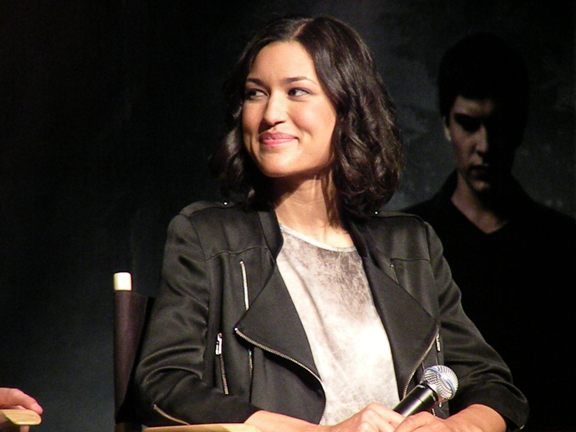 WHAT WAS YOUR CRAZIEST FAN ENCOUNTER?
Julia said she met this one female fan that wanted her contact information and she refused to give it. Then the female fan asked for the contact information of members of the cast of the Twilight movies and again she refused.
WHAT IS YOUR CHARACTER'S THEME SONG?
Chaske quickly answered with "Sabotage" by The Beastie Boys. Julia and Alex could not think of one right then and there. When Alex could not come up with one, the fans in the audience started singing "Who Let the Dogs Out." Alex thought that was funny and said that yeah that would be Paul's theme song.
QUESTION FOR ALEX: HAVE YOU EVER BEEN PUNCHED BY A GIRL?
Yes, he fought with a girl, Porsche, in the third grade because she kept calling him short. He pushed her, but she beat the ?*!@ out of him with her windmill punches. He joked that blocking her punches with his face probably was not the best strategy. He said shortly after that experience he started his martial arts training.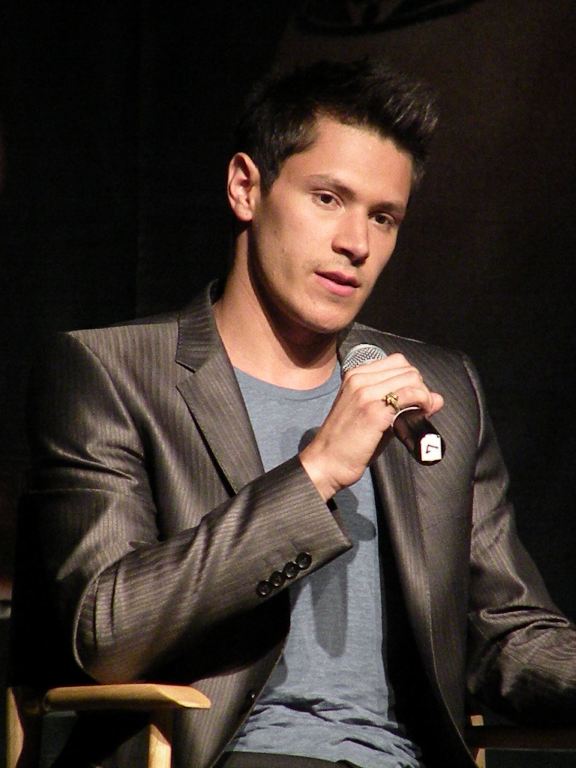 QUESTION FOR JULIA: HOW DOES IT FEEL TO BE A SYMBOL OF A POWERFUL WOMAN?
She thinks it is a cool thing to shapeshift into a wolf. Alex chimed in about how he would blow kisses to Julia to help her get into character. He basically did it to irritate her just for fun. He said he found out early that girls really do not like it when a guy blows kisses. He did it to Kristen Stewart and she found it annoying too.
WHO ARE YOUR IDOLS? (I can't remember if that's how it was worded or not)
Chaske said Bob Marley. He really admired his music and his teachings. Bob Marley was all about helping his people and Chaske said that he could relate to that. Alex said Bruce Lee. Bruce was a true artist, a philosopher, and martial artist. Julia seemed to struggle with picking one persn and finally chose Martin Luther King, Jr. She said she chose him "for obvious reasons."
QUESTION FOR ALEX: WHAT MEDIUM OF ART DO YOU LIKE THE MOST?
It changes because it all really depends on his mood. One day he will be into painting and another he wil be back into dancing.
QUESTION FOR CHASKE: ARE YOU SERIOUS LIKE YOUR CHARACTER?
"Hell no! …I'm a man-child." He loves to laugh a lot. Both Alex and Julia agree that Chaske is a man-child.
QUESTION FOR JULIA: WHAT IS THE WORST PART ABOUT WORKING WITH A BUNCH OF SHIRTLESS GUYS?
She said 90 percent of the time it was fun. Ten percent of the time she just wanted to be alone and not be bothered by the guys. The guys had this game of throwing stuff in her hair to see if anything would stay. Alex admitted to doing this often to her. He was surprised nothing would stick in her hair. Alex also commented how Julia was their better half, which got a lot of "Awws" from the audience. Julia looked a bit embarrassed by the comment, but smiled.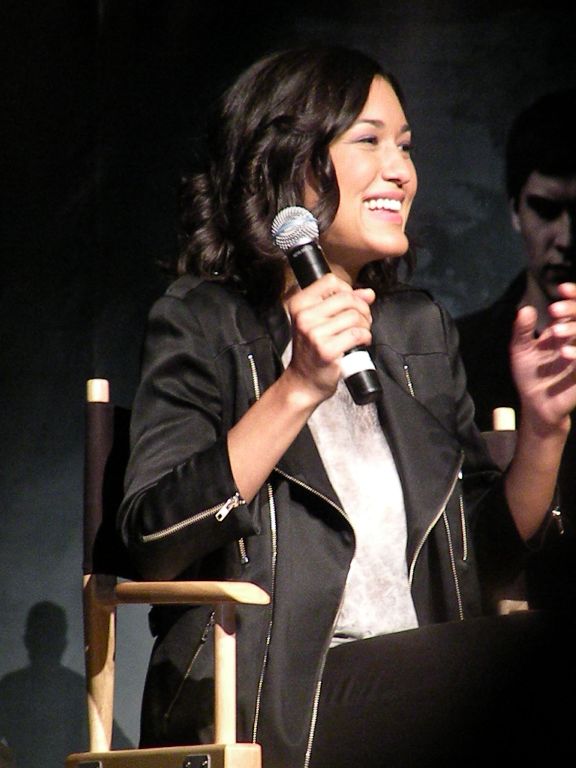 DO ANY OF YOU HAVE ANY HIDDEN TALENTS?
Chaske answered first by saying he plays the drums. Julia was not sure, but eventually said ballet. Alex had talked about dancing and doing martial arts earlier. The fans were able to convince him to show off some of his moves because Daniel Cudmore was convinced to do a simple ballet move earlier in the day. He began by taking off his jacket and shoes to the fans' delight. He did a side/corkscrew flip and he also did a b-boy type handstand pose. The fans were going wild over it. Afterward, Julia joked that now she knows how to get Alex to do whatever she wants. She just has to say, "Daniel did it."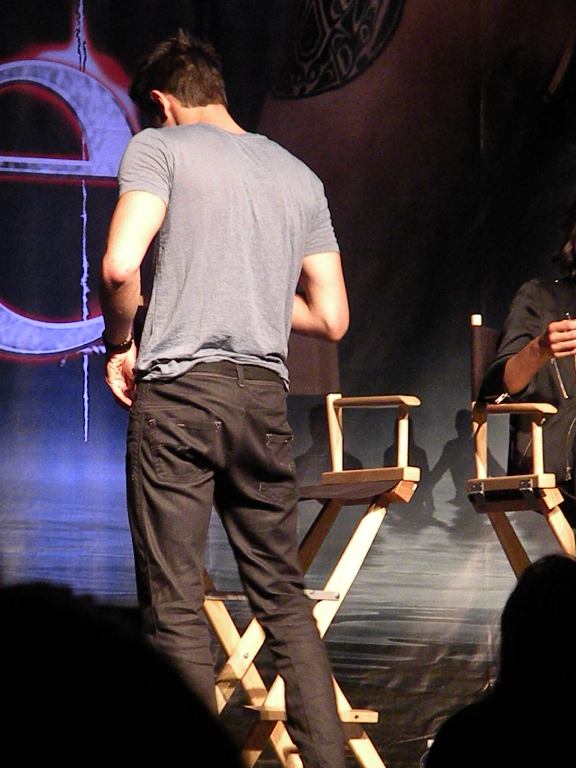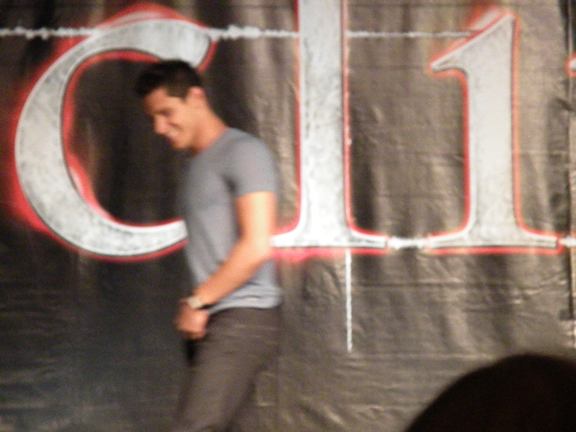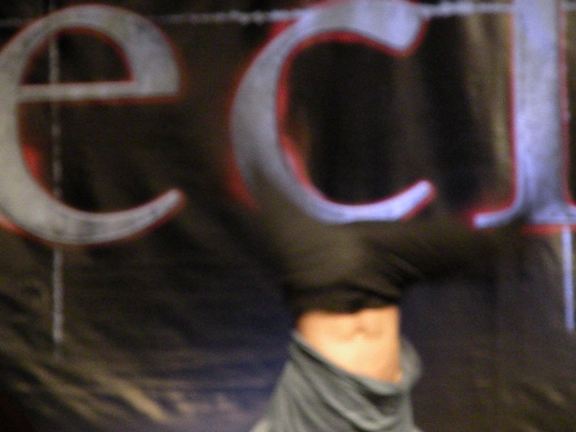 IS IT HARD TO PLAY YOUR CHARACTERS? 
Chaske said it was easier because he was able to use the books as a resource to help him play his character. Julia said it was easy and hard. Easy because, like Chaske said, the books are a great resource. It was hard because it is a character that fans who have read the books were familiar with. It was also hard because she wanted to make sure she did the character justice. Like Julia, Alex said he was nervous and felt responsible for making sure he did right by his character.
WHAT HAS SURPRISED YOU ABOUT BEING FAMOUS?
Chaske immediately commented that having no anonymity is hard. On the other hand, he enjoys meeting with the fans. Alex agreed with Chaske about getting to meet the fans.
WHAT IS YOUR FAVORITE PART OF DOING CONVENTIONS?
Chaske was the only one that answered. He said that the Q&A sessions and meeting with the fans were his favorite parts of the doing conventions.
HAVE YOU READ ALL THE BOOKS?
Chaske said yes, but mentioned he still needs to finish Breaking Dawn. Julia was quick to answer yes. Julia was surprised that she was the only one of the three that had read all the books at this point. Alex said yes, but they were the audiotapes. Alex does not really like to read so he listens to audiobooks instead.
QUESTION FOR CHASKE: (I'm not sure exactly what it was, but it had something to do with his charity.)
Chaske talked about his charity, Be the Shift. He said it is creating awareness of the current issues and conditions in different communities. One he is particularly focused on right now is the Cheyenne River Sioux Tribe Water Infrastructure Project. It is about getting essentials like water, heat and power to these people since a severe ice storm devastated their homes. He mentioned that quite a few Twilight Saga cast members have been helping him promote the charity. He encouraged us all to help in our own communities whenever possible.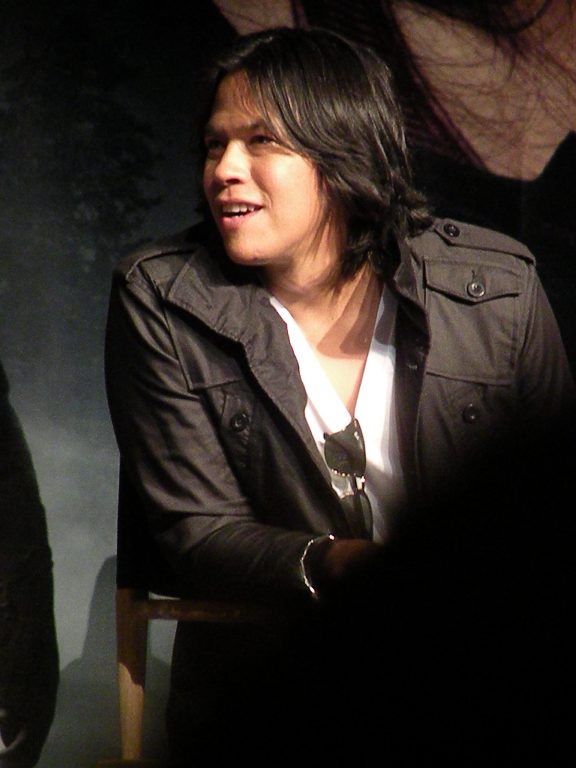 WHAT KIND OF MUSIC DO YOU LISTEN TO?
Chaske just said The Rolling Stones. Julia listed Led Zeppelin, The Cure, The Strokes, Phoenix and The National to name a few of the bands she listens to. Alex said he listens to mostly hip hop, but he also listens to bands like the Red Hot Chili Peppers.
I do not remember what the last question was.
Alex said his character is like the bad dog that humps your leg. His answer received a lot of laughs from the fans and a funny look from Julia. She mentioned in the fried chicken scene how Bronson had a piece of fried chicken stuck to his nipple. He did it on purpose to get laughs from the cast. Julia said she had a hard time getting through that scene.
********************************************************
Well, as much as we loved our chat with Alex, Chaske and Julia, we gave them a huge round of applause as they left the stage and prepared ourselves for–Yes!–Kristen Stewart, Taylor Lautner, and Robert Pattinson.  Even before the Wolf Pack left the stage, extra security started moving in to cover all of the possible entrances.  For a while we thought the megastars might be brought in through a different door as a way to divert überfans who might get overexcited and behave badly (everyone so far had entered the stage through the same doorway).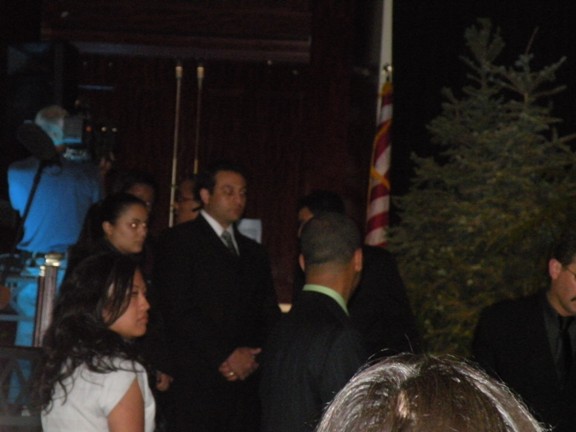 The anticipation lasted for quite a while.  One or more of the stars were delayed due to a previous media engagement but would be with us soon.

Once again, thanks go out to SciFiFanGirl616 who volunteered to take notes during the Q&A and put it all down for your enjoyment.
It would be nearly an hour later before the three lead actors would be introduced onstage. During that hour the fans started going the wave across ballroom.  It was fun to see what fans would do to keep each other busy while they waited. The room was sold out and packed with 2,000 people. We were told they had a previous media engagement.
When it was time to introduce Rob, Kristen, and Taylor, security around the stage tripled. As they were introduced the noise level increased ten-fold. The three posed onstage so everyone could have a minute to take pictures before taking their seats. There were literally thousands of flashes continually going off.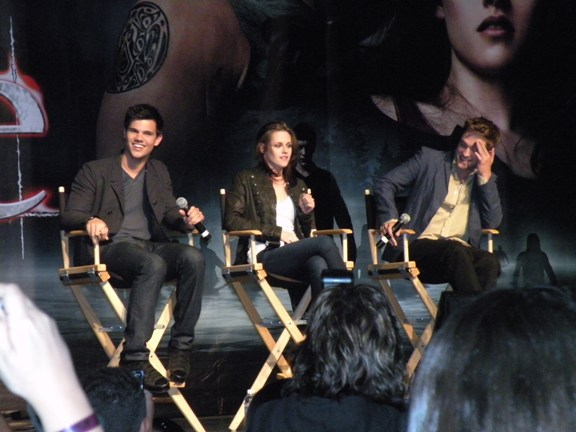 Rob started off asking how we were and jokingly asked if we were huge Harry Potter fans. The fans responded with cheers. Throughout the Q&A session fans kept yelling out, "I love you Robert! I love you Taylor! I love you Kristen!"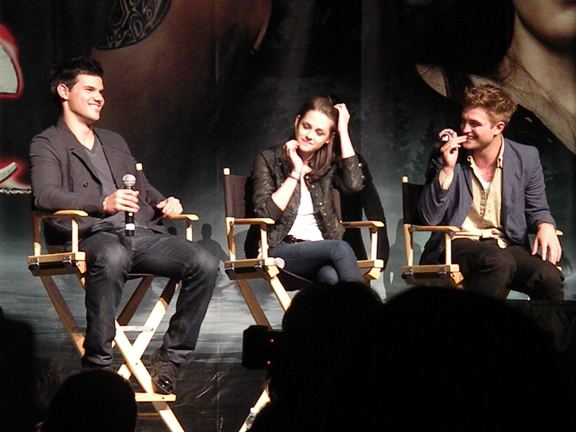 WHAT WAS THE MOST DIFFICULT ASPECT OF ECLIPSE? 
Rob said having to fight with Taylor. He did not want to hurt him.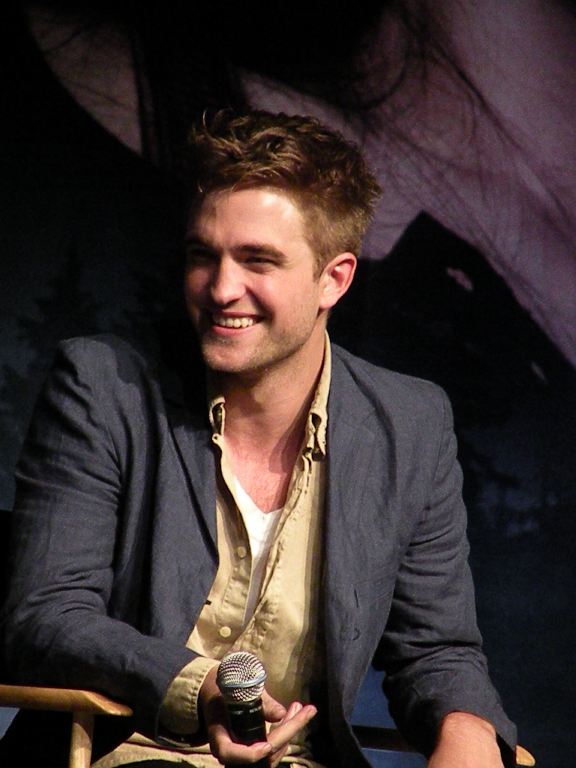 WHAT WAS THE FUNNIEST MOMENT FILMING ECLIPSE?
Rob smiled and said when Taylor had to wear this little grey spandex outfit for a green screen scene.
WHAT'S YOUR MOST EMBARRASSING MOMENT?
Taylor agreed with Rob about when he wore that grey spandex outfit for the green screen scene. He said he looked like a gray Teletubbie. He got a good laugh from the fans.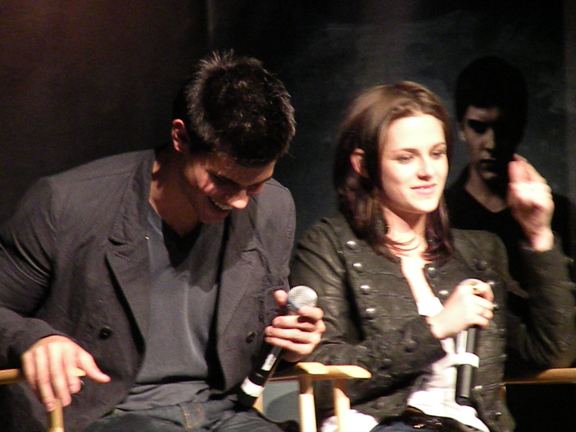 WHAT WAS YOUR FAVORITE SCENE TO FILM IN ECLIPSE?
Taylor said the tent scene with Kristen and Rob because it sums up the movie. Rob and Kristen teased Taylor about whether he said 'tent' or 'tense.' Rob commented that in that scene, he had to put his hand on Taylor's chest (basically his right breast) and tell him something like 'You're hotter than me.' Rob joked how Taylor's nipples got really hard easily.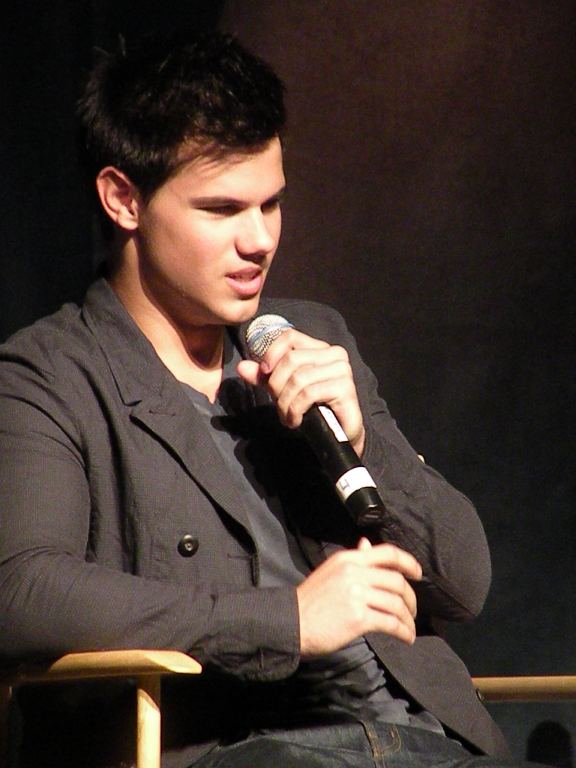 WHAT OTHER CHARACTER WOULD YOU BE?
Kristen was the only one that answered and immediately said she would like to be Alice.
HAVE YOU EVER BEEN STAR-STRUCK?
Taylor said yes and it was with Tom Cruise. Kristen told the fans about an awkward moment she had with Kate Winslet. She wasn't sure if she was star-struck. Kate had said that she enjoyed Kristen's work and apparently Kristen had an awkward time trying to explain that she admired Kate's work.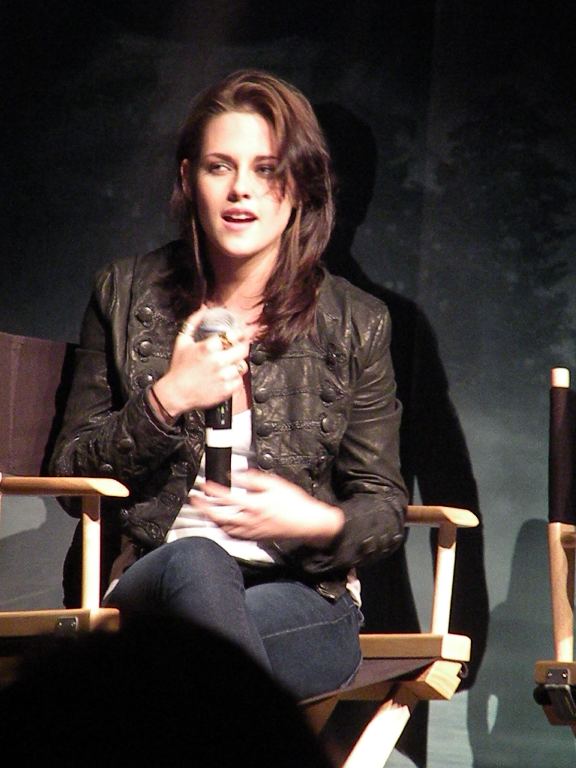 WHICH OF THE TWILIGHT BOOKS IS YOUR FAVORITE?
Both Rob and Kristen agreed that "New Moon" was each their favorite book. Taylor said "Eclipse" because it has more action and drama going on.
WHICH SCENE ARE YOU MOST LOOKING FORWARD TO IN "BREAKING DAWN?"
Rob said something about the baby scene and then commented how he loves babies. I think some of the fans laughed and the rest were trying to figure out what he meant. It was a bit awkward and weird. Taylor chimed in that one of those scenes is where Edward sleeps with Bella. The crowd went wild. Kristen decided not to comment on either of Rob or Taylor's answers.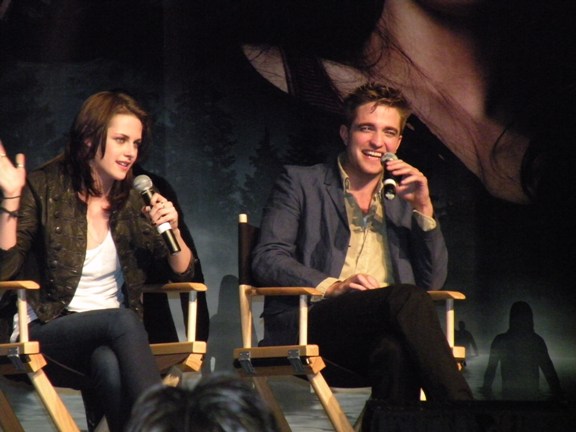 HOW HAS YOUR LIFE CHANGED SINCE BEING PART OF THE TWILIGHT SAGA?
Taylor said his schedule has changed a lot, he's busier, and he travels a whole lot.
WHAT'S THE MOST ANNOYING QUESTION YOU'VE BEEN ASKED?
None of them could think of one at the moment. Rob said he would get back to us on that if the question does pop up here.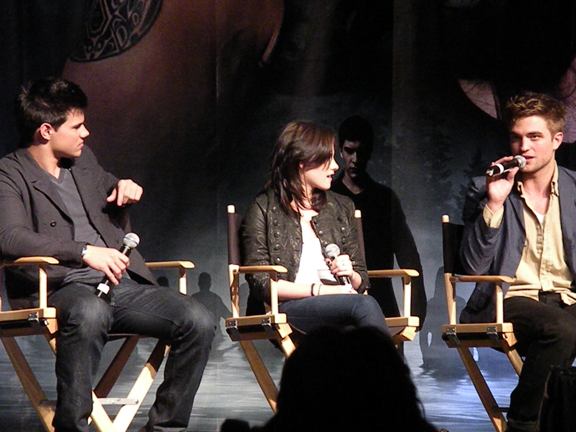 QUESTION FOR KRISTEN: WHAT IS YOUR FAVORITE SCENE BETWEEN CHARLIE AND BELLA?
The scene of him looking over his shoulder. Also the virgin talk scene because it was funny.
WHAT WAS THE BIGGEST OR HARDEST STUNT TO DO?
Taylor said the scene in New Moon where he has to run up the wall. He had to do a lot of training for it.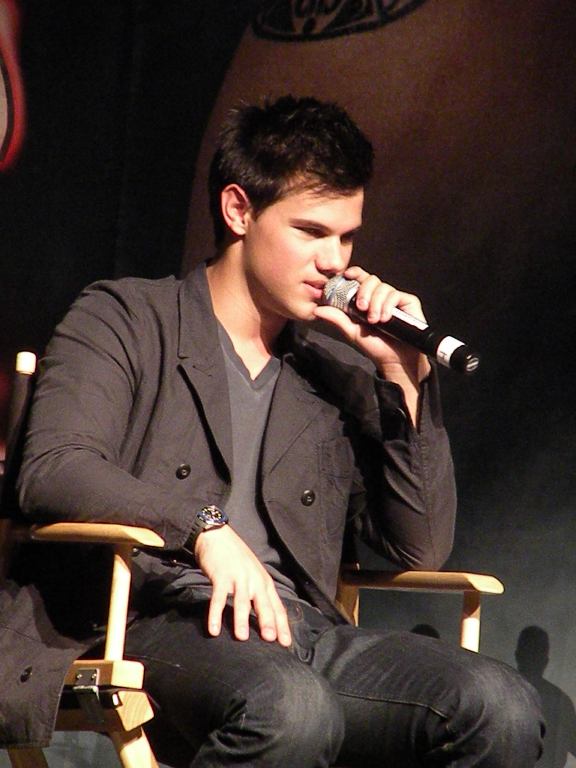 WHO WOULD YOU LIKE TO PLAY YOU IF THERE WAS A MOVIE MADE ABOUT YOU?
Rob jokingly said his son, but eventually said he wasn't sure who he would like to play him. Both Kristen and Taylor couldn't think of anyone either.
QUESTION FOR TAYLOR: WHAT IS DO YOU THINK IS JACOB'S BEST QUALITY?
Taylor started off by saying his warmth, but then changed his mind and said his loyalty to Bella, but once again changes his mind and finally says it is Jacob's persistence.
WHAT IS YOUR FAVORITE SONG ON THE ECLIPSE SOUNDTRACK?
Kristen first said she likes them all. Then she specifically mentioned Florence + The Machine and Band of Horses.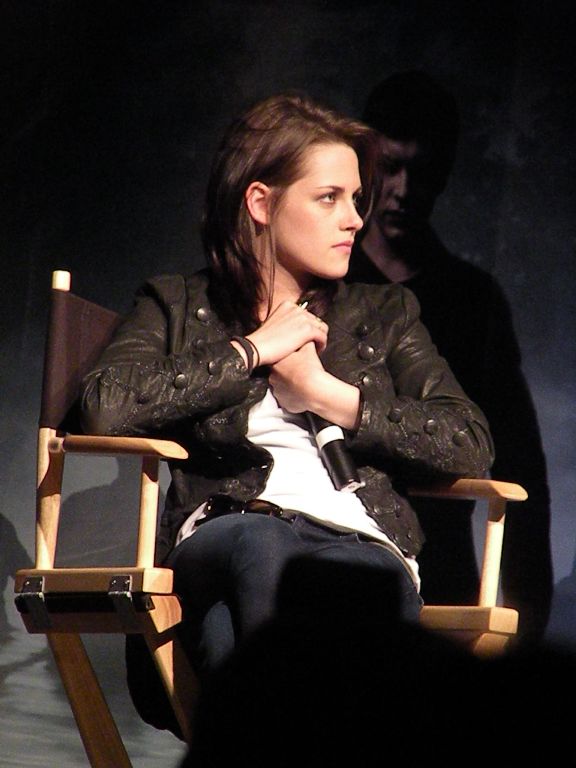 ScFiFanGirl616 QUESTION: WHAT'S ONE PIECE OF ADVICE GIVEN BY A LOVED ONE THAT YOU CONTINUALLY FOLLOW?
The Hillywood cast member mispronounced my name as I took notes so I did not scream, "That's my question!" until they were finished reading it to the panel. Taylor and Kristen were stumped and could not answer it. I guess they are not used to getting such questions.
Rob eventually piped up and said he should not answer the question because he was saving it for a television interview coming up. But he said his dad had always said that you should try to be nice to everyone especially when you are on top because when or if you fall you hope those same people you were nice to will be nice to you. Rob got a lot of "Awws" from the fans and he commented saying that's an aww moment, haha.
WHAT IS YOUR FAVORITE MOVIE?
Rob immediately said The Runaways. Kristen smiled and shook her head as if she was embarrassed. Taylor had two movies. One was a guy's movie (Gladiator) and the other showed his softer side (The Notebook).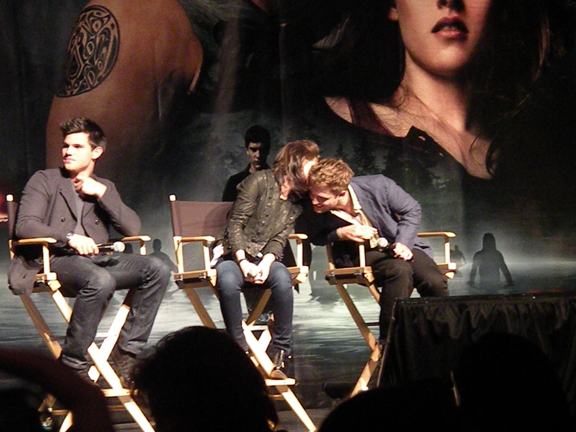 WHY DO YOU THINK THE TWILIGHT SAGA HAS CONNECTED TO SO MANY PEOPLE?
Taylor took several attempts to say, "Everybody can relate to the characters." Kristen was making Taylor laugh as he answered the question. At one point he takes his chair and turns it to the side so he does not have to look at Kristen distract him. The fans had a good laugh as they watched this unfold. Rob was just sitting there watching and laughing at the two. After he was through with answering the question he put his chair back next to Kristen.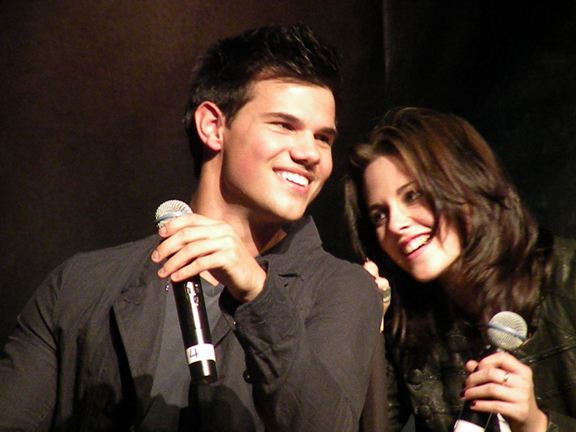 WHAT OTHER JOB WOULD YOU DO BESIDES ACTING?               
Taylor said he would be directing. Kristen said cooking. At this point she is still messing with Taylor.
ANY PRANKS PULLED ON THE SET?
Rob immediately chimes in and says this is the most annoying question they get asked the most.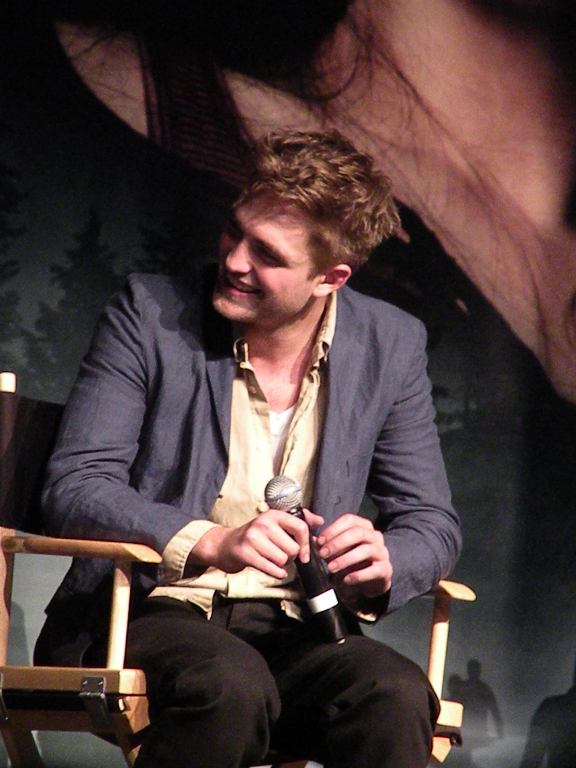 WHAT ADVICE WOULD BELLA GET FROM KRISTEN?
She is stumped for a minute or two before saying that she should be honest to the those she cares about.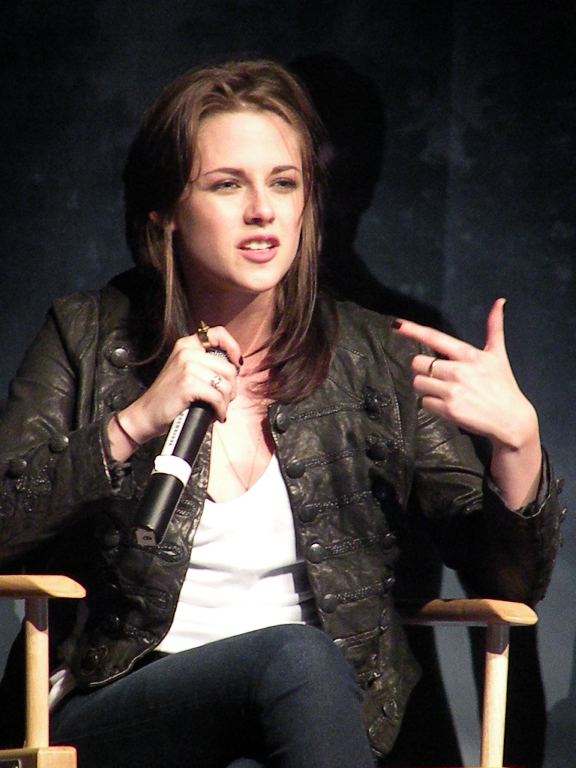 YOU HAVE 60 SECONDS TO GRAB SOMETHING FROM A FIRE . WHAT WOULD YOU GRAB?
Taylor said, "You!" (He was speaking to the person who asked the question.) Of course there were a lot of screams from the female fans over his answer. Then he thought about it and said his laptop since it has a lot of things on it. Then he started to rethink his answer and said his mom. He got some good laughs from that.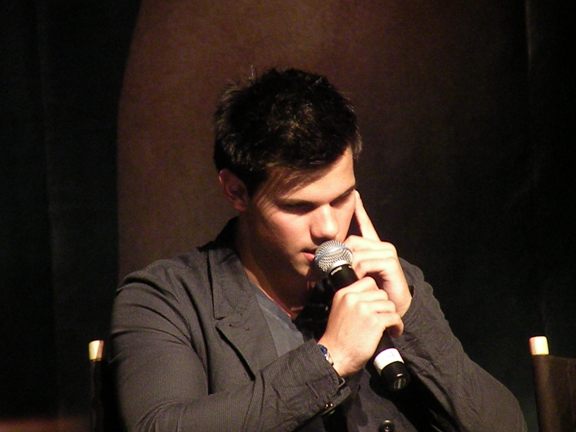 DO YOU HAVE ANY INPUT ON YOUR COSTUMES?
Kristen just said a little.
WHAT WAS THE MOST EXHAUSTING DAY ON ECLIPSE?
At this point quite a few fans continue to say "I love you Rob!" and many others say "Shut up!" Rob laughs and says that it sounds like his house without the "I love yous." Rob! Shut up! The fans thought it was funny too.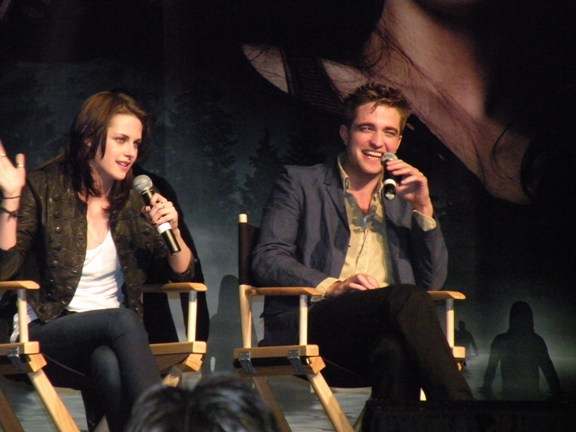 QUESTION FOR KRISTEN: WHAT WAS IT LIKE WEARING THE WIG AND THE CONTACTS?
The wig was uncomfortable at times. The contacts were like wearing bricks in her eyes.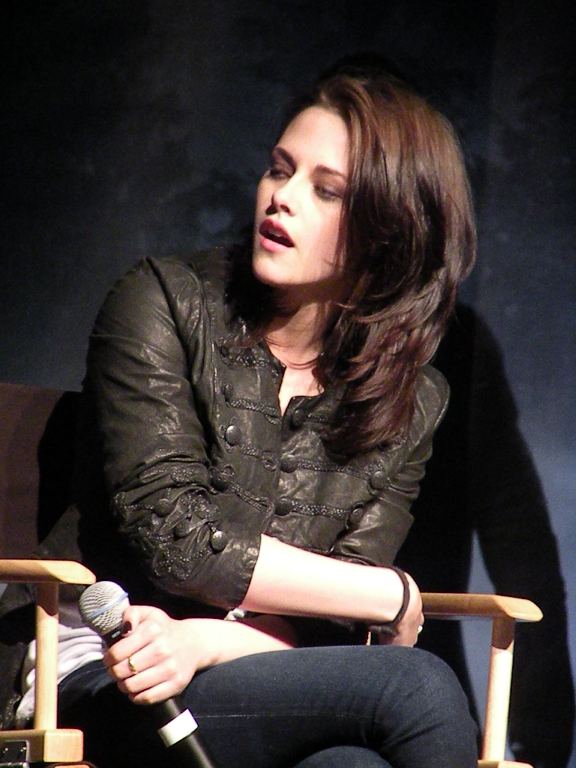 LAST QUESTION: WHAT IS THE MOST IMPORTANT LESSON LEARNED FROM THE TWILIGHT SAGA?
Once it was announced that this would be the last question for the Big Three many of fans were sad that it was coming to an end. Rob answered by saying it gives you hope that people really want to keep romance alive. Finally, Taylor commented that you should stay true to yourself and don't change for anyone.
Rob, Kristen, and Taylor were immediately escorted off the stage.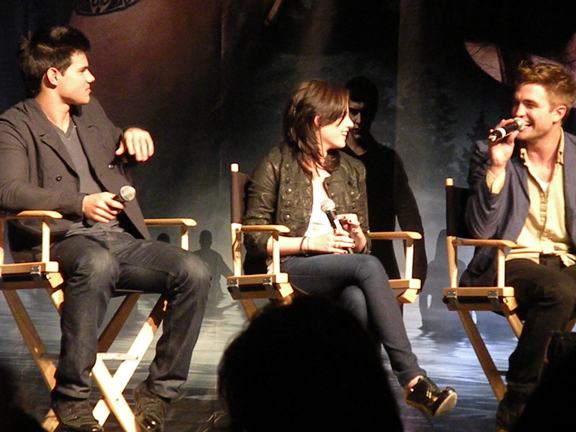 **********************************************
The time had gone by so quickly, and we were all sad to see them go.  But what a fantastic opportunity to see them in person without having to camp out for days in bad weather. Yay!
Even though the Big Three had come and gone, the night was not over.  Creation Entertainment had put together even more fun for us and we had very little time to change for the Pre-Concert Party in the hotel's Plaza Pavilion.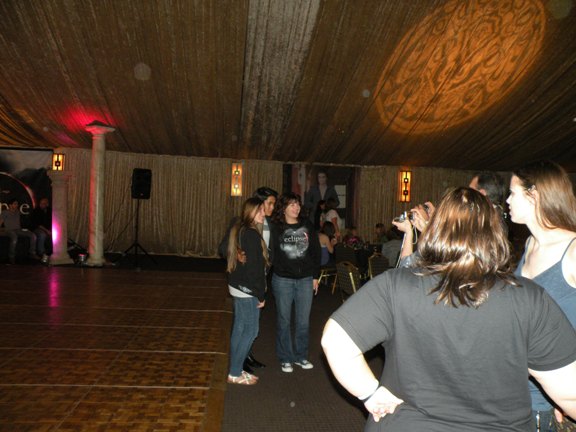 Celebrity guests Christian Serratos, Daniel Cudmore, Tyson Houseman, and Booboo Stewart made the rounds, although Christian was not feeling well and had to leave early.  At our table, Booboo Stewart sat with us for about five minutes and graciously agreed to have his picture taken with everyone that asked. I thought he was absolutely charming and is already so smooth he could probably be a future James Bond! Tyson also stopped by and shared his wonderful company and conversation with us for a few minutes, which was a real treat.
We had to wait quite a while for Daniel Cudmore to make his way to us, and it was already past the time he was scheduled to leave before he got to us.  But I have to give him a lot of credit, he sat down at our table, talked with us for several minutes, then stayed for pictures, all despite the frequent urgings of his staff to wrap it up.  Thank you, Daniel!
As soon as our time with Daniel Cudmore was over, I ran back to the theater for the Celebrity Concert, already in progress.  I was so sad to find that I had missed a lot of Tinsel Korey's performance, but I did catch the last couple of her songs and she was FANTASTIC!  She had someone named Justin on stage with her, but since I missed the beginning of the set I never did find out any more about him.  Tinsel left the stage so Justin could do some solo numbers at the end of their set, and I really enjoyed them.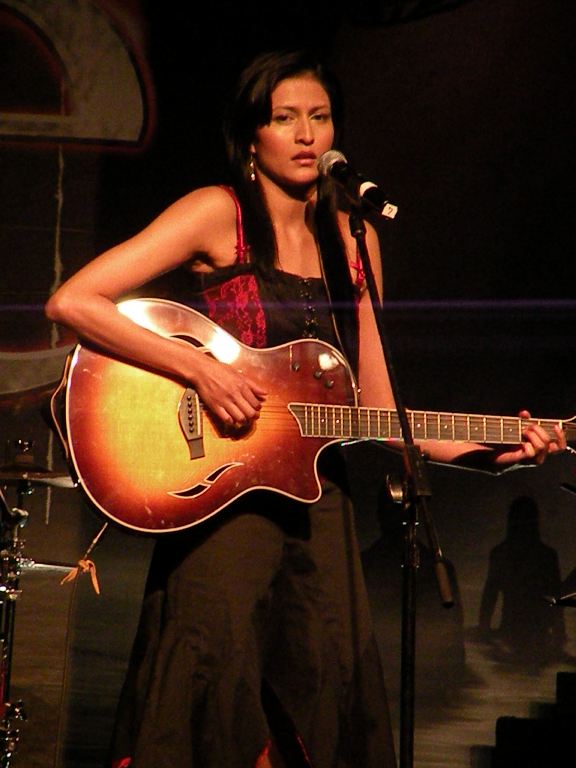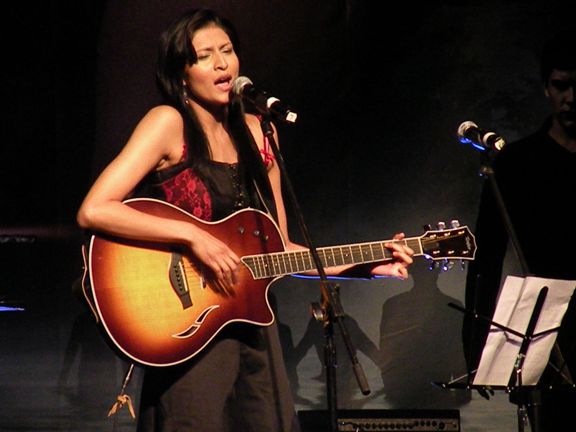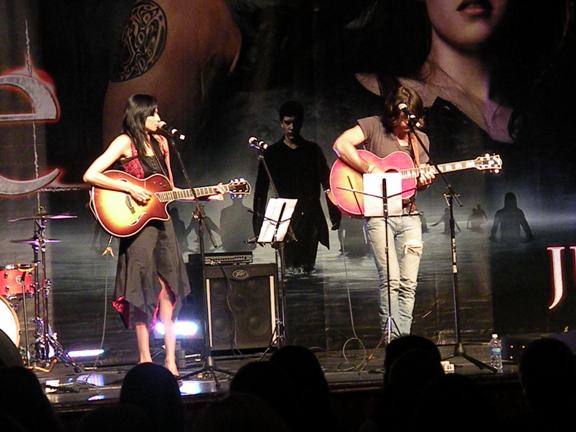 Gil Birmingham followed Tinsel's set with an outstanding blues/folk/rhythm-inspired performance.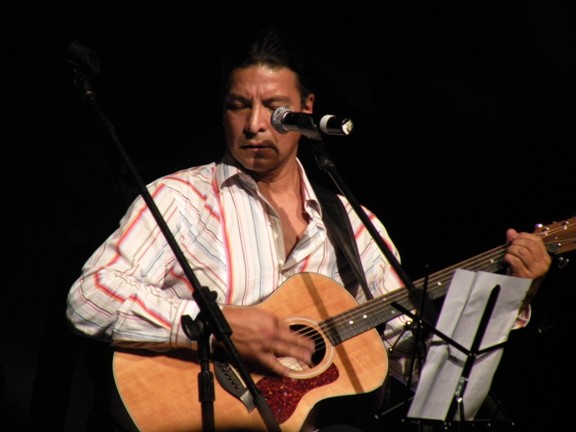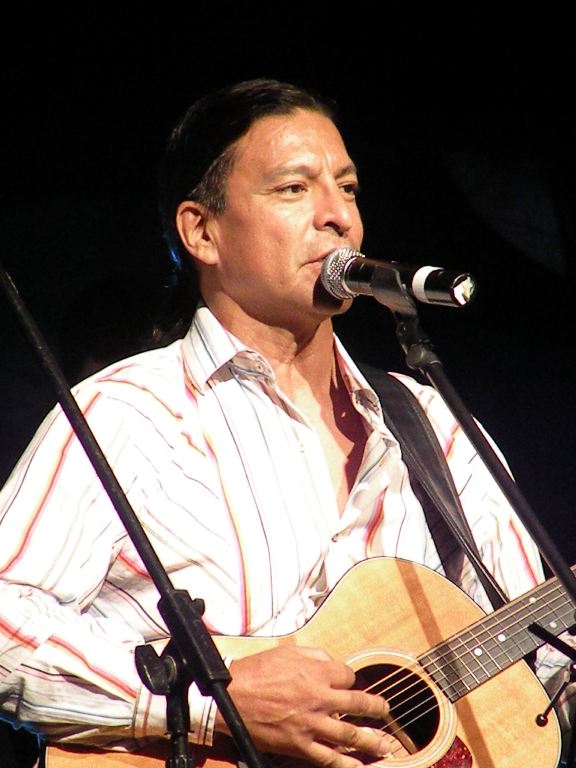 Rounding out the night was an appearance by Kiowa Gordon's band, Touché, who were nothing if not energetic!  The band had tremendous energy and enthusiasm, each member of the band fully committing to the performance and holding nothing back.  After the first couple of songs, Kiowa searched the audience for who could scream the loudest, the lucky winner being pulled on stage.  Feeling inspired, Kiowa invited everyone else on stage if they were ready to dance, scream, and rock out!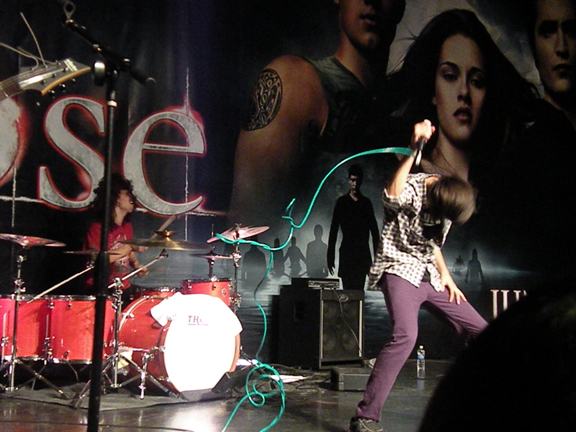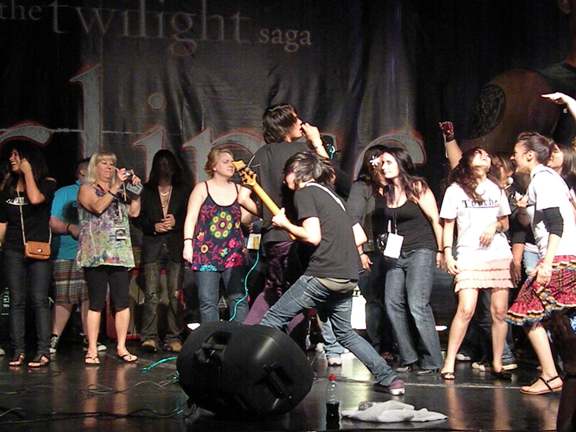 So a great time was had by all, and we had come to the end of a long but very exciting and fulfilling day.  It was hard to believe there was still more to experience tomorrow. Wow!
Please feel free to share this article with your friends, co-workers and or family and leave your comments!
We look forward to you visiting our dedicated review and analysis web site here in the future!
Or as many of our readers and visitors often do, visit WHR on Twitter, or visit me on Twitter by clicking the text links or images avatars in this news story. I and TeamWHR look forward to Seeing You on The Other Side!"
offworldtravelr