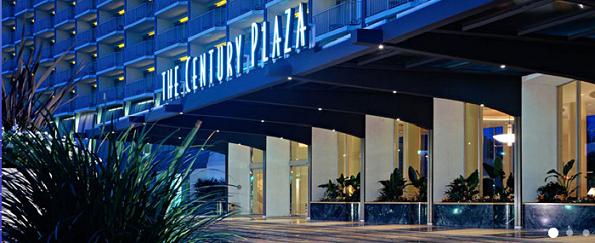 Hey Twilight Fans!
While another amazing convention was brought to you by the great team of talented people over at Creation Entertainment. Summit Entertainment conducted a media blitz prior to the convention!
Saturday at Creation Entertainment's Twilight Eclipse convention (celebrating Summit Entertainment's hit movie series) was a very big day at the Hyatt Century Plaza as everyone prepared for the arrival of even more Twilight Universe stars—so big, in fact, that the Saturday report will be posted in two parts. Part I will focus on the the morning's panels.
First up on the Q&A stage was the Cullen Family including Elizabeth Reaser (Esme Cullen), Ashley Greene (Alice Cullen), Jackson Rathbone (Jasper Hale), Nikki Reed (Rosalie Hale), and Peter Facinelli (Dr. Carlisle Cullen).
Peter Facinelli seemed very comfortable taking the lead on the panel, probably because he has the most convention experience—or maybe because of his role as the head of the Cullen family.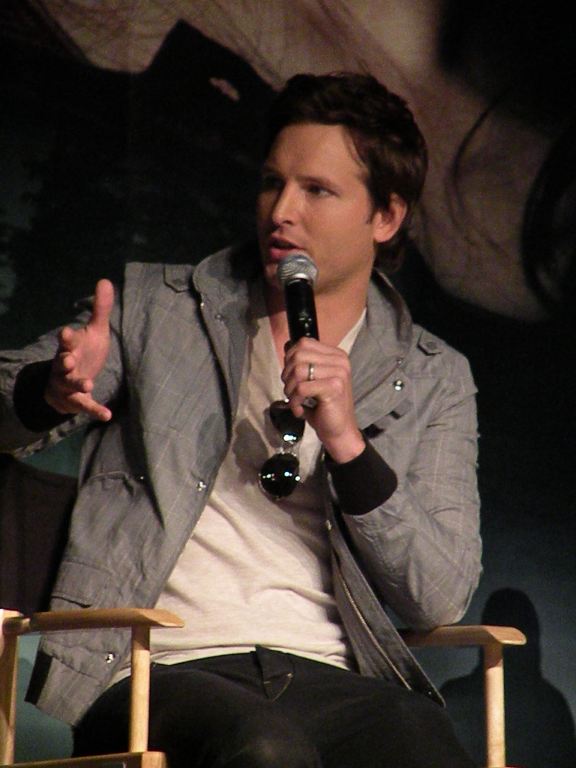 Technical difficulties plagued him, though. No one else seemed to have any problems but Peter had to switch microphones three times. At one point he pretended to get fed up and started walking off stage, but smiling the whole time.
But on to the Q&A: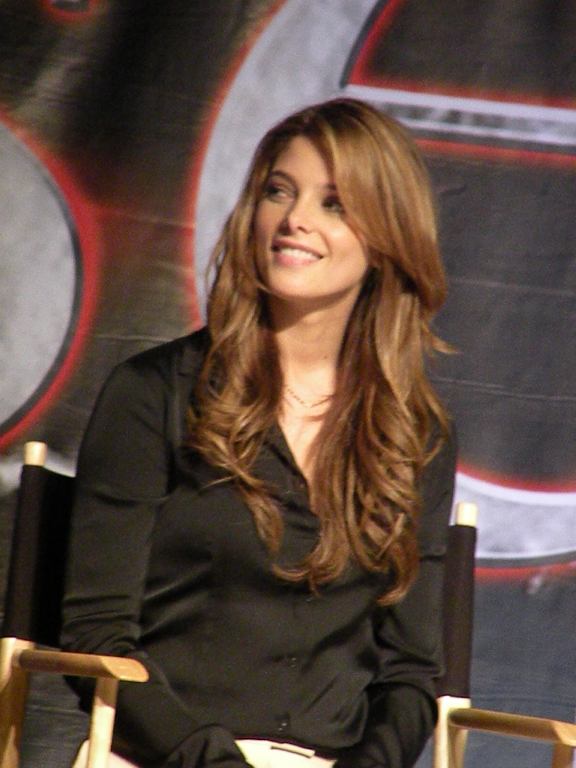 In response to a question about vampire superpowers, Peter said he wished he had a better special power than compassion. He said Carlisle's compassionate nature was challenging for him during the big fight scene in Eclipse, and that every time he attacked one of the newborn vampires, in his head he was apologizing and sending a Hallmark card.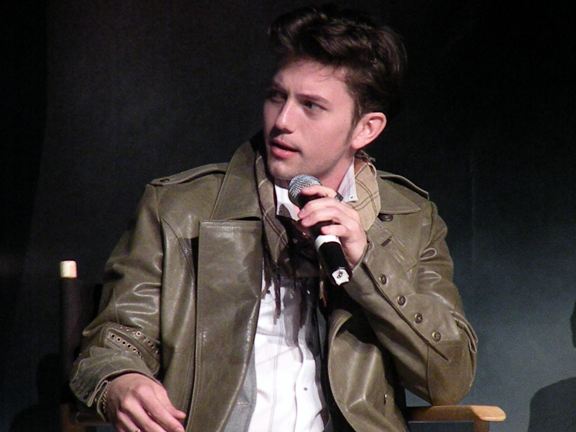 When asked: What is the strangest merchandise you have seen your face on? Jackson answered: Chocolate and a pillow. He said his bandmates (from his band 100 Monkeys) bought one of the pillows from eBay and used it to stuff their bass drum.
SciFiFanGirl616 asked the panel: How do you stay grounded working in the entertainment industry? Elizabeth answered by saying, 'Life is humbling.' Jackson said family and close friends did it for him. He said they (the actors) have normal lives at home and 'wake up smelly just like everyone else.'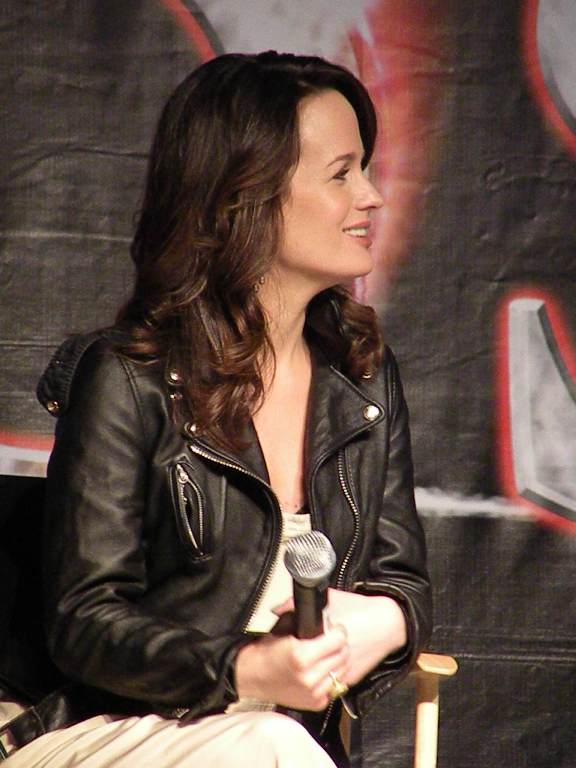 The last question from the audience asked, 'How do you feel about Rosalie being against Bella changing into a vampire?'
Nikki said Rosalie was resentful because it was not her choice to become a vampire.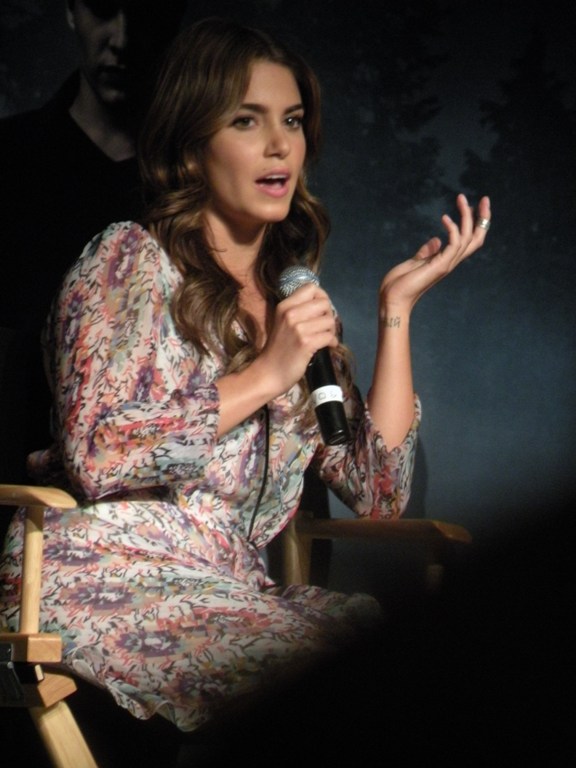 Peter talked about Carlisle's conflicting emotions about having changed his family into vampires. As Carlisle, he apologized to the rest of the panel for the decisions he made for the family. He went on to talk about the scene where Carlisle changes Edward. He said the scene was filmed in several takes, and in each take he whispered something different in Robert Pattinson's ear. In the first take he told Edward he was sorry. In the second take he said something like 'Be reborn, my son.' But in the last take he told Rob, 'You are so sexy.' The final take was the one used in the movie. Next time you watch it, look for Rob trying to suppress a smile as Peter leans in to bite.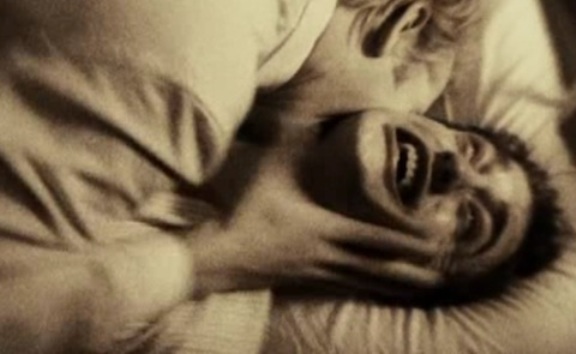 Next up was the Bad Vampires panel featuring Bryce Dallas Howard (Victoria) and Xavier Samuel (Riley). As soon as they took the stage, Bryce and Xavier took questions from the audience.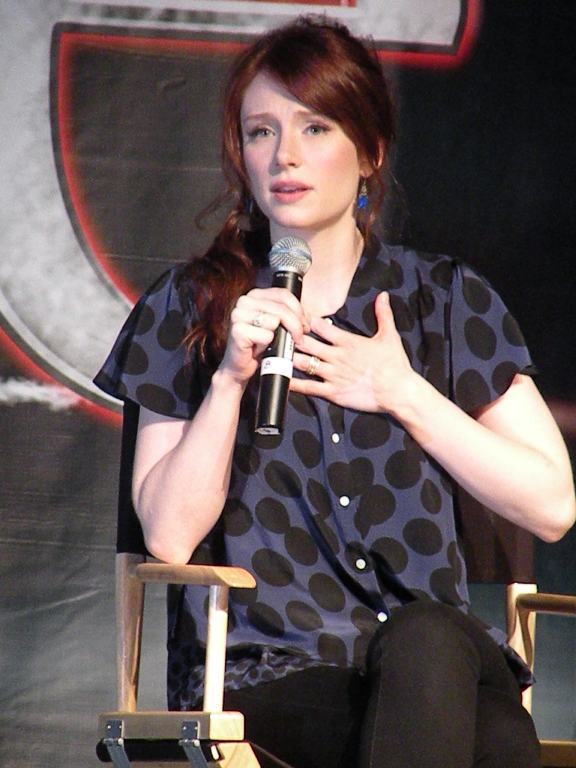 We learned that Xavier's mom monitors everything that is posted about him online, the actors actually got some input on their costumes for the movie, the lake scene had to be shot twice and it was really, really cold.
Bryce said that if she were not an actor, she would probably be a preschool teacher (her former profession). Xavier said he thought he would be a cobbler and make women's shoes.
When asked about what advice Bryce got from her dad (Ron Howard), she said she was very independent and usually made up her mind before telling her family about projects. Her dad did advise her, 'If there's anything else that you can do [outside of the entertainment industry], do that." We are all very glad that she did not that advice!
Whereas Bryce prefers to avoid hearing advice from her dad, Xavier said he relishes any opportunity to seek the wisdom of the legendary Ron Howard, and joked about following him around at Howard family barbecues.
Immediately following the Bad Vampires we were treated to "Working in the Twilight Saga Universe" with Gil Birmingham (Billy Black), Christian Serratos (Angela), and Daniel Cudmore (Felix).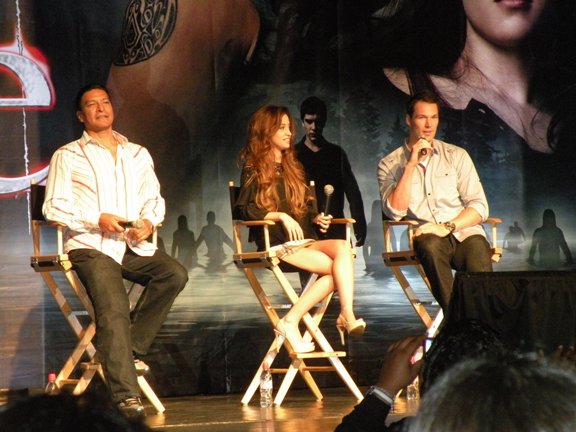 Again, the Q&A began as soon as Gil, Christian and Daniel were settled on stage.
The first question from the audience asked about the actors' dream roles. Daniel said that since both of his parents are British, James Bond movies were big in their house. He would like to play a Bond villain, or maybe a Bond girl. Christian said she would like to play a character that was mentally ill because there would be no boundaries. Gil would like to expand on Billy Black's character and "see where wheelchair could go." Most of all, he said he roles that move or touch people.
The audience also asked about the actors' other pursuits. Christian was queried about her jewelery line, which she said may be out within the year. She is working on the web site now. She revealed that her mom is a jewelery designer and used to be an actress, and Christian is inspired to try to be as good as her mom.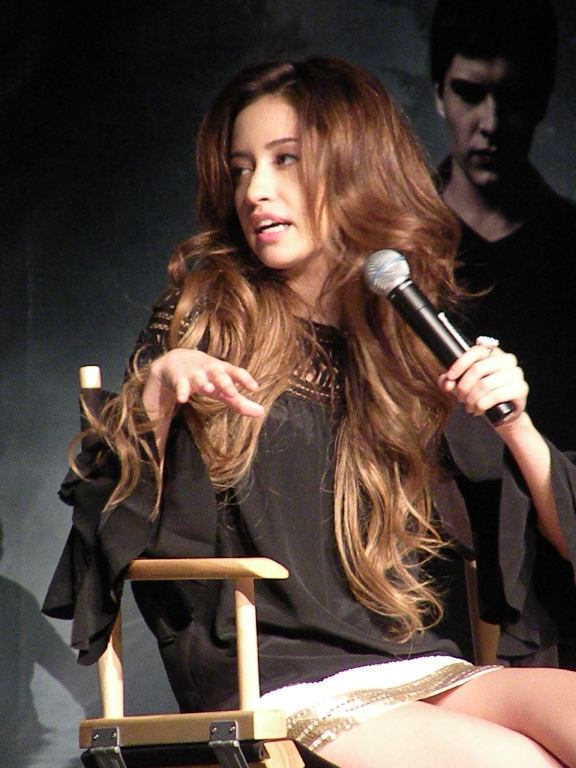 When asked about his music career, Gil said a CD is still in the beginning stages (as in, he is mostly just thinking about it), but he would be performing that night if anyone wanted to check it out.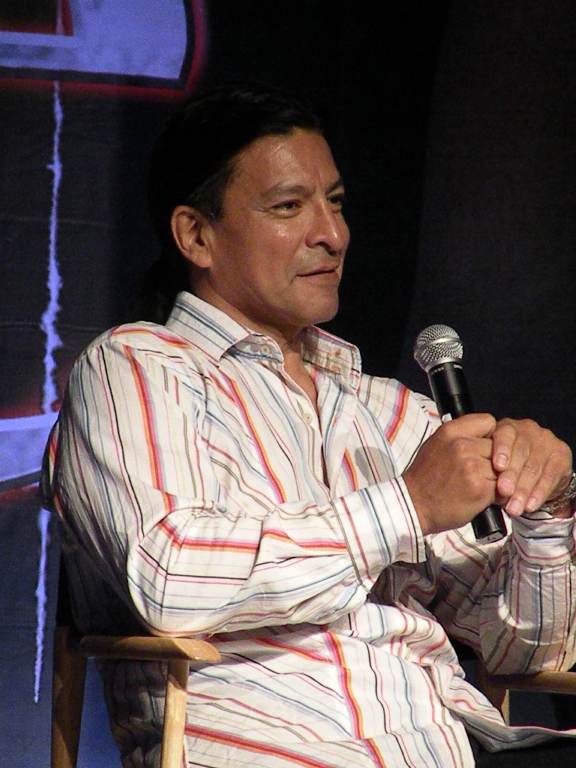 The group talked about the movie-making process and what they liked or did not like about it. Christian likes everything—except thew aiting around, of which there is a lot. Gil said what he likes best is collaborating with other artists.
Daniel said that working on the fight scene for Eclipse was hard because he was not able to see very well through the colored contacts. He said he was worried that he might accidentally punch Rob Pattinson. Thankfully, that never happened.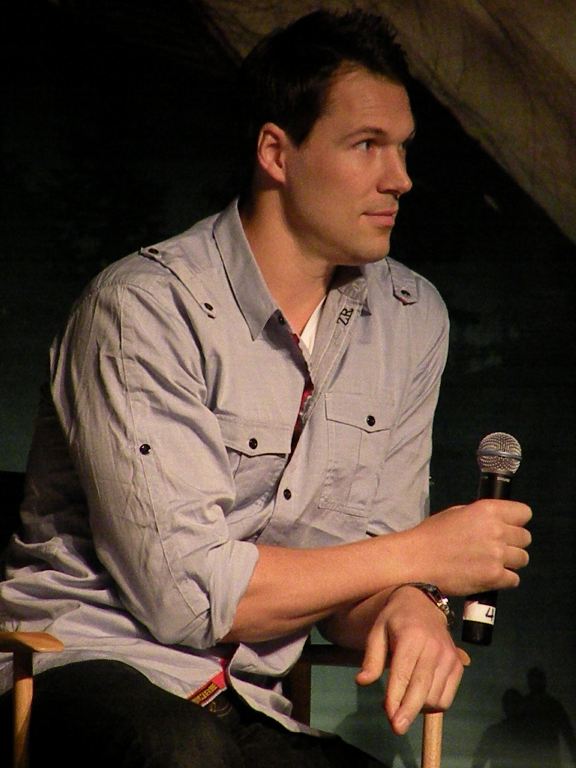 Other audience questions were about dancing, favorite television shows, and other projects. Daniel revealed that he "did ballet" for four months when he was a kid. His mom had been a dancer with the London Royal Academy and insisted all three of her sons take lessons. Not to be pushed into anything, Daniel spent those four months sitting in the corner, sulking. He did get up and do a little first-position plié for us, though. Awesome! None of the stars said they would be interested in being on Dancing With the Stars, but Christian thought it would be a great idea to create a new dancing-with-stars show that included dance styles other than ballroom, and all agreed that there were enough Twilight Saga cast to spawn an entire series of Twilight-themed reality shows.
There was a lot of good-natured joking about Gil Birmingham and his part opposite Diana Ross in her "Muscles" music video. Check it out!
The last question for this panel was about the charities they support. Christian is active with PETA, Gil is working with Be The Shift and Project Lighthouse, and Daniel with Right To Play. You can click on the charities' names to visit their web sites and find out more about what they are about.
And so ended the first part of the convention day. Everyone headed out to get autographs, lunch, visit the vendor room, or take a power nap and get ready for the rest of the day.
Coming up next: Booboo Stewart, Tyson Houseman, Alex Meraz, Chaske Spencer, Julia Jones, ROBERT PATTINSON, KRISTEN STEWART, TAYLOR LAUTNER, parties and a celebrity concert!
During the media blitz by Summit Entertainment preview premiere of Twilight Eclipse, Steven Weintraub aka ColliderFrosty described this movie as the "Best of the 3" in the ongoing series. Collider recently did an outstanding service to the fan community with his wonderful interviews with the lead actors. We included the interview with Kristen and now include Taylor Lautner.
Thank you Steven! Great job. Well done ColliderFrosty!
Taylor Lautner Video Interview TWILIGHT ECLIPSE from ColliderVideos on Vimeo.
Please feel free to share this article with your friends, co-workers and or family and leave your comments!
We look forward to you visiting our dedicated review and analysis web site here in the future!
Or as many of our readers and visitors often do, visit WHR on Twitter, or visit me on Twitter by clicking the text links or images avatars in this news story.
I and TeamWHR look forward to Seeing You on The Other Side!"
offworldtravelr