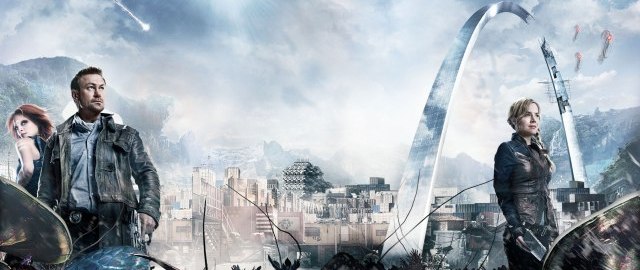 Welcome back to the new world Defiance!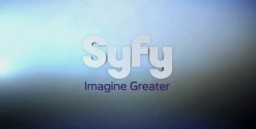 In this week's episode of Defiance, "A Well Respected Man", if we learned nothing else, it is that blood is thicker than water, and that family means a heck of a lot in a world of near nothing.
From the relationship that Joshua Nolan (Grant Bowler) and Irisa (Stephanie Leonidas) have (as established in previous episodes), to the distraught wife of a "wandering" husband that confronts her honor, Mayor Amanda Rosewater (Julie Benz), about her sister's "questionable" business practices.
One of the many outstanding featured songs in "A Well Respected Man" was a creation of none other than Rock and Roll legend Bob Dylan, his moody song named "Scarlett Town". We include a recent live performance from Charleston, South Carolina by Dylan, the master, who also performs a classic rendition of his 1967 song "All Along the Watchtower", made famous by Jimi Hendrix in his memorable 1968 Electric Ladyland album.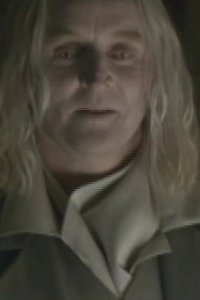 But before we go any further into my analysis of the episode "A Well Respected Man", here is a sneak peek of the next Defiance episode, "The Serpent's Egg" courtesy of Defiance and Syfy:
A Well Respected Man: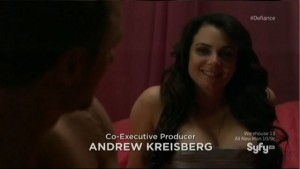 It seemed as if there were family conflict abound and around this week, starting right out of the gate with Amanda's seemingly seething disapproval of her sister's, Kenya (Mia Kirshner), chosen occupation of proprietor and prostitute of the local brothel/bar. There is an air of judgment from both women toward each other, in regard to the past and the present.

 Upon the successful completion of (another) tryst between Nolan and Kenya, Amanda enters "Kenya's" room looking for Nolan to confront him over his hijacking of Datak Tarr's (Tony Curran) smuggled arms, arms smuggled into the town in an attempt to arm the city against future attack.
The conversation between Amanda and Kenya goes south fast when Amanda's remarks and body language become accusatory toward Kenya, and Amanda walks out.  Kenya catches ups with Amanda as she is going downstairs and they continue their argument.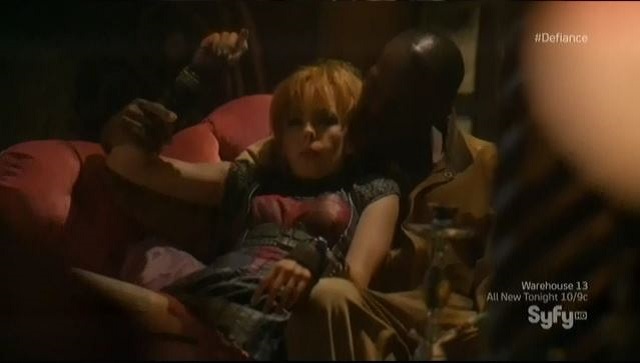 Amanda abruptly ends the discourse when a brothel patron informs Kenya that an employee had stolen scrip (currency) from her.
The patron of "Need / Want" pointed the finger at an employee of the brothel, a girl named Tirra portrayed by Brittany Allen. 
Tirra rushes to leave the establishment, to buy Votan illicit drugs with her stolen money from the Bioman, Ulysses (Rob Archer).
A known associate of Datak, the Bioman is the same one that that Nolan fought his first moments in Defiance at "The Hollows" fight club, also run by Datack Tarr if you may recall.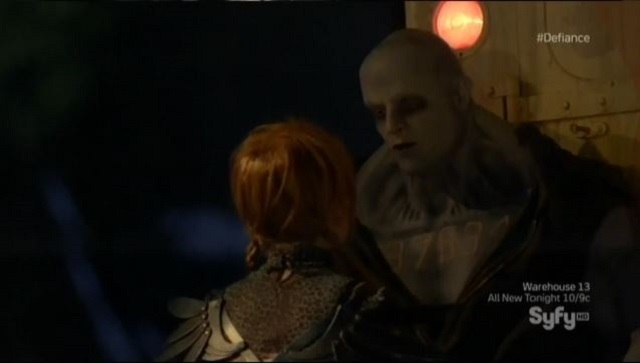 But alas, Ulysses has nothing to sell, Kenya catches up with Tirra, and they start to leave, until they see a group of people in the back of the vehicle that Ulysses is guarding – people bound and gagged and then being shoved back in to the vehicle. 
Kenya and Tirra start to run, but they are soon caught by Ulysses and subsequently kidnapped, and in the interim, Kenya loses a very important piece of jewelry
.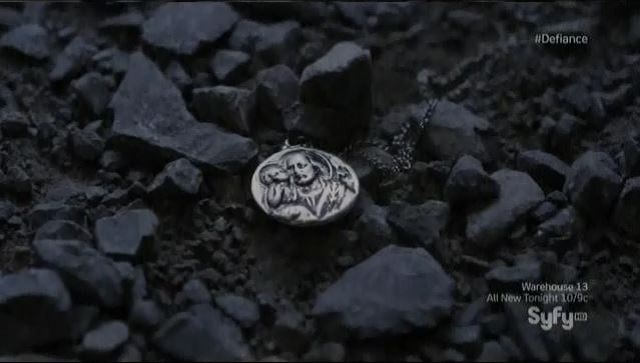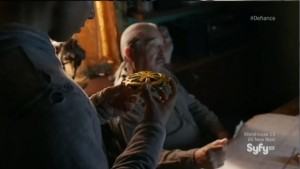 In continuing with the internal workings and struggling's of the families this week, we see Rafe McCawley (Graham Greene) and his lone remaining son, Quentin McCawley (Justin Rain) arguing over his deceased brother's legacy!
The legacy being discussed is an enigma, a complete secret, shrouded in an unrequited love and silence for a missing sole. 
This episode is so well written, so soul searching at times in its dialogue; none more so than when Quentin attempts to take his leave and Rafe reels him back in with a lamenting discussion about Luke (Wesley French) and where all of his children and wife fit in the pieces of his heart.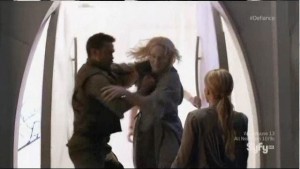 The conversation heads to a particular mining vein that Luke was working in, L7, which harbors the inexplicable, the strange, the peculiar.

As Amanda's desperate search for Kenya continues, Amanda and Nolan end up banging on the door of the Tarr residence demanding answers – dragging Datak from his house – and demanding the whereabouts of his Bioman, Ulysses.
Datak has a tongue like a snake, no mincing his words, to quote, "when I choose to make a statement I rarely leave it unsigned, it's hubris pure and simple, a personal flaw but my wife seems to like it."  After all parties are separated, and in a rare showing of desperation, Amanda takes Datak aside and tries to silver tongue her way into getting him to help her.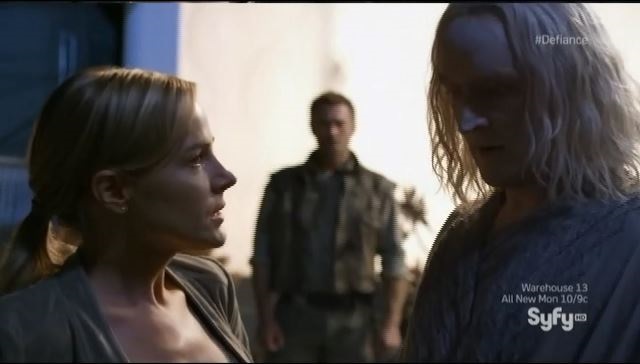 Amanda points out Datak's recent elevation in the eyes of the towns folk, in the eyes of the Castithans. Seeing right through her, Datak heads off on another well written rant, "When you people look at me, you see a wild dog, a fierce and unpredictable beast, occasionally useful." Datak turns tail and heads back into the house to carry on with his now interrupted evening.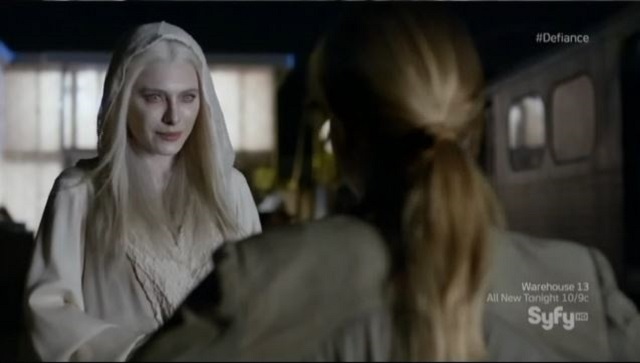 Wandering through The Hollows, desperate and downtrodden at the prospect of having lost her lone remaining blood relative, Amanda suddenly hears footsteps approaching behind her.
Expecting it to be Nolan, she is quite surprised to find Stahma Tarr (Jaime Murray), Datak's wife standing before her.
In another poignant exchange, Stahma points out to Amanda how fond she is of Kenya, "how she takes pride in her work, she has a rare gift for knowing exactly what people need, which is why I want to help her."
Stahma lobbies for Amanda to fill her vacant town council seat with Datak, by Amanda's appointment, as "we all need to heal, to move forward."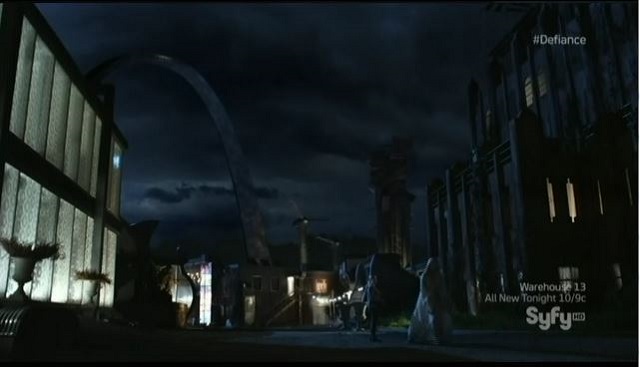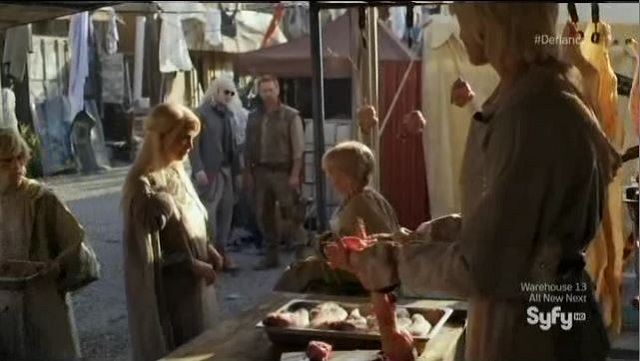 With daylight breaking we see Nolan and Datak walking the street together, when Nolan questions what deal was brokered, Datak merely says that it is none of his business.
Nolan wonders as they wander, as Datak points out the idiosyncrasies of the town, the subtleties that Nolan neither sees nor understands.
How the butcher is always with either his wife or his daughter as they struggle to keep him "off the slam?"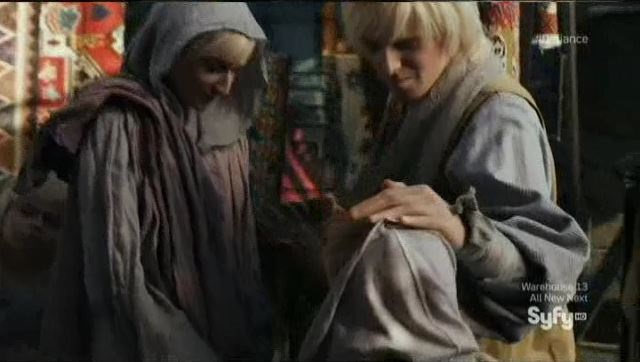 How a married woman visits the local rug dealer daily as that is his only way to see his child, her youngest?
How "like rugs, The Hollows are the patterns of the obviously interwoven thread?
If you know how they're stitched together, you can find anything you want to know. Knowledge is power." 
Again sharing and showing HIS knowledge, Datak leads Nolan to a particular trailer housing a Castithan that is an associate of Ulysses, that more than likely knows whereabouts of Kenya and Tirra.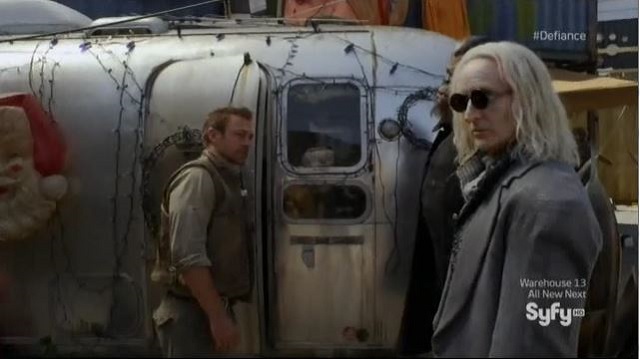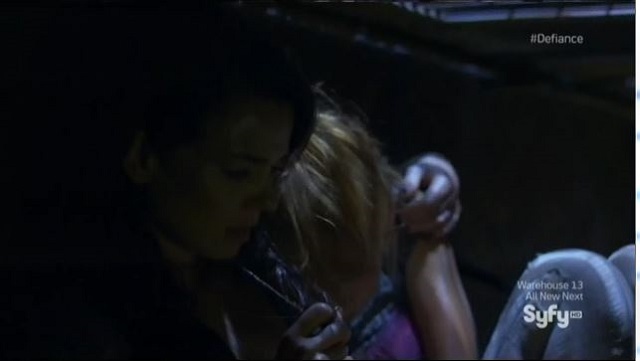 Speaking of Kenya and Tirra, throughout the episode we have been shown scenes of their escape from capture and attempts to get out.
Their adrenaline is being harvested by Meeko (Robin Dunne) and Ulysses, making the "Blue Devil", a neurotransmitter enhancer used to enhance physical performance (used during the war, but now that the synthetics have run out, real adrenaline is being harvested). 
But in one simple twist of fate, Kenya realizes that what she is experiencing is not reality. Instead, that she had accidentally dropped her necklace of "St. Finnegan" when she was abducted earlier in the episode.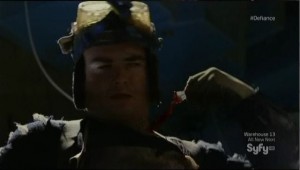 Waking up, Kenya manages to slip her bindings and smash an Erlenmeyer flask over Meeko's head.
The blow causes a shard to strike him, sticking into his neck. Sadly our Sanctuary guest star, Robin Dunne, quickly dies from his wounds.
From there, Kenya works to waken Tirra and further their actual escape. However, Ulysses had heard the ruckus and came to help Meeko, only to find him dead. 
As Ulysses rampages toward the helpless women, he is killed by the three caballeros of Amanda, Nolan, and Irisa.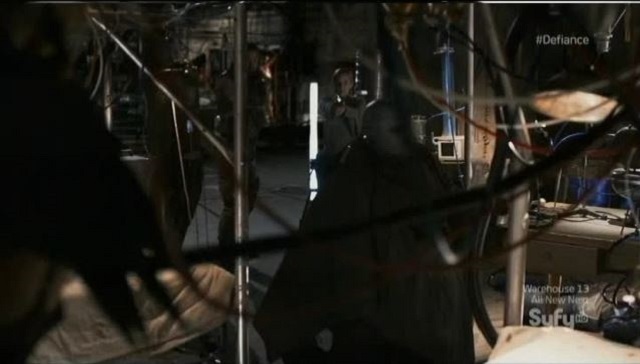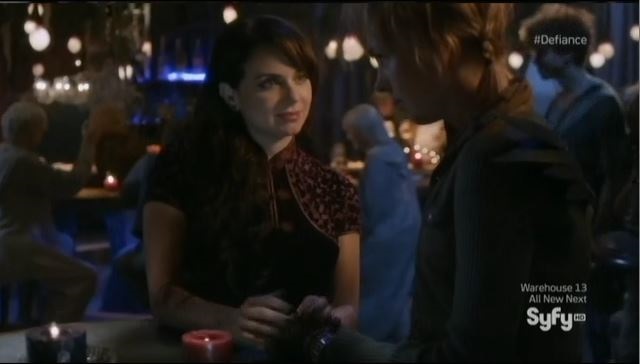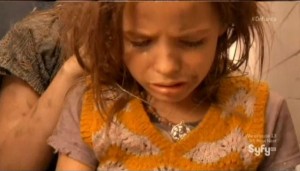 The next day, Kenya is seen once again being the kind hearted, good natured soul that she really is.
Giving her gilded necklace to Tirra, she gently explains that it is St. Finnegan, a special angel who carefully watches over lost children like her. 
Seeming to appreciate the offer, Tirra tells Kenya that the necklace is St. Christopher (patron saint of traveling and travelers), and that there is no such saint as Finnegan. 
Leading to one final conflict with her sister Amanda, Kenya defiantly throws the necklace at her, demanding to know who St. Finnegan is and what exactly happened to their mother.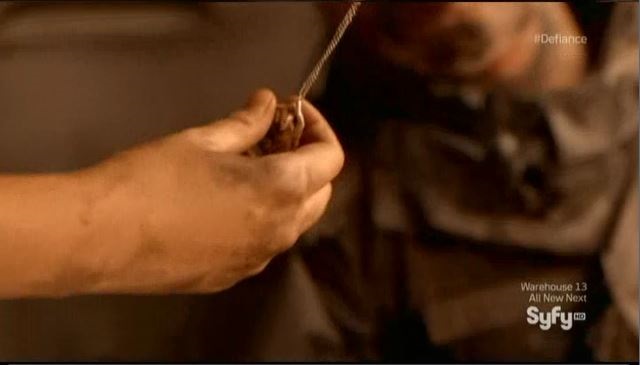 As her explanation progresses, Kenya realizes that Amanda came back for her when they were children, that she took the care to get her sister and to care for her sister, and that though there is now no St. Finnegan looking out for lost children, there has always been a St. Amanda looking out for her sister Kenya, and thus proving that blood is thicker than water.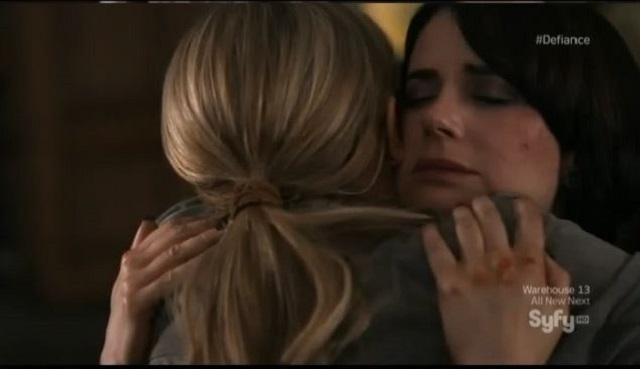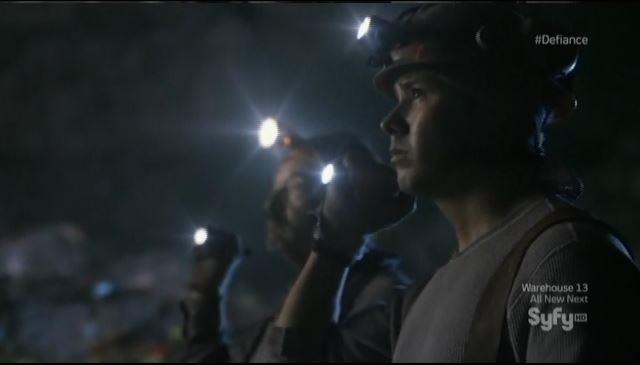 And blood IS thicker than water…in the waning moments of this week's episode we see Quentin and Rafe going into L7 together to further explore what Luke had found and was still searching for.
And then there is just blood – bloodshed, boiling blood, cold blooded…in perhaps a peek into the future we are blessed again with great writing to close the episode as the town council meets its newest member, Datak Tarr.
As the door closes, by Datak's hand – ON Nolan – Nolan sees that he is being watched by Stahma, and offers us this nugget in closing, "I've had my eye on the wrong snake, you're the dangerous one,"
Stahma counters with, "You're very sweet." Ooooooooofa, ouch, that's cold! LOVE IT!!!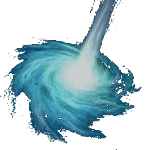 Thanks to Kenn for audio video embedding and final image staging, and many thanks to you for reading and for visiting WormholeRiders News Agency to read about our review of Defiance "A Well Respected Man"!
Please feel free to leave a comment here, click an icon below to share this news article or you can chat and by visiting and following me on Twitter, just click on my avatar to the right.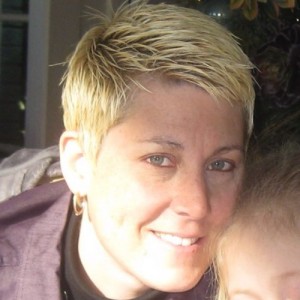 Love and regards,