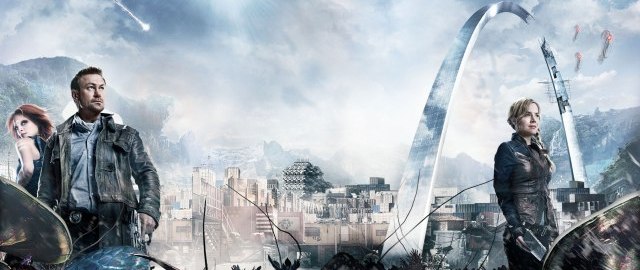 Welcome back to Defiance!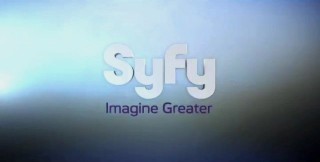 As this episode begins, we quickly realize that it is a final evening of "freedom" for Alak Tarr (Jesse Rath), as tomorrow is to be his wedding day, to Christie McCawley (Nicole Muñoz).
We find ourselves looking in on Alak's "bachelor party", if you will – a little bit role playing and a little bit of brawn (trying to beat senseless his friends and family to gain the freedom of his "bride" from her cage).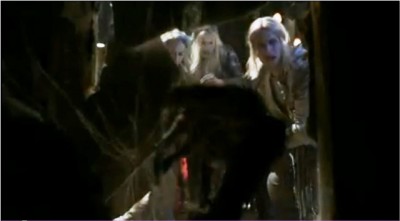 When Alak finally does defeat his final foe, his bride is freed. As the bride steps out of her cage, it is revealed that she is wearing a tear away gown, as she strips to lingerie for Alak and the crowd.
Alak quickly realizes what she is there for and what he is supposed to do, but as the valiant young man he is, he refuses as a matter of honor toward Christie. This calls into his question his manhood with his friends and a fight soon ensues.
As they continue, one gets thrown into the wall, opening a gaping hole in the wall and revealing the skeletal remains of a hand. Upon further inspection, it is not only a hand, but an entire skeleton!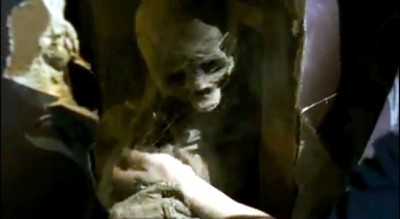 We do not get to know directly who the remains are, but instead, we are taken to the McCawley household where we see Christie being fitted for her wedding dress. Doing the fitting and the alterations is Kenya Rosewater (Mia Kirshner), and through conversation, it is disclosed to us that Kenya is also the original owner of the gown.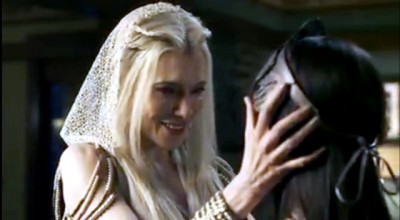 Whilst the fitting concludes, Stahma Tarr (Jaime Murray) enters the room with a box. She recites to Christie of how she has heard of "something borrowed" for Earth weddings.
Then she tells Christie of her exodus and how when told to evacuate, the Castithans were allowed three items on the ship with them; Stahma says she took Family Gem, her diary, and the object in the box – the Teelo she wore for her wedding, and that she would like Christie to wear it for her wedding, something borrowed from Stahma.
In the next scene, we see Doc Yewl (Trenna Keating), Nolan (Grant Bowler), and Tommy (Dewshane Williams) standing over and examining the remains. We learn that the "exhumed" (from the wall) body belongs to none other than Hunter Bell (Brendan McCarthy), Kenya's missing (and estranged) husband. Kenya is then informed by Nolan and Tommy, and presented with his "HB" belt buckle when she questions them as to how they know for sure.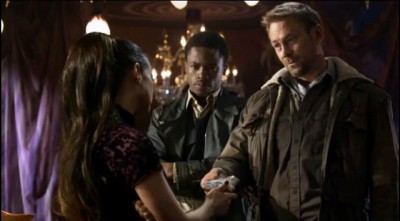 The next stop for Nolan and Tommy is the office of Mayor Amanda Rosewater (Julie Benz) to tell her of their find. After Mayor Nicky (Fionnula Flanagan) exits the office, after of course hearing that Hunter Bell's body has been discovered, Amanda flashes back to a session with Kenya revealing abuse of some sort. Amanda is pulled back to reality and admits nothing.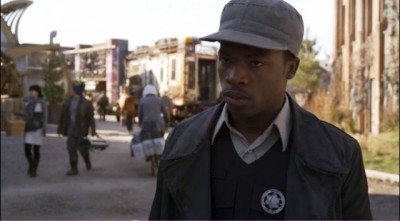 As Nolan and Tommy take their leave of the office and get back onto the streets of Defiance, Tommy is convinced that BOTH Amanda and Kenya are lying.  It becomes apparent to Tommy that, being the wedding day of Alak and Christie, that Nolan is not about to much of anything.
Tommy is quite annoyed at this, confronting Nolan on this issue. Nolan's reply is basically along the lines that sometimes good people do bad things, and this time a bad man was stopped. Tommy does not like the fact that Nolan appears to be sweeping this under the rug – especially since it has been revealed to the viewers that this happens to have been Tommy's first case, seven or so years ago, only 3 days on the job.
Next we see Rafe McCawley (Graham Greene) and Datak Tarr (Tony Curran) discussing Christie's wearing of the Teelo at her wedding. Rafe says he will have nothing of it, even it if it is custom, and especially since he is "footing the bill". Then it occurs to Rafe that Datak has been alright with the wedding ever since it was announced, and he begins to question his motives.
Datak is a master at keeping a cool head and mouth when warranted, especially when now accused and affronted by Rafe's statements to the effects of his wanting the kids to be married to get his hands on the McCawley mines.  To this end, Rafe states that seeing as his mines are on "stolen" Irathient land, upon Rafe's death, the mines and land will be donated and returned to the Irathients.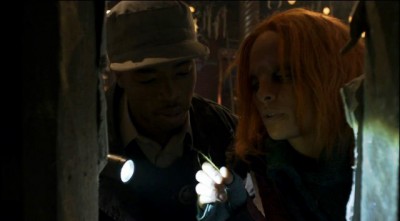 Not so cool, calm, and collected, Datak storms into his home yelling Casthi vulgarities and calls off the wedding. Ever the master manipulator, Stahma tries to calm him, but to no avail – I mean come on, when was the last time you saw Stahma in a situation or conversation that did not involve carefully placed intonations and smirks? Stahma reminds Datak that Alak is of Earth, not the mother world, that he sees things differently. Datak quickly cuts her off by saying that Alak has lost his sense of smell, and perhaps she has too!
As Tommy and Irisa (Stephanie Leonidas) scour the hole in the wall for any clues and evidence, Irisa's kee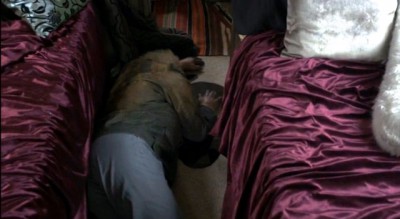 n eye picks out some hair in the studs and framework of the inner wall. Having determined it to be Liberata, Tommy and Irisa head to Jered Kikema's (Jessica Nichols) trailer, to see if he may be able to shed some light.
Upon arrival, no one answers and the door is locked. Wanting to seek a warrant, Tommy yields, but Irisa does not, she wants her answers. Breaking a window to unlock the door and gain entrance, Tommy and Irisa find the trailer a mess and Jered dead on the floor.
We next find Datak telling Alak that the wedding is off, that Datak has had a change of heart. Alak questions and pleads with his father, but to no avail, and both storm off.
As Datak leaves his home and enters an alley way of Defiance, Tommy and Nolan abruptly and brusquely arrest him for the murder of Hunter Bell.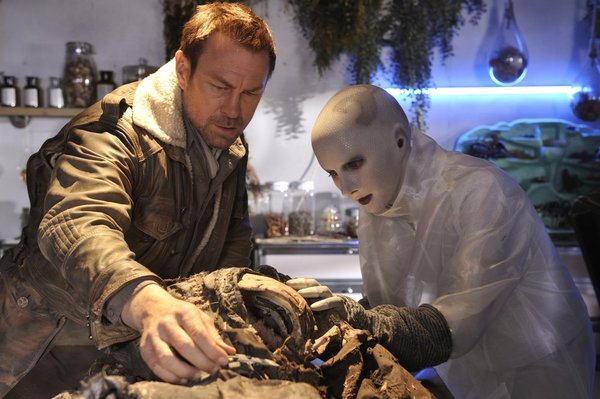 It is revealed at the station that a cane, whose handle shape matches the indentation and hole in the skull of Hunter Bell, was found in Datak Tarr's closet. After much smoke and mirrors, Nolan lets Datak go, much to the raised eyebrow of Tommy.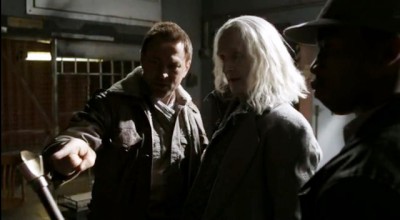 Nolan tells Tommy, to his astonishment, that that was all for show, that he knew Datak did not commit the murder.
After Tommy's jaw shuts, Nolan tells him that if Datak had done so, there would have been no hiding of the body- it would have been put on display.
We continue to jump around in this episode, but having seen which way Datak went, we now see where Alak goes. He heads straight to Christie, with every intention of calling off the wedding. Rafe comes home to catch Christie running upstairs in tears.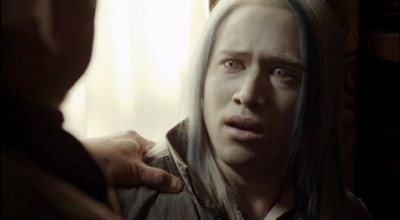 Proceeding directly to his study, Rafe finds a bawling Alak as well. Tossing the accusation of what did Alak do to Christie, Alak tells Rafe that he tried to call off the wedding, but he could not.
Rafe can see that Alak truly DOES love Christie and wants nothing more than to be with her, he asks him if this is true, and then tells Alak that that is all he needs to know – there WILL be a wedding today!
As the evening falls on Defiance, most are getting ready to attend a wedding. Datak storms into the Need/Want, finding Rafe having a soothing drink.
Blatantly accusing Rafe of framing him, Datak pulls his blade on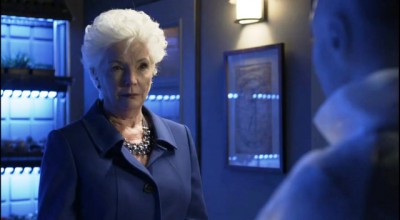 Rafe. Rafe reveals his sidearm, and Amanda steps in to show that a cooler head can and should prevail.
Amanda also states that they should all start to head over to the wedding site, the ceremony is to begin shortly.
Taking a sideways turn away from the wedding for a moment or two, Mayor Nicky enters Doc Yewl's office, apparently having been summoned. Finding the good doctor sitting at her desk, Mayor Nicky locks the office door as requested.
Mayor Nicky believes that Doc Yewl has accepted her offer and wants back into business with her, bu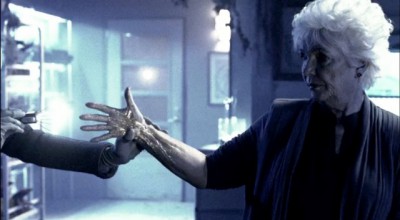 t Doc Yewl has other ideas and plans.
When confronted with the statement that the town's favorite bartender, Jered, was found murdered, Mayor Nicky expresses to Doc Yewl that she had no choice, thereby admitting her transgression.Doc Yewl argues on behalf of Jered, that for the past seven years he has said nothing, and pleads with Nicky about why did she think that Jered would say anything now?
It is revealed to the viewers that Mayor Nicky had killed Hunter Bell. Nicky did it out of pride more than anything, I think. In a flashback, we see that Hunter walked in on Nicky and Yewl during an examination, and examination that exposes Mayor Nicky as a disguised Indogene.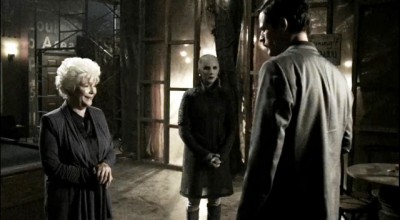 Wanting to keep the peace, Nicky and Yewl head to the Need/Want finding Hunter waiting for their arrival. As he tries to blackmail Nicky, she whacks him across the legs with her cane, dropping him to the ground, and then smashing his skull with said cane.
We then see Jered coming out the storeroom, surveys the room, and is then asked by Nicky to "help them clean up the mess".
Feeling the need to right a wrong, Yewl steps out from behind her desk, begins to move toward Nicky and rather than place her hands on Nicky's arms, deliberately stabs her with a paralytic. Then Doc Yewl begins to wax philosophical about why she is doing what she is doing.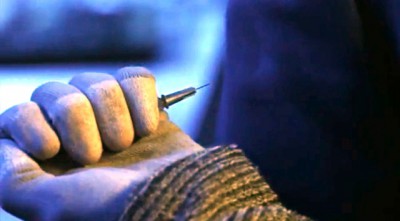 Claiming that she has changed and that she sees the good in people and wants to do good now instead, Yewl tells Nicky that Jered's only crime was being at the wrong place at the wrong time, and that the first shot was a paralytic, to prevent Nicky from struggling with the next one a to prevent needless suffering on Nicky's behalf.
At least one person took pity to be peaceful with another individuals death.
Goodbye Mayor Nicky!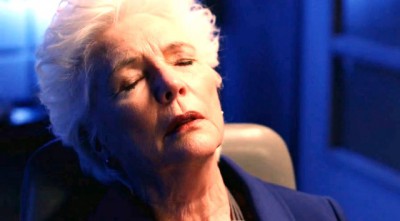 Back at the wedding, Stahma is again visiting Christie as the final moments tick away. 
Again bringing a box, Stahma reveals to Christie that instead of the Teelo, she has fashioned an "old world" veil from a book she found.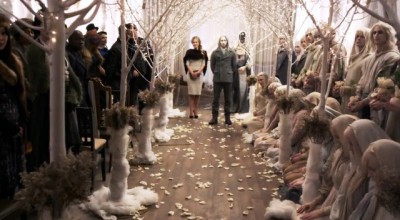 And there is that smirk again, as they share a tender moment with another "saying" that Stahma's grandmother had told her; but this time the saying is sung in a gentle verse.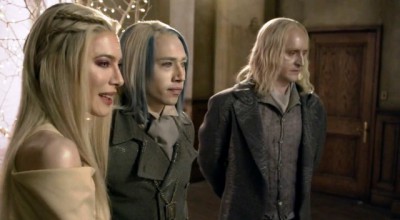 The wedding is under way and Datak arrives to question why Christie is not wearing the Teelo, and the master manipulator says that she has no idea. Christie is a beautiful bride, walking down the aisle on proud papa Rafe's arm.
As the Christie and Rafe pass Nolan and Tommy, her bouquet and its colors remind Nolan of something – Jered's fingers, they were purple, and that that suggests oxygen poisoning because the Liberata breath nitrogen. More suspicious is the fact that Nicky is not at the wedding.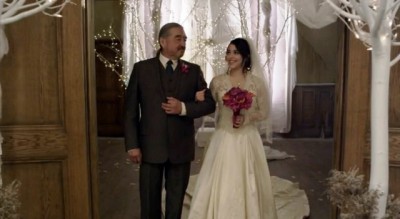 Nolan and Tommy find Nicky, asphyxiating herself in her car, with a suicide note on the windshield. Explaining everything, from the Hunter Bell murder to dousing the life of Jered, the note also tells of how, in her failing health, Nicky has chosen to take the coward's way out.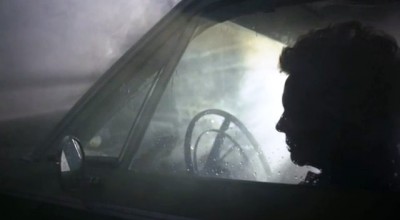 We find Nolan satisfied with the outcome, Tommy emotionless in solving his first cases, obviously not the ending that he had hoped for, and Doc Yewl being able to breathe a sigh, a collective sigh for all.
Yet as with all good shows, and to quote many others, when one question is answered, many more often appear, often appearing as secrets to the principals, and teasers to the viewers.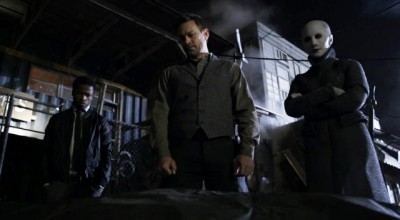 Thanks to Kenn for final audio, video and image staging, and many thanks to you for reading and for visiting WormholeRiders News Agency to read about our review of "Defiance – The Bride Wore Black".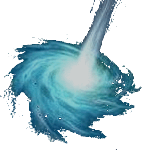 Please feel free to leave a comment here, click an icon below to share this news article or you can chat and by visiting and following me on Twitter, just click on my avatar to the right.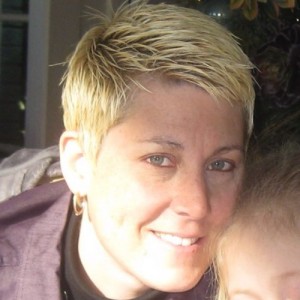 Kind regards,