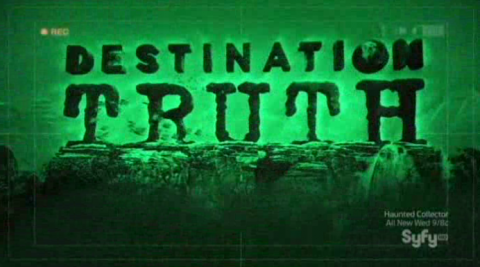 Here we are, WormholeRiders!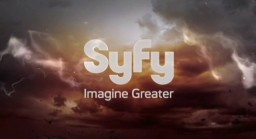 Another episode closer to the mid-season finale of Destination Truth, season five, on Syfy. The thrills have not disappointed at all, and they certainly do not stop with this episode!
Before continuing my review, please enjoy a sneak peek for next weeks exciting Destination Truth – Hanging Coffins/Kazakh Monster provided courtesy of Syfy!
Vampire Monsters & Island of the Damned: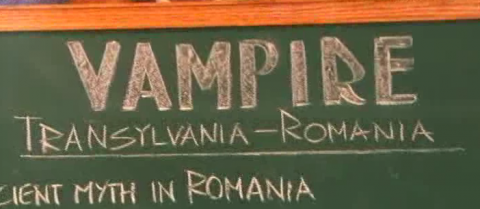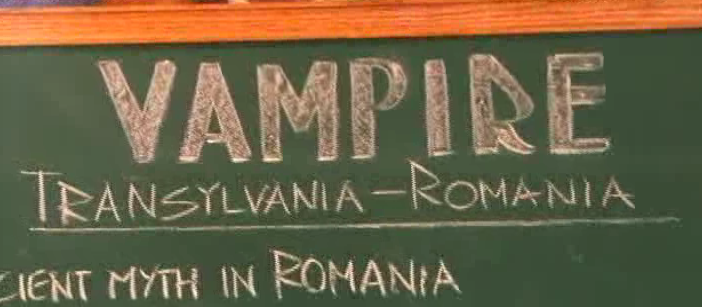 Grab your passports and pack your bags for two new investigations tonight. The cases Team Truth will look into will be Vampire creatures in Transylvania and a supposedly haunted island near Sweden.
After reviewing what they will be looking for in Transylvania – a large nocturnal creature with claws, fangs, speed and a thirst for livestock blood – host Josh Gates is on the move along with his team made up of Erin Ryder researcher, Kyle Wheeler cameraman, David D'Angelo cameraman, Katy Murakami field investigator, Adam Butler audio tech, Tristant Icaza equip tech, and Richie Fung the medic.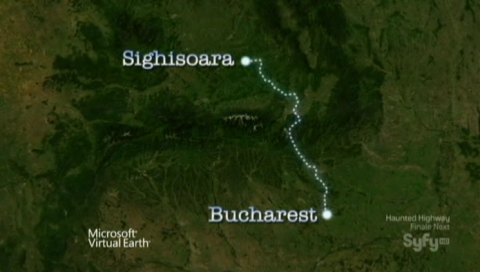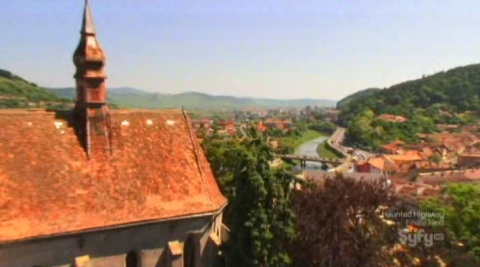 Taking a very long trip from Bucharest to Vlad the Impaler's birthplace via train, the crew familiarizes themselves with the environment of the infamous inflicter of torture. They visit his childhood home, look at artifacts and crack some inevitable jokes about Vlad's pastime (Josh says he was "voted most likely to impale" in his yearbook, for one).
After passing through a gothic cemetery, Josh meets with historian Matthew Petrigo, who details for our resident adventurer about torture tactics back in Vlad's day, but also about recent accounts of vampires. Matthew is a believer and states to go out into the countryside of Brasov to find them, as well as Dracula's castle.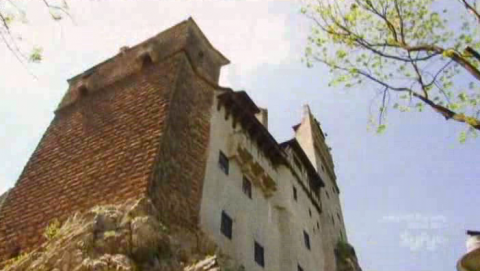 While the crew is in the city, Josh leads his intrepid crew to a haunted house. No, not one to investigate – a "make-pretend" haunted house. Any big fans of Destination Truth will most likely chalk this up as one of their favorite segments ever, especially if they have seen this 2011 video of Josh screaming for mercy in a Universal Halloween Horror Nights haunted house. That is NOT okay!
Josh talks a big game via voiceover ("this will be a walk in the park"), but I think he might have lost some cool points by using Ryder as a human shield and getting scared by his own crew member Tristant who snuck up behind him. Among memorable Josh quotes through this romp – "Make it stop!" "Monsters I can deal with, but I am terrified of out-of-work Romanian actors." And the coup de grâce of course being, "Sir, I'm gonna need you to calm down!"

Back to reality and the group travels to the suburban side of town so Josh can speak to an eyewitness named Ciresica through the aid of a translator, Beatrice Popa. The witness says the creature seems like a person, but it has horse legs, looks like an "animal", and to seek it out in the southern forests of Romania where there is an abandoned village.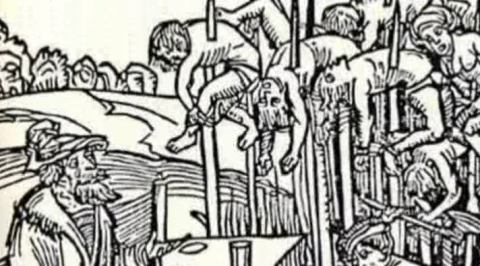 The crew is once again back on a train to a rural area where we meet Toma Costreie, who claimed to had just seen one of these monsters days before. Through our translator, Toma states he saw a large figure out in the woods, and he brushes over the topic of the abandoned village, which he states had strange happenings nearby it.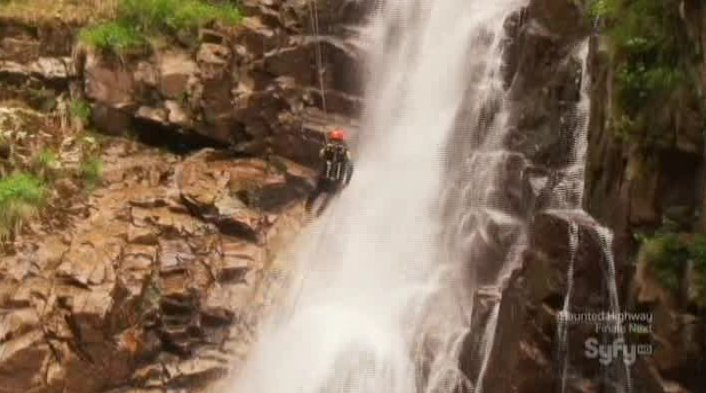 It is time to hike out into the area of the village, which requires walking through ankle deep water, descending down ropes from a large waterfall, and finally when coming upon yet another waterfall, Josh encourages his team to jump from up high into a deep pool of water below. Perhaps the most accurate statement of any DT Crew member to date, Ryder says, "Protect me, oh Lord, from all the [expletive] Josh Gates gets me into" before she herself takes the leap. Everyone is accounted for, rests for a spell, then treks on to where they set up base camp.
The team sets out with Josh on a team with Richie, Kyle and Adam combing through the woods. All is pretty quiet until Josh gets a hit on his thermal imager. They all creep closer to whatever it is, but Kyle and Adam recoil back in fear when they see eyes come towards them. Tristant radios in to Josh from base camp that he also sees eyes on camera, but the group trudges on.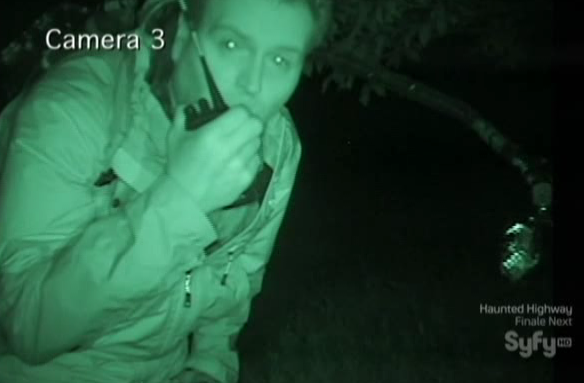 Ryder and Katy along with Dave are on their own when lightning starts to roll across the sky. They come across an imposing looking wooden gate, which Ryder gladly kicks open, and they wander into the abandoned village. The girls along with Dave let themselves into one of the old structures, marveling at how good a shape it was still in and wondering out loud what could have been so awful to make a whole village hightail it out of there.
Back with Josh's team just after midnight, they head over to the area Camera 3 is in, as the eyes were spotted in this direction. With Josh going into the woods to investigate after speaking to Tristant on the radio, we join with Ryder's team back at the old structure. While roaming it, they hear a noise coming from behind the building and look for whatever caused it.
When getting closer to the woods, Ryder states the ground would be in such a condition for prints to be left, so they are vigilant of any evidence left. They find an indentation in the ground that could be a print, but they are not sure. They have Tristant run out an evidence kit to them, while Josh and company are now the focus of our attention.
Josh via the thermal finds a hole in the ground leading to a subterranean cave. He gears up with ropes and lowers himself in, along with his teammates. They explore the tunnels, eventually coming across a myriad of bones, including the skull of what looks to be a carnivorous canine. Josh states either animals are falling in to their death, or "something" is dragging them in.
A casting is made of the possible print Ryder found, and then the team wanders on to where they come upon an old church. While observing gothic-looking art on the walls, something grabs Ryder attention off to the side after some rocks are heard jumbling around, eliciting primal screams from her and teammate Katy. After the nice tension-building break, the two confirm they saw something very large pass outside the window at a rapid speed.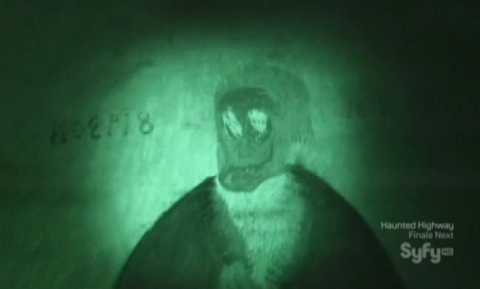 The small team heads out towards the woods again to investigate and Ryder states she hears the sound again ahead in the woods, which they cannot reach due to high brush. When it starts to rain, they head back into the frightening church to take shelter for their gear. They explore further, observing intimidating art on the walls and lightning flashing through the window, and find that the figures painted on the walls of the room they are in have clawed out eyes.
A loud clattering against the floor is heard with Ryder jumping to the side and away from what was about to hit her. When she picks the object up and the team observes it, it looks to be a large wooden stake, coincidentally in a room where a large rock slab also is (a room to kill Vampires in, maybe?).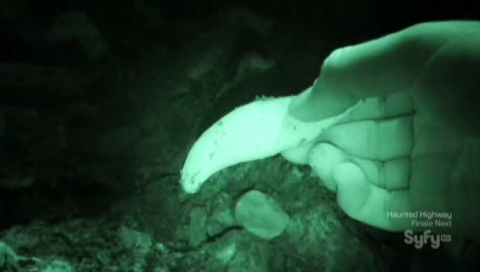 Back in the cave, Josh's group further examines the bones deep in the cavern they climbed into. When sifting, Josh finds a very large tooth close in size to one of his fingers, so he takes photos and proclaims that they will bring some back for research. They try to journey farther into the tunnels, but a dead end is reached, so Josh says it is time for the crew to regroup and head home.
Back at headquarters in Los Angeles, the footage is scoured over, and Josh estimates that the shots where they see eyes belong to the Romanian Gray Wolf, but otherwise, the thermal hits and the print Ryder collected were inconclusive. We also do not get a clear shot of what scared her and teammate Katy, which does not give us any further clues.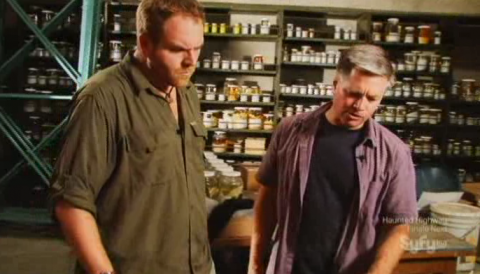 Needing more help, Josh returns to longtime DT analyst Jim Dines, mammalogist at the LA Museum of Natural History. Based on photos, he states a cow, goat and dog made up most of the bones Josh and team found in the cavern. However, the large tooth, which Jim calls "cool", is from the upper row of teeth from a Romanian Cave Bear, which has long since been extinct. Josh's conclusion on this case? Basically, that real life dangers out in the middle of nowhere might be a little scarier than the ones we seek out via tales of fiction inspired by the past.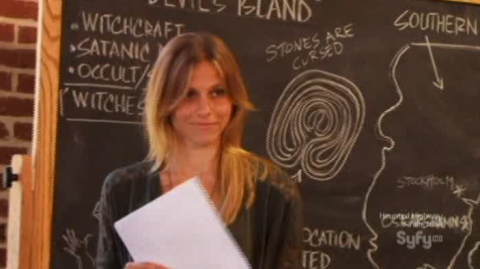 On to the next, to crib a line from Ghost Hunters, and Josh tells his team that they are to investigate Bla Jungfrun Island, where there were said to be rituals of Witchcraft performed. Josh jokes to Ryder maybe she would like to go this one alone and when she obviously does not agree, he tells the group they can thank Ryder for canceling the vacation he was planning for all of them, which they can no longer go on. In all seriousness, Josh states this demonic island is said to be cursed, so much to the point that those who take rocks off of the island are met with some seriously bad Mojo.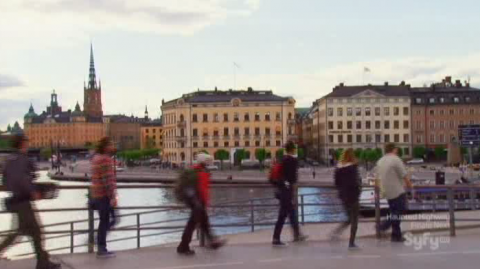 The team sets off to Stockholm to get their vehicle, which Josh declares to be his mom's old Volvo. "Buckle up," Ryder says. "It's about to get REALLY Swedish." The group is treated to Josh's list of the best Swedish items while driving – Swedish meatballs, Swedish Fish candies, Swedish Chef of Muppets fame, Swedish massages, and of course we are in another scene treated to an IKEA joke, as well.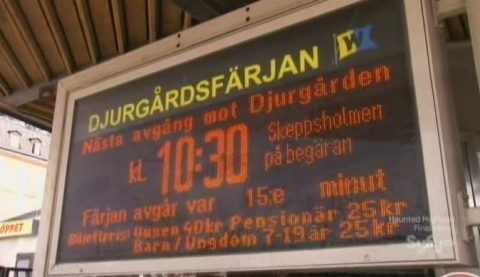 Exploring Stockholm while waiting for Josh's next interview, the group partakes in some cheesy Swedish merchandise, rides a ferry, and Josh visits a psychic. Astrologist Margareta Hedin tells our host that he is due for more success, but he states that it cannot get better than DT. "I am at the pinnacle of my career right now!" "You are?" "…No, I'm not." Careful Josh – we want Destination Truth to be renewed!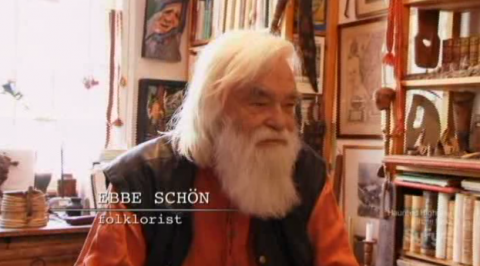 We finally met with Ebbe Schon, who Josh states is an unintentional Gandolf impersonator (I personally saw a lot of Santa references on Twitter the night the episode premiered). Despite his pop culture appearance, Ebbe is an expert in folklore, telling Josh the island frightened sailors passing by, as this was a place where people like witches and magicians came to meet the Devil. Ebbe tells us about 300 witches were killed on the island "by the neck", possibly meaning via hanging, with their bodies burned afterwards.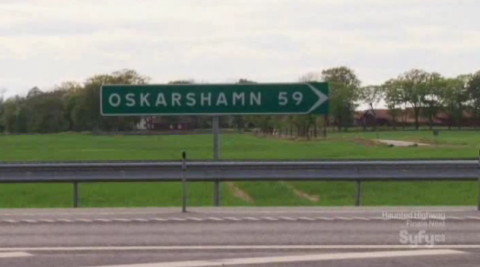 The journey forward takes us to Oskarshamn, about a three hour car ride away, where Josh states that one team will need to set off on ATV's to meet with a group of present-day witches, while Ryder's team must meet with a photographer witness via kayaks.
Josh meets with Claire-Ann and Jeanette, witches who are in the middle of a ritual when he comes across them. They tell him the nearby island they seek is haunted with positive and negative entities, but that there is also an old labyrinth where, if they walk completely through it, then witches will appear to them. Josh's voiceover states the labyrinth can be interpreted either as a trap for spirits, or as the path between hell and heaven.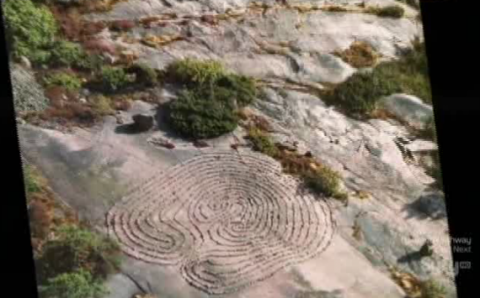 Meanwhile, Ryder and her team brave icy waters to eventually meet up on shore with Peter Gerdehag. The photographer states while on assignment staying in a cabin a few nights, he was roused in the middle of the night by light filling his room from no apparent source. He stated that had never happened before and he did not know what he saw, really.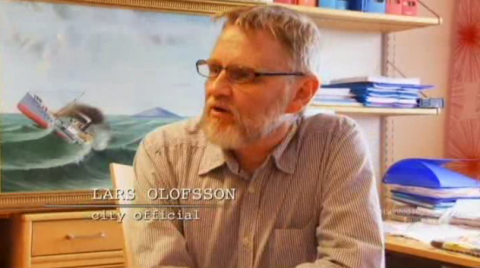 Before setting off for the island, Josh sits down with Lars Olofsson, who is a city official with a nice creepy painting behind his desk depicting the ominous nature of the land. He not only says the island is haunted, but people who have taken rocks from there have been so cursed with bad luck that they regularly get shipments of rocks sent back to them with requests to return them.
He reads to Josh some of the letters from a thick folder, including one from a person who was convinced they got cancer because of taking the stone. He tells Josh there is one stone left, and he wants him to bring it back to the island right away, and that it is his "pass" to go there.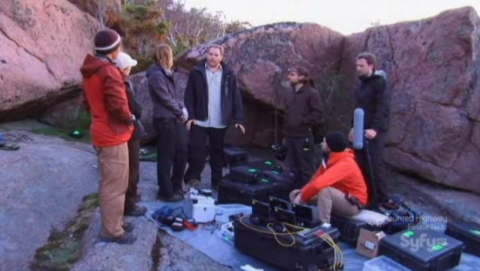 With a cursed rock in his pocket, Josh's words directly, the crew heads out into the water towards the scary island ten miles from the mainland that we have been hearing about. Josh ribs Ryder about her seasickness, but it is time to get to work when the group finally is able to get ashore when the sun is just starting to set. While Tristant stays at base camp, Josh heads off a team with Katy, Adam and Kyle while Ryder works with Rich and Dave to cover the other side of the island.
Josh's team peruses the woods and the choppy sound of chanting or yelling echoing from the woods grabs their attention. When the noise repeats itself, Kyle states that it sounds like more than one woman and points in the direction he heard it from. They head down the trail near the water, mindful of drops, and the trail ends towards cliff. Katy refers to the noises as a Siren's Call, which is accurate since they could have fallen off of the large rocks into the water, had it not been for their Night Vision cameras.
We join with Ryder's group, where footsteps are heard in the brush, prompting Ryder to ask out loud if someone was there. Richie echoes this statement, and a louder noise is then heard. The two analyze what they heard and agree it sounded like a woman screaming, hearing it more clearly another time a few seconds later. They investigate the area to see if there is a natural cause for the sound, and then we shift back to Josh's team.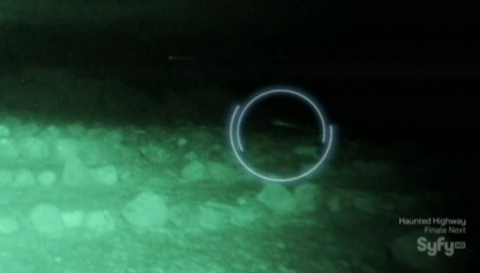 Josh finds the labyrinth, which is hundreds of years old with an unknown origin. He instructs the others as to how to navigate through the maze, since he was told earlier doing this would bring about activity. Once towards the middle of the path, Josh placed the rock he was requested to return in an open space, and this is when some sort of activity is picked up on from a teammate. Kyle points out to Josh what looks like an orb moving on camera, so he is asked to mark it so they can re-examine once back home.
Ryder and crew go to the cabin the photographer had mentioned, where they decide to do an EVP (electronic voice phenomena) session in the bedroom of. She and Richie tell any spirits present that they mean no harm, but they want to know if someone is there. Ryder states she has a ringing in her ears that is almost giving her a headache, and moments later, a sound is heard from the kitchen such as a glass being moved or rolling on the floor. The two stay put, even as they hear a loud creak in the floor like someone taking a step.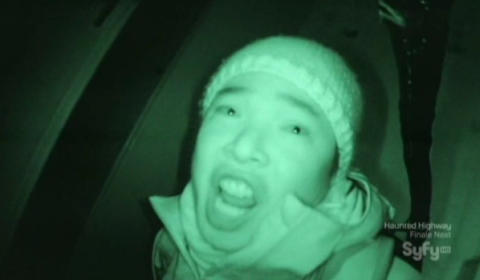 The noises become more prominent, to the point where the two argue about who should go and look, but what sounds to be either a faucet turning or a close by creak in the floor bring Ryder and Richie to a state of intense fear. When they recover mentally from their fright, Ryder says she had seen a dark shadow in the hallway. The pair cautiously roams the house to see if they can find whatever it was making noise and casting shadows, but when they find nothing, they agree happily to leave the cabin.
The team packs up their gear and heads back to the United States to comb over findings. Both Josh and Ryder confirm post-investigation that the two teams heard similar female voices or screams on the island, and the noises from the cabin were confirmed to be coming from inside, as the structure was not suffering any damage or wear that would have caused it.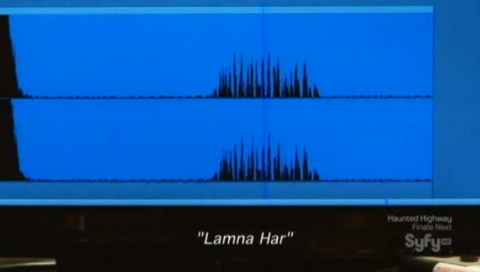 Ryder states she saw a person or figure, and while the camera did not pick up the image, an EVP was caught at the same time in Swedish lending to her account. The EVP states "Lamna Har", which means "Leave Now" in English.
The last piece of evidence is the orb caught in the labyrinth by Kyle, and Josh proclaims it is nothing he has ever seen before, saying it looks pattern-wise like it was "stepping" across the rocks. Conclusion? There is enough evidence to credibly say that something paranormal, or outside of the realm of traditional science that can easily be explained away, going on for the Island of Bla Jungfrun.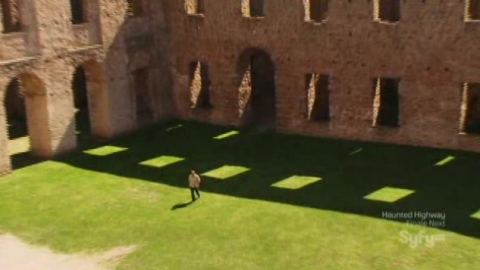 My overall evaluation of this episode is that that there was a great highlight on the local culture of Stockholm/Sweden, but I would like to have seen more cultural aspects of Transylvania from the first part of the episode, even though the haunted house scene was no doubt funny. All of the evidence collected was terrific and to those who will no doubt complain about the personal experiences mentioned that were not caught on camera – when you have a paranormal experience that frightens you to the core, it can catch you off guard. Also, who is to say pointing a camera over to whatever the witness claimed to see would bear results? After all, it is called "the paranormal" for a reason.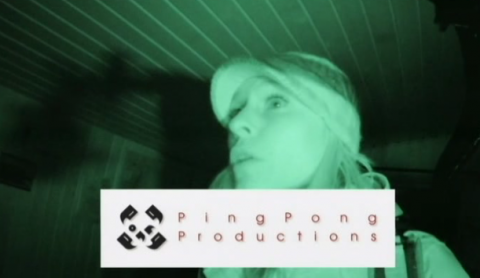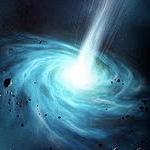 Thanks to Kenn for final audio, video/image staging, and many thanks to you for reading and for visiting WormholeRiders News Agency to read about our news coverage of Destination Truth!
Please feel free to leave a comment here, click an icon below to share this news article or you can chat and by visiting and following me on Twitter, just click on my avatar to the right.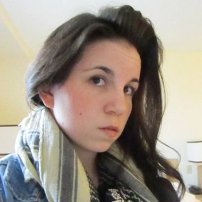 Love and regards,