Welcome to the wonderfully altered season four of Discover Haven!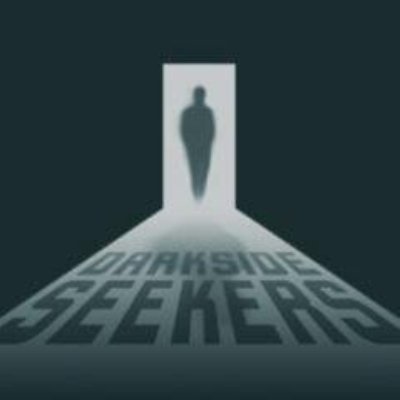 Well it finally happened!
In a tour de force episode written by the extremely talented sisters; Nora Zuckerman and Lilla Zuckerman, directed by Paul Fox, we are brought face to face with the shocking realization of what is happening in our fair town of Haven!
That's correct people, last episode, evil nefarious Wade Crocker (Christian Camargo) killed Jordan McKee (Kate Kelton) in a blood lust unparalleled in the history of the Haven series! Unable to control the Crocker family curse like his brother Duke (Eric Balfour) before him, this mad man is running amok in town to the detriment of all living beings!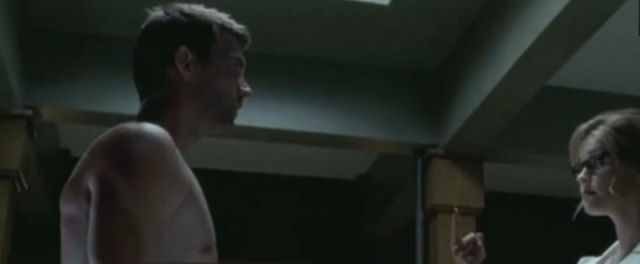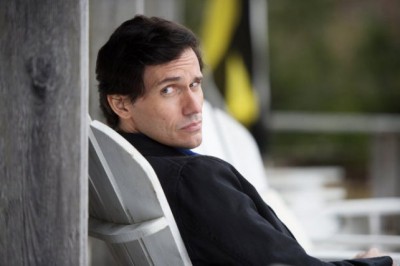 One of the questions that needs to be addressed is whether or not Duke, Nathan (Lucas Bryant) and Lexie Audrey (Emily Rose) will be able to control Wade or save who has become a blood thirsty beast?
Or will our erstwhile heroes of Haven ultimately be forced to put this monster "down"once and for all to save the town from further murderous acts he may commit to feed his blood cravings?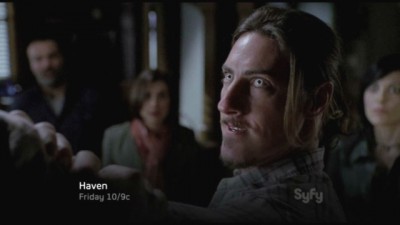 The second important question is will Duke be forced to kill his own brother to stop the Crocker family Troubled curse rampage?
A third question to consider is if is if Duke does kill his own "Troubled" brother, will this end his own tendency via the family curse? Will Duke no longer become afflicted by the Crocker family versions of "The Troubles" himself?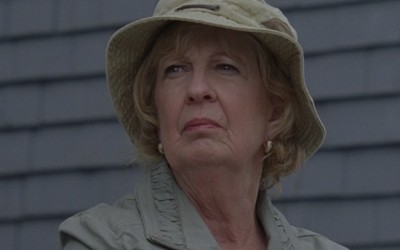 It was rather nice to see "Gloria" (Jayne Eastwood) again as the Medical Examiner in "Lay Me down".
As I discussed in my review of Countdown last week, Eastwood as the Gloria character is a veteran actor who is perfectly suited to deliver endless sarcastic one liners of humor.
Gloria undoubtedly spices up each of the screenplay she appears in, while adding levity to balance off against the more serious aspects of this supernatural science fiction series.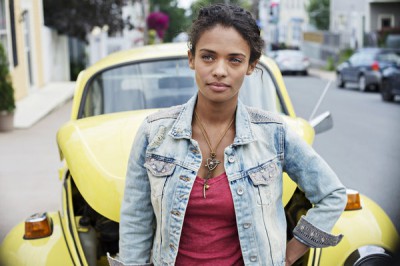 Two special guest stars also appear in the episode; Kandyse McClure (Battlestar Galactica, Arctic Air, Hemlock Grove) who portrays Carrie Benson, a "Trouble" newspaper delivery person for the Haven Herald. It was great to see this gifted and gorgeous McClure once again in a science fiction role.
Featured is up and coming Lisa Rose Snow (Sex & Violence, Seed, Call Me Fitz) in a role as Sonia Winston. Poor Sonia does not last very long. Her character is killed after being kissed by Wade for being a "Troubled" towns member of The Guard in the opening moments. During this sequence, Sam Taylor's great song "Loaded Gun" is playing in the background (featured above).

Lay Me Down: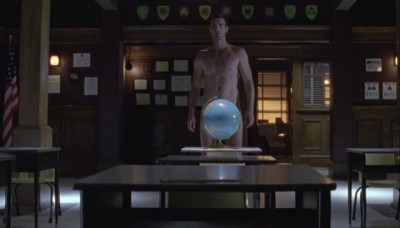 Before beginning, one of the funniest scenes ever is when Nathan has a dream he is naked in class.
Lexie Audrey is the dominatrix school teacher and Nathan gets his behind paddled by the "teacher". Last week on Twitter the entire fandom went wild and crazy in a good way when this outrageously funny scene came on!
I think that Nora and Lilla Zuckerman deserve an Emmy for this brilliant sequence! I personally liked the school teacher myself. She can paddle my behind any old day in Haven!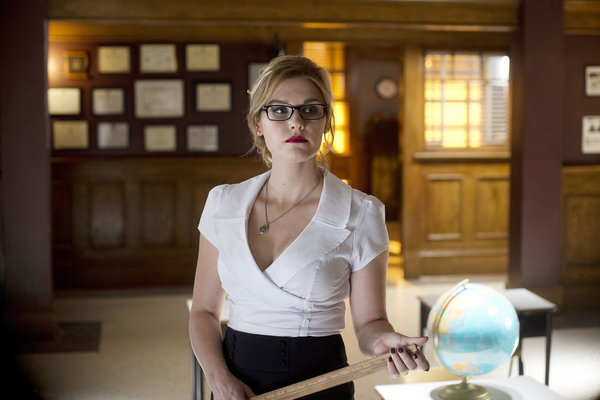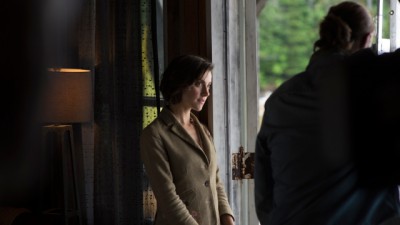 As the episode begins, critical points are edified in the very first scene of "Lay Me Down": Jennifer (Emma Lahana) is back in town. Jennifer has subsequent to Lexie coming out of the barn is no longer acting crazy.
Jennifer desires to obtain a newspaper job at the only periodical in town, the "Haven Herald." The second point is that Wade is completely out of control, an evil blood thirsty maniac who must be put "down" to save the town,
The force de jour is that Wade Crocker is on a mission to kill all the members of The Guard in Haven. As those familiar with the series know, The Guard have been protectors of the townspeople for many generations, often killing those whom are or become Troubled.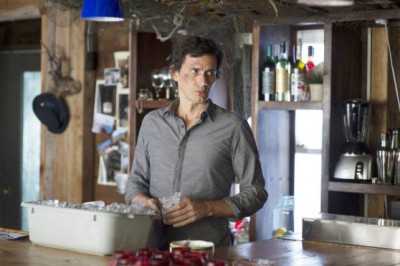 As mentioned above, Wade does not wait long to claim his first trophy. Sonia Winston is having a beverage at the local pub. Wade wastes no time and and instantly stabs her to death. Poor Sonia emits a blood curdling scream and perishes on the spot! The blood lust intensifies, creating a drug like high and craving for Wade as he seeks more Troubled folks!
More killings mean more powerful highs from coming into contact with the blood of a Troubled person. Wade sets out to track down more victims to increase his blood lust high and become stronger and more powerful with each person whose life he takes!
At this juncture in my analysis, the moment I saw Wade sitting on the back porch at the Grey Gull, I knew that this evil miscreant would become the center of the action in the mid season story arc. Frankly, had I been Nathan, Dwight (Adam Copeland), Lexie Audrey, or even Dave Teagues (John Dunsworth) or his brother Vince (Richard Donat), I would have machine gunned this malcontent right off the bat!
The situation is tragically compounded in that a new version of The Troubles has afflicted the town of Haven. The person as yet unidentified is projecting the Trouble by inducing people to have dreams in which if they are killed therein, they also perish in real life.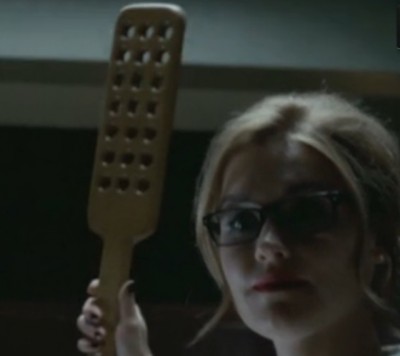 Many pasts of the entire episode is played out in the dreams including our lovely Lexie Audrey as a school teacher in Nathan's dream where, as mentioned his "little bad boy behind" is paddled by Lexie Audrey! The scene is hilarious!
Duke is afflicted with nightmares of his brother Wade that leads to a demise of the evil malcontent, and Nathan and Lexie Audrey finally coming face to face with their love for each other with well blended humor in their sequences together.
Wade Crocker's murderous rampage might not have been noticed if not for this strange new Trouble in Haven. Personally I had hoped that Wade would have just such a dream and died a horrible death for his murdering Jordan McKee.
Nathan and Audrey, back together again and each knows who the other is, start the investigation into the latest Troubled situation. Audrey appears to be struggling with the Lexie side of her character as more of Audrey's police instinct is resurfacing. Naturally, the challenge is that if someone in The Guard recognizes that she is indeed Audrey again, it will be a curtain call for our lovely Have hero when everyone demands she kill Nathan and end the curse of Haven!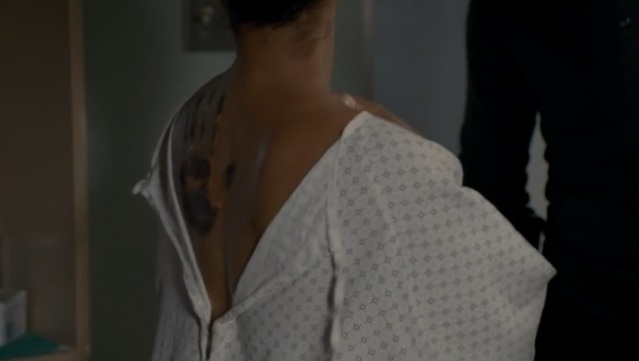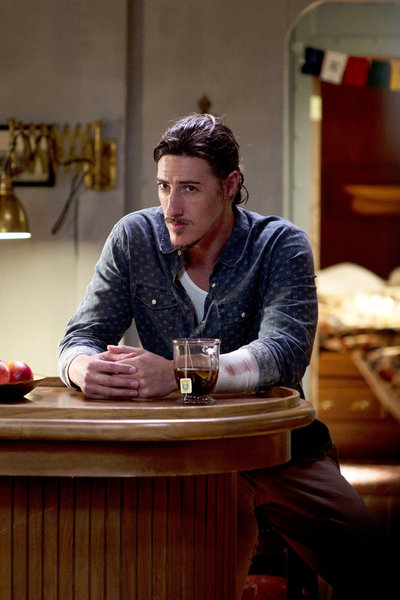 While Duke is becoming suspicious of Wade chasing down clues, Nathan and Audrey have a meeting with Vince and Dave. Here they ascertain the root cause of the new Trouble, the newspaper delivery woman named Carrie Benson who has a special mark on her back that only Lexie Audrey can see.
Poor Carrie's family has been Troubled for many generations always in effect causing people in her family to live out their dreams. Digging deeper in to the situation, they learn that Carrie was accosted by the two men in the Wormhole bar barn (hence the mark on her back). This amplified her Troubles causing non family members to become afflicted.
There are touching moments between Nathan and Lexie/Audrey/Sarah/Lucy. It is clear that FINALLY they are falling in love with each other. Audrey has a major concern; Can Nathan accept all of her various characterizations that have transcended the history of Haven?
Of course they will! Frankly, I think that the Haven Wedding we covered at New York Comic-Con this year is a hint of what will transpire. Fans of the series have been "shipping" these two characters for so long, we MUST have matrimony in the series so that Nathan and Audrey can one day have their own "bun in the ove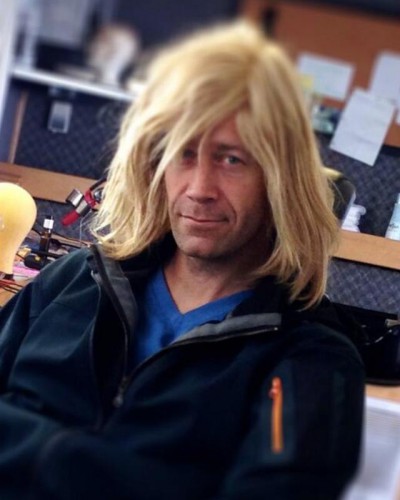 n"!
Good ole' sympathetic Audrey helps Carrie to enter a dream state to confront the problem that started when she was accosted by two men who attacked her.  It is a difficult task. Although Carrie gets injured in the dream, she survives and is able to suppress her Trouble.
Once Carrie can sleep without projecting her dream "Troubles" on the the rest of Haven, everyone is saved with the exception of Wade which we will discuss at the end of the analysis.
Of interest is that Carrie's two attackers also are the same bad guys we witnessed in the bar barn where Lexie and William (Colin Ferguson) were trapped at the beginning of the season. The next question is did these two manage to escape as well?
And if these two; what about William? Well the answer is simple, in two episodes "William" is the title so prepare for William and the two bad guys to be blended into "The Troubles" elixir!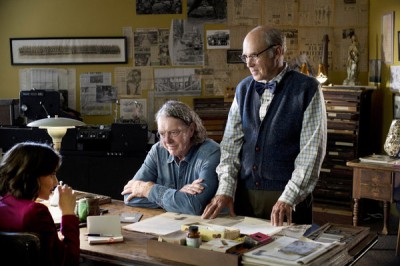 Jennifer, now back to normal, applies for employment at the Haven Herald with Vince and Dave. Always tricking people and more often bickering, this season Vince and Dave are working more closely together. They talk Jennifer into doing a background check on someone they want information about.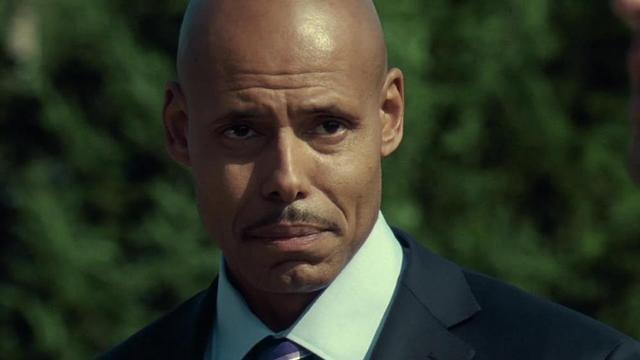 Jennifer discovers something that as I speculated on previously is true. She was related to Haven and was sent to Boston for the reason I hypothesized; her sensitivity to detect The Wormhole Barn!
When younger Jennifer's adoption was arranged by none other than Agent Howard (Maurice Dean Wint) the FBI Agent who was seen often in previous seasons is also discovered to be the caretaker of mystical place known as The Barn!
The finale answers are as I had hoped. Duke becomes suspicious of his brother Wade when he finds a knife with a broken tip on his boat. Sure enough, although Duke locks his brother up to try and protect him, Wade escape and seeks out another victim to maintain his blood lust.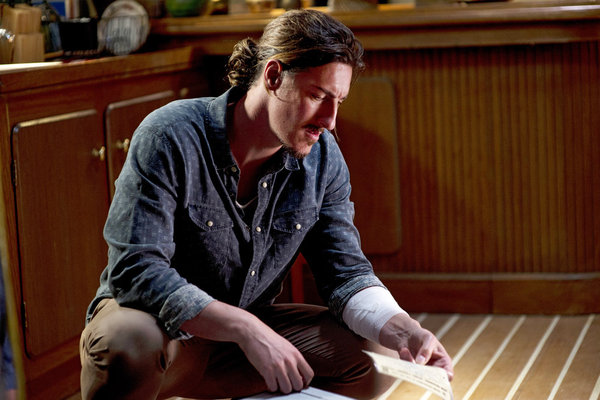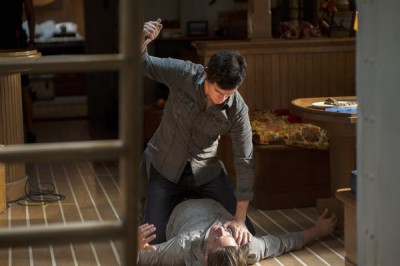 Unfortunately the would be victim of blood thirsty Wade is none other than our lovely new Haven Herald newspaper researcher Jennifer!
In the very final moments, Duke is left with no alternative; he must kill Wade in order to save Jennifer from being murdered like many others that Wade had killed to feed his addiction for more power via the Crocker family curse which has Troubled them for many generations.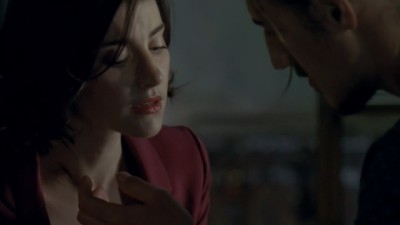 The good news is that there is a bonus for many admirers of the series, including as this reviewer theorized, once Wade was killed, Duke's version of The Troubles disappear. Duke finally free of the Crocker family curse, but also of his superhuman strength that came in handy several times.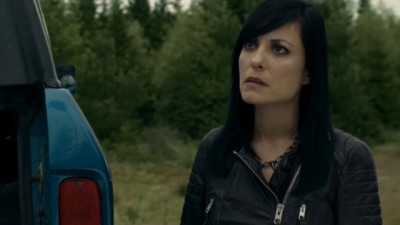 Unlike Kate Kelton's character Jordan McKee, who I wanted to last a bit longer, this reviewer is pleased that Wade Crocker the evil murderer has been eliminated. However, I also note that Christian Camargo is a fine actor who gave an outstanding performance for being so "evil"!
Perhaps the finest episode of the series, certainly the most exciting of the season, this editor gives "Lay Me Down" a well deserved "A PLUS".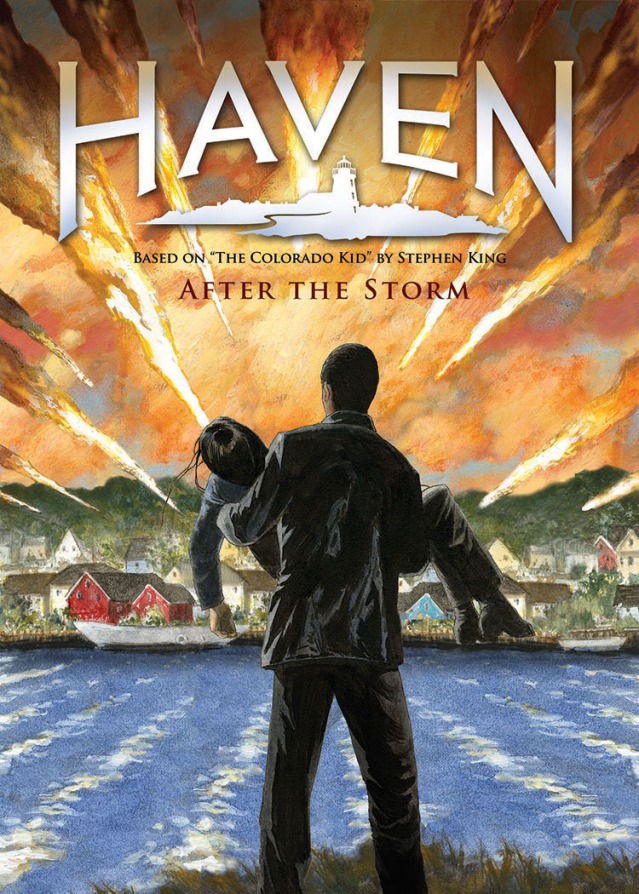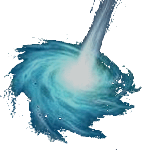 I thank you loyal visitors for reading and visiting our dedicated Haven site here at WormholeRiders News Agency.
Please feel free to leave a comment here or if you prefer, click the social media icons below to share this news article.
Or as many of our readers and visitors often do, visit WHR on Twitter, WHR on Facebook or visit me on Twitter by clicking the text links or images avatars in this news story. I and the WHR team look forward to Seeing You on The Other Side"!
Thank you.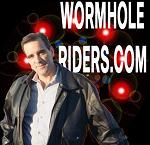 Best Regards,
Kenn