Hello my  fellow Killjoys!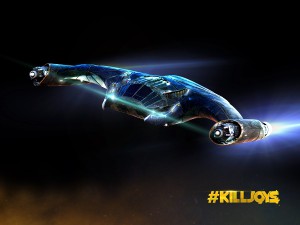 I am so happy to see our favorite Syfy show coming back at the end of June. I am also hoping that since it is now past its sophomore season, that we may see a panel at the San Diego Comic-Con 2017 this year.
My fingers are crossed. Let's all encourage Syfy and Space Channel to help get the fine team at Temple Street Productions, Michelle Lovretta and the Killjoys cast to San Diego this coming July!
I am so happy that all of our misfits, Aaron Ashmore, Hannah John-Kamen and Luke Macfarlane, Thom Allison, Nora Mclellan, Sean Beak, Morgan Kelly, and or course, everyone's favorite space craft, Tamsen McDonough (Lucy), are all coming back and ready for some more action in The Quad!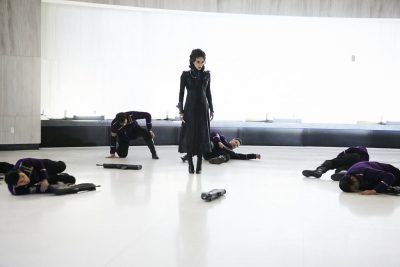 When we last left our heroes, they were thwarting plans of Level Six and what their sinister plans were for The Quad.
The title of the last episode of season two is a bit of a tongue in cheek, being, no doubt, a word play on the original and highly successful "How to Win Friends and Influence People" by Dale Carnegie.
Then again I would never expect anything less from the wonderful writers of Killjoys.
With the new season fast approaching, what will happen to our team? Science fiction shows are not normally ones I gravitate to, but there are two exceptions to that rule. One, of course, being Fringe and the other is Killjoys, both of which were on Fridays night always helping kick off my weekends.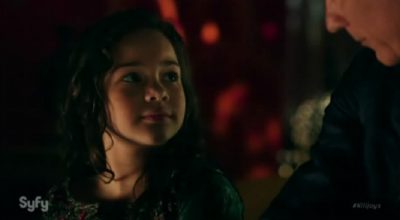 I am excited to see where the third season will go after we once again saw little Dutch. So much has happened in Season 2 that they can only go one place…or can they? The great thing about this series is that you never know what will happen with Dutch, D'avin or Johnny. There has been a bit of a fracture in the group, with a band-aid of sorts trying to piece it together, which we shall see how well that works.
I am hoping we will get some answers regarding Dutch and her "twin". With what happened in the last episode of Season 2, all of which has me wondering about Level Six. Is this really the last we will see of them?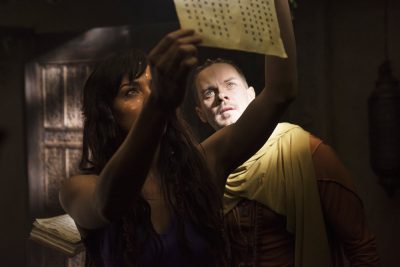 I do not really want to give away too much for those of you that have not finished or watched the final episodes of Season 2. All I know is that things have definitely taken a turn and it will be very interesting to see how the team handle that going forward.
The one aspect of this show that I really love is the relationships the characters have to each other. They are more than family and that can cause problems sometimes.
As with all shows that have strong bonds with the characters, it makes for the best kind of shows, especially where the Jaqobis and Dutch are concerned!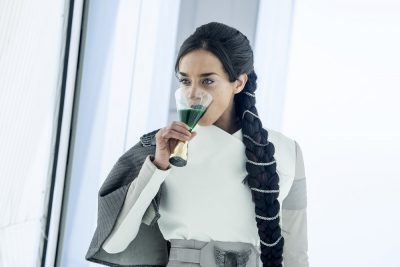 Having actors that are comfortable with both drama and comedy is always a plus. I love watching the boys be boys, especially since there has been a bit of tension (in a way) between the brothers ever since D'avin and Dutch slept together.
Even though they are blood and love each other very much, you cannot help but think that there may be some jealousy there. Not only with Johnny, but with D'avin as well.
Johnny and Dutch have a very special bond, partners are often times closer than the most bonded married couples. Dilemmas all around, but then again that's Killjoys for you.
I am certain that the new season starting in June 30, 2017 will have just as much adventure, drama, action and comedy as the previous seasons.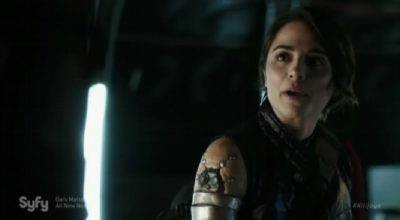 I am also hoping that maybe we will see the re-occurance of Stephanie Leonidas (Clara/Alice) who was introduced at the tail end of season 2 and left her character open ended to maybe a return.
It was nice to see Stephanie back on Syfy after Defiance ended (another favorite series of mine). We need more strong women characters like Dutch and Clara, it makes for better shows and gives women the equal footing (hopefully) to the men on the series.
Well, Killjoys, let's make sure the RAC doesn't become too much of a hassle in season 3. I guess we will have to see once season 3 starts in June. Let the adventure begin.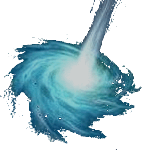 Thank you for visiting WormholeRiders News Agency. And thanks to Kenn for video embedding and additional images for my report. I will be back in the near future with more on my adventures as Killjoys returns for what I am certain will be an outstanding third season!

Please feel free to leave a comment here or If you prefer, you may also click the social media icons below to share this news article or as many of our readers and visitors often do, visit the WHR on Facebook or me on Twitter by clicking the links or images avatars in this news story.
See You on The Other Side!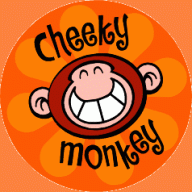 Until next time,
Regards,