Hello my fellow Killjoys!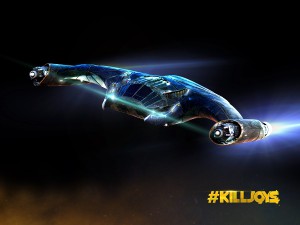 It's back! That's right Killjoys fans, Season 3 is back and nothing is being held back. It is so great to see our beloved trio back in all their glory. With the demise of Khlyen (Rob Stewart), Dutch (Hannah John-Kamen) does not really know what to do with the rest of her life, yet!
Dutch had been fighting against Khlyen for so long that she doesn't know anything else. Dutch and her band of rogue misfits take the Hullen Hive by storm, because it's what they do. One thing (among many) that I love about this series is how they write women.
All the women in lead or supporting roles have been strong, independent, smart, shrewd and most importantly flawed. That is a strength and by no means a weakness.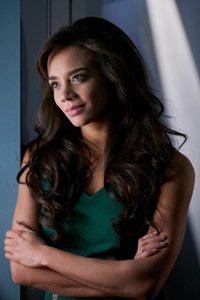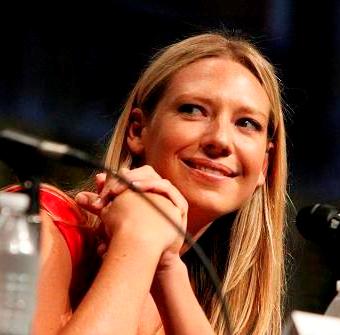 It is not very often you find women characters written well, in any genre, but for some reason science fiction, especially on Syfy, strong women characters are the exciting exception.
From Dutch whom we love in Killjoys, and Captain Kathryn Janeway (Kate Mulgrew) in Star Trek Voyager, to Olivia Dunham (Anna Torv) of Fringe, and all the way back to the 1970's with  Princess Leia (the late and incredibly genius Carrie Fisher) of Star Wars, each of these outstanding women actors were, and always will be, the absolute epitome of bad ass females, in all their definitions.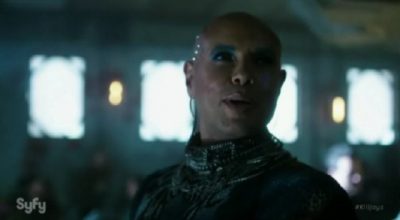 One of my favorite characters on Killjoys is Pree (Thom Allison), he always represents to me that wise-cracking gay Uncle whom you love so much. Who has been there and done it all.
Pree is also a bit of a surrogate father figure to our threesome and they love him just as much. One of my favorite lines in this episode is "aren't you just full of shit and sunshine". Just love him, he has no filter and we love him for that.
Boondoggie: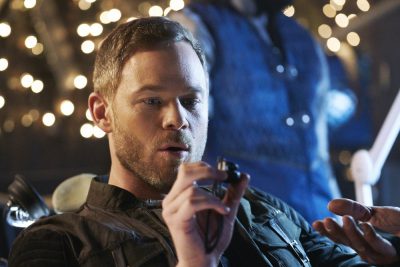 Where indeed is John Jaqobis (Aaron Ashmore)?
That is the million dollar question that I am sure every Killjoys fan is wondering as well as Dutch and D'avin (Luke Macfarlane). Ever since John's wife Pawter Simms (Sarah Power) died, he hasn't been himself.
We are left to assume that John left the two people he loves the most, Dutch and his brother D'avin because the pain he felt was simply too great. The thought of losing either of them would surely put an end to him.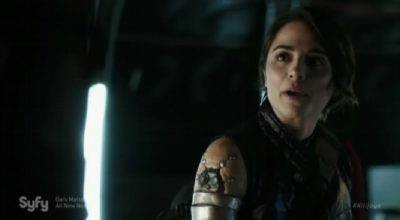 One thing that you cannot accuse John of being is not being loyal. He is to a fault, to both his friends and family, which are almost the same. John is off and running to find his friend (and Defiance alum) Clara (Stephanie Leonidas).
I was very happy to see Stephanie joining the cast, but I was sadly disappointed when Defiance was cancelled.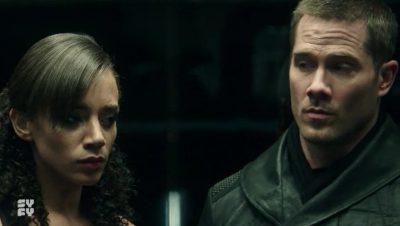 Dutch and D'avin are determined to poison more trees, but finding a Hullen body will prove a bit of a task, which I am sure they are up to.
Turin (Patrick Garrow), who reminds me so much of Gary Sinise, is always the skeptic and the monkey wrench in their plan. He is the oil to Dutch's proverbial water. It's not that he is unwilling to help, he just doesn't like to bend the rules, unlike Dutch who gives a big middle finger to the rules.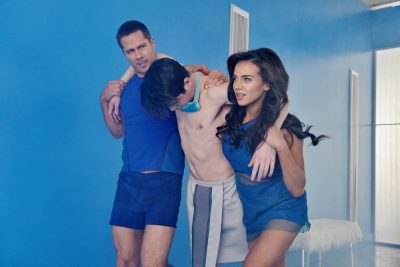 What Dutch wants, Dutch gets, especially when it comes to her "family"? She is not only trying to find John, but trying to save the Quad world.
Just your average every day task, no big deal.
D'avin and Dutch find Pippin (Atticus Mitchell) a black market dealer who they ask to help find more Hullen to help with their plan. He of course refuses and Dutch puts it to him in her way, which I love. No mincing words, she means business.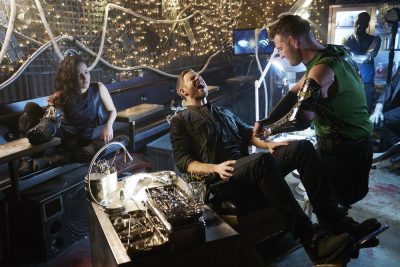 John getting some hardware attached is fun.
It is like having a new toy that you can play with, but this one is mind controlled "mod" as they are referred to in Killjoys.
What I mean to say who does not want a fancy new toy to play with?
I suspect this will bring him closer to Clara, since she is part cyborg as well. Nothing says friend like a mechanical implant modification!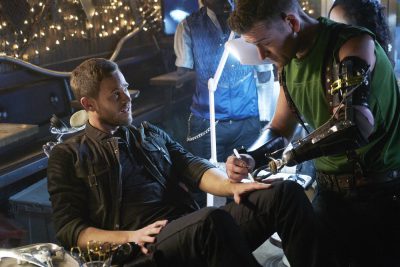 The character of John has always had an underlining fear, one that we all have, and one that makes us human.
"People keep leaving me" he says and that is terrifying. It is also the one thing that makes run far away to find Clara.
It is fundamental human trait that we all share. Being left alone or abandoned by everyone you have ever loved takes a toll on a person. It makes you a bit closed off, because if you become too attached to someone they can be taken from you in a split second. John finds that out throughout his life.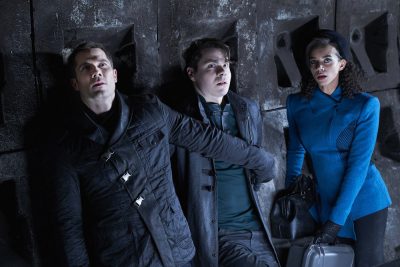 Luckily has been able to get his brother D'avin back in his life and for that we know he is grateful. It is also the one crucial thing that binds Dutch and John together.
They have both been abandoned, more times than they want to count, so they have each other and are kindred spirits in that sense. Their bond is that one of pain and fear of being lost and alone, but together they are fine and healed, sort of.
Dutch describing that monsters that invade the colony or the RAC can look just like you, I immediately think of Battlestar Galactica (the newer version) where the Cylons did indeed look just like humans.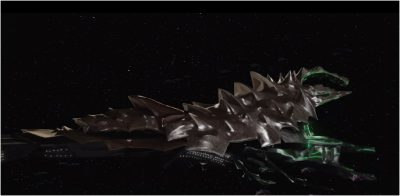 In fact, some of them didn't even know they were Cylons until "activated". Of course that is yet another sci-fi show that I miss dearly. Dutch also means that people are often not what they seem. While looking all sweet and innocent, beneath could be the heart of a demon or worse. There is no finer example of this than the cult movie (and a personal favorite of mine) The Bad Seed (1956). If you haven't seen that movie, I highly recommend it.
When the plethora of Hullen ships are discovered, it opens a whole new can of worms for the team. It isn't what they expected. The ships were cloaked, so that means that they are hiding from someone. Dutch asks Turin why and he says "that's a damn fine question" dare I say we ALL want to know the answer to that?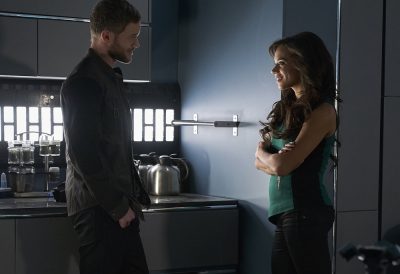 Once John's quest to find Clara is done, we learn that he intends to come back to the team. It clearly feels incomplete without him.
He is the balance between D'avin and Dutch who exchange messages near the end of the exciting episode.
This will be the glue that binds them, albeit Dutch and D'avin have their own bond as well.
But nothing like the three amigos! I am looking forward to when that happens.
Well, my fellow Killjoys, I hope you enjoyed this episode and are as excited about what will happen in season 3 as I am.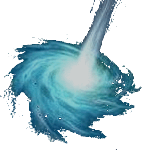 Thank you for visiting WormholeRiders News Agency. And thanks to Kenn for video embedding and additional images for my report. I will be back in the near future with more on my adventures as Killjoys returns for what I am certain will be an outstanding third season!

Please feel free to leave a comment here or If you prefer, you may also click the social media icons below to share this news article or as many of our readers and visitors often do, visit the WHR on Facebook or me on Twitter by clicking the links or images avatars in this news story.
See You on The Other Side!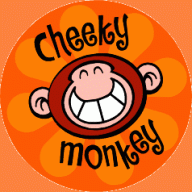 Until next time,
Regards,