Our morning started early. By early I mean we were up and out the door before 7:30 a.m. Why this insanity? Well for the Shatner/Nimoy panel of course! Unfortunately by the time we got over to the Hyatt the line was wrapped around inside the hotel, out the door, down and around the block! Holy Hannah! Needless to say there was no way we were getting into that panel. So we went to Corner Bakery for breakfast and by the time we got back to our hotel room the panel was going so we watched it on DC*TV. It was an absolutely fantastic panel. Shatner and Nimoy were hysterical!
While I was enjoying the Shatner/Nimoy panel PlayItGrand was attending the Atlantis Supergate panel which turned out to be a Paul McGillion Supergate panel.
PlayItGrand and I met up after her panel to go to the Walk of Fame to check in for our photo ops and purchase our autograph tickets. We met the lovely Julie Caitlin Brown (Babylon 5) who is managing the S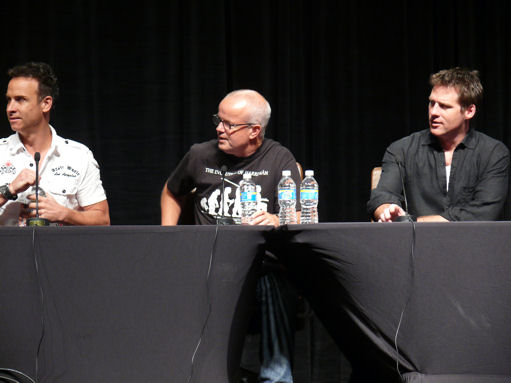 targate stars and she was absolutely wonderful. I have to say that everyone we've met so far that's connected to or has something to do with media relations for Dragon Con has been fantastic! Everyone is so helpful and being a relatively new site, we here at WormholeRiders greatly appreciate their support!

Afterward PlayItGrand and I went to get in line for the SG-1 Supergate panel. It was great! Ben Browder, Gary Jones and Colin Cunningham. FANTASTIC! We were laughing so hard! Don't worry, we'll give you the full report later!
A quick change after the panel and I was in my DRD costume! White Rabite (dressed as the One Eye DRD) and I (1812) went and had our photo taken with the amazingly handsome Mr. Ben Browder. The best part was that he got a big kick out of our costumes! His compliments made our day. The photo was taken by Craig Damon photography and we were really impressed! We even got to talk to Ben for a little bit. What a great experience! We'll definitely do photos through Craig Damon again.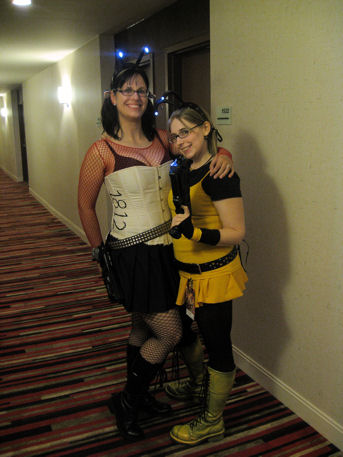 When we were done with our pictures White Rabite and I cruised on over to the Walk of Fame and chatted with the gorgeous and ethereal Virginia Hey (Zhaan on Farscape). I love talking to Virginia. She's so friendly and very interesting! I purchased a meditation CD for me and Radio. I can't wait to try it out! My husband and I purchase the candles that she makes. If you haven't tried them I highly recommend you do! They're FANTASTIC! She also sells perfume.
We met up with the rest of our group and reunited with PlayItGrand and after a quick dinner we went over to the Marriott and checked out the costumes. White Rabite and I were really flattered that several people asked for our picture. There are still plenty of Farscape fans out there!
Later tonight (1:30 a.m.) we're going to see Abney Park in concert. Then it's off to bed!
Tomorrow PlayItGrand and I have our photo op with Ben Browder and Claudia Black. We're so excited! Then it's time for autographs and the back to back Stargate Supergate and Farscape Mega panels!
We've got plenty of awesome surprises in store for you so keep checking the blog and our Twitters! As the con goes on things are going to be getting more and more exciting!!
I'm off for now! There's plenty of con left tonight!!!!
Later Gators!
RadioStar