This Creation Entertainment weekend was, well, epic.
There's not really another way to put it, except perhaps to quote my fellow reporter, Meagan, and say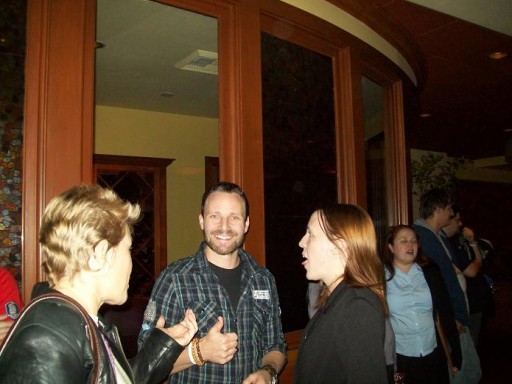 that it was "excellentabulously Claud-frelling-tastic", which may be a mixture of made-up words, but at least it's an accurate one.  I doubt I've ever had a better time than I did this past weekend, nor have I spent my time in a better way.  All of our activities have been listed in prior posts, so I'll provide just a few of the highlights of the Farscape convention in this one.
On Thursday, I arrived in Los Angeles.  I was so excited the night before that I woke up almost every hour to check how much longer

I would have to wait until I got there.  O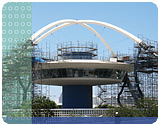 n the plane, I freaked out the guy who sat beside me with my giant grin of anticipation.  I called MeaganSue as soon as I got into the airport and it wasn't long before I saw her standing at the bottom of the escalator.  We hugged and squee'd about finally being there.  Later that night, I had the pleasure of meeting a few of my other online friends, as well; Carlo, Matt and Jael (Vala).  It was as though we'd known each other for ages.  It was amazing
to finally meet in person the people I'd been chatting with for so long., not to mention how wonderful Cliff Simon and Ryan Robbins were!

Friday was a busy day.  We started off with registration and then discovered the table where Virginia Hey, Gigi Edgley, Pa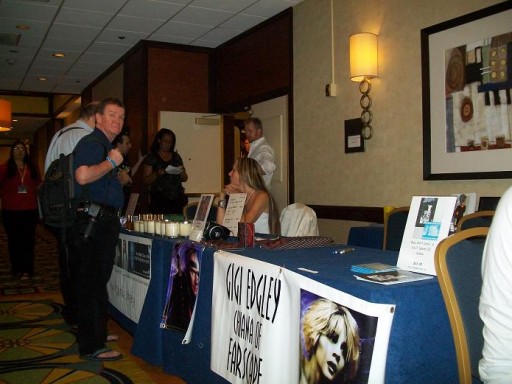 ul Goddard and Lani Tupu were selling their various works of art, CDs, candles, comic books, etc.
We went up to look at everything, espec
ially Virginia's candles, as had been recommended them to us.  We ended up chatting with Virginia for a very long time, and what was really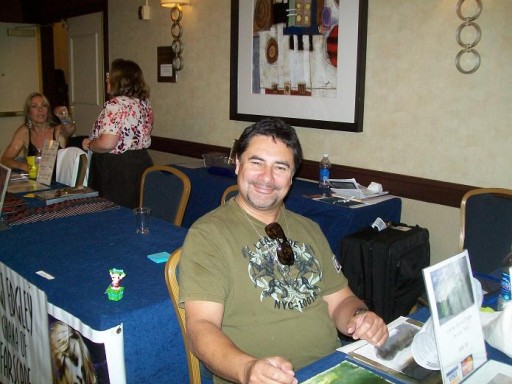 cool was that she was easy to talk to, so you almost forgot who you were conversing with.  It wasn't until later that we realized how cool that was.  We also got to talk with Gigi for a few minutes when we each purchased a copy of her CD and comic book, which she signed and
personalized for us.  All four of them were really nice.
We attended a few panels, including Virginia Hey's – where she told a funny story about Anthony Simcoe and butter, and now I will never look at butter the same way again.  At night, there was the cabaret.  Wayne Pygram was sick, so he could not perform.  Gigi Edgley pulled up audience members to act out a play about her life with her.  Rebecca Riggs performed a skit about motherhood and received a standing ovation.  Finally, David Franklin told the story of Grayza and Bracca after Peacekeeper Wars when they got married, had nontuplets and pulled a lot of crazy schemes to get rich.  All three of them were absolutely hilarious and a treat to watch.
Hands down, the best part of the day would have to be the karaoke party, if for no other reason than MeaganSue's duet with Ryan Robbins.  I'm sure everyone has seen the video by now, but it was awesome.  I was geeking ou
t for her!  The best part would definitely have to be that he was the one that pulled her on stage.  She kept refusing, but with enough peer pressure from the rest of us, she finally caved.  All weekend after, people kept stopping her to say they loved her karaoke.  I'd say this was a mission accomplished!  By the by, if any of you haven't seen the video, you're really missing out and should go watch it immediately.  We also met some awesome Scapers and hung out in the lobby chatting with them for several hours after the karaoke party ended.
Saturday was a very busy day.  We woke up early and met up with some more Scapers in the lobby of the hotel.  I discovered a few of them actually live quite close to me, and they told me to email them about joining in on their monthly lunches.
The first item on our agenda afterwards was Ben Browder's panel.  I told myself I'd ask at least one question to a celebrity on stage this
weekend, so I chose him.  I asked what he would miss the most, besides family and friends, if he was shot through a wormhole, like Crichton, to the far end of the universe.  Sadly, I had begun losing my voice from an allergic reaction the night before (and the screaming I did at all the panels wasn't helping), so he had some difficulty hearing me.  He also made fun of people who name their cell phones and it took all my energy not to make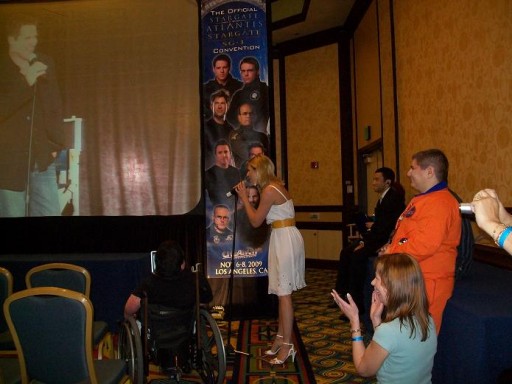 a joke about my phone, who happens to be named Kalliope.  It was also great when Gigi, Paul and Lani dropped in.  The whole thing was pretty hilarious.
We went to a few other great panels, including the Farscape reunion and Brian Henson (note: WHR reporter with more images has flu! Will update this post after her recovery), as well as attended the dessert party, but I would say the highlight of the night for me was meeting a huge group of fellow Scapers in the lobby.  We spent hours with them – though I'm unsure of the exact amount of time.  I do know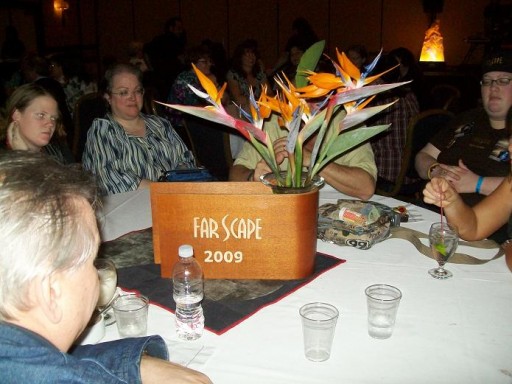 that it was because of them that we didn't make it back to the hotel room until about 3am Sunday morning.  Not that it was a bad thing.  I've come to the conclusion now that Scapers are the best partiers and some of the most fun people to hang out with.
Sunday was an amazing day.  It was completely packed full of jam.  First, we had all of our photo ops.  The ones with Claudia (that being the dual ops with her and Ben Browder, as well as the group
photo for Claudia Black Online members) were fairly rushed, sadly, although I did thoroughly enjoy the face she made in MeaganSue's photos.  After her, came the photos with Michael Shanks.  He told me he loved my shirt, which read, "Where's my Daniel?" and then posed for the photo.  I totally got a hug.  I'm going to slip int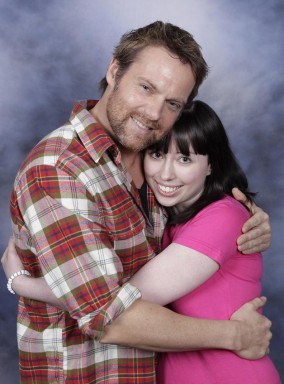 o fangirl mode for a moment and say, he has really great arms!  All three of them were totally gorgeous in person.  Unfairly gorgeous.
Between photo ops and panels, we also managed to score interviews with two Farscape stars: Lani Tupu and Virginia Hey.  These were the first celebrity interviews I've ever been a part of, though sadly I couldn't ask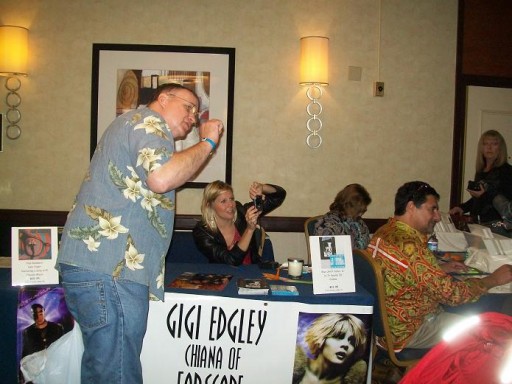 any questions, as I still had almost no voice.  What a time to lose the ability to speak, huh?  Still, it was really cool to be a part of it.  Both of them are fabulous and very kind to agree to the short interviews.  I hope you all enjoy watching them when they are posted!
Then, it was time for the panel I'd been waiting all weekend for: Ben Browder and Claudia Black.  There's only one way to describe this panel – incredible.  Ben showed up late and Claudia joked about having to wait for a man.  Claudia ate her lunch on stage during the panel, and at one point she also fed Ben a bite.  She sent him into a time-out, which she said wouldn't be short, since it was one minute for every year of his age.  The whole thing was utterly hilarious, and there were very few moments, it seemed, where the audience was not clapping, laughing or cheering for them.  I felt so lucky to get to be there for it.
At the end of the panel, a child dre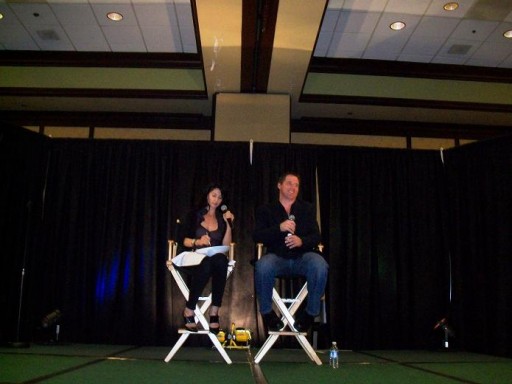 ssed in a Batman costume ran up beside the stage.  No one really thought much of it until Claudia looked at him and cooed, "You came!"  She asked him if he wanted to come onstage, then picked him up and brought him up with her.  They exchanged whispers in each other's ears and Ben told us to give them a moment.  She sat down and they continued chatting quietly.  Everyone was sort of just watching them quietly.  By then, we'd all figured out that this was her oldest son that was onstage and I think everyone was shocked, since she lives such a private life.  She held the microphone up again and said he was nervous, but if he took his mask off, to please not take any photos.  An incredible thing happened – everyone in the room put down their cameras; at least, everyone that I could see.  He did take off his mask a moment later.  He was adorable, by the way, but out of respect to Claudia, I won't describe him any further.
The panel was over fairly quickly after that and it was time for the cocktail party.  Both of her kids were there for that, running around the room and jumping on and off of her lap.  I just want to mention that from what I saw, she's a great mother.  She talked to our table first.  She discussed her new film – which sounded like a slasher movie – which also will star French Stewart and Brian Krause.  She also said that she loved that these conventions are about more th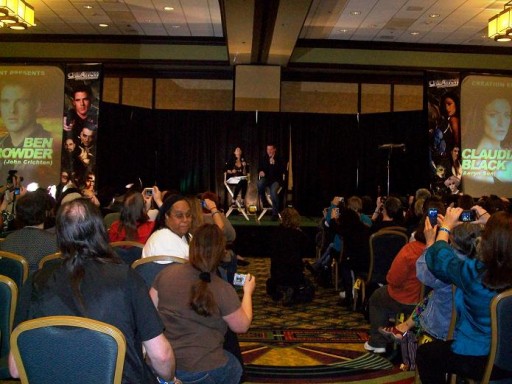 an just the actors, but also about the friendships which form through the show.  She added that she wouldn't have brought her kids to any other convention and she thought they wouldn't want to come to this one, but that in part of her mind she knew they would just because she thought they wouldn't.
The only activity left to do was to present Claudia with the gift the members of Claudia Black Online had created for her.  It was a geography trivia game about all of the different countries the members are from.  I almost missed this, but thankfully Matt, Carlo and Jael found me before they gave it to her.  She looked surprised when she saw the group of us walk in.  Leslie (Lady Halfling) explained it to her and placed it on the table in front of her.  She thanked us and said, "What better way to teach my children about geography, than, you know, their mama's career?"  She seemed to enjoy it and think it was very creative.
There was a little chatter and then I said that I'd had the pleasure of meeting her at Polaris and that it had pretty much made my whole summer.  I felt like a bit of an idiot after that last part.  She said thank you and without hesitation added, "You cut your hair."  I told her I had dyed it and she replied that it was a very nice color and really suits me.  I don't really remember what happened afterwards, for the main fact that I was shocked that she remembered me enough to notice a change in my hair!  Okay, that was my other fangirl moment.  Hey, I kept it together for most of the convention, but I'm only human.
We spent the rest of the evening with more Scapers, but alas they slowly trickled out and eventually MeaganSue and I decided we should go back to our hotel room.  The weekend was over, and believe me, that was a depressing thought.  As I said, it was one of the most fun we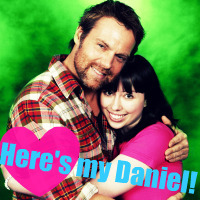 ekends I've ever had.  I'm already planning my trip for next year!  Hope to see at least some of you there!
Thank you for reading!
ValaBlack