Welcome to our alien analysis about The Neighbors!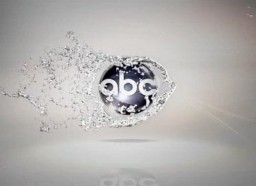 This episode was co-written by Michael Feldman and Debbie Jhoon. "Man, Actually" was ably directed by Jeffrey Walker.
Man, Actually:
As always, the episode begins at the Weaver house. Debbie (Jami Gertz) is getting ready for her first day of business school and fretting that she might not look the part. Asking Marty (Lenny Venito) what he thinks appears to be a waste of time. He has no idea what he should say. His response of choice seems to be the deer in the headlights look.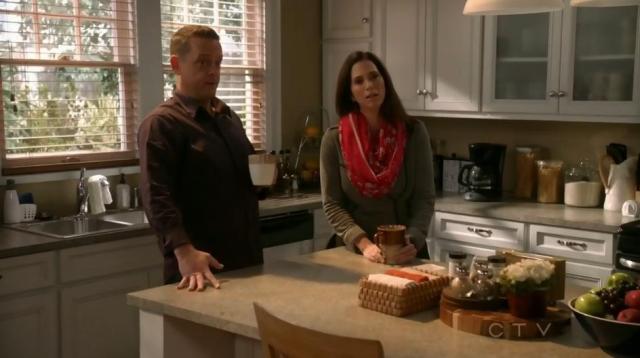 Amber (Clara Mamet) strolls into the kitchen in her p.j's with the minimal effort of a cold as an excuse not to go to school. Debbie is not buying it. Amber is grieving for Reggie (Tim Jo), Debbie is sure. Since she is not going to be at hand to comfort her oldest child, she is leaving it to Marty, who has promised to help transition everyone to the new routine. Any time now, Jackie (Toks Olagundoye) and Larry (Simon Templeman) should be making an appearance…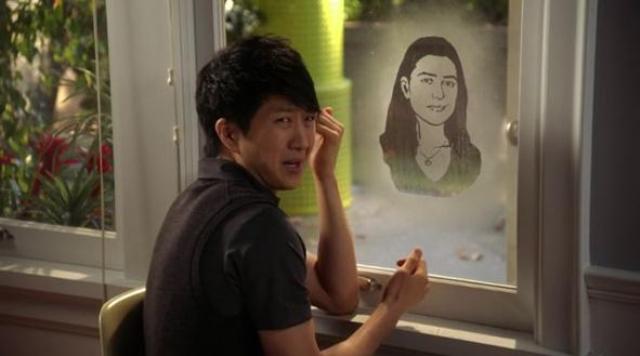 Well, not exactly show up at the Weavers. To change things up a bit, the aliens next door have actually remained next door, in their home. However, Reggie is still pining away, and not for Jane (Megan Park).
Neither Larry nor Jackie seems to be overly concerned about Reggie. Instead, Larry is practicing making coffee. Since none of them eat or drink human food, I assume that the sink is getting a great deal of use as coffee goes down the drain.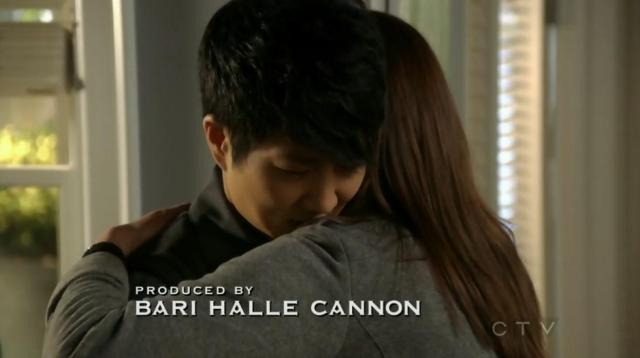 Debbie has arrived just in time to feel sorry for Reggie. She gives him a hug. The poor young man – even his hair is sad. It turns out that is not the only problem. Both Larry and Reggie are going through their once a year cycle making them more emotional than usual.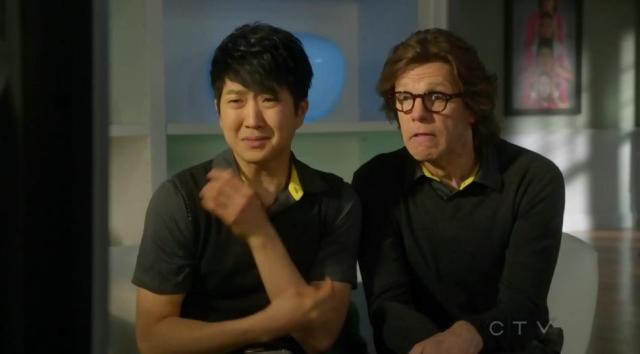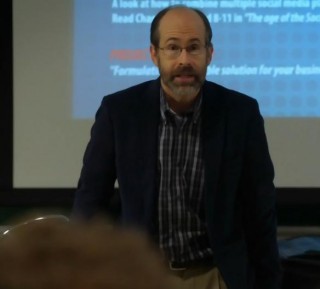 At school, Debbie discovers that her professor (Brian Huskey) is attracted to her. This sends her into a tizzy. It must be terrible to have an instructor who finds you attractive, or anyone else, for that matter.
Speaking about being attractive, or in this case, feeling unattractive, Larry thinks he is bloated, despising the way he looks in his human body. Jackie arrives less than pleased with Dick's latest remarks. The conversation quickly devolves into Larry's remark that he is allowed to have feelings too, "Don't just blame it on my gentleman time".
Back at the Weavers, Marty tells Amber that he has to watch Love Actually for work. He is clumsily trying to be a good father. One of the things I love about this family show is that the parents in the show try in earnest to be good parents, most of the time. They are not perfect, but they try and they admit their mistakes.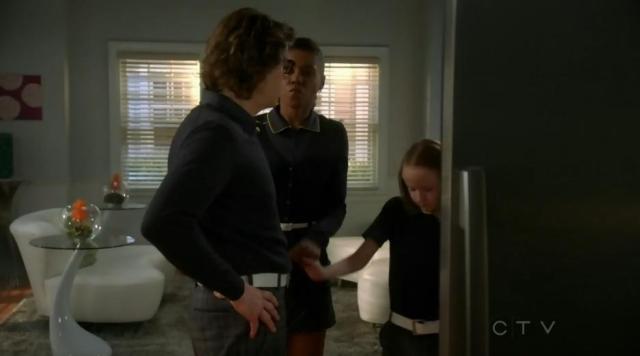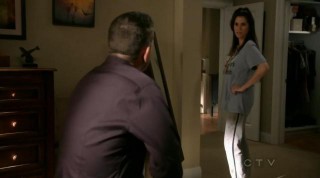 Debbie demonstrates her devotion to her family through her concern that she might be inadvertently leading on her college instructor. Her mistake, however, is in asking Marty to tell her which outfit makes her look the most hideous.
You would think she would already know that Marty cannot tell her these things from her earlier need to get an answer from Jackie about her first outfit. In this case, though, she completely misses the boat (not the same boat as the one from last week's episode).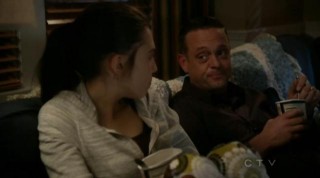 Dick Butkus (Ian Patrick) is out of control. He drives the family golf cart through the closed garage door, doing a fair bit of damage. This vexes Jackie.
While this is going on, Marty, completely out of his depth gives up on telling Debbie how she looks, flops onto the couch and finally gets the opportunity to watch "Love, Actually" with Amber.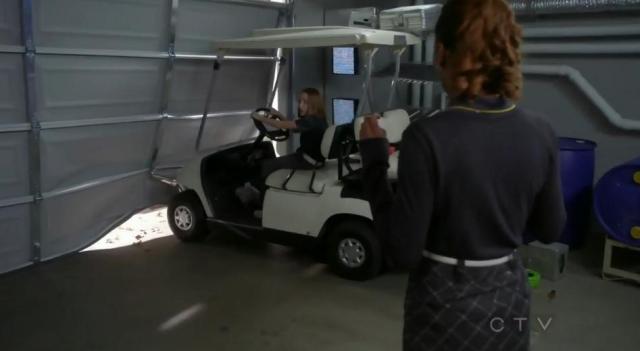 We have not forgotten the teen angst of poor Reggie Jackson. He is miserable with Larry at Larry's place of employment, the coffee shop. Larry decrees that a stage should be built so that Reggie can sing about his broken heart. Yeah, this is going to end well, not.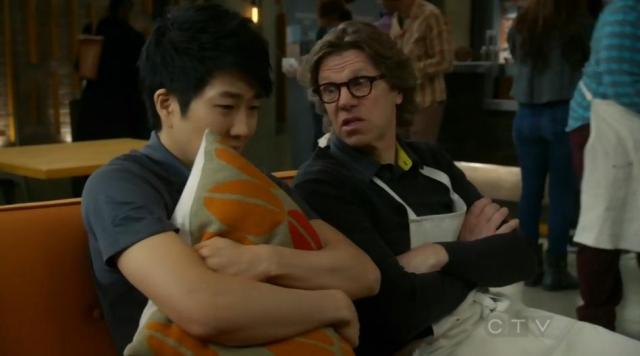 At the same time, Marty and Amber finally have a heart to heart about love and how it should be expressed. Marty tells Amber to go and talk to Reggie. Again, this is not going to go well.
Later, Marty catches up with Debbie as she complains to her new professor about her husband. Marty comes through by giving Debbie a wonderful speech about how he really feels about her, just like in Love, Actually. Naturally, this is not a turn on for the prof.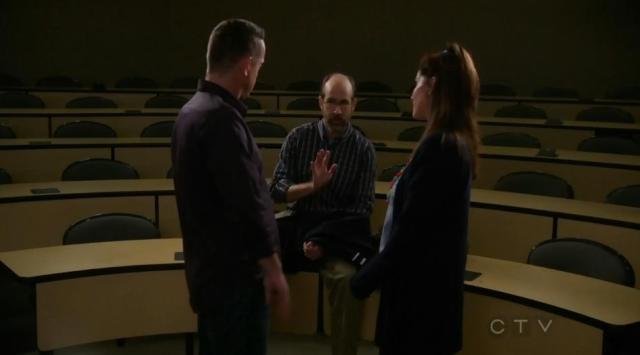 We learn, through another heart to heart between Jackie and Dick, that Dick is actually her favorite because she can depend on him when Reggie and Larry are acting like lunatics; which seems to happen fairly often.
It is nice to hear Reggie sing a love song to Amber. Sadly, however, she does not stay around long enough to listen to the whole thing. This is not surprising, since she has developed the belief that Reggie no longer cares about her. Reggie also has the same belief that Amber no longer cares about him.
Despite the fact that I believe the writers are manipulating the viewers by dragging this love triangle out for every wrung out tissue they can get, there is a part of me that would like to see Reggie and Amber get together. I have to wonder what will happen if this series goes on for another four or five years.
This lovers misunderstanding cannot possibly go on that long. I suspect that Megan Park, who plays Jane may be replacing Amber on the show because she has a much larger fan following thanks to her work on another ABC series, The Secret Life of the American Teenager.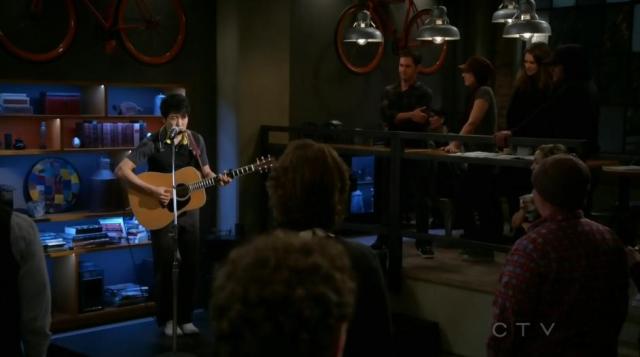 This episode was not among my favorites because I felt a little manipulated by the writers. There were some good moments, however. Simon Templeman, to me, continues to be the star of the show. His facial expressions and comedic timing are brilliant.
Toks Olagundoye is adorably sweet. I would truly love to have her as one of my friends because she seems so genuine in her acting ability as the alien mom. I also enjoy Lenny Venito as the average working man character. He excels at his earnest do the right thing husband/parent persona. Tim Jo also shows real talent as the confused in love teenager. He will have a great future in entertainment.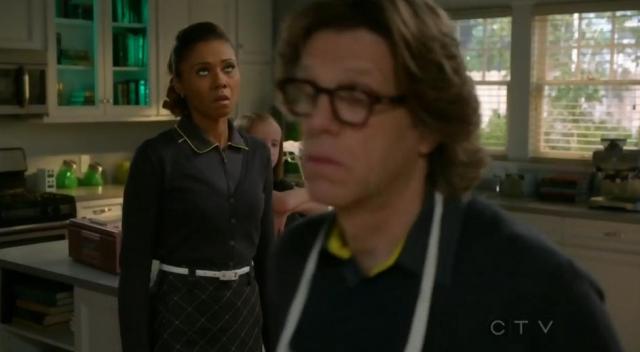 I do hope this show comes back for a third season. There is great potential if the writers can think a little bit further out of the box.
Great Lines
Reggie: "Oh, God, I can smell amber's DNA on you".
Jackie: "I'm all alone here, Debbie. Just me, a petulant young boy and two overly emotional grown men".
Larry (to Reggie): "My little tickle me emo…"
Jackie: (to Dick): "Why do you think Reggie is our favorite?"
Dick: "Oh, I don't know. Maybe because he goes through one break-up and, suddenly, everyone forgets the Butkus".
Larry: "Once a year, we Zavbronian men have a unique perspective on the world. Unlike human males, who replace their emotions with machismo and meaningless grunts, we can actually show our emotions in all their raw glory".
Marty (to Amber): "Is there anyone that Hugh Grant doesn't have chemistry with"?
Amber: "You could put him next to a toaster and I'd think they belong together".
Marty: "That explains Andee MacDowell".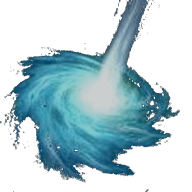 Thanks to Kenn for final staging of the audio video embeds and images in this news article and thanks to you for stopping by WormholeRiders News Agency!!
We look forward to seeing more of you here at our review site dedicated to our wonderful aliens friends known as The Neighbors!
Please feel free to leave a comment here, click an icon below to share this interview with your friends, or you can visit and follow me on Twitter by clicking on my avatar to the right.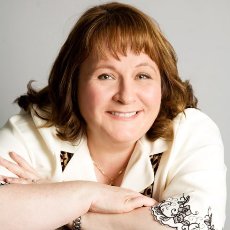 Regards,
Thank you.
ArcticGoddess1 (Patricia)