Welcome to our alien analysis about The Neighbors!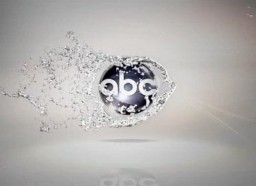 As a season or series finale, There Goes The Neighbor Hood was well done and entertaining. There is the cliff hanger of how will the remaining aliens go on now that they're down to only the four of them. Yet, were this to be the final episode of The Neighbors, everyone is still happy.
The family sticks together, as families should.  It was nice to see how Reggie (Tim Jo) and Dick's (Ian Patrick) opinions evolved throughout the episode, with both choosing the less-selfish route and standing with their parents as the last aliens on earth. Marty (Lenny Venito) and Debbie (Jami Gertz) are very supportive of their friends, rather than terrified of them, as they were at the beginning of the series.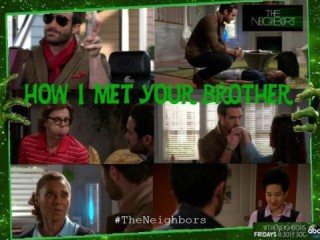 I cannot help but wonder if this will be the last that Larry (Simon Templeman) and Jackie (Toks Olagundoye) see of Grandpa (George Takei), or of Jackie's parents, played by Meredith Baxter and Reginald VelJohnson.
What about the underground bunker complex? It never really got used to complete effect. Hopefully, in season three, if ABC permits the show to have another opportunity to move forward, we will get to see more of the alien interior.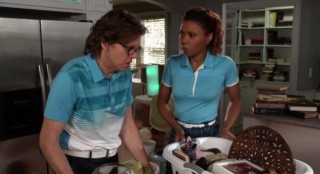 Of course, the show itself gets the last laugh.  There is the plethora of cancellation and critical commentary jokes throughout the episode, beginning with Jackie recapping the plot for "those two Tim Allen fans who accidentally tuned in," and following through to Larry's uncertainty about what this time next year will look like.  
To which Jackie suggests "Wednesdays?" and Reggie adds 'I've heard whispers about ABC Family." Larry finishes confidently with, "No one thought we would last this long, but we did, and so help me, we will do it again."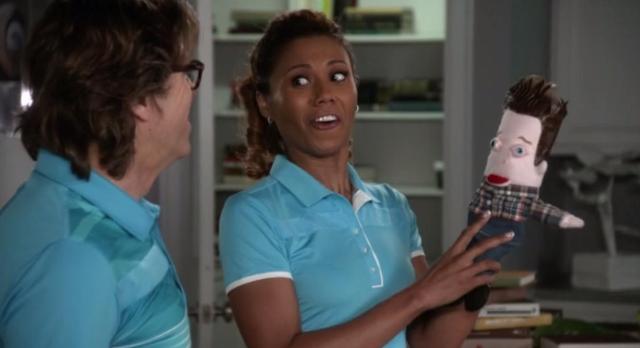 There Goes The Neighbors Hood:
How much for an alien? Johnny Unitas (Patrick O'Sullivan) is selling his soul mate for $100.00. Jeff, the Jazzy one, who has initiated all of this upset, adds more to the mix by telling him that she is not worth it. He changes the sign to "Cheap". You're a mean one, Mr. Jazz. Personally, I would like one of those flying saucers.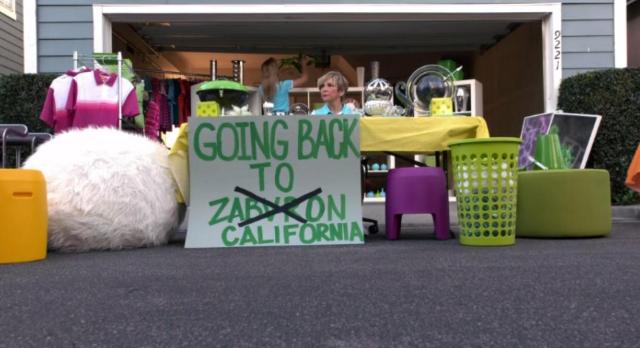 Yes, The Neighbors are going home, to the tune of "Leaving On A Jet Plane". No one seems to be too upset about it, however, except Larry Bird and Jackie Joyner-Kersee, our stalwart, immovable aliens/friends.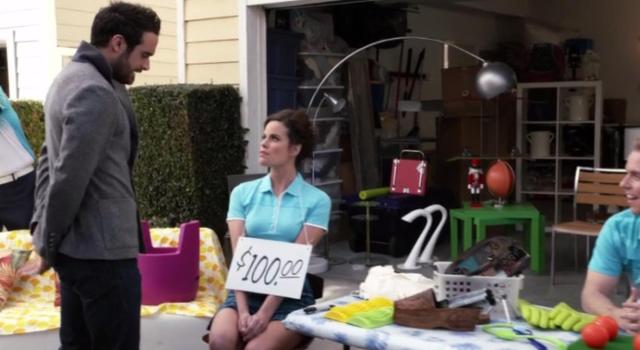 Max (Max Charles) and Abby (Isabella Cramp) are acting out the thoughts of most of the viewers of the show – they are trying to stow away so they can go to outer space. Darned right, kids. I am with you.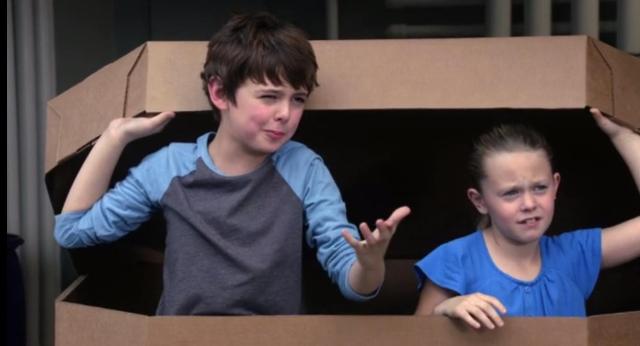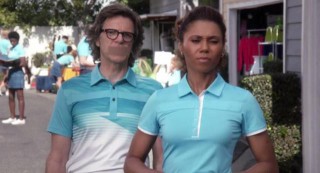 Amid the garage sale of weird, quirky items, Jackie prompts Larry to reminisce about past neighbor exploits, just to be sure they are doing the right thing. The toothpick statue of Marty, the animated gingerbread man and the puppet of Marty all get their turn to shine once again.
Despite lots of clues from Larry, most of them involving his left arm, Jackie does not seem to clue in that Larry has more on his mind than the community leaving. He does seem to spend more time in the bathroom than normal, however.
As Reggie sends Dick off on a quest to find his magic human pill, Dick discovers Larry in the bathroom, of course. This is when Larry announces that he is pregnant. All everyone wonders throughout the remainder of the episode is "What hole will the baby come out of?"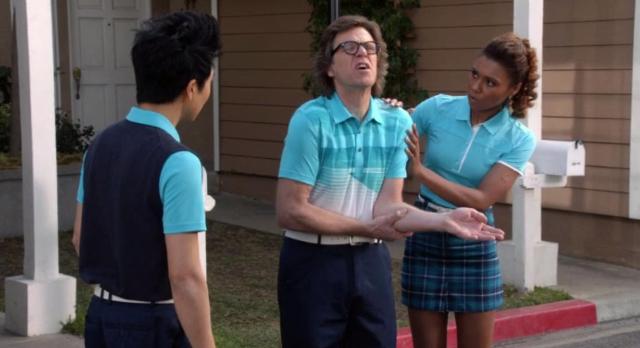 Larry and Jackie, once decided, work to convince everyone that they should stay on Earth.  The Weavers have settled things with their neighbors/best friends, helping Larry and Jackie see that maybe they can survive on Earth – "That's what family is."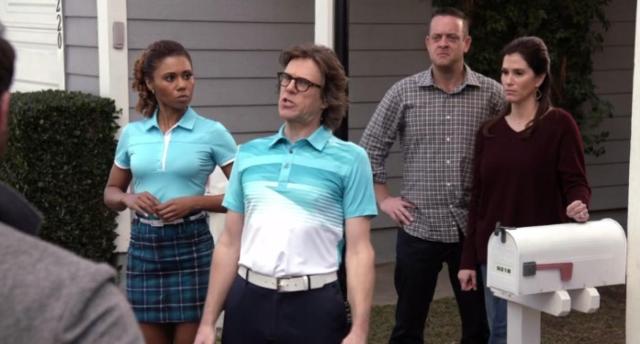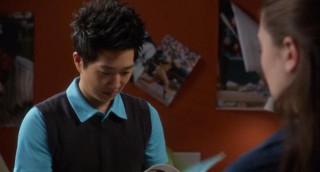 Meanwhile, Amber (Clara Mamet) is doing her best to make sure Reggie doesn't make a drastic life decision just because of her.  
Last week, as part of his plan to incite a riot amongst the Zabvronians, DJ Jazzy Jeff (Joshua Sasse) gave his nephew a pill that would allow him to become human.  
And though Reggie is excited for the change upon his reunion with Amber, who is not so sure she is ready for him to take on the reality of humanity (which, in this case includes pooping, balding, and becoming a true Asian).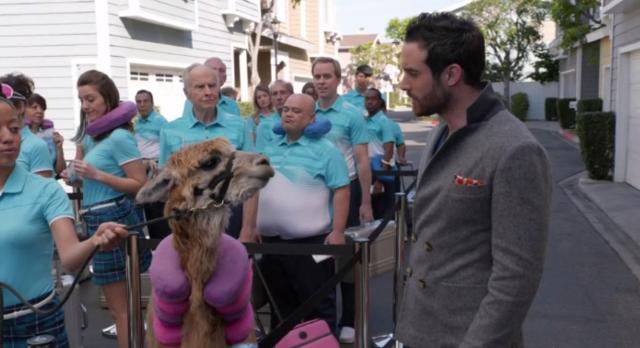 It is time to leave. Everyone, including Jeff have their boarding passes and are lined up, as if they were taking a flight on an ordinary air line, including Kevin, the alpaca. We find out at this point that Kevin is the brunt of a joke. He is the Zabvronian who was told that everyone was coming to Earth as alpacas. Poor Kevin.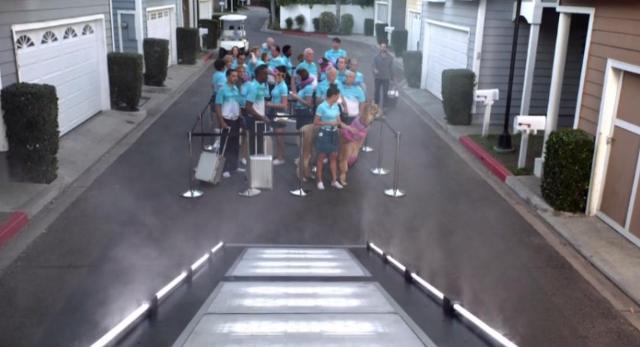 Larry receives a final message from his father telling him that he is a failure. Then Jeff tells him, goodbye forever. Things look pretty bleak for Larry. Larry admits, "I just don't know what to do now. I don't know what's next". Nor do we, Larry. Nor do we.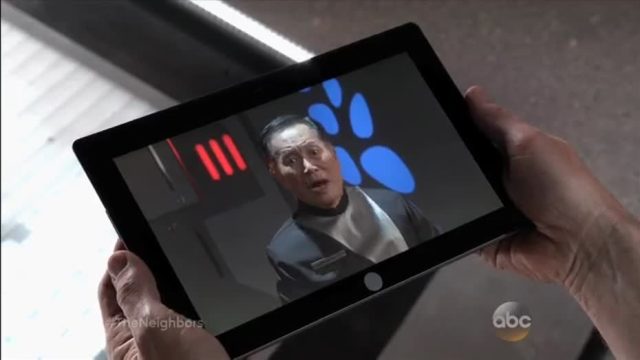 It is not only impossible, but unfair to hold The Neighbors up against traditional sit-com standards.  While other shows play on long-standing tropes and story lines The Neighbors basically has no rules.  It's a show about humans with aliens for neighbors – literally anything goes! The show has embraced musicals, the Oscars, family holidays and even visits by the inlaws, all in a quirky yet hilarious way.
Yet, while Larry is carrying a baby in his back, Dick is a mosquito magnet, and everyone has the name of a famous athlete, the show continues to be an endearing beacon amongst relatively predictable family comedies.  Regardless of the oddities, The Neighbors speaks volumes about what really matters in good friends and loving family – and what makes that message great is that the oddity of it all is not important.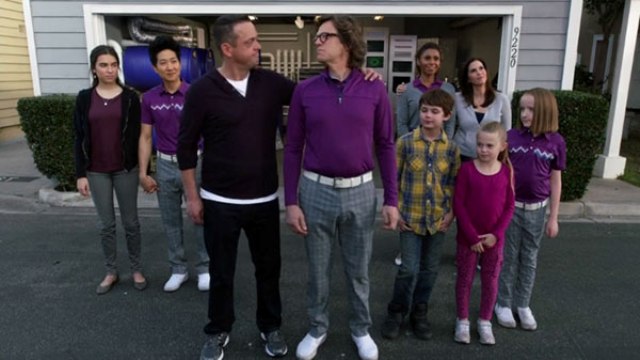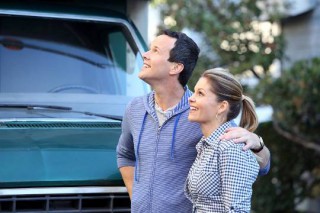 The show has continued to be funny.  It uses comedy that does not put down others and the show, while dealing with adult humour, keeps it clean. It is not vulgar as some comedies have become.
In the past two seasons The Neighbors has developed more of its style, and is brave in showing it off, breaking the fourth wall and constantly referencing and remarking about popular culture.
I, for one, hope that The Neighbors comes back for a third season. It is too good not to. As Larry says, "we can rebuild this community. We just need to stick together". Well said, Larry.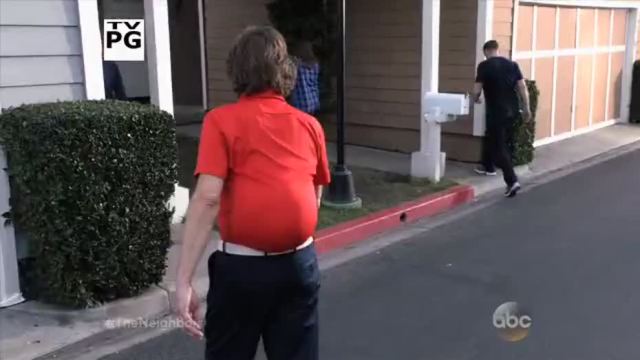 Best Lines
Amber: "Before you were a Zabvronian, and now you'll just be an Asian guy".
Reggie: "No, I'm going to work really hard and excel at Math and violin to distinguish myself. Oh, my god, I'm not only going to be human, I'm going to be Asian. Does that mean I can't Karaoke anymore?"
Reggie: "As the youngest Zabvronian, Dick was born with a heightened sense of smell. You follow?"
Amber: "No, but this is the kind of stuff I'm going to miss".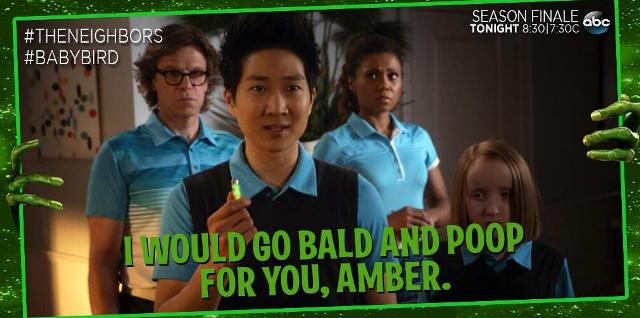 Jackie: "We're never going to see the Weavers again, are we?"
Larry: "With the time change, they'll be dead by the time we get back to Zabvron".
Larry: "What about Dick? Do you want him to become just another spoiled Harvard grad destined for the Simpson's writer's room?"
Debbie: "Jackie, we found this in our bathroom".
Jackie: "It's beautiful. What is it? Can I hold it?"
Marty: "Jackie, it's a pregnancy test. You pee on it and it tells you if you're pregnant."
Jackie: "What does it tell you if you poop on it – the weather?"
Larry: "I have a little baby bird nestling in my back".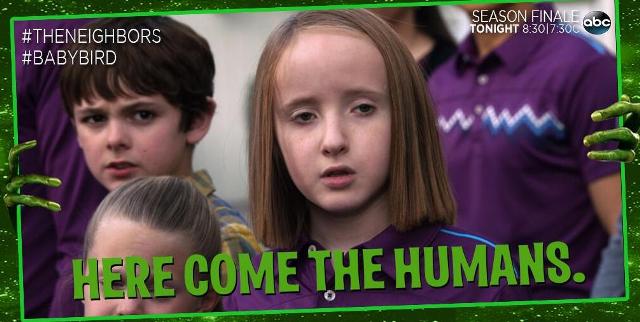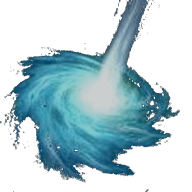 Thanks to Kenn for final staging of the audio video embeds and images in this news article and thanks to you for stopping by WormholeRiders News Agency!!
We look forward to seeing more of you here at our review site dedicated to our wonderful aliens friends known as The Neighbors!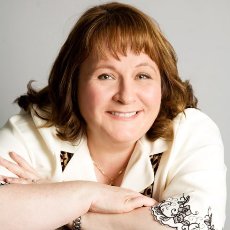 Please feel free to leave a comment here, click an icon below to share this interview with your friends, or you can visit and follow me on Twitter by clicking on my avatar to the right.
Regards,
Thank you.
ArcticGoddess1 (Patricia)