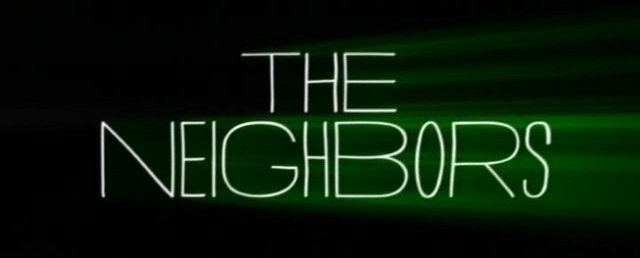 Welcome back for more of The Neighbors!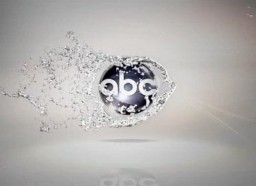 How do you explain the concept of death to a child? How do you explain it to a group of aliens – and not initiate a huge misunderstanding?
Well, there have been misunderstandings with everything else that the aliens have come across in The Neighbors, why not death.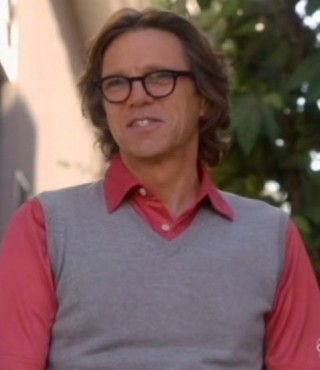 This episode begins with Juan (Bert Rosario), the gardener, taking Max (Max Charles) for a ride down the access road to our favorite gated community. Larry Bird (Simon Templeman) seems to have quite a strong liking for, "the bringer of flowers, cutter of grass". We have saved and posted the photo of happy Larry for you, because Larry's joy will not last long.
Larry's newest sensation, which does not turn out to be as big a deal as perhaps we had hoped, and his first food experience, is a very tasty looking cheeseburger, courtesy of Marty Weaver (Lenny Venito).  Larry tastes it, and decides that he does not like it. Perhaps if Marty had added a couple of jalapeno peppers, Larry would like it better.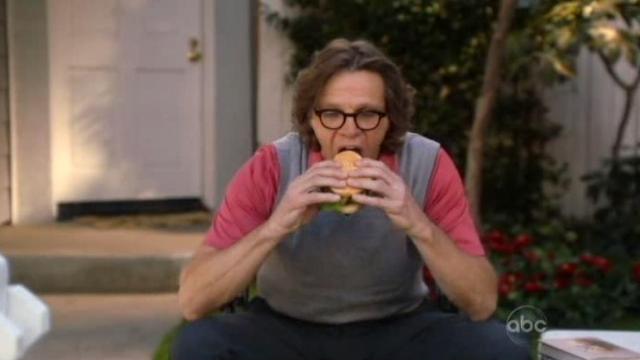 Meanwhile, Debbie Weaver (Jami Gertz) and Jackie Joyner-Kersee (Toks Olagundoye) have returned from a jog. Debbie looks a little worse for wear, but Jackie looks as if she walked around the block. It really must be nice to look great without any effort. We humans are obviously doing it wrong.
Debbie decides it would be a great time to have a bath, "there's nothing like stripping down to what you were born with and having a good hot soak". This seems like a good idea, until Jackie, doing her best to behave like people, strips down to what she was born with in front of the gardener. There is no peep show here. The shock causes Juan to have a heart attack and become a 170 pound dead human, crashing into the foliage below. Oh dear.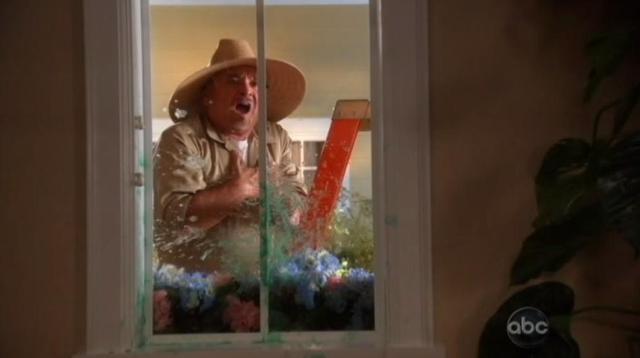 Enter Larry with news that Marty Weaver made him eat a cow. He notices through the window, that Juan is not his usual chipper self, "Juan, when you are done lying motionless on the ground, perhaps you could come round the front and water the shrubbery. It's a bit dry".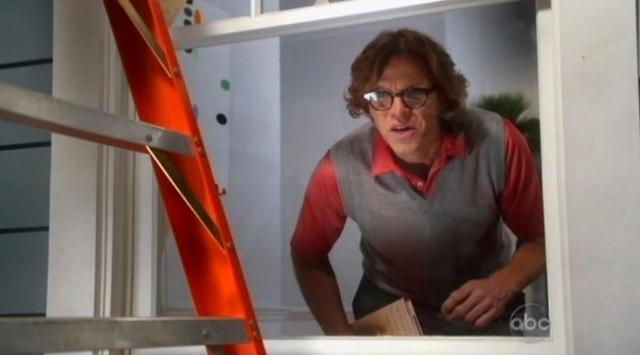 It is not long before Juan is sitting on the Weavers couch. This is beginning to look like the movie, "Weekend At Bernie's". Everything seems a little on the weird side until Max shows up. Then it gets really strange.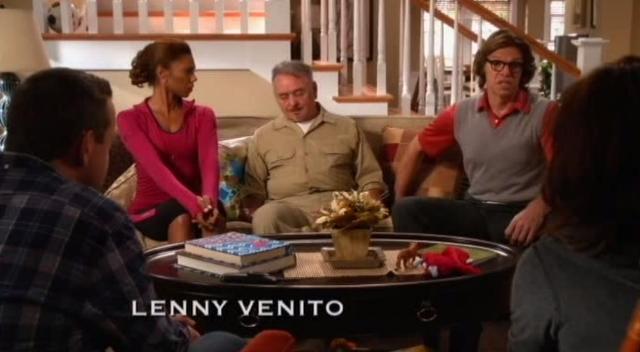 The aliens do not know what death is. Their first reaction is that death and sleep are the same thing. Debbie gets a little upset by what is going on, "that's sleep. You're talking about sleep. Death is the end of life. Jackie, stop touching Juan".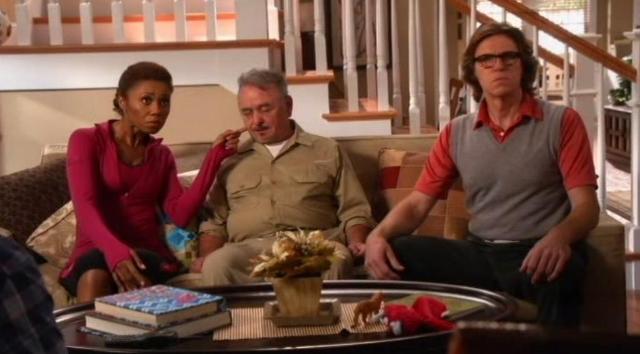 Debbie Weaver feels the motherly need to protect her son from the truth until she can explain it all to him. So, when he speaks to the dead Juan, Debbie answers. Clever, Debbie. But you do not need to worry about catching anything from the dead man. Heart attacks are not contagious.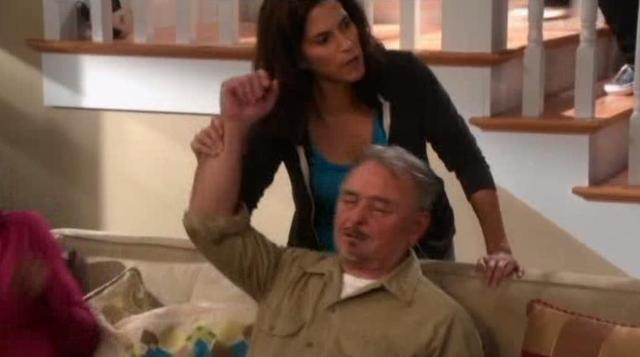 As the ambulance takes Juan away, Debbie feels bad that Juan is dead. He was so good to Max, letting him do so much of the gardening. Marty wonders if Juan was using their son for free labour. Yes, that's what killed him; he was actually an evil overlord using innocent children as slave labour and his evil ways caught up with him.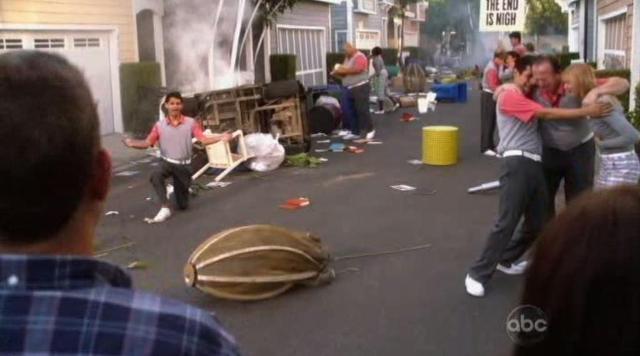 So, what to do about Max. Debbie and Marty decide to sit him down and have a discussion with him about death like they did with Larry and Jackie. That went well – not. Since the community is not dealing very well with it, Marty, the grand pooh-bah of human knowledge, the man with all the answers, will now explain how death comes.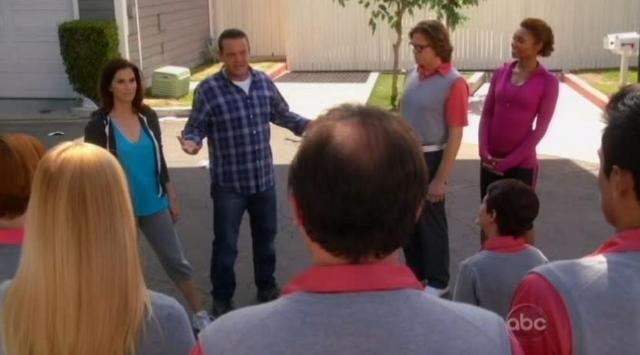 Knowing that we are going to die, we engage in something called denial, thus, not paying attention to the fact that we will all die sometime. Marty explains that his family have heart attacks. With his lifestyle, his heart is so bad, it practically whistles when it beats. Debbie is a bit surprised about this, Larry looks disgusted, and Max overhears.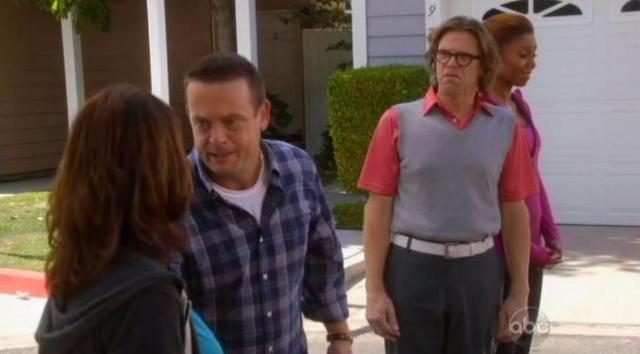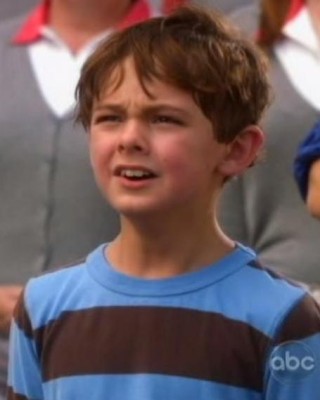 As Debbie and Marty attempt to explain death to Max, the doorbell rings. It is Larry and Jackie with a dire announcement, "You're going to die". 
Once they determine that the aliens are over reacting, Larry decides that the humans need to solve the problem of death, "It's simple math. You are capable of being alive, you die, you are capable of being alive again".
Debbie explains that it is not that easy.  It is fortunate that it is not. If people could all live as long as they wanted, we would have a serious overpopulation problem.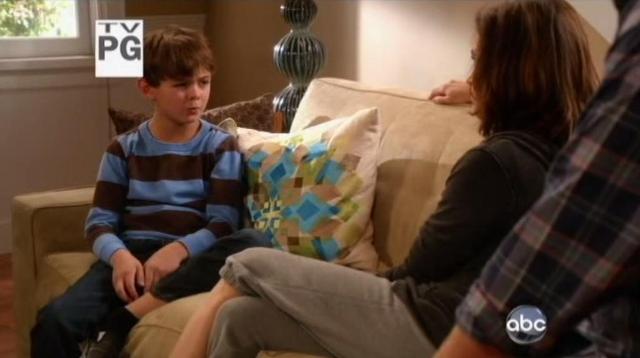 In order to show the aliens, and Max, what death is all about, the entire community decides to go to Juan's funeral. Since it is a celebration of Juan's life, Larry has informed everyone to dress accordingly. Hawaiian shirts and dresses all around.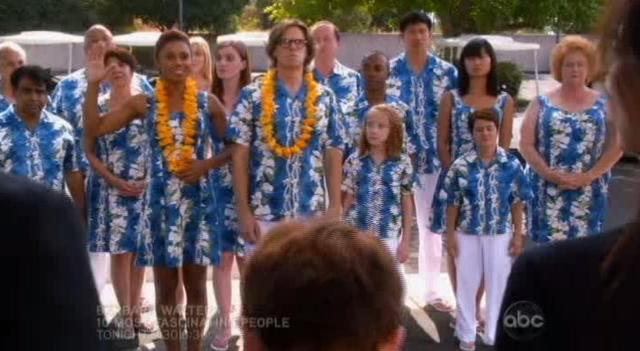 Larry takes particular interest in the wooden boat at the front of the room. Debbie explains that it is not a boat. It is what people use to bury their loved ones in the ground. Larry, ever willing to analyze each detail to the last degree, asks, "you bury your loved ones in the ground, but a moose you have just met, you stuff and mount on the wall".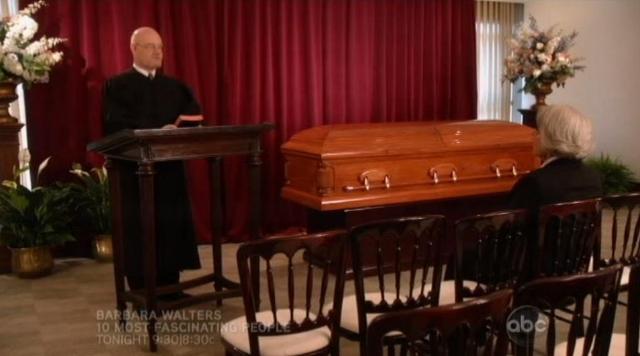 It is that time during a funeral, where those who wish to, can say a few words. Debbie Weaver is the only one who says anything that is expected. The aliens, naturally, go from slightly strange to working on the railroad, all the live-long day.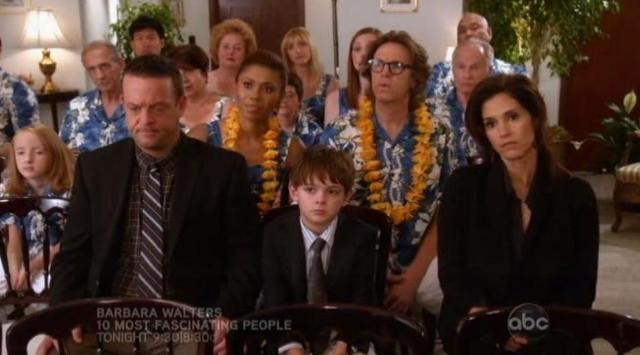 At the end of the funeral, Jackie admits that they feel better about Juan's death. That is when Larry provides the punch line to this particular joke. Dead Juan is no longer dead.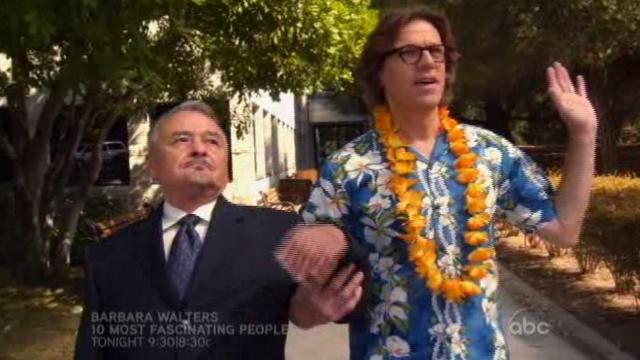 Amber(Clara Mamet) makes her first appearance of this episode, and also has a great line, "I know I complain a lot about living in this Cul du Wac, but this is the greatest thing I've ever seen".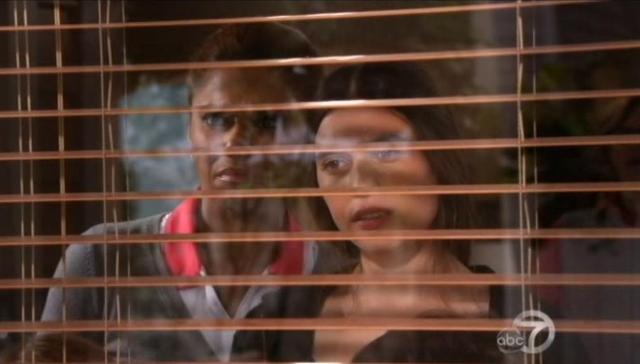 As Juan goes about his chores, and not really getting anything done because he is Zombified, Max follows him around, asking questions about death that do not get answered. Poor Max.
Meanwhile, Larry is arguing with Debbie and Marty, while Jackie plays referee.  Debbie and Marty want Larry to put Juan back the way he was. Sadly, Larry explains, "Before I came to this planet, my father gave me one vial of medicine. He told me, should the worst happen, only then should I use it. I didn't know what he was talking about until Juan died".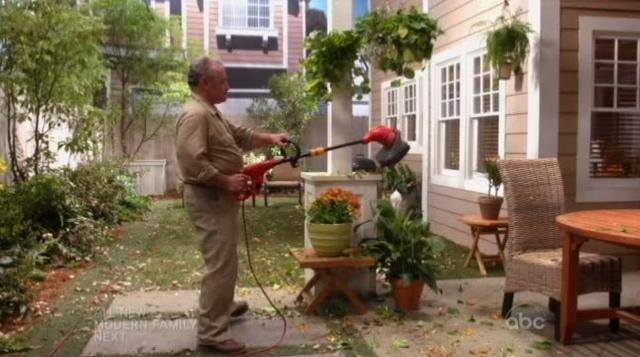 Everyone, except Jackie is surprised that Larry used the vial on Juan. Jackie is just really annoyed, "You used it on Juan?" Larry describes the indescribable emotion that came over him while he stood beside Juan's coffin-boat. He admits that it was not sadness that he felt, but that he felt powerless. It is great that Larry has learned more about what it means to be human, but again, he messed up.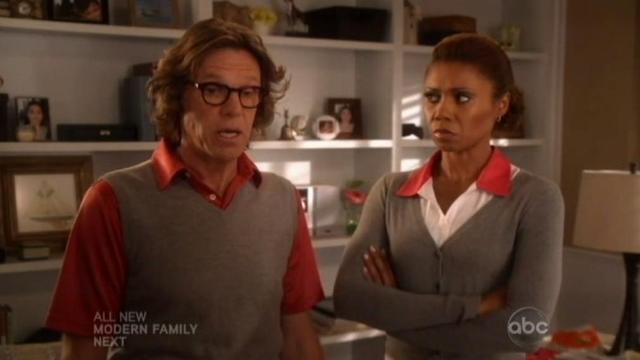 Jackie is the one who gets to the point. They have discovered that they now sleep, what if they also now die? I think we can all sympathize with those kinds of concerns.
Max also has concerns and questions. Since no one is talking to him, he climbs out on the roof. Debbie joins him to explain things. It must have taken quite a while to get her point across, since we see time passing with the lights going on inside the homes around them.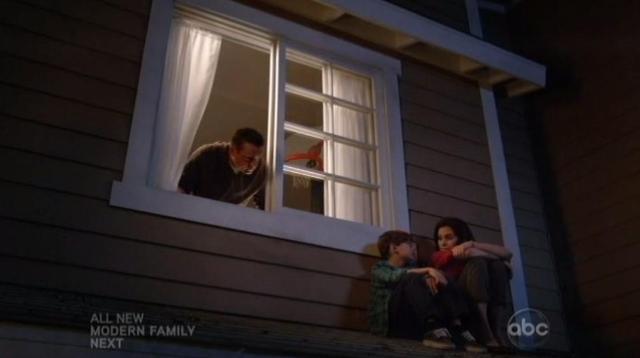 Later, Marty takes out the garbage and discovers Larry sitting on the curb outside his house- a man with troubles. "You okay?" asks Marty, "you've been out here ever since you put Juan in the garage for the night". Okay, that is just a bit creepy.
Larry is concerned that if anything happens to Jackie or him, there will be no one to take care of Dick Butkus or Reggie Jackson. Marty tell him that his kids will be taken care of. Larry offers to return the favour. Marty quickly assures Larry that there is a long list of family members ahead of him who will take care of the Weaver children.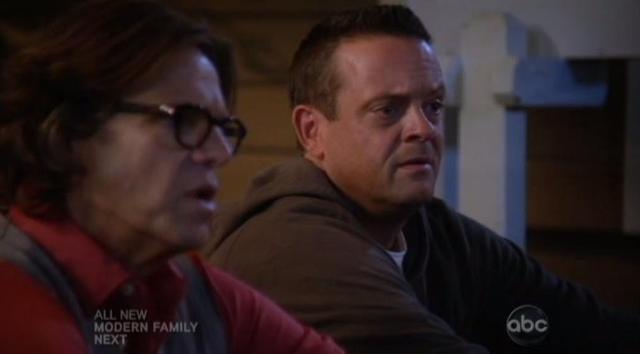 Larry and Marty are happy to say goodbye to Juan at the bus stop. Larry has provided very generously for Juan's needs as he visits his relatives in New Brunswick. What a way to get rid of Juan.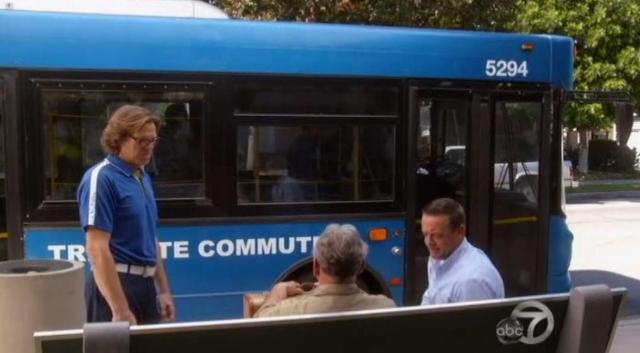 This particular episode seemed out of sync with the series. The previous episode was a Christmas episode and this clearly seemed more like a summer episode. I enjoy this series' quirkiness. The actors are very talented as well, especially Simon Templeman who's comedic timing is genius. I hope that the next episodes take the Weavers and the aliens in some new and more adventurous directions.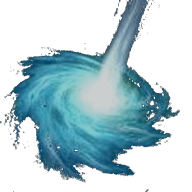 Thanks to Kenn for final staging of the audio video embeds and images in this news article and thanks to you for stopping by WormholeRiders News Agency!!
We look forward to seeing more of you here at our review site dedicated to our wonderful aliens friends known as The Neighbors in the New Year of 2013!

Please feel free to leave a comment here, click an icon below to share this interview with your friends, or you can visit and follow me on Twitter by clicking on my avatar to the right.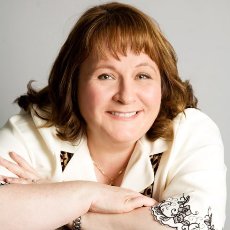 Regards,
Thank you.
ArcticGoddess1 (Patricia)