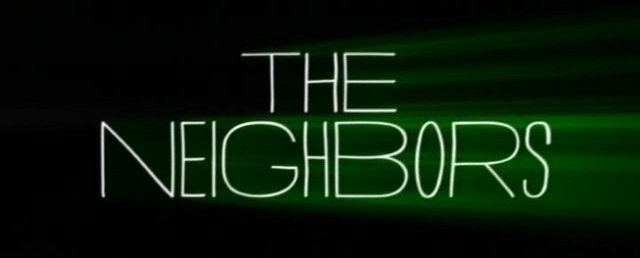 Welcome back to The Neighbors!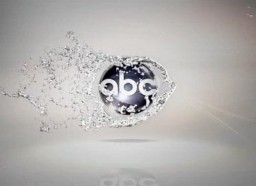 Well friends, it was bound to become reality, we knew it was going to happen. We all knew there would be a day when the inevitable would occur – the neighbors, neighbors would need their old friends around to be reassured that they were actually the normal ones!
Speaking of normal, for your enjoyment, below is a fun video courtesy of ABC about the celebrities chatting with Carla B of The Chew discussing their great new science fiction comedy series.

Things Just Got Real:
The episode opens with Debbie Weaver (Jami Gertz) enjoying a relaxing afternoon reading. Naturally, her quiet afternoon does not last long. Jackie Joyner-Kersee (Toks Olagundoye) soon joins her after climbing over the top of a fence only to fall into the bushes below. Poor Jackie.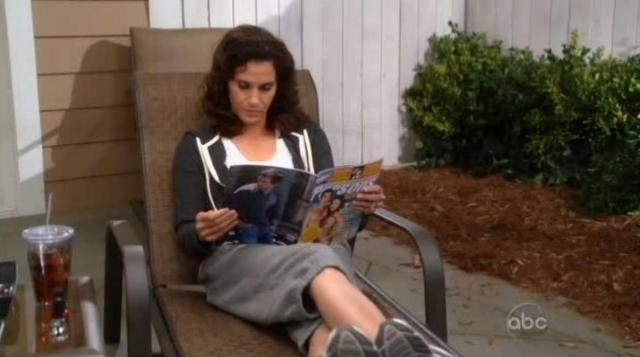 Apparently, she has not had any close friends for over 200 years. It is hard to have close friends when your husband is supreme leader, says Jackie.
In the driveway, Larry Bird (Simon Templeman) is teaching his son, Reggie Jackson (Tim Jo), how to clean the space ship. Reggie seems to already know everything. Typical teenager. Since he knows everything, he is also not particularly interested. Instead, Marty Weaver's (Lenny Venito) work on his classic Trans-Am is much more interesting.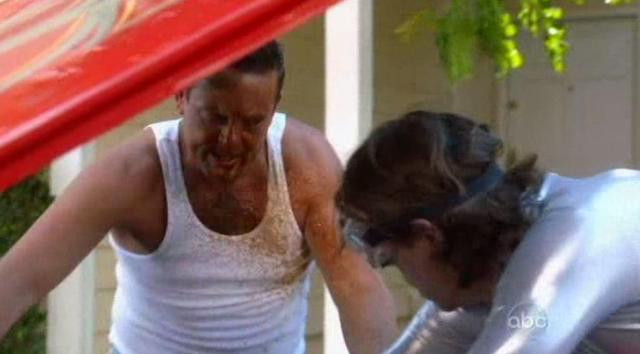 Mr. Weaver, "call me Marty", is changing the oil. It is clear that Reggie is more impressed with the human species than he is with his own dad. So, Larry needs to do something impressive. Accidentally spraying Marty with motor oil is not it.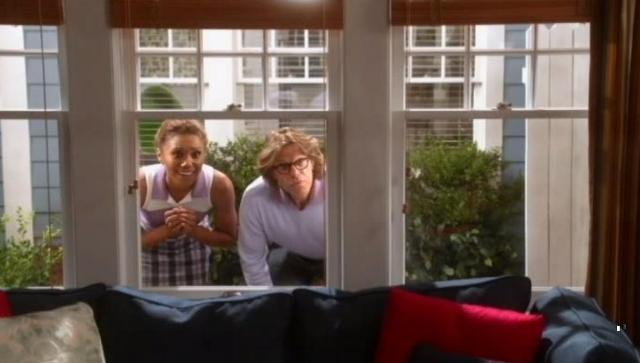 Debbie and Marty are less than pleased at the latest experiences with their neighbors. The most reasonable solution seems to be to spend more time with humans. A poker game is in order for the guys, and a trip to a bar for sangria is the plan for the ladies. As Marty explains it, "no explaining, no green slime", what could be better; other than, perhaps, no aliens.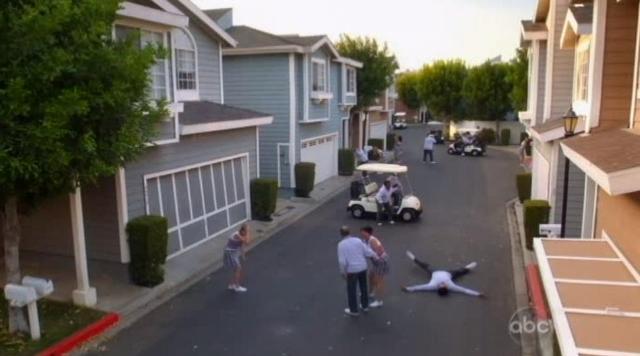 Speaking of aliens, the neighbors have other strange behaviours that are just now coming to light. They have an unusual interest in Debbie and Marty's hair. Hopefully we will find out why later on. A second odd thing about Larry in particular, we find out, is that because he is their leader, if he feels pain or rejection, the whole community feels it with him.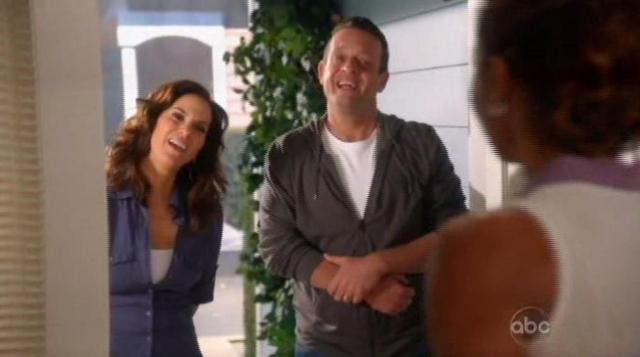 So, the Weavers must tread carefully. They must lie to Larry and Jackie. No problem. Humans are good at lying. Once Larry and Jackie learn that they really should not come to the Weaver's evening, they determine that they really should come.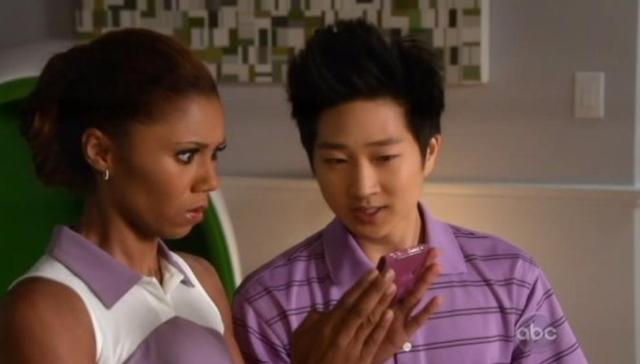 Luckily, Reggie Jackson has taken Amber Weaver's phone. He shows his mother how "The Real Housewives of New Jersey" act.  Yes, humans watch television on the telephone.  Reggie provides his mother with the necessary information, "the job of a real housewife is to denigrate other housewives, stir up controversy when  ever possible, talk about how rich your husband is, and occasionally say really melodramatic things to the camera". Not a problem. Jackie should be a pro.
Sadly, the very first thing that our alien heroes seem to access is the very worst of human culture. Jackie is all ready to head to the evening at the Weavers looking very unlike a lady from a conservative neighborhood. Larry tells Marty he is there to dominate the men, Jackie adds that she is there to hang with the bitches.
Upset, but polite, Marty and Debbie excuse themselves to the kitchen, "Mork and Mindy are making small talk with our friends in our living room. What are we going to do?" It seems that they will do absolutely nothing. If they upset Larry, the neighbors will be out in the street weeping and wailing; a little hard to explain to their guests.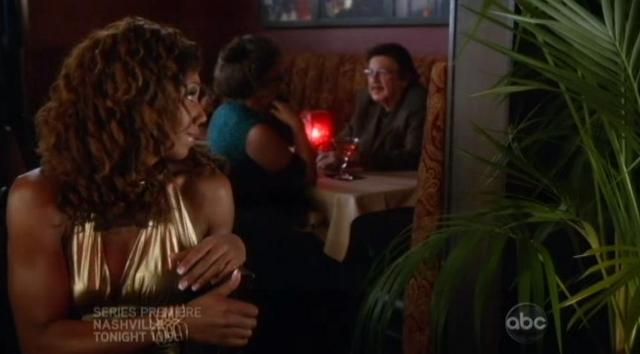 With the men playing poker, the ladies are enjoying drinks at a local pub. Jackie is doing her best to stay in character according to what she was watching on the phone, as she does, she seems to have picked a plant to talk to, and she accuses the husbands of Debbie's friends of having an affair. Naturally, things do not go well. An argument ensues.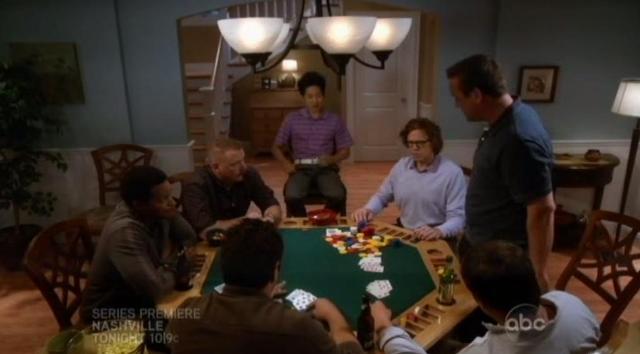 Meanwhile, yes, Larry dominates the humans by winning at poker. As he does so, and Marty tries to get rid of him, he announces that the true reason they are all there is to honour their fathers. Where Larry comes from…the U.K., interrupts  Marty , there is a certain procedure to follow. Poor Reggie must emit a high pitched noise to show respect.
This, of course, leads to an unburdening by the men in the room. I am forced to wonder what these guys will think about Marty and his new neighbors the next day, once they have had an opportunity to thing the events of the previous evening through.  Will there be questions, or will they not want to have anything to do with Marty again in the future?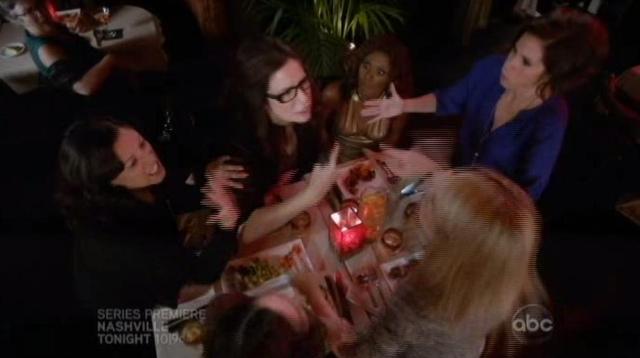 Back at the bar, the argument between the ladies is getting a little out of hand. Debbie tries to put an end to the squabbling, only to be told by her friends that she is always trying to tell them what to do. Jackie continues to make her remarks to know one in particular. Debbie has had enough, "this is exactly why I didn't want you to come." Poor Jackie looks hurt by Debbie's candid remark.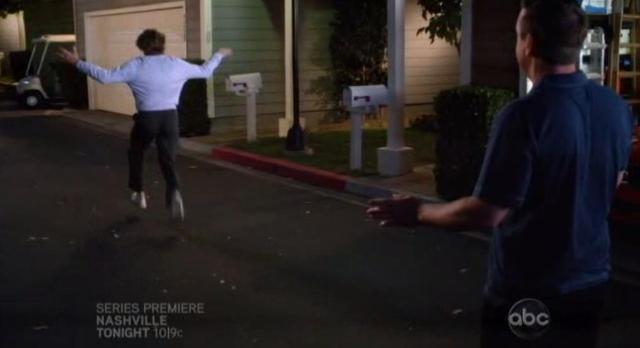 Things have not improved back at the poker game. Marty has had enough as well. Out in the street Larry argues that he is mystified by the need that everyone seems to have for him to fit in, "if I wish to do as I please, whose life am I ruining?" A very touching response from Reggie clarifies the entire episode, "mine…you wanted my father tribute, here I go, I will never forget my father; how he brought me to a strange planet without even asking me, and how he refused to adapt." Like most teenagers, his final words before dashing into his house are, "I hate you".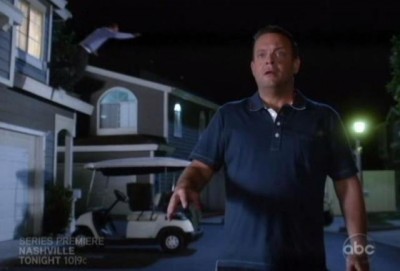 It seems that, human or alien, teenagers really are not that different. Fathers and sons are also quite similar, especially when they run into the house all upset.Naturally, the community does not take this well, "I can't take it anymore. I'm going to jump." Somehow, the suicide attempt loses significance when the drop is only a few feet. I wonder if this is the same guy that Marty accidentally ran over in the last episode.
In the ladies room, Jackie tells Debbie that she understands that Debbie wants to be with her real friends, so she will not be ruining any more of her evenings. Debbie attempts to explain that sometimes she and Marty just want to be around people like themselves.
Jackie says that she understands, it is hard for her and Larry all the time too. They have to dumb things down for Debbie and Marty.  However, despite their differences, Jackie sees right through Debbie's friends, who, it turns out, are not real friends. I guess that means that we will not be seeing these human friends again after all.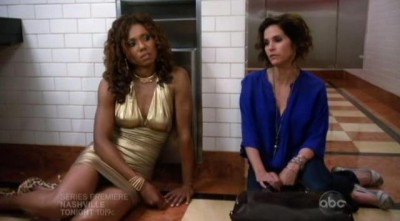 Back with the guys, Marty gets to play counsellor to Larry who busily continues to compare the human race to gerbils. What is actually happening though, and Larry finally acknowledges it, is he is afraid that his group may be stuck on Earth for a very long time. Being marooned on Earth may mean that his children will forget where they came from. After a story about his family, it becomes clear that Marty has gotten through to Larry.
Larry uses his new found knowledge to chat with Reggie, showing that he has learned to adapt somewhat. He has stolen the Weavers television so that he and Reggie can watch it together. How nice that Reggie Jackson and Larry Bird have grown closer. I hope that the Weavers get some kind of reward from the Zabvonians for all the educating in the humanities that they are doing.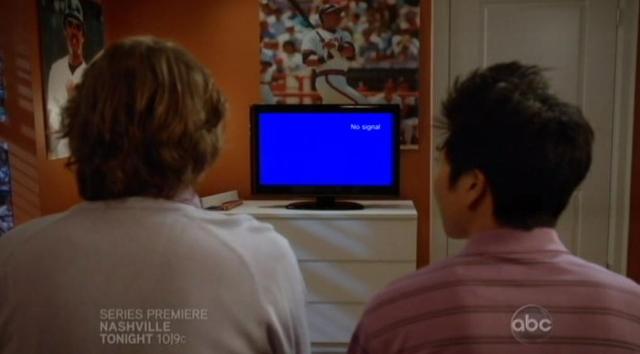 At first I was not sure what the title of this episode had to do with its content. After all, the only bathroom scene in the episode is when Debbie and Jackie have a chat about Debbie's friends and their relationship as neighbors. Obviously, sitting on a dirty bathroom floor is not a desirable behaviour, but learning that this might not be a good idea takes a back seat to learning which relationships are better than others. It seems that both the Zabvonians and the Weavers have much to teach each other.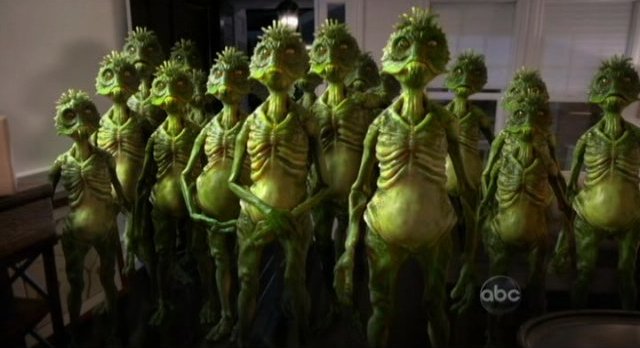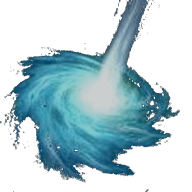 Thanks to Kenn for final staging of the audio video embeds and images in this news article and thanks to you for stopping by WormholeRiders News Agency!!
We look forward to seeing more of you here at our review site dedicated to our wonderful aliens friends known as The Neighbors!
Please feel free to leave a comment here, click an icon below to share this interview with your friends, or you can visit and follow me on Twitter by clicking on my avatar to the right.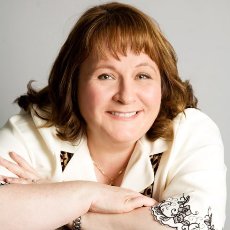 Regards,
Thank you.
ArcticGoddess1 (Patricia)