Saturday June 5, 2010, two fan events were held for Days of Our Lives in Los Angeles, California. For Love Charitable Events hosted a Q&A and Meet & Greet at the Glendale Hilton. At night, Days Charity Events hosted a cocktail party at the Sportsmen's Lodge.
I must say, Saturday will probably go down as one of the best days of my life. It was so much fun! I'm still recovering from it!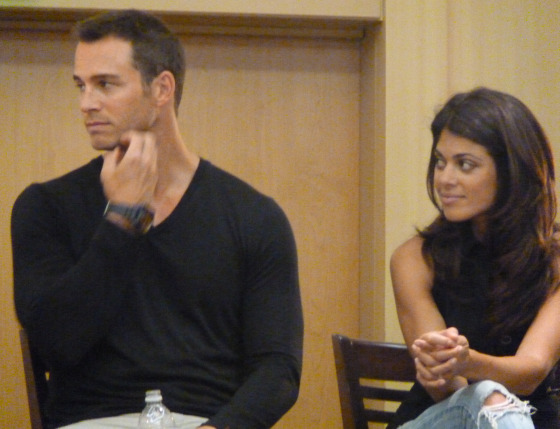 The first event I attended was the For Love Q&A with some of the actors. Alison Sweeney (Sami Brady), James Scott (EJ DiMera), Arianne Zucker (Nicole Walker), Eric Martsolf (Brady Black) and Lindsay Hartley (Arianna Hernandez) came out on stage to answer some questions. Most of the questions were about EJami and it seemed the majority were directed at Ali. They talked about how difficult it is to remember their characters backstories sometimes – especially for ones such as Ali, who have been on for such a long time. Sometimes the writers get something wrong and they'll fix it if they notice, but they usually rely upon the audience to tell them. Eric said he was  never told about his character history, so he relied even more on the fans to let him know. Ari said the fans usually don't like her character enough to correct her on history. She can say anything and they'll be like, "Yeah, what a whore!" She said it's a good thing because it makes it more fun. She'll make up stuff while shooting just because it's funny and no one will bother correcting her. Eric asked Lindsay what she thought about it, but she laughed that her character didn't have a history, so for now it's whatever she wants.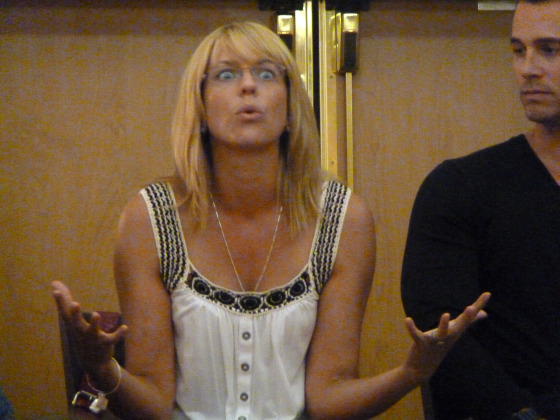 I also asked Ali if she knew exactly how many times Sami had been married or attempted to get married. She laughed and said twelve, then corrected herself and said thirteen. She explained there was a fiasco in France and that some of her marriages were invalid because they'd never been consummated.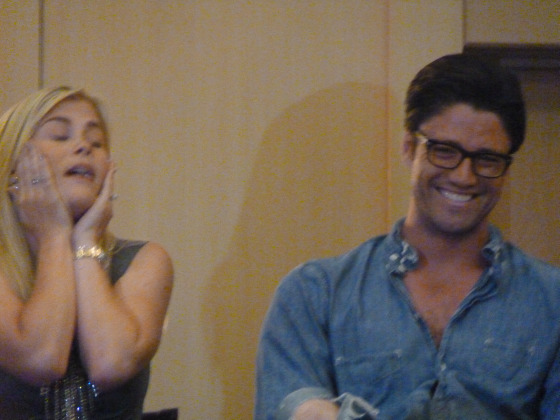 Mark Hapka showed up late to the Q&A and Ali made him give an explanation to all of us. He shrugged and said he had errands to run. Shifty, if you ask me. I'm pretty sure that means he was out creating a freeze ray. Or, you know, something like that…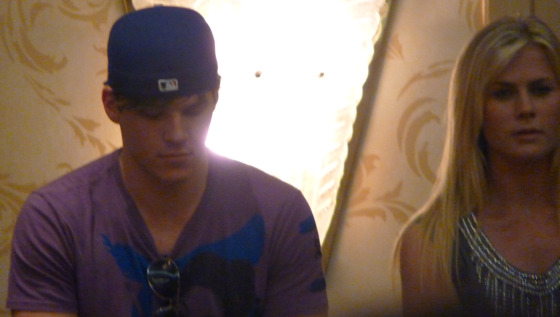 I had a question to ask Mark, but alas, they started the auction portion. I bid on one item, but I didn't get it. I did buy a poster from one of James Scott's movies though. Arianne helped auction off an EJami photo, which was rather ironic. The part which amazed me most was when they got to the final item – dinner and a limo ride with James. Wow. That last comment was not so much about the awesome prize, but more about how much a couple of women wanted it. Okay, I didn't even bother to bid on this, because I knew it would go for an insane amount of money… Two women were pretty much in a war over it. They kept going up and up… Finally someone suggested that they each pay $3000 and both go. They agreed to it. So essentially it went for $6000. All I could think was that it's enough to pay for an entire semester at university, plus textbooks! It was for an excellent cause, though, so I'm glad they were able to raise the money.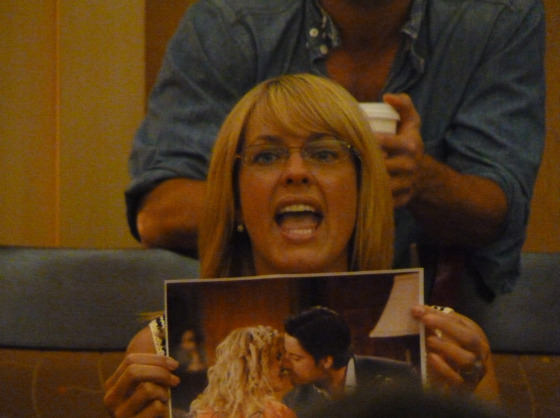 Next up was the Meet and Greet. We were rushed over to Alison as soon as we walked in. I think that's because she could only stay for a certain amount of time. I gave her my card and she joked about converting sci-fi fans to soaps. She's so gorgeous in person, by the way. I mean, she's obviously beautiful in the show, but she looks different in person. It's hard to explain. Anyway, it was an absolute pleasure meeting her. I think I was a little nervous though, because I couldn't really think of anything too interesting to say. Thankfully I got over that very quickly as the day progressed.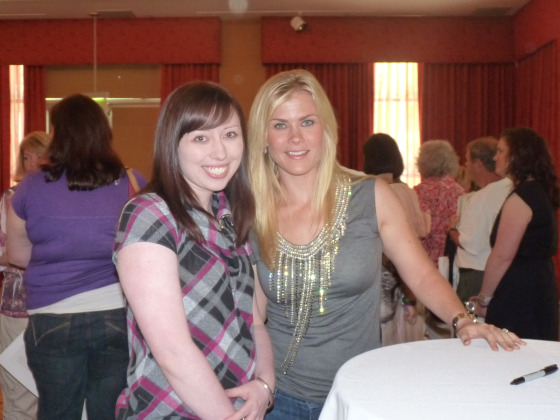 The next person I met was Lindsay Hartley. I joked that I used to watch Passions when I got home from school, but only ever the last 20 minutes because I got home at 3:40 PM and I was watching it on the sly – since my parents didn't allow me to watch saps until I was thirteen. I also gave her my card and explained about the site. She was very nice – well, all of them were – and it was great getting to talk to her. Alas, when line-ups are involved, it's hard to talk for more than a couple of minutes.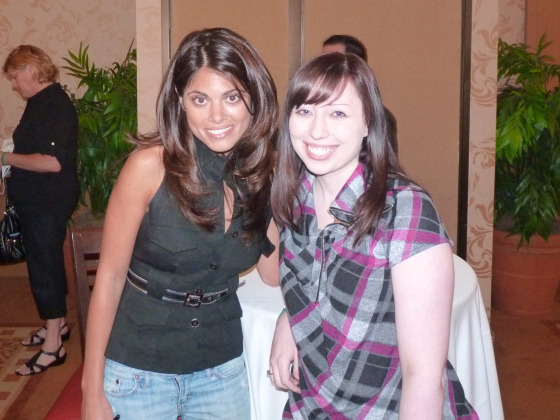 Next up, was Eric Martsolf. We chatted for a moment and I gave him my card. I explained why our name is Wormhole Riders, since that's not really related to daytime dramas. I had to explain that to a lot of people. I got an autograph and a photo then moved on to meet Mark Hapka.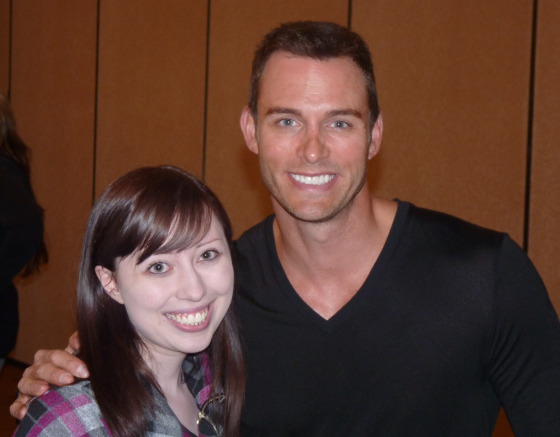 Mark was exactly what I expected. Awesome. He asked my name and I told him… He said he wouldn't make any birth control jokes. It took me a minute to realize that's because Stephanie on the show was lying about going off of her birth control pills. I told him I was named after her, even though my mom denies it. I also added that I didn't have a chance to ask him during the panel, but I wanted to know where Nathan would take Chad on their first date. He laughed and thought for a moment before replying, "Paris, because it would have to be something big, right?" He said he'd have to tell Casey (Deidrick, Chad) about that one. I gave him my card and jumped into the lineup for James Scott.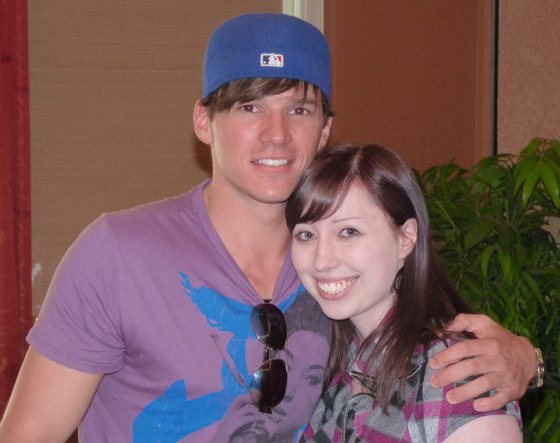 This line took forever. Okay, not literally, but it did take a fair amount of time.  Thankfully I had some awesome people in line with me to chat with.
James was really cool. He has the best glasses. I'm just sayin'. I didn't talk to him much, except to tell him about WHR, because the meet and greet was almost over and I still hadn't seen Arianne Zucker.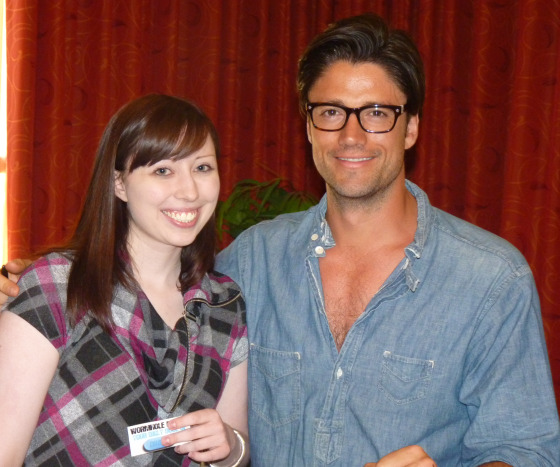 So I got in Ari's line next, obviously, since she was the only one left. I have always been a Nicole fan, so I was pretty stoked. She was really fun to chat with. When I gave her the picture I wanted her to sign, she exclaimed, "Yay! It's my favorite dress!" She told me her friend had lent it to her and she really wanted to wear it again – even if that was a fashion faux-pa. I told her that was understandable considering how gorgeous the dress is.
I told her about the site and gave her my card. I also joked that hers (well, Nicole's) was the only case where I've ever wanted the kidnapper to get away with it. She agreed. I laughed that Sami already had 3 kids, and Nicole didn't even have one! She exclaimed, "That's what I said!"
Actually, we talked for so long that I forgot to get a picture until my dad reminded me… Oops! I still got one though.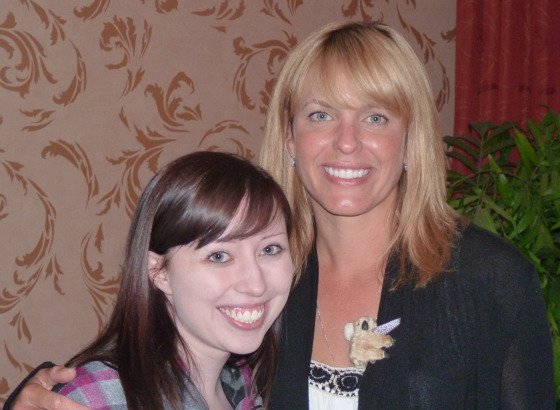 So after the meet and greet, I had to get changed for the Days Charity Event cocktail party. You probably don't care, but I just want to say I love my dress. It was purple-based and a sort of tie-dye pattern. Okay, enough about that.
My parents made me late for the party, which I was annoyed about, but it worked out. The gathering was set in the garden of the Sportsman's Lodge. I almost immediately met up with Carrie, who I'd been chatting with during line-ups earlier. We decided to go around together, since she had a pen for autographs and I had a camera which was charged for photos.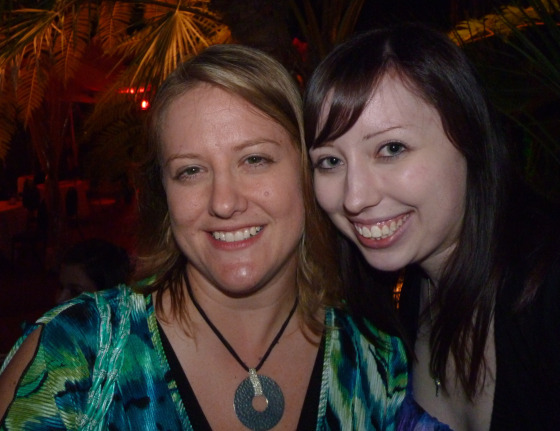 The first person we went to see was Nadia Bjorlin (Chloe Lane). The "lines" were a bit chaotic. If you weren't aggressive, you'd be standing there waiting for s long time. I'm not aggressive. Carrie and I were at the front of Nadia's line for quite awhile, but people kept budging. We didn't mind much, though, because who really minds looking at Nadia?
So finally she got to us and she apologized for making us wait. I gave her my card and all that, like I did with everyone, pretty much. I laughed that I pretty much tweetstalk her and she asked my username. I told her ValaBlack and she exclaimed that she feels like she knows me from my tweets. She said she was sorry she didn't recognize me because she tweets from her blackberry where display pictures are tiny. She also gave me a big hug. The three of us chatted for a few minutes while we got pictures and she signed our photos. I met her a few years back when she was in Calgary, but it was nice seeing her again. Last time I was too nervous to talk, since I'd never met an actor before. Thank goodness I'm over that!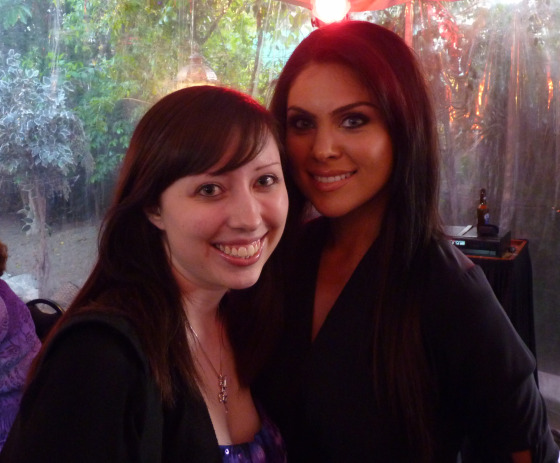 Next up, we saw Shelley Hennig (Stephanie Johnson). We ended up taking photos for everyone and waiting a long time before getting to talk to her. She was very busy. We didn't talk much, but she did say she loved my dress. Of course, I also gave her the WHR card and such. I pimped out the site a lot, in case you didn't notice.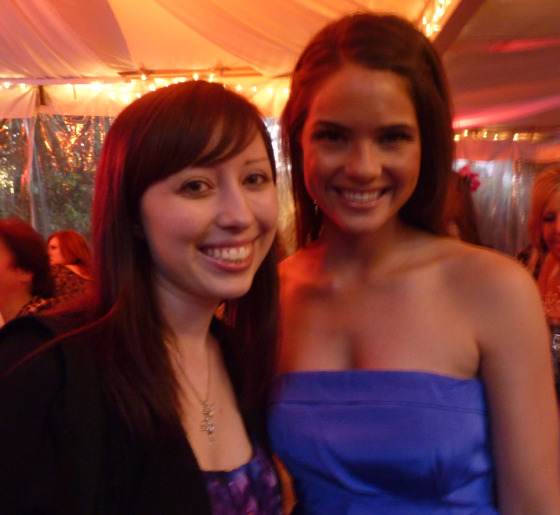 Alright, so next we went to see Casey Deidrick (Chad Peterson Woods). I'm slightly embarrassed, because while we were in line, I tripped on my shoes (I'm almost always in running shoes, so I don't have good balance) and fell into someone. Who was it, you ask? Jay Kenneth Johnson (Philip Kiriakis). Shame. He turned around, grinned and said, "You could've just said hi!" At least he found it funny…
Casey was pretty cool. He's so tall, though! I told him I felt incredibly short. He said everyone does.
I told him about WHR and he replied, "Oh, you guys just started following me, didn't you?" I said yes, but I've been following him on my personal account for quite awhile. He's another one I tweetstalk, so I apologized for that, but he said he loves that and it's one of the reasons he has Twitter. So that's good. I feel a lot better about my tweetstalking tendencies now.
I'm also going to clarify: when I say "tweetstalk", I don't mean that I tweet them like thirty times in a row. I just tweet them whenever I think of something interesting or have a response to something they've posted.
I also explained to him why we're called Wormhole Riders because it confused him a bit – which I totally get, because wormholes and daytime drama have very little to do with one another. Like I said, I had to explain that to several people.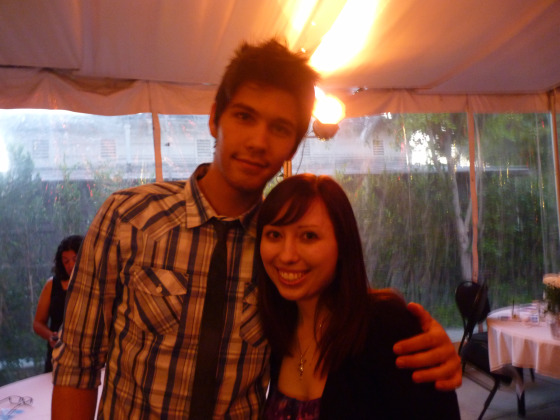 Molly Burnett (Melanie Layton) was right next to Casey (no surprise there since they've been dating for quite awhile), so we went right over to her. I'm not going to lie, I'm a pretty big fan of hers. She complimented my dress too. At least, I think it was my dress. It was hard to hear, so all I caught was, "I love your…"
I handed her the picture for her to sign and she asked my name. She joked she doesn't usually like Stephanies and I replied that if it helped, she could call me by my Twitter name. She asked what that is, so I told her. She stopped, grinned, and exlaimed, "ValaBlack? I totally know you!" and gave me a hug. She said she needs a list of all her followers at the party so she could find them all. I also gave her my card and everything. She posed for pictures with us and signed our stuff.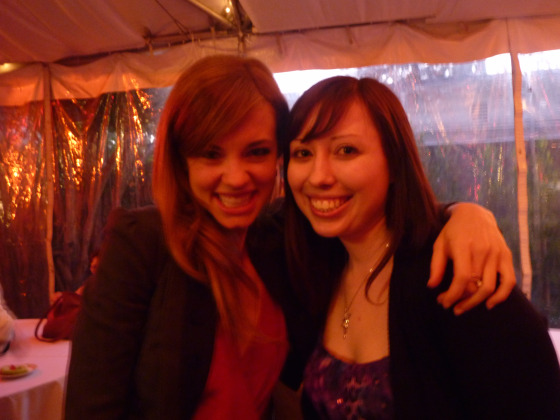 When we got in line to see Jay, he pointed at me and said, "You!" When we got to the front, I apologized again and he said not to worry. I got pictures with him, but they turned out orange because of the lighting. As you can see, so did a bunch of my other pictures…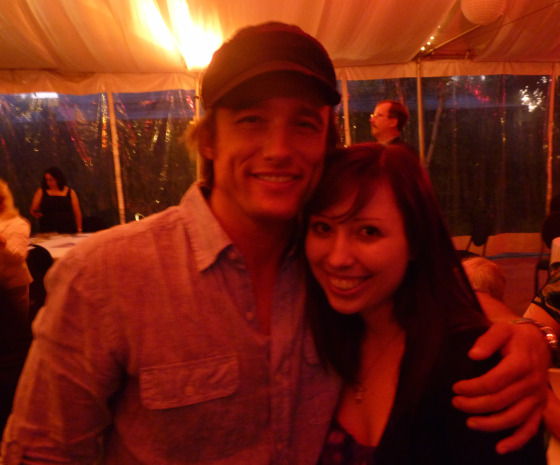 We got a bit of a shock when we looked over and saw Justin Hartley from Passions and Smallville. He'd tagged along with his wife, Lindsay Hartley. He actually ended up being the one to fix the orange on my camera. Apparently he's used that kind before. Thanks for that, Justin! The rest of my pictures were normal coloring, thank goodness! I got an autograph for myself and one for my best friend, since she's a fan and couldn't make it due to summer school. Justin was the only one I didn't give a card to, which I'm choosing to believe is because I was surprised to see him.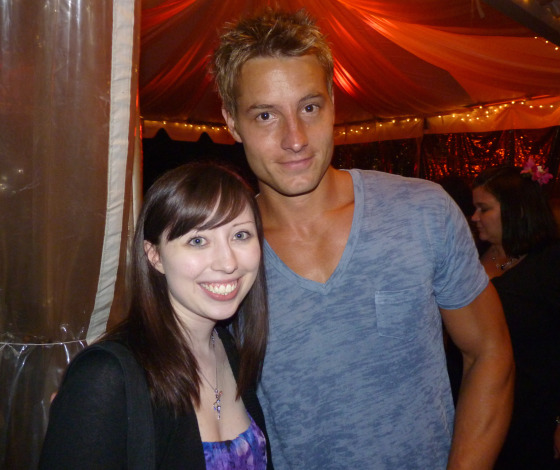 Carrie and I decided to see Arianne Zucker again, just because we both love her. We talked a moment and took a couple pictures. I got one where we both did funny faces, which I completely love. She's really a lot of fun!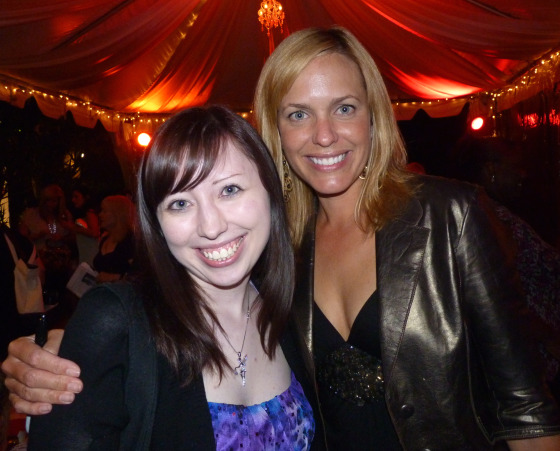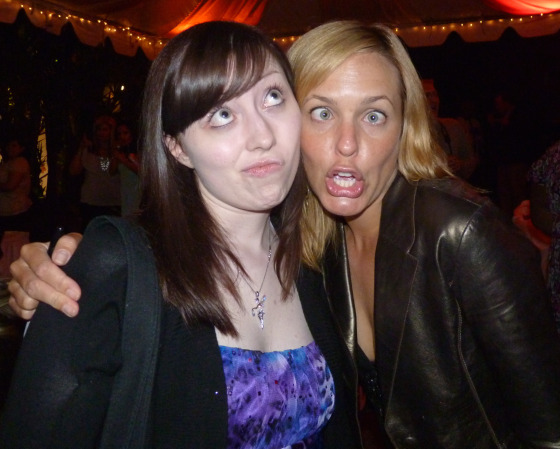 Next up, I saw Galen Gering (Rafe Hernandez). I told him I love him on Days, but even more on Venice. He replied that they start shooting soon, which makes me happy. He had just arrived, and he had quite a crowd, so we didn't talk long.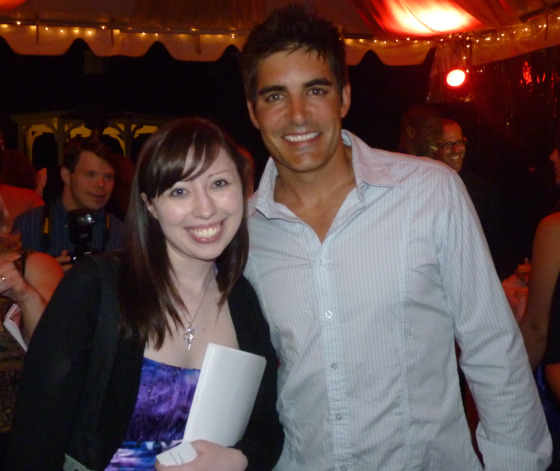 Shawn Christian (Daniel Jonas) had also just arrived, so we headed over to meet him. That was probably the longest line of the day. He had so many people waiting and it was so chaotic. Everyone was jumping in front of us. It got rather annoying, but it was worth it.
When I finally got to talk to Shawn, I mentioned I'd seen him in Calgary in 2008, but was too nervous to really say anything. He said he hoped I'd at least said hi, which I had. He also added that he loves Calgary and there's so much to do and see. I burst out laughing and replied that I'm looking for suggestions. He clarified he had been here during the Stampede (a huge city-wide carnival/parade/rodeo), which makes sense. Otherwise there's nothing to do, in my opinion.
I gave him my card and he looked it over before saying, "Wait, are you ValaBlack?" I love Shawn, but I don't tweetstalk him, so I was a bit surprised. I nodded and he said, "Well why didn't you say so?" Then he told everyone to introduce themselves by their Twitter name. He stated, "Yeah, ValaBlack! We tweet all the time!" I was kind of confused and replied, "Uh, you've never tweeted me back…" He asked if I was sure and I nodded again. He then pulled out his blackberry and tweeted me right there! All the other tweeters were jealous and started asking him to tweet them… I don't think he did, though, because he didn't have time.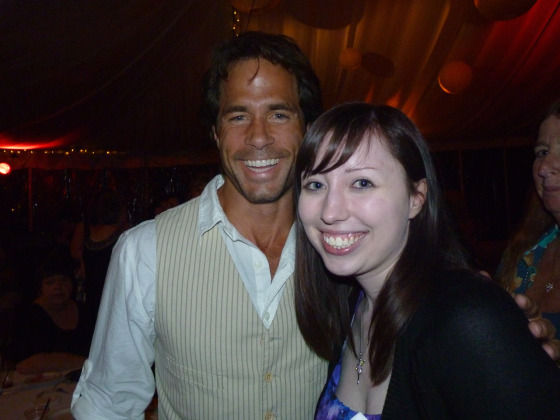 So now I'd pretty much seen everyone, but my night wasn't over. Molly and Casey were doing an auction for a "red carpet" photo with both of them. I bid on it, but was soon outbid. I planned on bidding again, but I didn't have that much cash. I thought someone else had gotten it, but somehow the amount went down from $500 to $300… I have no idea how or why. They were asking if anyone would bid higher. Okay, so I did. It was for charity and I love Molly and Casey…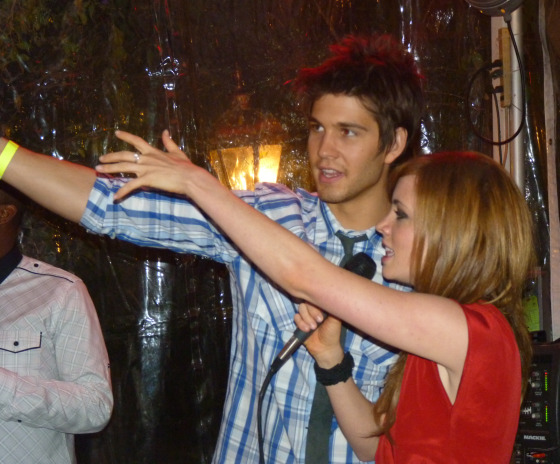 Well, somehow while I was talking to Carrie, I won the auction, because suddenly they were both pointing at me, saying "Sold for $325!" I went and paid, then met them on the red carpet. Before I got there, I could hear Molly calling, "ValaBlack, get your butt over here!"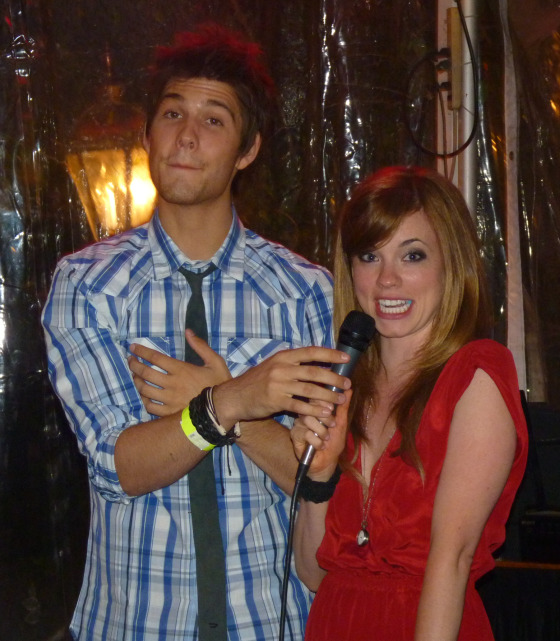 When I got there, I saw a third person and Molly grinned, "You get Eric Martsolf for free! Hope you don't mind!" Obviously, I didn't protest.
While we waited for the photographer, Molly showed off her fabulous shoes and said how much her feet were hurting. Casey laughed that his shoes were the most comfortable he'd ever worn. It's not fair being a girl sometimes…
We were just posing for the picture when we were joined by Galen Gering. He jumped in the photo and essentially I got 4 for the price of two. It was pretty awesome!
Once we'd gotten a bunch of photos taken, Galen came over and gave me a hug. Casey did the same and before I knew it, I was sandwiched between everyone in a giant group hug. Molly asked if I had my cell phone. I said my dad had it but I could get it. She said no and stole Casey's phone. She took a picture of me with the guys and Casey twitpic'd it. Eric joked that these pictures would get him a divorce. I don't have any photos besides the twitpic yet, but I'll post them when I do.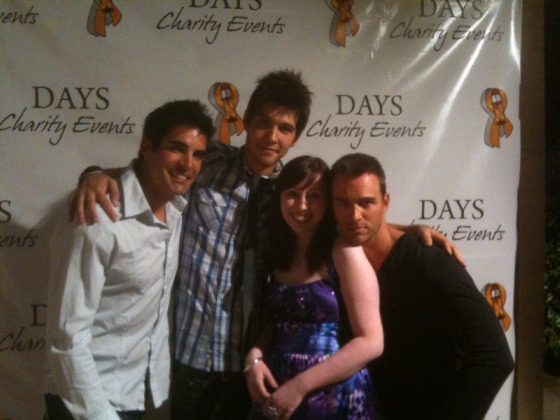 After this, I went to chat with a couple people for awhile. I was pretty much out of cash, so I didn't do any more auction bidding.
Just as the night was wrapping up, I noticed Molly and Casey were getting their photo taken under an arch. I decided to snap a few pics because, let's be honest, they're one of the most adorable couples ever. I wasn't getting very good shots though, so I ended up just chatting with Carrie again nearby.
We were kind of startled when Molly called us to ask if we wanted another picture with them. Of course, we took the opportunity. We all talked for a few, along with another woman whose name I sadly never learned. Then I sat down next to them and we posed for the picture. Carrie did the same after. We talked a bit more, but Molly got a call and the party was over anyway, so we left.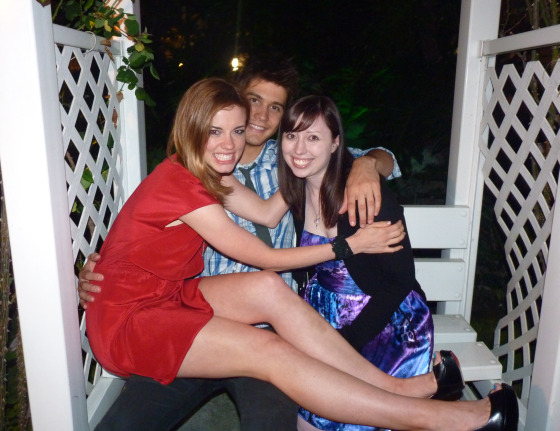 By the way, since Twitter was mentioned so many times, I think I should also add that because of this event, I got tweets from Ali, Shawn, Casey, Nadia and Molly.
Anyhow, that was a totally amazing day! Thanks to Days Charity Events, For Love Charity Events, all the volunteers and the actors who appeared. We all appreciate it! Be sure to check out each website and read about the charities.
ValaBlack