The 3D Entertainment Summit is definitely is an event that denotes a change of a wonderful nature that will truly revolutionize the way we live! Since the blockbuster AVATAR burst upon the world in 2009 almost everyone knows about the impact that of the rebirth of Three Dimensional (3D) entertainment.
What few people realize is that 3D will also transform the sports, music, home entertainment, desktop, mobile computing and the educational world in a manner that few technologies have been able to accomplish in such a short period of time as eloquently described throughout the day long event by Bob Dowling (pictured below). Is everything entertainment about to go 3D? Well, from the looks of the images below and the video high-lights, the answer appears to be yes!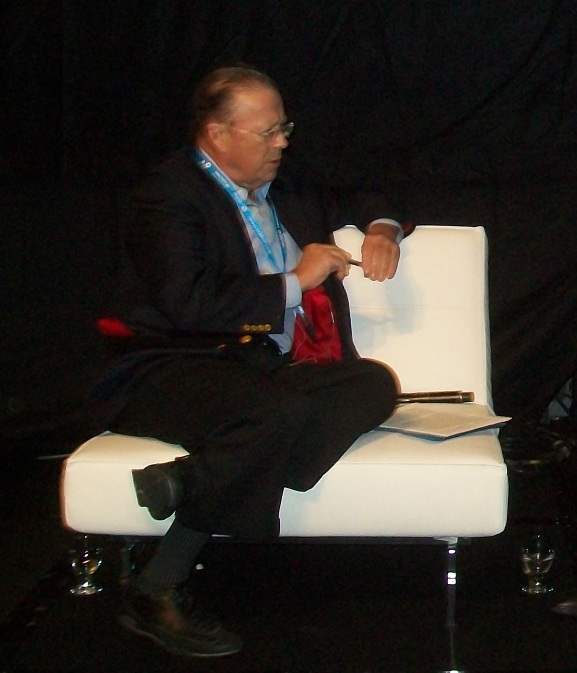 Education one might ask? The answer is a definite yes as you will witness for yourselves in the video below featuring an educational institution that is at the forefront of 3D at an institution of higher eduction. The video high-lights the keynote speeches by Jeffery Katzenberg of Dreamworks, Chris Cookson of Sony Pictures and a young gentleman from Indiana University who discusses the direction of 3D curricula at his university. These high-light videos from yesterdays first day of the convention document the investment of time, money and training of human resources in order to provide a reinforced foundation for the burgeoning growth of 3D entertainment.
On September 15, 2010 at 8:30 AM, the 3D Entertainment Summit not only stunned the world in general and the California South land in specific with record attendance at the opening of the landmark two day event, the attendees, vendors, and critically the presenters unveiled the latest innovations in the film industry, 3D computing, 3D home entertainment, 3D music videos, 3D sports and 3D exhibitions of live events!
Perhaps one of the most fascinating aspects of the convention is the rapid deployment of theatres around the world that support 3D. Once numbering only a handful of venues in a few countries, during 2011 the number of high quality 3D entertainment theatre facilities will surpass 21,000 in virtually every market area where consumers are demanding more 3D! What the fans are demanding is not only cinematic blockbusters, but music videos, sports and live exhibitions. During the events at the convention September 15, 2010 I was astounded by the outstanding quality of such entertainment during the convention where many promotional trailers covering the entire world of 3D where shown to the guests in attendance.


The list of providers of 3D equipment available now for home entertainment enthusiasts includes the likes of Sony, Mitsubishi, Panasonic, JVC, Hyundai and many others like hardware producers such as NVidia. Of great interest is a leading 3D computing technology provider is 3DeeCentral where you will in a few short months (before the holiday season) be able to purchase not only 3D enabled computers and mobile devices to watch 3D movies, the entire world of applications in 3D for music videos, sports, artwork, and exhibitio
ns is coming to your very palms in mobile devices such as the iPho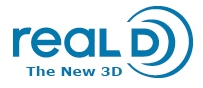 ne, iPad, Windows and DROID family of smart phones!
What is at the heart of the technology that is helping to drive the 3D revolution. It is industry tech leaders including the likes of RealD and Dolby Labs teams working on the latest films upcoming films including Toy Story 3, Narnia and the Voyage of the Dawn Treader and TRON Legacy!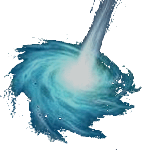 WormholeRiders News Agency is providing live coverage at this fantastic two day event. Check out our live Twitter news feed for updates and images from the convention by clicking the text link or image avatar for the latest news. We include a portion of the two of the keynote speakers above Mr. Jeffery Katzenberg of Dreamworks and Mr. Chris Cookson of Sony Pictures as well as the original press release below. Each clearly illustrates the leading creative talent at the convention. Also included is an interview with Mr. Sean Connolly of Indiana University who shares with us the future of 3D in education institutions.
We will have much more about the 3D Entertainment Summit with detailed in depth analysis over the comings days, but for now it is time for day two of this wonderful convention!
Please feel free to leave a spam free comment here or on Twitter. As always thank you for visiting WHR !
Best Regards,
Kenn
FOR IMMEDIATE RELEASE: September 13, 2010

3D ENTERTAINMENT SUMMIT™ PRESENTED IN ASSOCIATION WITH VARIETY FEATURES ALL-STAR LINEUP OF ENTERTAINMENT AND BUSINESS LEADERS
Executive Level Event, Examining 3D Economy From All Points of View on September 15-16 in Los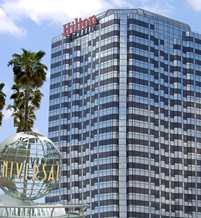 Angeles, Sets Record Attendance
(Los Angeles, CA and Milford, CT; September 13, 2010) – Unicomm, LLC and The Bob Dowling Group announced today that the 3D Entertainment Summit™, presented in association with Variety and featuring an all-star lineup of entertainment and business executives, has already more than doubled attendees and sponsors/exhibitors over last year's record event. The third annual Summit will be held September 15-16, 2010 at the Hilton Los Angeles in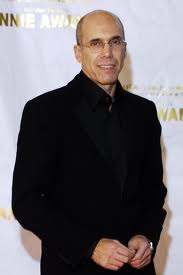 Universal City, CA.
"The 3D revolution across all entertainment mediums is driving unprecedented interest in this industry leading event and we are expecting a sold-out conference," said John Golicz, CEO of Unicomm, LLC. "Particularly exciting will be the record number of senior executives attending from the major Hollywood studios, TV broadcasting companies, consumer electronics manufacturers and national cinema chains."
Keynote Speakers at the 3D Entertainment Summit include Jeffrey Katzenberg, CEO of DreamWorks Animation SKG;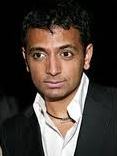 writer/director M. Night Shyamalan (The Last Airbender; The Sixth Sense), Chris Cookson, President of Sony Pictures Technologies, John Rubey, President, AEG Network LIVE, Michael V. Lewis Chairman/CEO RealD, David Bishop, President, Sony Pictures Home Entertainment, Vince Pace, CEO, PACE and Bryan Burns VP, Strategic Business Planning and Development, ESPN.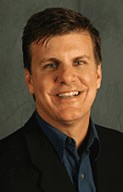 In addition to keynote addresses and panels, the Summit will feature a state-of-the-art 3D Entertainment Lounge™ where attendees can experience a variety of interactive 3D Entertainment systems and see what they just heard about. The sold out exhibits area features leading edge entertainment companies showcasing everything from 3D display cell phones, the latest 3D TV's and video games to even a thirty foot Dome presentation system.
The highly interactive, discussion-driven environment of the Summit allows entertainment professionals the opportunity to gain practical insight into 3D technology, market considerations, adoption rates, creative and production strategies, and talent and licensing issues to gain a better sense of how 3D relates to their future.
Additional speakers at the 3D Entertainment Summit include:
Adrian Askarieh, Prime Universe Productions; Todd Baker, SRS Labs; Jeff Berman, CE Daily; James Bower, MASTERIMAGE 3D; Stuart Bowling, Dolby Laboratories; Tom Bracken, Technicolor 3D; Corey Bridges, Multiverse; Yusuf Broachwala, Bsat Labs LLC/ Baruch Productions; Michael Cai, Interpret, LLC; Gabrielle Chamberlin, Walt Disney Studios Home Entertainment; Sandy Climan, 3ality Digital, LLC; David Cohen, Variety; Dave Cook, NVIDIA Corporation; Jeff Cove, Panasonic Corporation of North America; Mike Dawson, Sony Electronics; Frank DeMartin, Mitsubishi; Jonathan Dern, Cinedigm Content And Entertainment Group; Richard Doherty, Microsoft; Frederik Du Chau; Eric Edmeades, The Kerner Group; Phil Eisler, NVIDIA Corporation, Marc Finer, DEG: the Digital Entertainment Group; Jim Fischbach, Intrepid Management Group; John Gaudiosi, journalist; Josh Greer, RealD; Phil Groves, IMAX Corporation; Buzz Hays, Sony 3D Technology Center, Sony Corporation of America; Scott Hettrick, 3DHollywood.net; Charlotte Jones, Screen Digest; Peter Koplik, MASTERIMAGE 3D; Richard LaBerge, EVP/CMO, Sensio Technologies; Lorne Lanning, Odd World Inhabitants, Oddmobb Inc; Ron Lim; Al Lopez, Spatial View; Marcy Magiera, Magiera Consulting; Jim Mainard, Dreamworks; Derek Manning, FOX Sports; Michelle Martell, Cinedigm Content and Entertainment Group; David Martin, Legend3D; Rich Marty, Sony Pictures Home Entertainment; Jeff Maynard, The Weinstein Company and Dimension Films; Robert Mayson, Consumer Electronics RealD; John Meyer, Meyer Sound Laboratories, Inc.; Patrick Naud, Ubisoft; Michael Pachter, Wedbush Morgan Securities; Philippe Paquet, Disney Interactive Studios; Andy Parsons, Blu-ray Disc Association; Greg Passmore, Passmore Lab; Joe Peixoto, Worldwide Cinema, RealD; Megan Pollock, Consumer Electronics Association; Steven Poster, International Cinematographers Guild; Bai Qiang, 3D China Ltd., Ample Luck International Capital Group; Ken Ralston, Sony Pictures Imageworks; Matty Rich, Hollywood 3D Director & Game; Brian Rogers, Godzilla; Barry Sandrew, Ph.D., Legend3D; Neil Schneider, S3DGA & Meant To Be Seen; Kurt Schwenk, Paramount Pictures; Deborah Senior, Toyota Motor Sales (TMS),USA, Inc.; Alec Shapiro, Professional Solutions Of America, Sony Electronics; Amy Jo Smith, DEG: the Digital Entertainment Group; James Stewart, Geneva Film Co; Andrew Stucker, Digital Cinema Solutions, Sony Electronics ; Chris Subagio, Double Helix Games; Jonas Tanenbaum, Samsung Electronics; Brian Van't Hull, LAIKA; Corey Turner, Sony Pictures Imageworks; Ken Venturi, NCM Media Network; Richard J. Verrier, Los Angeles Times; Chris Ward, Lightspeed Design, Inc. / DepthQ® Stereoscopic; Cevat Yerli, Crytek GmbH.