Welcome back those seeking life Being Human!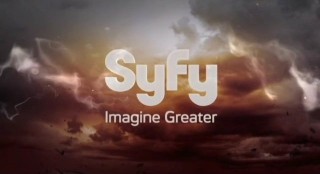 My thoughts on Being Human season three are quite clear. The series creators have done a wonderful job of adding depth to the main cast characters, featuring numerous gifted guest stars over the course of the first two seasons, more than complimenting the developing story arc.
With that said, we definitely expect some fun surprises including dynamic new characters in the epic third season of one of our most favorite television series programs!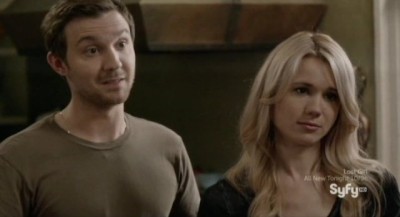 Additionally, Being Human features a great music score including a melody from the band Chorus Grant's "From Nothing to One" whom we compliment by featuring another of their fabulous songs, "Wolves".
Although not featured in the current episode, this reviewer thinks "Wolves" is a perfect song for what is happening to poor Josh (Sammy Huntington) and his wolfie girlfriend Nora (Kristen Hager), who joined the main cast of Being Human on Syfy in earnest last season after her initial debut in 2011.
As we will discuss herein, Nora is about to face a new challenge in this episode.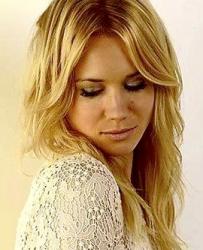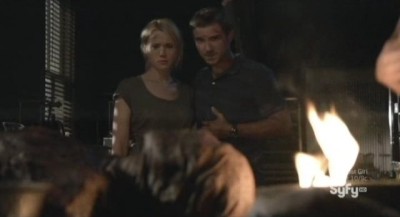 In the season three opener, the creators of Being Human did a superb job of wrapping all the season two cliffhanger elements nicely. 
In the second episode of season three, we get a special treat as the main characters back story is blended into more complex elements of their growing relationship as friends while adding a new character certain to delight all who love Being Human.
Thanks goodness our friends have been saved so they can continue their "life" among us as a vampire, a ghost turned human and werewolf! Of course, let's not forget to mention brief "vacations" for our canine friends to a nearby storage locker to explore one's inner werewolf self!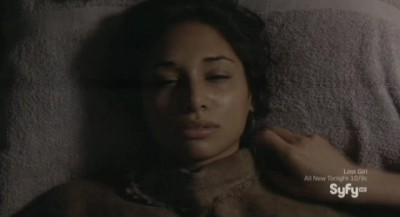 The Being Human story-line is artfully developed to get right down to the business of where season three is going. Things move smoothly and quickly as it is apparent to this reviewer that a genuine chemistry, a flow, exudes from each scene. The cast are quite comfortable together onscreen, and it shows in their performances.
Just when we believed things were going to get better for our four roommates, Josh (Sammy Huntington), his devoted wolfie girlfriend Nora (Kristen Hager), resurrected from limbo Sally (Meaghan Rath), and back from the dead Aidan (Sam Witwer), along comes an exciting new element sure to bring the werewolf out in all of us!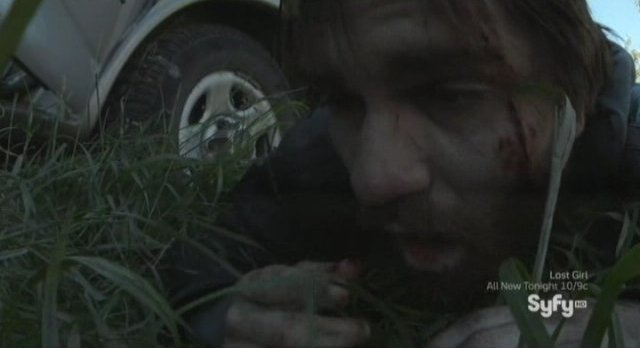 Before continuing, we include the promotional trailer for the next great episode "The Teens They Are A Changing" courtesy of Syfy.
(Dead) Girls Just Want to Have Fun: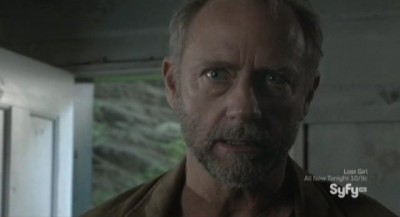 After the brief "previously on Being Human" scenes we meet Liam (Xander Berkeley), father werewolf seeking to avenge the death of his missing werewolf son. The sequence adds a wonderful new dimension to the Being Human story-line based on two characters we will discuss later in this review.
For those unaware, Xander Berkeley is an experienced veteran character actor spanning thirty 32 years in television and major motion pictures. Well known from his first role in 1981 in "Mommie Dearest" opposite Faye Dunaway, Berkeley's on screen presence is always palpable, believable and most enjoyable.
Science fiction, adventure, and fantasy entertainment admirers certainly recall his outstanding performances in V the original Series (1985), The Twilight Zone (1986 and 2003), Terminator 2: Judgment Day (1991),  A Few Good Men (1992) as Tom Cruise's boss, The X-Files (1993), Roswell (1994), Apollo 13 (1995) The Outer Limits (1996), Air Force One (1997), 24 (2004) and Nikita (2012) to name but a few.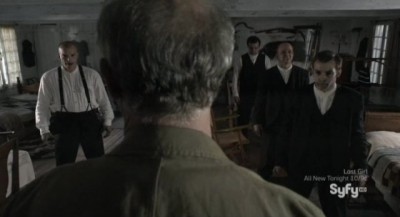 The opening sequence of the second episode with Being Human "(Dead) Girls Just Want To Have Fun" finds newcomer Liam in an absolutely outstanding sequence with cool special effects!
Xander Berkeley aka Liam is observed bursting into a room where a gathering of vampires are hanging out. Liam is obviously none too happy about recent developments in his life or those of his family who have apparently gone missing.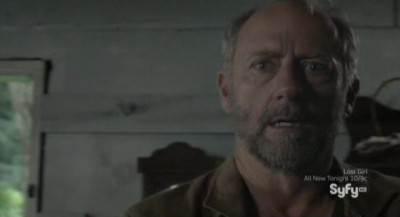 Frankly, it looks like Liam is having "a VERY bad hair day" when he confronts a group of vampires seeking to learn the fate of his son Connor, belting out his lines, Liam shouts; "Where is my son!?"
The camera slowly pans back as the vampires give ground. We are treated to a gruesome scene with his werewolf son Connor mounted nearby on the wall! Liam's bad hair day has just gone from bad to worse!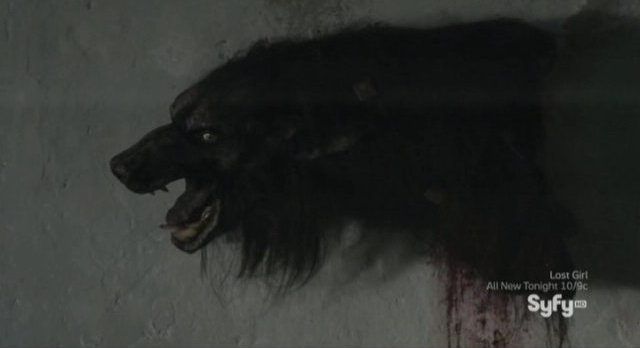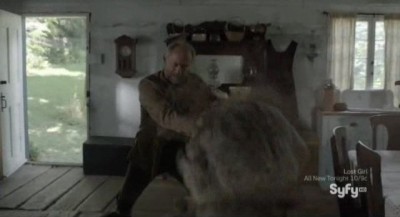 A quick flashback illustrates how the son died at the hands of the vampires. Liam quickly dispatches the entire bloodthirsty group, staking each one as they dissolve to dust before our eyes.
No doubt Liam will be a featured "bad guy" for several episodes, perhaps all season, seeking justice to avenge the murder and wall mounting of his poor son Connor.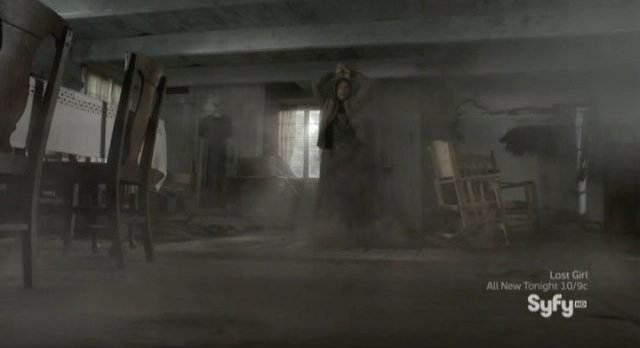 This reviewer, upon seeing this sequence, is absolutely certain that Nora and Liam are to become intertwined in this fascinating twist to the Being Human story arc.
A hearty well done to Anna Fricke and all the Being Human series creators!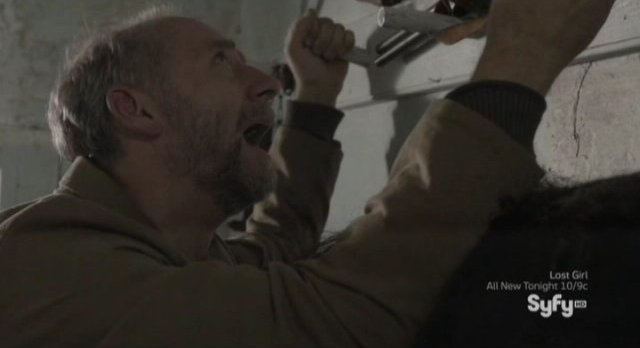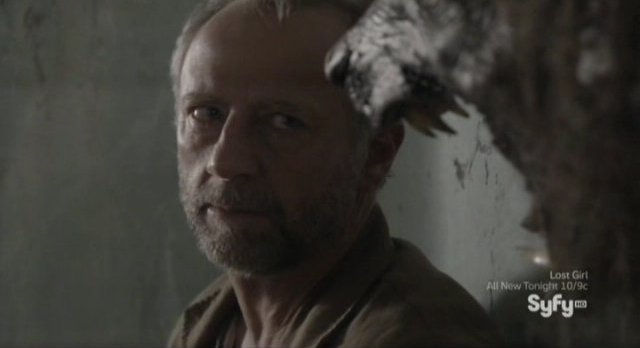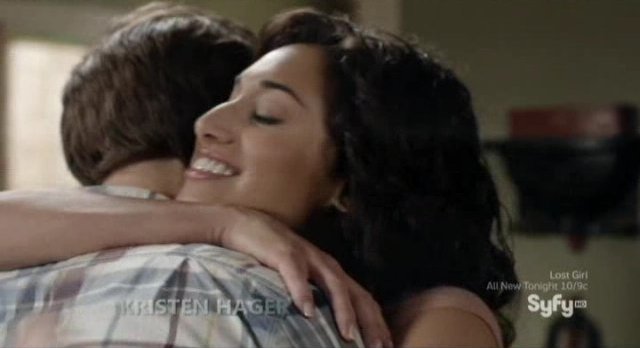 We segue to Sally back at the apartment where she gives Josh a hug.
As we remember from the previous episode, Seeking Sally, Josh and Nora also helped dig up two characters Nick and Stevie's bodies who were also trapped in limbo with Sally.
Last episode we also met Donna Gilchrist the Witch (Amy Aquino), who has the power to bring people back to life. Donna can do so, but with a nasty catch.
According to the enchanted deal made with Donna the Witch, a person like Sally once resurrected cannot meet certain people from their past lives or face being eliminated.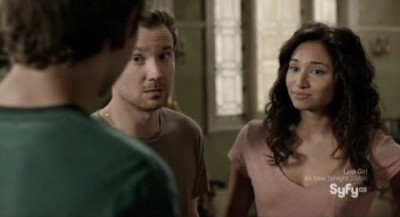 Sally, no longer a ghost, now fully human, is a good person who cost Josh and Nora dearly, both nearly bankrupt from the grave robbing with thanks to Donna's $2,000 per person resurrection to life fee. Nora and Josh clearly demonstrated the true nature of bonds of commitments to friendship is beyond money.
Nick and Stevie leave the apartment as we are taken to the scene of the van wreck where Aidan, looking none to good, bearded and disheveled, is drinking the blood of accident victim Ray to regain his strength. After a few pints of blood, Aidan is observed crawling to a phone to call home to Josh and Sally.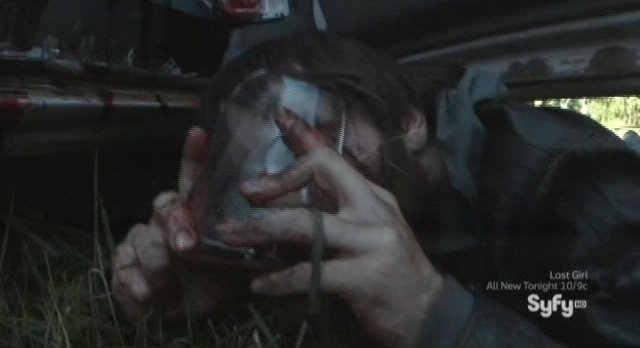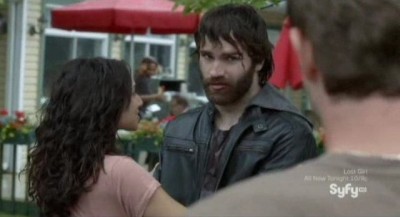 Josh and Sally drive pick him up where they divulge all the details to Aidan of how of how Sally is "Being Human", now actually alive. The question we must ask is how long will Sally remain human?
Oh, and a one more reminder before we forget, Sally is not supposed to become romantically involved or kiss anyone, or they will face certain death per the terms of the witches covenant agreed to with Donna.
After some good natured banter between the roommates, Nora and Sally exchange some fun one liners about Sally needing to borrow some clothes from Nora's "slutty punk phrase" and the need to go shopping for her as soon as possible so Sally will stop rummaging through her closet!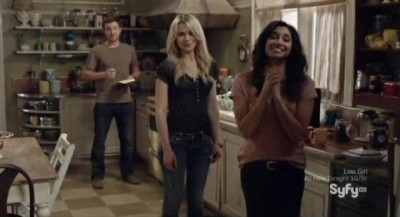 You see, as a ghost Sally never had any new clothes, we always saw her in the same outfit over the course of the first two seasons of Being Human.
Later is another fun one liner by Nora that Sally is probably wearing her "favorite bra". You go girl, get to shopping Sally with Josh as Nora suggests!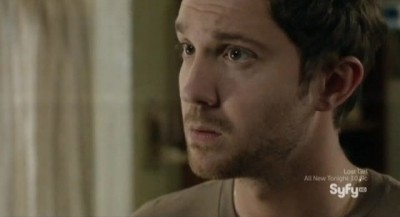 We learn more about the infected blood curse from last season that makes it hard for Aidan to survive. Josh is worried about Aidan saying he will help, but Aidan refuses.
Since uninfected human blood is very hard to find in Boston, Aidan sets out on a field trip at night to locate some food. Not a very good idea, but the sequence nicely sets up the return of a character from the past.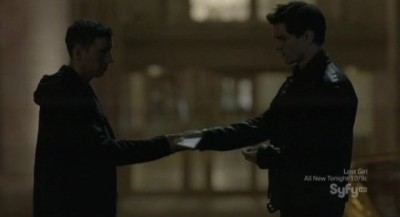 As expected, Aidan is tricked paying for blood and viciously beaten up by werewolves in an alley while looking for clean blood to sustain his life.
Fortunately our favorite vampire is saved by Henry (Kyle Schmid), his vampire protégé whom Aidan saved in the past during World War One in the episode named "It's My Party and I'll Die If I Want to".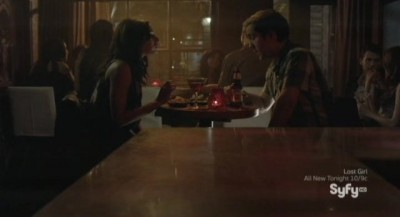 Before we learn about Henry and Aidan in the alley, Josh and Sally are out for cocktails and appetizers at the local bar.
Somewhat reluctantly, Josh admits to Sally that he wants to marry Nora. Somehow we believe that Sally already knew this from her ghostly adventures last season!
Although the scene is actually split in to two segments, it is fun to see Sally out and about, no longer bound as a ghost to the apartment. Meaghan Rath looks stunning, in fact gorgeous having successfully ransacked Nora's wardrobe.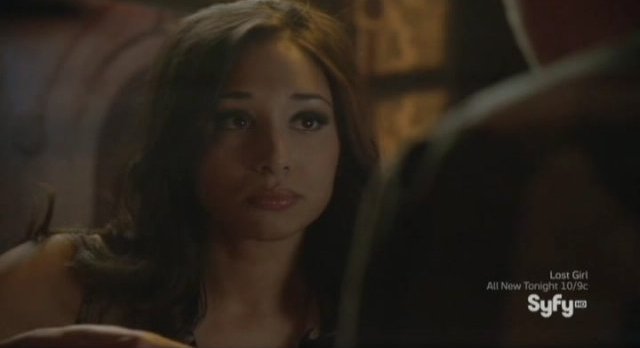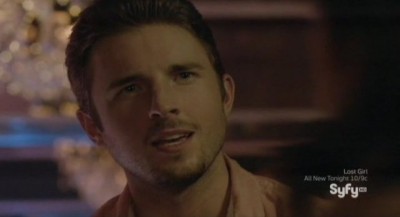 While having drinks and appetizers, we are introduced to another new character, Trent (John Bregar), who attended Sally's funeral years before.
This scene activates Sally's witch coven curse of not seeing or becoming involved with people from her past.
Sally pretends not to recognize Trent, but it is too late. It is obvious the two are sexually attracted to each other. Sally says to Trent that she faked her own death to escape her evil boyfriend, but there are sure to be consequences that will unfold later in the episode.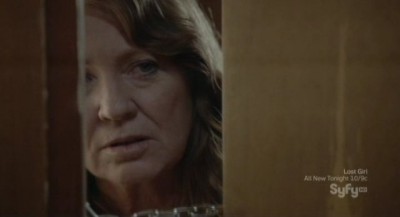 Earlier, after being saved, Aidan had tracked down a Dutch Woman (Dawn Ford) to find out where Henry is.
In a reveal, we learn than Henry has somehow managed to find the only uninfected girl in Boston who he has imprisoned in his apartment as his constant source of food. Henry shares that werewolves have virtually taken over Boston and that blood for sale on the black market is a scam.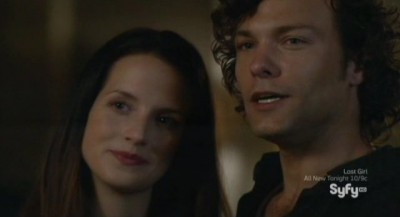 Henry refers to attractive blood provider Emma (Kimberly-Sue Murray) as his girlfriend.  Aidan is clearly shocked that his friend Henry has compelled Emma to serve as a food source.
Henry even has the audacity of offering Aidan a light snack of Emma's blood. Later in the episode Aidan frees Emma, much to the great displeasure of his vampire buddy Henry.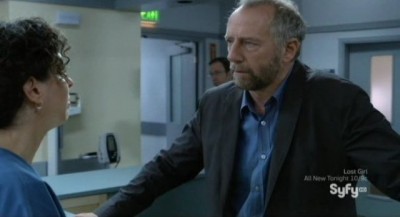 Back to newcomer werewolf Liam, the father of Connor and Brynn (Tracy Spiridakos) , the werewolf wonder twins from last season, we find him at the hospital seeking the whereabouts of Nora. No dice, the hospital will not give out details.
Somehow Liam manages to track down Nora at her second home, the storage locker. No surprise, Nora is just about to go werewolf.
A quick series of flashbacks reveals the back story going on in Nora's and Liam's minds. It is clear that Nora has some involvement that she wants to hide from obsessed Liam regarding the fate of his children.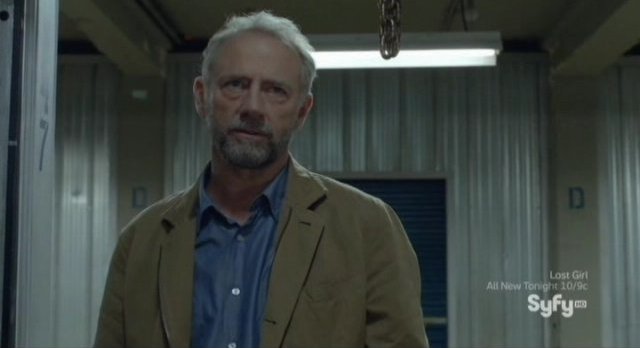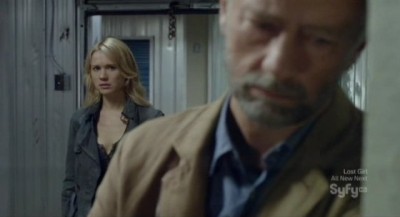 Earlier in the opening sequence, Liam confirmed that his son Connor (Jon Cor) was dead, nothing more than a werewolf trophy on the wall. Now Liam tells Nora that he wants to locate his other child Brynn (Tracy Spiridakos of Revolution).
In a tense sequence, Liam closes the door to the storage locker so both will transform into werewolves together.
Nora is obviously scared shyteless as Liam states he must find out her character and if Nora is telling the truth about Brynn. This cannot end well.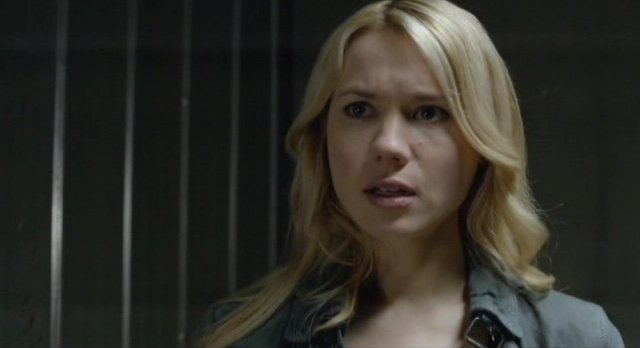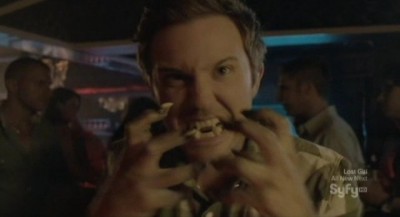 Back to the bar where Sally is having one too many drinks with Trent, poor Josh is looking at the engagement ring he has purchased for Nora.
In his mind, Josh shows the engagement ring he wants to give Nora to the bartender. Josh also thinks he has forgotten the time, that his wolfie self is returning.
Josh imagines that he has suddenly begun to turn into his old wolfie self again as the bartender screams in absolute sheer terror in his mind!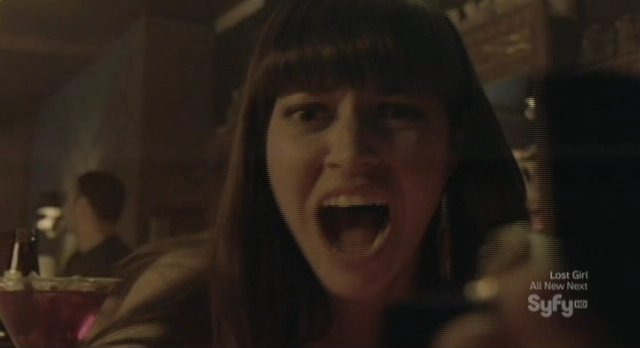 All in his imagination, Josh slashes the bartender as Sally approaches saying she is taking Trent home and that she has been making out at the table with him. Sally  asks Josh for two or three hours alone so she can engage in some long missed good ole' casual sex!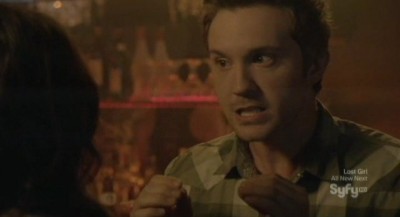 Not a good idea Sally! Josh warns Sally; says "you can't bone Trent" per Donna's requirement not to see, let alone sleep with people from Sally's past.
This should be a  lesson for any and all who seek physical pleasure without love, a price will always be paid, but we will get to the consequences of Sally's dalliance with Trent and casual sex a bit later in the episode!
In several humorous lines proving the delightful chemistry between Meaghan Rath and Sammy Huntington, including a hilarious reference to Norman Bates of Psycho, and asking Josh for his secret stash of condoms,
Sally and Josh debate if a re-animated human can even have sex. Sally is determined telling Josh to "stop calling me re-animated, it makes me feel like a zombie"!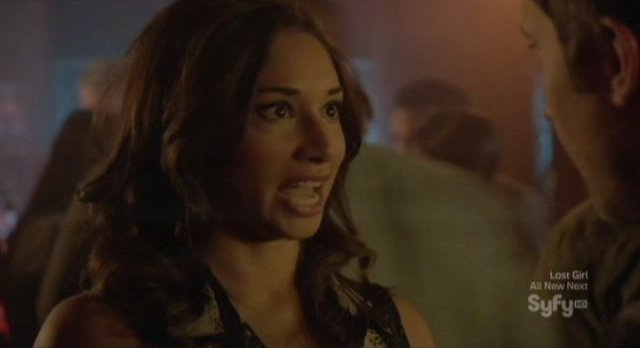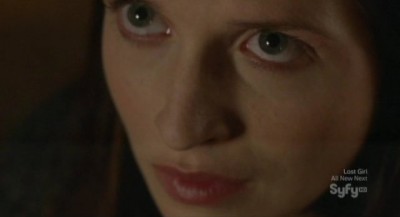 We segue to the scene when Aidan is to feed on Emma courtesy of Henry. Alone in the bedroom, Aidan discovers that Emma is being held prisoner. To make matters worse, Emma has tried to kill herself to escape being Henry's blood slave.
Aidan is none too pleased with this discovery, flashing back to his own entrapment in the coffin from last season as a result of his involvement with Suren (Dichen Lachman) and Mother (Deena Aziz).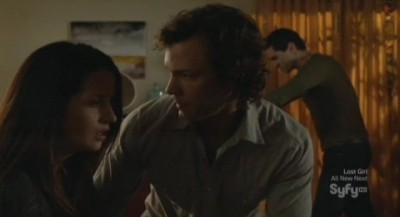 Henry enters the room and compels Emma to stay. Henry claims he is keeping Emma prisoner to keep her from getting infected.
However Aidan explains that keeping Emma hostage is a violation of his vampire code of ethics. Subsequently Aidan sets Emma free, setting up an inevitable conflict between him and Henry that will play out in future episodes.
As the episode winds down, we observe Sally and Trent making out on the front steps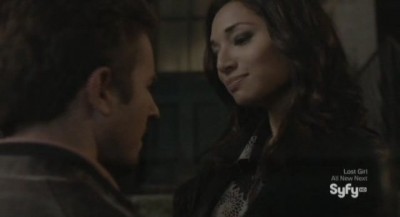 to the apartment. There is no doubt Sally is horny, but she resists the urge to jump him.
However, while Trent has misgivings about her, likely from Sally's claim that she faked her own death, where he had balled his eyes out, there is little doubt he wants to see Sally again.
Trent is sincere about wanting to get to know Sally better, promising to take her out on a date the next day mock rock climbing at a local facility. Despite being horny as all get out, Sally agrees to not "bone" Trent that night.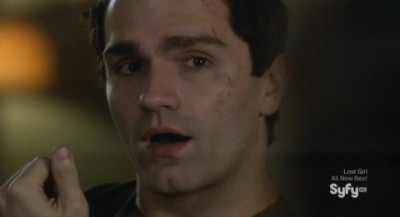 In a rather tender scene one on one, Sally is on the living room couch talking with Aidan about her feelings and what has transpired over the past two years.
Sally is very happy she can be seen once again and that she is enjoying being courted by Trent as a human being, not as a ghost inhabiting human skin seeking only lust as she did in season two.She wants and needs love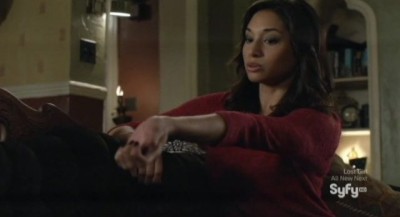 Sally offers to feed Aidan, who politely refused, informing Sally that since she has risen from the dead, her blood would not provide him sustenance. Aidan touches Sally cementing the "Being Human" bond between them.
Meanwhile Josh is walking the streets running into some werewolf friends who howl at him. Josh smiles but it is clear he is thinking about the love of his life, Nora. Josh is awake the next day, chatting with Sally about going out for breakfast.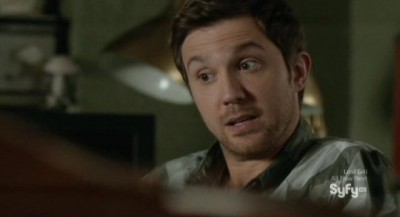 First Josh informs Sally he must let Nora our of her storage locker and proposed marriage to her.
Sally knows that Josh is planning to ask Nora to marry him from the night before in the bar, but tells Josh that "no woman wants to be proposed to after being a werewolf all night".
Outside, an ambulance arrives as the consequences of Sally meeting and kissing a person from her past become manifest. We then observe poor Trent being placed on a gurney and into an ambulance in a body bag likely being taken to the morgue!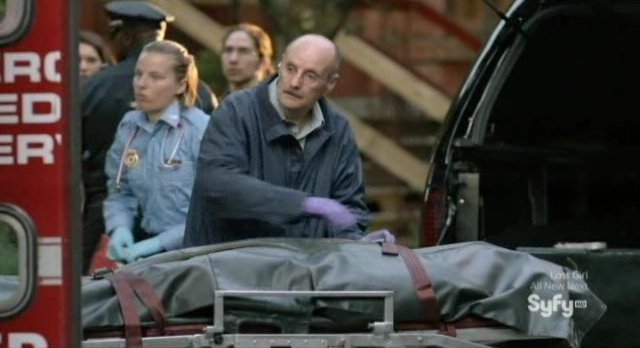 Trent has apparently paid the ultimate price for Sally's failure to heed witch Donna's covenant! We say goodbye to Trent for now as Sally and Josh share a moment of horror at the turn of events as the body bag is zipped shut.
But is Trent really gone? Perhaps another deal can be made with pricey Donna the Witch? Is real bankruptcy looming for our roommates as Donna milks them dry to save Trent?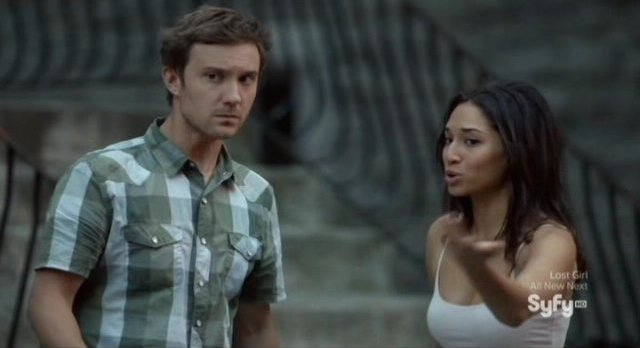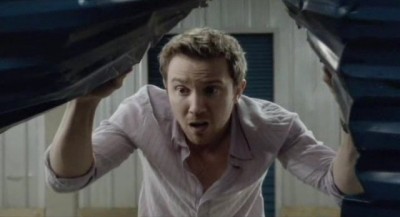 The episode draws to a conclusion as Josh arrives at the storage locker to free Nora after her night of being transformed into a werewolf during the full moon.
To his utter shock, Josh finds Nora is missing from the storage locker she uses to transforms into the werewolf part of herself!
The storage locker door has been punched open from the inside out. Josh is terrified, not aware at this point that Liam is involved, while we the viewers are aware!
As the screen fades to black, poor Josh is heard screaming "Nora!!!!" OMG poor Nora has been taken by Liam!
I hope you enjoyed my detailed review? If so, please come back soon for another detailed analysis on Being Human!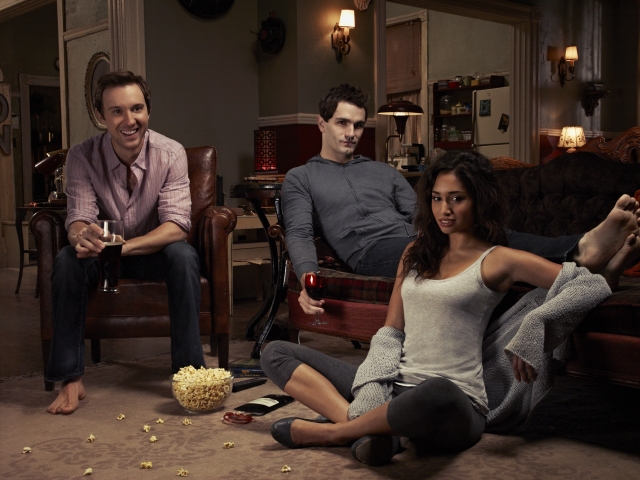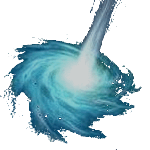 Thank you for visiting our Being Human dedicated web site here at WormholeRiders News Agency
Please feel free to leave a comment here or if you prefer, click the social media icons below to share this news article. Or as many of our readers and visitors often do, visit WHR on Twitter, WHR on Facebook or visit me on Twitter by clicking the text links or images avatars in this news story.
As always, I and the WHR team look forward to Seeing You on The Other Side"!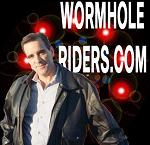 Thank you.
Best Regards,
WR_Systems (Kenn)