Welcome back to a life of Being Human!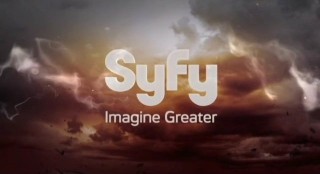 Well folks, we all knew that it was coming as each of us waited in turn with eager anticipation for a game changer in one of our most favorite vampire, ghost, werewolf and witch dramas!!
"What's Blood Got To Do With It" adds a new character as well as the return of a memorable, albeit evil one from the past in a fantastic sixth episode aptly named!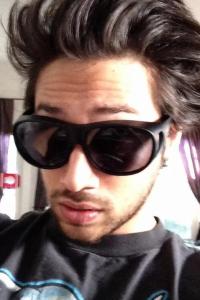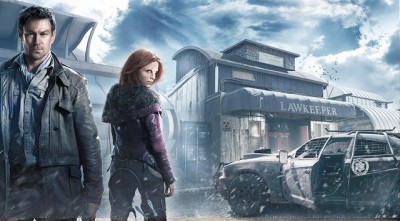 Meaghan Rath's talented brother Jesse Rath (pictured above right) is featured in the episode in a guest starring role as Sally's in series brother, Robbie Malik.
For those in the know about such matters Jesse Rath is also a featured guest starring celebrity in the much heralded and long anticipated, upcoming epic Syfy science fiction post apocalyptic drama, Defiance and will be at South by South West (SXSW) in Austin Texas for Defiance that I attended many times in a past life in Austin!

The match up of brother and sister guest star and series star in "What's Blood Got To Do With It" was perfect for the show as all hell breaks loose for our Being Human friends!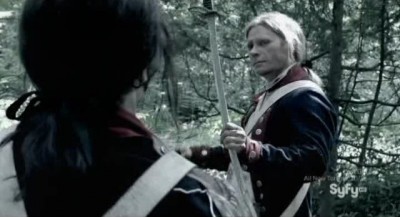 To make matters worse in attempts at Being Human, Mark Pellegrino returns, in a flashback method, as the vampire Bishop to haunt Aidan (Sam Witwer) about past indiscretions that have transpired in his life during the United States Revolutionary War some 240 years previous!

Can things get any tougher for poor Aidan after he was observed by "Bubble Boy" Kenny (Connor Price) going vampire in last week's episode at the hospital?
Before continuing we include the promotional trailer for the next great episode of Being Human "One is Silver the Other is Pagan" for your enjoyment courtesy of Syfy.
Whats Blood Got To Do With It: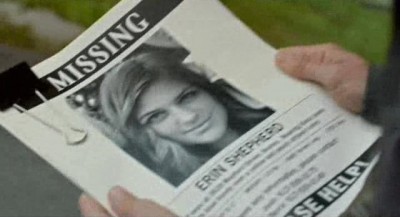 This week's superb episode is delightfully a family centric one with more character back story revealed about just what in the heck is going on with Being Human!?
The creators of Being Human have successfully incorporated important lessons in life that pique the interest of the viewing audience.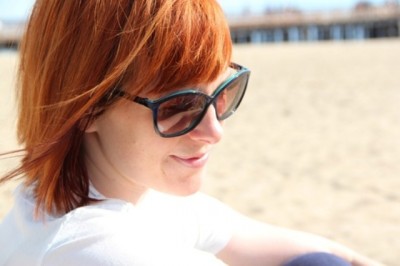 Most of the episode focus is on Sally's challenges, with Aidan, Josh and Nora playing roles supporting the developing plot lines that are revealed in the "What's Blood…" episode.
Before continuing my analysis of this wonderful episode, this editor applauds such efforts by the creators in spotlighting many parts of the human condition in the unfolding drama that we will all have to deal with one time or another in life, whether we like it or not.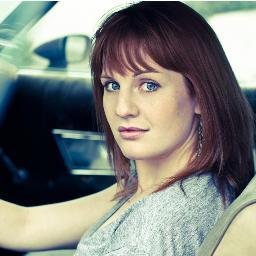 We say BRAVO to Executive Producer Anna Fricke (pictured above right) and "What's Blood Got To Do With It" scriptwriter Kate Burns (pictured left).
Last week the moment we all were waiting for took place to the delight of Being Human admirers when Max (Bobby Campo) and Sally smooched on screen for the first time!
This was followed quickly by the two making love (off screen of course) to consummate their budding romantic relationship.
Sally is most certainly reaping the "Joy of Sex" with Max. She is also enjoying the rewards of benefits of Being Human once again by hugging, cuddling, spooning with much general canoodling taking place with Max, the handsome funeral home director.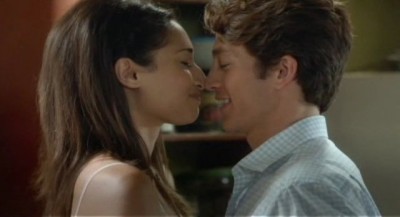 Of course, like many young lovers Sally and Max had a fight, but not one of their making. Linda, Max's overprotective and jealous mother the ghost, had invaded Sally's body with the intent of breaking the two lovers up.
After their fight, Max and Sally subsequently make up at the outside cafe.  As we all know, love is never an easy thing to maintain, especially if meddling parents get in the mix!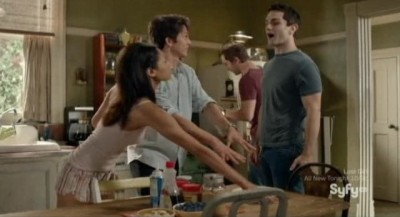 The worrisome fact is that Sally, while enjoying her relationship having much pleasure with Max, appears to have completely forgotten about her curse that if she encounters anyone she sees from her past life that they will perish.
Despite her fun with Max and enjoyable interactions with her roommates, a new problem crops up for Sally when Robbie Malik, Sally's trouble making brother makes a surprise appearance at their front door step!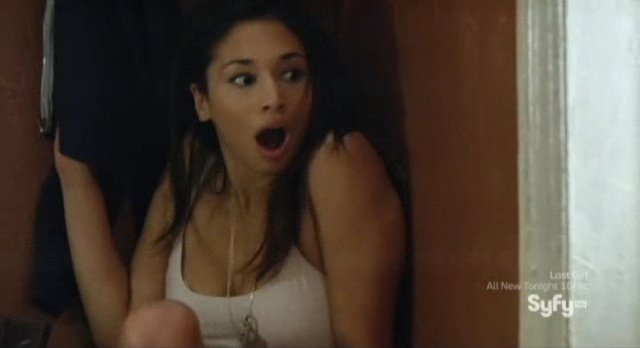 Robbie Malik is demanding that Aidan and Josh pay the m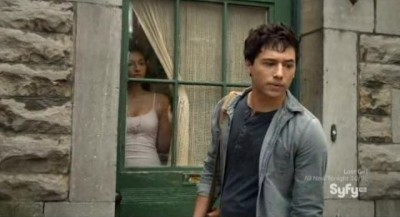 onthly rent money directly to him in the future.
To add insult to injury, Robbie says the rent must be paid in cold hard cash from now on!  According to malcontent brother Robbie Malik, the house they are living in belongs to him and Sally's father, Samid Malik.
For goodness sakes people does this type of family tripe sound vaguely familiar to anyone?
Well, it does to me since I have at least a few members of my own family who are always around trying to steal money from other relatives, ransacking their estates after their deaths, just like Robbie Malik is trying to accomplish.
Unfortunately my friends, this is one of life's horrible realizations and great tragedies, greedy, unethical family members who will stop at nothing to take money and property that is not theirs!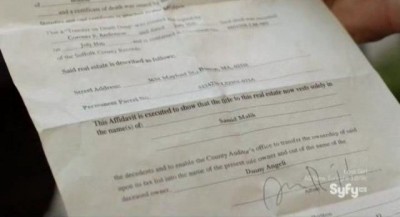 As Robbie hands a so-called property deed to Josh and Aidan, he also says that since he is the new landlord, he will return in the near future to fix the place up, indicating that they have let the place exist in a rundown condition. Well they do seem to have a lot of parties there, so perhaps Robbie is not that far off base?
Sally's failing memory suddenly returns with her brother's unexpected appearance. Sally becomes quite worried Robbie will recognize her causing his untimely death. In order to make sure that she does not inadvertently kill her own brother, Sally decides to make herself scarce, and quickly goes into hiding to avoid a family disaster despite her brother's greedy ways!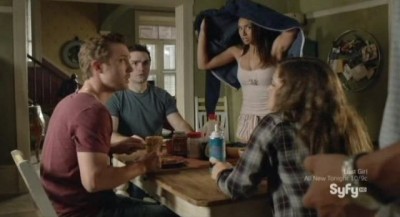 Sally begins playing "hide and seek" by sneaking around the house to avoid killing her brother. However, playing "hide and seek" will not work over the long run.  
Sally decides to visit with Max and talks him into staying at his place. This will offer more opportunities for the two young lovers to practice making little ghosts, errr I mean human babies. It's very hard work you know!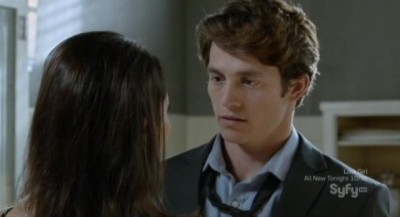 Max is recalcitrant not being too happy with Sally at the present in series time. In specific, Max wants answers that Sally is not willing to divulge at this time.
Max is very disappointed that Sally is being less than forthright with him about what is actually happening with their relationship and just what the heck is going on with Robbie, her brother.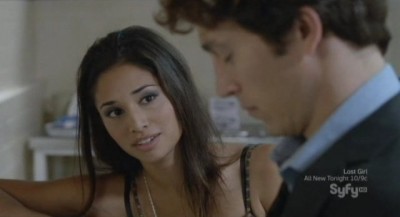 Max rightfully has his feelings hurt by Sally because he is certain that Sally is hiding things from him about their lives and relationship that will be of importance to building a future together.
This too is an important lesson in life being imparted by Anna Fricke, Executive Producer of Being Human. The topic of love notwithstanding, far too many people tell falsehoods to cover up their wrong doings.
While this editor has sympathy for Sally and her predicament, she had better level with Max soon before the circumstances catch up with her!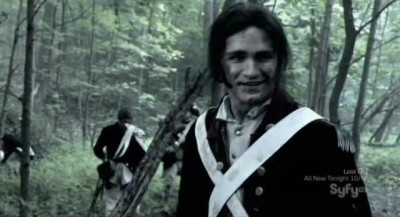 In the meantime, Aidan is back at work at the hospital with "Bubble Boy" Kenny (Connor Price). Aidan has started to relate things to Kenny about his past life that perhaps were better left completely unmentioned.
Oh well. Just wait a few minutes friends, it gets better… Much better!

Unfortunately for Aidan, he has become beholden to Kenny who caught him transforming into a vampire in the previous episode.
We observe Aidan flashing back to the United States Revolutionary War when he first met Bishop (Mark Pellegrino).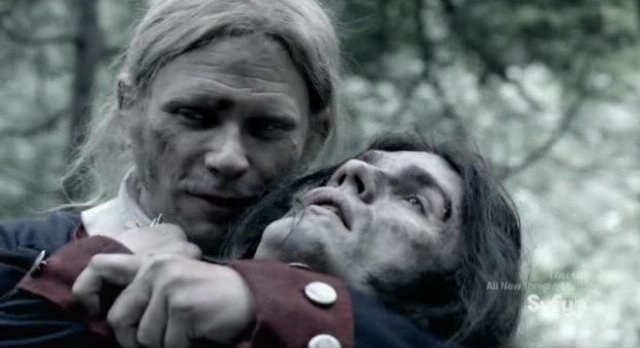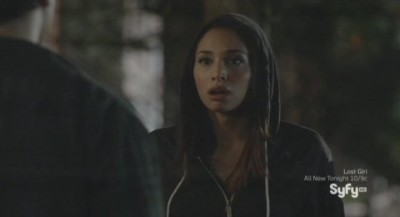 As the episode continues, Sally realizes she forgot to take a change of clothes when staying with Max. Poor Sally seems to have a memory problem, however that makes for good opportunities to further the story arc.
Coming back home to change her clothing, Sally encounters her trouble making, gold digger brother Robbie!  And yes my friends, there are male gold diggers, Robbie being one good example.
Sally discovers that apparently homeless Robbie has been sleeping in his car just up the block from the apartment building. This poor guy may be trouble, but Sally feels dual feelings; Sally feels sorry for her family member, and having run into him, Robbie now faces certain death!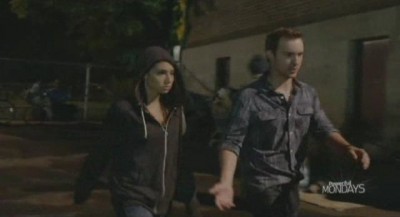 Sally realizes that her hapless brother Robbie will certainly perish and die unless she quickly does something drastic to help him.
Yep, you guessed it, Sally enlists Josh to go visit Donna (Amy Aquino) the less than upright witch who brought Sally back to life Being Human earlier in the season.
Josh and Sally demand help from Donna. As suspected, we all know who has the power and Donna promptly demonstrates to both of them who is really in control.  Donna demands a payment for her services.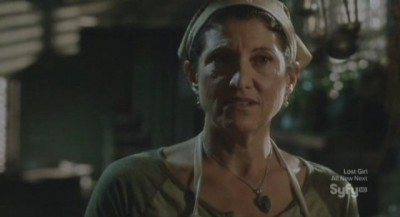 Poor Sally and Josh try to over power Donna and fail. Sally then decides she must make a gigantic sacrifice, her own life soul to Donna in exchange for saving her brother from death for her own (Sally's) mistake of letting the two of them meet in real life.
Sally commits her own human soul to Donna to save her doomed trouble making malcontent brother Robbie. The scene when Sally's soul is attacked by powerful Donna the Witch is chilling to say the least!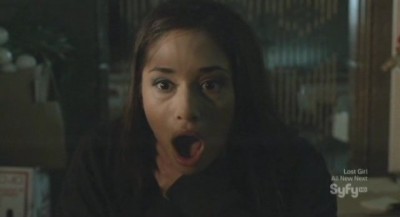 We all knew that Sally was a good spirited person (pun intended) from the beginning of the series.
No friends there is no hope for Sally, she will make a Faustian exchange for the right to live a normal life not killing people she meets while keeping Robbie, her brother, alive.
The bargain is not by any means a perfect choice, however least Sally will be able to live with herself knowing that her curse will be lifted, no longer plagued by killing people she encounters. The bonus? Sally will be able to go out in public with her lover Max!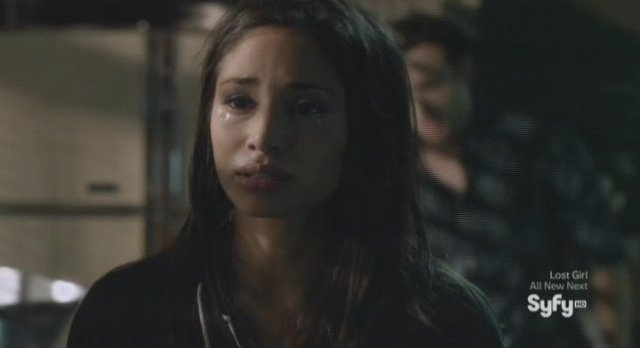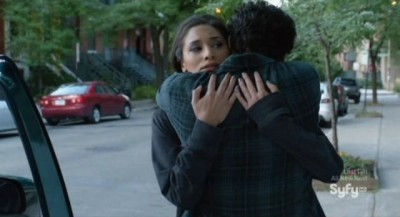 As this outstanding episode of human consequences winds down to a conclusion, Sister Sally see her brother Robbie who decides to leave town.
Sally gives him a hug before he leaves the city. Awwwww, good sis Sally, she saved the troublemakers life giving him another chance to live a better existence. This reviewer loved this entire "real" family oriented arc within the series! The hug was great!

We then return to last week's shocker that Kenny witnessed Aidan going vampire when he observes Aidan coming out of a dream and killing a nurse by snapping her neck.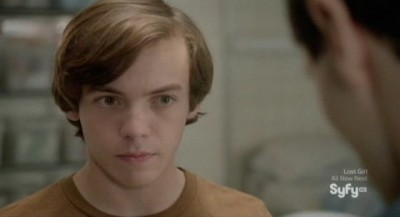 We segue to the hospital where Aidan has been forced to confess to Kenny that he is a vampire.
We observed last week that Kenny has religious convictions, taking pity on Aidan and not revealing to anyone that Aidan is a vampire.  
This is where we see the flashbacks to Bishop come into play for Kenny as more back story reveals about Aidan as an immortal vampire begin to seduce the young man.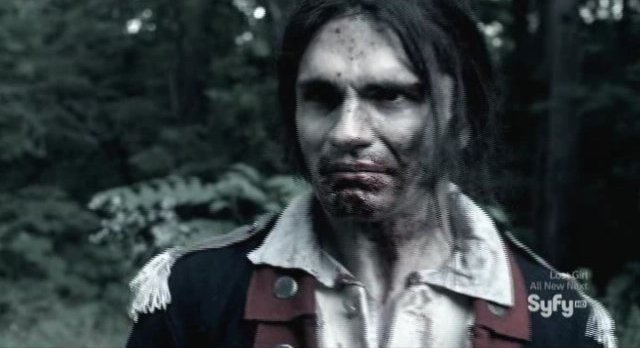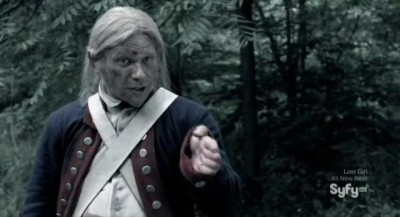 Aidan shares more of the story with Kenny about how he originally became a vampire. In haunting sequences, both earlier in the episode, and new flashbacks we witness superb cinematography in dream like sequences where Bishop had originally turned Aidan into a vampire during the United States Revolutionary War.
Aidan is sharing the history with Kenny to warn him of the dangers of becoming a vampire in "real life". However, regardless of Aidan's disclosures, Kenny becomes entranced by the stories. This of course shocks and saddens Aidan.
What we learn is that Kenny is having a fantasy about becoming a vampire to escape his life of imprisonment as a Bubble Boy. A life as an immortal vampire is quite appealing when compared to what his life consists of today.
In this reviewers opinion, Kenny is making a (bad) choice to desire that Aidan to turn him into a vampire. He has no awareness of the werewolves, ghosts and witches that are loose on the planet Earth of Being Human!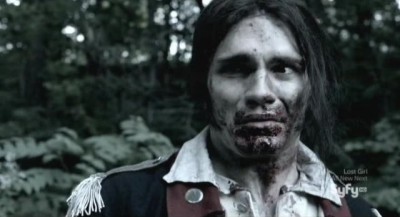 Like all of us, Aidan finds himself is trapped due to his own mistakes he has made in his life. He needs Kenny's untainted blood to stay alive without killing others in the process, not to mention the danger from feeding on the general plague ravaged population
Kenny, in search of his goal of immortality as a vampire, is more than pleased to feed Aidan his untainted blood. Aidan accepts this "bargain" reluctantly. This situation cannot last forever as Aidan is told that by Kenny that he plans to leave the hospital and the bubble existence when he becomes an adult.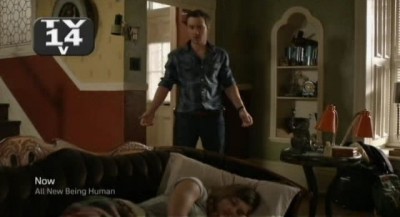 We move to the end the episode wondering where Nora has been? We find out that Nora has been working extra hours at the hospital, likely to save up for her wedding gown and pending nuptials with Josh.
Josh comes home only to find Erin (Lydia Doesburg) crashed out on the couch.
Meanwhile through the episode back at the house, Josh and Erin have been arguing about the way she is living. Josh accuses Erin of being a sloppy, cantankerous, rebellious, impolite, rude, lazy, selfish teenage bitch who is addicted to surfing the web and making endless telephone calls on her frakking cell phone!
Does this sound like any teenager behavior of today's society of young people that you may know of? Enough said, except that Erin has not been asleep, she has merely been avoiding Josh for what she has planned!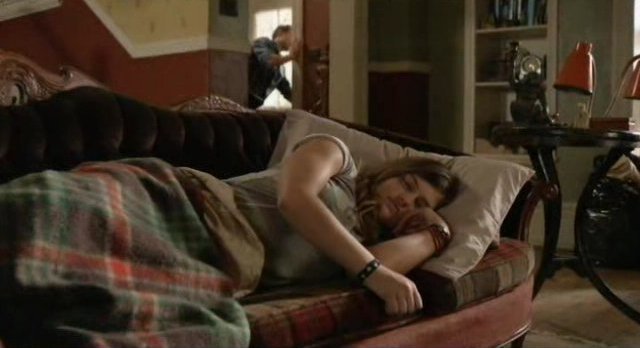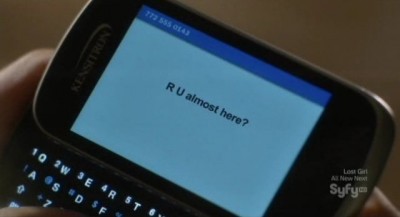 After Josh leaves the house thinking Erin is peacefully asleep, we witness as Erin sends a text message to Liam (Xander Berkeley) for something treacherous he has in mind.
Unknowingly. Aidan enters the house feeling sorry for Erin and that his knowledge from living over 200 years will help Erin. Wrong!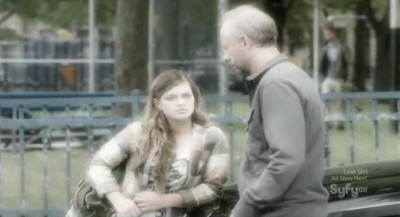 In another cool cinematic flashback dream like scene, we find out that little not so innocent evil Erin has secretly been recruited by Liam to ascertain who killed his daughter Brynn.
In the final moments, we learn that Liam talked Erin into poisoning Aidan's blood supply!  Evil little bitch Erin succeeds in the mission given to her by werewolf Liam.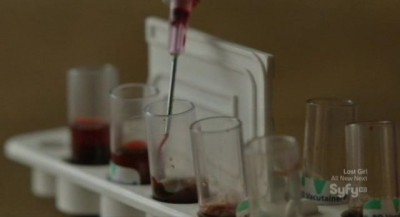 The last sequences are more than shocking; Evil Erin is hovering over a prostrate Aidan with a wooden stake to finish him off!
Obsessed Liam the werewolf quickly heads over to the house to finally get his wish and kill helpless Aidan, thanks to the evil little teenage traitor Erin!
As the screen fades to black, we are flabbergasted, left to wonder, will anyone get there in time before Liam arrives to complete his dastardly deed of revenge for the death of his wolfie children that our heroes killed last season?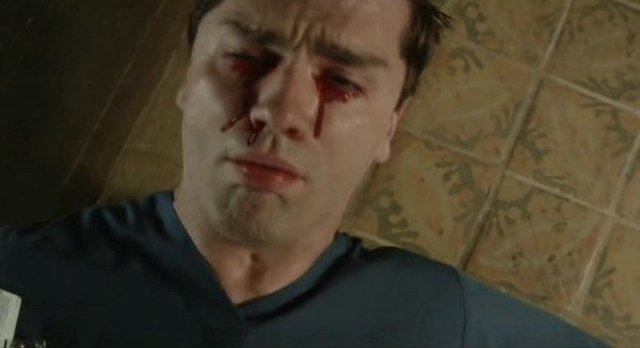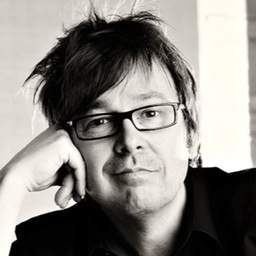 In concluding this analysis, this reviewer pays great compliments to the creators for weaving human lessons and human frailty into the story arc. 
The selection of the haunting music of Sennen "Age of Denial" is an outstanding (perfect) choice by series composer F.M. Lesieur about how people go about life, often denying what they have done and blaming others for their own mistakes.
Like any great entertainment endeavor, Being Human provides many lessons about loyalty, friendship and betrayal that all those Being Human must deal with in their own lives.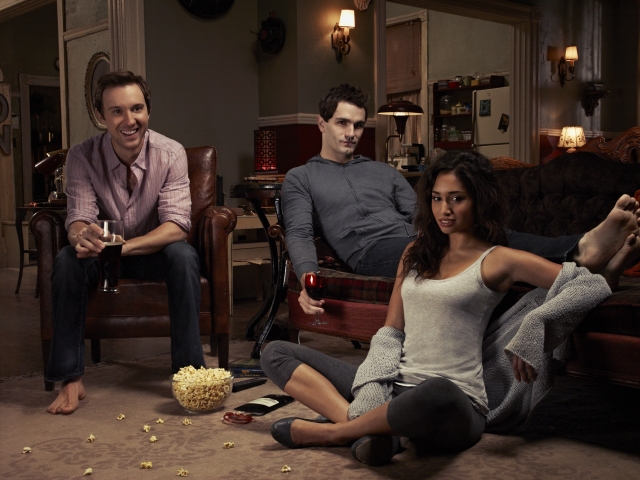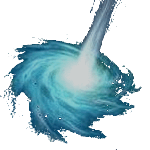 Thank you for visiting our Being Human dedicated web site here at WormholeRiders News Agency
Please feel free to leave a comment here or if you prefer, click the social media icons below to share this news article. Or as many of our readers and visitors often do, visit WHR on Twitter, WHR on Facebook or visit me on Twitter by clicking the text links or images avatars in this news story.
As always, I and the WHR team look forward to Seeing You on The Other Side"!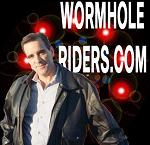 Thank you.
Best Regards,
WR_Systems (Kenn)