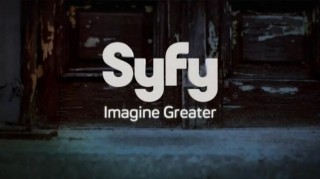 Welcome Being Human Fans and WormholeRiders! 
This week's episode was a very pivotal point with our favorite Monsters!  Erin (Lydia Doesburg)   is under the influence of her new Pack Leader, Liam (Xander Berkeley). Josh (Sam Huntington) and Nora (Kristen Hager) are blaming the 'accident' on Aidan (Sam Witwer).
And Sally (Meagan Rath) has now done the 'Wild Thang' with her boss, Max (Bobby Campo). Then we have the boy in the bubble, Kenny (Connor Price) who now has to face a new Vamp in town, fiery red head Blake (Janine Theriault), who really wants a taste of the salad bar and lord knows what else!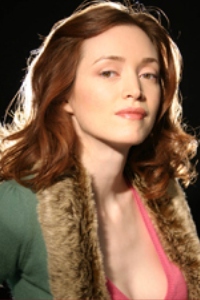 So kick back, relax – and let us see exactly who, what and where the story takes us tonight!  Before we do that lets enjoy a clip, provided by Syfy of the next episode of Being Human we will review this week "Your Body is a Condemned Wonderland'!

One is Silver the Other is Pagan:
It sure looks like Erin got the raw end of her confrontation with Aidan!  She's in a coma; caused by Aidan, Vamp kicking her into the bookcase, the thing that Josh and Nora are not getting is she was sent, by Liam, to kill Aidan! 
Do Josh and Nora actually think that Liam just returned Erin to them out of the goodness of his heart?  What part of "I'm the one with the pointy stick do you not understand?" Evil Erin's word, not mine.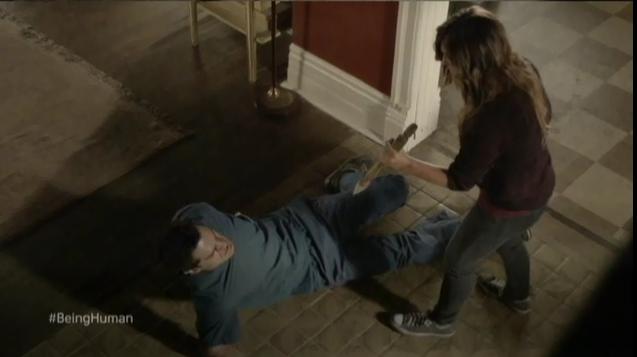 So at the hospital, Josh is actually having trouble believing Aidan's side of the story!  Give me a break!  He is totally consumed by Nora and kinda acting like he's 'whipped' my friends!  So quickly they forget.  Where they came from and how quickly it could all go to the wolves!  (Yeah, a little play on words). 
Then of course Nora comes breezing in, where is she, Erin she means!  Then they are all arguing about what happened and who attacked whom!  Really?!   And exactly how long have they known Erin, and what exactly did the Social Worker say about Erin's habits, lying, stealing?  Seems Liam has found his perfect accomplice in Erin!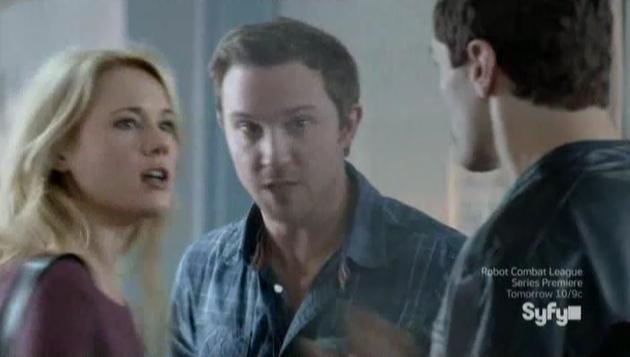 Sally can now see all her old friends without killing them so who does she show up to see first?  Yeah, it is our old friend Bridgett (Angela Galuppo) back in the Being Human mix!
Bridgett now has dark hair and it's looking very nice too)!  Seems Bridgett is working at a street café and almost falls out when Sally stalks up and whispers 'Bridg".  Yes, it tis a shocker! Bridgett thinks Sally is still in ghostly form but soon feels the real thing; Sally wants crab-dip and wine!  So yes, they have some catching up to do!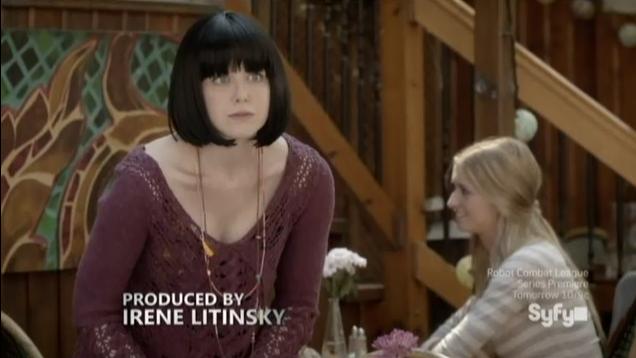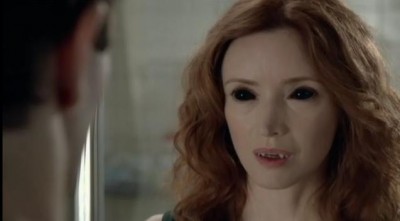 Aidan has dropped by the hospital to see Kenny and he might have interrupted a red headed woman selecting something from the menu, poor Bubble Boy Kenny! 
Aidan is demanding to see her credentials when she turns around to face him, takes a vial of blood she just drew from Kenny, turns the vial up and defiantly drinks the vail of blood right in front of him!  
Then, as you can see for yourself, Blake totally goes vampire bedroom eyes on the astonished Aidan!
Seems Blake has been following Aidan and has plans for their friend Kenny, and it seems, Kenny is not upset about her plans at all! Blake wants to 'turn' Kenny and Aidan is telling him 'No'!  Absolutely not!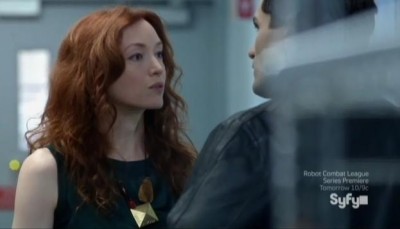 Blake has made  a deal with the 'Bubble Boy' Kenny, he sustains her until he reaches the age of 18, then she in turn, gives him his 'fangs'!  Hahahahaha!  Has Blake not seen how children and the young handle becoming Vampires?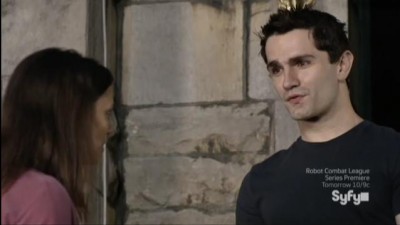 Aidan is doing some domestic chores when of all people to show up, yeah it is Kat (Deanna Russo)! 
Looks like she is desperate, the plumbing in Nora's apartment has gone south and she cannot find Nora and does not have the Super's contact information.  Aidan to the rescue!  Will the talents of our favorite Vampire never cease!  Aidan knows a bit a about plumbing!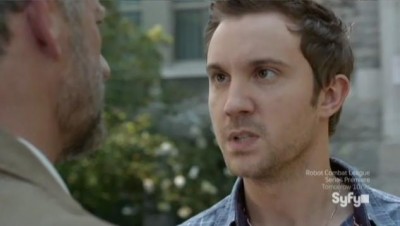 Josh is exiting the hospital when of all things to pull up is Liam.  Liam is acting all concerned about Erin and at first it seems Josh is falling for it.
But then, he seems to being putting things together, says he will never be able to prove anything but it become obvious, he is not trusting that Liam just happened to run into Aaron and bring her home, and thank the gods, he has not forgotten Liam's blood-thirst for Aidan! 
Josh flat out tells him that he knows that he had something to do with Erin trying to hurt Aidan!  Well at least Aidan has Josh in his corner, Nora not so much.
Josh's sister, Emily (Alison Louder) shows up at the hospital.  She was suppose to have lunch with Nora, a bonding time! How sweet!  But with Erin being hurt, the bonding session will have to wait.  But it seems she has something for Josh, or rather for him to give to Nora. 
Their grandma's engagement ring!  This does seem to get to Josh, who has so many plans, for himself and Nora, for their future.  He does mention that this ring does not have a very stable history as far as marriages are concerned, but its going to be different with him and Nora, right?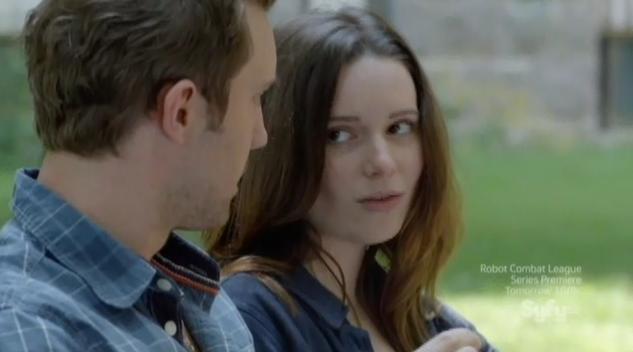 Aidan is checking in on Kenny and he seems grouchy and sleepy, seems a particular red headed female vamp has been eating from the salad bar a bit much today!  Aidan warns Blake to control herself and returns to find Kenny in a weird mood, Kenny has said 'I thought we were friends' and Aidan agrees that yes, they are! 
Kenny cannot realize what who or what he has made a deal with and only Aidan will be able to try and get through to him before it's too late! Kenny admits that Blake scares him and Aidan says 'She should scare you'. 
Behind the scenes it looks like, at least for the time being, Blake's access to Kenny has been brought to a halt, by Aidan!  The floor nurse was alerted by Aidan that Blake might not be the Auntie she claims to be and it turns out, after contacting Kenny's father, Blake is out!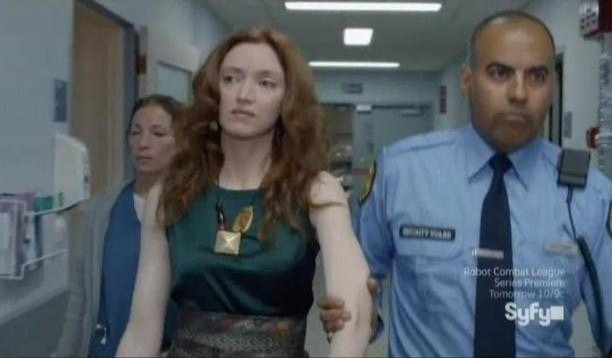 Aidan tells Kenny that he doesn't understand the bond between a vampire and his maker; it's a bond for eternity!  Aidan doesn't want Kenny bonded to Blake for a day much less eternity! 
Kenny in turn tells Aidan that he cannot stay at this hospital, this is no way to live and Blake seems to be his only choice!  Well, I see where this is going, Kenny is calling Aidan hand.  Aidan is either going to have to 'turn' Kenny himself, if he does not, Kenny is liable to take the first offer that comes his way to escape his life in the 'bubble'!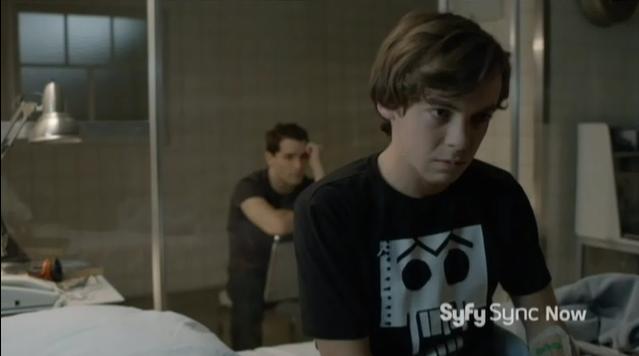 Bridgett is taking Sally to her weekly girly meeting, only this is a spiritual meeting, a calling of spirits!  Yes, they are at a Séance!  The leader introduces herself as the 'High Priestess' but says if they do run into each other at the market, Sally can call her Barb!  And Barb well, she has a knife!  Sally brings that to Bridgett's attention and but all seems fine to Bridgett! 
Barb is lighting a spirit candle, and making a circle!  Barb is calling to a woman in the circle's dead husband, and poof – there he is!  Sally says under her breath 'Go Barb'!  Then poof, another ghost shows up, problem is, neither of them is Joey, the dead husband!  They are here to check out the woman in the circle!  They start picking out the one they want and before you can say, get outta town, one of them picks Bridgett and jumps into her!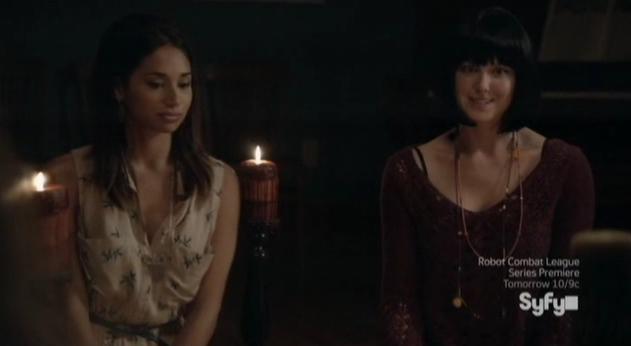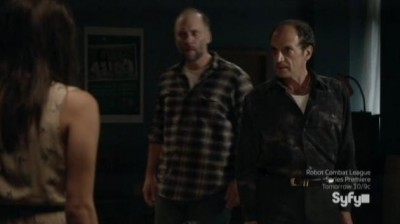 Sally stands up and orders the spirit out of Bridgett and he backs out but then both spirits know that Sally can see them!  It get really crazy for a minute, they are backing Sally up and asking all kinds of questions about how she can see them and before she can think, she say 'I use to be one of you' and then they really have questions!
Sally orders the ghosts (Carlo Mestroni and Carl Alacchi) to shut the hell up and back off!  One tries to actually jump into Sally, some sort of weird barrier is there and he doesn't!  Then Sally turns around and grabs the knife and shreds his ass! The other ghost does a poof and is gone!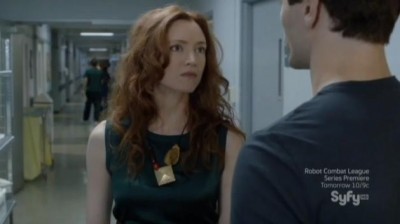 Back at the hospital, it is late and Blake has gotten past security but not past Aidan!  He explains that he has agreed to 'turn' Kenny, Blake accuses him of choosing humans over his own kind, even in the face of his own kind going extinct! 
She also mentions that she did not think Aidan wanted to father anymore children, in kind he replies 'I'm doing this to save him from you'!  Then Aidan turns and walks away!  I'm thinking we are probably going to see Blake again, in the future; she is not going to give up that easily!
Aidan doesn't really seem to remember that Nora said to 'Stay away from Kat', and after repairing her plumbing……well, he's asking her on a date. A real date.  And she accepts.  This is only gonna get worse my friends!  So, Erin is in bad shape, and we know Nora already holds Aidan responsible for that!  And now, against Nora's order to stay away from her friend, he's going out with her!  Perfect union if I've ever seen one!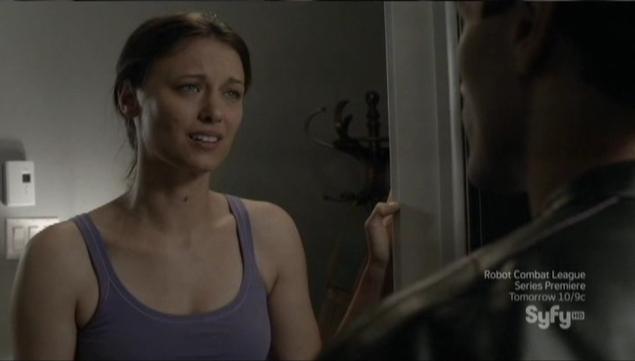 Josh and Nora are keeping vigil at the hospital, hoping that Erin will be waking up soon.  They are in the waiting room.  While they are there, trying to be strong Josh tells Nora that he will always choose her, over anyone else. 
At this same time, Liam has slipped into Erin's room.  She was unconscious, but comes to for a minute as Liam talks to her; she is still hooked up to all kinds of leads and tubes. Liam tells her what an integral, important role she played in the success of the pack, that this was her destiny and what a great thing she did.  Then he takes one of her pillows, puts it over her face and suffocates her.  Then he slips out of her room.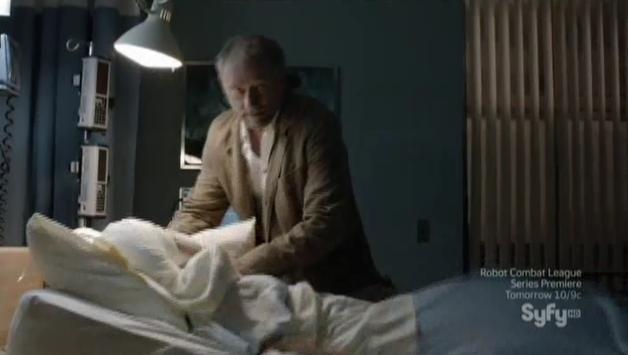 Nora and Josh are going to check on Erin when they see nurses running in and out of her room. 
Nora takes off running, and turns into the room staring at a very dead Erin.  Nora is in shock as she turns to Josh we see Aidan standing in the distance.
Josh sees him, but Nora has turned the other way. 
This is not getting better for our friends in Being Human.  At least not tonight.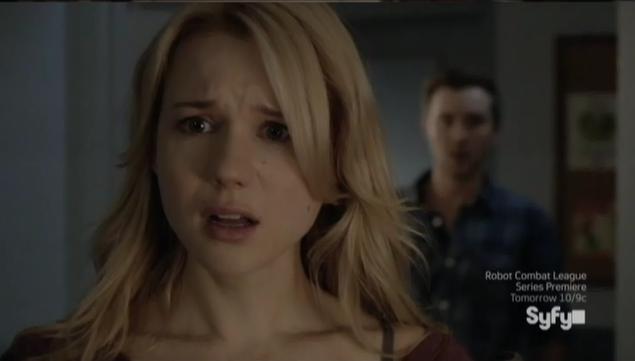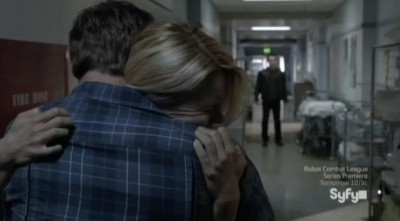 And tonight wraps up with Blake walking down a seemingly abandoned alleyway. But wait, oh, I see! 
Seems Auntie Blake has drawn a crowd.  Liam has been stalking her and now he grabs her by her pretty little neck! 
Liam is bragging about being a pure-bred and Blake comes back with her own pure-bred story that makes him release her, pretty fast! 
As she backs away from him he does seem a bit nervous, looking around as he does let her go.  He does not seem real happy about!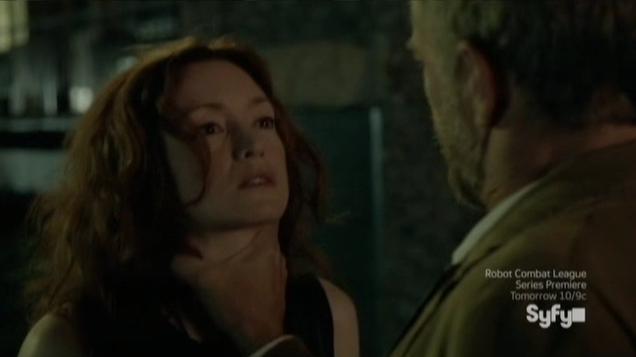 We drop in on Sally; she's back at the house, primping in the mirror!  Then oh-no!  What's that?  I do believe her hair is coming out by the 'clumps'!  It is not only coming out, her scalp is coming with it people! 
O-MY!  By Clumps!  Ohhhhhh gross!  Seems our Silly Sally is literally falling apart at the seams!  Gee-Gads!  Where are we going from here?  Well we will have to tune in to the next episode to find out!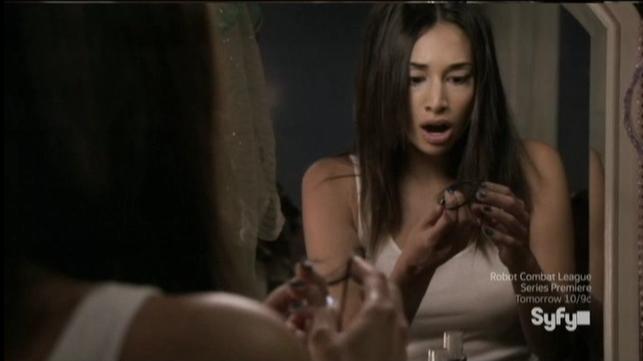 And do not forget to watch Being Human on Syfy and Imagine Greater!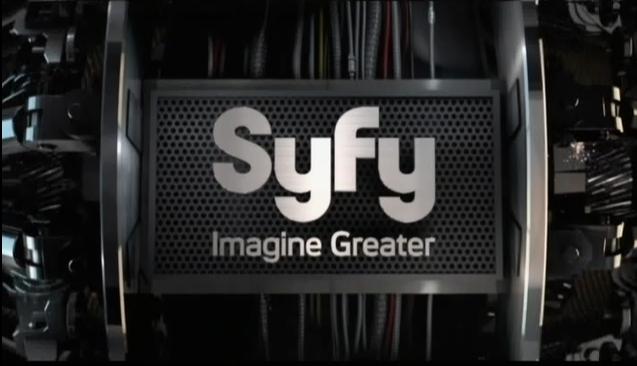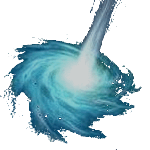 Thanks to Kenn for special video embedding of the our featured song "Gold" by "Wake Owl" featured in this past weeks episode, and many thanks to you for visiting WormholeRiders News Agency
Please feel free to leave a comment here or if you prefer, click the social media icons below to share this news article. Or as many of our readers and visitors often do, visit WHR on Twitter, WHR on Facebook or visit and chat with me on Twitter by clicking the text links or images avatars in this news story.
I and Team WHR look forward to Seeing You on The Other Side"!
Thank you.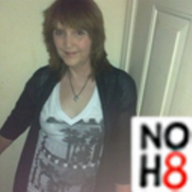 Regards,
HWilson2009 (Holly)