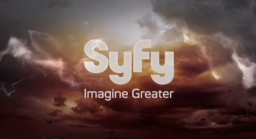 Welcome back to a life of Being Human!
Well, fans, this episode has been what we have all been waiting for!
In this episode, Liam (Xander Berkeley) will go werewolf on screen while exacting revenge from Aidan for the death of his two werewolf children. Josh (Sammy Huntington) will become injured, nearly perishing in the process, all set to become a werewolf again, but I get ahead of myself from the sheer excitement of "Your Body is a Condemned Wonderland!"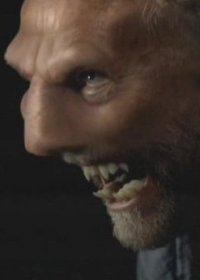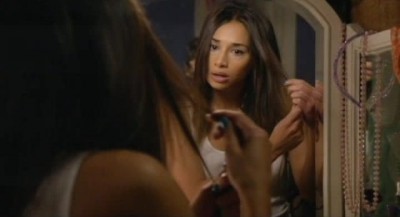 Poor Sally (Meaghan Rath), our not so innocent ghost turned lover, begins to deteriorate with her hair falling out as a result of her Faustian bargain with Donna (Amy Aquino) the witch to save her brother!
Will Max (Bobby Campo) the devilishly handsome funeral director be able to help Sally before her soul is forfeit to Donna the Witch?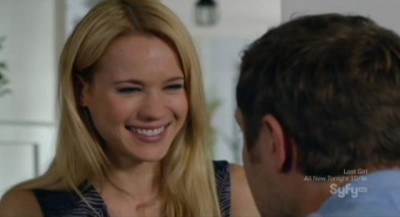 We are all left to wonder, will Nora (Kristen Hager) return from the hospital in time with answers to save our favorite heroes from doom?
Will Nora finally get her marriage proposal from Josh so the two lovers can ultimately share wedded bliss with each other despite the foreboding situation developing in Being Human?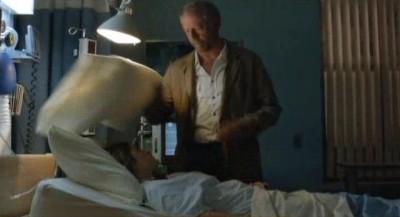 More importantly, will Nora even want to help Aidan after the death of her protege Erin (Lydia Doesburg)?
Poor Nora thinks Aidan killed the teenager when she was thrown against a wall, even though we all know it was Liam who smothered the helpless girl at the hospital!
All this and more will be revealed in "Your Body is a Condemned Wonderland"! Before continuing my analysis, we include the extended promotional trailer for the next Being Human episode "Of Mice and Wolfmen" courtesy of Syfy!
Your Body is a Condemned Wonderland: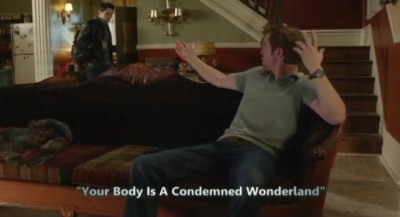 The episode begins with Josh watching television. Apparently there is a news story on about a recent shortage of bacon. No doubt the shortage is a result of ravenous werewolves and vampires depleting the supply of swine since human food sources are scarce as the virus spreads through the region!
Josh is mesmerized by this swine shortage news story on the television until Aidan walks in from work at the hospital. Josh greets his best friend with a "what's up?" gesture.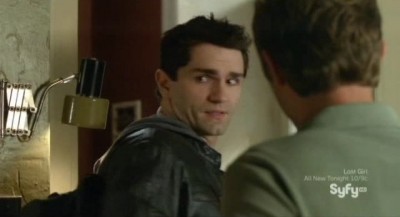 Aidan and Josh begin chatting about "things". Josh is quite worried that Liam will find out who killed  Connor (Jon Cor) and Brynn (Tracy Spiridakos).
Josh slips about Nora knowing the facts that he has told her. Josh is forced to admit to Aidan that he will somehow distract Nora so that Aidan does not have to hide out in the dank basement to avoid Nora's wrath over his recent spate of "neck snapping" any longer.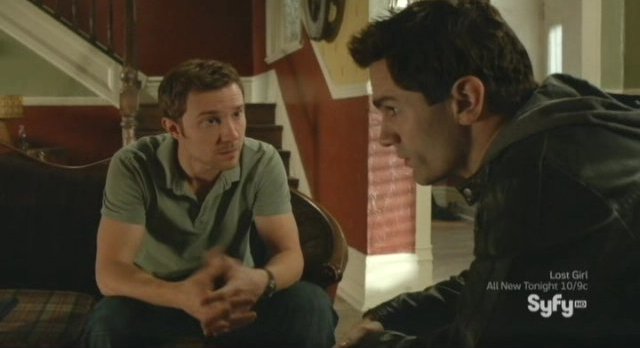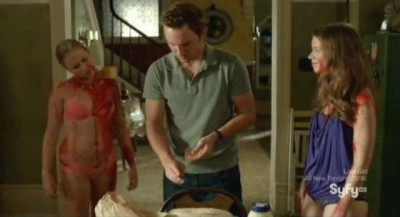 While Aidan heads to his hide out, Josh is in the kitchen being visited by the Ghost Girls Beth (Erica Deutshman) and Holly (Imogen Haworth). These hapless, scantily clad females were accidentally killed by Aidan the "neck snapper".
Beth and Holly have chosen to haunt the house harassing whomever they please with Josh as their current target for ghostly ghastliness!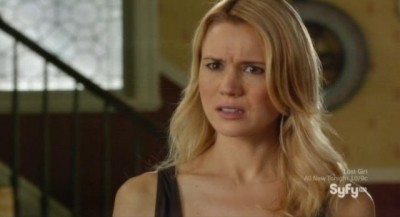 Nora happens upon the scene as Josh is looking for a bread knife.
Nora is shocked to see the two almost naked blood soaked ghosts with her boyfriend haunting the kitchen!
Josh, no longer endowed with his wolfie senses does not know they have been there taunting him.  Josh says "I can explain".  Yes Josh, please do!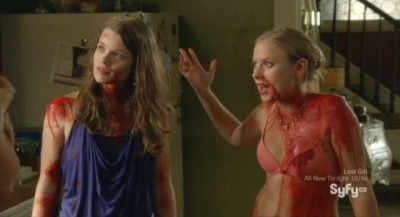 Nora is not at all pleased by this development! All in all the four characters created a fun opening sequence when Nora wants to know how Aidan, and all of his "neck snapping" has gotten so far out of hand?"
This reviewer was laughing as the two Ghost Girls continued to harangue Josh and Nora even after being told to leave!
A nice very touch indeed by screenwriter Nancy Won, directed by Kelly Makin, well played by the Being Human acting team to set the tone of the "Your Body is a Condemned Wonderland" episode!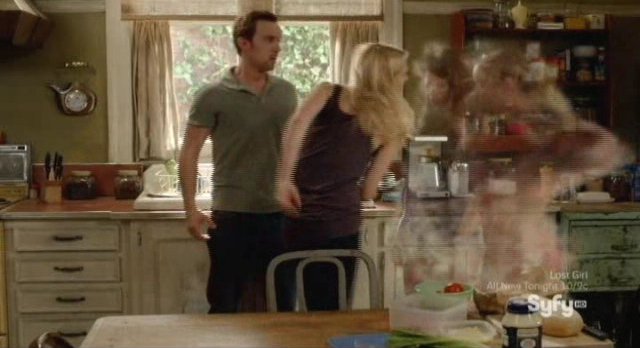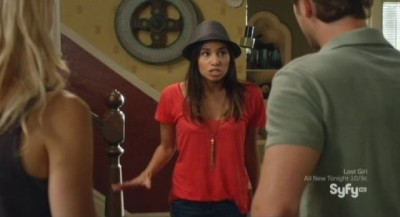 Sally comes downstairs wearing a cute hat. She says that she must be prepared for the day she dies. In a slip of the tongue, Sally puts the Ghost Girls "icing on the cake" for Nora when she relates that they died in the house from Aidan's "neck snapping" proclivities.
To make matters worse, Beth and Holly have been haunting Sally's room on a regular basis! Nora groans; "that makes three (necks snapped)" by Aidan in recent memory not including Erin. Nora and Josh hug as Sally looks on sadly even after he says it is Liam's fault.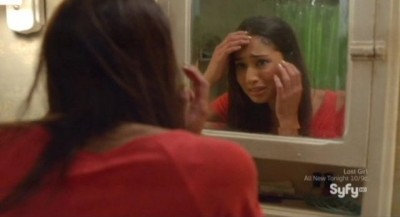 As Sally leaves Nora and Josh alone to hug, we find the real reason Sally has been wearing her new hat everywhere. As Sally goes into the bathroom, she examines growing gross looking "wart" on her skull!
Ghost Girls Beth and Holly are there to taunt Sally! Sally tells them to leave with a hilarious line "you two look like human Maxi-Pads"! More giggles ensued from this reviewer for the script work by Nancy Won!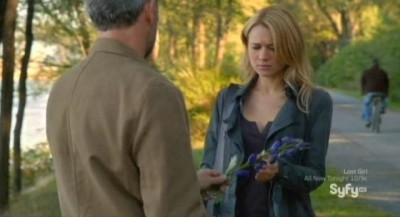 Speaking of Nora, unbeknownst to Josh, Liam is on the shore of an estuary looking at a happy father with his two children. Nora has this happen chance meeting with Liam who gives her a purple tulip as a condolence regarding Erin.
Liam's intent is clear; to twist her mind into revealing who killed his two werewolf children. It is quite clear that Liam will stop at nothing to obtain revenge for the death of his children. Liam is certain that Aidan killed his little pups. Nora does not reveal to obsessed Liam that she killed Brynn, thinking only of the three latest victims of Aidan.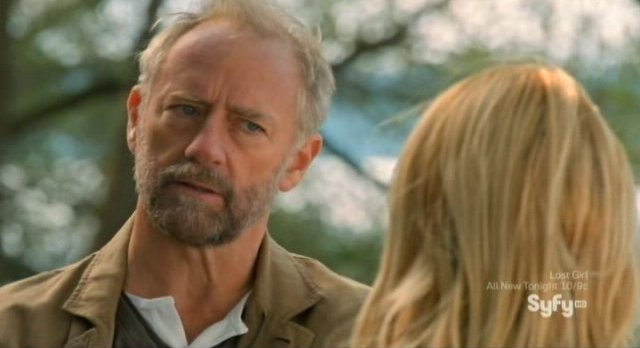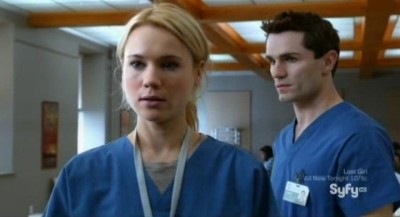 Nora heads to work and bumps into Aidan in the hospital cafeteria. Aidan begs Nora that they get along for Josh's sake. Nora says she is trying to think the best of him (Aidan), but warns Aidan that he better "stay out of her way" as the first act comes to a close.
Aidan, saddened by his encounter with Nora is outside where he observes Professor "Kat" Neilly  (Deanna Russo).  Aidan has decided to break his date with Kat that night due to the ever increasing complexities of Being Human.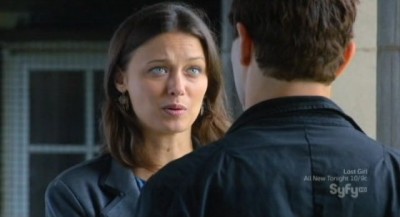 Kat makes it clear to Aidan; "No, you may not break your date with me" where Kat wants to discuss United States Revolutionary War history. This minor detail embedded in the story arc will save Aidan's life later in the episode.

Fans may recall that Aidan has personal experience with the time period, which is the intellectual attraction between the two. Kat departs teasing Aidan about "… the corsets in her closet" as Aidan's mind begins to imagine just that opportunity!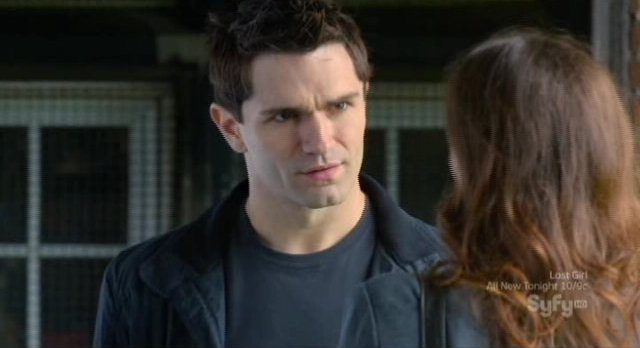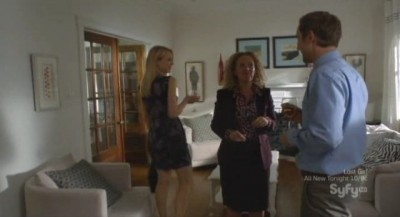 We segue to Josh and Nora. Josh implements an effective solution to address things gone awry at home.
Josh takes Nora to a mansion with Martha (Michelle Heisler) the real estate agent to look over the lavish home, saying he wants just such a place for them in the future.
Josh really plans to propose to Nora to make her happy while taking her mind of Aidan. With her mind on Erin, Nora is taken completely by surprise.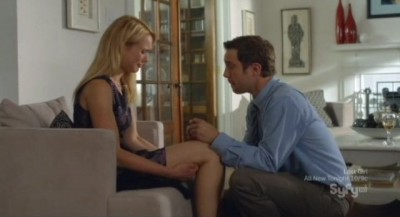 To this reviewers surprise as well, and to Josh's relief, Nora happily accepts his proposal of marriage!
The two kiss as Josh fumbles for the wedding ring engagement ring. As Nora accepts the ring on her finger, they both decide to lock out Martha the real estate agent out of the house and head to the upstairs bedroom to make love!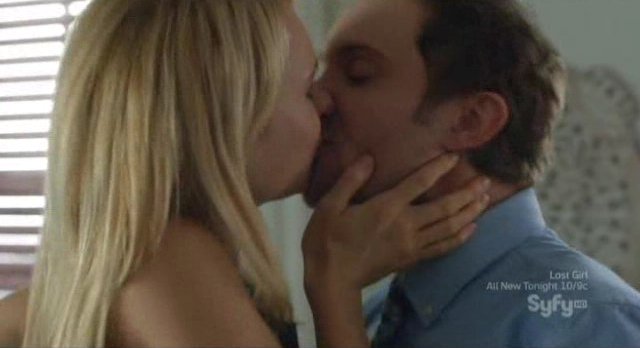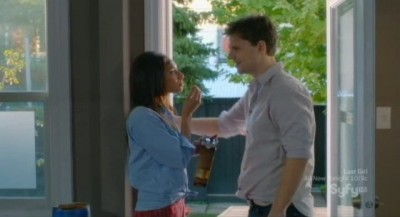 Sally seeks the help of former fellow ghost Nick Fenn (Pat Kielly) to find out see if he is suffering from the same condition. Nick is brusque with Sally. Both are in a state of denial. As we come to find out with hints of a cat bowl, Nick is satiating his condition by eating cats.
While I know Being Human is only a fictional story, and an enjoyable one at that, this reviewer found the eating of live cats to be gross, a bit like a sought after menu in Communist China, where the poor feline creatures are eaten regularly by the slave masters of that country.
I hope the writers "Just say no" to cat eating in the future of the series. Thank you.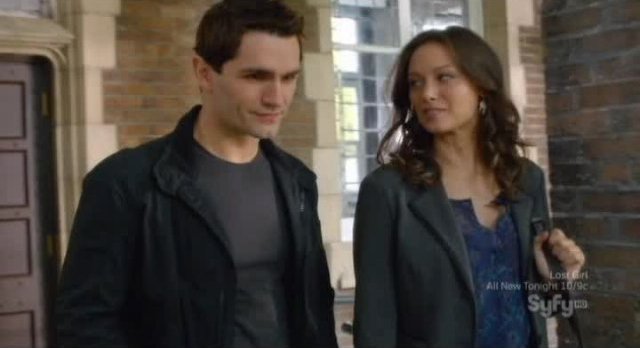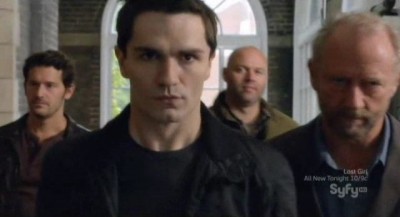 Quick shift back to Aidan, who is fantasying about Kat's corset's in a hallway, we come upon Liam flanked by Sebastien Beaulac, and Yanek Gadzala, his loyal werewolf lead henchmen.
Liam, as always, acts like a gentleman in the scene. As a result no alarms are set off in Kat at that time as she heads off to teach her history class.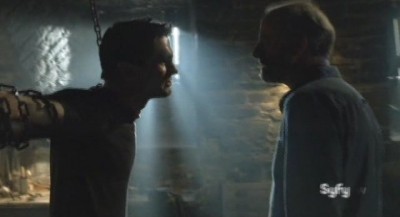 The next scene is terrifying yet wonderfully done. We find Liam with Aidan who is attached to gibbet binding him with chains.
Thanks to the magic of composing by FM Lesieur, the terrific music of a Hal David and John Cacavas song "Why Wonder Why" is playing in the background as Liam begins his torture of Aidan in earnest.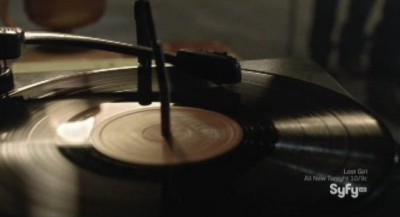 Our hero is being forced by Liam in order to obtain a confession for the killing of his two wolfie children last season.
A phonograph record spins in the background playing "Why Wonder Why" obliviously. This is a perfect end to the scene with Liam continuing his torture of Aidan unabated to exact his obsessive lust for revenge.
Meanwhile, Sally's deteriorating condition is getting more serious as Beth and Holly waste no time in further harassing her. Sally seeks out Max who is using a makeup compound at the funeral home on a corpse. Sally thinks this may help her mask her condition for the time being.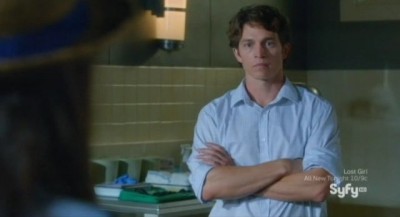 Max catches Sally trying to steal the cadaver makeup. Max is suspicious based upon her past behavior and Sally finds herself trapped by circumstances!
Sally, with little choice to save her relationship, decides to confess everything to Max about her being a reanimated ghost!
Like any normal human being, Max is totally horrified that Sally is a ghost, referring to her as a zombie, but after she leaves, Max  forces himself to come to his senses, subsequently deciding to use his skills as a mortician to help Sally disguise her deteriorating condition in a later sequence.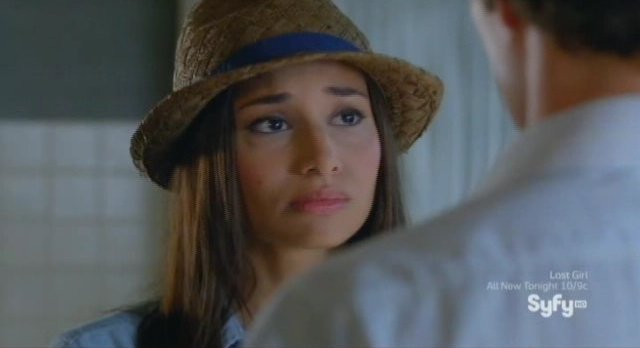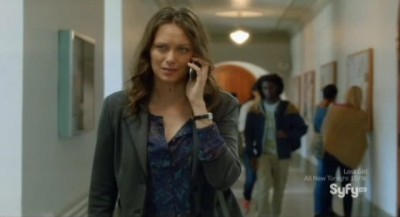 Even though Aidan went with Liam seemingly with his own approval, he really did it to keep Kat from harm, Kat is justifiably suspicious when he fails to show up for their date. Kat calls Josh to ask about Aidan's "friend" Liam?
Kat informs Josh that Aidan was taken away by Liam.  Josh, in a panic, calls Nora to ascertain Liam's location rummaging through a foot locker to get a bowie knife, a pistol and extra ammunition to go and save Aidan, his best friend.
The look on Josh's face is deadly serious. In all three seasons this reviewer and the fans always thought of Josh as the lighthearted, humorous character, except when he went werewolf.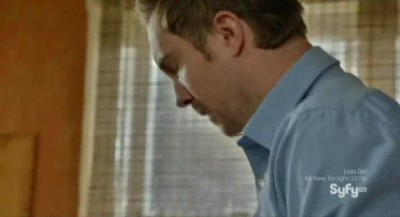 This reviewer has never observed Josh so determined until this episode, both in the proposal to Nora and now with his evident intent to save Aidan from Liam.
Personally and professionally, I find the hidden character traits revealed within Josh to be quite enjoyable. With a noticeable grimace on his face, Josh arrives at Liam's hideout quickly dispatching one of the henchmen as he makes his way into Liam's compound.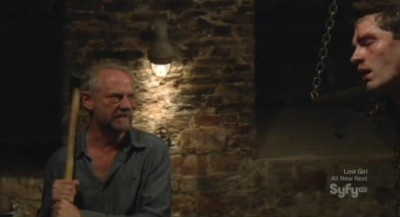 In the next act we witness another rather disturbing torture sequence. This reviewer was reminded of many Jack Bauer "24" torture scenes. Liam, with what looks like a ten pound sledge hammer is torturing Aidan with it, hitting him over and over again.
Blood is dripping from Aidan's body to the floor as Liam screams about "avenging his son's death" demanding a confession about the fate of his dead wolfie children.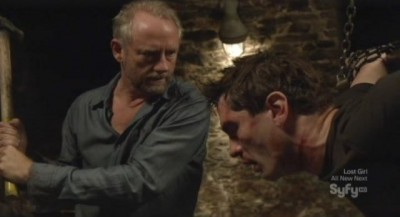 As I have mentioned previously in my analysis, Xander Berkeley is a perfect choice for the evil Liam character. It is not over for Aidan. With hideous torture well played by both actors, Liam plans to inject Aidan with "whore's blood infected with the virus" to guarantee that his revenge will be permanent and final.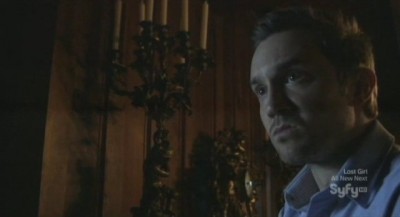 As Josh sneaks around the compound and entering buildings searching frantically for Aidan, he is drawn to the music which gives away Liam's torture location in the basement dungeon.
Aidan, with a grossly disfigured face from outstanding makeup work by Erik Gosselin and Edwina Voda, taunts Liam telling him that he killed Brynn and that "she screamed like a bitch just like your son!"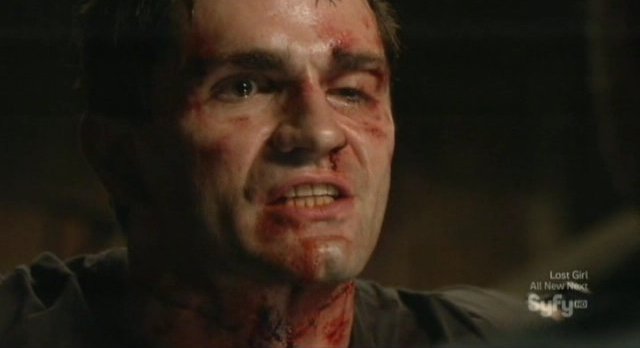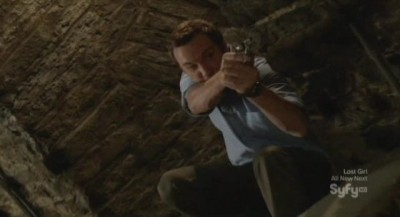 Although the viewers know that Nora killed Bryann, Liam does not. The grieving father that he is, Liam goes absolutely crazy! He injects Aidan with the virus as, on the verge of going werewolf, when our episodic hero Josh comes bounding down the stairs to the dungeon a moment too late.
Nevertheless, Josh pumps a few rounds from his revolver into Liam at point blank range. Liam drops to the ground in momentary shock.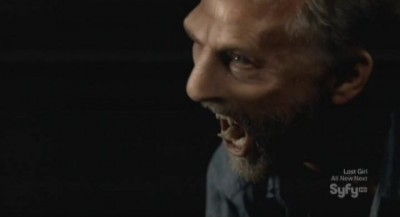 Josh freeing Aidan against his wishes, telling Josh to get out of there just as Liam begins to go completely wolfie. Josh fires a few more rounds into him to buy time for their escape.
The ensuing special effects of Liam turning into a werewolf are superb!
Unfortunately for Josh, not only did Aidan get injected, Liam scratched him during the scuffle!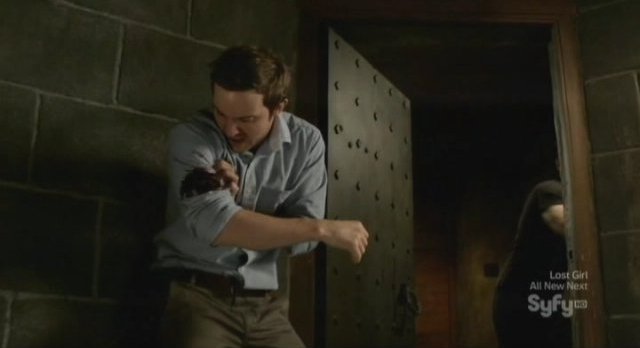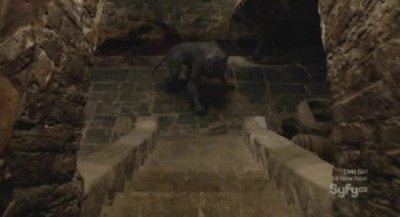 This reviewer enjoyed the exciting escape scenes, well choreographed by stunt coordinator Alexandre Cadieux. Werewolf Liam is observed slamming himself into the cast iron or steel dungeon door again and again as Aidan and Josh make a hasty escape from the premises. Outstanding entertainment by Anna Fricke!
The werewolf VFX were outstanding too, Liam turning into a werewolf, the metal door bending, rather nicely I might add, with the sound of Liam the werewolf pounding on it to get at Josh and Aidan. The superb scene reverberated in one's mind as the third act draws to a conclusion!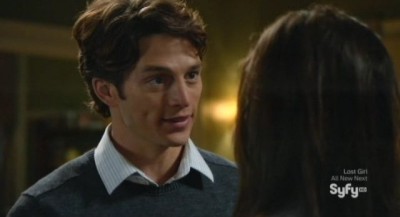 After the commercial break, we find Max is at the front door of the apartment seeking Sally.
After careful consideration, Max has overcome his fear of Sally's horrible condition in favor of his love for his girlfriend.
Unfortunately, the makeup only masks her condition. Our lovely former ghost, appears to be headed in that ghostly direction once again.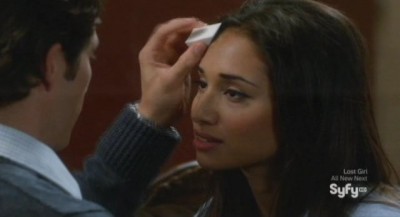 Max arrives at her residence with a foot locker of everything Sally will need to help mask her condition of "leprosy" as he states to her, a term by the way that Sally does not take very kindly to at all.
As the episode draws to a conclusion, and subsequent to being "fixed" and professing her love for Max, Aidan and Josh arrive home rather abruptly, obviously much worse for the wear. Frankly Aidan and Josh looked like crap. Another excellent job by the makeup specialists!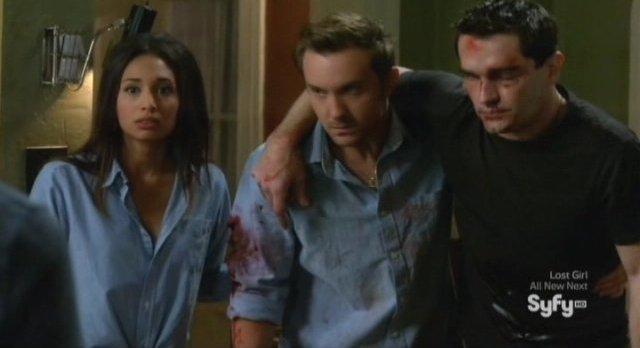 Max demands to know what the heck is REALLY going on with these three "roomies?" When Sally defiantly refuses, Max stomps out of the apartment in utter frustration. He and Sally have just had another fight.
Is this a sure sign they will get married in season four? I  hope so!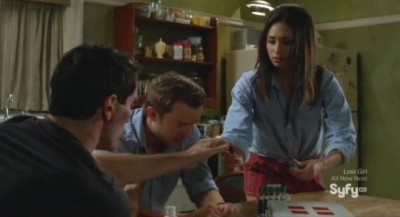 Our original trio of characters, have been figuratively and literally been "knocked down the ladder" of life quite a few rungs in their quest at Being Human.
Each faces either death, or return to their former existence as in Josh's and Sally's case. They chat in the kitchen. Sally gets Aidan some fresh blood so he can recover. Aidan tells Sally he has the virus while Josh relates he will go werewolf on the next full moon!

Good people all, well of course except for Aidan's neck snapping, the alternative lifestyle of werewolf storage locker vacations for Nora and Josh, Sally killing off a lover this season, one must certainly feel sorry for these three  as they sit around the kitchen table licking their wounds. I know I did.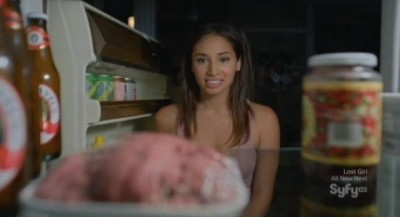 In the last sequence, Sally needs a midnight snack to deal with all the stress, so she decides to have a hamburger… raw, no fries or milkshake required!
Visiting the fridge, Sally's condition has produced an appetite for raw meat like Nick. Sally spies a huge package of fresh package of ground beef on the shelf. In another grossly effective scene, Sally scarf's down the raw meat shoving it down her gullet! At least she is not eating cats like Nick!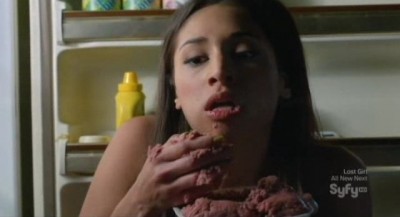 In the beginning of this analysis from watching the episode, I thought surely Nora would be at the kitchen table at the end to empathize with Sally, Josh and Aidan.
Instead, the creators leave a well placed pivot in the series with dangling propositions. Where is Nora? How soon will Liam escape to once again seek revenge against Aidan? And what role does Kat play in future episodes after warning Josh?
My grade for this episode is s straight "A". Featuring a fast moving story arc with well placed humor, often of a sarcastic nature, blended artfully into the dialogue, and disturbing subject matter (torture and cat eating), all the elements delivered the intended Single Effect of generating loathing, love, mystery and adventure. Bravo!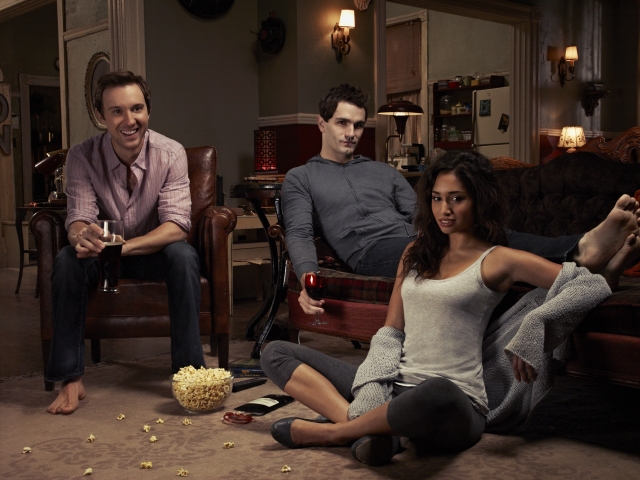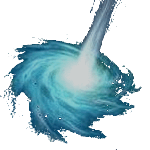 Thank you for visiting our Being Human dedicated web site here at WormholeRiders News Agency
Please feel free to leave a comment here or if you prefer, click the social media icons below to share this news article. Or as many of our readers and visitors often do, visit WHR on Twitter, WHR on Facebook or visit me on Twitter by clicking the text links or images avatars in this news story.
As always, I and the WHR team look forward to Seeing You on The Other Side"!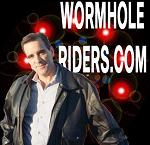 Thank you.
Best Regards,
WR_Systems (Kenn)