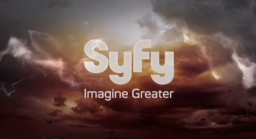 Welcome back to a life of Being Human!
In our journey of season three of one of our most favorite television series, our roomies Josh (Sammy Huntington), Sally (Meaghan Rath), Aidan (Sam Witwer) and Nora (Kristen Hager) have been joined by several new characters including Meaghan's handsome boyfriend Max (Bobby Campo), the funeral home director, Nick Fenn (Pat Kiely), the Zombie cat eating freak, and Aidan's new love interest, the gorgeous blue eyed Kat Neely (Deanna Russo).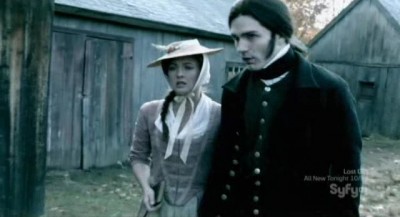 In this superb tenth episode of season three, we will learn more about Aidan's back story during the United States Revolutionary War, his marriage to Susanna Waite (Katharine Isabelle), as he flashes back during his time with Kat, the sacrifice he made to save Josh and Nora, Sally's discovery of the ultimate fates to be determined for Nick and Stevie (Robert Naylor), and how Zoe (Susanna Fournier) saved herself with a baseball bat from a ravenous Nick Fenn, whose Zombie appetite had turned from feline delicacies to human flesh!
Before continuing we include the four minute promotional trailers for the next episode of Being Human, "If Only I Had a Raw Brain" and below that the extended trailer for this episode, courtesy of the great folks at Syfy!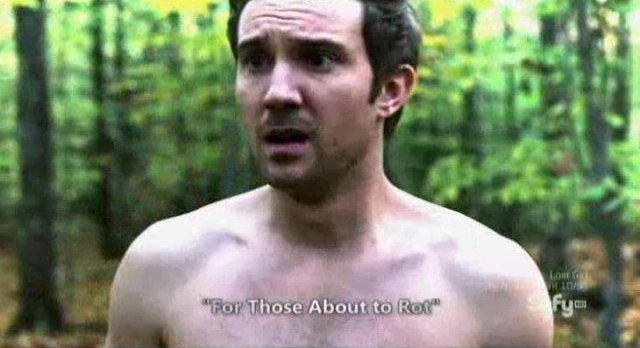 For Those About to Rot: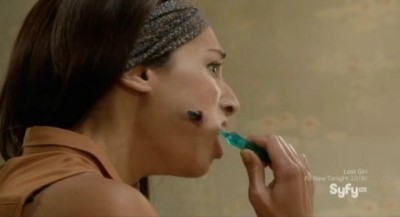 Subsequent to the "previously seen" opening sequences "For Those About to Rpt", with Sally jamming a toothbrush through her cheek, and Zoe being lunged at by the horrible cat eater Nick Fenn, we find a naked Josh returning to human form in the forest. Josh is seeking spiritual training from his faithful mentor Pete (Ron Lea) who lives nearby in a mobile home.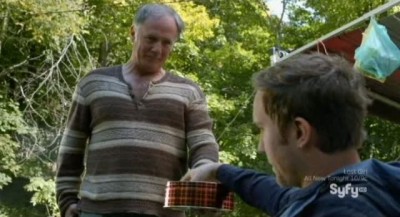 In a humorous reference, Josh likes to call Pete "Obi Wan, the Werewolf". Pete offers Josh some nice cookies to sooth his soul while talking about the equivalent of "The Force" in Being Human.
Based on what is about to transpire, Josh could use "The Force" from Star Wars to help him deal with the predicament he and his friends are in, not to mention a "Werewolf Wedding" this reviewer is certain this blessed day of joining will happen before the end of the third season of Being Human!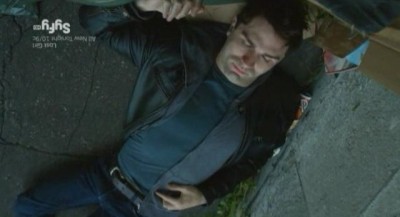 We segue in "For Those About to Rot" to Aidan learning more about his past life. Our favorite vampire is located behind some garbage cans in an alley knocked out. Aidan looks like he is dreaming, thereby providing the continuing back story as to why he is has been so compassionate in Being Human. This despite the character being a blood thirsty vampire.
Obviously still having trouble despite being healed in the present time, we begin to witness additional flashbacks to Aidan's time during the United States Revolutionary War some two hundred forty years previous.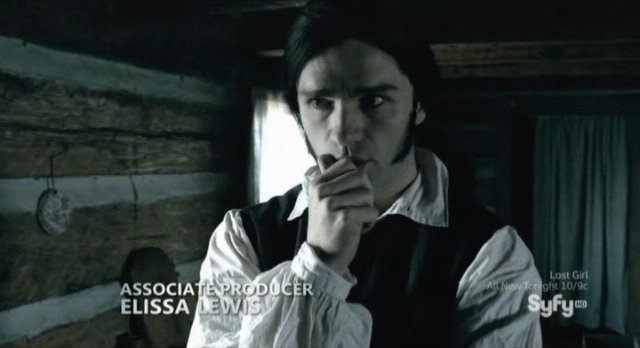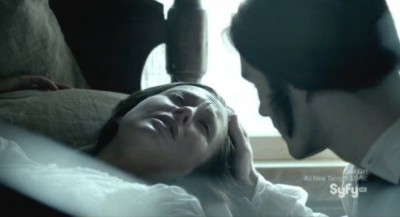 It is here that we learn about his past life and wife Susanna Waite portrayed by the talented and beautiful veteran actress Katharine Isabelle of Sanctuary, Stargate SG-1, Supernatural, featured in the new 2013 series Motive, and many other roles that her admirers will recognize!
This reviewer became an admirer of Ms. Isabelle when she portrayed "Valencia" opposite John Noble (Fringe) in the fantastic Stargate SG-1 episode "Camelot" (2006). Many also recall her fine performance as "Bud" in "Random Acts of Romance" opposite Amanda Tapping and many other fine Canadian actors.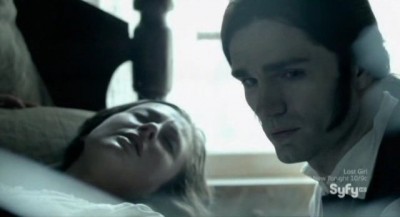 If you have not followed Katharine Isabelle's career, you have been missing out! In Being Human, Katharine will appear in flashback sequences in the final two episodes of season three airing April 01, and April 08, 2013!
As one can imagine, things were quite tough living in the late eighteenth century. This was particularly true of childbearing as we come to find out. Aidan's faith in God is deeply shaken when he learns from the mid-wife that Susanna had lost their first child "who is with God now".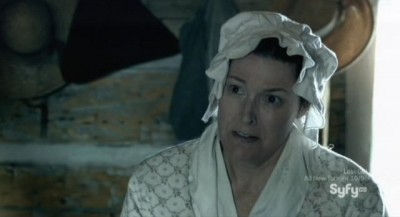 Such words are not much comfort in any century for a grieving mother and father who prayed for a healthy child and met with the death of one.
The scenes between Sam Witwer, Katharine Isabelle and the tearful mid-wife portrayed by Monique Phillips are poignant and heart wrenching.
The sequence brought tears to the eyes of this reviewer recalling similar stories from my youth by my great aunts, uncles and grandparents born in the late nineteenth century. who often told of such family tragedy.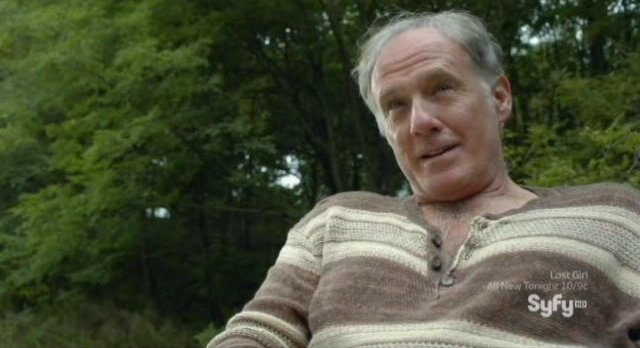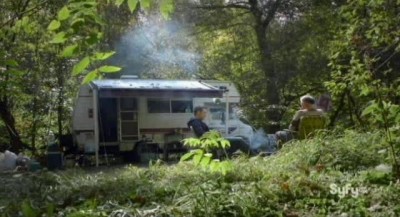 We move to Josh and Pete communing in the forest at his mobile home.
It is unclear to this reviewer if Josh would actually be able to cope in the "real world" without the spiritual bonding and wisdom shared with Pete after his time as a werewolf during a full moon?
Or would Josh learn to fend for himself if Pete was to go "missing?" Let us leave that until a future moment shall we?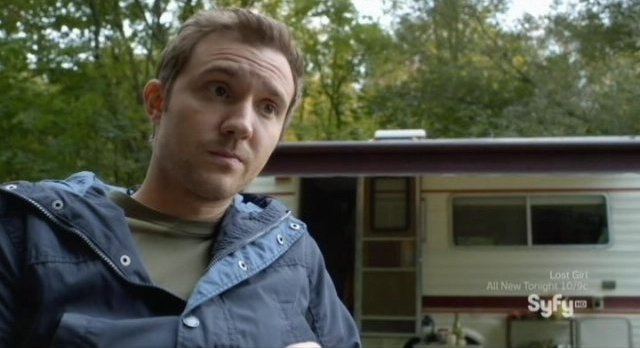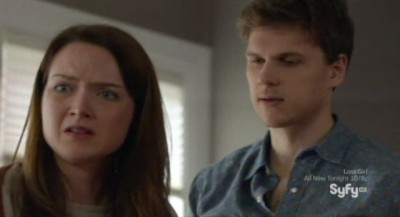 Back to our cat eating nightmare Nick. Sally is with Zoe when nasty Nick Fenn, now as a ghost, shows up at the premises. Zoe explains, with Nick listening and agreeing he, as a Zombie, given the chance, would have certainly eaten Zoe too.
It was clear that he (Nick) had to be stopped. Fortunately for Zoe, she had whacked him good and dead with a baseball bat to put him out of his misery at the end of the previous episode!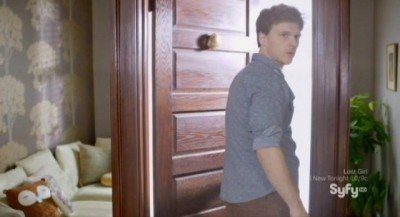 Needless to say, Sally recruits Josh to help bury the feline feasting freak after he disappears, for the time being, through his "door". The details about the golden seashell on the door become rather important later in this episode.

During the burial of Nick, Sally shares that she is not like Zombie Nick, yet! Sally admits to Josh about eating mice and other "small things". Josh and Sally are clearly concerned about her condition and about Stevie who is "out there somewhere".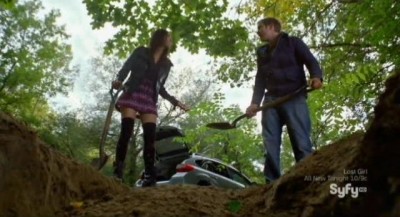 Kudos to the Being Human costumer crews in season three for Meaghan Rath's outfits. These gifted garment of Muse Entertainment people really have done a superb job of providing Meaghan Rath with great outfits all season long.
This reviewer thought the colorful miniskirt, leather jacket, and matching thigh high stockings Sally wore during the burial of Nick Fenn was delightful!
Josh and Sally discuss a theory about Aidan's and his neck snapping blood thirty blackouts. Sally believes that Aidan needs a little "carnal knowledge" with Kat to help him snap (pun intended) out of it!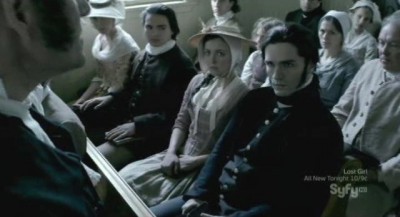 Blending Aidan's past with the present, we find Susanna and Aidan being preached to in a Revolutionary War era church filled with town folk from the parish.
In fact poor Aidan and Susanna are being verbally humiliated in public that the loss of their child was due to their sinful ways.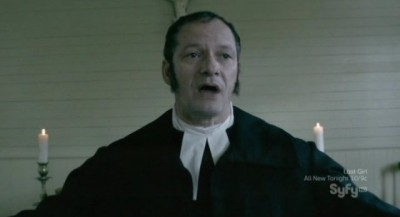 The scene reminds viewers that not much has changed in the past 240 years with regard to some "over the top" fire and brimstone belching preachers who will stop at nothing to throw insults with little regard to the feelings of others!

Aidan is recalling a not so pleasant memory as he tells Susanna that Reverend Herring (Bruno Verdoni) is "rubbing salt in their wounds" about their "sins" being the cause of the death of the child.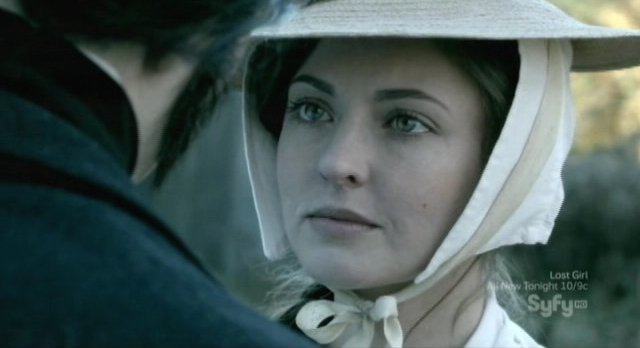 Aidan is actually daydreaming in the present during a visit with Kat at the Boston "Rare Book Archives". Kat has a bit of a surprise for Aidan.  
Kat takes him to a rare historical book on a shelf at the archive that Aidan's father wrote in 1758 called the "Days on the Charles". One is left to wonder if this intriguing detail will play a role later in a fourth season of Being Human?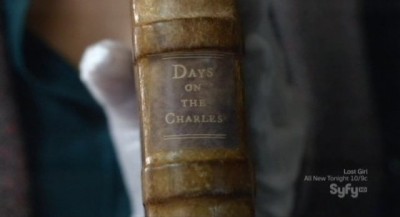 Aidan is more than a little shocked when he observes it was written and printed in 1758 before the Revolutionary War by none other than Edmund Waite!
Caught completely off guard by Kat's surprise, Aidan is observed by Kat mumbling to cover his slip of the tongue; "yes it's my father … my father's great, great, great grandfather!"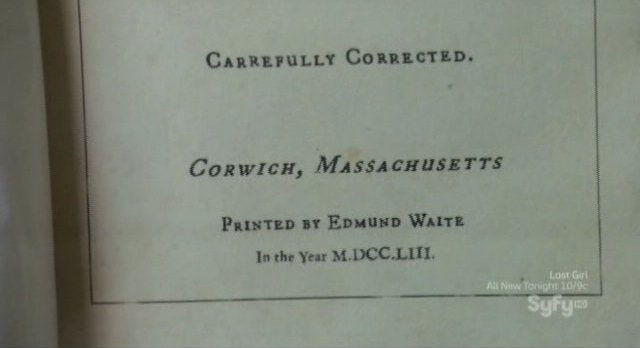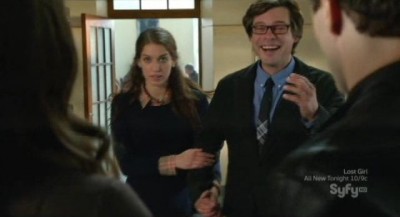 Kat is not currently aware the author is Aidan's real father. Suddenly Aidan and Kat are rudely interrupted by her ex-boyfriend, a Professor at the university named Jeff Westin (Malcolm Travis).
The introduction of the character Professor Jeff Westin will play an important role at the end of the episode, as well in future episodes of Being Human according to the actors IMDB profile.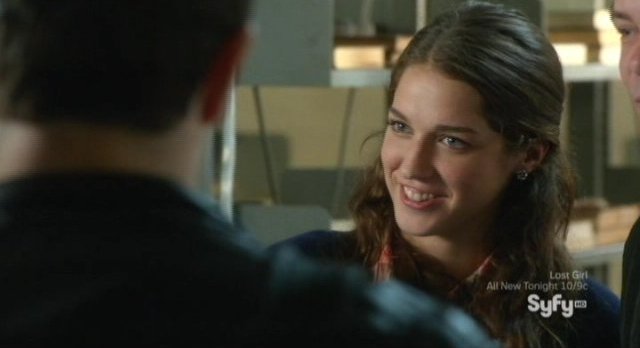 Yes, Kat's ex-lover and former professor is now seen with an attractive new "student", err squeeze, errr, lover in tow.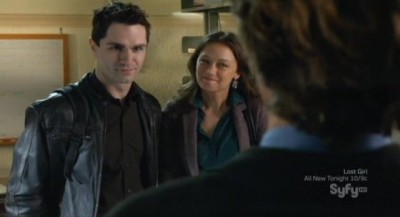 Professor Westin's girlfriend is named Marissa portrayed by the lovely Meghan Gabruch, who coincidentally makes another appearance, albeit in a different context in the next episode of Being Human. 
A rather brusque, fake, and egotistical personality, Aidan does not Jeff's demeanor. Good acting by Malcolm Travis to become so instantly a hated character in a television series!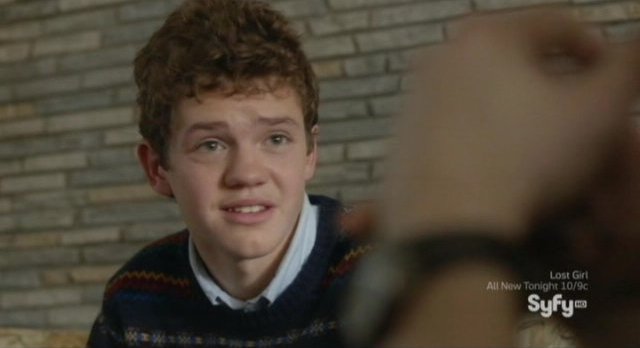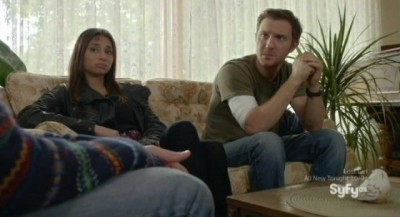 We then catch up with Stevie at his house to yet another shocking revelation. Sally is nervous as Josh says "let me do the talking".
Stevie answers the door, looks completely normal, but obviously nervous about something. Seemingly unaffected by the Zombie condition afflicting Sally, Stevie invites Josh and Sally inside for a visit and a chat. Stevie looks like he needs someone to talk to.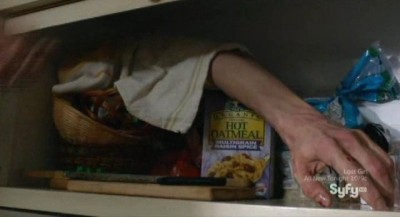 As we soon discover, there is good reason for Stevie's healthful appearance, he has been "eating in!"
Stevie's recent menu delicacies include his Mom, his Dad and most recently, the mailman! Gruesome things are inside the kitchen, including a bit of meat to satiate his Zombie appetite, a freshly severed arm stored in the cupboard right on top of the oatmeal! OMG!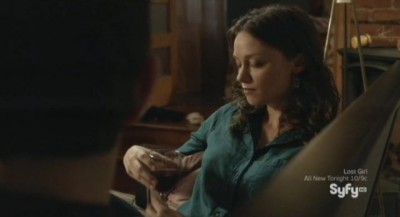 It is almost time for the "carnal knowledge" therapy that Sally has theorized about!
After the history lesson in the book archives, Aidan goes home with Kat to her place. The relationship is heating up in a big ways as both of them open up to each other over several glasses of wine.
Back to Stevie! Subsequent to Josh discovering the human arm sticking out of a cupboard. Stevie reluctantly confesses that he not only ate dead parents alive, he also killed and ate the mailman! Things are going to get rough in Boston with no more Saturday mail deliveries for Stevie!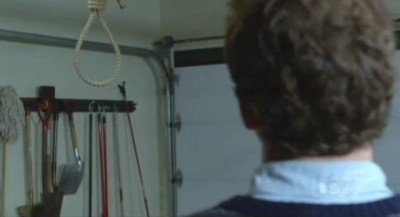 Stevie is in a full state of panic, pleading with Josh and Sally to help him kill himself.  Josh and Sally are horrified at the prospect. To make matters worse, much to Sally's horror, Josh reluctantly agrees to help Stevie hang himself in the garage to stop the nightmare.
As Stevie lunges at them both, Sally is terrified that she is on the same path and that ultimately Josh will have to put her out of her misery as well! Josh promises Sally it will not end up that way. Terrified Sally is not so sure.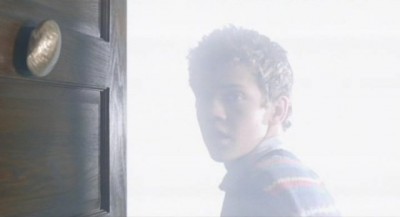 After Josh helps kill Stevie, his own "door" appears. Sally is completely flabbergasted when she observes that Stevie's door is exactly the same as Nick Fenn's with the golden seashell on it!
Everyone watching "For Those About to Rot", including this reviewer, must have immediately believed that Donna the Witch (Amy Aquino) must be connected to everything that has happened!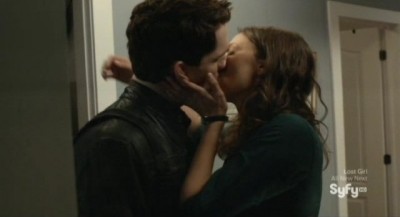 Aidan and Kat finally consummate their relationship subsequent to her saying she needs "some place that serves alcohol" (her house) after seeing the "condescending" Jeff Westin with his new "trophy student" Marissa.
Aidan says he will leave, but instead, after having a quick snack outside from his handy backpack, Aidan goes back inside to Kat.
After doing "the deed", Sally's theory ends up to be incorrect though, the love making does not really help Aidan.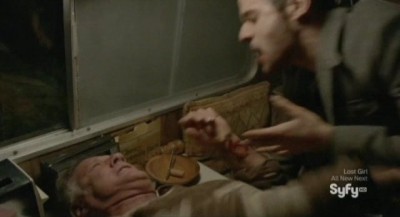 Josh consoles Sally and finally leaves the house. As Josh returns to Pete's mobile home in the forest, he is in for a nasty surprise! Josh finds a bevy of vampires are there attacking Pete for his untainted blood.
Fortunately for Josh, the vampires respect the deal they had made previously that Josh and Nora are off limits. Josh is knocked out by the vampires. While Josh is safe, sadly, Pete is brutally killed by the vampires. 
This reviewer found this to be a surprising development. I never expected Pete to become a victim. He had been Josh's anchor for a long time. However, after viewing the episode story arc of season three several times, the single effect became clear. Each of our hero's must learn to face what happens on their own.
Although it definitely looks like we need a new "Obi Wan" werewolf, this reviewer hopes that perhaps Pete can return in the future as a ghost so long as he steers clear of evil Donna the Witch!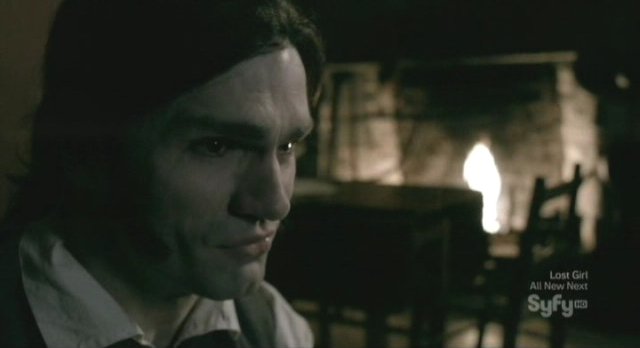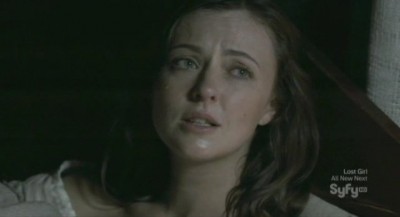 One of the final sequences of the episode was filled with emotion and quite uplifting in the opinion of this reviewer.
The viewing audience are taken via flashback back some two hundred forty years in Aidan's mind to a very happy memory for him from a "past life" as is often said say.
The time in question when his wife Susanna delivered the successful birth of their son subsequent to the pain and anguish both suffered earlier .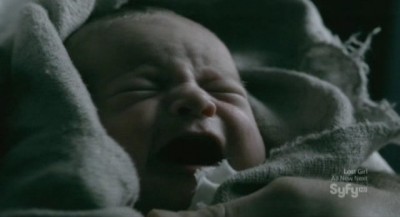 The emotion on Aidan's and Susanna's faces was quite palpable as Aidan gently took the little waif into his arms.
I was hoping this would be the last scene of the episode to end on a high note, at least for Aidan. It was not to be.
The last scene was after Kat and Aidan had made love. Aidan ends up yet again passed out in an alley after likely attacking another victim of his weakness. the proclivity of neck snapping and feasting on the blood to satiate his own hunger.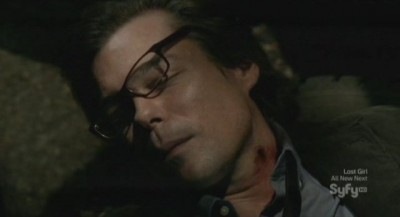 Once this reviewer realized what had happened, that is was all the flashback Aidan was dreaming about in his mind, reality settled in. Not unsurprisingly, we learn that Aidan had attacked and killed the obnoxious Professor Jeff Westin!
As the final scene fades to black, we must all realize that it looks like poor Marissa will need a new teacher, err, hobby, err, lover! Based on IMDB, we will all find out soon enough about Marissa since the character is featured in the nest episode!

All in all another outstanding straight "A" episode thanks to Anna Fricke and her wonderful team at Muse Entertainment for helping us all learn about the consequences of Being Human!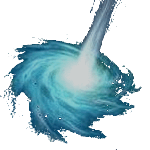 Thank you for visiting our Being Human dedicated web site here at WormholeRiders News Agency
Please feel free to leave a comment here or if you prefer, click the social media icons below to share this news article. Or as many of our readers and visitors often do, visit WHR on Twitter, WHR on Facebook or visit me on Twitter by clicking the text links or images avatars in this news story.
As always, I and the WHR team look forward to Seeing You on The Other Side"!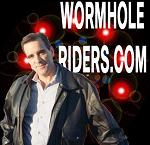 Thank you.
Best Regards,
Kenn