Welcome back Chuck fans!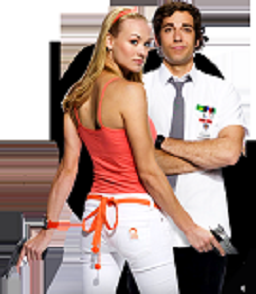 Chuck is such a fun show and we have been looking forward to the return of the series in the fifth and final season. It makes me a bit sad to say final season since Chuck is such a fun program to watch each week.
Rather than doing a recap review of each episode of the program each week, now that our coverage is resuming, beginning this week we are going to do look at favorite moments in each episode. For me the sheer ecstatic nature of watching the Nerd Herd in action is what makes the program so enjoyable.
My take on the return of Chuck in "The Full Zoom" is that the team will survive with Chuck (Zachary Levi) being without the Intersect. I like the change up with Morgan (Joshua Gomez) as the 'Intersected' super spy. He is goofy and the character is going to deep undercover in my opinion.
As always Saarh (Yvonne Strahovski) is a delight to behold. The Colonel Casey (Adam S. Baldwin)  character is now honed to a fine edge and Baldwin has perfected the portrayal long ago which he continues to do every week. All in all Chuck is great escapism television and I wish that it would be granted a sixth season.
NBC describes "Chuck Versus the Full Zoom" in part as follows.
"Chuck and Sarah stand on the cliff side balcony of an opulent home, surveying a magnificent ocean view. Chuck asks Sarah if it's the sort of house she'd love; she responds that she's more of "toes in the sand kind of girl." Chuck takes note, but they both realize the conversation is premature. They're about to executed by the armed henchmen of Jeanne Claude, a villain who has stolen their client's precious vase"
"Sarah and Chuck hold out hope that Casey will rescue them, but he's soon brought in at gunpoint by more goons. Their only hope now is Morgan, who's been instructed to remain in the van outside. Sarah secretly signals him for a rescue. Equipped with the Intersect, Morgan quickly but clumsily finds his way inside and confronts Jeanne Claude and his toughs. Morgan flashes on kung-fu fighting skills and begins dispatching the bad guys in a flurry of kicks, punches and jumps. Chuck announces to Jeanne Claude that his team has just been neutralized, thanks to Carmichael Industries, spies for hire. It's a perfect ending, ruined only by the sound of Morgan dropping the priceless vase on the tile balcony."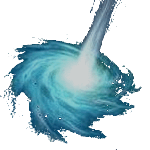 Thank you for reading and visiting WormholeRiders News Agency.
Please feel free to leave a comment here or if you prefer, click the social media icons below to share this news article.
Or as many of our readers and visitors often do, visit WHR on Twitter, WHR on Facebook or visit me on Twitter by clicking the text links or images avatars in this news story. I and the WHR team look forward to will Seeing You on The Other Side"!
Thank you.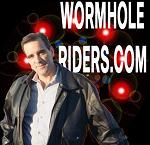 Best Regards,
Kenn