Welcome back Continuum time travelers!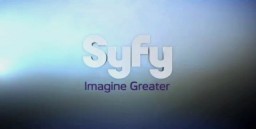 Before I say anything else in this review, I want to give a shout out to the brilliant writers of the 'Continuum' series, (Simon Barry, Sara B. Cooper, and Jonathan Lloyd Walker), to name a few of the extraordinary team of talent that is Continuum!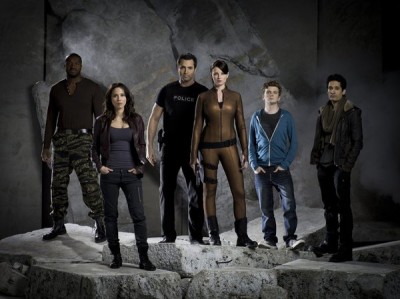 In my experience, I find that relatively few people outside of the entertainment industry completely grasp the concept of what television writers do or the massive pressure under which they do it. Their words are what create the basic characters and very believability of the world being presented to the audience.
I am not trying to say characters do not come alive because of the actors that portray them, or story lines do not flow because of the order in which the director chooses to present them.
Making a series such as Continuum is a team effort. But even a brilliant actor and a talented director can falter if the script is poorly written.
When you are dealing with a series that combines the concepts of both time travel and alternate universes and still manages to get across an understandable story in forty-five minutes or less (adjusting for commercials), then the writers deserve every bit of the kudos they can get when they get it right.
So far Simon, Sara, and Jonathan: you have got the recipe down!!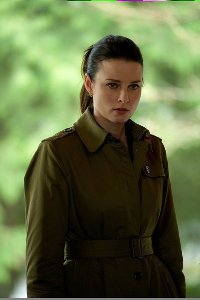 You are warned: Here there be spoilers! Though admittedly if you have never seen a single episode of this show, do yourself a favor and check it out. 'Continuum' really is one of the smartest science fiction shows on television. I say one because it is matched, in my opinion, by 'Defiance', which premiered recently, and WOW but I will not get into that right now…).
The Politics of Time:
Carlos Fonnegra (Victor Webster) is in hot water this week when he succumbs to the charms of a beautiful reporter named Alicia Fuentes portrayed by the gifted and gorgeous Pascale Hutton. Carlos winds up bedding Alicia.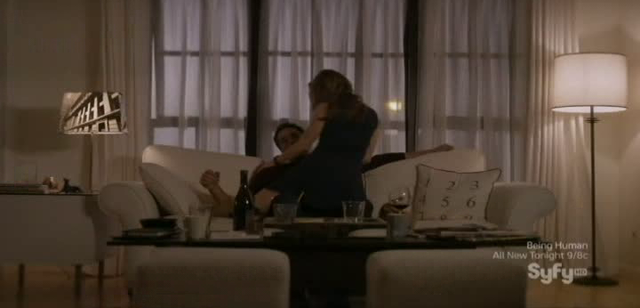 How is that hot water, you may ask?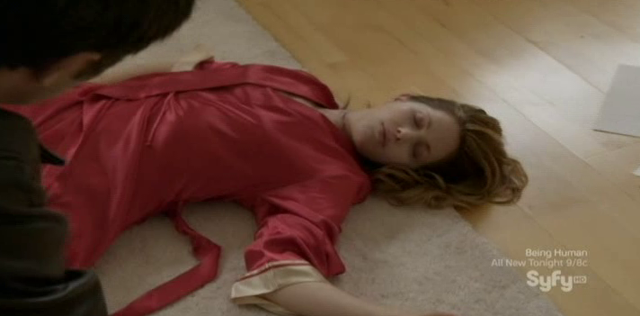 Alicia winds up dead twelve hours later! Maybe he should not have used the "pretty kinky sex toys" found on the bed at the scene?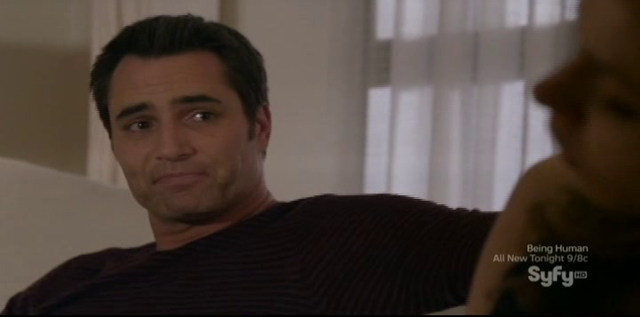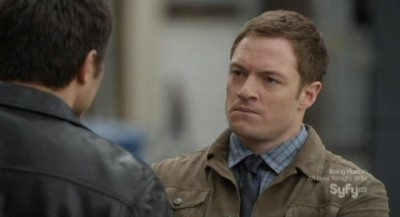 This situation presents a problem for our handsome detective as he is placed on primary for investigation of the case. Of course Carlos' link to the poor victim, Alicia, is kept hidden for the time being.
Carlos keeps his mouth shut mainly out of friendship. The most likely suspect in her death is his close friend Jim Martin portrayed by Tahmoh Penikett.
Jim Martin is currently in hot water for money scam accusations to help fund his political campaign.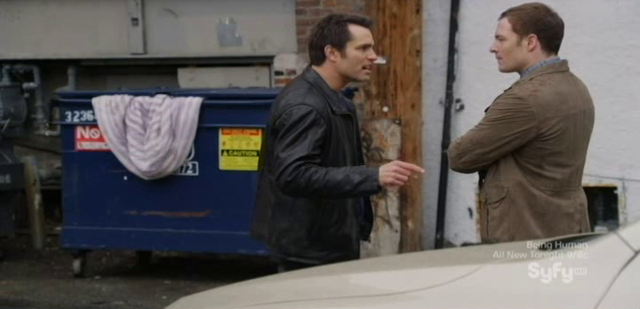 Of course, it does not take long for Kiera Cameron (Rachel Nichols) to discover the link between the two of them using her CMR technology. This is not to mention the ill-timed photograph taken of Carlos dropping said reporter off at her apartment mere hours before the murder.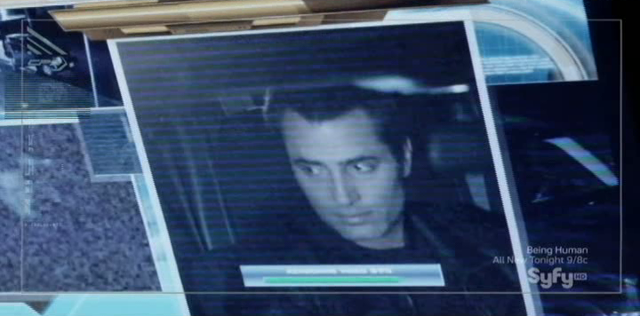 As everything blows up around them, Kiera and Carlos go their separate ways to try and solve the case. Kiera boldly using the avenues appropriate to her and Carlos doing his best to downplay and erase his involvement with the victim.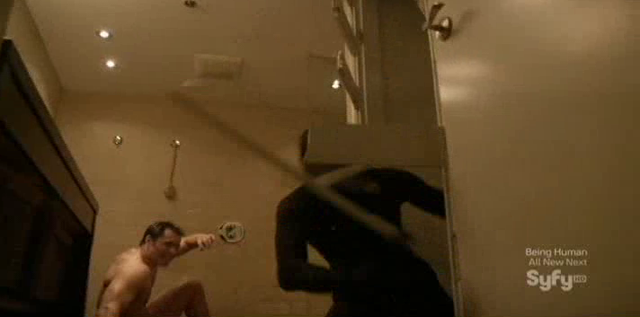 While a masked figure attempts to kill Carlos and make it look like a hanging, Kiera patches into government satellites to get a visual recording of what happened that night.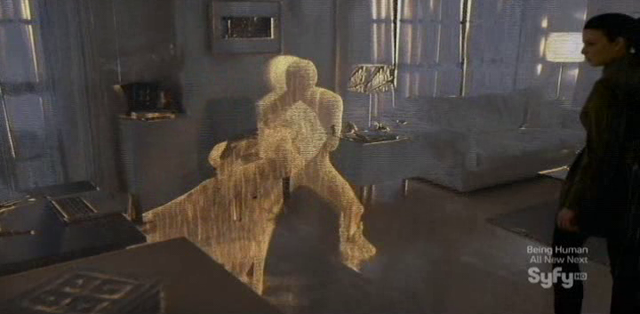 Rejoining forces, the two confront their new suspect, who reveals that while she was responsible for the money scam, she did not kill anyone.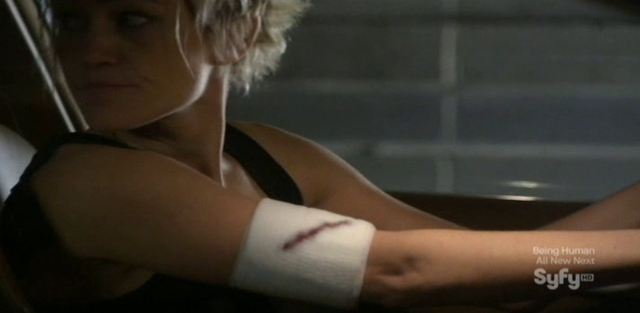 The actual murder, however, took place at the hands of Jasmine (Luvia Petersen), and in the closing shot of the episode we see that Libert8 is continuing to work in the shadows, sowing the revolution. The 'scam' was actually a massive donation from none other than Liber8's Edouard Kagame (Tony Amendola).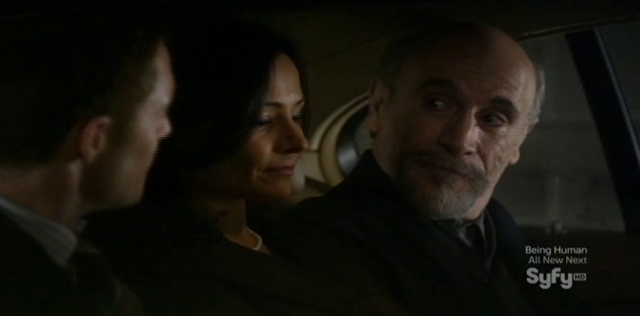 Two words: Oh, s….chnicklefritz.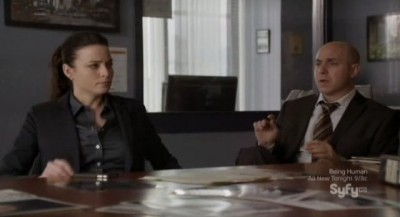 This week on Syfy's 'Continuum', we are in for some good old-fashioned 'whodunit' mystery. The writers approached this week's madness from what I think is a fun and subtle angle (because half of the fun of a 'whodunit' is figuring out…well….whodunit!) by choosing not to show us any part of the action until the characters themselves saw it.
Normally, we as an audience, are given inside information: we see a bad guy walk into a room and hide, then the main character walks in. Ambush! That is dramatic irony in a nutshell, folks, and it is something that is not common on Continuum.
This is, in my opinion, a highly intelligent method of structuring a story as it is less likely to frustrate the audience, (no one is yelling: "DON'T GO INTO THE CAVE!"), and keeps us on our toes (or edges of our seats).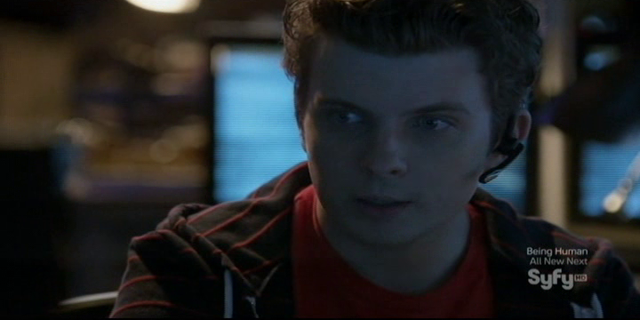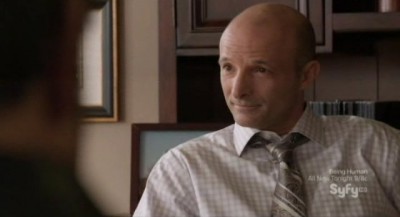 There is always the risk that we will become bored when things become too slow, but therein lies the silent trust we give to filmmakers. Like airline pilots, we inherently trust them enough to try their product, be it watching a show or boarding a plane.
In "The Politics of Time", a new character is introduced, Nelson Barne, portrayed by Frank Cassini whom admirers will recall from Stargate SG-1 adds nicely to the story arc.

We may be in full panic mode during the whole flight, but some part of our brain has us convinced that the professionals know what they are doing – and so we stay with it. This may not be a good metaphor as you cannot just leave an airplane cruising at 400 mph at 35,000 feet, but I trust you, reader, to make the connection.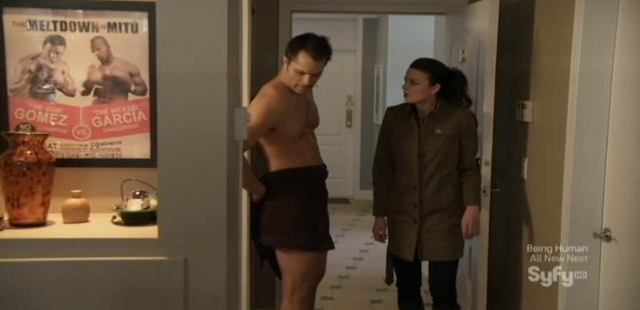 So, back to the subtlety: the main reason I loved this week's episode so much is because it almost did not even feel like a Continuum episode until the very end, when we were slammed back into the reality of 'whoa, this is happening and there is nothing that can really be done to stop it!"
Again, do not get me wrong, I love this show, but when the writers can cleverly and completely hook our attention without relying on the world they are writing in, I find that to be most impressive!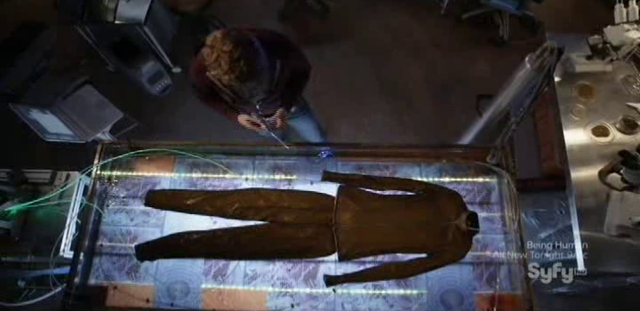 Sure, we had the always-snarky Alec Sadler (Erik Knudsen) thoroughly enjoying the ins and outs of Kiera's suit, but Liber8 was virtually unseen and the story focused almost entirely on the relationship between Kiera and Carlos. A lovely flashback tie-in involving Kiera's fiance Greg portrayed by John Reardon. Greg's infidelity sets the stage for the main theme of the episode: trust.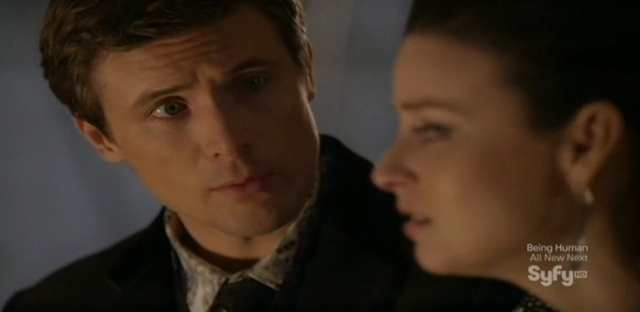 Trust is a fun little line to walk in almost any form of media. Because trust is such a fragile, biological action, the methods in which it can be messed with are almost endless.
Ultimately, trust is not something that can just be 'accepted' or 'kept in full'. You must reserve some paranoia simply for the sake of self-preservation. Kiera and Carlos' conversation at the end of the episode proves this point.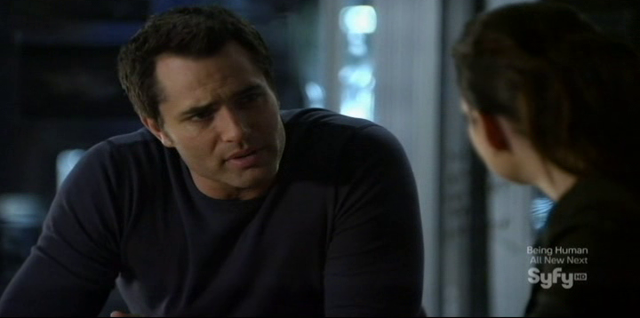 Carlos: "Let's make a pact. No more secrets from each other. 100% honesty. What do you think?"
Kiera: "I think that's where we get into trouble. Sometimes you have to do the wrong thing for the right reason." – from 'The Politics of Time'.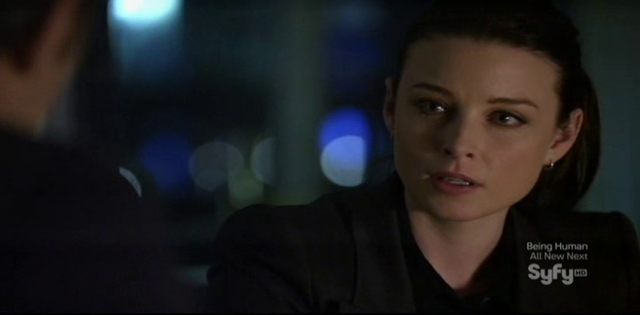 Kiera, of course, could be arguing for something as simple as keeping her life a secret. She still has the department convinced she is an outside resource from another location, smartly hiding the fact that she is from another time entirely. A hundred percent honesty would definitely open the door to problems and mess up the universe she is currently living in.
Though of course, that is one of the many questions of Continuum; Does the future exist anymore?). But she could also be arguing for the bigger picture. Her flashback consisted of her husband revealing his past infidelity and his choice to hide it because he did not think she would marry him.
Given Kiera's passion for him and their son, it is clear that his silence was the right choice at the time, even though the infidelity was the wrong thing to do, (at least for him, it certainly seemed like Kiera's friend and her husband were fine with polyamory).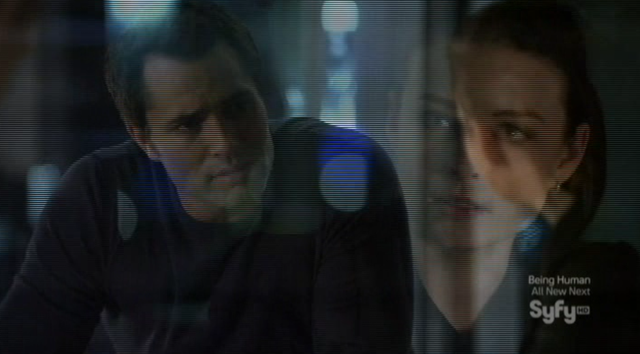 Ultimately, however, this episode was meant to focus on Carlos and Kiera, and it achieved that goal. Each of them took their own approach to solving the case, even though it meant going behind the other's back, and it was only by Alec's hacking genius, (and Matthew Kellog's [Stephen Lobo] knowledge of satellite security codes…most expensive cup of coffee ever), that their paths recrossed.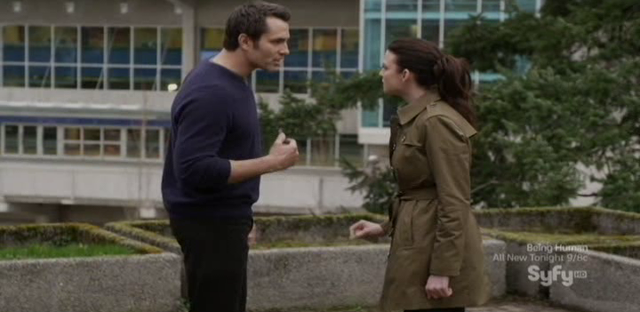 Carlos realized that he needed Kiera at the same moment Kiera was able to completely clear his name, and then the world let them walk on the discovery of the person who had actually initiated the murder. All the secretary, Sara (Jenn Bird), had to do, was roll up her sleeve and show that her arm was not cut.
That would have placed her as an innocent with someone who stole her car. Then again, Alec's eleventh-hour discovery about the money scam that was the whole cause for…the episode…did not help either. Trust cannot ever be assumed, people. Always have a way out – because even your secretary can get caught up in political fever.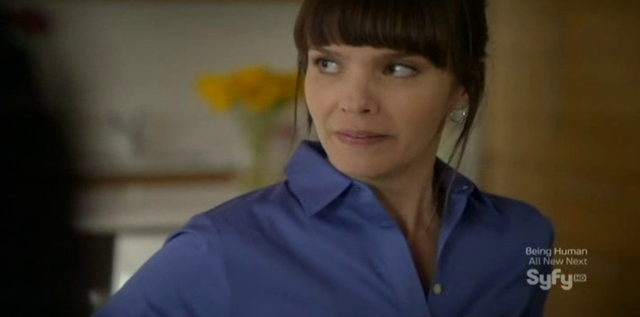 In the end, however, Kiera and Carlos are still closer than they have been this series. Partner trust is one of the most important things to have, and given the fact that their entire relationship is based on a lie, they both need as much leeway as can be given them.
The two of them are truly beginning to see each other as partners and a team instead of 'the person I have to report information to'. This bond will become the heart of the series, I think, as Kiera adapts to 2012.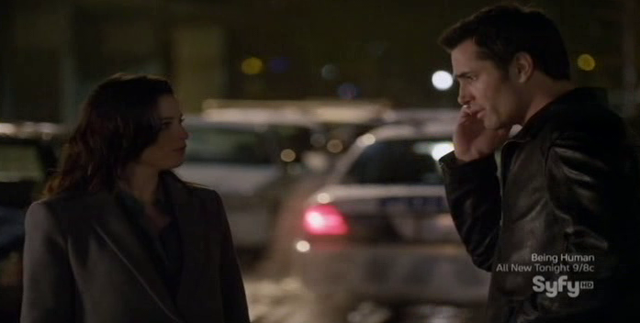 Speaking of adapting, Kiera is beautifully naive in her emotions. As a Protector, she is joined with a lot of tech, and lately has had to operate a lot on her heart as well as her head.
Kiera is still becoming warmer, (I find her quite cold in the show, but do not mistake that as 'unlikeable'), especially with her somewhat awkward attempt at friendship at the start of the episode. In the future, with tech so much a part of her life, there is definitely a part of Kiera that has turned computerized.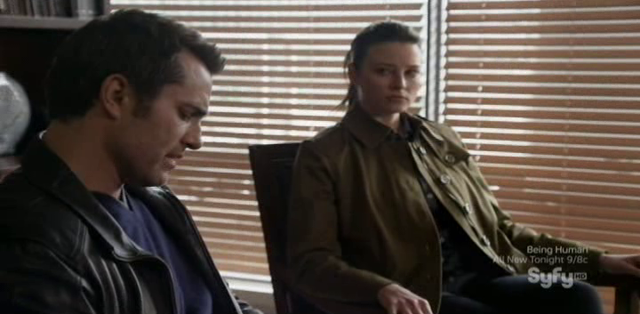 In 2012, she is having to learn how to live without that. The character is growing emotionally and – best of all – the changes are subtle. I, for one, was greatly amused to see her reaction to flirting with Kellog (now that is a pair I would love to see, to be honest). She was so alarmed! Trust is such a factor, but this far away from her family, when will the good old-fashioned need for comfort take over?
Will Kiera's cool, logical side provide the support she needs, or will she eventually succumb to the need for friends and possibly romance? Where is Alec going to fall in this – she has not even seen him yet, if I am remembering the episodes correctly. Is this even a question that should be asked at this point?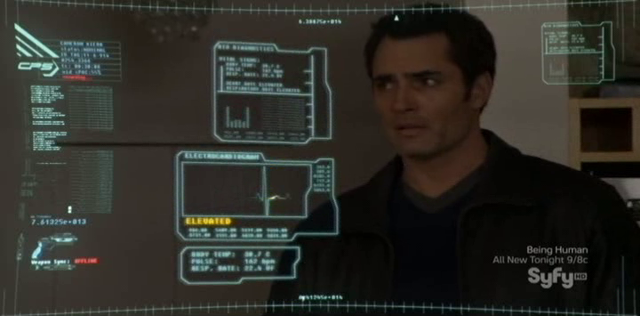 Once again, the writers have pieced together an exciting episode that chose to remind us exactly where it came from in the closing credits. There continues to be no doubt in my mind that Continuum is leading down a road full of questions and theories with its own agenda and Mona Lisa smile.
As we race towards the season one finale, loose ends, (I am looking at you, Matthew Kellog), will start to play their part, and at least the beginning of Liber8's master plan will shake itself awake.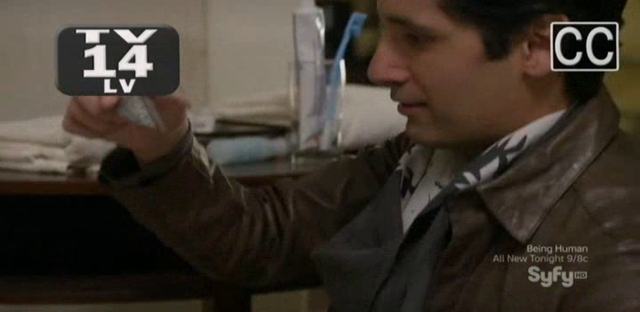 We are all left to wonder, just what does Edouard Kagame have planned?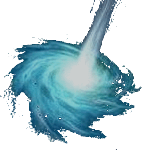 Thanks to Kenn, WormholeRiders Managing Editor for additional images, hyperlinking, and music video embedding of The Zolas 2009 hit song "The Great Collapse" featured in the episode, and many thanks to you for visiting WormholeRiders News Agency
Please feel free to leave a comment here or if you prefer, click the social media icons below to share this news article. Or as many of our readers and visitors often do, visit WHR on Twitter, WHR on Facebook or visit me on Twitter by clicking the text links or images avatars in this news story.
I and the WHR team look forward to and will be Seeing You on The Other Side"!
Thank you.
Regards,
Nayari09 (Pam)