Welcome back Continuum time travelers!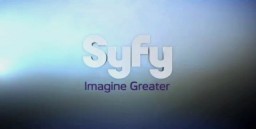 "End Times", episode ten of season one of Continuum represents one of the finest efforts by a cohesive team of cast, creators and crews. Captivating the imagination of time travel buffs as no other series in modern cinematic history has accomplished in many years, Continuum is set to sweep the world in season two!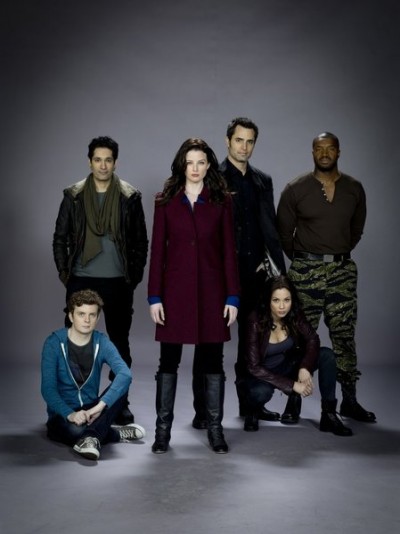 Simon Davis Barry with his outstanding creative screenwriting team of Floyd Kane, Jeremy Smith, Andrea Stevens, Jonathan Walker, Sam Egan and Jeff King have made manifest what science fiction drama admirers desire!
Continuum is a series with the action, great VFX, awesome acting, exciting stunt work, cool costumes, laudable location shooting, marvelous makeup, top notch cinematography, and superb story arcs that prove beyond any doubt that Continuum is one of the finest scripted science fiction dramatic series to come our way in a very long time!
What the entire Continuum team have accomplished is no less than a "Wide River to Cross", as is edified by the beautiful Buddy Miller song that was featured in the episode, sung by the gifted Canadian singer, Diana Krall (included below).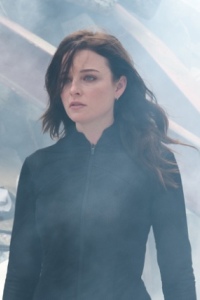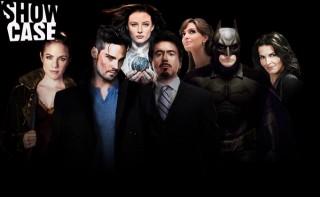 Featuring superb episode Directors such as Pat Williams, Jon Cassar, David Frazee, William Waring and Mike Rohl, Continuum has laid a solid foundation for a science fiction dramatic dynasty we hope will grace our screens for many seasons beyond 2013!
Already knocking it "out of the park" in Canada on Showcase and Syfy the United States with extremely healthy ratings, most, if not all of the cast, creators and crews have been tweeting their hearts out to the sheer delight of Continuum fans, including this editor!
With a special theory disclosed near the end of this analysis, and with a second season coming to the United States on June 07, 2013 on Syfy, we here at WHR are ecstatic!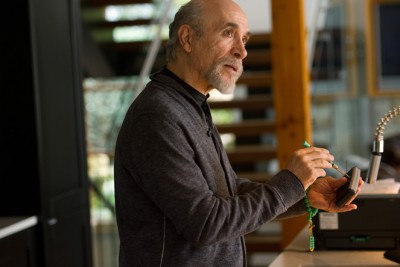 Does the move by Syfy represent a major effort by the network for a return to "SciFi Fridays", a time slot it dominated with such series as Stargate SG-1, Stargate Atlantis, Sanctuary, Stargate Universe and many other fine series?
Many have wondered why Syfy moved many of its top notch science fiction shows to Monday? In a shift that has become known as "Powerful Monday's", could Syfy be preparing, after proving critics wrong about Monday's, to re-anchor a new series of "Powerful Friday" programs beginning with the runaway Canadian hit series Continuum?
In our opinion, Continuum is just such a series to do the job, and we certainly believe in its success when the series second season premieres on Syfy June 07, 2013!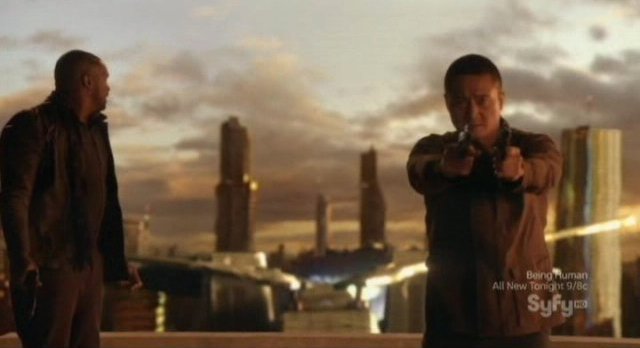 End Times: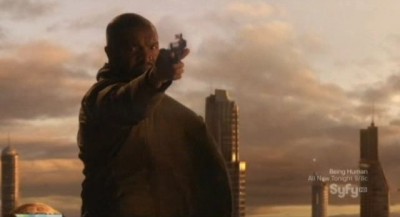 The much anticipated tenth episode of Continuum opens with a visually stunning, beautifully shot cinematic sequence, and a literal bang as Travis (Roger Cross) and Curtis (Terry Chen) successfully blow to smithereens the 2077 high rise building we witnessed being destroyed in the original pilot episode.
The exciting scene has our two malcontent Liber8 terrorists, Manifesto minions of Edouard Kagame (Tony Amendola),  running for their lives, firing weapons at their pursuers to escape being captured after planting the explosives that will level the building.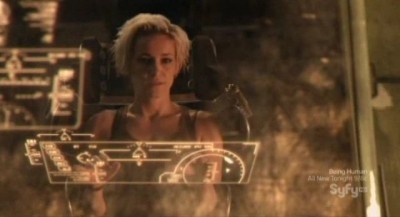 We find out more about the terrorist talents of Garza (Luvia Petersen). An expert in future helicopter piloting and navigation, our evil female villain swoops in to evacuate Travis and Curtis in an outstanding VFX sequence reminiscent of Neo's (Keanu Reeves) helicopter escape in the original feature film, The Matrix (1999).
Sans crashing into the walls of a virtual construct controlled by computers as in The Matrix, the exciting terrorist bombing scene is replete with cool explosions, smoke, fire and escape of the three while Curtis scrambles to grab Travis' hand to be airlifted away by Garza as the building realistically crumbles into the background crashing to Earth!
Simply said; Kudos to the expertise of Adam Stern and his fantastic VFX team for a wonderful opening to "End Times!"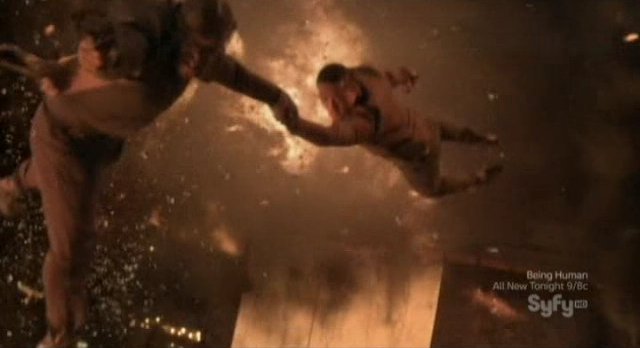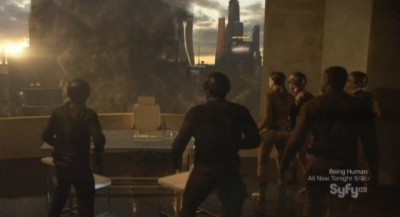 An excellent cinematic digital pan and scan takes us to a nearby building where Kiera (Rachel Nichols) and the CPS SWAT team are observed in the process of arresting Edouard Kagame (Tony Amendola), leader of the Liber8 gang of terrorists that is a flashback to the very beginning of the Continuum story arc.
The entire "End Times" opening sequence of episode ten excellently rounds out much of the information that admirers of the series have been craving since the adventure of Continuum began nine episodes previously.
This reviewer can share that the reveals of how it all began captivated my attention and were outstanding to behold!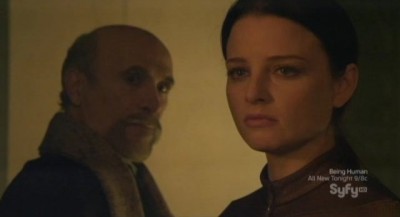 Kagame merely gloats at Kiera about his accomplishment which she can do nothing about. The nearly two minute opening moments takes the admirers of Continuum on a journey that will become a full circle to understanding the season one story arc.
Before continuing my analysis of "End Times", this reviewer would like to take a moment to address the subject of "live" tweeting by the cast and crews of Continuum.
Often taking time away from episodes being filmed or table read through preparation for same, the entire cast busts their back sides to share their own pride, in fact glee, of being involved with a successful entertainment product enjoyed by their fans.
No small task to live tweet, it takes a lot of work to keep up with a literal barrage of Continuum cast and creator tweets while interacting with their admirers. Other programs, of all genre's, would be well advised to study and replicate full cast and creator interactions on Twitter to reap the rewards of fan loyalty.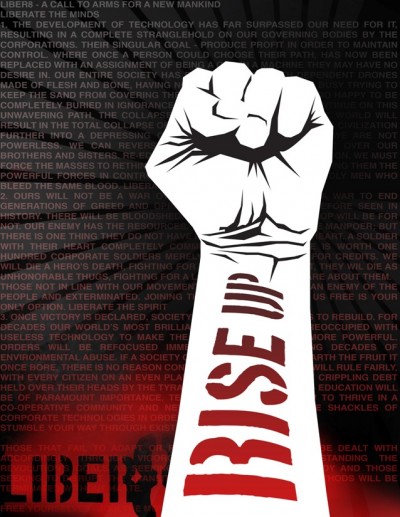 In my opinion, not only does the interaction bring absolute joy to the experience as people watch and tweet to their hearts content "live", the brand value of any entertainment product is greatly enhanced from being involved on social media.
While this reviewer has read many thousands of tweets, perhaps even over 10,000 Continuum tweets, only a small minority of people seem to "not get it" with regard to what Continuum as a series is all about.  So in this analysis, let us try and set the record straight in that regard as well.
Continuum is such a well produced science fiction dramatic series with analogs to ancient events, as well as those of today set in modern day Vancouver. Rather than being shot in Vancouver to represent some other geographic location, Continuum as a series is in Vancouver.
Bucking the trend of entertainment production "flight" from British Columbia due to the short sighted financial judgment by the Prime Minister of that province, the creators of Continuum are building an edifice, a solid foundation, that science fiction films and television programming that originally helped build Vancouver, and is worth fighting for.
This reviewer witnessed the flight of entertainment production from the San Francisco Bay Area in the mid to late 1980's due only to the same myopic view points of the local governmental leaders of that era.
It has taken some thirty years to reverse the damage done by misguided politicians of all persuasions to restore San Francisco to a vibrant entertainment production area. Vancouver politicians should carefully consider the future damage to their economy if they fail to support entertainment in their fair city and the surrounding environs.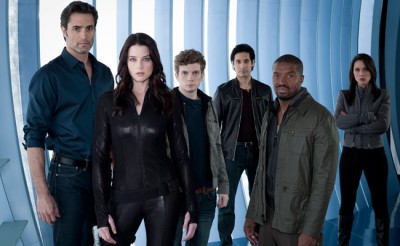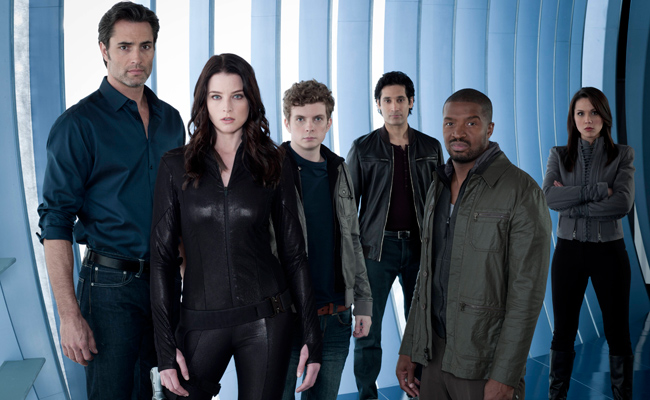 Some have said in tweets, and on Facebook. that they do not "understand" Continuum. Not one who typically engages in arguing on social media (WHR is on social media for the fun and share our experiences), this reviewer was flabbergasted by such comments by sharing a Single Effect at the end of this analysis.
Continuum is a near perfect analog to the events of today with Liber8 of 2077 clearly representing the dangers of Al-Qaeda tomorrow if governments and citizens to not act in unison to reject the precepts of terrorism used to achieve a non political hegemony to enslave the citizens of the world at the expense of "the establishment".
What could be a better method to demonstrate the aims of terrorists and their malcontent financiers than the collapse of an entire high rise building in 2077 with wormholes and time travel woven into the adventure as juxtaposed to the Al-Qaeda terror attacks of September 11, 2001 in Washington, New York and other cities that continue to this very day? Nothing!
Continuum has blended all of this and more into their well conceived recipe!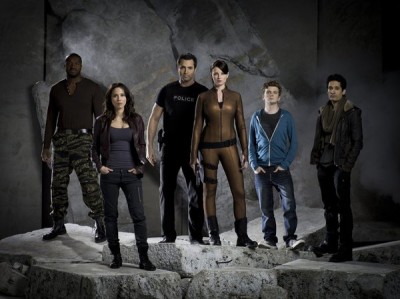 Last two points on this topic; Continuum features superb acting talent, many from the Stargate, Sanctuary, Eureka, the X-Files franchises, and other epic science fiction series that includes industry veterans William B. Davis, Tony Amendola, Jennifer Spence, Terry Chen, Roger Cross, Lexa Doig, Mike Dopud, Brian Markinson,  Zak Santiago, Nicolas Lea, and many others.  What more could anyone ask for?
And lest we forget, there are several strong main series cast, including newer arrivals to the science fiction world such as Rachel Nichols, Victor Webster, Erik Knudsen, Stephen Lobo, Luvia Petersen, Omari Newton, and Richard Harmon. These gifted performers make this reviewer believe in Continuum having become invested in their characters will conceived interactions.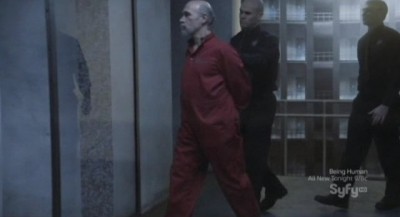 As an actor myself in a past life, simply witnessing the abundance of acting talent and creative in Continuum is a joy to behold.
As important, this reviewer strongly suggests supporting this series so we can see more of the marvelous actors and their characters brought to life on our screens each week for at least the next five years!
Back to the present of 2077, so to speak, we find Kagame being led in orange prison garb to a cell in handcuffs as an unseen co-conspirator fills him in on what is to come, Kagame's escape to 2012!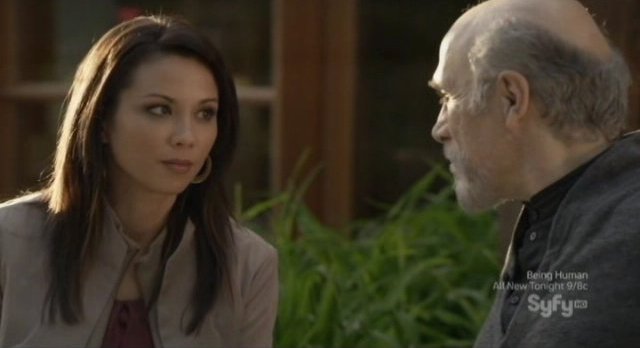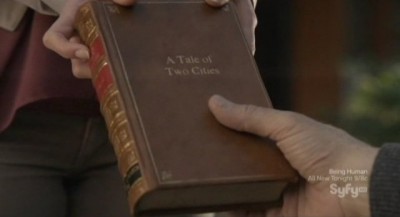 Kagame day dreams of another time. He is with the gorgeous and gifted actor Lexa Doig who portrays the evil temptress Sonya Valentine. Sonya passes Kagame a book for his birthday.
Fittingly, the book is the classic work of literature "A Tale of Two Cities". Kagame then gives Sonya a key to a safe deposit box indicating to Sonya that she will "find the answers you need here".
In this revealing scene, it is more than apparent that Valentine has fallen under the sway of Kagame's potent, messianic influence and she will do anything to further his dastardly plans to influence the past and enhance the future dominance of Liber8.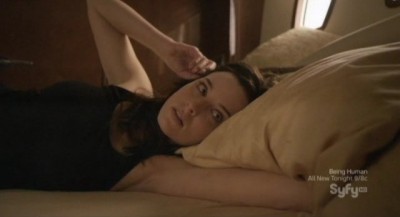 We next find Kiera (Rachel Nichols) waking up after a one night stand on Kellog's yacht. This reviewer was somewhat shocked to discover that Kiera had spent the night with Kellog (Stephen Lobo).
The martial dalliance with Kellog is an ironic manifestation in that Kiera had lambasted her own husband Greg (John Reardon) in the future for a similar indiscretion proving the point that people often make human mistakes, even Kiera.

Kiera uses her technology to open Kellog's safe to extract the time travel device fragment, something she needs to fight Liber8 in the year 2012 and try to get back to her own family in 2077.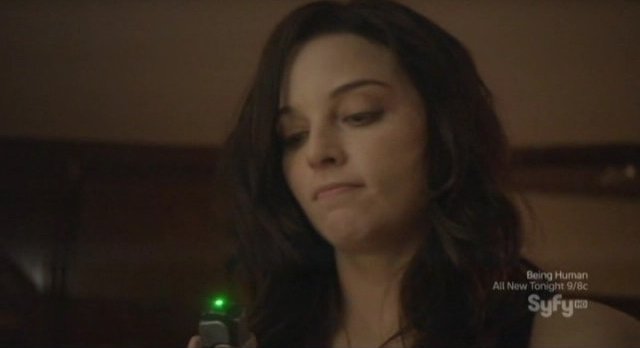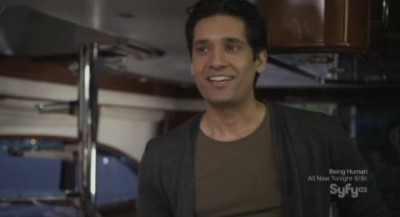 Kiera leaves the luxury yacht telling Kellog "this never happened". Kellog smirks at what he thinks is his apparent conquest over the Vancouver of 2077 "City Protective Services" officer stranded in Vancouver in the year 2012.
Stating smugly "she'll be back" with a male ego sense of bravado that likely makes most female viewers despise this handsome character actor, this reviewer offers this; Do NOT mess with Kiera, Kellog or you will get your butt kicked by her!

Kiera gets a call from her partner Carlos (Victor Webster) who informs Kiera that a bunch of experimental military grade explosives has "gone missing" and that Inspector Dillon (Brian Markinson) is frantically searching for clues as to what is coming next.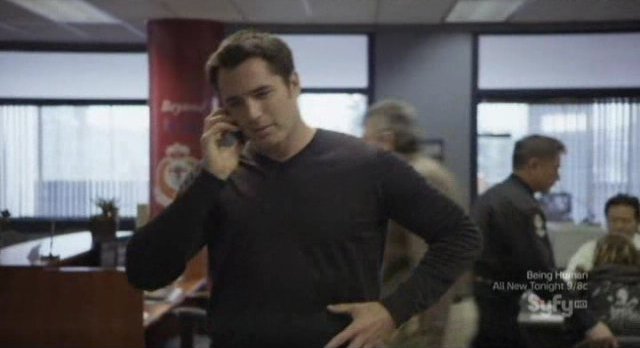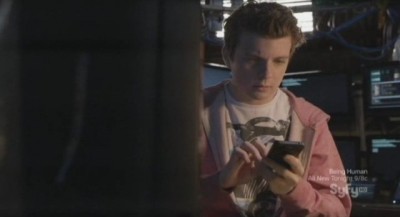 Kiera checks in with young Alec Sadler (Erik Knudsen) regarding the whereabouts of his brother Julian (Richard Harmon), who as you might recall was working with Kagame and the Liber8 gang in an earlier episode that resulted in the death of their father on the farm from Kagame's own orders.
It is clear that Kiera suspects that terrorist anarchist in training, Julian, will play a pivotal role in "End Times" to further the evil escapades of Kagame and the Liber8 malcontents.
Thanks to the wonder of cell phone technology "dead zones", the viewer thinks such has interrupted the call before Alec can relate that he found a message from the future in her Cellular Memory Recall (CMR) technology. No doubt it is from the older Alec Sadler portrayed by William B. Davis. More on that topic later in this analysis.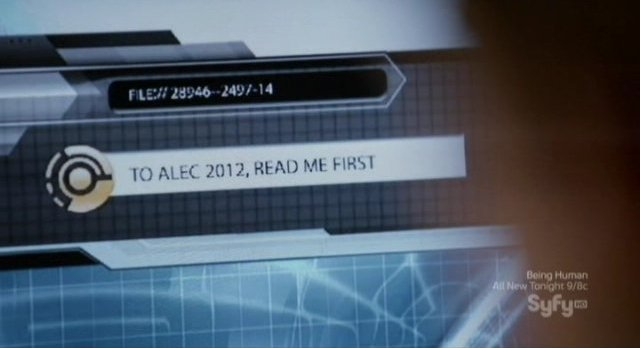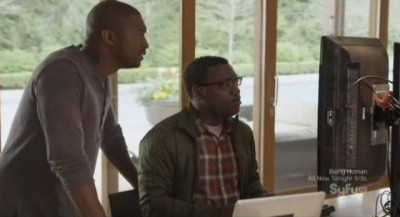 It turns out that the cell "dead zone" phone problem is no accident.
The problem has been deliberately created from an electronic disturbance by terrorist computer guru and malcontent Lucas Ingram (Omari Newton).
Ingram gleefully gloats with pride as he informs Travis (Roger Cross) that all is going according to the Edouard Kagame plan that has been carefully crafted to repeat a terrorist incident in 2012 that was revealed in 2077 during the opening moments of "End Times". Can you say there we have it and now we know?

"Good work" says Liber8 terrorist minion Travis who is pleased with the plans progress.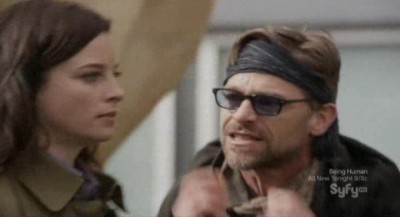 Meanwhile, Kiera bumps into a crazed character named Jason (Ian Tracey) who we have seen previously, yet enigmatically without a full understanding as to why he is in 2012.
Ian Tracey, well known for his similar role in Sanctuary, wonderfully portrays Jason whose role is not fully revealed until "End Times".  Jason is heard talking, mumbling, and preaching about the "End Times" that are about to occur.
How does Jason know what is about to happen?
We learn more as Jason convinces Kiera that he was in the 2077 execution chamber control room (to execute the Liber8 gang) when the wormhole time travel device went off. Instead of arriving in 2012, Jason was accidentally affected by the time travel "wave", only to be transported to 1992 instead.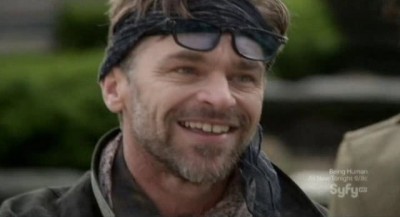 Jason, not so crazy as one might think, has, for 20 years, been waiting for this particular day in 2012 "history", the day another bomb (using the stolen military grade explosives) is set to go off killing many, destroying a high rise building in the process.
The terrorist incident will start the spiral of changes in time as planned by Kagame, initiating the revolution of Liber8 into the terrifying world of their contemplated future dominance of Earth.
Kiera, upon hearing Jason state "I know you blue eyes, you were at the execution" and "you're from the future", turns in complete shock! No one from 2012 should have known anything about the Liber8 execution in 2077.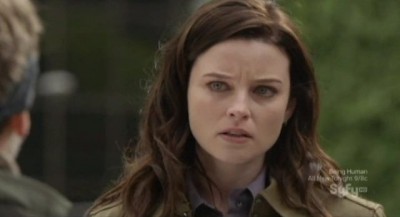 Jason shares with Kiera how he was imprisoned by the government is a mental hospital as a crazy man, only to be released.
Apparently, in an analog to the real world, due to budget cuts that unleashed millions of mentally challenged individuals on to the streets of "normal people", Jason escaped being held in a mental institution.
Is the Continuum story arc real enough for you yet?
This reviewer takes note that Ian Tracey does a superb acting job as a man tormented for two decades with knowledge of what will happen on this fateful day in 2012. His rambling gait and crazy talk to strangers was most convincing. Great work Mr. Tracey!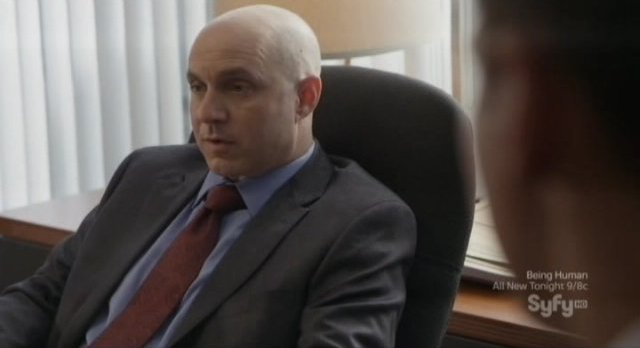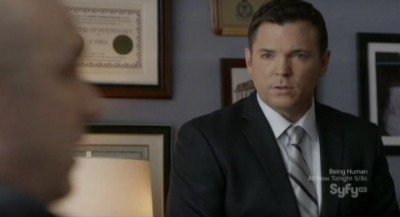 We then learn more via a meeting back at Vancouver Police Headquarters between Carlos, Inspector Dillon and Agent Gardiner (Nicholas Lea).
The missing experimental military grade explosives are some 2,000 pounds of an extremely volatile compound that could, in an instant, level an entire area of a few blocks in downtown Vancouver!
Can anyone remember the terrorist bombing in Oklahoma City during the 1990's that leveled a building with a similar amount of NON MILITARY grade explosives?
It soon gets worse people, much worse!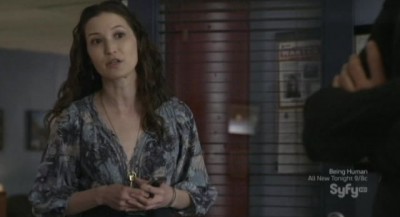 Our trusty detective and police computer whiz, Betty Robertson (Jennifer Spence) comes barging in on the meeting stating "Sir, all cell (phone) sites are still down, all signs point to hacking or sabotage". Can anyone say YIKES!?
Alec is able to penetrate the electronic interference to communicate with Kiera via CMR about Julian. Kiera, who is still with crazed homeless street person Jason, as he overhears that the 2,000 pounds of explosives have been stolen, rambles on "Liber8 is here" and "it's too late".
Alec, instead of patching Kiera through to Carlos, panics to try and intervene with his brother Julian before it is indeed too late. Wrong move Alec, WRONG MOVE!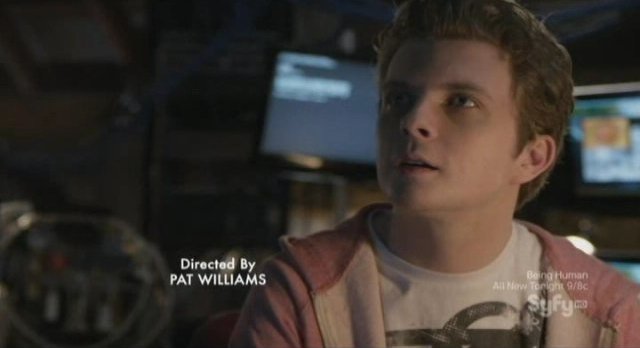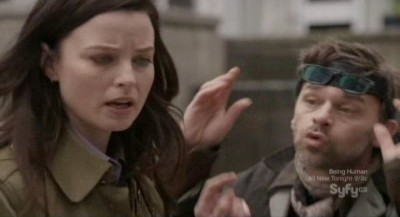 Jason, really becoming aware of the devastating impact of the events about to unfold, picks up on what is happening in the "real" world of 2012. In a moment of lucidity, Jason is observed offering Kiera to come and see his secret "project".
What could the secret project be? Jason reveals that has been working on the "project" for some fifteen years, and tells a stunned Kiera that he has a working time machine!
Jason informs Kiera they can both escape the cataclysm about to be unleashed on Vancouver. Can you say OMG?!?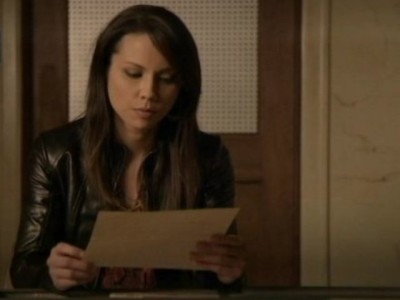 Subsequent to the commercial break, we find Sonya Valentine (Lexa Doig) is located in a bank safe deposit vault room.
The "day dream" earlier experienced by Kagame on his "birthday", when he gave Sonya the key, was not in 2077, but in 2012, to open the safe deposit box.
Sonya finds detailed instructions, money, jewels and other items needed to complete Kagame's devilish plans!
In the meantime, before a segue back to Jason and Kiera, good ole terrorist in training brother Julian shows up at the lavish home where Garza, Ingram, Travis and Kagame are hiding out.
Can there be any doubt that the luxury "safe house" was more than likely paid for from exploits by the double dealing financial wizard Kellog who will do anything to save his own skin?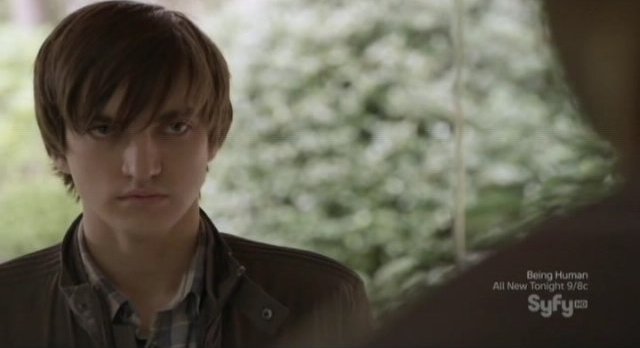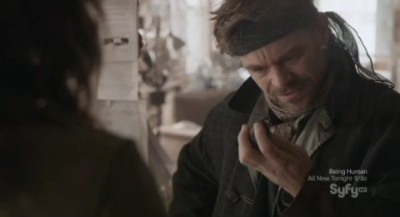 Time machine builder Jason offers Kiera a cracker at his secret time travel lab as he explains one problem with his device; it needs a special circuit that will not be invented until 2034 to "dial in the return date" (for time travel).
Kiera, who has stolen the needed circuit from Kellog, asks Jason "Do you believe in destiny?"
As Kiera hands the time device fragment to Jason, he becomes a believer in destiny "today I do" says Jason who fondles the requisite circuitry suddenly realizing that Kiera is from CPS in the year 2077.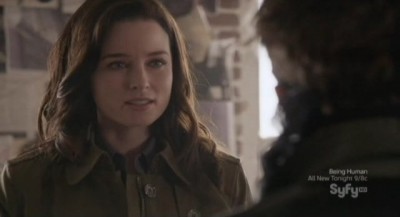 Not only crazed from twenty years being trapped in time, but a bit paranoid, Jason freaks out thinking Kiera is there to arrest him.
Kiera explains that she only wants to go home to 2077. Jason relents stating "I can help you with that" until he puts it all together that today (in 2012) is the day the "infinity" memorial, seen in the first episode, became posterity in 2077.
Much like many 9/11 memorials created from the twisted metal remains of "ground zero", when the 2,000 pounds of experimental explosives went off in 2012, killing and maiming thousands in Vancouver, only the metal "Infinity" monument will remain at the building site in 2077 to honor those slain.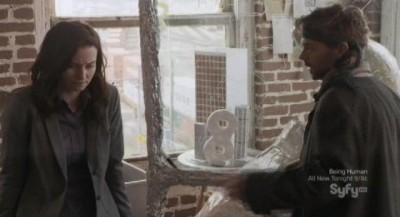 Of note, this reviewer found the "Infinity" monument to be quite ironic. Jason has a model of the bomb site location and the monument in his time travel laboratory.
A very nice piece of work by the creators of Continuum in this scene that is quite neatly woven directly into the "End Times" story arc!
Kiera now has second thoughts about returning home to the year 2077. We observe Kiera convincing Jason they must stay to stop the terrorist plot from becoming reality. They head downtown to somehow locate the explosives in a building near the "Infinity" monument.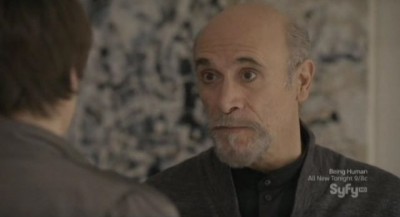 Kagame is having a bit of a chat over tea with Julian at the safe house. He mourns the killing of Julian's father in "Family Times", but states firmly that he must stop the danger from "the corporations". Pouring some hot tea for Julian, Kagame shares with Julian that (the corporations) "will take all our lives and freedoms unless we stop them".
Rather like the feelings of many world-wide today, can anyone say 2013 rigged corporate control of Wall Street and our own societal freedoms under attack by the "benevolent" guidance of today's governments?"
Julian is completely mesmerized by Kagame into making an ultimate sacrifice "to inspire future generations". To this reviewer, it sounds a lot like the same maniacal Al-Qaeda suicide bombers "inspiration" of today who are promised seventy-two virgins after they commit a suicide bombing.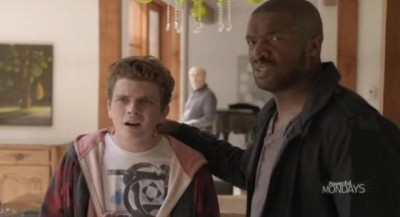 Foolish young Alec has traced Julian to the safe house only to be quickly apprehended by Travis. Kagame quickly realizes that this Alec is the younger version of older Alec Sadler (William B. Davis) from the year 2077 who helped him set all of this in motion.
We are left to wonder; how did young Alec become the older and apparently evil version of Alec Sadler?
Is the older Alec really evil? This reviewer hypothecates that question will remain unanswered until the end of season two in an epic cliffhanger leading to a third season!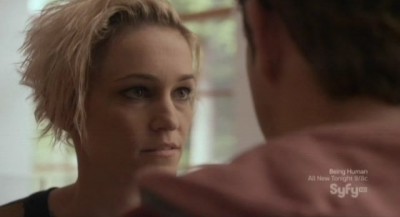 Young Alec is bound in a room by Garza, who teases and flirts with Alec as she uses plastic tie straps to bind him.
Julian is about to head off in an SUV seemingly filled with the explosives "inspired" by Kagame to make the ultimate sacrifice to free the world from the slavery of the evil current and future corporations that he is sure plagues humanity.
One minor technical problem, no SUV I know of could possibly carry a ton of explosives due to space constraints in the cargo bay. Julian does not notice this "detail", nor did this reviewer, or as I imagine, neither do the Continuum viewers since the sequence fit the story arc so well.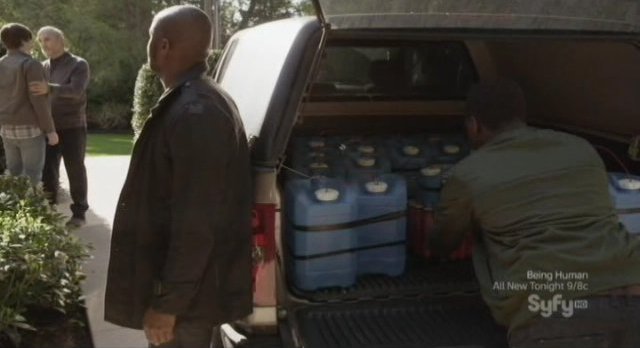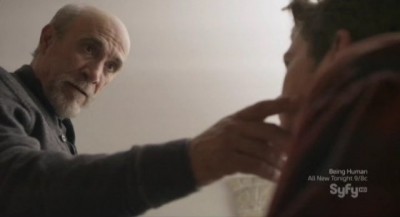 Kagame and young Alec have a little chat about the new future and the seeds of it, that he Kagame will plant in the past!
Kagame knows the role Alec is to play and must protect him from "a pebble that becomes a tsunami on the other side of the ocean" of the "infinity" of time.
Kagame, after being taunted by Alec that the future is inevitable, grips Alec's face and yet makes a potential mistake revealing to Alec that his older Alec self  is the one who convinced Kagame to throw the pebble in the ocean of time to cause the tsunami that will change all future history!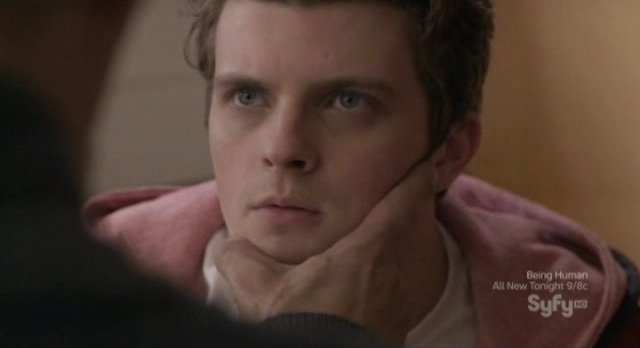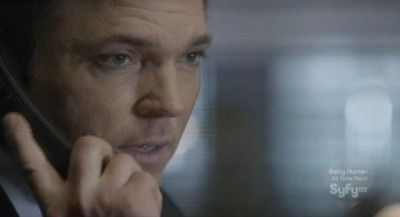 Back at Vancouver Police Headquarters, Agent Gardiner has determined there is no "Section Six". He is in process of concluding that Kiera may be a Liber8 double agent to take them off the track of the terrorists!
Kiera calls in during the meeting begging to evacuate the area. Inspector Dillon agrees to dispatch a bomb squad while Agent Gardiner and Carlos will locate and perhaps apprehend his partner Kiera.
Ever handy Alec manages to uses a part of his belt to cut himself free of the plastic tie straps while Sonya and Travis are arguing in the living room. Travis is jealous, wanting to know what Sonya she was doing while away.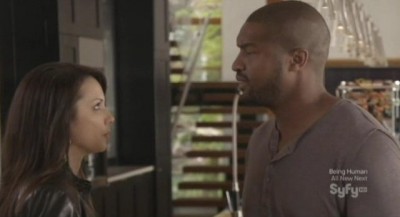 Sonya blatantly informs Travis that Kagame is the leader of Liber8, not him.
During their confrontation and argument, Sonya and Travis' attention becomes distracted. Fortunately for Alec, the two distracted terrorists allows him to make a hasty escape from the safe house.
As Alec is leaving the safe house, he observes Kagame's plans on a table for something referred to as "Project Theseus". On his way out of the safe house heading downtown, Alec puts two and two together.
More on the importance of "Theseus" at the end of this analysis.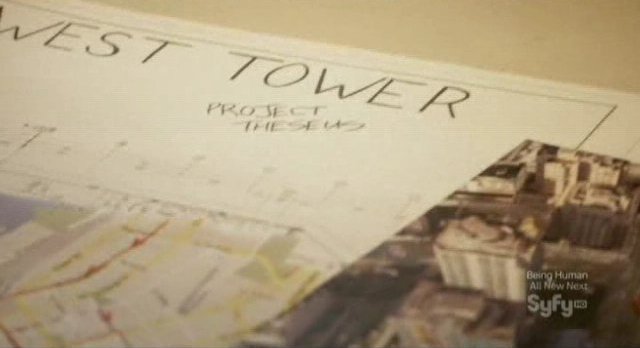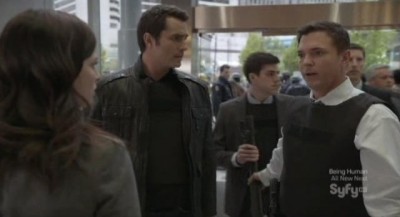 Just as Agent Gardiner and Carlos confront Kiera in the lobby of one of the buildings downtown, Jason is heard babbling that they are both from the future. Agent Gardiner is about to say something when a new development draws his attention.

On a nearby security monitor, the suspect SUV is observed entering the building seemingly loaded with the explosives as he makes an unauthorized entry to the building with Julian at the wheel spotted on the closed circuit camera security system.
Time is running out for all involved as Gardiner suddenly sets aside his quest to expose Kiera after getting a cell phone call. My guess is that Alec hacked through the interference in the cell systems to convey a secret message to Gardiner.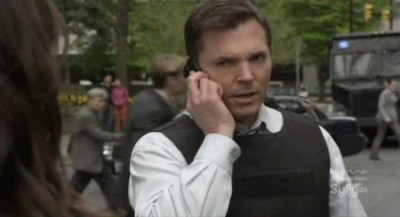 Although Alec is not depicted on the other end of the call, we are left to wonder if the call Agent Gardiner received is as a result of someone else from the future? We know this because Alec, although observed on the computer screen earlier in the episode, did not know the password to open it!
Was this cell phone message, from another ally of Alec's own future self all pre-arranged so that Agent Gardiner will not become one of the many victims and ultimately stop suspecting Kiera as being a member of Liber8?
In any event, the unexpected cell phone call incident thereby protects Kiera's secret of being from the future Vancouver from discovery for the time being.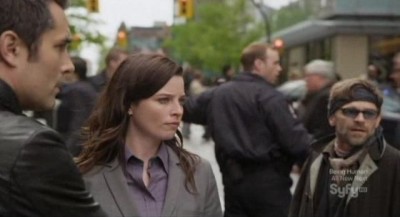 Although the Vancouver authorities manage to evacuate the building where they think the massive 2,000 pounds of explosives will go off, it will do no good.
The bomb will go off because the stolen explosives always went off, just as it was written in history, but not where they all think that it will!
Of interest at this point in my analysis, here is the theory of the effects of changing events in the past to affect a change the timeline of future history. In a past episode we learned that Kellog lost a relative yet he did not vanish from history in 2012.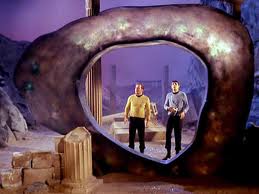 Much like the classic Star Trek science fiction time travel story "The City on the Edge of Forever" from 1967, or the epic recently concluded alternate reality series, Fringe (2008-2013), in Continuum, time appears to flow around the minor changes in history.
Other events in time, space and history, such as the massive explosion that will level the Vancouver high rise building in 2012, are seemingly unalterable, no matter what is done to try and stop them from occurring.
The incredible events depicted in Continuum "End Times" will take a surprising victim during a birth in 2012, all of which are set to take place simultaneously within the flowing ocean of time and space.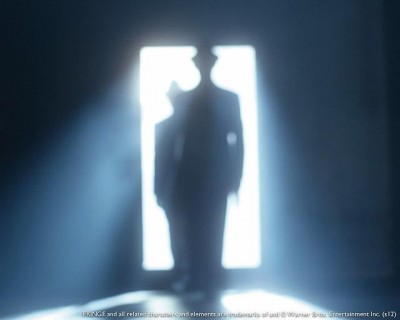 This reviewer postulates that one must nevertheless contemplate the ripple effects of the changing of past historical events as they impact the present and future Continuum timelines, as what transpired in the worlds of Fringe caused all reality to be altered.
Do the minor changes add up to larger changes in the future, or does time merely flow into a new timeline or have no major impact at all? And just what did Kagame learn in the future about his own fate on this day of history in 2012?
Stand by, it will all be revealed!
The actual terrorist bomb explosion is all part of a plan that was hatched in 2077. Since Kagame studied past history with older Alec's help, did he always go to the past in 2012 so that he would be blown to bits when the bomb went off, while he was being born 65 years earlier in a nearby hospital? Just what does it all mean?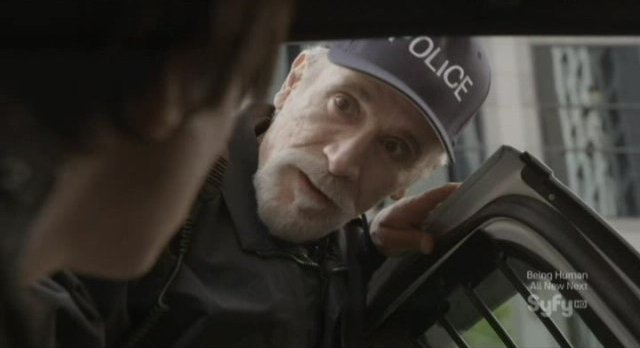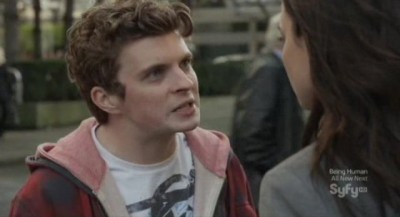 As the SWAT teams move in, younger Alec finds Kiera revealing that Julian was all a carefully contrived decoy so that Kagame can set off the real explosion.
Kiera, being patted on the back only a few minutes beforehand for capturing Julian, realizes that in her time line of history, today is still the day that Kagame's terrorist explosion will level a building to set it all in motion on his own birthday!
And so it becomes, Kiera and Alec spot Kagame entering another building telling Alec to stay outside so that he will not be killed in the inevitable explosion that is about to become manifest.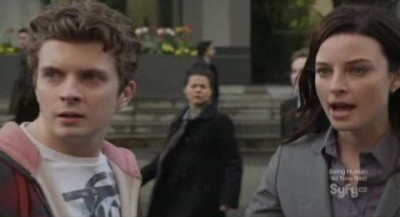 Kagame, who is armed and has plotted with future knowledge, is confronted by Kiera near an elevator. Kagame, who has nothing but contempt for Kiera's attempt to alter what is about to happen.
Kagame smugly states; "Have you forgotten your history lessons? It's already done!"
Ever foolish young Alec follows Kiera into the building against her orders, allowing Kagame to distract Kiera with "Alec will explain".
As Kagame he heads into the elevator with a bomb vest strapped to his body to set the events, already written in the sands of time, into motion.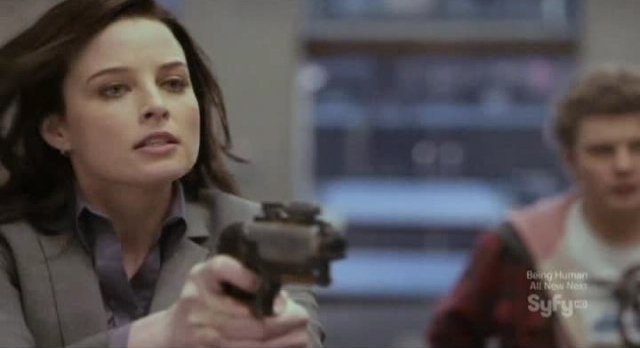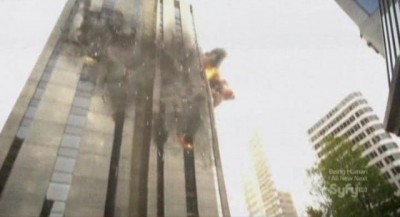 KABOOM! Kagame has always planned to be the detonator, or catalyst for the 2,000 pounds of military explosives secreted in the building!
Kagame sets off an explosion in a critical part of suspect building two's elevator that apparently ignites the rest of the cache of explosives.
As the building explodes, just the way Kagame wanted, with the exterior façade crumbling to the ground, and just as it was written in the history books of 2077, hundreds of people are killed in the process while thousands more must have been injured. We are left to wonder just how many and who was slaughtered?
This reviewer noticed something pertinent when Kiera and Alec scrambled for safety. If you look closely, both are seemingly protected from the explosion by an odd blue circular sphere that looked an awful lot like a wormhole to me!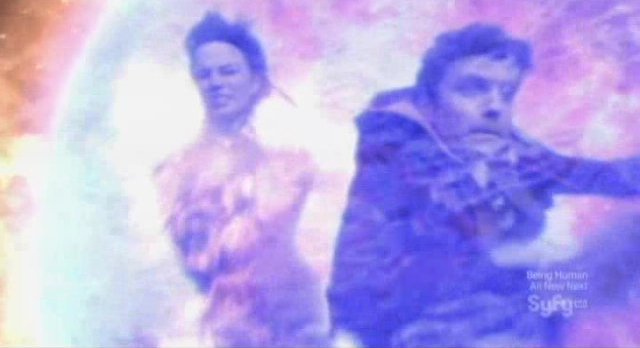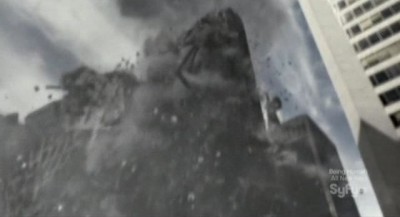 This leads this reviewer to theorize that Kagame was NOT killed in the explosion, but using the experimental explosive in conjunction with a perfected time transport device by Lucas Ingram, that he somehow has transported himself to another time and or another location in 2013 to continue his malcontent terrorist agenda.
In another observation, just as Kiera and Alec emerge from the rubble, Alec tells Kiera to "go". Kiera activates her invisibility cloak as a shaken, filthy dirty (from explosion dust) and stunned (from the blast) Agent Gardiner is watching her disappear.
How will this all ultimately be dealt with in the future of season two? Or will Agent Gardiner simply think it is all part of technology in "Section 6" from the year 2012 that Kiera employs?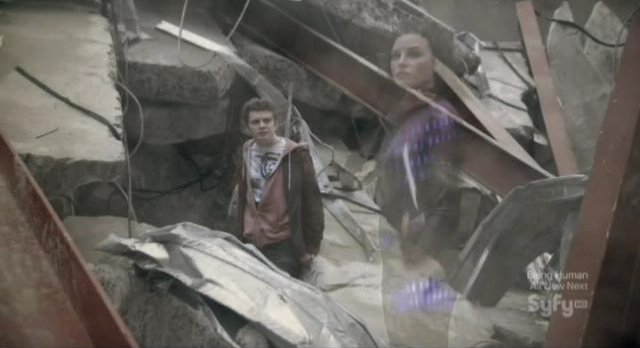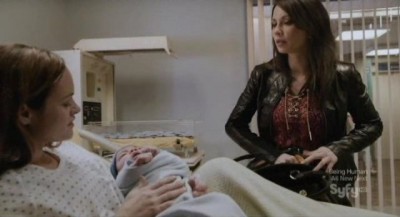 The "End times" episode begins to wind down with Sonya Valentine visiting a mother and her new born infant at a local hospital which is of course Kagame!
The mother recognizes Sonya with a statement; "I know you".
Sonya, being there only to fulfill her Liber8 mission for Edoaurd Kagame, simply ignores his  mothers comment.

You see, "today" really is Edouard Kagame's "birth" day in the 2012 world of Vancouver, British Columbia.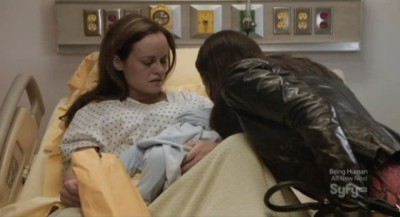 Sonya hands the mother a paper sack filled with the money from the safe deposit box as she states she cannot answer any of the mother's questions. Sonya gives little Kagame a kiss on the forehead as she departs.
Sonya has fulfilled the mission given to her by grown up Kagame. Not knowing that a jealous Travis has trailed her to the hospital, Sonya is startled when Travis confronts her in the hallway.
One of the most shocking reveals is yet to come. Sonya lures Travis into a storage room at the hospital and shares that Julian was a diversion, that Kagame was in the building when it exploded, and that Kagame was just born!
Travis is stunned by all of these facts as Sonya tells him that she was to make "arrangements" for Kagame's mother, little baby Kagame, and that she was to succeed Kagame. As the final commercial break fades to black, Travis hears the sound of a pistol being cocked. Sonya is pointing the gun at her lover Travis' head!
As the screen fades to black we are left to wonder, does Sonya actually pull the trigger?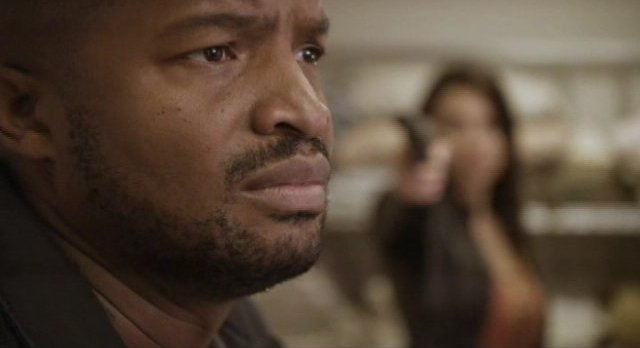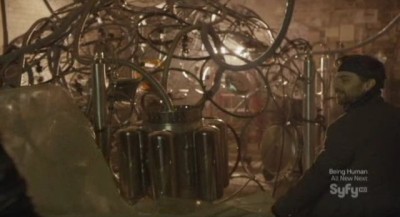 The final scenes of "End Times" are Kiera with what may be a not so crazy Jason and his time machine. Kiera picks up the time device fragment and leaves Jason who has placed a tin foil helmet on his head. Is Jason really crazy after all?
Only season two and time will tell since Ian Tracey is scheduled to re-appear to reprise his role as Jason for our enjoyment.
"End Times" loops back where we originally began with a two fold enigma. Kiera is with her reluctant lover Kellog, Kagame and elder Alec in the year 2077, and Alec and Kiera chatting via CMR in 2012.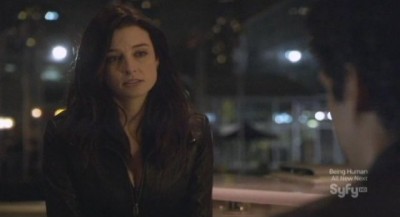 In an absolute cliffhanger Kiera confronts Kellog that her cover was almost blown, and was he responsible? Kellog says no, but that another person must be leaking things that led to events of the day. Kellog says he will take her away on the yacht to protect her.
Next we find an imprisoned Kagame being visited by elder Alec in the year 2077 just prior to his scheduled execution. Elder Alec brings Kagame the fully completed time device sphere, places it on the table for his use in the execution chamber to escape, asking Kagame him if he has ever stood in front of a tsunami?
This development rather nicely fills out the story arc circle as to how it all got started in episode one of Continuum.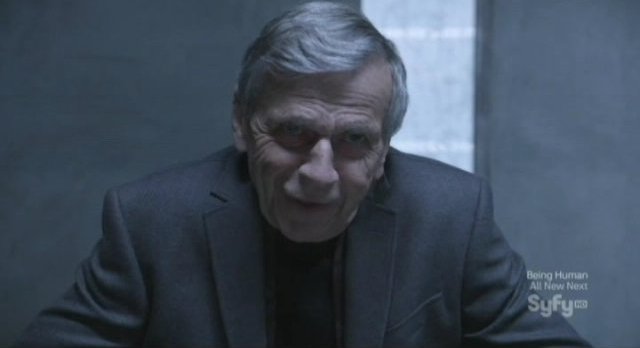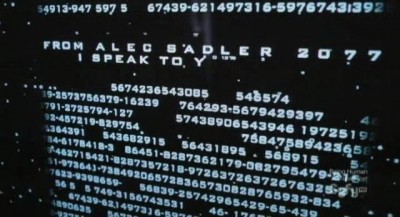 Finally, younger Alec is observed back at his computer network room. Earlier he had intercepted an e-mail from the CMR, but as we mentioned earlier, Alec did not know the secret password to open it.
Subsequent to seeing the words "Project Theseus" on the documents on the table at Kagame's safe house, Alec deduces "Theseus" must be the password.
When Alec opens the e-mail from the future, he finds it is a message from his older self with disclosure of what was and is going to happen!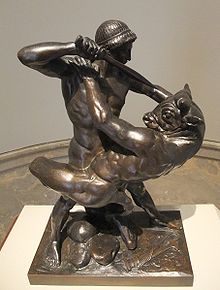 A bit of ancient history for those who may not be familiar with just whom "Theseus" really was, as referred to in mythology. In the opinion of this reviewer and editor, there is a direct connection between Theseus and Continuum if we all simply recall our planets ancient Greek history.
Theseus was the son of Aegeus and Poseidon. Aethra was his mother who had slept with both Gods in one night to create him. Theseus was the Greek Athenian city founder and a hero to its citizens who had been repressed by those in power, a correlation to the corporations of modern day history.
Considered by Athenian citizens as a great reformer against corruption, Theseus fought against tyranny and social slavery enforced by the wealthy, much as elder Alec and Kagame seek to create a new world order by 2077, all of which is to be achieved by altering the past in 2012 detailed in "Project Theseus".
Alec calls Kiera just as Kellog's yacht is sailing from the Vancouver harbor. Admitting to a shocked Kiera that it was his older self who has deliberately sent Kiera and all the others to the past, we are left to ponder what the actual agenda of elder Alec is?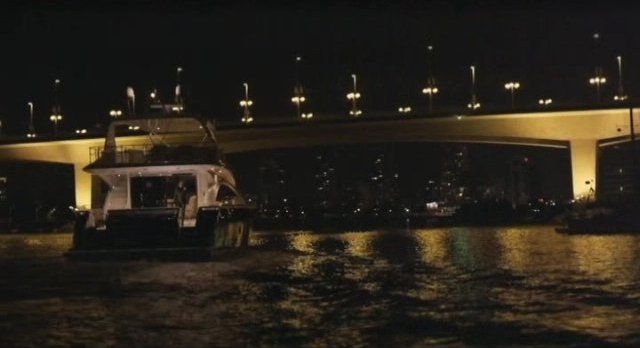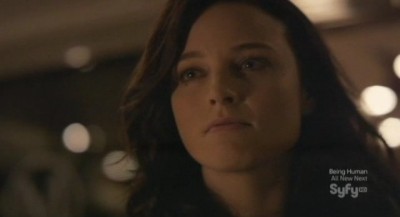 In the final moments, as observed from her facial expression, Kiera is now more determined than ever to find out the answers of why this is all happening. To our delight, these answers are only to be discovered in the future timeline of season two of Continuum!
My grade for Continuum season one in general, and episode ten in specific? A solid straight "A" for all the reasons mentioned, fine work by the cast and crews, and most critically for the continuity of the story arc, which is superb!
Bravo!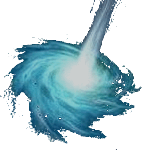 Thank you for reading and visiting WormholeRiders News Agency.
Please feel free to leave a comment here or if you prefer, click the social media icons below to share this news article.
Or as many of our readers and visitors often do, visit WHR on Twitter, WHR on Facebook or visit me on Twitter by clicking the text links or images avatars in this news story. I and Team WHR look forward to Seeing You on The Other Side"!
Thank you.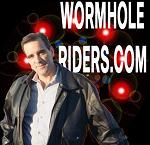 Best Regards,
Kenn