Welcome Eureka fans,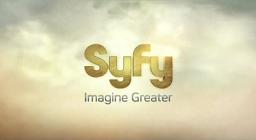 From the previous weeks show we are literally dragged into the Global Dynamics lab with Allison (Salli Richardson-Whitfield) and Henry (Joe Morton) trying to keep Sheriff Jack Carter's (Colin Ferguson) brain from crashing, like a computer drive.  They decide to attempt a "Reboot" and thank the gods it works! Eureka!

Before beginning my review, we include, courtesy of Syfy, the short promo trailer and an extended sneak peek of the next exciting episode of Eureka entitled "Ex-Machina" airing Monday June 4, 2012 at 9 PM E/P

Worst Case Scenario:
At the split second one crisis is resolved, another begins!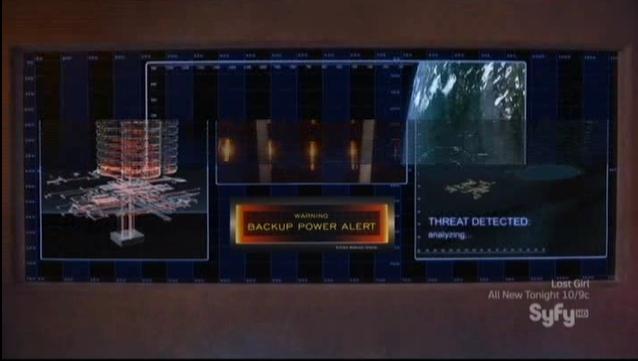 The show opens with Global Dynamics being under some sort of missile attack, Henry is trying to enter the restart code into the Reactor computer program and it is not responding.  Fargo (Neil Grayston) gives the command to pull the Flex-Rods from the Reactor. Voltage spikes in the Reactor Turbine, this does not sound good! As my heart-rate continues to elevate, the program locks onto an incoming missile and they don't know where it is coming from or who launched it against the Global Dynamics main complex, at least they have the EM Shield, right?
No! The EM Shield is collapsing.  Then Fargo gives the order to ready the Defensive missile, except Henry relays they are all Off-Line, across the board, Global Dynamics is going to be hit – Holy Frakk!
The missile strikes – multiple injuries, fires, collapsing structure throughout the Global Dynamics complex – whew and that was the first 5 minutes!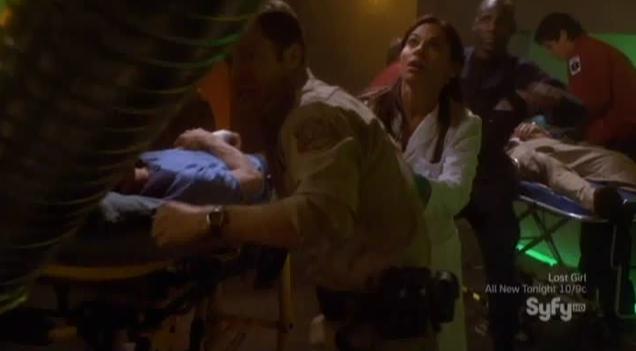 While handlers are trying to get Sheriff Carter to a secure location, Henry continues to try and get the program back on-line and see what exactly has happened.
Just when Sheriff Carter and Fargo get to his office, Emergency Evacuation Protocol has taken over and Fargo's office drops itself into the bunker, without them in it.  And yes, it was a bad time for premature evacuation to take over Sheriff Carter!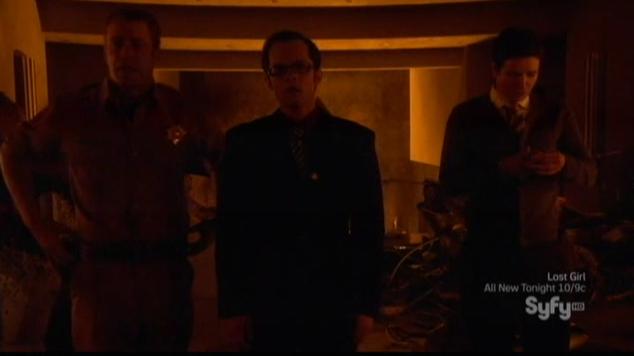 And about the time Sheriff Carter is ready to call it quits and go home, the Global Dynamics computer announces that the Emergency Simulation is – Over.  What?!  A simulation? Where people actually get hurt and buildings fall down?  I think this program needs some tweaking – but again, this is Eureka!
Now we meet Dr. Michael Clark (Eugene Byrd) and his lovely computer A.D.A (Advanced Disaster Actuator).  A.D.A. might need to tone it down a notch.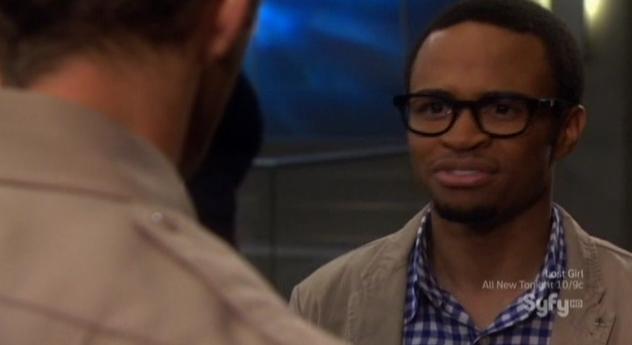 And Jo (Erica Cerra) is acting really weird towards Sheriff Carter – right?  (I know why, remember?  He kinda rejected her last week, but in all fairness, I don't think he remembers a thing).  Okay and Allison is giving Jack strange looks also – well, we women are strange at times, lol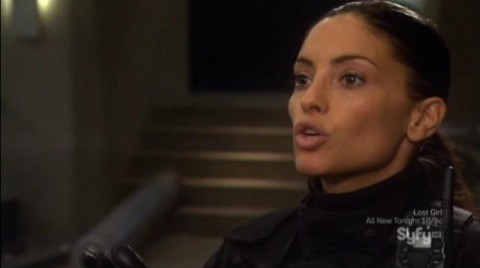 Jump to Global Dynamics – We see Zane (Niall Matter) and Fargo messing around with the Matrix mainframe and they have a secret – of course we're in on it – they have noticed a single program, still running in the background – immediately Fargo goes there – Could it be Holly (Felicia Day) ?  He swears Zane to secrecy and they commence trying to access the file –
But. Should they trust anything in the Matrix computer?  I want to believe and be all for it and realize that Zane is brilliant and surely he would notice if anything looked strange.  He is the one that noticed that Holly could still be there – so lets go back to the Matrix Computer with Zane and Fargo, yea!  I want to see what happens – are they gonna pull Holly out of there?  Get to yanking – we love our Holly!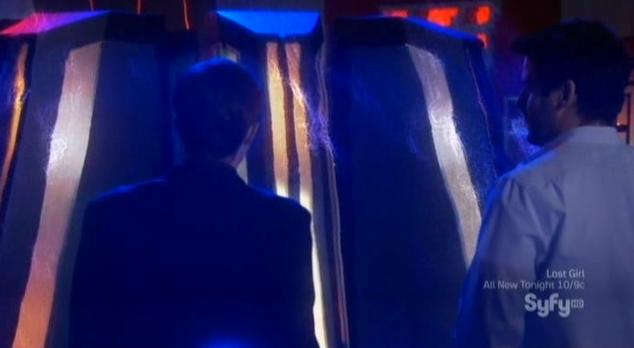 While Zane and Fargo are contemplating whether or not Holly is still in the Virtual Eureka,
My mind wanders and goes back to another Sci-Fi show where we had 2 friends trapped in the Spaceship's computer as separate programs.  Remember? Aboard the Destiny (Stargate Universe) Eli's (David Blue) girlfriend Ginn, (Julie McNiven) and  Dr. Nicholas Rush's ( Robert Carlyle) friend, Dr. Amanda Perry (Kathleen Munroe), were both trapped in a virtual Destiny, as well. I'm going to believe they are still there, where else would they be, right?
Solar Flare of the mind – Sorry!
Back to Eureka!
As Sheriff Carter and Dr. Doom, as Sheriff Carter has tagged him, discuss the destruction, physical injuries and damage that have occurred at Global Dynamics, Dr. Clark is assuring Jack that A.D.A was only doing her job.  And then just as they push the elevator button some kind of pent up gas explodes and throws them across the room simultaneously!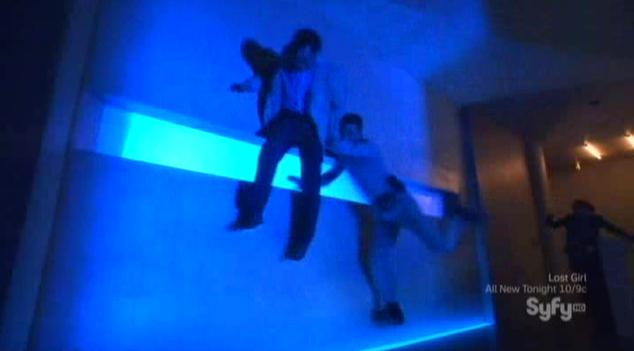 We find out from Henry that a liquid nitrogen valve ruptured during the Drill – thanks Dr. Doom!  Anyway, it fueled a BLEV – Boiling Liquid Expanding Vapor – not a Blizzard!
Sheriff Carter seems to think that maybe this BLEV was not a part of the original Emergency Simulation Drill that A.D.A created, seems all the data has been destroyed along with employee evaluations.  It does seem a bit shifty – Dum.Dum.Dum.
So, back to the Matrix Lab with Zane and Fargo, Fargo is about to jump in – He's scared – Me too…..
As Fargo does a complete turn-around in the Virtual Eureka, yeah – it does look Creepyville, not a soul in sight – then, as my heart pitter patters – Fargo sees her, sitting at a table with her head down, is she alive? Napping?
As Fargo walks up to her, he lays his hand on her shoulder and yes – she sits up and sees him!  She begins telling him what happened and how everything went black and then poof – here she was on Mainstreet – all alone.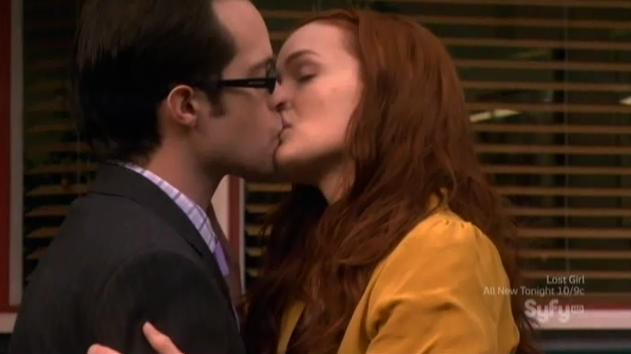 Then – they fall into each others arms and they kiss – Awe……
And in the middle of that kiss – Fargo jolts back awake on the lab table – what just happened?!
Zane pulled Fargo out because his heart rate went up – yeah, well, I can see that. Then Fargo tells Zane that he thinks Holly is really alive!
My heart is soaring – Wheeeeeeeee!
Then we are back to Sheriff Carter, almost getting Jo to tell him why she is upset with him – When the Voltage begins to spike and everything goes Crazy Train again – don't forget my friends, we are in Eureka!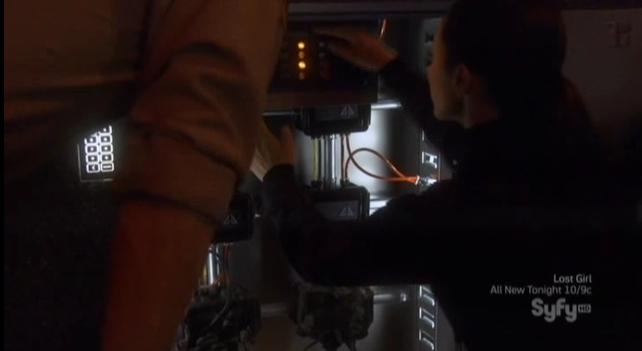 Okay something or someone is messing with the power grid, communications and the cell phone reception – this is getting deep – could it possibly be Senator Wenn (Ming-Na)?  Soon enough the very epic and brilliant minds in Eureka will get to the bottom of this – or will they get the run around?
Get it?  – Run around, like Senator Wenn running around and around in the Virtual Jail, lol (then it hits me, are Senator Wenn and Holly in the same Virtual Eureka?  Have they seen each other?  Do we really see the big picture here)?  Hummmm…….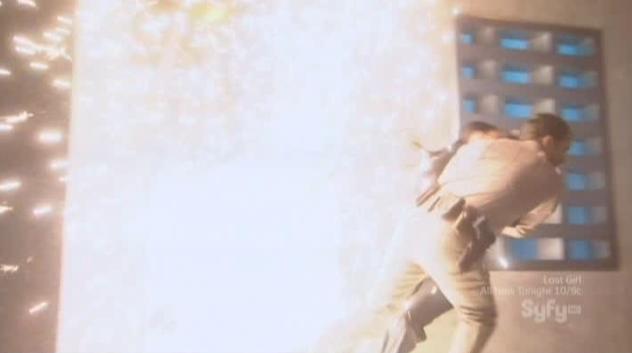 Back to Zane and Fargo in the Matrix lab, Fargo notices the power spiking and starts to leave the lab but Zane stops him.  I am glad. I want to see him see Holly again! (I think).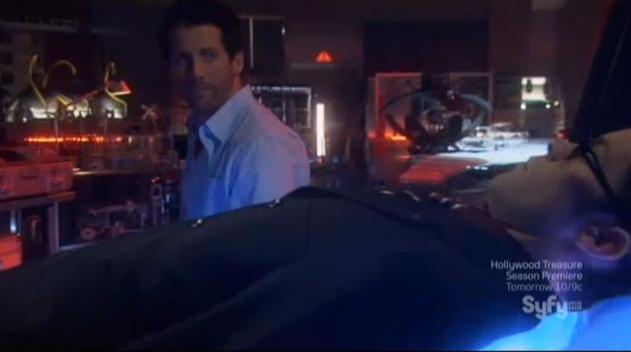 Fargo is going back inside. Virtual Eureka here he comes!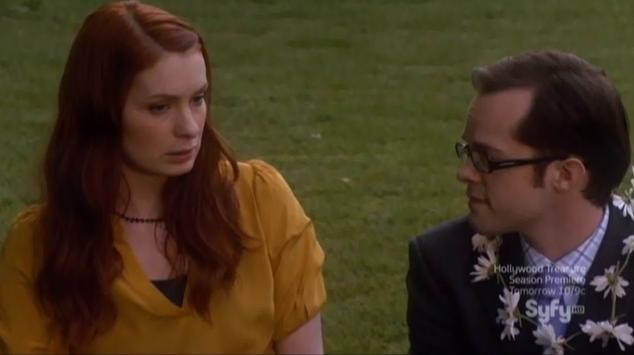 The scene opens with Holly making Daisy chains, awe, so cute.  Fargo sits next to her, trying to find a way to tell her what is happening and what happened to her. Just then, Zane turns the Matrix computer off and it yanks Fargo back.  Granted, Zane was following Jo's orders, and I know they were having power issues, but WTH?
Sheriff Carter is driving out to the Communications Tower Antenna  per Henry's directions. He checks with Andy (Kavan Smith) who is also in route, and Andy directs him right to it. Pulling into a High Voltage gated area he exits the Jeep, describes the Communications Tower to Andy, then turns to see his Jeep sinking into the ground to his left and the Communication tower sinking on the right, then he himself begins to sink.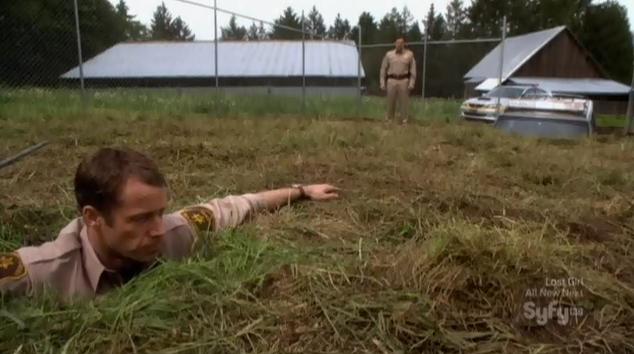 This is not good, Houston we have a problem!
Andy gets there just in time to save at least Sheriff Carter, but I'm afraid the Jeep and Communication tower are sunk!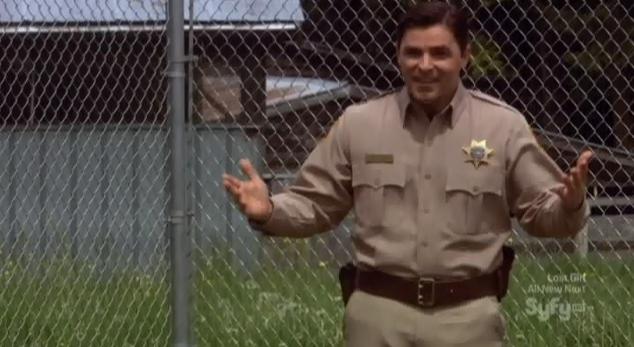 As we follow Jo, and an armed security team seeking a heat signature, it could be an animal that escaped from the lab. When she finds a cute hamster just about the time we relax and go "whew", she shouts Bio-Hazard!  Then a green gas starts shooting out of the air vents and the auto computer takes over, announcing that Imodium Chloride Gas is venting. This locks all the doors in the Aggression Lab.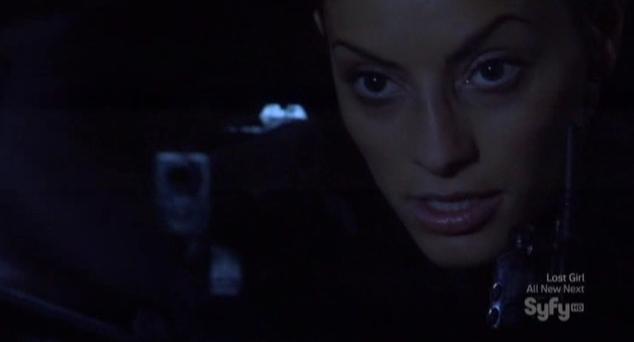 Another hazard to working in Eureka!
Just then, Sheriff Carter and Henry have figured out that the same Saboteur has used the same code to cause the ground to turn to liquid and the Communications Tower to sink. They are beginning to put things together.  We are not dealing with Eureka for Dummies, here, people!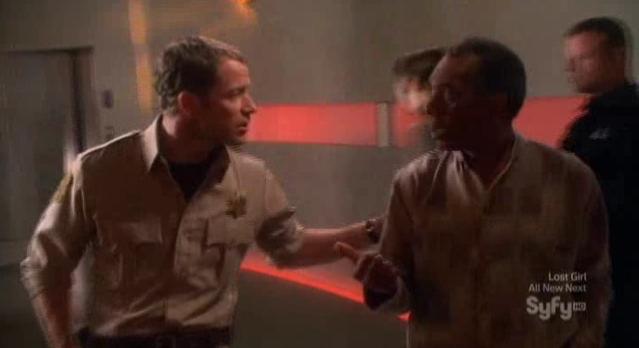 Jack has figured it out!  Disasters are still multiplying and this is not a Drill!  Eureka's Global Dynamics Complex is under real attack!  Tragedy is averted as Jack and his team free the occupants of the Aggression Lab, just in time.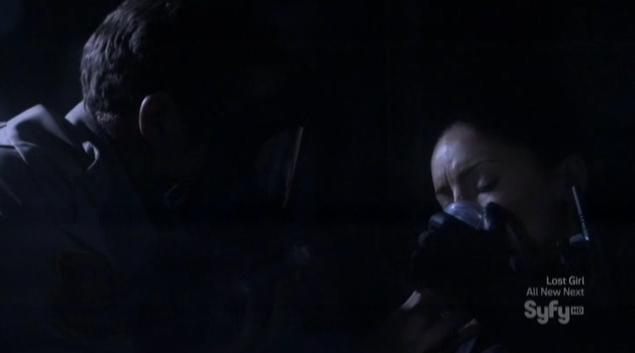 Their (Carter, Henry and Fargo) combined analysis is that A.D.A. has taken over.  As Henry and Jack find Dr. Doom finally awakened, they are discussing what A.D.A might do next, and she doesn't disappoint. The EM Shield begins to shut down and just as the words escape Sheriff Carter's mouth, the Missile begins its launch countdown……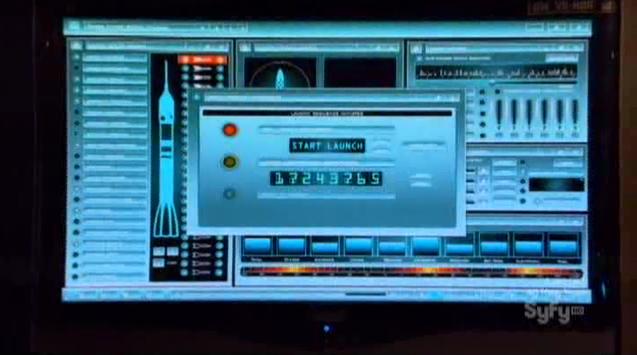 As Sheriff Carter, Henry, Fargo and Zane discuss the options available, Zane pops out his EM Shield in a box!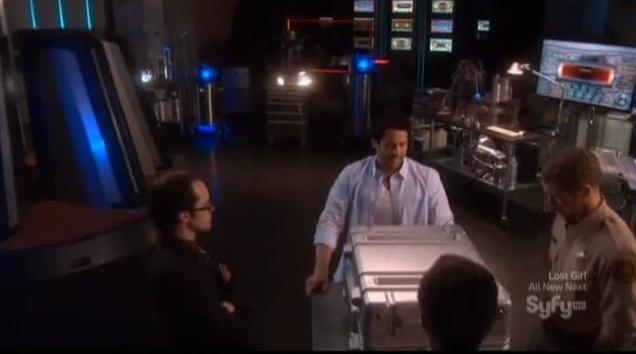 Henry wants to know why and how Zane created it but there is really not time for explaining. Sheriff Carter and Fargo take it to the exact coordinates per Henry's instructions and with 2 seconds remaining until destruction, Fargo hit's the button and the EM Shield covers Eureka and saves the day!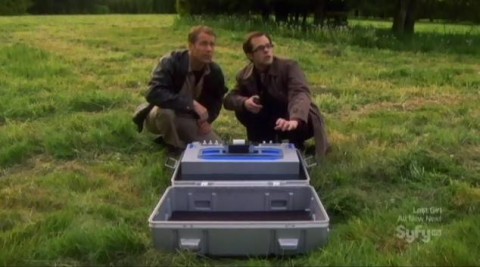 And as women do, Allison and Jo discuss the mind swap thing from last week, put the past behind them, and now everyone can get on with their personal love lives! Right? Right!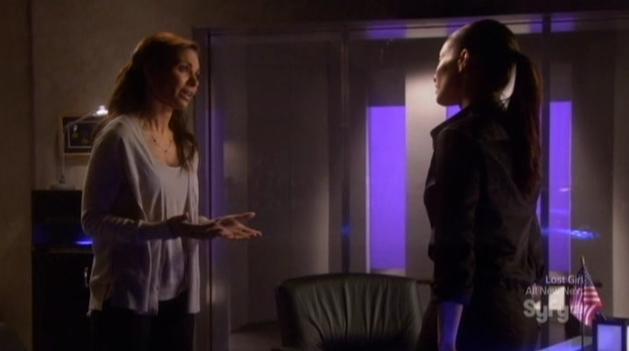 Henry and Grace (Tembi Locke) are talking on the phone. She tells him that she loves him and he seems so relieved. I am hoping that she comes home soon!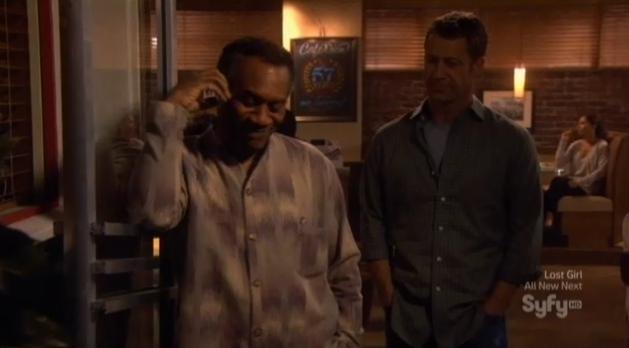 At Cafe Diem everyone is toasting Jack and Allison's plans to marry.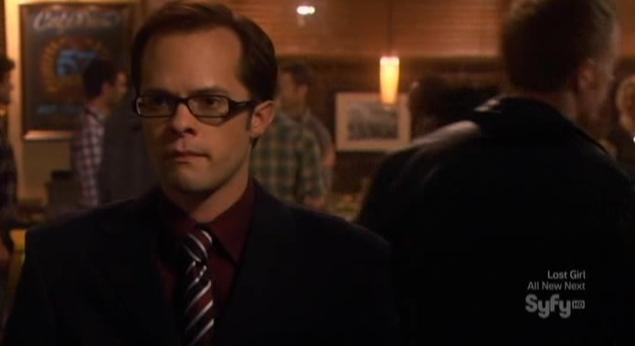 Nobody notices as Fargo sneaks off.  Back in the Matrix lab, he sets up the EM Shield in a box, lies down on the Virtual table and escapes to Virtual Eureka to be with Holly.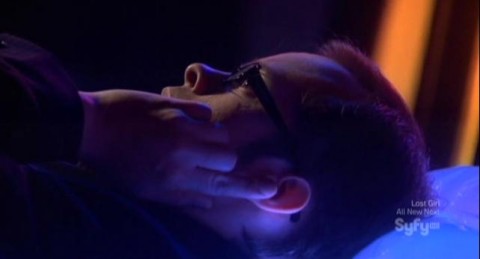 In the final scene, Fargo finds Holly  still there and aware. He musters up the courage to tell her that she died but she figures it out. Our smart girl; I am crying again as the scene fades back.
As she pulls Fargo to her and they are holding each other – Holly's final words, this week are "What Happens Next"?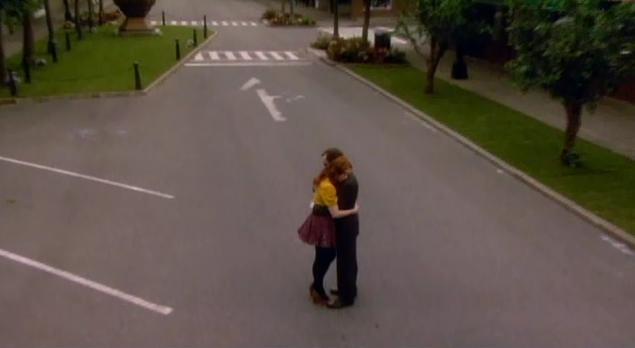 Well, we can only speculate on that and watch next week.  My thoughts, at least we have her back, for now.
One of my twitter followers had a thought – Maybe Zane and Fargo can make an A.I., like Deputy Andy, that looks just like Holly, as long as it is her thoughts and actions – I do not care, do you?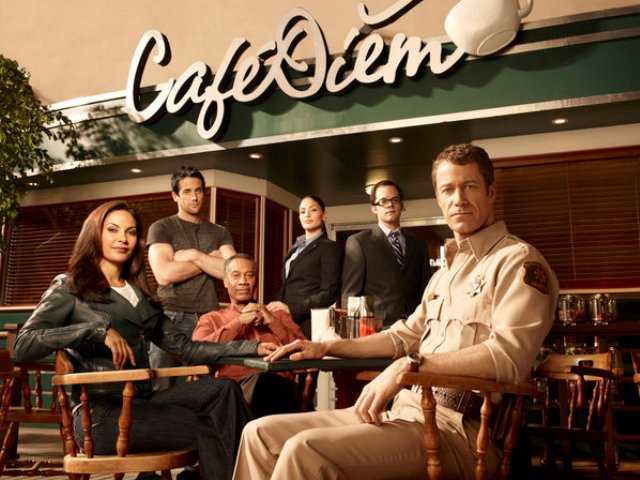 Thank you for visiting WormholeRiders News Agency
Please feel free to leave a comment here or if you prefer, click the social media icons below to share this news article. Or as many of our readers and visitors often do, visit WHR on Twitter, WHR on Facebook or visit and chat with me on Twitter by clicking the text links or images avatars in this news story.
I and the WHR team look forward to and will be Seeing You on The Other Side"!
Thank you.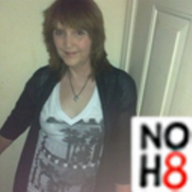 Regards,
HWilson2009 (Holly)