Welcome back Eureka fans!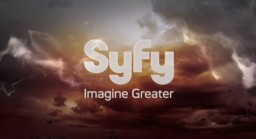 This episode is called "The Honeymooners". It was produced by Colin Ferguson, directed by Joe Morton and written by Eric Tuchman.
There are big surprises afoot with this episode. Poor Allison Blake (Salli Richardson Whitfield)  does not get the honeymoon she envisioned, Holly (Felicia Day) gets an incredibly bumpy ride as she anticipates a brand new body, and we learn something shocking about Grace (Tembi Locke).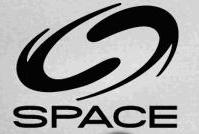 Much is ultimately revealed in "The Honeymooners" about what is happening in Eureka!
Before continuing my review and analysis of "The Honeymooners", for your enjoyment, we include the promotional trailers for the next wonderful and exciting Eureka episode "Mirror, Mirror" courtesy of the great team of professionals at Syfy!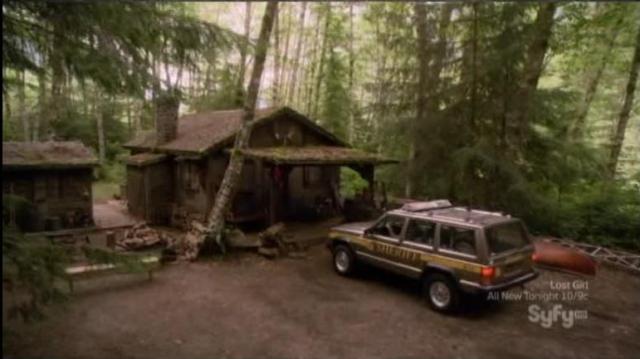 The Honeymooners:
The episode begins with Allison and Carter on their way to their honeymoon, in the most ramshackle beat up cabin, I have ever seen. Allison suggests tearing it down and building a new one. I agree. Allison's big mistake was letting Carter do the honeymoon preparations all by himself. Note to all the ladies planning to get married. Never let your guy plan your honeymoon, unless he works as a travel agent.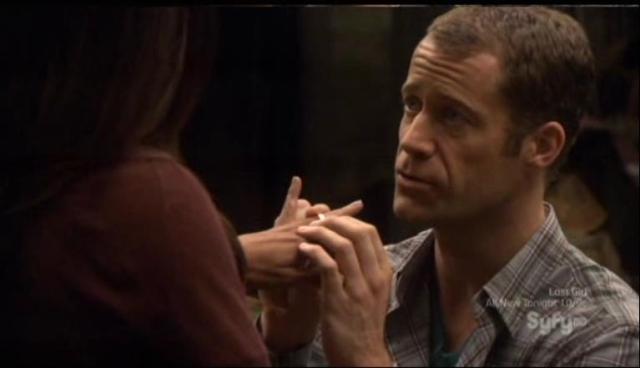 It was nice to see Carter give Allison a ring, although it took him long enough. I wonder if she will now be Dr. Allison Carter?
As Carter and Allison begin making alterations on the cabin, including Jack putting a hole in the floor and discovering a safe, Zane (Niall Matter), Fargo (Neil Grayston), Grace and Henry are busy working to create a brand new body for Holly. She is apprehensive, of course, and so is Fargo, to a degree, as he worries about his girl friend.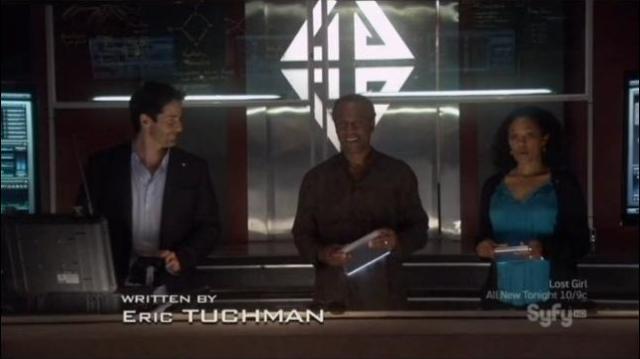 Henry waxes poetic about giving Holly new life. It is a grand plan with great potential, but this being Eureka, nothing ever goes smoothly. Holly is integrated into her new body only for her vital signs to stop. Fargo, of course, freaks out, as only Fargo can. Thinking he has lost Holly forever, he kisses her to say goodbye. Just as he does so, she reacts by reviving and sitting bolt upright.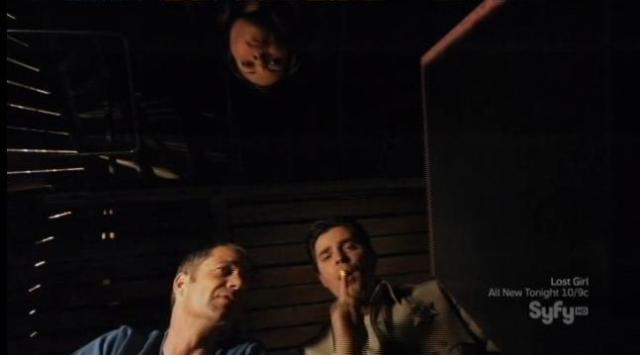 Back at the cabin, Andy (Kavan Smith) has arrived with his laser finger. He uses it to cut through the titanium safe. Go, go Gadget! The contents of the safe turn out to be some papers which Jack gives to Andy to look after. "We are officially off the grid", he tells Andy. As Andy leaves it begins to rain.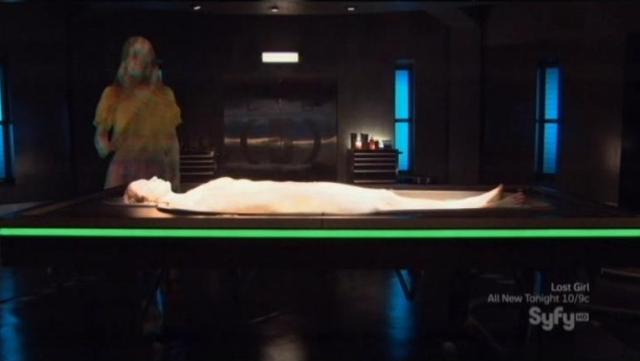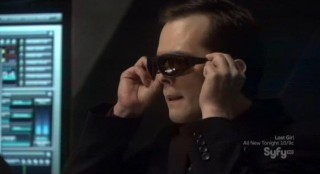 Fargo and Zane don special glasses to protect themselves as Holly is transferred into her new body.
Holly is thrilled to be alive again and to experience all of her body parts working the way they are supposed to. Grace cautions her that she is like a new born baby. She has to let her systems acclimate.
Holly agrees and adds regarding the rest of Eureka that they do not want to spook the villagers. This reminded me of a "Frankenstein" reference.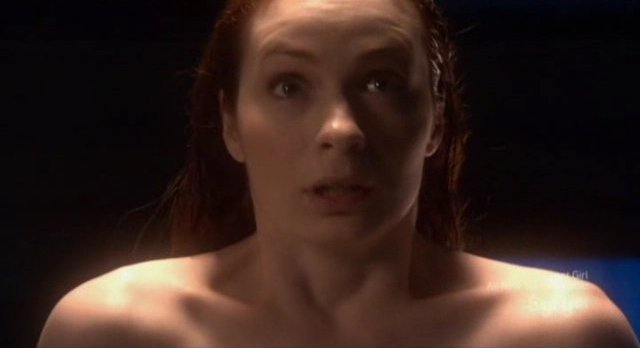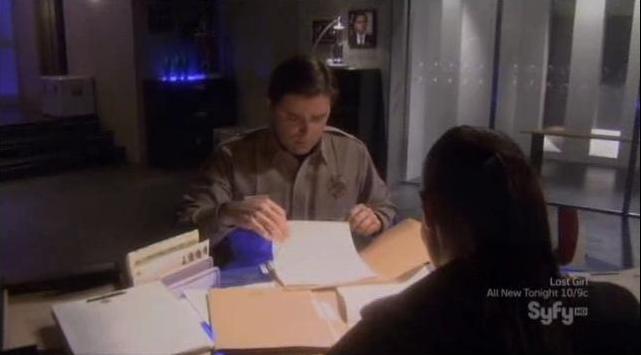 Andy, of course now has to take his new knowledge of the previous sheriffs secret files straight to Jo Lupo (Erica Cerra). It seems that Carters predecessor was on to, "an espionage consortium" as Andy says. As they examine the paperwork, Andy comes across an information disk. The plot thickens.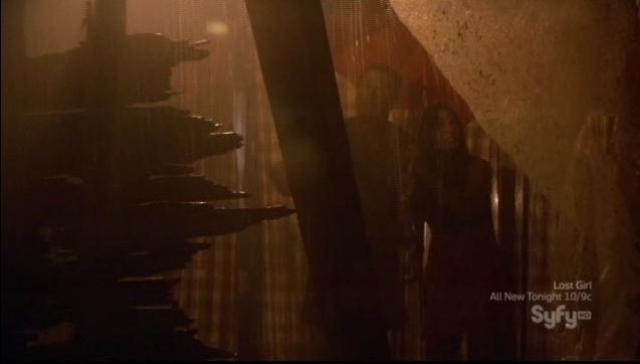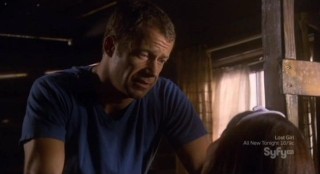 Carter and Allison are getting romantic as the rain drums on the roof. Just as they really get cuddly, the roof caves in. This honeymoon is not turning out as planned. And this is also not the romantic relationship that I am sure Fargo and Holly envisioned.
Just as they also get down to business, Holly seems to lose touch with reality, thinking she and Fargo are still in the matrix.
With Holly acting weird, Zane and Fargo decide that she is not going anywhere. The lab is her home for now. Zane suggests that Fargo bring in his, "dorky" dungeons and dragons game to keep her active and entertained.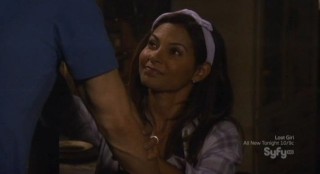 Andy and Jo in their quest for answers have taken the disk to Henry, who identifies it as a data optical disk. Naturally, Andy shares a bit too much information about what he knows, prompting Jo to tell him, "you need an off switch".
Later, as Fargo has just discovered upon his return with his D&D stuff that Holly has vanished, Henry explains to Grace about the disk he is examining and why he is examining it. Should we begin to suspect something is amiss with Grace and Henry? Not quite yet. But, soon.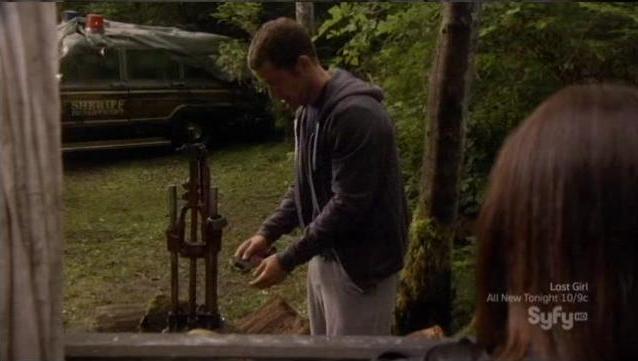 Carter is such a handyman. After Allison discovers there is no water, Jack shows his skills and fixes the pump. Now Allison can have the shower she has been waiting for. We know, based on what has been happening so far to this unhappy honeymoon couple, that the shower will not go as planned. Nope, not at all.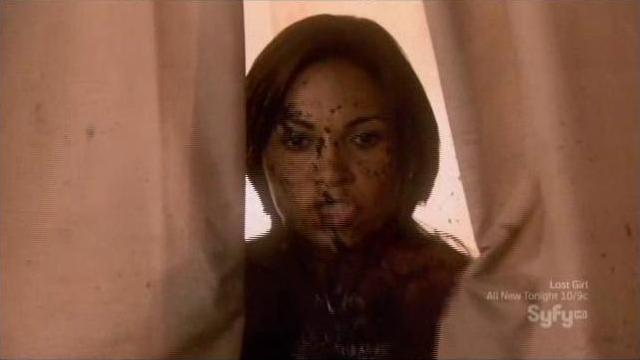 With Andy and Jo in attendance for the big reveal, Henry pops the disk into a machine capable of playing it. Now we will discover what the big secret is. Andy is excited. That is, until the player catches fire, and they know little more than when they started.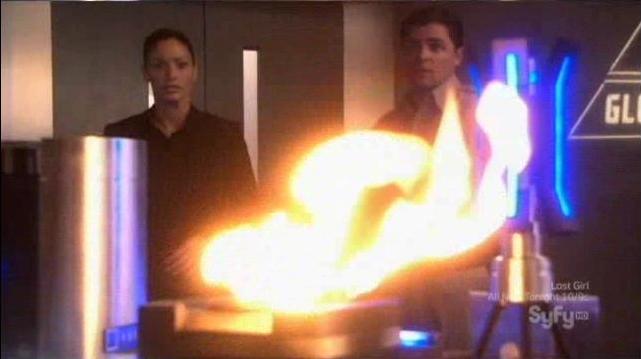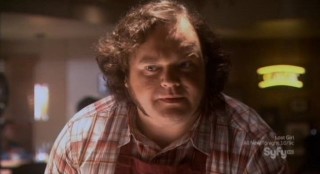 Vincent (Christopher Gauthier), our affable Cafe Diem proprietor, spreads the espionage rumours around to all of his customers. What a guy. It seems that, "the people have a right to know." Jo disagrees and tells him to zip it.
Allison, tired and hungry and just barely clean after she managed to get rid of her mud shower, is not in a very good mood. It seems that their romantic breakfast was confiscated by a colony of ants.
This is it for Allison. Carter has no choice. He will have to book a decent location for the rest of their trip. As he turns on the cell phone, he discovers that they have 40 messages waiting for them. Things have not been going well at Global Dynamics while they have been away. They learn that there is a spy at GD.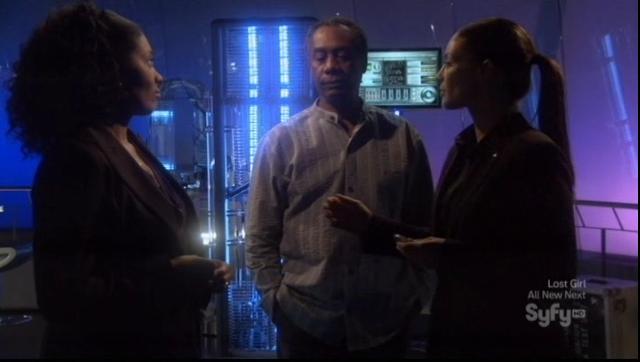 Back at the lab, someone has just picked up the data disk and pocketed it. It is Grace. She is confronted by Henry and Jo who had spread what they were doing around so that whoever was responsible for damaging the disk would come back and finish the job. Grace's reply, "this doesn't look good, does it?" Poor Henry is devastated.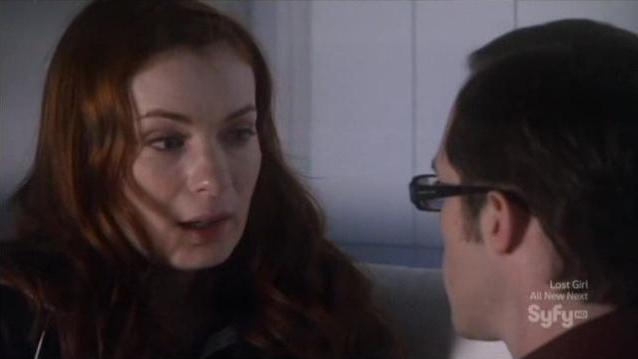 Fargo finally locates Holly. She was hiding behind his couch in his office. She is still upset and afraid. Fargo tries to reassure her that everything is real and normal. She is not convinced.
Allison arrives at the holding cell where Grace has been placed. When she questions, Grace, the other woman denies everything. Allison does not believe her.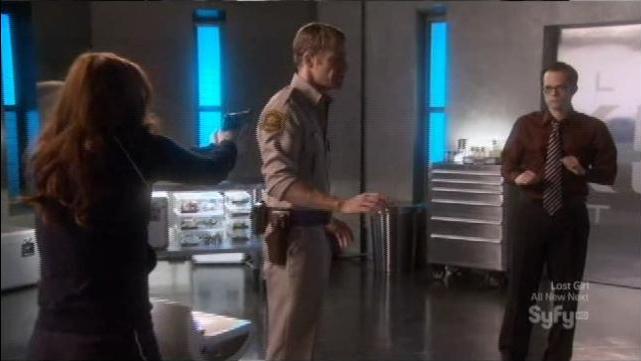 Zane uses some sort of device to examine Holly. She is getting worse. Carter arrives to offer his support. Zane figures that the best way to fix Holly is to reboot her. As Carter approaches Holly, she remembers his alternate in the Matrix and how evil he had been to her. She grabs his gun and points it at him.
I must say that I was very impressed with Colin Ferguson's acting in this seen. His behaviour, to me, seemed exactly what a cop would do when confronted with someone with a gun.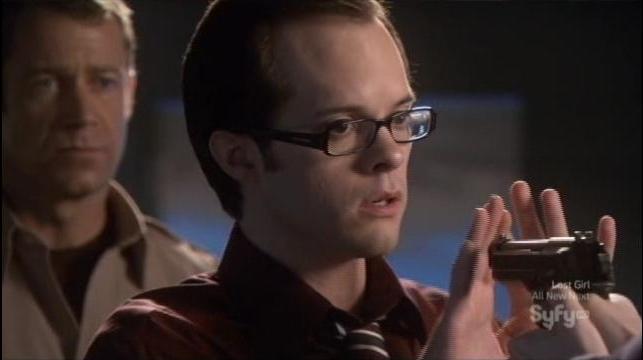 Then, Fargo does something I am sure he never would have done in the first season. He bravely stands in between Holly and Carter so if she is going to shoot someone, it will be him and not the sheriff. Once he gets the gun from her and gives it back to Jack, Zane can now proceed with fixing Holly.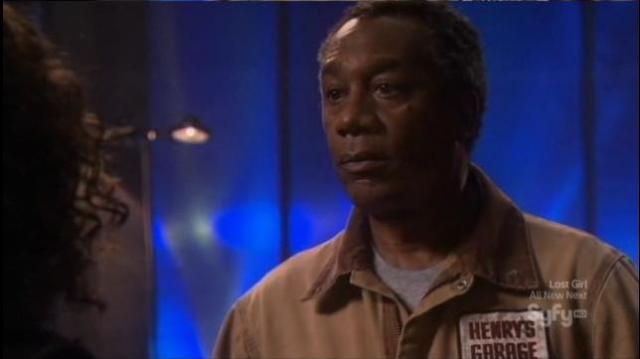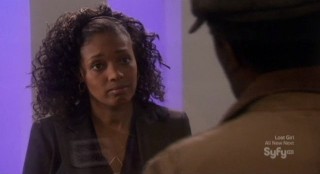 Henry arrives at Graces holding cell to talk to her. She admits that she had not been coerced by Beverly Barlow (Debrah Farentino) or her people. She had believed at one point that GD needed to be watched, but later changed her mind and quit Barlows crew.
Later, when Senator Wen (Ming Na) had appointed her, she had no idea that Senator Wen and Beverly Barlow had been working together. Henry becomes angry. Who else was she working with? "There was someone else on that disk. I can restore it."
Grace nearly begs Henry not to do it. Henry's response is predictable, "why? Who are you protecting?" Grace's response was not predictable, "You", she tells Henry.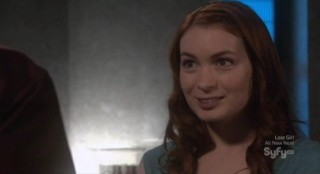 The episode ends with Holly back to her old self; as much as you can be when you've been downloaded into a new body, and Allison and Jack spending time together at the Cabin in the Woods. With two happy endings and a worrisome experience for Grace and Henry, the writers definitely gave us our money's worth.
This was an episode that had some interesting new directions for the cast. Since the show is ending in three more episodes, I am excited to see where the writers will take us next.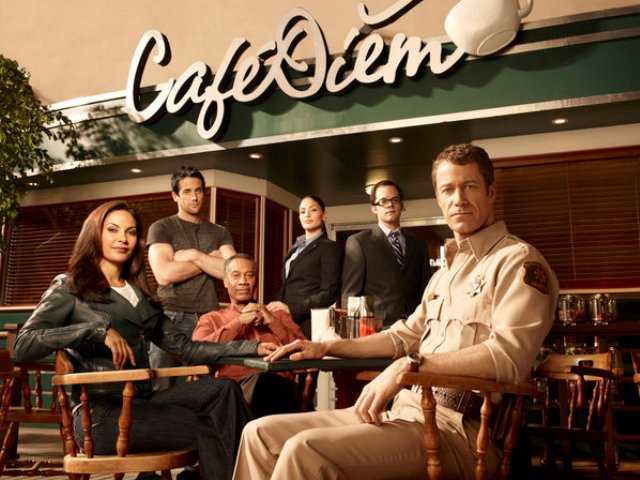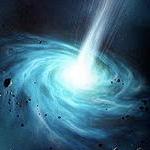 Thanks to Kenn for assisting with the Syfy video embeds for this Eureka review. And thanks to you for stopping by WormholeRiders News Agency!
Please feel free to leave a comment here, click an icon below to share this interview or you can visit and follow me on Twitter by clicking on my avatar to the right.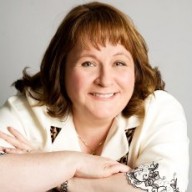 Regards.
ArcticGoddess1 (Patricia)