And the Falling Skies fans went completely wild!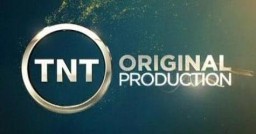 Today, July 12, 2012, while preparing to travel to San Diego to attend Comic-Con 2012 as press (where will will see the cast and creators of Falling Skies), the joyous news broke sending shivers of geek glee down my very own spine as well as millions of others I am sure!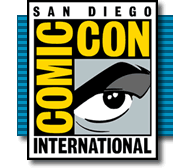 Delightfully surprising news for series fans, including this reviewer, and only five episodes into season two of Falling Skies, TNT Networks announced that the world's number one science fiction series, Falling Skies has been renewed for an epic third season!
What more can I or any other admirer of this outstanding science fiction series do other than bellow an ecstatic YAY! We know we see many Falling Skies fans joyously celebrating the third season renewal during Comic-Con 2012 in San Diego!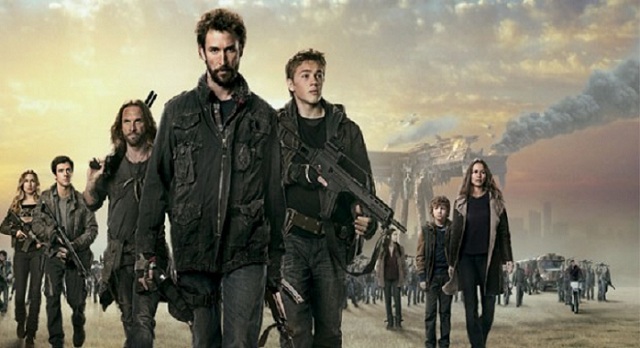 Press Release Excerpt:
"TNT has ordered a third season of its epic original series Falling Skies, from DreamWorks Television and executive producer Steven Spielberg. The critically acclaimed drama starring Noah Wyle finished its first season last year as bas ic cable's top new series of 2011. Currently averaging 5.9 million viewers, the series ranks as basic cable's #1 summer drama with adults 18-49. TNT has ordered 10 episodes Falling Skies' third season, slated to air in 2013.
"Falling Skies is television storytelling at its very best, a powerful drama that's told on both an epic scale and on a deeply personal level," said Michael Wright, president, head of programming for TNT, TBS and Turner Classic Movies (TCM). "With all the memorable and surprising moments taking place during the second season of Falling Skies, we can't wait to see what DreamWorks Television and Falling Skies' terrific production team and cast members have in store for season three."
Falling Skies, which currently airs on TNT Sundays at 9 p.m. (ET/PT), chronicles the devastating aftermath of an alien attack that has left most of the world completely incapacitated. In the months since the initial invasion, the few remaining s urvivors have banded together outside major cities to begin the difficult task of fighting back. Each day is a test of survival as citizen soldiers work to protect the people in their care while also engaging in an insurgency campaign against the occupying alien force, whose nature and purpose remains a mystery."
Ongoing WormholeRiders Grade for Falling Skies: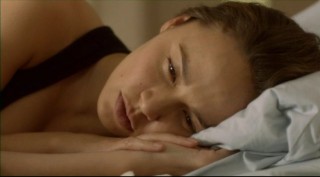 As you might expect, we continue to grade Falling Skies as a solid "A Plus", and deservedly so I might add!
Across the Twitterverse, Facebook and elsewhere as people woke to the wonderful news, the tweets and posts poured across the Internet as fans of this outstanding series celebrated their love for Falling Skies on word of renewal news the evening before the fantastic Comic-Con in San Diego!
Falling Skies as a series has defied many of the early critics who believed that the days of serialized science fiction scripted programs were over and could not succeed in 2012. Others, as far back as 2010 felt that a program featuring the slavery of children would be so offensive that science fiction fans would never watch such a program.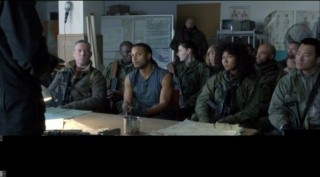 Even more believed that an alien invasion series was passé after the fall of "V Series" on ABC which lasted only two seasons, and "The Event" on NBC which made only complete one year before being cancelled. We here at WHR felt that both decisions (V and The Event) were premature. Moreover, such commentary were about Falling Skies was also premature as evidenced by the third season renewal by the TNT Network.

Falling Skies retained a respectable showing in the United States for dedicated fans of this ground breaking science fiction series with nearly five (5) million viewers when live "Plus 3" viewers are factored in .
What accounts for the difference in acceptance at Turner Network Television, a major force in television entertainment worldwide versus the venerable and respected ABC and NBC Networks? We believe that the difference is the approach taken by TNT from the outset.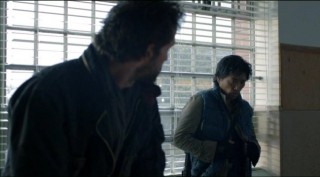 First as everyone knows, there are people on the Internet known as haters, stalkers, malcontents, or as WHR and the Chief Executive Officer of Twiiter referred to them  last week; "Twitter Trolls".
These evil misguided people often run infamous web sites named " Hate ______" (fill in the blank),  or "Falling Skies Sucks"  like they did with a heinous web site called " SGU Sucks Dot Com " and hundreds more all designed to attack shows, their supporters and even family values in a sad narcissistic attempt to attract attention to themselves at the expense of others.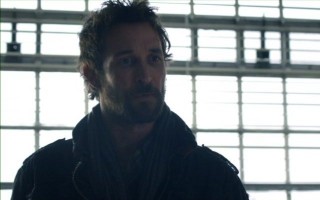 TNT, like WHR has focused on the positive aspect of entertainment, rightfully ignoring these trouble makers, instead bringing joy to true fans of science fiction television. The solution to address such tragic people? Simply ignore them.
Perhaps most critically, while other networks have focused primarily on the science fiction market appetite in the United States to financially sustain such programming as Falling Skies, TNT took a worldwide approach.
By launching the show in 73 countries virtually simultaneously, covering entire geographic area such as The America's, Asia Pacific, Europe, and Asia in a concerted effort, the result has been success to address the high costs associated with producing high quality entertainment content.
TNT is not the only network to realize this factor. Following the long proven model that has been successful for larger budget motion pictures to deter Internet piracy, now at epidemic proportions driven by slave master China and totalitarian Russia where their use of "Bit Torrent" server sites steal the entertainment content, worldwide launches minimize the impact of entertainment thieves.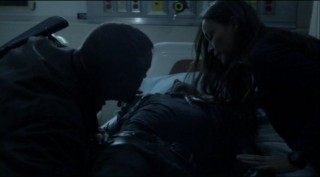 As with "Twitter Trolls", we suggest viewer ignore these illegal, corrupt web sites or you may find out your reward: Many of the illegal videos available from such sites have Malware and computer virus' embedded either in their web sites down loader programs or worse even in the videos themselves leading to loss of your computer, personal information, credit cards and other financial data.
We ask that you just say no to illegal downloading and support the programs you love by watching legally or face the wrath of Captain Weaver (Will Patton). Thanks for doing things his, errr, the right way!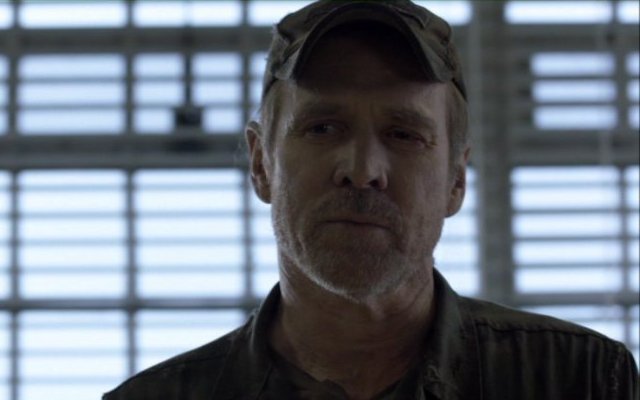 Before continuing our preview of "Homecoming", we include below, courtesy of the TNT Network, the promo trailer for the next episode of Falling Skies, "Homecoming" for your viewing enjoyment.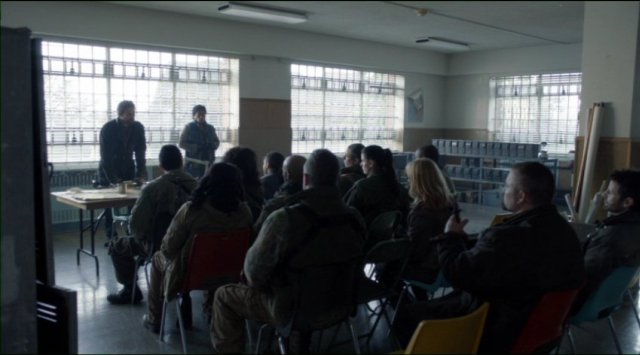 Homecoming:
The series and action in this week's episode "Homecoming" marks another outstanding pivot point for Falling Skies as a series as we all observed with glee last week in "Love and Other Acts of Courage" as discussed on "2nd  Watch" hosted by Wil Wheaton when he interviewed Connor Jessup, Drew Roy, Sarah Sanguin Carter, and Executive Producer Remi Aubuchon.
In "Homecoming", the answers to long outstanding questions will be addressed including why the "Overlords" really fear of the Skitter rebellion, and why Ben is so important to them. After the untimely death of Rick (Daniyah Ysrayl), viewers will be treated to the return of another series favorite, "Skitterized" Karen (Jessy Schram), as briefly seen in the promotional trailer on TNT last Sunday.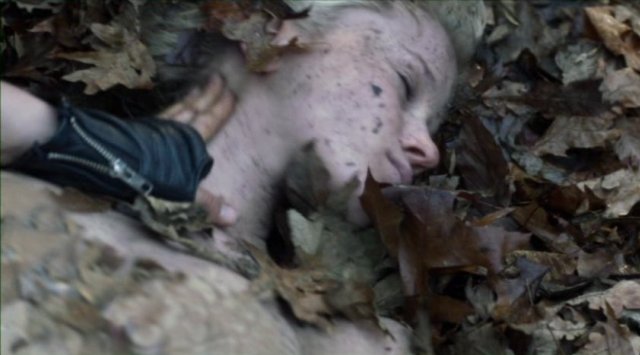 As the 2nd Mass continues their journey to Charleston South Carolina, the fearless, but sometimes distracted Resistance encounters Karen in a nearby field with many others who were murdered by the "Overlords" minions, the also conquered "Skitters", whom have been reduced to slavery in order to survive.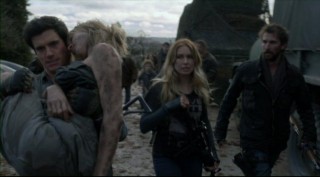 Now that creators have cemented victory in the first five episodes of season two, the questions one must ask about Karen's return will obviously focus on the why of her appearance. I can relate that after checking the number of episodes Jessy Schram is featured, the data on IMDB reveals we will see her featured in more episodes during season two.
However that is just the beginning. Is Karen a victim like so many of billions whom have been slaughtered? Will she remain affected like Ben (Connor Jessup) has been? Whose side is Karen really on? Will her appearance ultimately become a matter of life and death for the 2nd Mass?
The revelations about why she has returned will come as a surprise to many including Maggie (Sarah Sanguin Carter) who is observed holding Karen at gunpoint in the promotional trailer.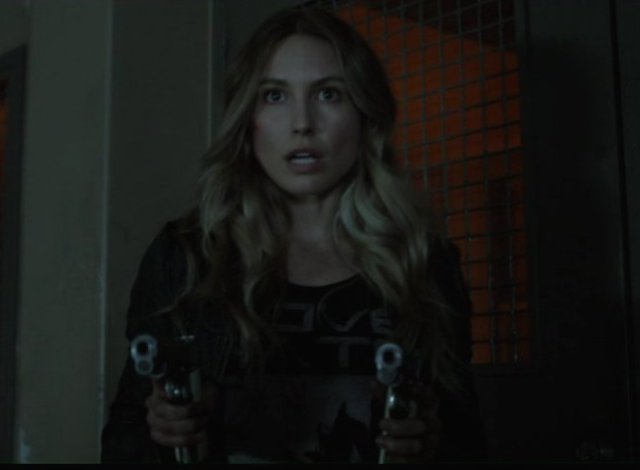 Other questions one must ponder are will Maggie dispatch Karen with her trusty 45 Caliber automatic pistols to put her out of her misery? Or will Ben and Karen, both "Skitterized", bond romantically?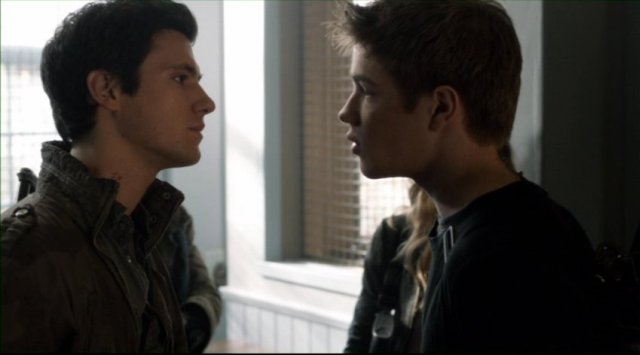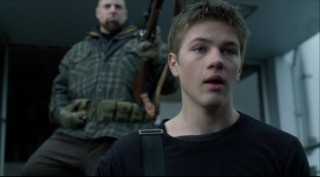 Will Ben (Connor Jessup) take Karen away from his own brother Hal (Drew Roy) to enjoy "Skitterized" lovemaking as their spines light up in the heat of passion?
Will Karen and Ben make little "Skitterized" "Buns in the Oven", and just whose side will these little "bundles of "Skitterized" joy ultimately be on?
Will Maggie and Hal ultimately join the festive Falling Skies lovemaking themselves to help reinforce the future ranks of the 2nd Mass? How much longer do we have to wait until these two take "a roll in the hay" to bond in their own post apocalyptic bliss of lovemaking?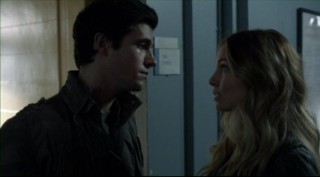 Speaking of romance, In "Love and Other Acts of Courage" we observed characters "Tector" (Ryan Robbins) and "Crazy Lee" (Luciana Carro) enjoying extra-marital post apocalyptic bliss when they talked about how "bouncy" the hospital beds were. They shyte eating grins on their faces confirmed they had delightfully consummated the "act".
This reviewer grinned when we witnessed the smooth character interactions between Tector and Crazy Lee. Actors Ryan Robbins and Luciana Carro where brilliant when reveling in their moment of "bouncy bonding" the night before in the hospital. The well delivered lines must have brought giggles from millions of fans we are quite sure! However think about this a moment; Can you imagine these two "Bersekers" as parents? OMG!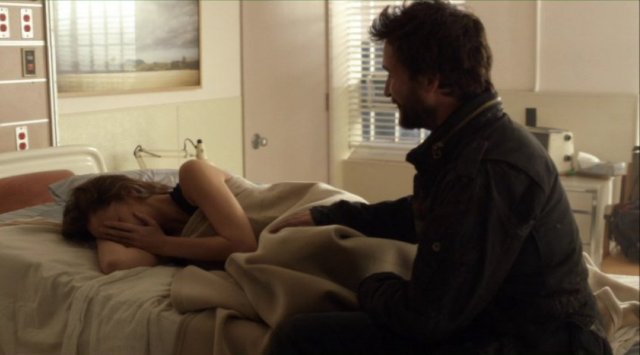 Speaking romantic bonding, what of Tom Mason (Noah Wyle) and Anne Glass (Moon Bloodgood)? When we last observed these two lovers in the making, as predicted, they "got a room" too! The question we must learn the answer to is, what will the morning after be liked for them? Will Captain Weaver use his powers as military commander (as we predicted last year at San Diego Comic-Con) to marry these two, or will Tom and Anne continue to live in post blissful apocalyptic "sin"?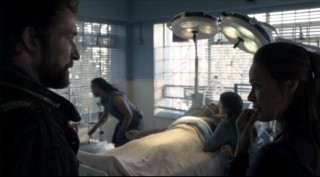 Speaking of Captain Weaver, last week in "Love and Other Acts of Courage", we all feared that his infection from being bitten by a rabid "Harness Symbiote" will get worse? Will the 2nd Mass ultimately lose Weaver from his alien infection?
Will Tom be forced to break away from lovemaking with Anne to take over the 2nd Mass to ensure their safe arrival in Charleston? Only time will provide the answers to these questions!
In the episode, logically speaking, Doctor Anne Glass' (Moon Bloodgood) will most certainly attend to the wounded Captain Weaver after she addressed the aili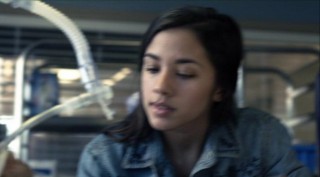 ng Weaver with a timely and humorous "Oops" when slipping him a sedative against his will in "Love and Other Acts of Courage".
Obviously as the adventure within Falling Skies continues, Anne's trusy medical assistant Lourdes (Seychelle Gabriel) will help save Weaver (since Will Patton is listed to be featured in all of the remaining episodes of season two), but what of her lover intended, Jamil, the new 2nd Mass handyman portrayed by handsome and talented Brandon Jay Mclaren?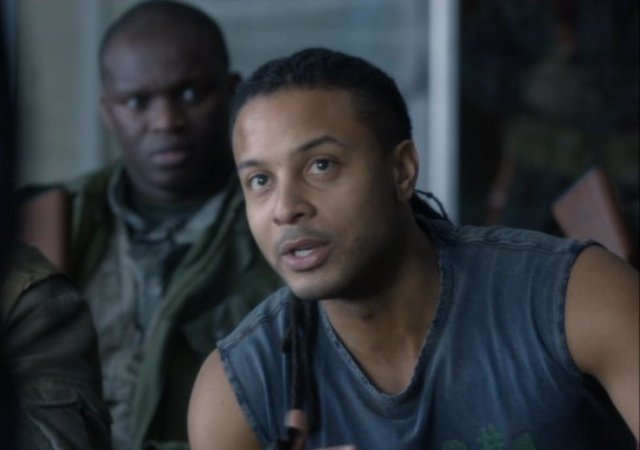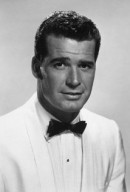 Jamil clearly reminds me of "Hendley The Scrounger" in the classic movie "The Great Escape" (1963) as portrayed by legendary actor James Garner. Can Jamil, "The Scrounger" of Falling Skies in 2012 help save Weaver by scrounging up some of his own handiwork to accomplish the task?
Dai (Peter Shinkoda), "Boon" (Billy Wickman), and Lyle (Brad Kelly) continue as solid supporting characters who you will witness in several revealing sequences.  As mentioned previously, each of these fine actors continue to deliver great performances in the epic adventure as the adventure that is Falling Skies!
Their interactions in the Falling Skies epic adventures will be critical in the next episodes "Homecoming" and "Molon Labe".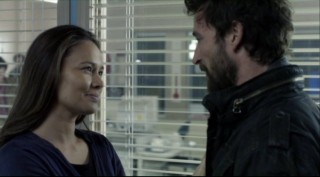 Now that the doubts within the 2nd Mass about Tom Mason (Noah Wyle) have diminished, will he be able to effectively lead the 2nd Mass? Or will new a new dilemma rise to the surface that will hinder his efforts to save the dwindling remnants of the 2nd Mass?
Does Tom wish that that John Pope (Colin Cuningham) and Anthony (Mpho Koaho) would return to the 2nd Mass after setting out on their own in "Compass".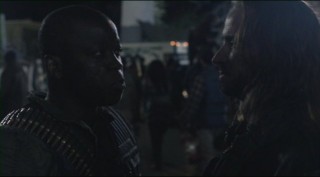 Will former "Bersekers" John Pope and Anthony return to the 2nd Mass in "Homecoming" as the episode name alludes to?
Since Colin Cunningham is featured as a special guest and panelist at San Diego Comic-Con 2012, the answer must yes!
What news will Anthony and John Pope bring about the ruthless "Overlords", the murderous Mech "Battle Bots" and "Skitters" who are loyal to their alien slave masters? Has John Pope learned that some "Skitters" are now part of a rebellion?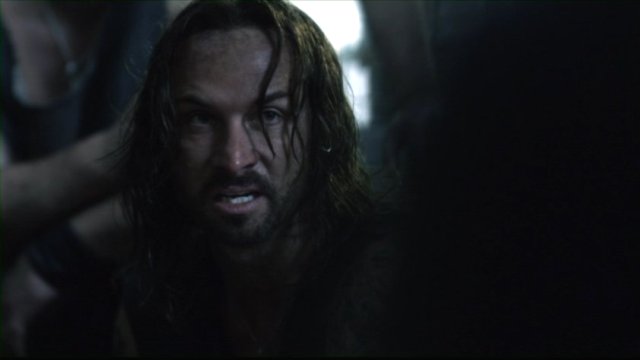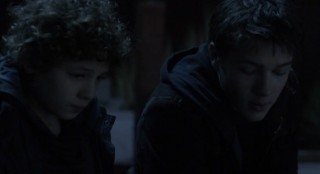 In concluding this preview of "Homecoming", we know that Ben in a tender brotherly sequence told younger Matt Mason (Maxim Knight) he would be leaving the 2nd Mass in the future. Does young Matt know when this will become manifest? Could this be a secret shared by Ben to Matt?
We have said it before and we will say it again: No one should doubt that Falling Skies is an epic series. Presented to the audience with continued outstanding cinematography, location shooting, costuming, makeup and awesome action filled sequences in "Homecoming", we suggest that everyone watch closely as this episode will blow your mind, especially in the last moments when all will be shocked at what happens!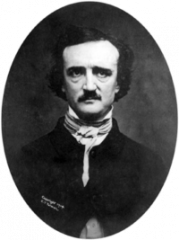 Falling Skies has more than exceeded Edgar Allan Poe's expectations of fulfilling my oft quoted phrase "The Single Effect". Each episode has brilliantly built upon the past setting the stage for the seventh episode of Falling Skies, "Molon Labe"!
Finally, as the viewing audience, now that the series has been renewed for a third season, we strongly suggest that you make sure to tune in live this Sunday July 15, 9 PM EST and PST 8 Central time for more Falling Skies "Homecoming" on TNT.
As mentioned last week, support Falling Skies by watching legally on your mobile devices, on DVR's and on the Internet at the TNT Network to further edify your love of science fiction television on TNT!
Lastly, we ask that you do not illegally download Falling Skies or any program if you want more quality television programming. And please tell your friends the same thing: "Just Say No to Illegal Downloading". Thank you.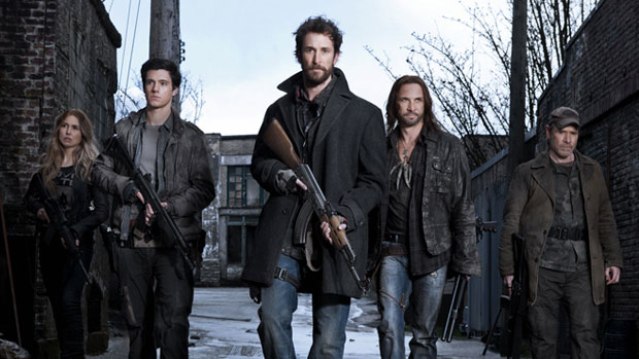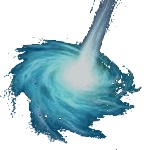 Thank you for visiting WormholeRiders News Agency and reading our theories, history back story and significance of the historical reference material imparted for our pleasure by the creators of Falling Skies!
Please feel free to leave a comment here or if you prefer, click the social media icons below to share this news article. Or as many of our readers and visitors often do, visit WHR on Twitter, WHR on Facebook or visit me on Twitter by clicking the text links or images avatars in this news story.
I and the Team WHR look forward to Seeing You on The Other Side"!
Thank you.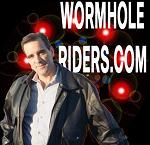 Best Regards,
Kenn