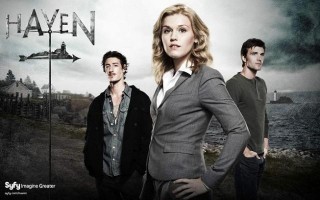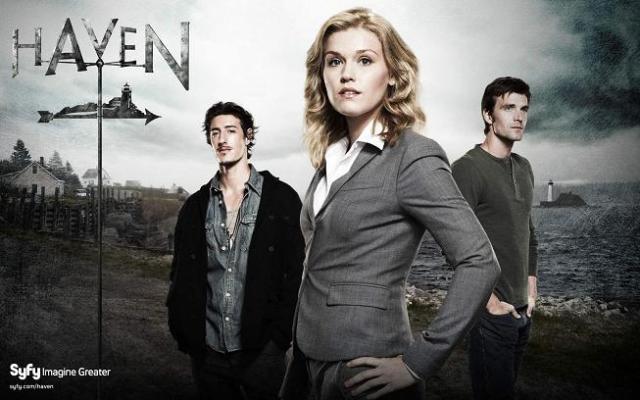 Welcome back Haven fans or should I say Havenites?!
Much has happened since last season.
Haven is one of this reviewers favorite series that I was able to tweet the heck out of last year, but due to what was described at the end of my analysis last week, but I was sadly unable to perform analysis in weekly reviews during season three of one of my favorite television series Haven.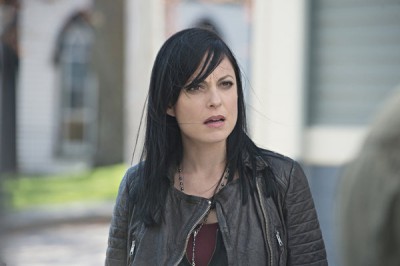 Season four will welcome all our series regulars, Audrey (Emily Rose), Nathan (Lucas Bryant), and Duke (Eric Balfour).

This includes the return of the lovely Jordon McKee (Kate Kelton), and the arrival of new characters; Marion Caldwell, portrayed by Nicole de Boer, Jennifer Mason portrayed by Emma Lahana, and a time honored science fiction favorite, Colin Ferguson as the enigmatic "William".
Ferguson is introduced at the episodes conclusion. We will not begin to learn what he is doing until episode two "Survivors".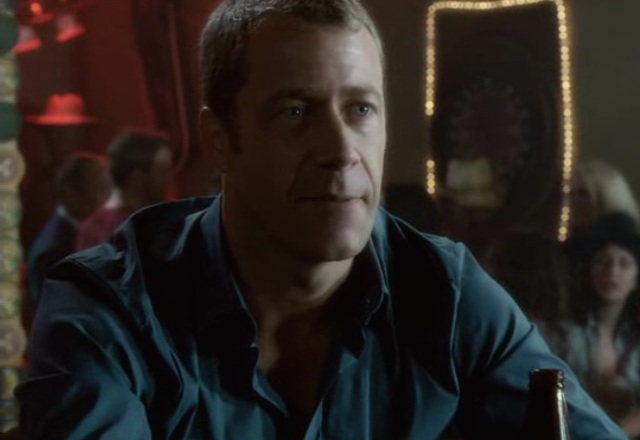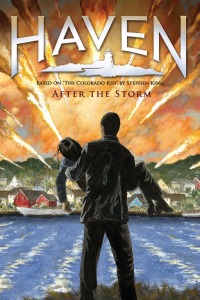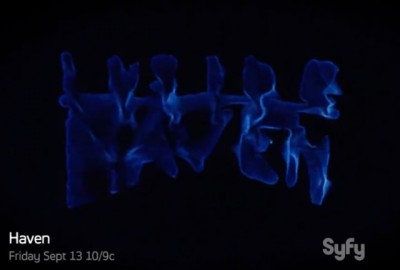 Can anyone say Wormhole? To this reviewer it is quite clear that what has affected the town with Troubles at the end of season three "Thanks for the Memories", in fact the entire series, is a massive wormhole in space time warping the various realities that we have experienced in this delightful science fiction program based on the Stephen King novel "The Colorado Kid".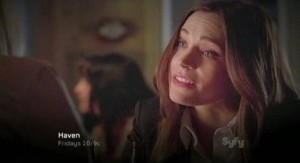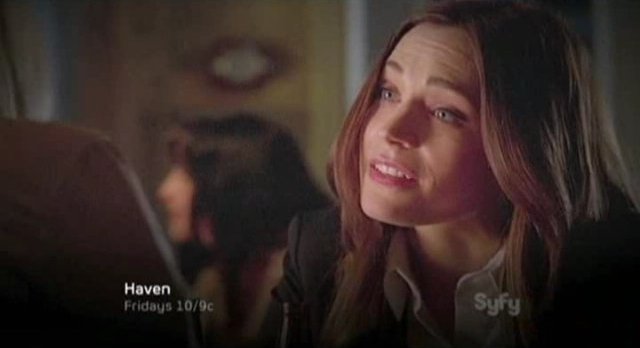 This topic goes well beyond the "garden variety troubles", even space ships that we have witnessed over the course of the first three seasons.
How else can anything explain the two Audrey's portrayed by Emily Rose and Kathleen Munroe that viewers were introduced to in "A Tale of Two Audrey's" in episode one of season two?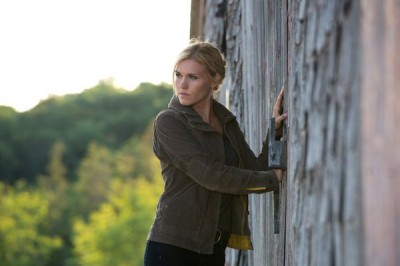 Too many guests in Haven, like Kathleen Munroe, have developed faulty memories of who and what they were for any other explanation to be logically assumed to be true.
Others lose track of time, or have no explanation of what happened to them, to offer any other logical conclusions other than a wormhole between various realities has been impacting our inhabitants of Haven for some time.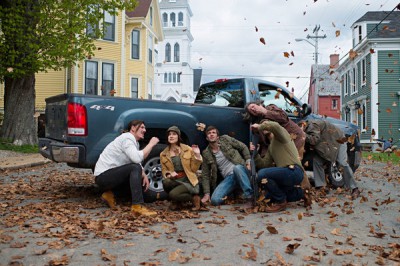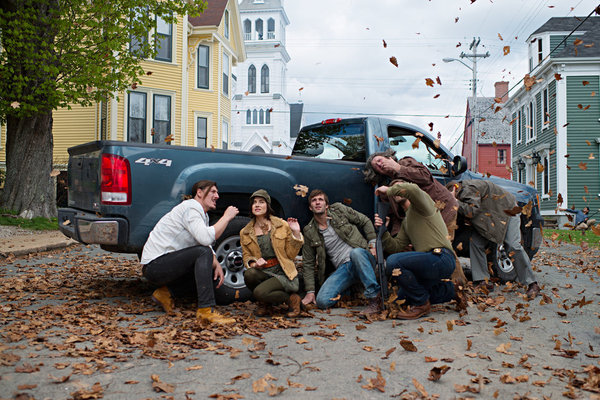 Further, the wonderful Zuckerman sisters, Nora Zuckerman and Lilla Zuckerman came from the world of Fringe as screenwriters.
This editor called it (wormholes) way back in December 2009, that the world of Fringe was being affected by them. And so it became, and now the wormholes are back!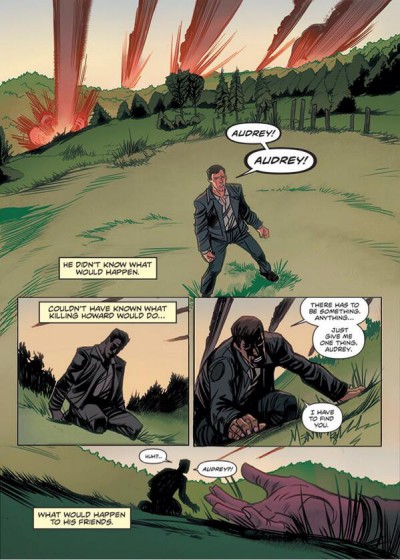 Some said I was crazy, and while that may be true, wormhole themes are a popular method to affect change in a story arc, and Nora and Lilla are masters in the world of believable story arcs!
The danged barn itself appears to be the latest Haven focal point of the warping of space and time based on where Duke (Eric Balfour) finds himself at the beginning of season four in "Fallout".
As you may recall, Audrey had disappeared and Duke went head first inside the structure into a swirling nightmarish, well what certainly looked like a wormhole to me, to save her.
As the barn interior vanished in a poof of warped space time, poor Nathan (Lucas Bryant) was still dying outside from his wounds of being shot. Is there any doubt that Nathan will no longer be the Sheriff of Haven for the foreseeable future in season four pending, hopefully, his full recovery?
As poor Duke is sucked into the wormhole, he is exposed to a nearly hallucinogenic set of circumstances. Having been no doubt a dope smoker and liberal imbiber of alcohol for many years, the circumstances do not even phase our hero of Haven!
Duke seems to be ready for anything! He had danged well better be with what is about to happen in Haven!

Fallout: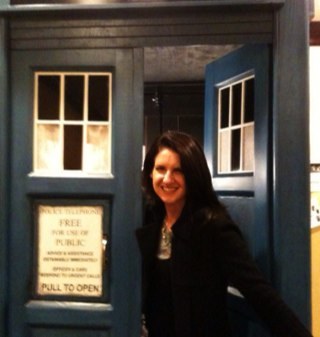 In a story excellently written by Gabrielle Stanton, with featured music by Patrick Watson, the appropriately named "Lighthouse", the has barn faded into the past as Duke is hurled in a downward through the wormhole from Haven to another place.
With a splash, our hero is found swimming inside a tank full of seals in the city of Boston. He is quickly apprehended by the police and placed in a hospital for crazy people based on his seemingly crazy behavior.
Duke over the course of the next several minutes (in series time), realizes that some six months of "reality time" has elapsed since he was at the barn.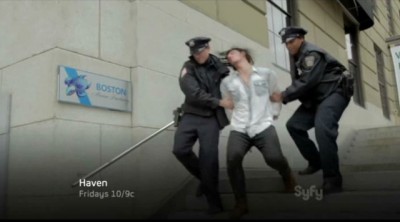 The fact that Duke materializes in Boston, another city, far from Haven is clear evidence to this editor that space time wormhole activity is evident in the season four story arc.
Back in town at Haven, the citizens have presumed he was killed in the collapse of the barn. To those in Haven, Duke, proprietor of the Grey Gull is dead. I wondered is anyone mourned him?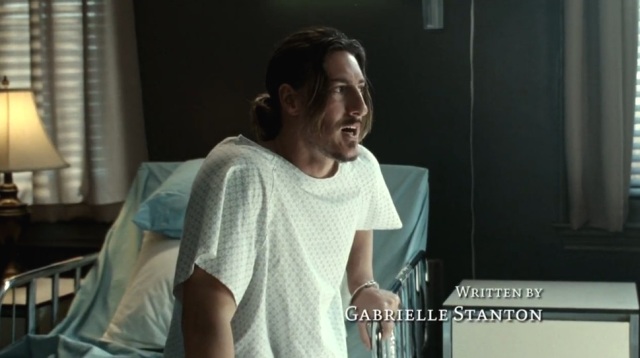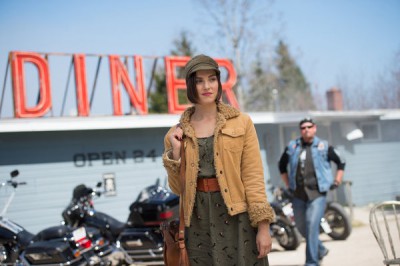 Things are rather bleak for Duke until Jennifer Mason, portrayed by the lovely Emma Lahana comes to save him at the hospital claiming she has heard his voice calling out for Audrey (when he was still in the imploding barn).
Fans of Lahana will recall her memorable appearances in Arctic Air, Hellcats, Stargate Atlantis and many years in The Power Rangers.
Jennifer is a Boston city resident who appears to be a bit troubled herself.  Jennifer claims, that from Boston, since the season three finale six months earlier, that she heard Agent Howard (Maurice Dean Wint), Duke and Audrey chatting while they were in the barn in Haven.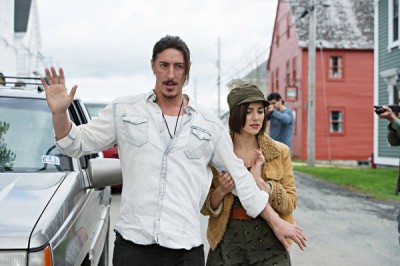 Rather conveniently, Jennifer helps Duke escape from the hospital where he has been held for his maniacal appearance in the seal tank. I say conveniently since little, if anything, is as it seems in the story arc of Haven.
Is Jennifer troubled? Or is she the root cause of the trouble? Is Jennifer responsible for activating the wormhole that brought Duke to Boston in the first place? Only time will reveal her true purpose. I for one am eager to see what materializes (pun intended) during the fourth season of Haven!
Nevertheless, with Jennifer's help, Duke contacts Dave Teagues (John Dunsworth) and convinces Dave that it really is him, (that he is alive), and is heading back to Haven without further delay.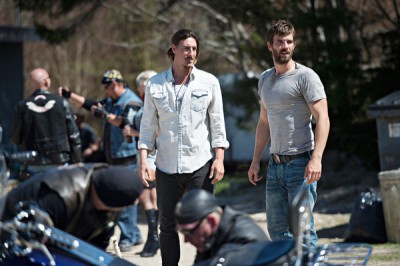 Dave informs Duke how to find Nathan. However he cautions Duke that Nathan is no longer the person he was some six months previous. What makes things enjoyable is how the series comfort level is being turned upside down in season four opener!
Duke witnesses Nathan's fate first hand when he locates him. Poor Nathan is observed getting the crap beaten out of him by vicious bikers. Even stranger is that Nathan is being compensated for the "privilege"!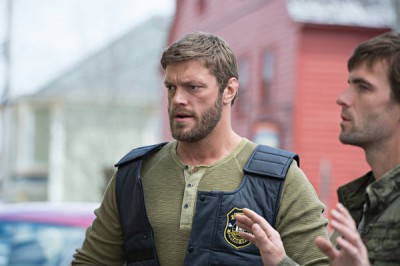 Jennifer and Duke can only take so much and after a few seconds we observe a heartwarming reunion between Duke and Nathan. The 'Three Musketeers" begin the journey to return to Haven, which has become anything but a "haven" for Nathan.
We learn that Nathan is no longer welcome in the town any longer. The Guard, lead by Jordon and Dwight (Adam "Edge" Copeland) have taken over Haven to protect it from further "troubles", their mission as we learned in season three of the series.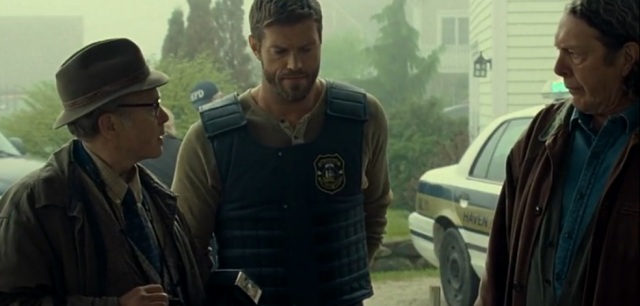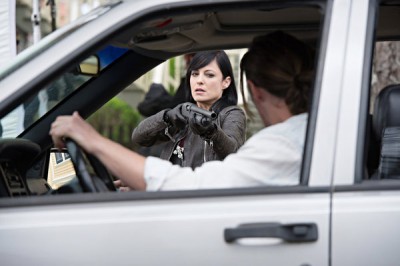 Arriving in Haven, Duke Nathan and Jennifer are quickly confronted by a shotgun wielding Jordan (Kate Kelton) and the other members of The Guard.
I must say that I enjoy seeing a woman with a weapon and Kelton is perfect for the role of blasting anyone or anything that gets in her way!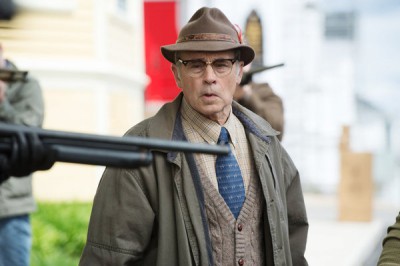 The Guard, holding them prisoner or hostage at gunpoint is not going to let Nathan cause any more "troubles". Duke is none too happy with Jordon and poor Jennifer wonders just what the heck she has gotten herself into? Or at least Jennifer does a good job of looking clueless.
As mentioned, I am sure Jennifer is being employed to infiltrate Haven and is up to something. The question is Jennifer up to something good or not? She tells Vince, Dave, and Dwight that she overheard Agent Howard with Audrey say if Audrey kills the one she loves (Nathan), The Troubles will cease!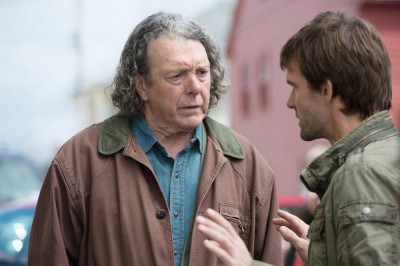 Nathan, always a charmer, convinces The Guard that he has come back to Haven for only one purpose. He is going to end the "Troubles" for good by making Audrey kill him. With this assurance, The Guard release him, Jennifer and Duke.
Meanwhile, Jordan is fuming with jealousy over Nathan's behavior from last season. As series admirers will recall, Nathan selected Audrey over Jordon's amorous advances. Well I am sorry Jordon, you are certainly "hot",  however Audrey and Nathan do have a bit of back story!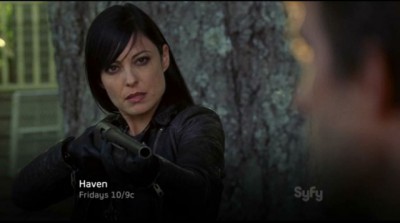 It also appears that in addition to not fully trusting Nathan, thinking he will not let Audrey kill him, she also is none too happy that that Vince Teagues (Richard Donat) has assumed leadership of The Guard in Haven.
Well, we always knew that Vince has the "power" and now Jordon resents Vince for exercising it! You must recall that all was supposed to go back to normal in Haven when Audrey entered the wormhole, err barn.
Of course, that is not what happened or we would not being enjoying our fourth season of Haven and Vince has become the leader when The "old" Guard failed at their mission!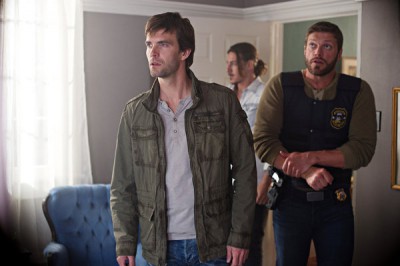 In the interim, Dwight, the bullet magnet, has ascended to the role of Haven's Chief of Police during Nathan's absence. Loyal to the core, Dwight promptly enlists the aid of both Nathan and Duke to help him.
What help does Dwight need? Well of course the "Troubles" have only increased to intolerable levels subsequent to when Audrey went into the barn, errr wormhole!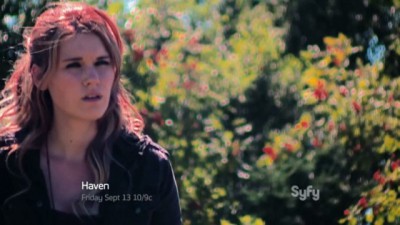 The fun part of the story, the fact that the "Troubles" were supposed to have ended only leaves more opportunity for The Colorado Kid aka James Cogan (Steve Lund), to generate even more mischief in his obsession with Audrey!
Rather than begin the hunt for Audrey, Nathan chips in and helps Dwight track down a woman named Marion Caldwell (Nicole de Boer) whose Trouble has gone crazy. Caldwell who can effect changes to the weather, has killed many innocent people in Haven.
Nathan finally locates Caldwell. He discovers that Caldwell, and most other people in Haven specifically blame him for the Troubles not ending.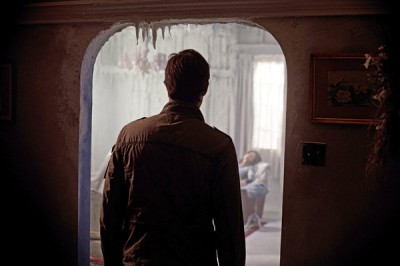 Despite their emotional response, Nathan convinces them and Caldwell to deal with the loss of her husband which is what kicked off the weather storms (her Trouble) in the first place.  Caldwell, under Nathan's soothing voice calms down and accepts that her husband is gone. Soon the storms Caldwell been causing all over town vanish.
Ole' buddy Dwight, seeing that Nathan will help the town offers Nathan a job in the Haven Police Department as detective. This was rather ironic, since I was expecting Dwight to surrender the Sheriff's badge to Nathan. However, considering that Dwight is in The Guard, that they have assumed control of Haven, and the townspeople are on "edge" (I know another pun), it makes sense for Nathan to only be a detective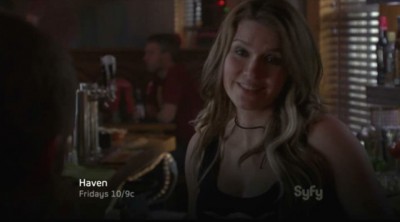 Together Nathan, Dwight and Duke vow to find Audrey, learn who or what she has become this time around, and help her as they always have.
A quick scene change segue ensues. Audrey is once again living a completely new life, working as a bartender named Lexie, a soft spoken women of a completely different character. As per the last several incidents in Haven, Audrey no longer remembers anything from her past life.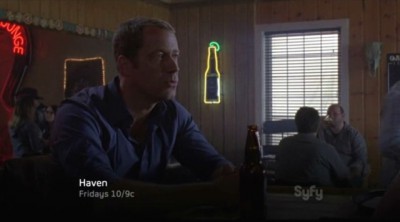 In the final sequence,  Audrey introduces us tour new character, the enigmatic man named William (Colin Ferguson) who appears up at the bar to tell her that unless she remembers who she really is, many more citizens will perish.
With this haunting warning, we are left to believe the dead, this time around, will likely encompass more than simply the citizens of Haven!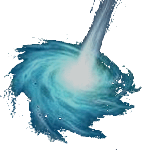 I thank you loyal visitors for reading and visiting our dedicated Haven site here at WormholeRiders News Agency.
Please feel free to leave a comment here or if you prefer, click the social media icons below to share this news article.
Or as many of our readers and visitors often do, visit WHR on Twitter, WHR on Facebook or visit me on Twitter by clicking the text links or images avatars in this news story. I and the WHR team look forward to Seeing You on The Other Side"!
Thank you.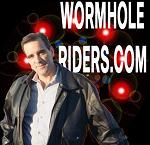 Best Regards,
Kenn