Welcome to the wonderfully altered Haven in season four or should we say Discover Haven!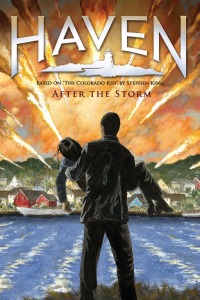 As politicians often say "Elections have consequences". Everyone must come to recognize "Wormholes have consequences too!"… for the long suffering citizens in Haven!
In an excellent episode written by Nora Zuckerman and Lilla Zuckerman, we begin with the second episode of the fourth season, "Survivors". There is absolutely no longer any doubt that Haven and its citizens have become affected, or should we say infected, or perhaps afflicted with "Wormhole-itis".
Poor Audrey (Emily Rose), or at least the woman who looks like Audrey is now nose ringed rebel Lexie, who we met at the bar at the end of last weeks episode "Fallout". And in tow is William (Colin Ferguson) who appears to know much more than he has revealed.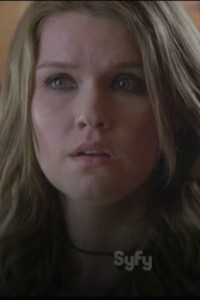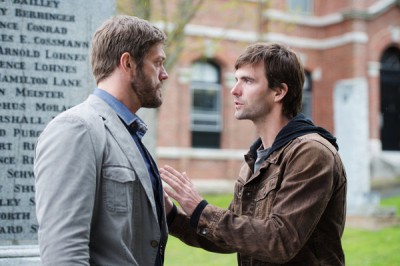 Former Haven Sheriff Nathan Wournos (Lucas Bryant) is no longer trusted by the vast majority of the citizens, this despite his long history of helping them.
This factor is a perfect, albeit tragic reflection of real life where people often turn on those who were their benefactors or mentors in the past.

In fact, poor Nathan is shunned by the townspeople of Haven as the root cause of their troubles. Only Dwight (Adam Copeland) seems to trust him.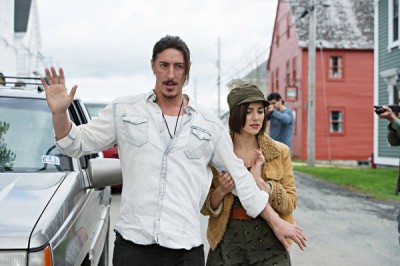 And our hapless Duke (Eric Balfour), although having returned to Haven subsequent to being transported via some sort of wormhole to Boston where he was nearly imprisoned, is being suspected of being obsessed in his search for the facts surrounding Audrey's disappearance with a charming Jennifer (Emma Lahana) who this reviewer suspects is a wormhole spy from the future!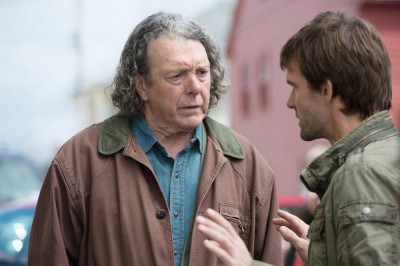 To make matters worse before they can get better, Dave (John Dunsworth) and Vince (Richard Donat) Teagues have allied with Dwight and Jordon (Kate Kelton) of The Guard to maintain control of Haven before all hell breaks loose!
In the opinion of this reviewer, The Troubles in season four in general, and "Survivors" in specific are threatening the very fabric of space time, and everyone's existence in the process.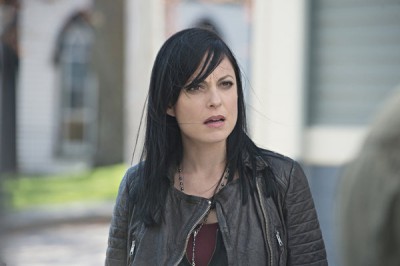 And speaking of the lovely Jordan McKee, during a Haven Founders Day celebration, she is none to happy with Nathan who jilted her in favor of his love of Audrey Parker, or Lucy Ripley.
Or as this reviewer is certain we will soon discover, his love for any wormhole version of Lucy/Audrey/Lexie, including a rather gorgeous nose ringed, pistol packing Lexie (Emily Rose)!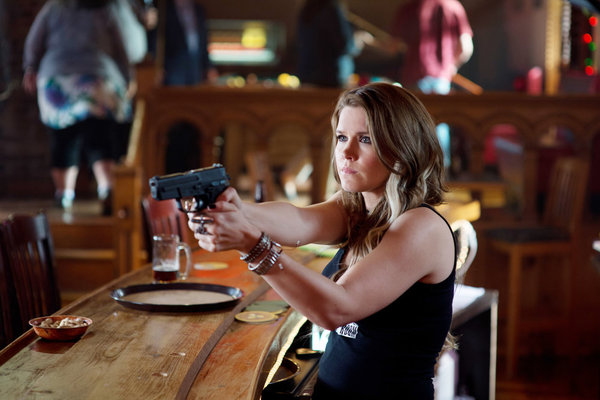 Survivors: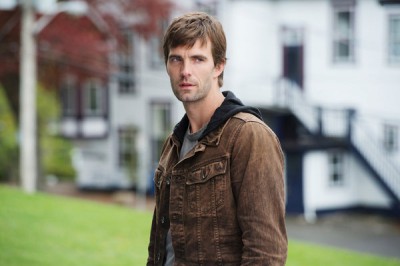 As mentioned, our innocent hero Nathan Wournos is no longer a welcome face around the hapless habitat of Haven.
Despite the suspicious, sometimes vicious looks he gets wherever he ventures, Nathan, now working for Sheriff Dwight has new responsibilities including, of course, a new set of "The Troubles" afflicting the cursed town of Haven!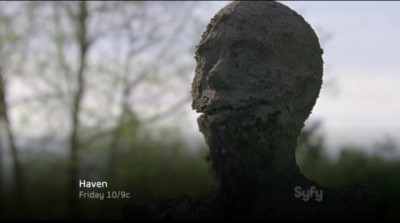 Nathan tries to settle in as Dwight's faithful police detective focused on the never ending plague of The Troubles.
In "Survivors", Haven is in danger of being torched by a virulent outbreak of seemingly spontaneous human combustion events erupting all over the troubled town that becomes a tortuous terror!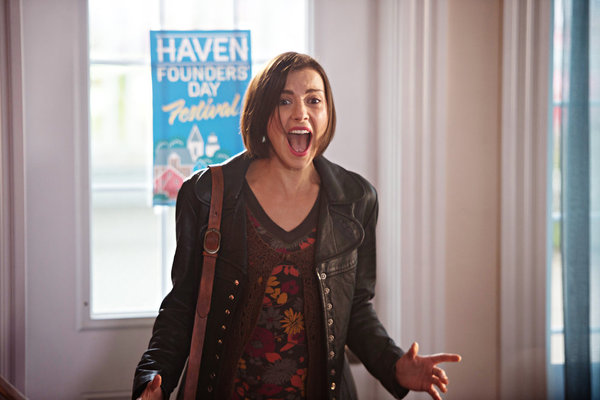 Surely some poor tortured wormhole soul is at the center of the latest round of malevolent activity in Haven? In the "Survivors" episode, more layers of the onion will be revealed that build an edifice of what is happening in this version of "Parkerized", or "Lexie-ized" reality.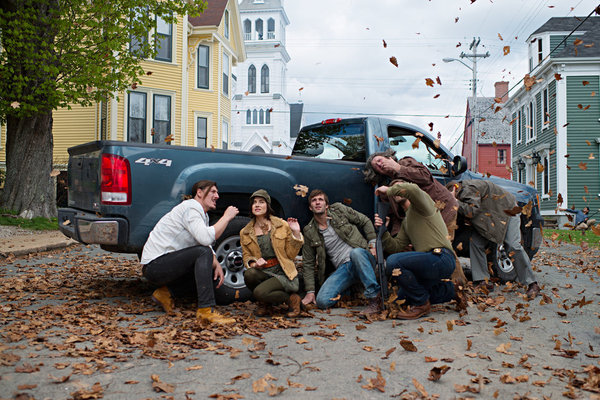 Although this reviewer has always wanted to attend a BBQ in Haven, unless Nathan and Dwight are successful in locating The Trouble, the town could very well end up as a giant bag of charcoal briquettes used to cook the spare ribs for the Founder's Day celebration!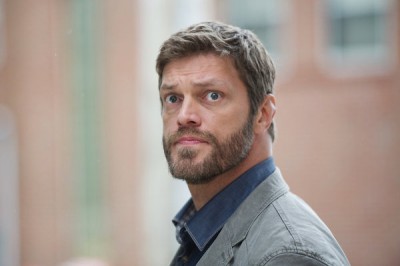 We soon learn that Sheriff Dwight is also none too pleased with his latest hire, ex-Sheriff Nathan Wournos!
It seems that Nathan would rather be investing his time locating the missing Audrey Parker. Snap out of it Nathan or Haven will be burned to a crisp!
Nathan's ex-lover to be (Jordan), is also not to happy with him. Jordon is perturbed with Nathan for endangering himself during official Haven police investigations. It is this reviewers opinion that Jordan is still very much in love with Nathan and is genuinely worried about his well being.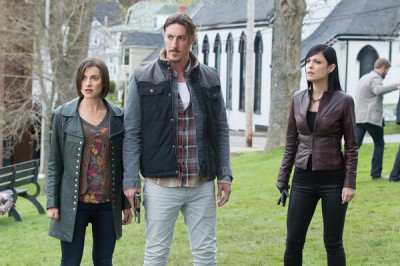 Stubborn Nathan knows he has do his work, but from this reviewers perspective, he is a bit brusque with Jordan. In a way it appears that he feels guilty about his dalliance with Jordan last season. We sense that Nathan feels that Audrey is gone due to his own lack of attention, which of course is not the case.
Jennifer, Duke, and Nathan head out together. They are able to ascertain that The Troubles are due to a suffering Haven fireman named Don Keaton (Kyle Mac).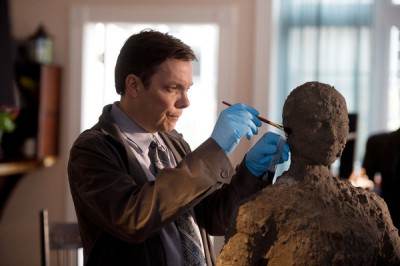 Keaton had recently fought and ultimately survived fighting a fire. Unfortunately, Don's  partner was not so lucky perishing in the process. As we have seen in previous humans afflicted in Haven, The Troubles are kicked off by feelings of remorse or guilt.
Unfortunately for some Haven residents in the vicinity, they are literally BBQ'd to a crisp by Fireman Keaton's "Troubles".
Worse still? Firefighter Keaton, a former hero, is about to be honored at a ceremony for his brave deeds of the past. His terrible feelings of anxiety and guilt are from having to accept an award that will cook most of Haven leaving only charcoal briquettes!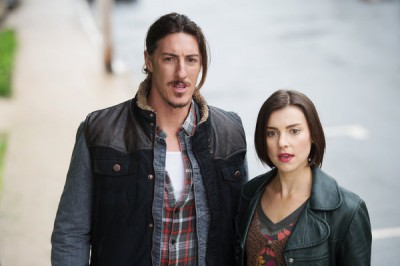 The Troubles are not quite over when Nathan locates Firefighter Keaton. As he pleads with Keaton to explain what has been transpiring, Chief Dwight (That still sounds odd to me) evacuates the surrounding environs.
Faithful Jordan also helps Duke and Jennifer my using her mind powers to save firefighter Keaton from turning everyone in Kingston charcoal (an American brand of BBQ briquettes)!
Nathan nearly becomes a human flame thrower during the melee. As mentally suffering firefighter Keaton is overcome with guilt, our hero Nathan begins to be burnt alive!
As Havenites recall, Nathan Wournos' Trouble causes him to feel no pain. As we watch his skin burning, Nathan maintains composure imparting to Keaton the knowledge he requires about his role in the spate of deaths in Haven.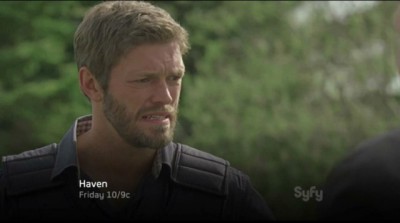 Although Dwight witnesses Nathan saving the town, our lovely brunette Jordan is quite angry with Nathan.
If he was to get killed before Audrey returns, The Troubles for everyone in town will remain manifest, torturing the poor citizens in an endless time space loop, dooming them to be trapped in Haven forever suffering from The Troubles!
The story arc is wrapped nicely as the episode winds down. We do know that Lexie/Audrey is clueless about her affect on the town and like the previous seasons, has no recollection of her past lives.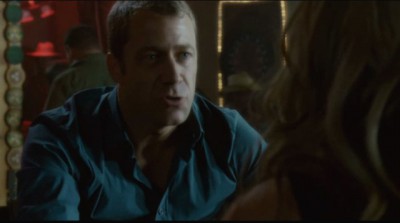 She does know she is a bartender named Lexie who came to Haven, which of course we will all in town will discover once again to their mutual horror.
Enigmatic William (Colin Ferguson) is attempting to help Lexie regain her memories. Based on his deportment and presentation, this reviewer is certain that William knows much more than he is revealing.
Nevertheless, Lexie remains aloof from his prodding until two men (one of whom came after William in "Fallout") come back in the bar. Casually, subconsciously, Lexie reassembles a gun while they are watching in 10 seconds.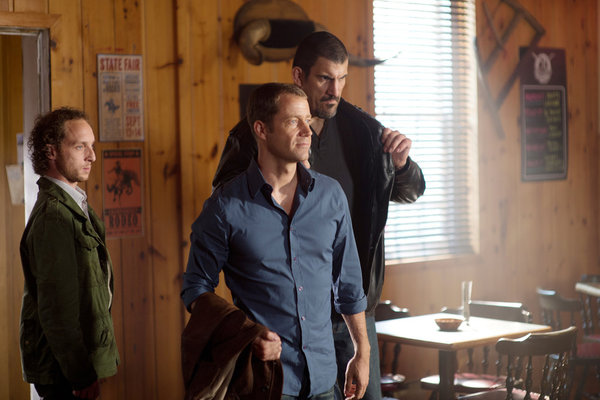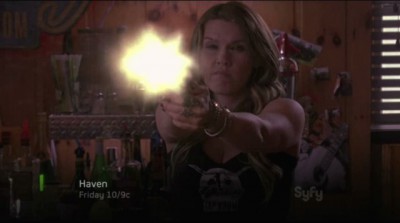 The two men leave when suddenly Lexie realizes that she knows how to professionally reassemble a firearm, and proves that she knows how use it as well! A glimmer of something comes over William's face as the two men who came to get even with him flee.
We are left to wonder, just how much does William know, where is he from, and what is his connection to Lexie Dewitt he finds working in the "Oatley Tap Room" bar?
For that matter, what if anything does William know about Audrey Parker and Lucy Ripley?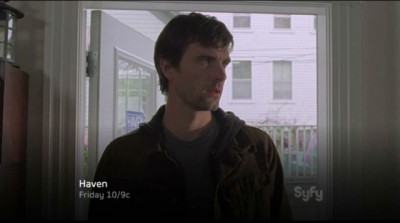 Lexie, perplexed at her abilities out side bartending which she must be remembering from the Grey Gull, desires to know about her past. William states unequivocally "once you find out, there will be no going back!" And how will Nathan be brought into the mix to become her victim?

In the concluding moments of "Survivors", we segue back to Haven. We are re-introduced to Wade Crocker (Christian Camargo), half brother of Duke who we met briefly in the previous episode "Fallout".
Viewers will recall that Wade took over the Grey Gull when Duke went missing for six months. Haven fans will also recall that Wade was mentioned in the in season two opener "A Tale of Two Audrey's" which sets up the characters arrival in Haven season four.
Duke is quite worried about his brother Wade as it relates to the Crocker family curse. Although Wade came back to Haven to help settle Duke's estate, and escape a cheating wife, Wade is not aware, having been raised by his mother outside of Haven, that he is cursed to kill those with The Troubles!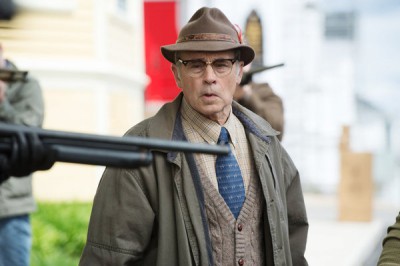 Vince (Richard Donat) and Dave Teagues (John Dunsworth) along with the rest of The Guard are also quite concerned.
Why? If Wade stays too long in Haven, he will become like Duke and internalize the Crocker secret family past time and seek out and murder those with The Troubles.
We end the episode with Duke attempting to convince Wade to leave Haven and move back to New York. Unfortunately, Wade, viewing an Internet "Nanny Cam" spys his unfaithful wife cheating on him! Wade decides he likes Haven and elects to stay in town!
Haven as a series is on a roll! This reviewer provide "Survivors" a "Straight A" for a fast moving script with details well thought out by the Zuckerman sisters, who always do a great job screenwriting.
As discussed in this week's conference call with Emily Rose and Colin Ferguson, the first four episodes will establish the season four story arc foundation between returning and new characters. We will post our findings and analysis next!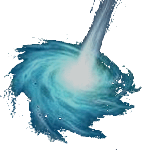 I thank you loyal visitors for reading and visiting our dedicated Haven site here at WormholeRiders News Agency.
Please feel free to leave a comment here or if you prefer, click the social media icons below to share this news article.
Or as many of our readers and visitors often do, visit WHR on Twitter, WHR on Facebook or visit me on Twitter by clicking the text links or images avatars in this news story. I and the WHR team look forward to Seeing You on The Other Side"!
Thank you.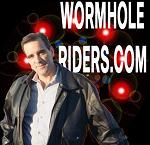 Best Regards,
Kenn