Welcome WormholeRiders, Galactic Bounty Hunters and those Caring About the Killjoys!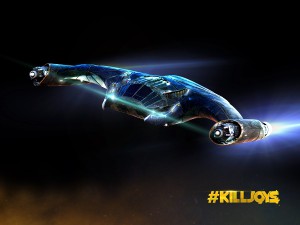 One of the summer seasons most awaited programs is without doubt Killjoys!
Killjoys is a brand new, fantastic, fully arse kicking action science fiction drama series replete with space ships, villains, innocent victims, "Fight Club" like scenes in the premiere, fantastic special effects, superb sets, cool costumes, marvelous makeup, gifted creators, and an incredibly diverse, talented and HUGE cast
!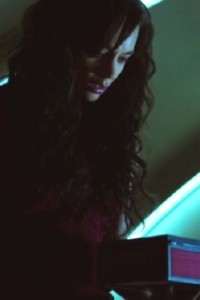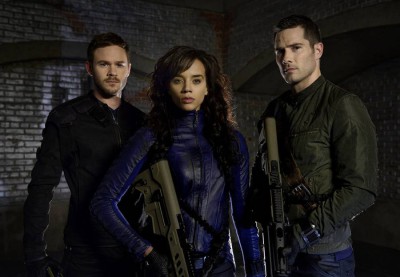 The main series stars are fantastic! Featuring well known and respected leads such as Aaron Ashmore (Warehouse 13, Lost Girl, Smallville) as Johnny, Hannah John-Kamen (The Ark, Happy Valley, Dark Souls II) as Dutch, Luke Macfarlane (The Night Shift, Person of Interest, Over There) as D'Avin, Thom Allison (Repo! The Genetic Opera, The Road to Christmas, Leaving Metropolis) as Pree, Tamsen McDonough (Motive, Lost Girl, The Incredible Hulk) as Lucy, the cool "space sled", Rob Stewart (Dark Matter, Defiance,) as Khylen, Sean Baek (Lost Girl, Alphas) as Fancy Lee, Sarah Power (The Good Witch, Californication, Lost Girl) as Pawter, Nora McLellan (Saving Hope, Orphan Black, The X-Files) as Bellus Haardy, Morgan Kelly (The Strain, Played) as Alvis, Mayko Nguyen (Continuum, The Listener) as Delle Seyah Kendry, and Patrick Garrow (12 Monkeys, Bitten) as Turin.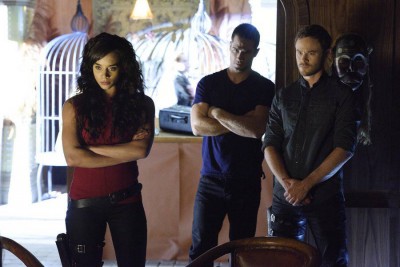 This summer television viewing season, we have "joyfully" witnessed a return of a successful science fiction viewing methodology for anchoring all of North America with the renewed dual nation simultaneous airing of three great programs on Space Channel in Canada and Syfy in the United States.
Known as #SyfyFriday in the United States, the addition of Killjoys to a three hour science fiction lineup starts with the re-imagined Defiance, is delightfully flanked by Dark Matter. The three hours of quality entertainment is certain to be wonderful sight to behold each week!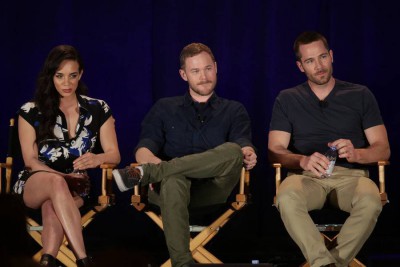 This editor of Killjoys "joyfully" shares the series is an absolute "joy" to watch each week as part of this renewed effort that is building a solid anchor for science fiction admirers all over the world!
The Executive producers of Killjoys are lead by industry veterans beginning with series creator and showrunner Michelle Lovretta (Lost Girl, The Secret Circle, Rogue). Lovretta has selected David Fortier (Orphan Black), and Ivan Schneeberg (X Company), who are also executive producers of Killjoys. Co-executive producers include Jeremy Boxen (Lost Girl) and Karen Troubetzkoy (The Listener). Rounding out the incredibly talents Killjoys production team are Emily Andras (Lost Girl), Adam Barken (Flashpoint), Aaron Martin (Saving Hope), and Regina Robb (Being Erica). Together this group of creative genius' will make Killjoys come to life before our very eyes each week!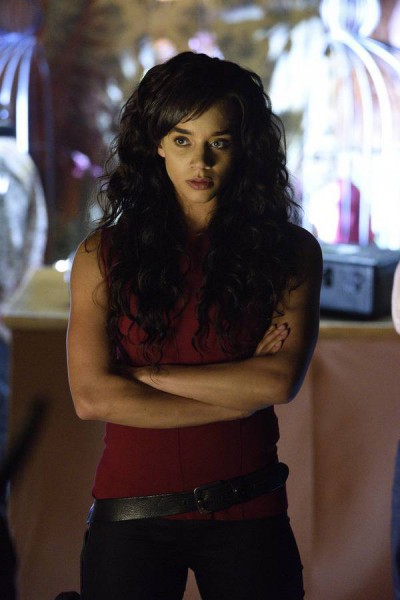 Killjoys writing credits are legion with Michelle Lovretta (creator credited with 10 episodes), Michael Foster (4 episodes), Emily Andras (2 episodes), Jeremy Boxen (2 episodes), Aaron Martin (1 episode) and Annmarie Morais (1 episode).
This great new science fiction drama is directed by fabulously talented creators Chris Grismer (The Vampire Diaries), Paolo Barzman (Dark Matter), Andy Mikita (Stargate), Michael Nankin (Defiance), Michael Robison (Eureka), Peter Stebbings (The Listener), and Ken Girotti (Stargate SG-1).
With the fun hashtag #TheWarrantIsAll, which we proudly sport on WormholeRider Twitter page, we will learn about "The Quad", a planetary system that is on the brink of a catastrophic interplanetary class war. Our four heroes (including Lucy the intelligent and snarky space ship) include the terrific trio of bounty hunters (Aaron Ashmore as Johnny, Hannah John-Kamen as Dutch, and Luke Macfarlane as D'Avin) as they attempt to seek out criminal offenders in "The Quad", placing them under arrest with what will often prove to be deadly warrants.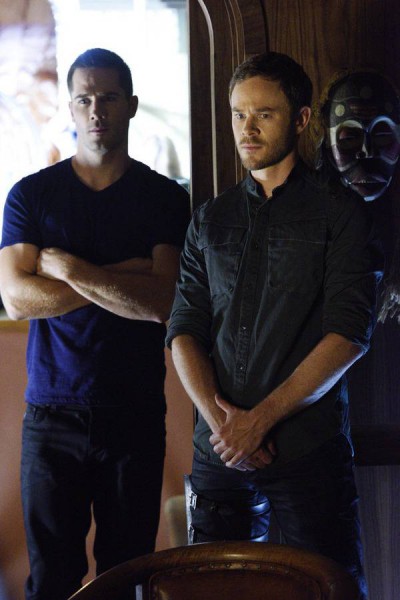 The premise of Killjoys is one that all fans of science fiction drama will savor each week with fast moving action sequences, adventure, corporate intrigue and mystery as the secrets of the series heroes are revealed to eager viewers, including this reviewer!
Making Killjoys come to life with great VFX, both interior and exterior scenes, are Drew Longland, Warren Appleby, Brad Weiss who dazzle the senses with fun weapons and space sequences that make the series so much fun to behold! Coupled with great writing and directing, a fast moving story arc, the entire Killjoys series has been thoughtfully and professionally produced to elicit that exact result!
My grade for the Killjoys premiere is a straight "A". the series has all the elements that reinforces our hope at WormholeRiders that Killjoys will be warmly embraced by science fiction lovers the world over. No doubt, many enjoyed the premiere season on Friday evenings in the United States and Canada!
You, the viewer, can help make a multi-season reality come true by watching live and tweeting along with the cast and creators each week so that a Killjoys renewal becomes a certainty!
Bangarang: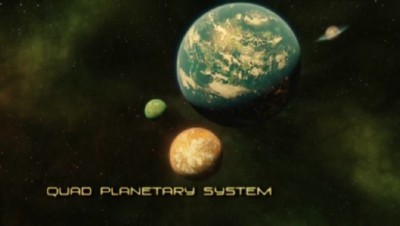 The Killjoys series opens in space as we zoom into "The Quad" to a desert like planet. We are told via on screen that we are somewhere in an area known as the "Westerley Badlands".
Westerly, is one of the planets on the "The Quad" solar system, is where we meet out first "Killjoy", Dutch, who is in a shrouded garment struggling in a sand storm to find something, and someone.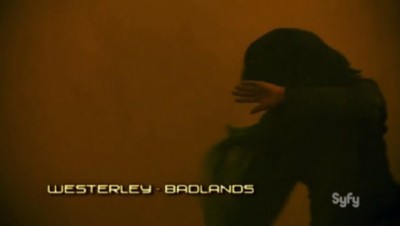 Dutch finds what she is looking for; A building in which Johnny Jaqobis (Aaron Ashmore) is being tortured via "electric shock therapy" and being beaten savagely to reveal why he stole a ship (Lucy) from a nasty looking criminal named Coren Jeers (Dmitry Chepovetsky) who enters a few minutes later.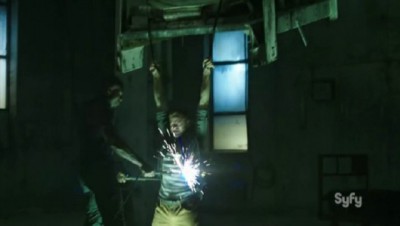 Dutch pretends to attempt to bribe a guard and is captured by Coren's minion in order to gain entrance without raising suspicion.
Dutch and Johnny get heckled by the minions of Coren, who do not know that they are "Killjoys", or Galactic Bounty Hunters, instead of petty thieves who have stolen a space ship.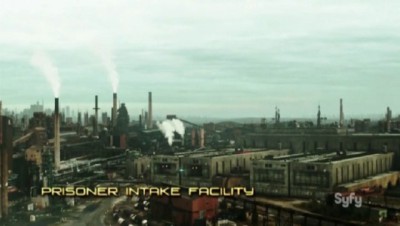 After turning the tables on Coren and his evil minions by Dutch who has a nice stun gun under her garments, Johnny and Dutch kick some malcontent butt in well choreographed fight sequence.
Certain to be another enjoyable aspect of Killjoys each week, the fight scenes are quite believable!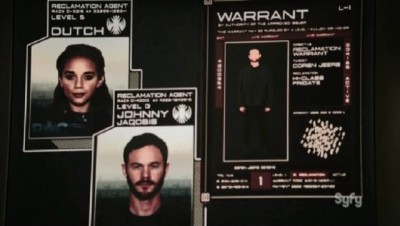 Subsequently hauling the miscreant Coren back to an organization known as the Reclamation Apprehension Coalition (RAC).
Coren is taken to the official "Company" Prisoner Intake Facility as their bounty and the associated warrant are fulfilled via a cool computerized scanning apparatus!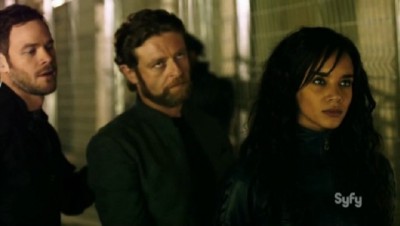 We learn that Johnny and Dutch obviously, and quite eloquently set up the entire escapade to capture the miscreant lawbreaker Coren.
It becomes apparent that the two arse kickers are seasoned partners having worked for the RAC for some six years as willing partners. The chemistry between the actors is smooth, making their interactions quite believable.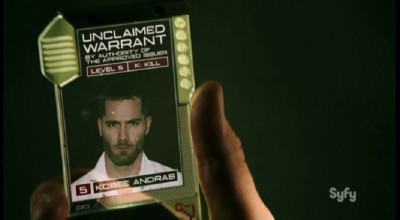 Next we find Johnny examining the most serious type of warrant, an order to kill, level five warrant.
The target is for a malcontent named Kobee Andras, whom viewers will learn is an alias for D'Avin (Luke Macfarlane). Johnny obtains sufficient intelligence locating the target on a ship in which Andras is a "Fight Club" style cage fighter, taking off with his partner, Dutch!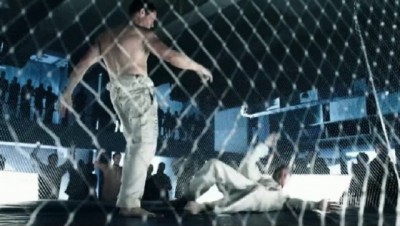 Johnny volunteers to get his butt kicked again in a fight with D'Avin / Andras. D'Avin / Andras gets a look at Johnny and realizes this is his brother. We must assume that Johnny knew the alias was actually his brother whom he has not seen for many years.
The reason Johnny took off from the Prisoner Intake Facility headquarters now becomes clear, he did not want another Killjoy to be assigned to kill his brother!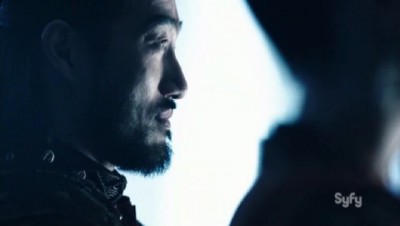 We segue to Dutch who is wondering where Johnny is. A dedicated tracker, even of her partner, Dutch has secretly located Johnny on the "Fight Club" ship.
We then learn why Johnny left so quickly as we meet another recurring character named Killjoy Fancy Lee (Sean Baek) who had also picked up on the assigned warrant to kill D'avin / Andras.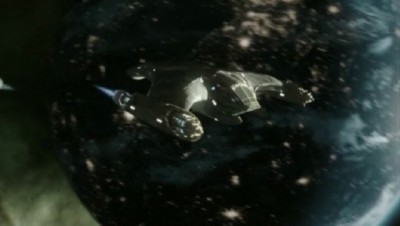 Dutch having been advised the two are brothers, acts with rapid action, shooting D'Avin with a tranquilizer dart. Fancy Lee is denied his warrant as Dutch and Johnny secret the knocked out D'avin onto Lucy (Tamsen McDonough).
The viewers learn that a death warrant is not easily breakable under government "Company" rules. "The Company" is similarly nicknamed like the United States Central Intelligence Agency (CIA) with severe penalties for breaking the rules.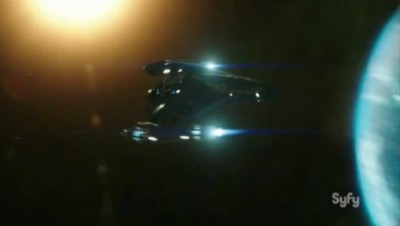 At this juncture it is worth noting that the creators have spared no expense for the sets, makeup, costumes and special effects!
Also noteworthy are the selection of songs featured in the premiere episode including Orphan Black and Killjoys music composer Trevor Yuile (Wicked World), Diamond Bone now known as Caveboy (Home is Where) and the fabulous opening song by Hanni El Khatib (Nobody Move). Each of these aspects make the program truly enjoyable!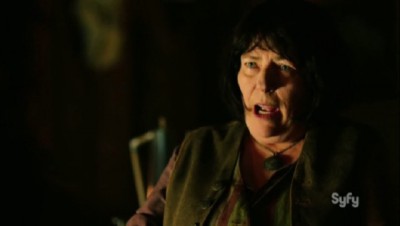 Back to the death warrant on D'avin, our heroes have a serious conflict of interest. Dutch and Johnny have not fulfilled "The Company" requirements to eliminate D'Avin. Dutch gets chewed out by Bellus Haardy (Nora McLellan).
The only way to save D'Avin from his death warrant is to find another fugitive and hopefully trade him or her for D'Avin's life.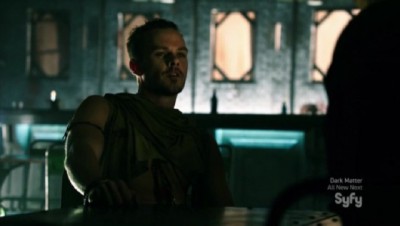 The group travels to a placed known as "Old Town" on Westerley. Here they meet an old acquaintance named Alvis (Morgan Kelly). Alvis is an upstanding member of a religious masochistic group and is also a resistance fighter, we presume against "The Company".
Alvis informs our group of heroes where to find someone who stole stuff from "The Company", one miscreant named Rolly Desh (Jason Jazrawy). Alvis is certain that turning in Desh will be sufficient to save D'Avin.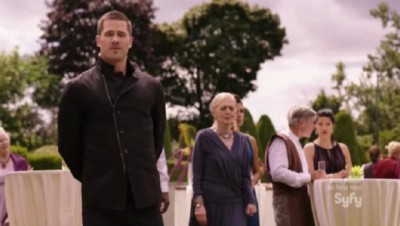 The Killjoys team heads to another planet in "The Quad" named Qresh to locate Rolly Desh. The three go undercover at a wealthy party.
As they prepare to arrest Rolly Desh, Fancy Lee shows up to get credit for the capture himself. As in real life bounty hunting, and in Killjoys, whoever gets the suspects first is the one that gets the reward.
Fancy Lee has no compunction in stopping whomever required to get the bounty, including other Killjoys. Dutch is sliced with his flying knife.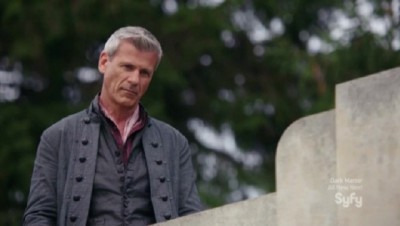 We learn that it is poison tipped, so things do not look good for Dutch until a kindly elder gentleman named Khlyen (Rob Stewart) comes to her rescue with an antidote. What he is doing there is somewhat of a mystery.
In a flashback sequence in Dutch's mind, we learn that the man, Khylen, is a protector of Dutch from a past life with an enigmatic red box containing a throwing knife he taught her to kill with.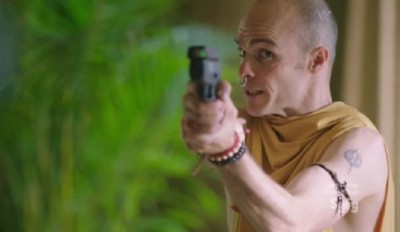 As the exciting episode draws to a conclusion, Johnny and D'avin proceed to apprehend Rolly. Johnny and D'avin corner Rolly, who gets the drop on at Johnny.
As Johnny begins to kick the hell out of Rolly, D'avin decides to knock out Rolly with a stunner. We find out that Rolly had stolen a computer memory chip from "The Company" which he has unceremoniously hidden in his nose ring.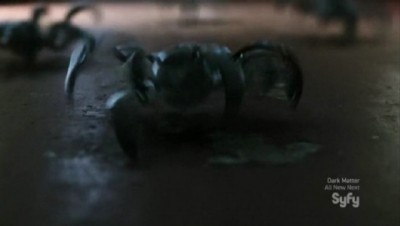 The final challenge will be escaping the scene to get back to Lucy and "The Company".
Now back in action after receiving the antidote to the poison, we see Dutch striding down the hallway they need to escape. Quite literally dressed to kill, Dutch has a very cool piece of technology; a necklace with beads that become robotic spider creatures which she unleashes on the bad guys. The robotic spiders  explode in the palace guards faces allowing our heroes to escape!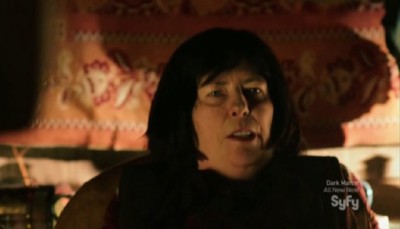 Lucy, always with a nice bit of snark, takes our heroes back to Westerley.
Here, Bellus Haardy (Nora McLellan) informs Dutch, Johnny and D'Avin that "The Company" will accept the trade of the computer chip in exchange for dropping D'avin's warrant, but not without Dutch having to face the consequences of her unorthodox actions.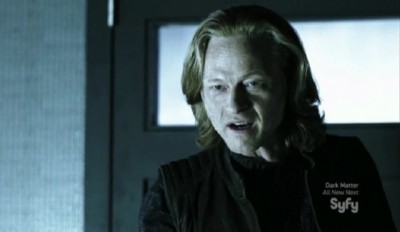 Dutch is summoned to what seems like a courts martial before the RAC ruling body led by a nasty fellow named Turin (Patrick Garrow) who seems intent on making Dutch "pay the price" with a stiff prison sentence or execution.
Fortunately, The Powers That Be (which we think includes the man who saved Dutch) clear her of charges. Obviously Dutch has friends in lofty places in "The Company"!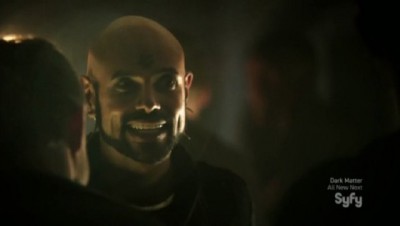 In the final sequences, we meet Pree the bartender (Thom Allison) who will be featured in most of the premiere season episodes. The good natured banter between the group will likely be the place that reveal more Killjoys secrets.
After consuming some adult beverages, Dutch heads off to get some rest. Low and behold the mysterious red box we witnessed in her flashback is sitting on her bed, no doubt for some future Killjoys #TheWarrantIsAll mission!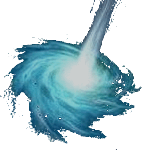 Please feel free to share this article with your friends, co-workers and or family and to leave your comments! We look forward to you visiting our dedicated Killjoys review and analysis web site in the future!
Or as many of our readers and visitors often do, visit WHR on Twitter, WHR on Facebook or visit me on Twitter by clicking the text links or images avatars in this news story. I and TeamWHR look forward to Seeing You on The Other Side!"
Thank you.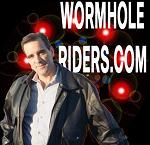 Best Regards,
Kenn