Welcome WormholeRiders, Galactic Bounty Hunters and those Caring About the Killjoys!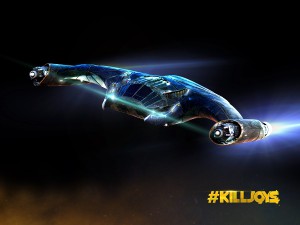 In the second episode of Killjoys, the series continues with a delightful fast moving story arc. More of the past of the main series actors is revealed in some detail.
We learn that D'avin (Luke MacFarlane) has yet to join the team. D'avin is still aboard Lucy (Tamsen McDonough) subsequent to being saved from a Death Warrant on a "Fight Club" space ship witnessed in the pilot episode.
We also learned that D'avin is Johnny's brother (Aaron Ashmore), and that The Quad is a dangerous place with much backstabbing politics, lust for power and is this editor has understood the Killjoys premise correctly, a deadly civil war between The Powers That Be and their nemesis seeking revenge!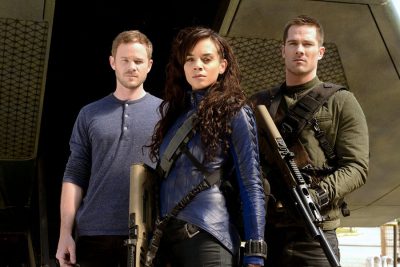 We will also learn what is inside that Red Box delivered via Lucy by her creepy mentor Khylen (Rob Stewart) in the pilot episode "Bangarang".
Each Red Box seems to trigger mental conditioning Dutch has received. This Red Box includes a dagger blade, and the name of a man she is instructed to kill!
As we revealed previously, Lucy is the name of the Killjoys ship utilized by Dutch (Hannah John-Kamen) and Johnny to execute their warrants issued by the The Company returning the targets to the Reclamation Apprehension Coalition (RAC).
Although Dutch does not seem to want D'avin with them, there appears to be a sexual, or romantic tension between the two of them. This tension will be revealed in more detail throughout the episode and the season.
The Sugar Point Run: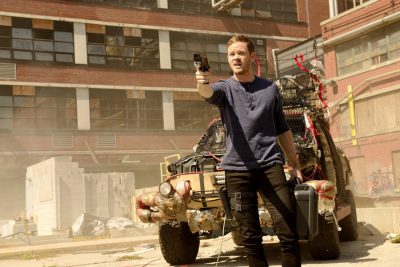 The episode opens with Johnny "sticking" a warrant on a large freighter carrying two hundred tons of precious sea salt. Poor Lucy has her hands full as the freighter is not going to surrender easily.
Dutch is warned about the trouble ahead, while D'avin is experiencing nightmares about his past life. D'avin wakes up in a cold sweat with a pistol in his hands.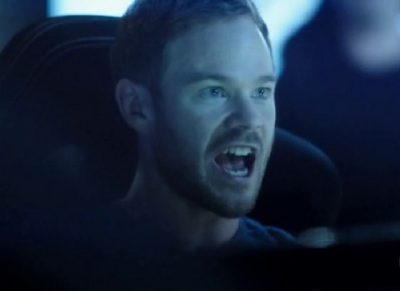 Johnny sympathizes with Lucy in that she was not really designed for such abuse. The smooth voice of the lovely Tamsen McDonough thanks Johnny for his concern.
Unknown to the malcontent smuggler, Dutch has slipped about his vessel just as he is about to celebrate with a brew when Johnny is forced to release the grappling line before Lucy is damaged. Naturally the bad guy tries to resist. His reward his getting his teeth knocked out in short order by Dutch!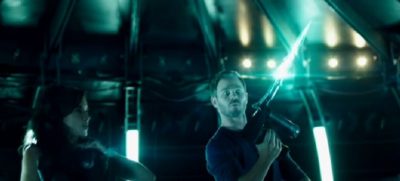 After saving his brother in the first episode, back at the RAC facility, Johnny and Dutch are examining the additional loot they liberated from the freighter, including a nice blow torch that will no doubt come in handy later during The Sugar Point Run.
Dutch is rather brusque with D'avin him that his one night stay on Lucy has turned into a week and he better "get another crash pad".
Dutch blithely leaves for her shower only to open her locker and experience a flashback set off by seeing the contents of Red Box. Dutch clearly remembers a childhood memory "that very bad things" will happen if she does not follow her Red Box instructions!
While Dutch deals with the Red Box flashbacks, Johnny suggests to brother D'avin that he get a job and plant some seeds to a real life rather than the criminal activities that nearly cost him his life. D'avin, who has been a wandering miscreant, stuck six months on the "Fight Club" ship, really does not seem to desire to be aboard Lucy.
However, D'avin is unable to settle down or obtain a job, because he has no "Company" legal papers valid within the Quad. In fact, D'avin cannot even leave Lucy without papers, or he will be arrested!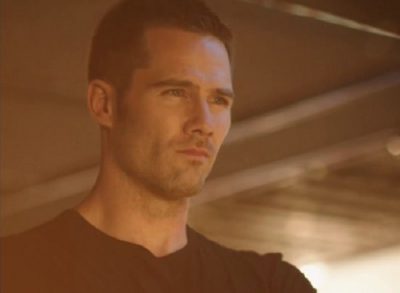 Though not overtly stated at this point, even though D'avin says "you want me gone, I'm gone", and abruptly stalks off. Subsequent to the brotherly chat, Johnny comes upon Dutch at her locker and see the Red Box. Johnny asks what it is, and knows Dutch is lying when she says "it's just a souvenir".
Despite an upcoming scene on their upcoming journey where D'avin says to Johnny "when we're back I'll take your advice and find work", and Johnny says "good".
It is clear to this editor that the brothers still love each other, and that D'avin will become the third member of the Killjoys team in league with Dutch and Johnny by the end of "The Sugar Point Run".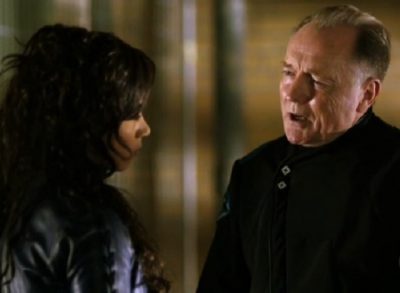 Dutch and Johnny get a warrant from "The Company" Mayor himself, Hills Oonan portrayed by Frank Moore. Their warrant seeks the Mayor's daughter Vena (Clara Pasieka) has been kidnapped by a corrupt Westerley warlord named R'yo (Irene Poole).
R'yo is demanding the return of her brother, Simon Muraayn (Michael Therriault) for as yet an unknown reason. The Mayor, in exchange for saving his daughter Vena, has decided to the release of his captive, Simon who will accompany the Killjoys on their mission for the hostage exchange.
Dutch and Johnny are ordered, arm twisted, in fact black mailed, with the threat of arrest and loss of and their docking privileges by the Mayor if they do not arrange the exchange to save the his daughter.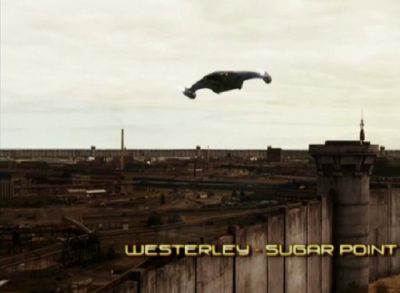 Somewhat reluctantly, Dutch and Johnny bring D'avin along on "The Sugar Point Run". Partly this is because they have no choice, and partly because this mission is taking them to a place called Sugar Hill inside Sugar Point on Westerley.
The Sugar Point environment appears to be nothing more that a bombed-out, lawless hell hole full of warlords, miscreants, scavengers and other mean individuals where D'avin may prove to be useful.
The Killjoys team will undoubtedly need all the help they can get. Their passenger for the hostage exchange, Simon, is not one well suited for space travel.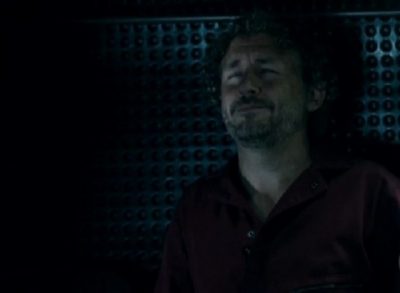 Obviously upset during the trip, Simon requests that he be unchained because being in restraint makes him throw up. Too late! We witness Simon doing just that, throwing up and making a mess in the process as Dutch retorts that she already has a "flight risk" aboard Lucy (D'avin), and does not need another so no release for Simon by Dutch!
Things get off to a nasty start on The Sugar Point Run. Lucy gets blasted by a ground rocket and crash lands in a part of the city controlled by some evil folks called the Scavengers. Johnny hangs back to fix Lucy. Dutch and D'avin to chase after Simon, who, we learn escaped because Johnny let him detach his restraints to avoid further regurgitation clean up duties!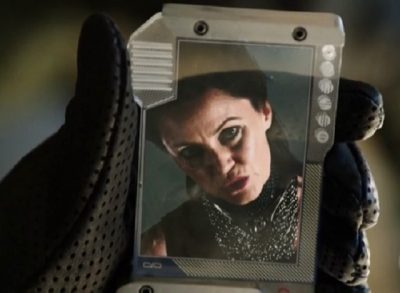 As Dutch and D'avin chase after Simon, the landscape of Sugar Hill is delineated via the story arc. We learn several important facts including the history about a past rebellion there. The Company, no doubt by the Mayor's own orders, responded by firebombing it until barely anything was left. Now we know why the Mayor's daughter Vena was kidnapped! Revenge for the firebombing!
After Dutch and D'avin catch up with Simon, he shares a startling detail; he has been afraid of R'yo, his sister for a long time. R'yo plans to cut him open when they return him to her for an artifact he has implanted in his body. Suddenly, Simon, Dutch and D'avin are attacked by the local Scavengers and are taken prisoner!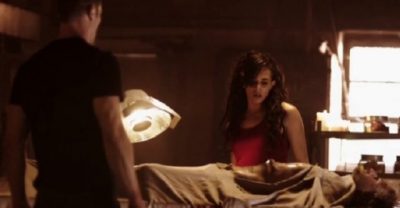 Once they are all taken in captivity, it becomes patently clear what poor Simon was talking about. The Scavengers are seen cutting into live Simon's abdomen as he screams and begs for mercy from the pain.
Dutch manages to free herself restraints with a cracking sound as he dislocates her shoulder! YIKES! Chasing the evil Scavengers off, we learn that Simon's fate is sealed.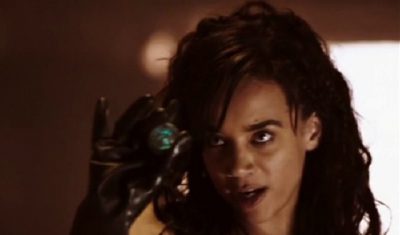 Reaching in to Simon's body, Dutch finds a glowing orb known as a "smuggler's nut" that Simon was smuggling inside his intestines (yuck!). With Simon dead, the Killjoys now have something they can trade with R'yo for Vena. D'avin is not very enthusiastic about making a trade.
It appears that inside the "smuggler's nut" are launch codes for R'yo to fire a devastating weapon of revenge at Old Town. Dutch is all business though, having internalized the threats from the Mayor about her assignment.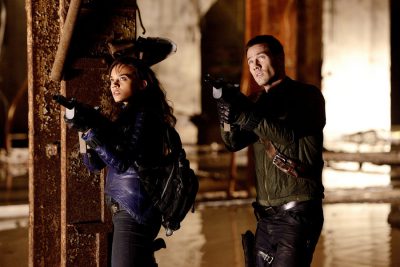 In the meantime, Dutch has been experiencing more flashbacks to her childhood when Khlyen (Rob Stewart) was training her to be a child assassin. We have yet to learn the complete significance the Red Box that Dutch received at the end of last week's episode. However, we do know that Dutch probably will have to kill someone from her brainwashing or conditioning by Khlyen.
R'yo appears to claim her payoff (the orb) that results in a stand-off with the Killjoys. The Scavengers appear which breaks the ice. Subsequent to a shootout between the Scavengers and R'yo's minions, Dutch and D'avin grab the mayor's daughter, quickly leaving the scene of the battle.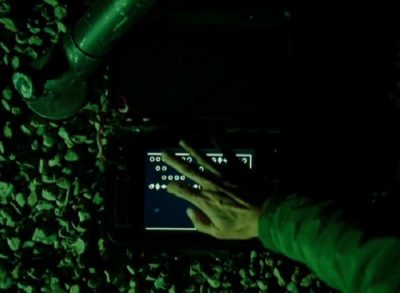 The action segues to the roof of the building where the missile launcher is located. Good thing they brought him along because D'avin successfully attempts to disarm or reprogram the missile that R'yo plans to fire at Old Town.
Evil Ryo's and her gang of misguided miscreants follow the Killjoys to the roof where Dutch, Vena and D'avin are trapped.
Naturally, this editor expects Johnny to have completely repaired and fixed Lucy by this time. No doubt Lucy and Johnny will be the cavalry coming to rescue the Killjoys who appeared to be trapped by Ryo's gang!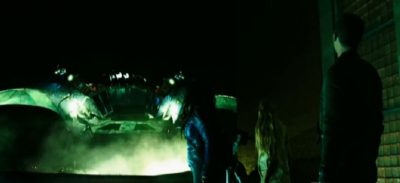 Sure enough, Johnny appears with a repaired Lucy. The Mayor's daughter Vena and all the Killjoys escape! YAY! We also learn that D'avin has sabotaged R'yo's missile so that it will explode on whomever tried to fire it. Poor evil R'yo, her plans to destroy Old Town are thankfully thwarted! However, R'yo type of obsession against The Company may result in a future lust for revenge!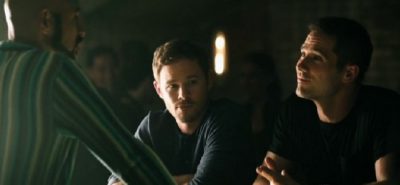 As the episode winds down with Lucy taking our heroes safely back home, D'avin reveals to Johnny and Dutch having a drink a Pree's place (Thom Allison) that he hopes that by his helping to save the Mayor's daughter, he has been granted legal "citizenship" papers by The Company.
D'avin can now can seek a path in life, find work, and a enjoy measure of freedom in The Quad. Looks like it's time for him to go, however, Dutch suggests that D'avin could become one of the Killjoys by joining Johnny and her!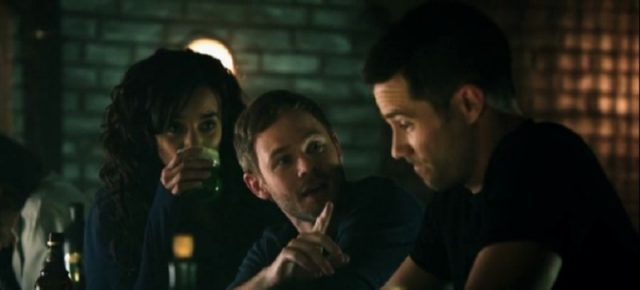 Earlier we learned via Dutch's flashbacks that her programming kicks in within a week of receiving a Red Box. Dutch has been triggered by the Khylen conditioning, seeks out, finds and attacks her target. We know that Dutch is no softy, witnessed by her ass kicking of bad guys, sometimes forced to kill to fulfill her assignments as a member of the Killjoys team.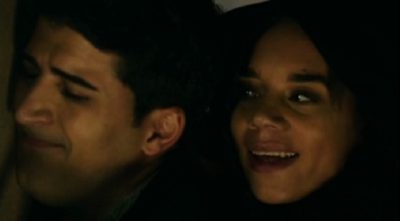 However, Dutch maintains that she only kills in self-defense while executing a legal warrant on the orders of The Company. The flashbacks come home to roost as Dutch executed the Red Box programming. We find Dutch in a corridor with a man we have not seen previously in the series.
As the final scene unfolds with Dutch poised to kill the man, we wonder who is he, what is the importance of Khylen's order to kill him, critically, why has Dutch been "activated"?
Dutch overcomes her programming and does not kill the target. Instead, Dutch demands answers about what the hell is going on? As the scene fades to black, we realize that we have been setup up, tantalized with a mini cliffhanger for when more of the Killjoys "onion" that will be peeled back in episode three!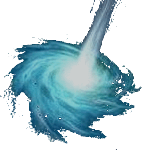 Please feel free to share this article with your friends, co-workers and or family and to leave your comments! We look forward to you visiting our dedicated Killjoys review and analysis web site in the future!
Or as many of our readers and visitors often do, visit WHR on Twitter, WHR on Facebook or visit me on Twitter by clicking the text links or images avatars in this news story. I and TeamWHR look forward to Seeing You on The Other Side!"
Thank you.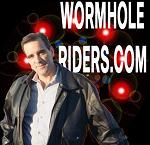 Best Regards,
Kenn