Welcome WormholeRiders, Galactic Bounty Hunters and those Caring About the Killjoys!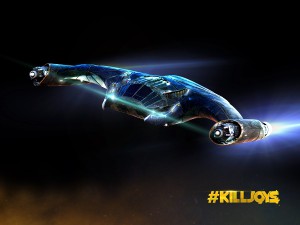 Let me start by saying that I think Hannah John-Kamen is SO good at being bada**!
I fell in love with her character Dutch right away. That awe was sealed with the strut and destruct scene towards the end of episode one of Killjoys when she comes strutting down the dark walkway. Then she throws out her little spider ball necklace of mayhem.
Brilliant execution of that scene!
Killjoys just kept g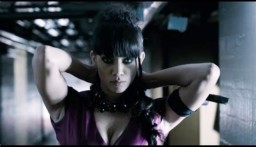 etting better each episode all season long!
This cast works so well together onscreen.
The music selection is unbelievably appropriate.
When the music starts, you know something big is going down and it really intensifies the scene.
Great job on the tunes Syfy's Killjoys!
Vessel: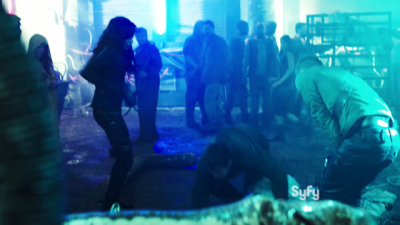 Killjoys episode 'Vessel' opens with a chase through Westerly – Old Town that may have involved hot soup, a punch to the nether regions, and a clean-up on aisle 9!
This episode starts with Dutch (Hannah John-Kamen), John Jaqobis (Aaron Ashmore), and D'Avin Jaqobis (Luke Macfarlane) running down a warrant, Enzo, played by Brayden Jones.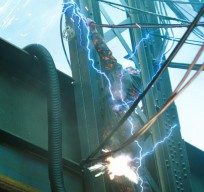 There seems to be a little bit of debating on which method to use: Plan A, Plan B, or Plan C. I thought for sure Dutch's plan would stop the runner who, by the time he came upon Dutch, had stolen a set of wheels.
But even with her gracefully tossing a hot cup of soup at his face causing him to crash, he wasn't going down easy and Plan B failed. When D'Avin catches up to them he tries to get clarity and asks Dutch 'So if I touch him first, this could still count as my first catch, right?' To which the warrant yells 'Touch this!' Insert voice octave change as D'Avin takes one for the team! Plan A didn't work out so well either.
When John catches up to the warrant, John welcomes him with 'Welcome to Plan C b***h!' Gloated too soon here John! Plan C didn't quite do it. When cornered, the warrant sees what he deems to be his way out and begins climbing a trellis.
Well, the warrant won't have to worry about getting locked up. On the bright side, there was a really nice light show as the warrant first gets electrocuted, then explodes. Level 4 warrants are dead or alive. 'Dead it is.' John being the ever so helpful brother quips to D'Avin; 'you tagged him, you bag him.'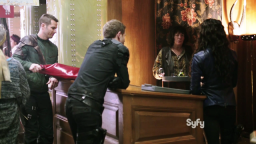 Once back in the Quad, they turn in the bag of what's left of the warrant. Bellus Haardy, played by Nora Mclellan, killed me with the line 'You're getting Enzo all over my desk'. Killjoys is loaded with these great little sarcastic one-liners!
Haardy informs Dutch that she has been requested by The Nine for a job. I got the feeling Dutch has no love for The Nine. Call it a hunch. Or maybe it was more her referring to them as inbred, fascist nobles.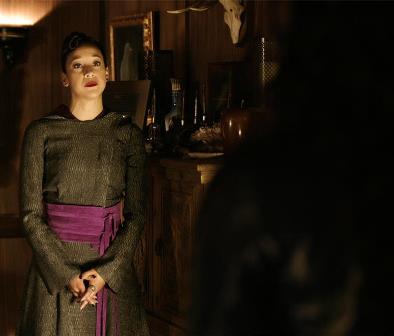 This is when we are introduced to Kendry, Mayko Nguyen, of the The Nine. She's a strong character. But I get the feeling she's got her own agenda. We find the job is to transport a young woman to Qresh. The young woman is a Leithian vessel/surrogate, implanted with the only heir of one of The Nine's clan.
Kendry needs the Killjoys to get the surrogate and the unborn heir to Qresh so the baby can be born on Qreshi soil to inherit the land and prevent a war between The Nines.
The only problem is Kendry has no idea where the vessel is. This would have been a helpful piece of knowledge to bring to the party.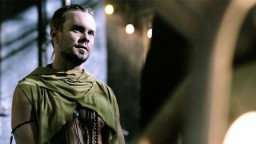 We get to see a little more of Morgan Kelly as Alvis, a Scarback, this episode as he gives the Killjoys info about the vessels location.
The Scarbacks are another interesting, mysterious group of characters that I'd like to learn more about.
Alvis tells her to trust no one.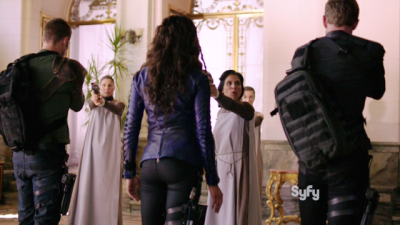 Into the Badlands! That word, to me, always implies gloom and doom. But John doesn't share my feelings on this. Yelling how much he loves the Badlands. For now, John, we will have to agree to disagree.
They locate a fortress that was well hidden by projecting a false cliff face. When the group enters the fortress, they find the Leithian vessel Constance, Chloe Rose, and other Leith girls but are soon ambushed by gun toting nuns who've been protecting Constance. And can nuns call bull***t, because Mother Sal, Laara Sadiq, sure did. Tsk tsk Mother.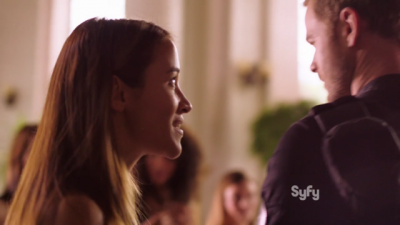 While Dutch explains that they are there to transport Constance, not kill her, the guys are chatted up by a few of the Leithian girls. (Picture Valley Girls dialect here) One says 'We love brothers. Do you guys like being Killjoys, and flying around and stuff?' While one stands there twirling her hair. And yes, the Jaqobis brothers were eating this up.
Jenny, played by Dayle McLeod, seems to be the only one to have a good grip on her hormones. She walks past John and D'Av and quips 'It's feeding time in the lion's den, and you're the meat.' I like this girl! I'd like to see her in more episodes. Which I was later disappointed to see wasn't going to be possible.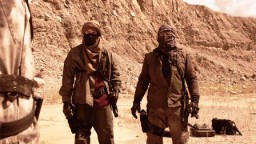 Enter the mercenaries who were sent to make sure the child never makes it to Qresh. They've taken down the security grid. While Jenny and John take off to fix the security system, we get a little moment between Dutch and D'Av. She's not very sympathetic to the other Leithian girls. Her job is to transport the vessel not the others.
He tells her 'not everyone is as hard as you.' To which she replies, 'didn't start out that way.' I thought it was a softer side of Dutch, letting her guard down. I'm curious to see where these 2 end up. There seems to be an underlying attraction between them. Meanwhile in John's little corner of the fortress, I think he may have been falling in like with Jenny. She's very intelligent and gives a little more insight to their way of life.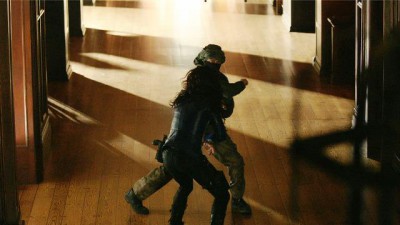 While the two are making the repairs, a mercenary has entered the fortress. And what would a Killjoys EP be like without Dutch throwing down with someone?
I personally don't want to know, but thankfully a mercenary drops in to ensure that I wasn't disappointed. This fight scene between her and the assassin was another favorite 'Dutch taking care of business moment'.
She tells him 'Oh yes, I'd love to dance'. Just to clarify, most dances end in a broken neck right? No? I guess that's only if you dance with Dutch. PS: did I mention how bad**s Dutch is?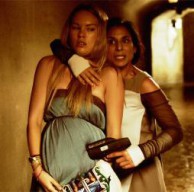 These mercenaries mean to carry out their business and Mother Sal turns cowardly and attempts to turn Constance over to them. Cue Dutch's 'I knew someone would go full b***h'!
We soon learned that these Leithian girls were far from helpless as they arm themselves with some pretty impressive weapons. I'm thinking John maybe enjoyed this a little bit.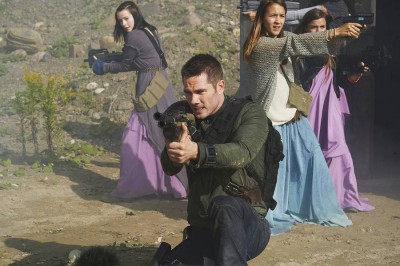 The entire group makes their exit, Constance and her belly in the lead.
And wouldn't you know, Dutch gets all the best toys. She comes blazing with a flamethrower. They lose one of the girls to gunfire.
And to give the Killjoys time to escape with Constance, Jenny makes the ultimate sacrifice and, posing as the vessel, blows herself and the mercenaries up. RIP Jenny. Poor John, his love interest bites the dust. By now, I'm having trouble keeping up with his ladies. Maybe John needs a new hobby.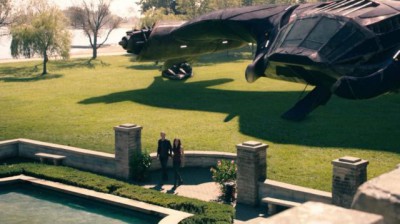 Initially the Killjoys were first denied airspace when they reached Qresh, leading Dutch to believe the mercenaries were indeed Qreshi guards that one of The Nines sent to make sure the baby didn't survive.
However, Dutch is good at what she does and they are able to land and deliver. By the way, how good did the Killjoys' massive ship Lucy, voiced by Tamsen McDonough, look sitting on that lawn?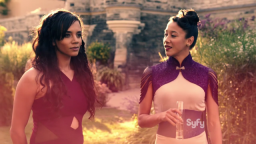 There was some discord between Kendry and Dutch. Seems Kendry wasn't pleased that they'd made the delivery. But in the end I believe Kendry also has a great deal of respect for Dutch. 'I like her, find everything you can.' I'd love to see what is discovered about Dutch.
'We have seen little flashes into her past as a young girl and it appears that she's being trained as an assassin. And there have also been little clues that make me think she could even be royalty.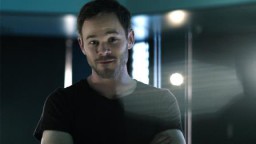 This great episode leaves off with John asking D'Av not to ruin what could be a good thing for the Killjoys, by having a relationship with Dutch, which he promises not to do.
I believe this will be a promise he won't be able to keep. There is definitely a connection brewing between the two.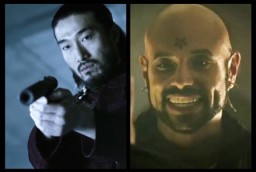 PS: Just when you think Killjoys couldn't up the hot factor, rumor has it that we will be seeing Fancy Lee (Sean Baek), and Pree (Thom Allison) again soon.

See you Friday nights!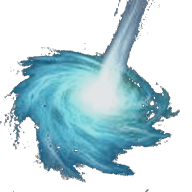 Thanks to Kenn for final audio, video embedding , and additional image staging, and many thanks to you for reading and visiting WormholeRiders News Agency.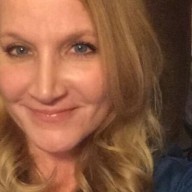 Please feel free to leave a comment here, click an icon below to share this news article, or you can chat by visiting and following me on Twitter, just click on my avatar to the right.
Thank you!
Tonja (@twotees68)