Calling all special effects and film fans!
A HUGE and heartfelt 'thank you' is extended to EVENT Cinemas Ltd of New Zealand, and Weta Workshop, for being wonderfully warm hosts and enabling their admirers to witness and experience the amazing work of Weta up close. EVENT Cinemas Ltd together with Weta Workshop recently hosted 'The Art of District 9', a small event held at the Embassy Theatre in Wellington to mark the launch of Weta's fantastic new book of the same title. District 9, screened in 2009, is a science fiction film Directed by Neill Blomkamp and Produced by Sir Peter Jackson, and has put a new face on scifi as a film genre. If you haven't seen it, DO, the acting and the narrative are just mindblowing, and the visual effects are out of this world.
Deep in the heart of tiny New Zealand, a little Miramar warehouse district hides one of the world's most talented and enthusiastic visual effects teams who quietly work away in their corner of the globe, wowing the film industry with their amazing vision.
To date, Weta Workshop and Weta Digital have been an important part in the making of over 35 major films including: Lord of the Rings (Trilogy), Master and Commander, The Water Horse, King Kong, iRobot, Contact, The Chronicles of Narnia: The Lion , the Witch and the Wardrobe, The Chronicles of Narnia: Prince Caspian, Peter Pan, Hellboy, The Last Samurai, Kingdom of Heaven, The Legend of Zorro, Eragon, Bridge to Terabithia, X-Men: The Last Stand, The Day the Earth Stood Still, Jumper and most recently Avatar, The Lovely Bones, and District 9
.
As well as films, Weta Workshop creative genius has been applied on the enormously popular television series Xena: Warrior Princess for over five years, as well as Hercules: The Legendary Journeys and many others. The incredible talent of both companies has helped placed New Zealand on the map as a phenomenal force in the film making industry (i.e not just for supreme filming locations!)
The distinctly 'Kiwi' Weta Workshop first started breathing in a tiny flat in Wellington, over twenty years ago, where Richard Taylor and his wife Tania, were pursuing their creative passion by making puppets for Gibson Group's Public Eye satire show. It was while Richard Taylor and Tania were working away in their humble abode that Peter Jackson heard about their handiwork and went to visit them. He was amazed to see their amazing artistry and "realised that they were doing the same thing".
From that moment started their famous collaboration, as Richard and Tania began working with Peter Jackson on several of his films. Since then, Richard and his collaborators have managed to assemble a team of some of the world's most talented, passionate and deliciously geeky artists, designers, sculptors, costumiers, armourists, painters, engineers, makeup artists and more, and as the workshop has expanded, so has the scope of their mission.
More and more is becoming possible with the new opportunities and the new technologies thrown their way. But when all's said and done, these guys are a self-professed bunch of geeky boys and girls, playing with their toys, who get as excited about their creations and discoveries as the rest of the world does!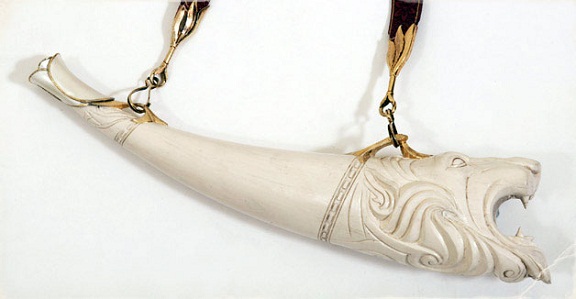 Weta Workshop itself is comprised of eleven workshops: Make-up and Prosthetics; 3D Modelling and Printing; Armour, Weapons and Props; Costuming; Engineering; Miniatures and Model-Making; Moulding; Painting and Finishing; Sculpting and Chainmaille. And yes, it's all true. They have a 3-D Printer!! Apparently it's a lengthy process though, taking up to four hours to form a piece the size of your hand.
So at the end of a lengthy, dreary working week, it's down to Wellington we drive for the experience of the year. The 'Art of District 9' event, organised by EVENT Cinemas in conjunction with Weta Workshop, was held at the fabulous Embassy Theatre in downtown Wellington, host to several NZ film world premieres, such as Lord of The Rings, and a fantastically elegant theatre in itself. A simple but expectant facade welcomes one into the main foyer, with marble floors and staircases sweeping up the sides. Up these gorgeous stairs is where the action takes place. A luxuriously long candy bar extends itself on one side of the small plaza with seating tables, while a drinks bar snuggles in the opposite corner. Directly opposite the little annex housing the bar lives another annex, in this case, the congregation of the night.
The atmosphere is wonderfully relaxed, there are no pretences here, everything is as 'New Zealand' and laid back as it should be. The medium sized crowd mingles around comfortably, looking at the impressive historical photos of the Embassy Theatre interior, and of the Lord of the Rings premiere, when the whole of Wellington was brought to a standstill, the central streets blocked off, and hundreds of metres of crimson carpeted between tens of thousands of excited fans.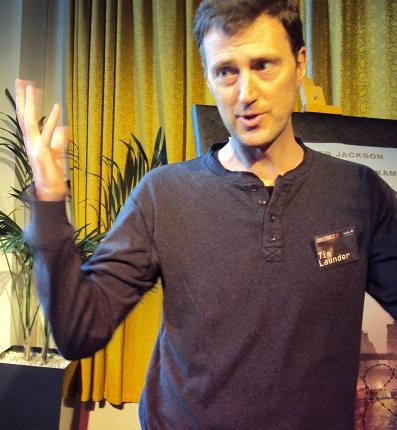 Gently winding our way through the quietly excited crowd we arrive at the room's centrepiece: A gigantic 'Weta' backdrop, in front of which excited admirers stand staunchly wielding a ferocious District gun amidst the flashing of cameras, while the always broadly-smiling face of Tim Launder, General Manager of Weta Ltd, looks on. What exactly does the title 'General Manager' entail? "Well basically, I have to reach everything on the high workshop shelves" he says, deadly serious. Okay, right.
So we then go to the Weta Workshop website (www.wetanz.com) for a little more clarification, and sure enough, the much sought-after, intricate details of his job description: "This is a really important job at Weta because there are a lot of high shelves in the Workshop, and if you don't do it right, all the dust can fall in your eyes. Fortunately he is blessed with supernatural powers which allow him to be really good at this; he has very long arms". Oh, and also besides this job, the wonderful and eloquent Tim is in charge of the marketing and promotion of all of the art that the talented Weta team produce.
Talking to Tim Launder is like interfacing directly with Wiki-Weta, but with a wonderful openness and frank spirit. He's in prime position to explain the general happenings in the depths of the workshop. Whilst the shuffling of papers, armour and spray paint goes on, Tim stands back at a distance, and he now puts it succinctly into context for me.
Of course, the whole purpose of the evening's great meeting is to celebrate and promote the launch of Weta Workshop's new gem, The Art of District 9. Such books are rare, an overwhelming compilation of the most incredible and intricate concept artwork and design processes of some of the most talented in the special effects field. Put together by the surpassingly eloquent Daniel Falconer, Senior Designer (whom I later had a wonderful conversation with), The Art of District 9 assembles all the hard work that did not make it to the final stages of the making.
The sheer volume and quality of the work that Weta does, but is not seen, is incredible. Leafing carefully through the display book, Tim Launder goes on to explain the further perks of his job at Weta. "A lot of these amazing artists are terribly shy, they prefer to stay in their workshop and tinker away at what they love to do best. My job is to drag them out so that they actually talk to people about it." Thank you Tim for helping to bring them out and share their passion with their admirers!
A little more light on the book. To understand the process, it helps to have seen the finished product, so if you haven't seen District 9, it may be time to whip out the video hire card! Tim offered some fantastic insights as to the general making of the film. Leafing through the 160 pages, the reader is rendered comatose from the stream of delicately rendered drawings, dynamic photographs from the finished product, prosthetic makeup, detailed concept art of weaponry, aliens, space ships, vehicles and more. With the foreword by Director Neill Blomkamp, and introduction by Richard Taylor, the book just oozes creative zeal, and seems to capture perfectly the passion of the artists themselves.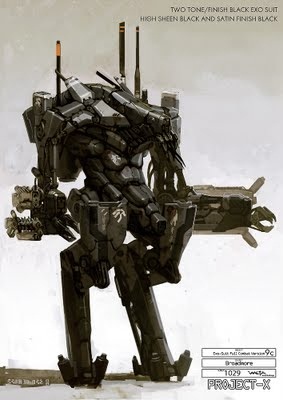 Let's take that exo-suit. Oh, dear Lord, the exo-suit. It is the life-size embodiment of every little boy's dream. Reminiscent of a 'Walker' from The Matrix Revolutions, it stomps its way through the Johannesburg shanty-town with a curiously mechanical humanity that is all its own. Is this another fantastic toy from the guys of Weta's Engineering workshop? Not so fast!
It turns out that, the initial designs forged on paper by the phenomenal Greg Broadmore, the final film product was entirely CGI. So were the prawns, which were designed and sculpted by the quiet and ragingly talented David Meng. Another equally exciting tidbit (heard from the wonderful host at Weta Cave) is that the cockpit for the exo-suit was actually constructed, but the footage was never used in the final cut. Lead actor, Sharlto Copley, instead sat in a blackened room with projected lights on his face.
Yet, the truly exciting thing about The Art of District 9 is that we can see the process first hand, the prototypes, the original designs that are usually so far divorced from the final cut, and the development process from original to final concept. Besides the sheer amount of work that ends up on the editor's floor, there have also been those films which, unfortunately, never came to final fruition. Of course, one of the most heartfelt losses was the Halo film. The movie itself may have never reached the theatres, but Weta Workshop has definitely made its Halo mark on the world, with the amazing products which came out of the workshop during the making.
Arguably, the crowning glory of all these props was the famous Warthog, a fully working all-terrain vehicle, featured in the X-Box game. I was lucky enough to witness the full magnificence of the truck at Armageddon 2007, in Wellington. It was stationary to be sure, but oh the thrill of it! According to Daniel Falconer, the craftspeople at the workshop are just a bunch of geeks, who squee about their work as much as the rest of us. For all you despairing Halo fans out there, never fear. Tim Launder dropped a hint about a follow-up project to the Warthog. Apparently, to promote the launch of Halo Reach in the U.S of A, Weta will be fabricating two Mongoose's, courtesy of Engineering, and shipping them to the States as crowning prizes in a promotional competition. This is to take place in 2011, and is available to U.S citizens only. Details are to be released at a later date. Imagine owning a Mongoose, what would YOU do?!
A last word from Mr. Tim Launder. The CGI work on District 9 was partially done by Weta Digital, but most was undertaken by Canadian-based company Image Engine Design Inc. At the time of the making of District 9, Weta Digital was tied up undertaking a whopping 80% of the visual effects on James Cameron's Avatar. At this point, the wonderfully tall, long-armed and friendly General Manager encouraged me to approach the amicable designers. Moving forward…
But wait, it seems Sir Richard Taylor, Co-founder and Co-Director of Weta Workshop (recipient of five Academy Awards and four BAFTAs), has meandered in the door. As he wanders through the crowd, I overhear "I heard something was going on down here, so I left work a bit earlier and came down to see what it was all about". A humble and friendly man, the innovator of all this creativity signs a few books, chatting to the several admirers standing around. He blends into the crowd comfortably, and the Wellingtonians there are equally relaxed, if slightly awed, by his drop-in. He chats to the visitors, asking about their jobs, encouraging aspiring designers and costumiers, all very comfortable and relaxed conversation. It is truly wonderful to see such a prominent innovator still immerse himself in the ins and outs of the design process, getting into the workshop himself. It is where his his passion originated, and is what he loves. I did not want to steal too much of Richard's time, so after a few quick words and some dorky photos, I approached the equally relaxed Greg Broadmore.
The approachable nature of these talented designers seems to be a thing of looks too. Greg Broadmore, designer and concept artist of all tech, alien weaponry and vehicles in District 9 looks like any New Zealand bloke, a cropped beard and beer in hand, he welcomes me with a warm smile and a jolly hello. Behind this easy-going guy is a positive avalanche of passion and talent, as well as a fascinating history. As he states it, when Greg left school, he had no idea what he wanted to do. Basically, he was a little as lost as many kids who graduate high school. So Greg applied for a Fine Arts course, but was turned down. Not to be swayed, he applied for a lesser Fine Arts course, who also didn't admit him. It turns out the lesser course only gave him a place because one of their students dropped out.
So began his path. Upon graduating, Greg Broadmore remained unemployed for seven years, but as he clarifies "I was never unproductive, even when I didn't have a job. I was always doing something…making comics, a couple of small exhibits and so on (more of which he has done since working at the Workshop). After seven years on the dole, Greg was booted off the Unemployment Benefit, so he shifted down to Wellington. Came the magnificent Lord Of The Rings premiere, and he thought "This is what I should be doing-making movies!".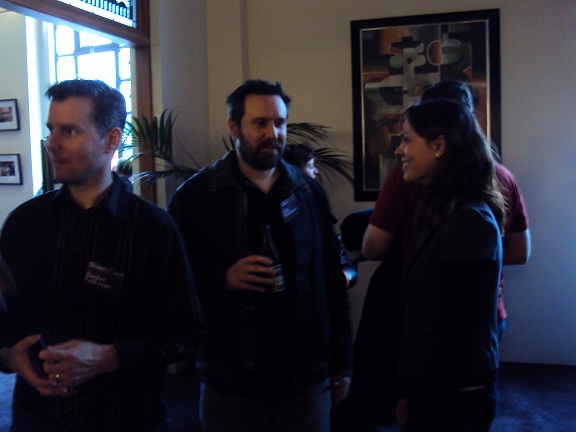 So Greg sent his portfolio to Richard Taylor. Three weeks later, Richard called him back. And that was that! As Greg himself puts it, he went from what he liked to do in his spare time (drawing robots, tanks, and dinosaurs) to working on King Kong and other films. "It doesn't matter if it's film, or games, or an art exhibition, it's all the same. The pleasure is not so much in how it's applied, but the artistic and crative process itself. "ovies happen to be a brilliant way to showcase it. Seeing the artwork manifest itself up there on the screen is one of the most satisfying experiences". Greg himself has published four books so far, and he recognises it as one of the purest pleasures; to make a book for nothing, but for that it inspires the imagination and allows the readers to conceptualise it themselves.
It is noted that, especially rampant in science fiction and action films, there are loud bangs, and everything's racing along so quickly, the image is in one shot, and gone in the blink of the eye. All the months of hard work and delicate processes boil down to a few seconds onscreen, so the release of The Art of District 9 is a true experience in itself.
After this engaging and enlightening chat with Mr. Greg Broadmore, it was time to move on. Whilst flitting around the cheery crowd I had skedaddled with the idea of talking to Daniel Falconer, Senior Designer, and the writer and compiler-in-chief of The Art of District 9. His cheery, bright countenance caught my eye not a metre away, and so we conversed away! Tim Launder had mentioned how very approachable the Weta designers are, and Daniel is no less so. In fact, the passionate man loves his work so much that there always seems to be a riveting anecdote spilling from his area of the room. I mentioned the avid admiration of fans around the world, and how people in New Zealand take the Workshop for granted with a very "Oh-yeah-I-can-see-them-from-my-house" sort of air. Daniel's response was utterly delightful: "But it's kind of nice and refreshing isn't it? It's the Kiwi attitude, and it stops people from getting big heads about stuff. Talk to us! We're just like everybody else!"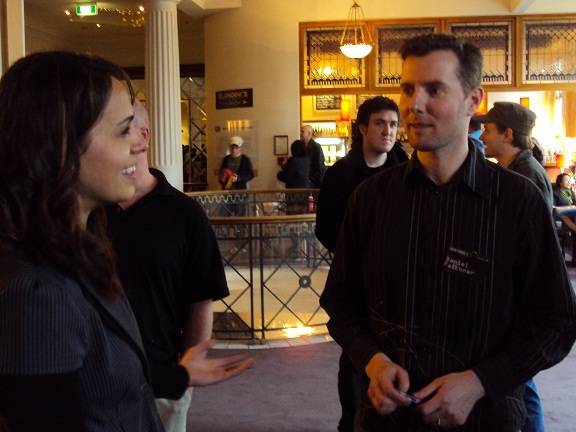 Daniel himself has a colourful history too, though quite the opposite of Greg Broadmore's. It just goes to show that no matter where you come from, what matters is your passion and determination:
Daniel Falconer always knew that it was going to be his line of work. Even as a kid, he remembers seeing Star Wars, Jim Henson movies and so on and going "'WOW…this is the screen, propelling imaginary worlds, and so beautiful!' I remember seeing the 'making-of' documentaries on television and saying 'Oh my God, people actually do this full-time, for a living!'". He had thought he'd have to go overseas to do that sort of thing, but it was in his final year in his Arts degree that he heard about Weta, "That these guys were actually doing this right here in New Zealand!".
It was 1995/96 and he was lucky with his timing. As he was getting ready to graduate, Weta Workshop only had two designers at the time and were looking to create an Art Department with a team of about five or six guys to design for them. "I mean, here's this raw kid, who's straight out of Art School. I said 'Oh, I would LOVE to do this!' and they replied 'Okay, come and try out! We'll see how it goes!'". That was fourteen years ago, and Daniel's been there ever since.
Weta Workshop now has a large Art Department, with some twenty designers, who are so often split into different projects. Daniel himself only had a very small role in the designs for District 9, "But it was great because now we're doing stuff like books, so I can say; Well why don't I step in as a chronicle in this case, and write about my buddies and what they've done!'". Daniel goes on to explain his inspiration for putting together such an enlightening and exciting book. He's in the design studio with these guys, he sees the process from start to finish, and sees all of the stuff that doesn't make it to the screen. "I'm like 'Theres a BOOK there!'. Part of the impetus for doing the book was to get all these ideas out, ideas that we never saw in the movie'". To show the world just how much these talented guys are capable of! Thanks, Daniel!
So does Daniel himself do much of the concept art? Yes! Although not so much on this project, in which he only contributed a couple of drawings, but he's involved in most of them. "I was about to say it's a great hobby…it's a great job!!!". Some of what Weta Workshop produces is displayed at the Weta Cave, but of course due to film ownership rights and so on, their options there are slightly limited.
After the sheer exuberance and subtle geekfest that was a wonderful talk with Daniel Falconer, the bell rings, and the mingling crowd wanders toward the auditorium doors. It's time for the presentation.
The presentation consists of an impromptu welcome and introduction from Sir Richard Taylor, who then scurried back off to work, leaving his boys to carry on. Basically, it was fantastically informal, a creative and nostalgic discussion (and slideshow) of each of their roles in the design process of District 9. Participating were:
Daniel Falconer-Senior Designer, but predominantly the compiler of 'The Art of District 9'
Greg Broadmore- Designer of all tech, weapons and vehicles in the film.
David Meng- Designer and sculptor of the alien 'Prawns'
Leri Greer- Creator and designer of the graphics and alien text in the film.
Absolutely fascinating:
To conclude the evening, District 9 was screened in full force on the giant Embassy theatre screen.
Saturday morning, after a delightful brunch with our friend whom all Wellingtonians know as "the-guy-with-the-two-Deloreans" (for real!), it was off to Weta Cave in Miramar. Weta Cave is the small and humble museum which houses many astounding props, miniatures, armour, some books, and general props from many of the films Weta has worked on. Miniature models of characters and creatures from so many of their greatest films line the shelves of the tiny premises. Armour from Lord of the Rings, a statue of Gollum "the most photographed celebrity in the whole of New Zealand", lifeboats from the ship in Master and Commander, and endless treasures!
Perhaps the most captivating of all was the twenty-minute film shown in the small room at the back, a goldmine of Weta's history (narrated goofily by Richard Taylor himself) opening with a mindblowing montage of all their most famous conquests. It took a few hours to recover from the sheer epicness of it all.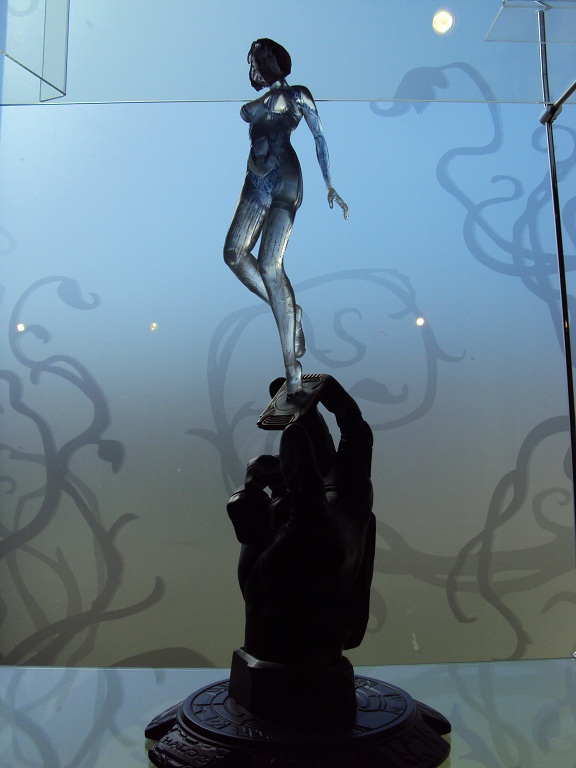 If you're in the neighbourhood…CHECK IT OUT! Who wants to pass up the opportunity to see Sir Richard Taylor freak out one of his designers, with his hand in a very real-looking sheep's head?! A true New Zealand icon!
The trip back through Miramar was paused for an admiring gander at Park Road Post Production premises. A gorgeous design in itself if there ever was one! Park Road Post Production is a state-of-the art facility brought about by a community of filmmakers (including Sir Peter Jackson), and includes Weta Digital, Stone Street Studios and Portsmouth Hire.

Weta Workshop has planted two feet in the world of film-making, and is forging ahead with creative enthusiasm and zeal. It is in such dilemmas as with The Hobbit, that the true determination and passion of such creative nebulas as Sir Richard Taylor is inspiring, not only to the film industry itself, but to young artists who aim for such opportunities. I also visited with the wonderful Weta team at Armageddon Expo!

The Art of District 9, published by HarperCollins Publishers (New Zealand) Ltd, is now available for purchase. For more information, please visit www.wetanz.com, or www.harpercollins.co.nz . Thank you.
Thanks also for reading and stopping by WormholeRiders News Agency!
Please do contribute with comments or constructive discussion below by selecting the social media avatar of your choice. Or you can visit me on Twitter by clicking my image avatar or text link below!