Greetings, SciFi/Fantasy Fans!
From the Disney website, Prince of Persia is described as an "…epic action-adventure set in the mystical lands of Persia.  A rogue prince (Jake Gyllenhaal) reluctantly joins forces with a mysterious princess (Gemma Arterton) and together, they race against dark forces to safeguard an ancient dagger capable of releasing the Sands of Time—a gift from the gods that can reverse time and allow its possessor to rule the world."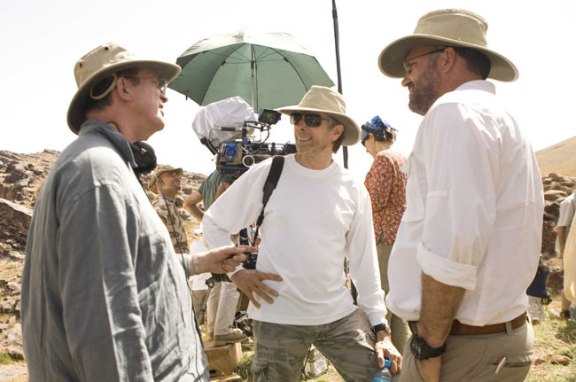 Jerry Bruckheimer and company did a wonderful job enlisting such a talented cast and crew.  Director Mike Newell had the challenging task of shooting a film that would be true to the video game and yet still appeal to those who had never tried the game.  I personally believe he pulled it off quite well.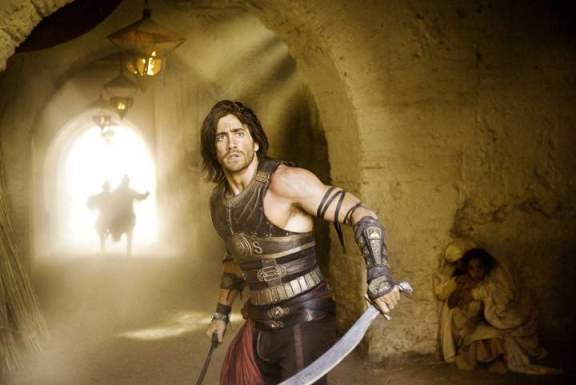 I have to admit when Jake Gyllenhaal was officially cast I was not sure I could be sold on the idea he could make a convincing Prince Dastan.  I am certainly glad to have been proven wrong.  He displayed his acting talent, especially for the more serious scenes, as well as the more comedic ones.  One could tell the number of hours he committed himself to the numerous fight scenes and stunts.  I also really enjoyed the chemistry between Tamina (Gemma Arterton) and Dastan (Jake Gyllenhaal).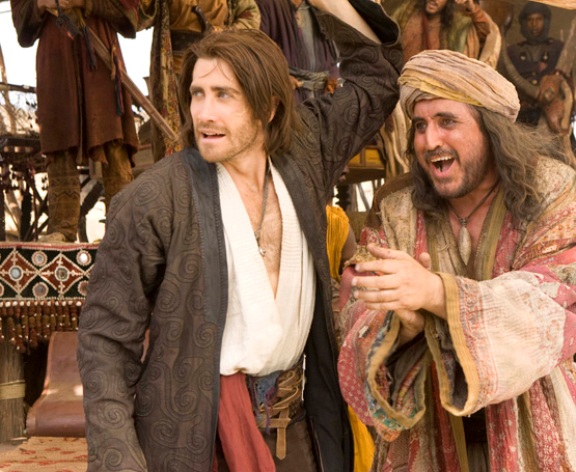 Alfred Molina's character, Sheikh Amar, was a good choice for comic relief.  His character is summed up as the wise-ass, money making thug with a heart.  I think Sheik Amar had some of the best lines in the movie.
Tom Wood and his team of Visual Effects Artists definitely brought back what I imagine Persia looked like in the sixth century.  They had the task of creating nearly 1,200 visual-effect shots for the movie.  I was especially impressed by how seamless the matte painting shots of each city or location were from a 360-degree view.  Other impressive visual-effects shots were the rewind scenes when the Sands of Time were activated.  These scenes were not just shot from one specific angle, but from multiple angles.  I can only imagine the number of hours it took to get those scenes just right.
I truly enjoyed the movie soundtrack from composer Harry Gregson-Williams.  Each track amplified each scene just right.  What I enjoyed most about composer Gregson-Williams was the fact that he did not limit himself to just using a traditional orchestra for the soundtrack.  I could hear an electric guitar and what seemed like a rock band.  To hear samples of the Prince of Persia: The Sands of Time soundtrack you can go to http://www.disney.go.com/disneypictures/princeofpersia/ and click on the MUSIC link.
Along with the great music comes the eye popping stunts. Stunt Coordinator George Aguilar and his team of stunt men and women did an excellent job. The stunts and fight scenes looked effortless, especially the chase scenes involving Dastan running across rooftops and jumping off and down walls.  I was pleased to find out they had brought in David Belle, a legend and originator of Parkour.  Parkour is described as the art of movement.  These guys literally bounce, climb, run, and tumble on almost any surface you can think of.
The only part of the movie I felt a bit let down by was how some of the fight scenes were edited.  I would say a good half of the scenes were close-up shots.  In those cases all you saw was a blur of a punch or kick.  I really wanted to see the fight scenes from a wide angle.  I believe you would see more of how well these fight scenes were choreographed if seen from a wider perspective.  I want to admire the talent of the stunt people and actors, but that is just me.  Other than that, I can not seem to find anything that I did not like about the movie.
Overall, it is a movie I would definitely watch again. It is a great action-adventure flick for the entire family to watch or to be seen with your significant other.  Prince of Persia: The Sands of Time opened May 28th and is in theaters now.

Please feel free to visit me on Twitter by clicking my Avatar at the right or leave a comment here. Thank you.
SciFiFanFanGirl616