Hey there Hollywood Treasure and Profiles in History fans,


I got a chance to be present at the marvelous Profiles in History Hollywood Auction 43 on Saturday December 18, 2010. This news article will basically chronicle the day I spent observing filming for the Syfy show Hollywood Treasure at the historic Saban Theatre in Beverly Hills.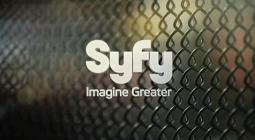 This was the second day of the auction and there was a lot of AWESOME Hollywood memorabilia scheduled to go up for auction. I was really excited and couldn't wait to drive up to Los Angeles from San Diego. Unfortunately, this particular day it was raining so hard that I actually considered gathering up two of every animal as I kayaked my car up the coast.
Also, it turns out that p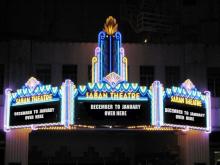 eople in Southern California lose the ability to operate their cars and all sense of reason when water falls from the sky. Luckily, I prevailed by making it to the theater and not ending up in a muddy ditch on the side of the road (my mom always used to talk about the ditches).
Once parked, I swam to the Saban Theatre entrance. It was a shame that I didn't get to spend any time looking at the outside of this building. The Saban Theatre is beautiful and has a rich Hollywood history. But since I didn't want to drown, I went inside.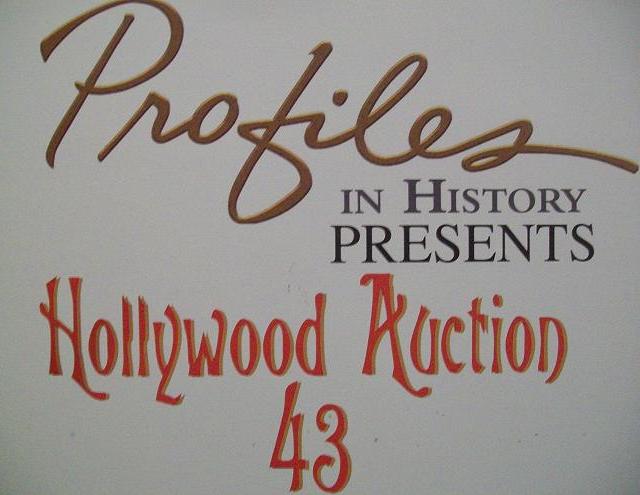 Once I was in the building and through security, I was able to take in my surroundings a bit. There were some cool props set up all around.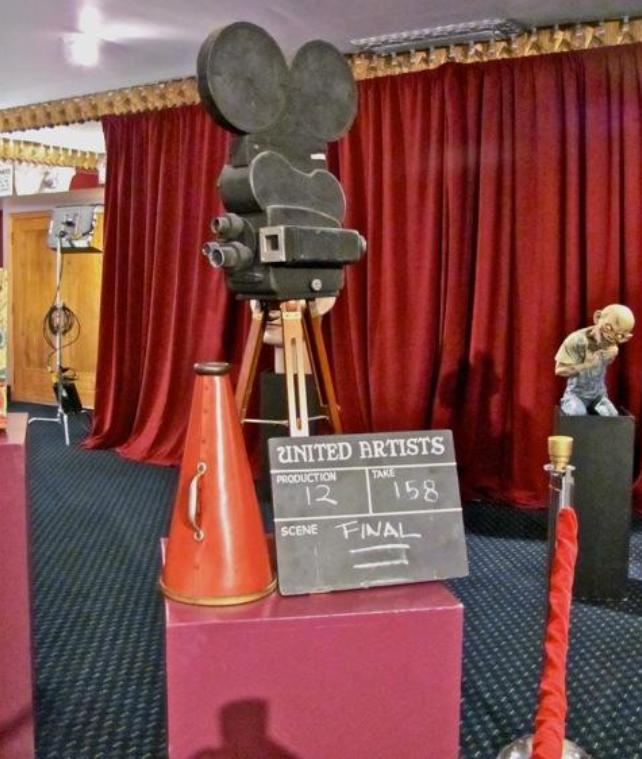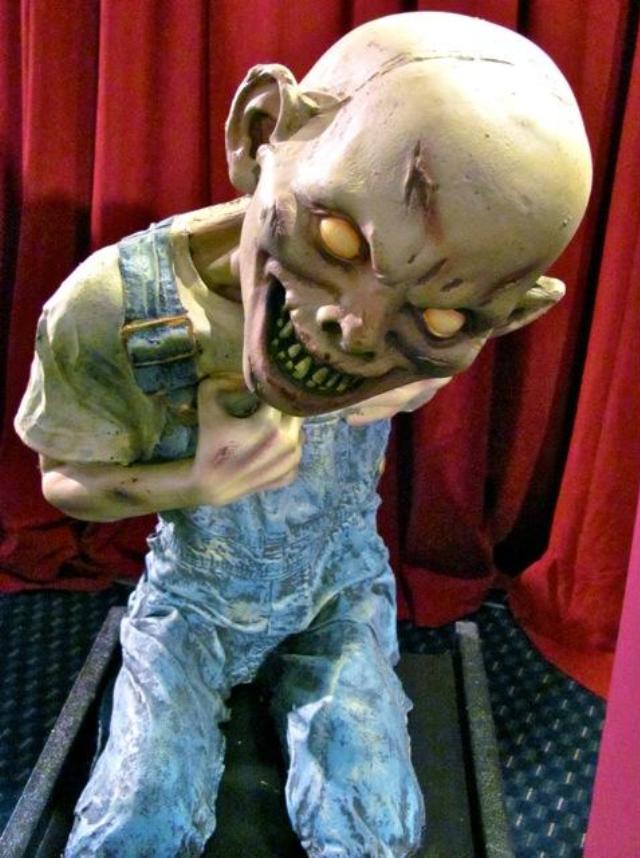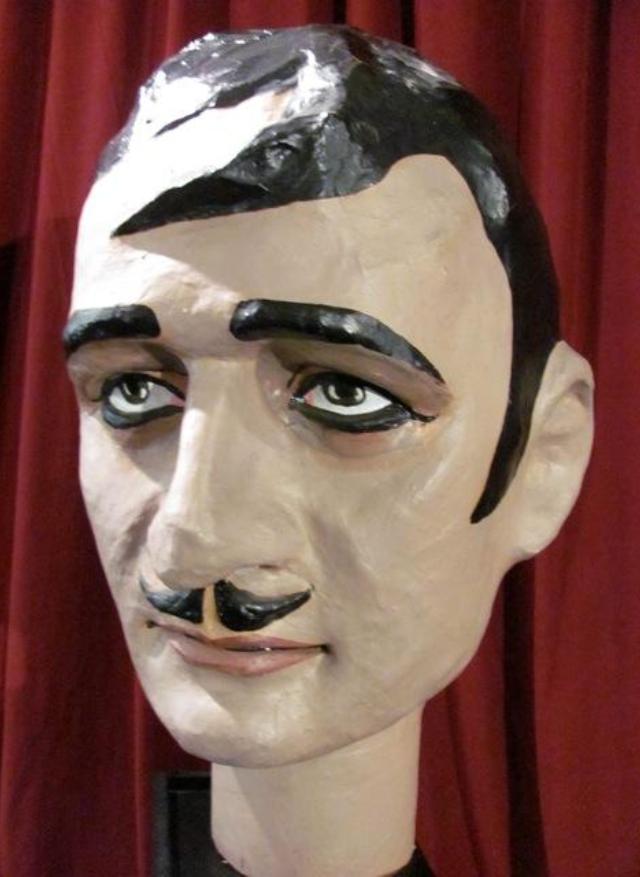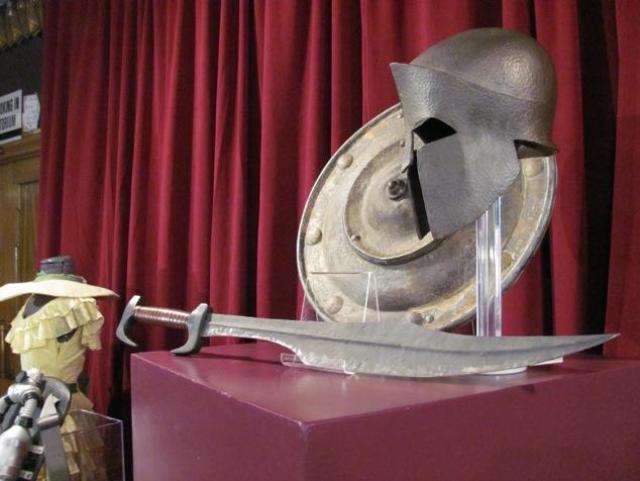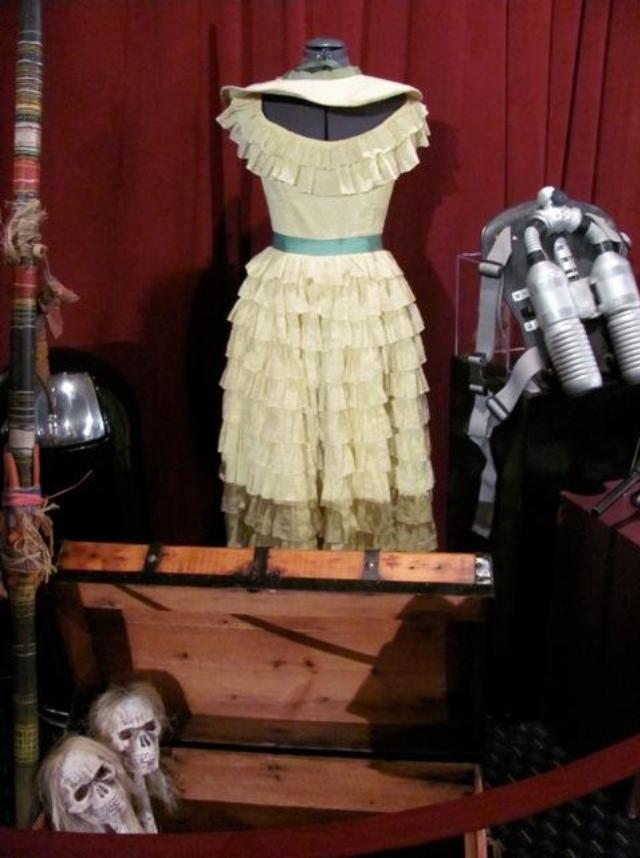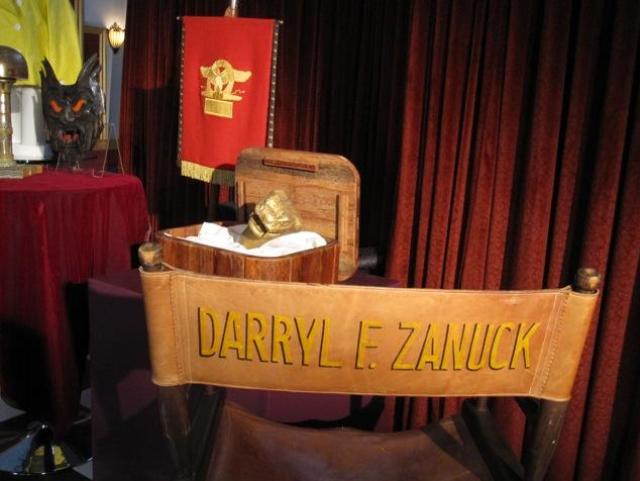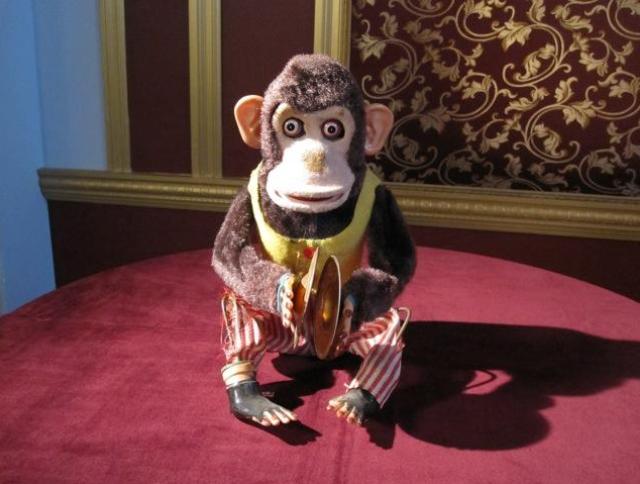 A large room inside the theatre was decked out for the auction. Stacy Roman the auctioneer, was at a podium in the front of rows of chairs set up for the bidders.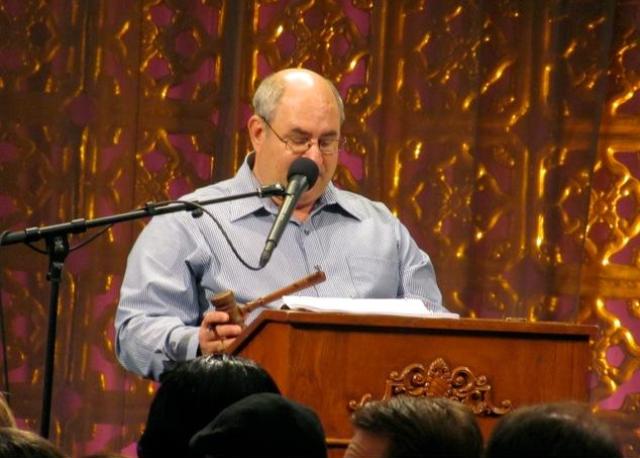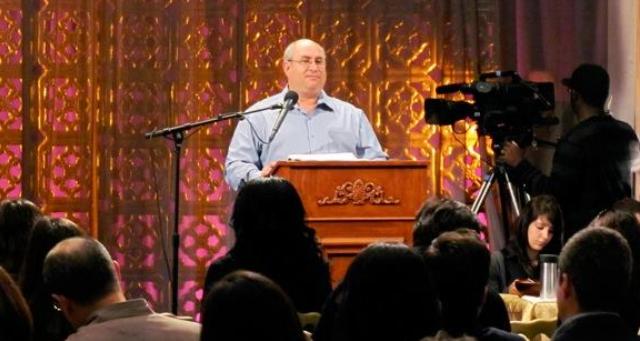 There was a long table on the side of the room that consisted of the cast of Hollywood Treasure. The whole team was present including Joe Maddalena, Brain Chanes, Jon Mankuta, Tracey McCall Fong Sam, and auctioneer Stacy Roman.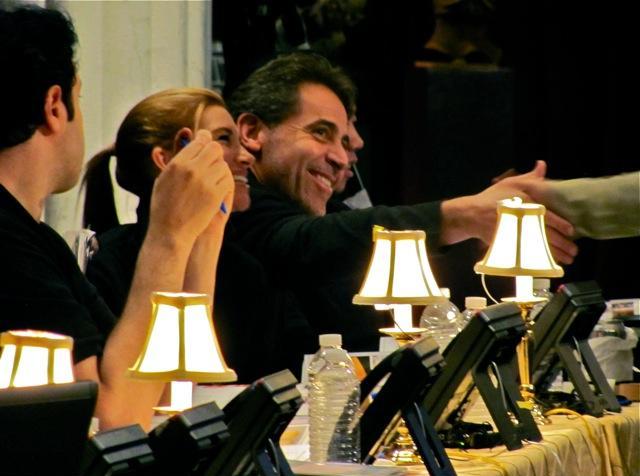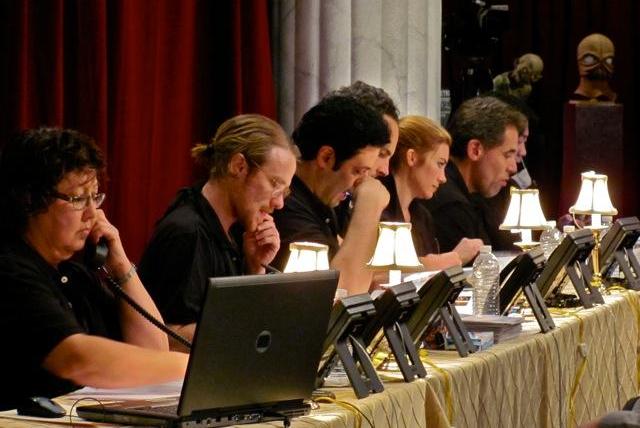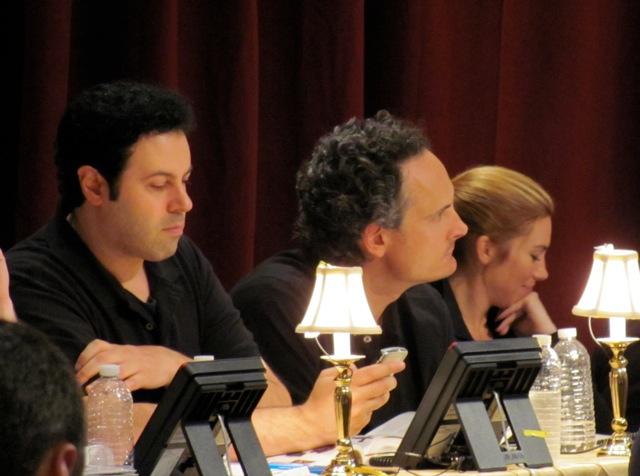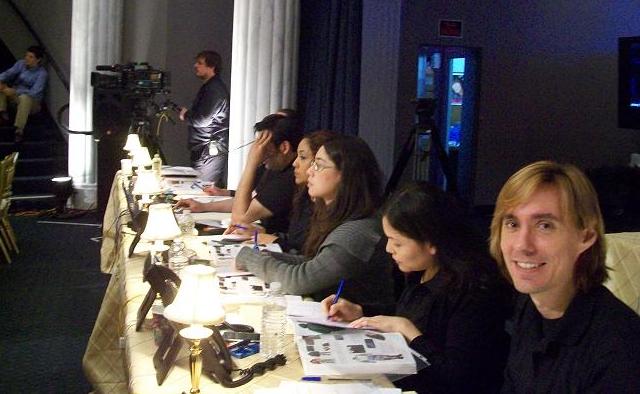 The members of the team were engrossed in the auction & usually on the phone with potential bidders. Cameras were set up to capture the action on the opposite side of the room from the team. There were more cameras at the back of the room along with another table filled with people taking more phone bids for the items.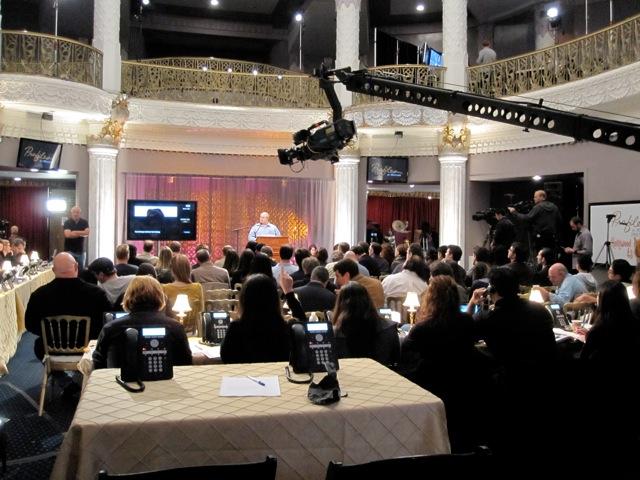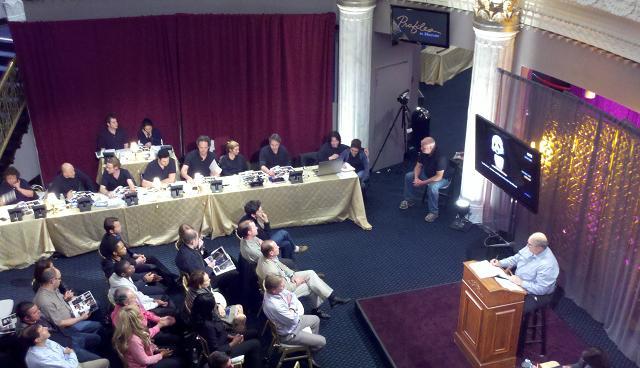 I sat in the chairs with the bidders for a while and watched how the auction was done. Here's how it went down: A photograph of the lot would show up on a large TV screen, Stacy would say the price the bidding was to start at, and then bids would come in from phone bidders, Internet bidders, or people in the room. I wish that the actual items were in the room but it would be next to impossible to have all 1,345 lots there. When I arrived lot 703 had just come up. It was the "Scott Howard" hairy bodysuit from Teen Wolf… AWESOME!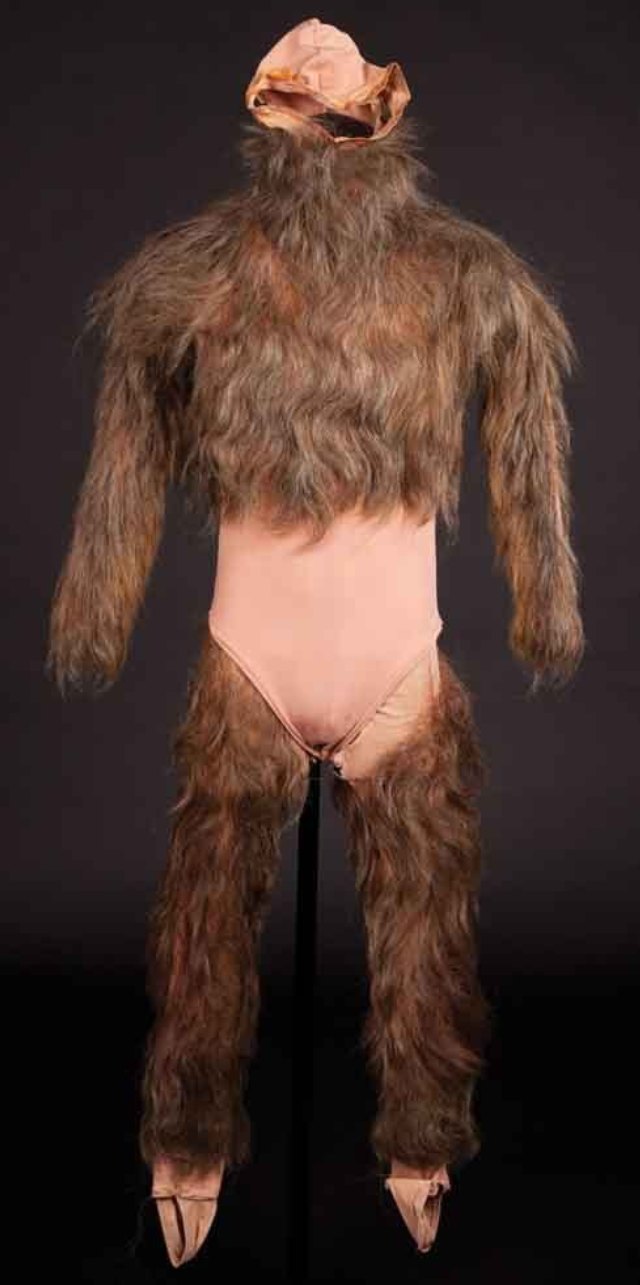 I'm not sure which I thought was more entertaining, seeing the cool lots that were coming up for auction or watching the bidders battle over them. It was best when the people in the room were bidding against each other. What you don't really see on television is that the auctioneer Stacy Roman is hilarious. He sits up at the front talking for hours & hardly ever takes a break or even a drink of water. He is constantly making funny little comments. I really enjoyed watching him.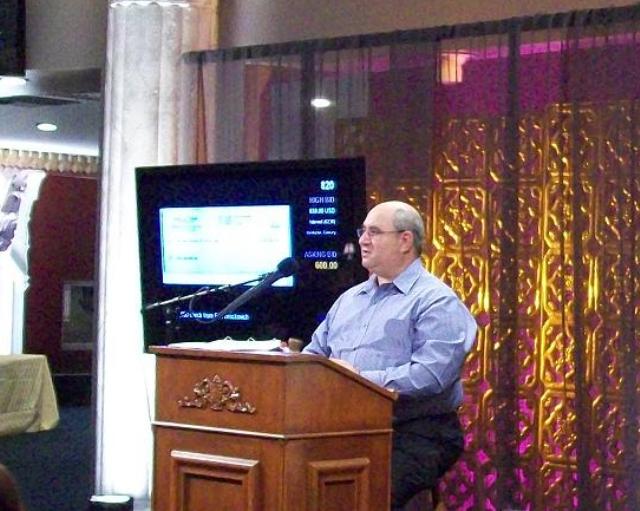 This auction was being recorded live for Hollywood Treasure so I can't reveal the amount that people paid for any of the items. I CAN tell you that there were some BIG surprises and you should tune into the next season of the show to check them out. When an item sold for a large amount the room would clap and cheer. There were certainly moments that I thought "Surely NO ONE would pay that kind of money for a thing like that!". Sometimes the room would laugh as the phone and Internet bidding for a particular unusual item kept climbing. Other times I was quite taken aback by the complete lack of bidding for items that I thought were exceedingly cool. There were several times that I found myself thinking things like "that Terminator T-800 skull could totally work in my living room".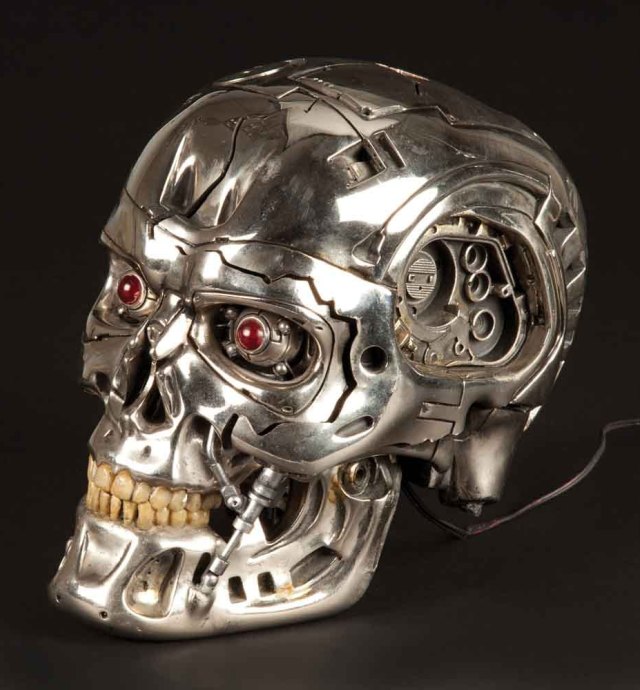 There were numerous items that my brain was placing in different parts of my place. Maybe a bookshelf full of The Nightmare Before Christmas items.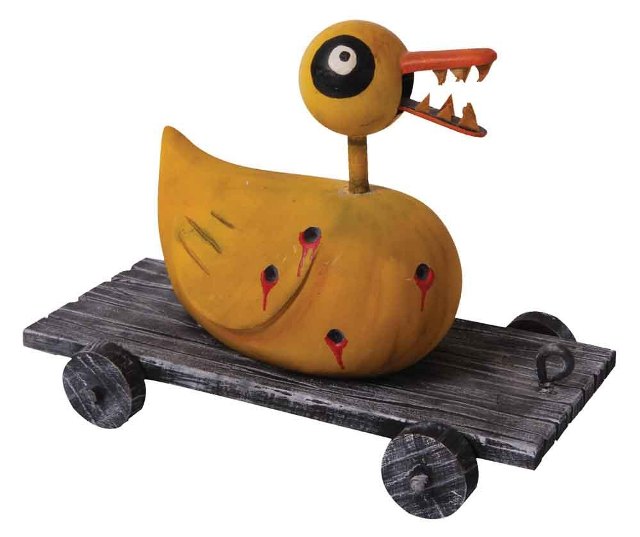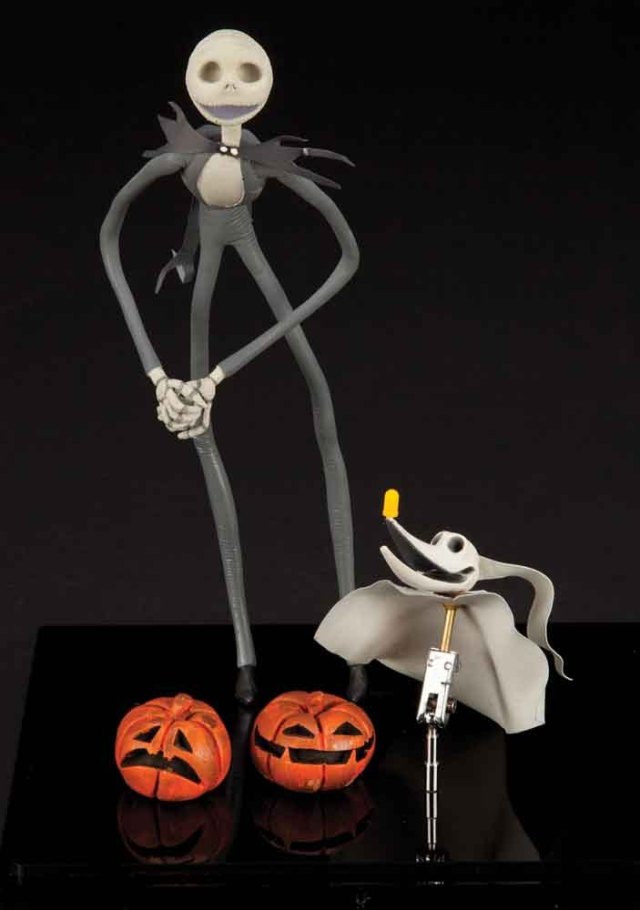 Since these items were quite popular I'd probably have to have cut the Internet and phone lines to the building and threaten the people in the room with violence to even have a chance of getting them. Not surprising because they are SUPER COOL. Also, do you think there is any chance that I could fit into Arnold's leather jacket and glove from The Terminator?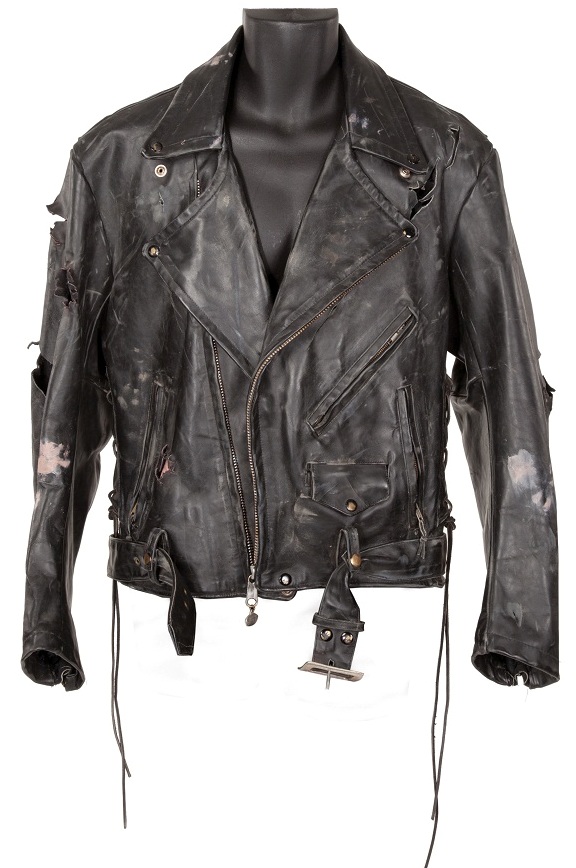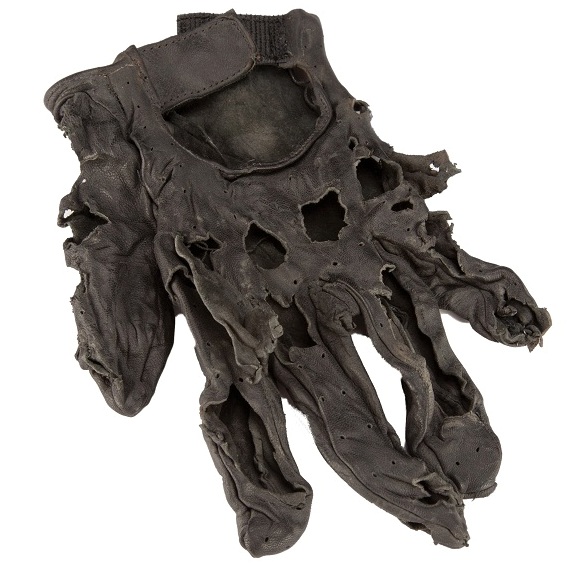 I could probably find a use for the Screen-used Johnny Depp costume and display from Edward Scissorhands as well.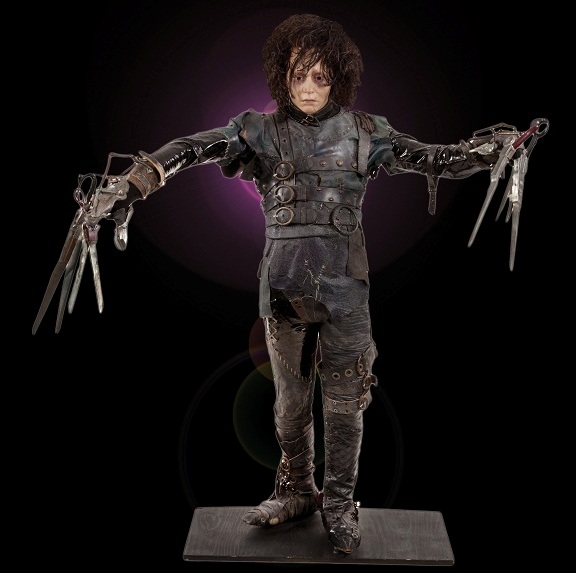 The auction was an all day event so I had time to take a tour around the theatre with Marc Kruskol who was kind enough to share his time. I was able talk to lots of people including Marc, Brian Chanes (pictured below) and Tracey McCall. I spoke with a man who had flown in from the East Coast for the auction. He came to bid on Star Trek memorabilia. As an avid collector of Star Trek model ships, he was hoping to expand his collection. We had an interesting conversation on how model use is becoming less frequent with today's technology. It is unfortunate that there will be less starship movie models for future generations to collect.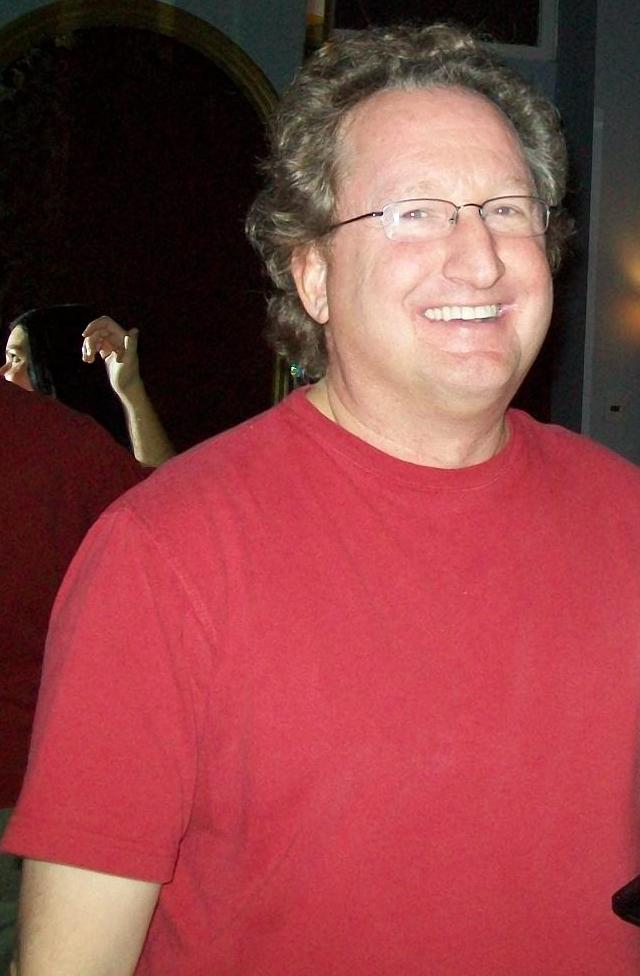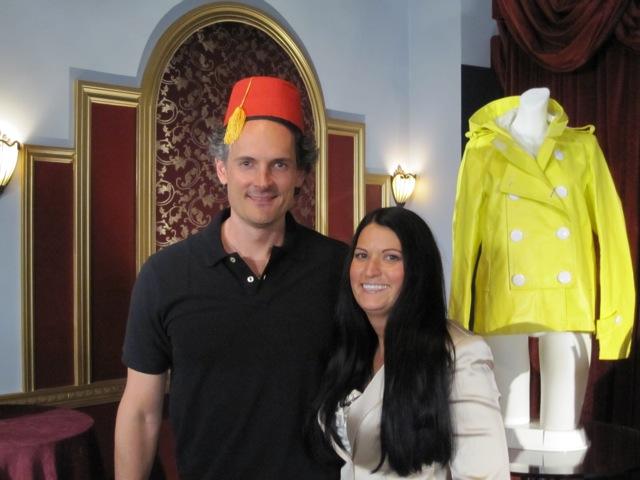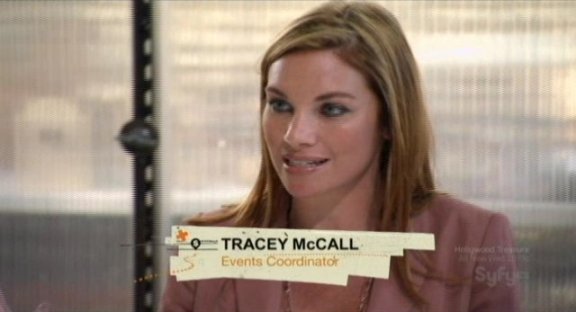 Near the end of the auction, Kenn and I got a chance to chat with Jonathan Mankuta. Jon is an unbelievably witty and charismatic guy. But most of all… THIS DUDE… IS… FUNNY. I guess I shouldn't be surprised, after all, he was a cast member of Saturday Night Live for several years. He is HIL-arious and SO nice. He even offered to do an on-camera interview for us! EXCITING!!!… No wait… SCARY! I'M the interviewer??!!! Yikes!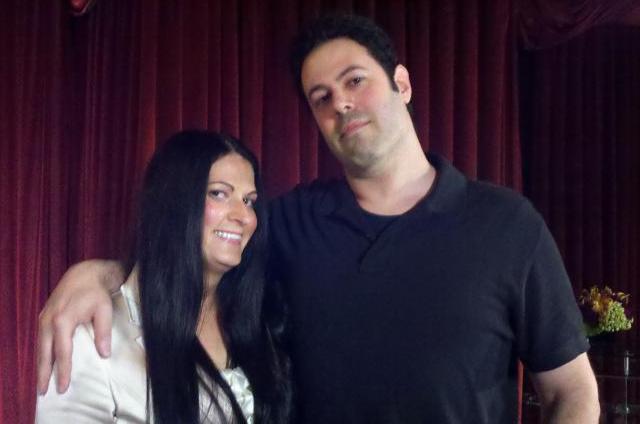 This was to be my first interview and I had like 30 minutes to figure out what I'm going to ask him. Lucky for me Jon is exceedingly gregarious and very comfortable in front of the camera. He was incredibly easy to talk to you and is such a nice person.
We will post our exclusive interview with Mr. Mankuta here at WormholeRiders News Agency in the near future. Overall it was a splendid day. Everyone was really nice and the auction was exciting. I was smiling ear to ear when I got into my car to drive home even though it was pouring rain. Then I got a flat tire and ended up with a disabled car in South L.A. at one o'clock in the morning. Did I mention that it was raining?
Thanks for taking the time to read my first post. Please let me know what you think.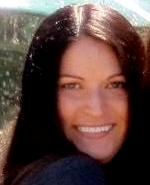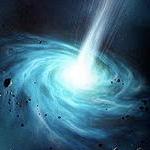 I hope you have enjoyed this review. As always thank you for visiting WormholeRiders News Agency.
Please feel free to share this news article by clicking one of the social media icons below. You may also leave a spam free comment here, or feel free to visit and chat with me on Twitter by clicking my avatar or the text links in this news article.
Follow me on twitter @DrRachelleSmith