Welcome back movie fans,
Last evening I had the pleasure of seeing a film we here have long waited for; Elysium!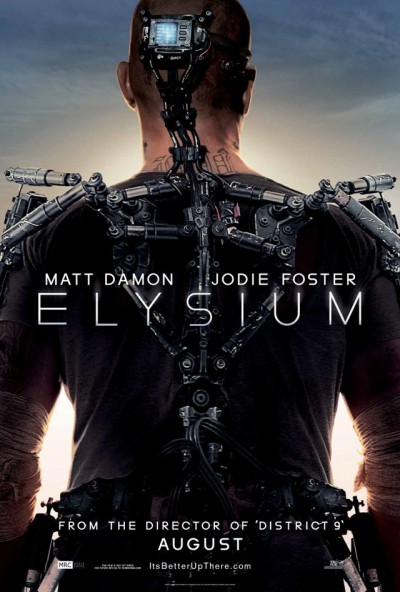 "In the year 2159, two classes of people exist: the very wealthy, who live on a pristine man-made space station called Elysium, and the rest, who live on an overpopulated, ruined Earth. The people of Earth are desperate to escape the planet's crime and poverty, and they critically need the state-of-the-art medical care available on Elysium – but some in Elysium will stop at nothing to enforce anti-immigration laws and preserve their citizens' luxurious lifestyle. The only man with the chance to bring equality to these worlds is Max (Matt Damon), an ordinary guy in desperate need to get to Elysium. With his life hanging in the balance, he reluctantly takes on a dangerous mission – one that pits him against Elysium's Secretary Delacourt (Jodie Foster) and her hard-line forces – but if he succeeds, he could save not only his own life, but millions of people on Earth as well."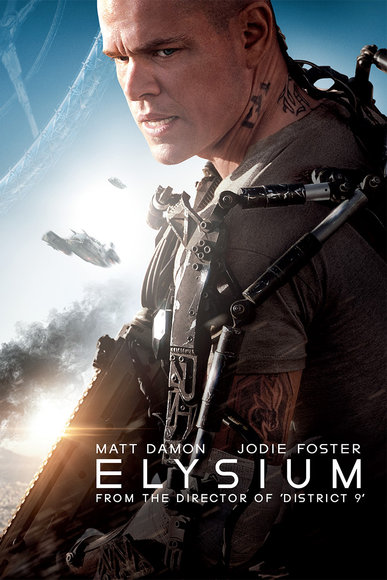 The above official synopsis for the upcoming movie, Elysium, focuses on an issue that has not been resolved in our own lifetime, that of rich nations vs. poor nations and if the poor deserve the same privileges as the rich.
Written and directed by South African film maker, Neill Blomkamp, Elysium looks as daring and cool as his earlier work, District 9. Like District 9, Blomkamp uses his ability to tell a story to educate viewers about social issues in the current fabric of our society.
Blomkamp used a Mexican garbage dump for scenes on Earth, and several Vancouver locations for the wealthy and comfortable Elysium locales. South African Writer, Director, Neill Blomkamp must also be a Stargate movie fan, because he manages to pinch ideas from that film with nary the bat of an eye.
Fans of science fiction television programs like Stargate SG-1 and Stargate Atlantis, will be happy to know that most of the green screen images for the wealthy community of Elysium were filmed at Bridge Studios in Burnaby.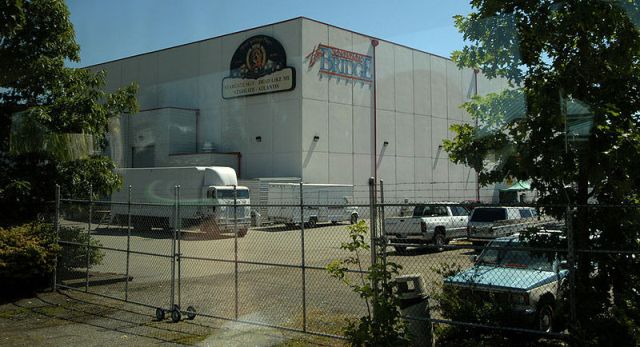 Blomkamp says that the film portrays Earth as a trash-filled landscape policed by unemotional and intolerant robotic droids. Flying military tanks patrol the sky.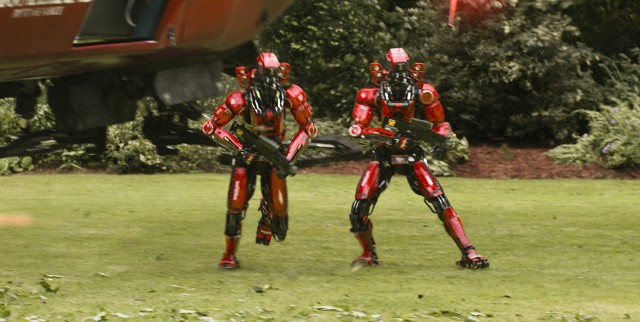 Elysium stars Matt Damon as our reluctant hero, Max, an ex-con trying to mend his ways and keep his job radiating robotic android servants for the very wealthy. Naturally, something goes wrong and his jerk supervisor has him enter the radiation chamber where he gets trapped and given a lethal dose of radiation.
With only five days to live, it becomes vital to him to get up to the orbiting Elysium so he can be cured. A group of Earth-bound criminals outfit him for the journey with an exoskeleton "strength suit." They use a drill to affix a digital box to his head that allows him to transfer brain contents as effortlessly as computer files. This, he uses on a wealthy businessman on Elysium to steel his knowledge for the use of the criminals.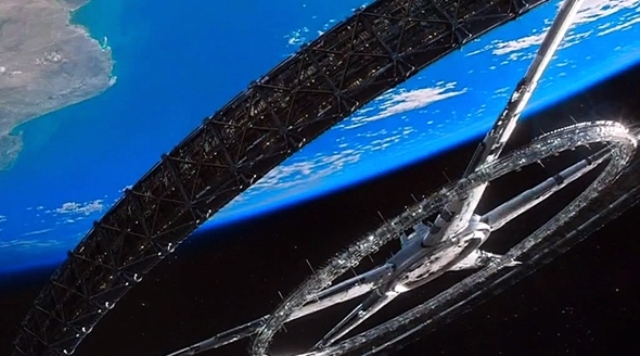 Jodie Foster plays the evil Defense Minister, Delacourt, tasked to do the dirty work and keep all the wrong sort from Earth from finding their way up to paradise for the 1%. Foster's character appears to really enjoy her work, leaving an impressive body count in her wake.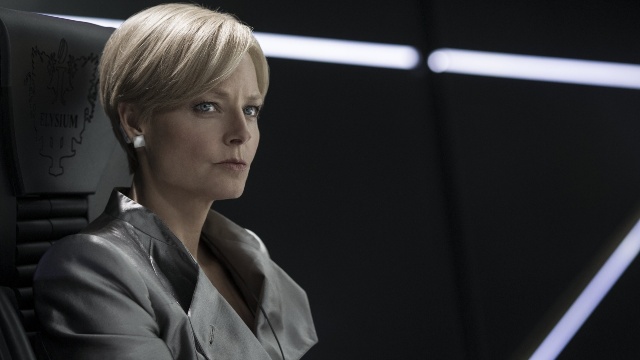 Sharlto Copley, the poor victim who was mutated into an alien from Blomkamp's District 9, does a complete turn around and plays the psycho Kruger hired by Delacourt to take out anyone who annoys her, including Max. Copley is one of the best things to happen to this film. He does evil really well and seems to be enjoying his role immensely.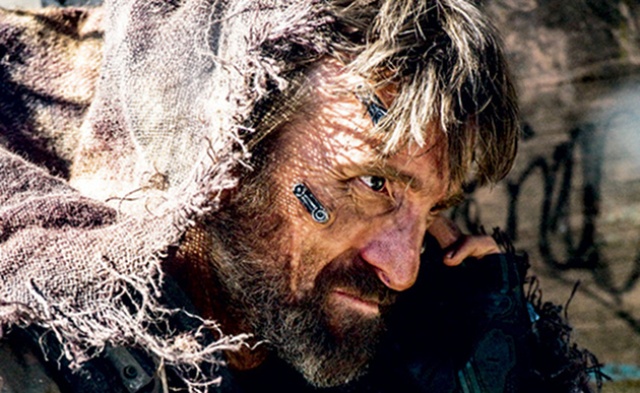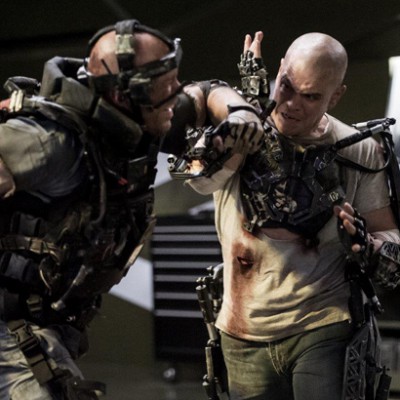 Matt Damon does a good job creating a sympathetic hero who begins by fighting for his own life, then ends up fighting for his friends as well.
The only criticism I have for this film is that some things were a bit over the top. Damon's character was far too able to get kicked around and kick others around for a man who was dying of cancer, who had just suffered a major stab wound and had been tossed around by killer robots for most of the movie.
As for the Stargate reference; the film's poor 99% from Earth will do anything to get to Elysium just to use a medical bed that cures everything from broken bones to cancer. This device reminded me of the sarcophagus used by the Goa'uld in Stargate the movie, and Stargate SG-1.
It was great to see fan favorite science fiction actors, Michael Shanks (Stargate SG-1), Josh Blacker (Stargate Universe),  Terry Chen (Continuum), Faran Tahir (Warehouse 13,) Ona Grauer (Stargate Universe), Christina Cox (Defying Gravity and Stargate Atlantis) and Adrian Holmes (Primeval New World).
Josh Blacker took a few moments to talk about his part in Elysium. "About two years ago, I got a call from my agent telling me I had booked a role as a South African mercenary in the new Neill Blomkamp film Elysium".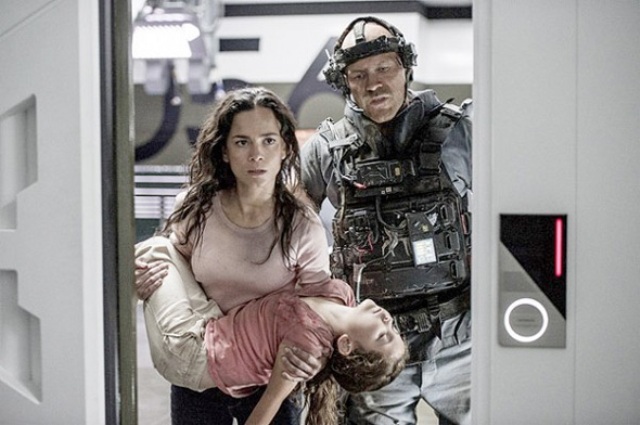 "At first, I was thrilled. Then I found out my character, Crowe, has a massive fight scene with Matt Damon's character, Max. At the time, I thought I was in pretty good shape — after all, I've played marines, fugitives, green berets and other assorted shady individuals who have been finely tuned physical specimens.
This time it was different. First, South African mercenaries are tough bastards. They were the blueprint for most special ops soldiers. They are highly skilled and highly trained killing machines. And they're in insanely good shape. Second, I was about to tango with Jason Bourne. I knew right away I had work to do. It wasn't easy, but by the time we started filming, I had gone from 165 pounds and 13% body fat to 181 pounds and 9% body fat. I was a lean, mean killing machine. Bring on Damon!"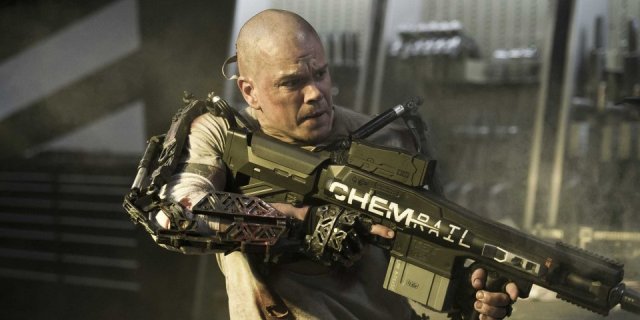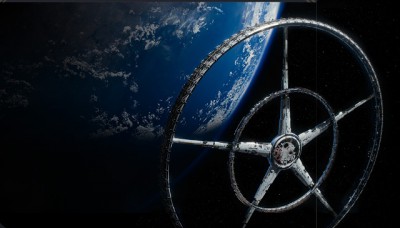 Blomkamp hints that there may be a sequel to this movie later on, if it does well, "I think the world of 'District 9' has a lot of very interesting race and impression-based ideas that I would still like to explore in that world," he said.
Is this a good movie to spend your money on? I liked it. My husband didn't. He thought there were some glaring impossibilities with Max's abilities. I told him that adrenaline, and the will to survive and overcome can do amazing things. He did not agree. If you are willing to suspend your disbelief, you will probably like this film.
I do not think it is Neill Blomkamp's best work, but it kept me entertained until the end. In closing I must again compliment the outstanding visual effects by Weta Digital. who we have had the privilege of visiting in the past at their WETA Cave in New Zealand during District 9 time frame thanks to arrangements by Kenn for coverage by Jandyra who has since moved on to motherhood and her career in acting and dancing!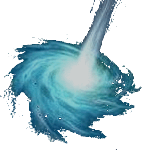 Thanks to Kenn for assisting with the audio video embeds for my Elysium review and analysis. And thanks to you for stopping by WormholeRiders News Agency!
Please feel free to leave a comment here, click an icon below to share this interview or you can visit and follow me on Twitter by clicking on my avatar to the right.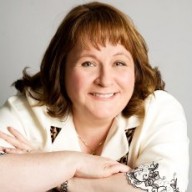 Regards.
ArcticGoddess1 (Patricia)